Looking for the Best Gifts for Kids this Christmas?
For my family, the best gifts are the ones that promote learning, creativity, outdoor play, or imagination.
As a mom of 4, I know it's important to get toys your kids will actually use! None of that "he opened it and played with it for 10 minutes and hasn't touched it since then."
This list of gifts is made up of items that my family actually owns and absolutely recommends! I hope you find some helpful ideas to add to your Christmas shopping list!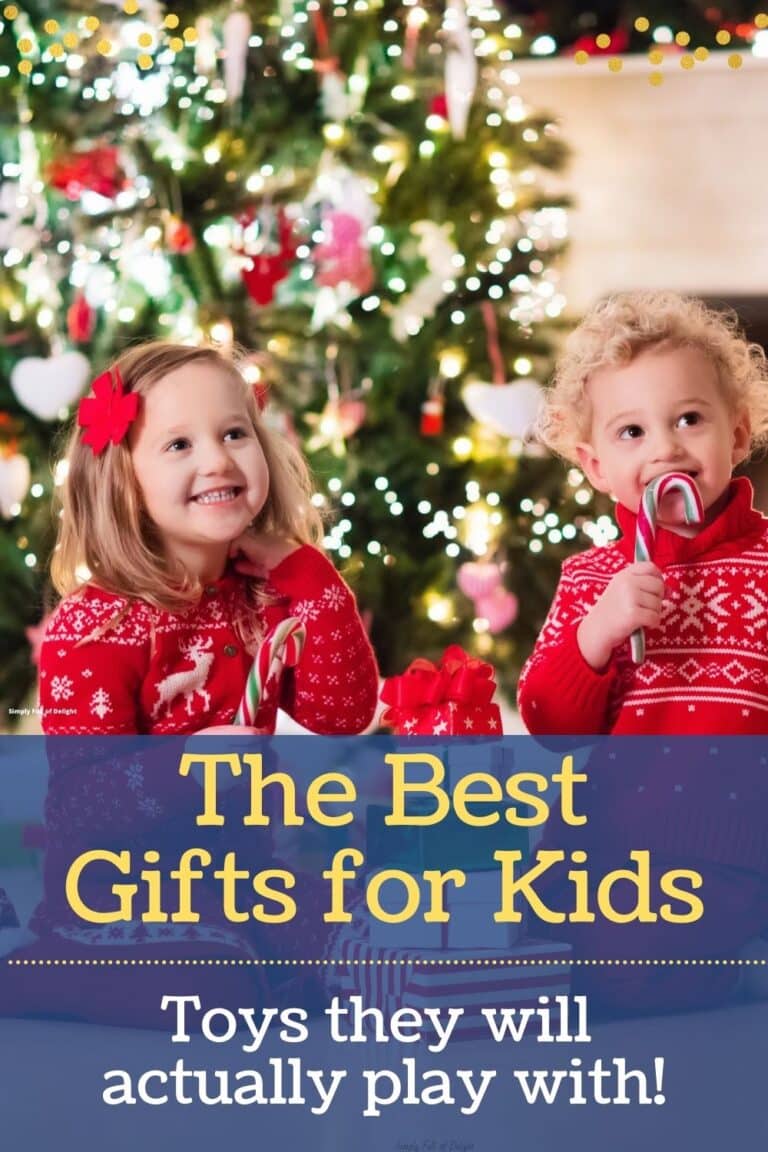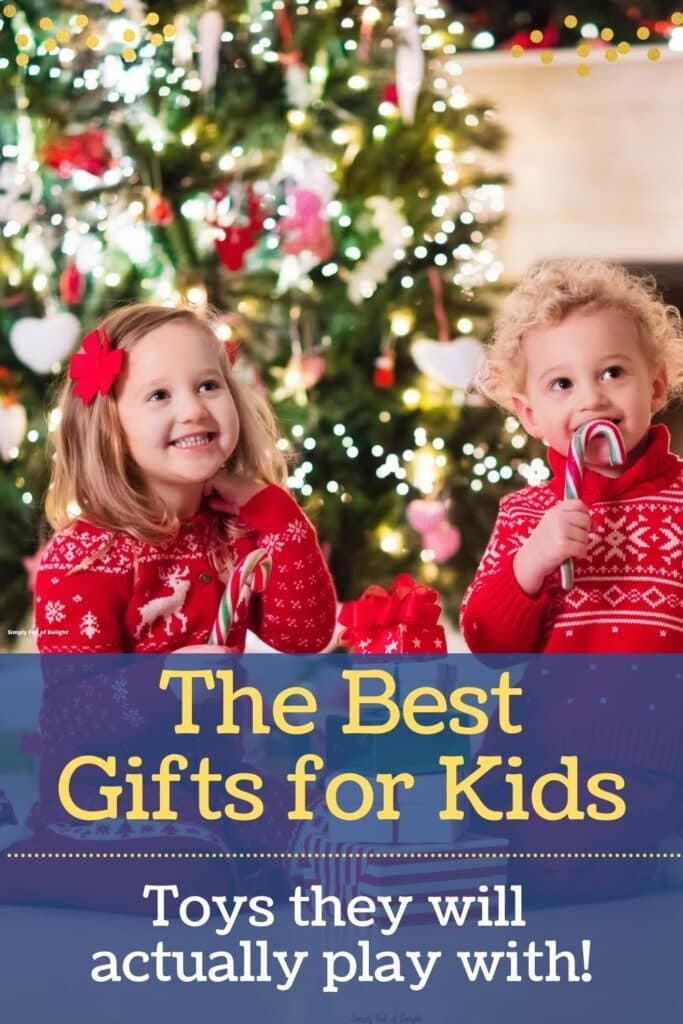 ** Disclaimer: As an Etsy and Amazon.com Associate, I earn from qualifying purchases made by readers clicking my links at no extra cost to you.
1) Marble Run
The Mindware Marble Run is absolutely one of the best toys we own. It's definitely on of the best gifts for kids this Christmas.
Kids use the tubes, runs, and slides to create a path for the marble to go down.
It can be a bit challenging and involves a lot of thinking to build a large chute. However, even my youngest can build a small chute on her own.
I recommend the Mindware brand as the marble tubes are strong and stay together well. Marble runs are a great toy to help children develop spacial reasoning skills.
(Marbles can be a choking hazard, so make sure your little ones are past the "put everything in your mouth stage.")
2) Keva Planks
Keva Planks are a great gift to promote creativity and engineering. My daughter has several Keva Planks sets. They are super durable and an amazing heirloom quality toy.
I love the simplicity of this toy and the excitement my kids have over the contraptions they build!
3) Where's Waldo
This Where's Waldo look and find book is a fun throwback gift! Kids love looking for Waldo in the crazy scenes.
There's a lot of extra characters and objects to look for as well. There's a reason this is a "classic!"
I love giving my kids at least one book each Christmas, and often it's brought by Santa on Christmas morning. Where's Waldo makes a super fun Christmas gift idea!
4) Lost Cities
Lost Cities is a simple card game that parents will enjoy playing with their kids. The rules are simple and unlike a lot of children's games that revolve around luck, this one involves a lot of strategy, which is great for encouraging critical thinking.
I love that this game is quick enough to be played in less than 10 minutes and fun for adults to play as well!
5) Catch and Toss Set – Ball and Mitt
This Catch and Toss Set is a great idea to encourage outdoor play. The ball is made to grip onto the mitt as it is caught.
Super fun for kids of all ages. What better way to get your child outside and moving than with a game of catch!
6) Magformers
Magformers are a gift that I recommend over and over. They are a great toy for children of all ages. All of my kids ages 3-10 love playing with them.
As little kids get older, their creations get more and more complex. It's awesome for inspiring imaginative play and building fine motor skills.
Also, I love that the magnets make them super fast to clean up! This is a Christmas gift both moms and dads will approve!
7) Stomp Rocket
Our Stomp Rocket is another toy that has gotten SO much use! My kids are constantly playing with this super cool toy.
It is 100% kid powered, meaning that a kid jumps on the plastic pillow portion and sends a rocket flying upwards into the sky.
Awesome for all of my kids ages 3 and up! We love it so much, we also got this Stomp Rocket Stunt Planes set for my kids to level up the fun!
8) Giant Web Swing
We invested in a giant web swing a couple of years ago for Christmas and our kids consistently play with it almost every day. It's another great toy that encourages outdoor play.
It also teaches teamwork and cooperation. We bought our swing locally, but I linked to a swing like it from Amazon.
9) Legos
Lego Sets are an amazing toy for fostering creativity, imagination, and patience. There are sets in various themes that are ever changing, so if you see a theme you love (ie. Mickey Mouse, or Trolls, etc.) grab it up, because the themes change constantly!
My oldest daughter has loved Legos for many years now and it's a gift that has helped her learn to follow instructions, develop fine motor skills, and spacial reasoning.
Now, all 4 of my little ones play with legos and I love seeing their creativity!
10) Carcassonne Board Game
This Carcassonne Board Game is soon to be a favorite on family game night. It's a game of strategy with a medieval theme. You place tiles to build cities, roads, and farms and block your opponents.
I love that it's fairly simple to learn and it is fun for both kids and adults alike. Strategy games are great for helping kids develop critical thinking skills. This is a game I could play over and over with my family!
11) Children's Bible
The Complete Illustrated Children's Bible is an amazing Bible for kids. It is easy to read and every page has beautiful illustrations.
I've looked at a lot of children's Bibles and this one is the best.
My daughter was so enthralled with it, she read it straight through in a little over a month.
Another idea along this same line is buying a Bible that has been engraved with his/her name on it. You can get personalized Bibles here.
12) UNO Attack
UNO Attack takes the original game of UNO up a notch.
Kids love UNO and UNO Attack adds the element of surprise as you don't know how many cards will fly out when it is your turn.
My 10 year old and my 5 year old LOVE to play this game together.
13) 2 Flight Mode Glider Plane
These awesome Foam Glider Planes are deceptively simple looking, but oh how my kids LOVE them!
I delayed buying them for quite a while because I wasn't sure if they would be worth it, but I can say with absolutely no doubt THESE ARE AWESOME!
My 11 year old exclaimed "BEST GIFT EVER!!!!" as she ran around the yard all afternoon throwing her plane up and catching it.
The wings can be adjusted for 2 flight modes. One makes the plane fly straight and the other makes it do a "loopy loop."
Younger kids might need help switching the modes, but my 11 year old was able to do it easily.
So much fun to be had with this gift!
14) Sleeping Queens – Gifts for Kids
This card game, Sleeping Queens is going to be their new favorite game!
I love that it's fast enough that you can play a "round" in under 10 minutes and the concept is so easy that my 4 year old can play against my 11 year old, and they both have fun!
There's a little bit of strategy involved as well as keeping a close eye on what is happening.
My 4 year old is not able to add yet, so she will add that strategy as she grows, but that doesn't keep her from winning!
15) Crayola Art Case
My 5 year old got this amazing Crayola Art Case Coloring Set last year for Christmas and she has seriously played with it almost every single day. She loves art, so this was a wow gift for her!
As always, I recommend you go with Crayola over other brands. They are truly superior in every way to off-brand coloring supplies.
The set includes an art case with 64 Crayons, 20 Colored Pencils, 40 Washable Markers and paper!
I love that it helps keep her art supplies organized and she loves seeing all of the colors lined up neatly ready to be used!
Definitely an amazing Christmas gift for kids!
I hope you've found some helpful ideas for Christmas gifts for kids! If you have some tried and true gifts for kids, feel free to share your recommendations in the comments!
Other articles you might enjoy:
Gifts for 4 year olds – promote learning & creativity
Great Gifts for Babies to encourage early learning skills
Gifts for Men – 12 Gifts He will Love!