My daughter is currently 4, so with that in mind, I made this gifts for a 4 year old list! I have 4 kids ages 3-10 and I love to find gifts that not only are high quality, but also promote learning and creativity.
The best gifts are the ones they play with for years, that stretch upwards with them as they grow. This gift guide works for both girls and boys, and for anyone in the preschool or kindergarten age group.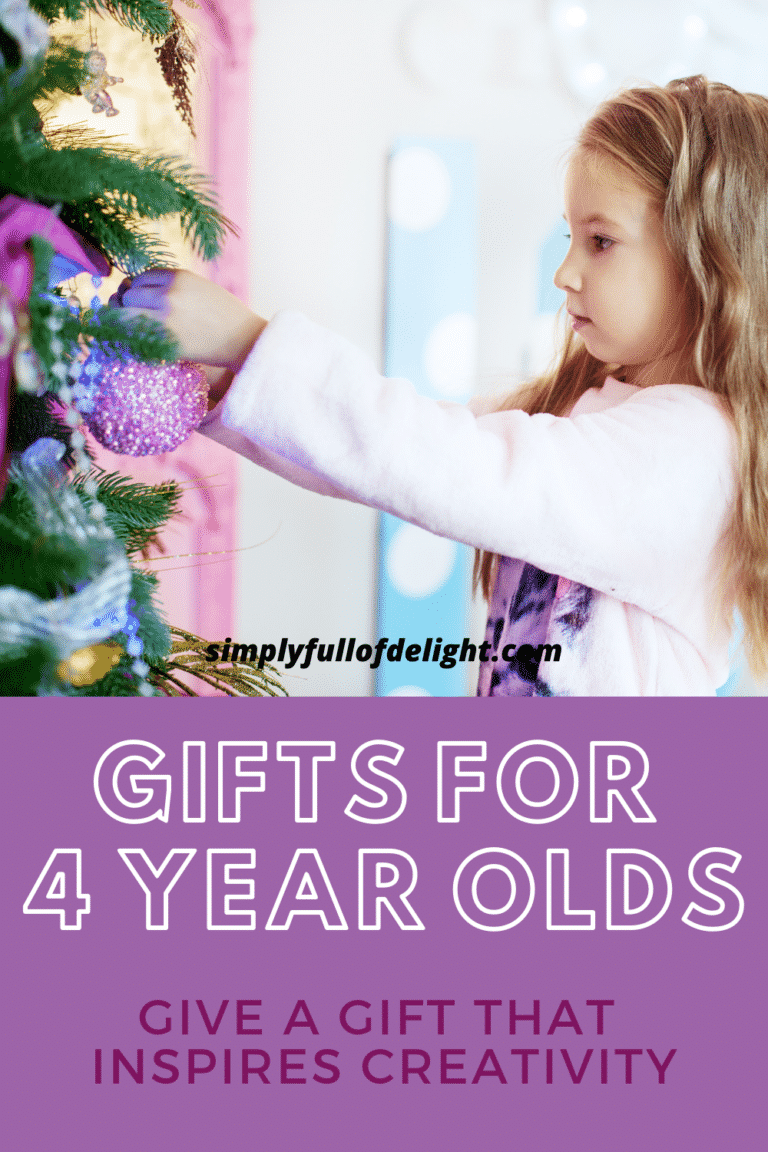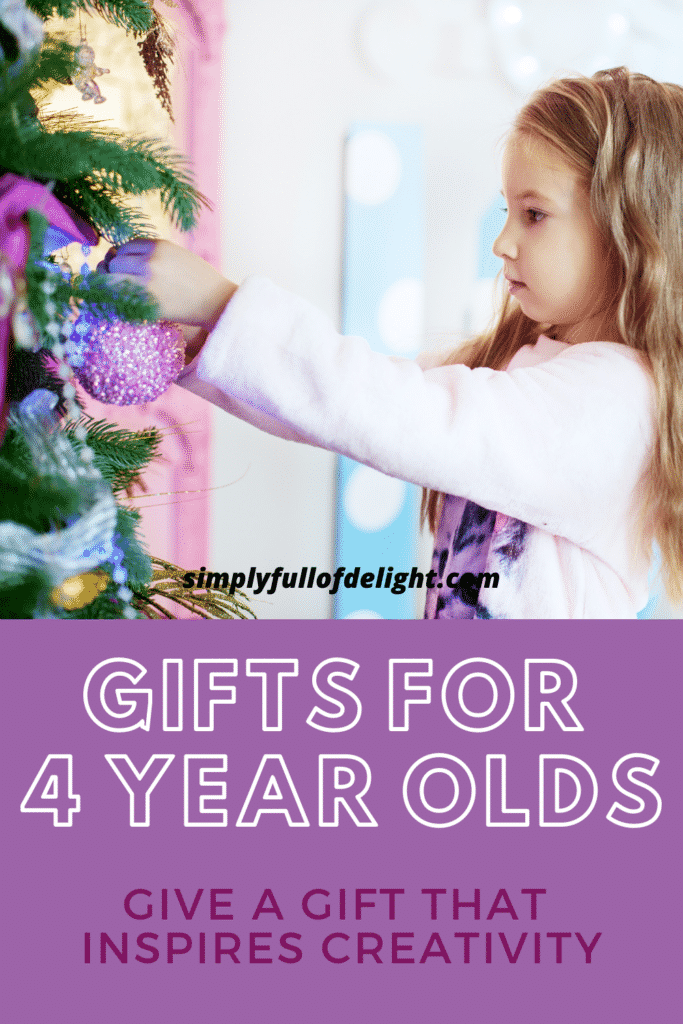 Disclosure: This post contains Amazon affiliate links. As an Amazon affliliate, I earn from qualifying purchases at no additional cost to you.

1) Magnetic Apple Fractions
The Magnetic Apple Fractions by Learning Resources make an amazing and unique gift for kids! My kids love to take them apart and put them back together to hear the fun "clack" noise they make as the magnets connect. I love this toy because of how open-ended it is and how children can learn about fractions by simply playing.
2) Magformers
Magformers are one of my children's favorite toys…and mine as well! They are basically magnetic building blocks that inspire creativity and imagination. Magformers are the only toy that I don't think we will ever have enough of! It's one of those great gifts for 4 year olds that stretches upwards across age groups, as older kids love them as much as little ones do!
3) United States Map Puzzle
This United States Map Puzzle by Melissa & Doug is such an awesome floor puzzle for children ages 4-8. My kids are currently obsessed with this puzzle. They love to put it together and then talk about the locations on the map.
I love how it is a simple way to introduce geography. It leads to natural questions and conversations about distance and time zones.
If your child is still building up their puzzle skills, I would suggest a simpler puzzle set to start with like the Melissa & Doug 4-in-1 puzzle sets.
4) Lego Duplo Blocks
If you've read my other gift guides, I recommend Lego Duplo blocks, again and again. They are such a great learning toy.
Kids use their creativity, imagination, and learn simple engineering skills as they build. I love how there are different themed sets and it's a toy that stretches upwards with them as they grow older.
Lego Duplos are superior to the off-brands in the way that the blocks neatly stack and don't come apart unless the child pulls them apart. They are easy to manipulate, so kids can play independently. My kids love to build cities, trains, towers, and treehouses.
5) Melissa & Doug Vet Play Set
The Melissa & Doug Pet Vet Play Set is a great gift for children of all ages. It encourages pretend play and empathy as children use the vet tools to take care of the animals. The animals and tools are high quality and I love how this set encourages kids to use their imaginations and play cooperatively.
There are other play sets available in this same line including a horse, safari animals, and other pet themed sets.
6) Pancake Pile-Up! Game
The Educational Insights Pancake Pile-Up! Relay Game is a fun game for the 4-8 year old age group. The game is meant to be a relay race, but my 4 and 5 year olds often love to play by themselves, picking a card and then building the pancake order that is shown.
The game teaches sequencing skills. A fun gift idea would be this game, along with a book about pancakes like Curious George Makes Pancakes by Margret Rey.
7) Melissa & Doug Water Wow
Melissa and Doug Water Wow Splash Cards are reusable color with water flash cards. This is another toy that I recommend over and over. They are great for lots of age groups and my kids can't get enough of them.
We bring them to church, restaurants, and on road trips. They are great for any situation where you need to keep a child occupied! This particular set teaches the alphabet and numbers. There are other themes for Water Wows here.
8) Remote Control Car
A remote control car is a super fun gift for a preschooler! This Minnie Mouse one is very good for young kids because it is simple to use and it's durable.
Remote control cars teach cause and effect while also being really fun for little ones! A Mickey R/C car can be found here.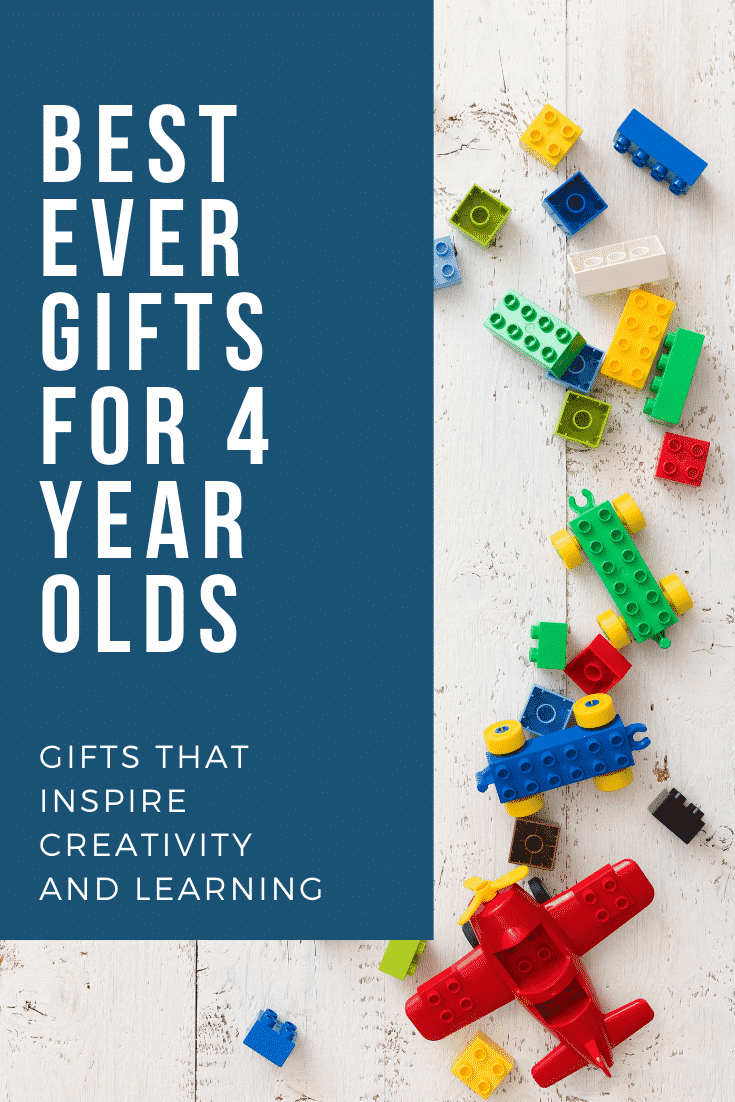 9) Melissa & Doug Sandwich Set
The Melissa & Doug Wooden Sandwich Set is a great toy for imaginative play. I love how it is so realistic and the pieces are so durable.
Our kids have had our set for years and it still works great. There are a lot of different food sets by Melissa & Doug to choose from.
This is another toy that stretches upwards with your child, that they will be playing with for many years to come.
10) Train Set – Gifts for 4 year olds
Train sets are great for this age group. Building tracks encourages creativity, imagination, and helps develop spacial reasoning.
All of my kids enjoy building tracks and it's a fun idea to start when they are small and grow their set each year.
11) Melissa & Doug Sticker Pads
Melissa & Doug Sticker Pads inspire creativity and are a fun quiet time activity. My son enjoys the "Make a Meal" set, where you place foods on a plate, while my daughters love the "Sweet Treats" one the best.
There is also a travel size version that has reusable stickers that is perfect for popping in your diaper bag .
12) Toy Wheelbarrow
A toy wheelbarrow is a great idea for any kid who has a backyard! We own this one by John Deere. My kids love to load it up with acorns, leaves, etc and haul it around the yard.
I love that this toy is very durable and encourages outdoor play. When kids are out in nature, they naturally are more active and creative. If you are looking for other ideas to encourage outdoor play consider a sandbox, playhouse, a Cozy Coupe, or tricycle.
13) Ice Cream Social Game
This amazing Ice Cream Social game is one of our family's favorites! It involves both strategy and luck which makes it fun for adults to play with their kids! You can play a round in less than 10 minutes and it teaches matching and simple critical thinking skills.
14) Melissa and Doug Dollhouse
This Melissa and Doug Dollhouse is sure to be a wow gift! Dollhouses help with fine motor skills and build imagination. This dollhouse has plenty of space with 6 rooms and 3 floors! If you are looking for a more gender neutral option, check these houses out.
15) John Deere Ride-On Excavator
This John Deere Ride-On 360 Degree Excavator Shovel/Digger will wow your child. Great for encouraging outdoor play, this excavator has real working levers. That means your child can actually operate the digger! This excavator can be used in sand, dirt, or snow. What an amazing gift!
That's it! I hope you've found the perfect gift ideas for your 4 year old!
Be sure to check out my other gift guides:
The Best Farm Gifts for your Little Farmer
Unique Toys from Etsy – Handmade Gifts