Looking for some fun printable roads for kids? These little roads and printable train tracks are the perfect road trip printable for packing in your diaper bag for a quiet activity on the go!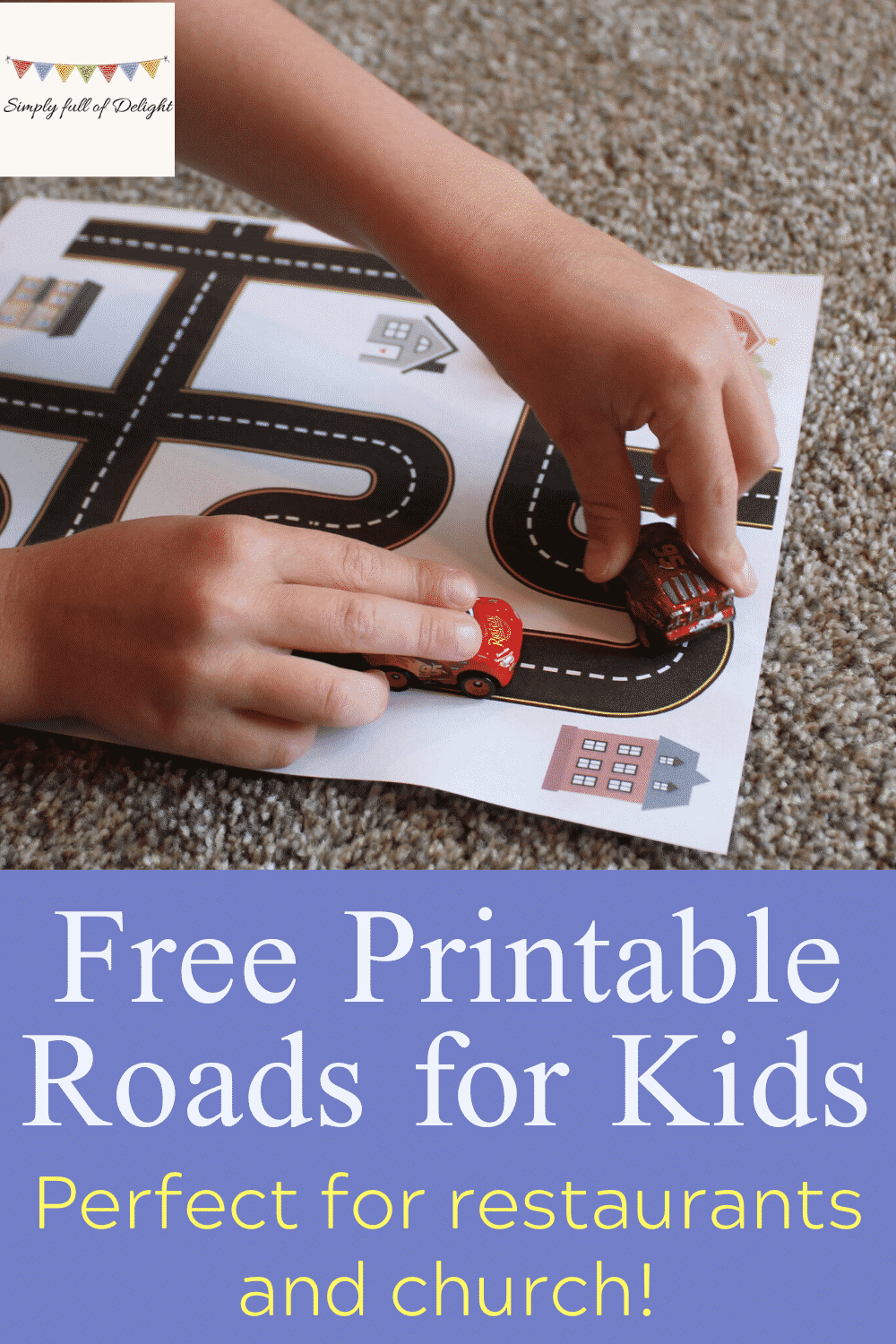 If you have a child who loves cars or trains, they are going to love these free printable roads!
*** Disclaimer: As an Amazon Associate I earn from qualifying purchases, at no additional cost to you. Thanks for supporting this blog!***
This past Christmas, my son was given a really fun gift. My mom gave him a tiny pocket size road set by Driven. It was totally adorable and it engaged him for hours at a time.
It quickly became the go-to quiet time activity for my son while our younger girls were napping. He would sit and build, and drive his tiny cars and Mini Thomas trains on the tiny roads for a really long time.
I was excited pack his tiny road set in our diaper bag for when we needed a quiet church activity.
However, we quickly found that the tiny roads needed a hard surface to be put together. It wouldn't work on a church seat.
In addition, the sheer number of pieces kept me from packing it to go to restaurants.
I'm all about packing a few items, but much akin to a Lego set, these roadways had lots of pieces to engage children.
I knew we would be losing pieces every where we went if we brought it along. It had to stay home.
So, I set out to create our own set of transport friendly Road Trip Printable.
Making a Road Template Printable
It wasn't exactly easy.
All of the programs that I use to create printables didn't have the right tools to make the perfect road. Plus, I don't have a degree in graphic design, just a love of creating.
I hit a wall with the project and had to stop several times because of my perfectionism.
However, I realized, my kids would rather have lots of imperfect roads, than a bunch of saved unfinished documents on my computer.
So, I completed the project and printed out some copies for my kids.
They had a blast! We will definitely be bringing these road trip printables along the next time we need a quiet activity when we are out and about!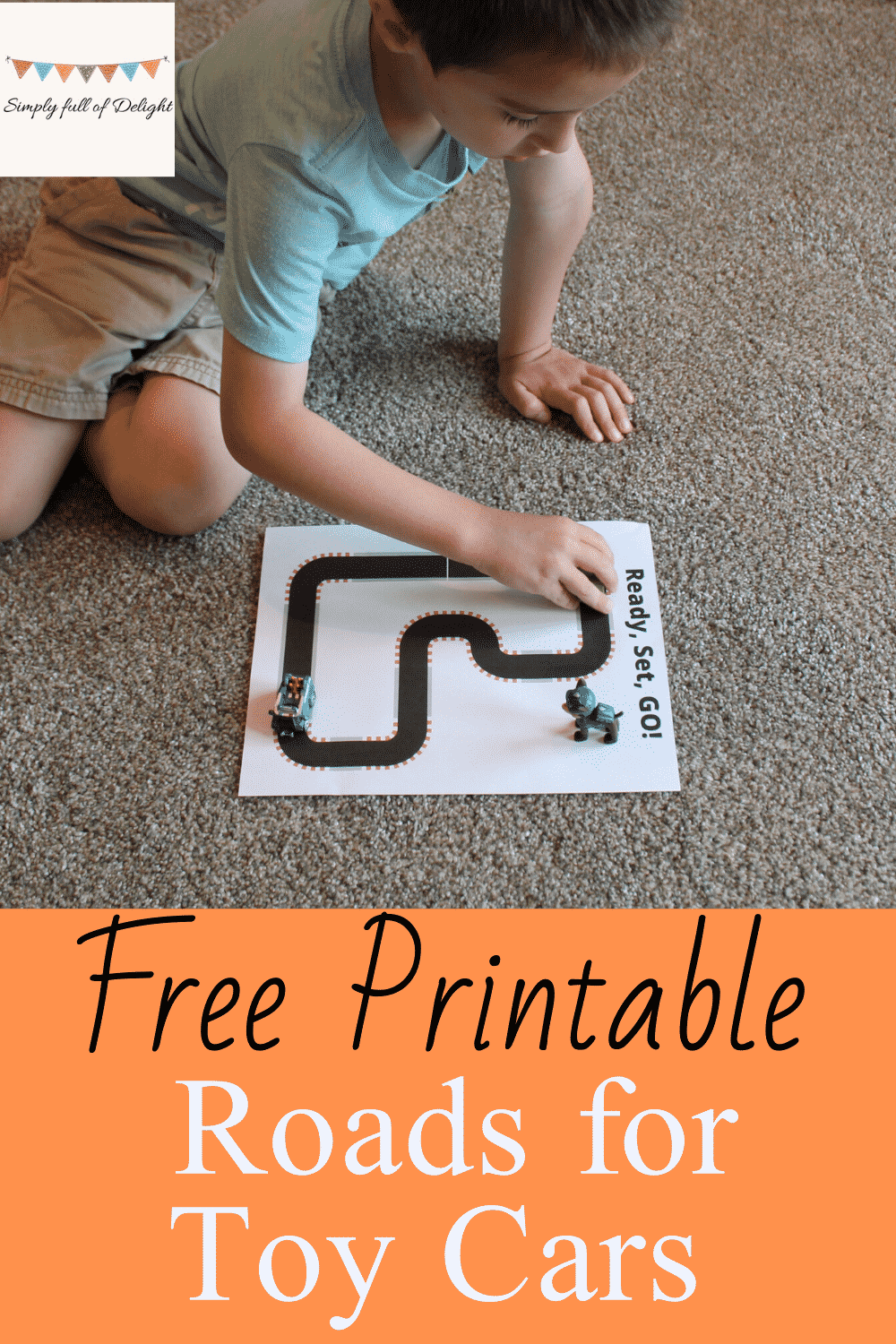 The Race Track – Printable road track
There are several versions of printable roads available for you to download. First up, is the race track. Perfect for those little race cars!
We like to use these adorable Disney Pixar Cars Mini Racers. My son also has the adorable Mack truck he likes to load them into.
I wouldn't recommend these small cars for children who still put things in their mouths, but they are perfect for these mini printable roads!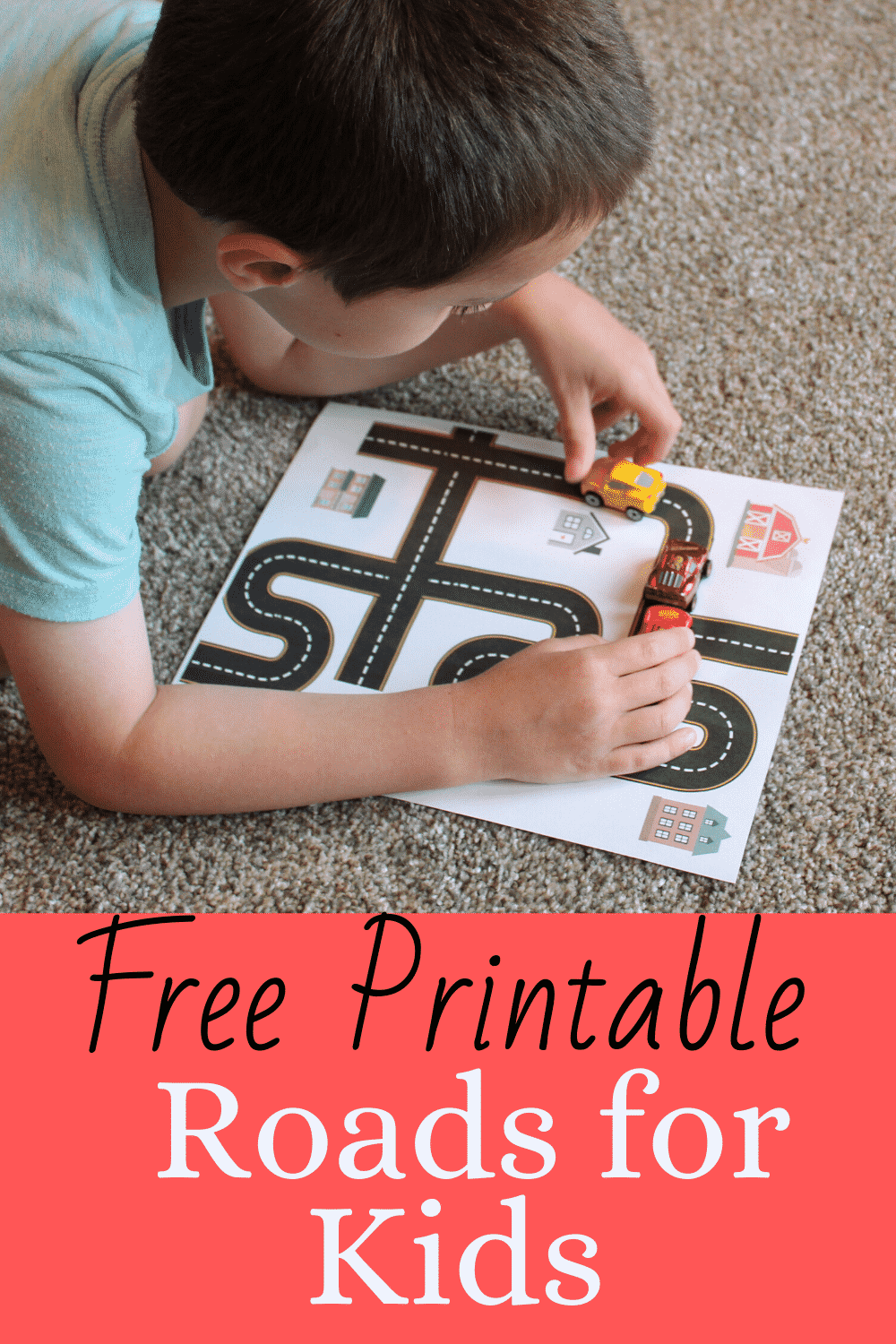 The Tiny Town Roadway
The next printable roads template is a tiny town. The roads curve around the page allowing maximum driving space. I would recommend using the Disney Pixar Cars Mini Racers toy cars for this road as well!
You could use other tiny toy cars as well, such as the ones in the Paw Patrol My Busy Book.
Printable Train Tracks
Lastly, there is a free train track printable, for those train loving kids!
Each of my kids have went through a train obsession, so if you've got a miniature conductor in the family, this will fit the bill!
This printable train track is perfect for little ones to drive their trains to keep busy on a road trip or just on the go!
My son LOVES his Mini Thomas trains. This free printable train track is made to go with the Thomas mini trains.
If you are the creative type, feel free to print several copies of these roads and cut out curves and straight pieces of track to let your child build their own tracks!
You can print out your free printable roads by visiting my Resource Library. I would recommend printing on cardstock so that they last longer, but it's not necessary!
Another way to increase durability is to place the printed roads inside a one of these plastic pocket sleeves. (Which I recommend for using with playdough mats and dry erase tracing as well!)
Or, you could laminate them to increase longevity. (This is the laminator I have!)
I hope your child has a blast playing with these free printable roads for toy cars and trains!
May your outings be a little easier!
Get instant access to these free printables by subscribing to my email list below and then visiting my Resource Library, which is full of free printables! In addition to these printable roads, you'll find awesome activities for kids along with other parenting and teaching resources.
And…if you found this article helpful, please share on social media! Thanks!
More Fun for Kids
If you enjoyed this road trip printable ideas and are looking for more fun activities for kids be sure to check out these Free Play Dough Mats to help develop those fine motor skills.
Need more ideas for fun in the car or plane? Check out the best toys for road trips here.
These Scavenger Hunts for kids are a fun way to get kids up and moving. Also, be sure to grab your free Number Coloring pages for your preschooler or little ones!
And Lastly, if you are loving freebies, be sure to check out this mega list of amazing Freebies for Kids – you won't believe how many things you can find for free!