Sequencing activities are a great way to help preschoolers learn about order and the world around them. Strengthen those early math and reading skills with these Preschool Sequencing Cards Free Printables.
When kids practice sequencing skills, they are learning about order and learning to use number words like "First, Second, Third" or order words such as "First, Next, Last."
Their understanding of basic math concepts can grow through these simple sequencing card activities and of course their vocabulary will grow too!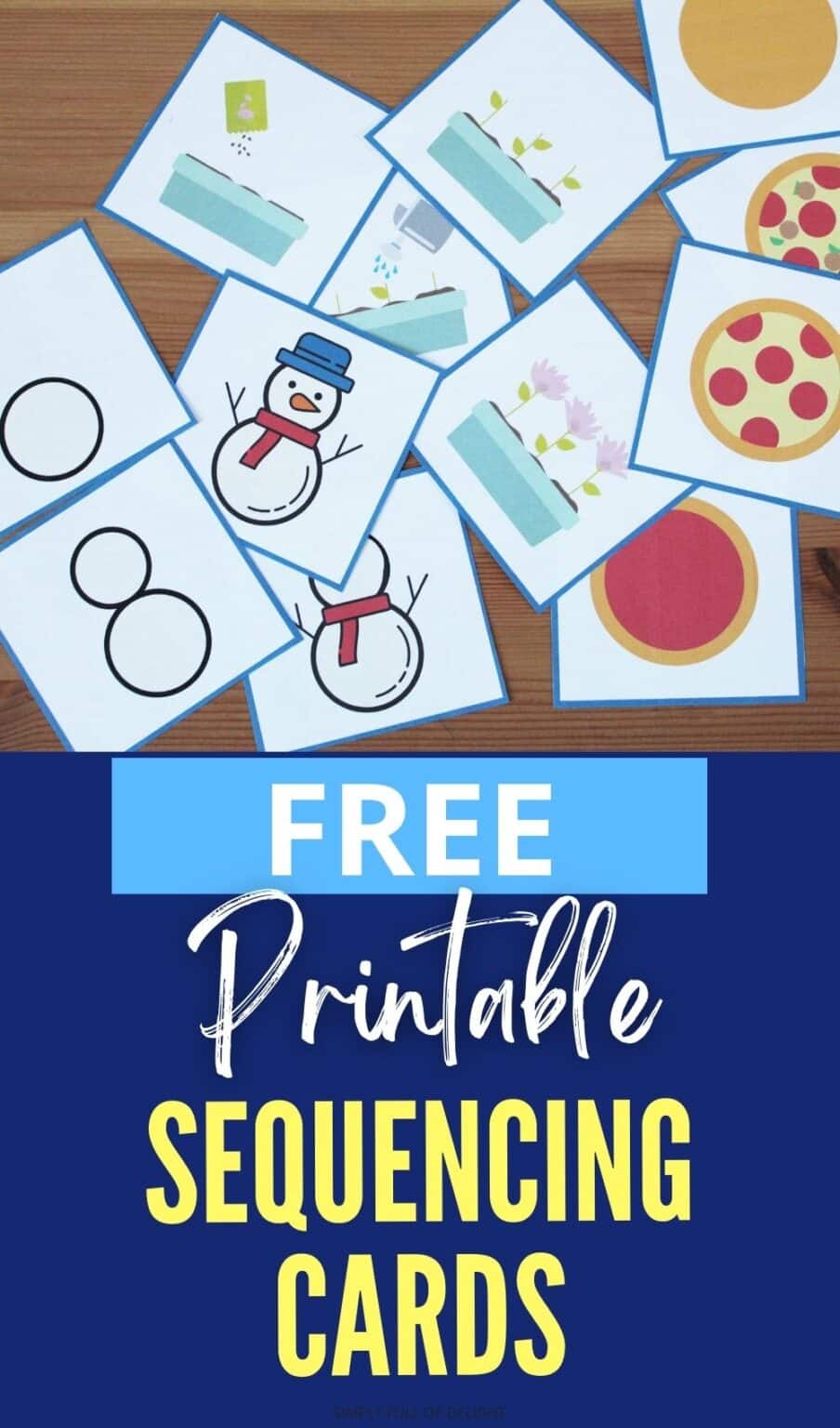 Why is Sequencing important for kids?
According to LWTears.com, sequencing is important for kids to learn because it helps them recognize patterns, make predictions, and use logic. It's an early math skill!
These sequencing skills also help kids learn to retell stories, and understand the elements that make up a story (Beginning, middle, end).
I've created several story sequencing cards – free printable sets for you to print out, right on this page (near the end of the article)! Let's dive in!
Pizza 4 Step Sequencing Cards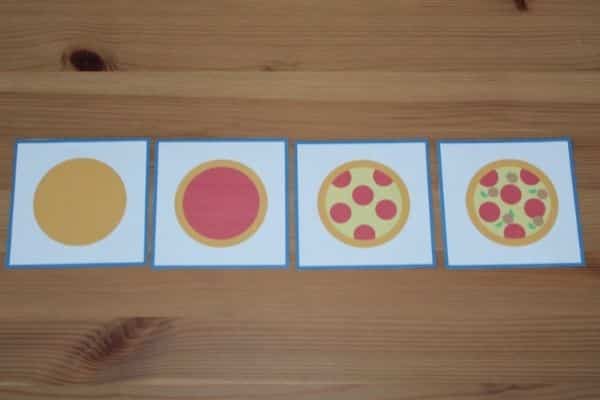 First up is this set of Pizza 4 Step Sequencing Cards. Preschoolers can put the cards in order to show that First you start with a crust, next you add sauce, then you add cheese and pepperoni, and last you add more toppings!
My kids love all things pizza, so these sequencing pictures were an immediate hit!
Plant Story Sequencing Cards Free Printable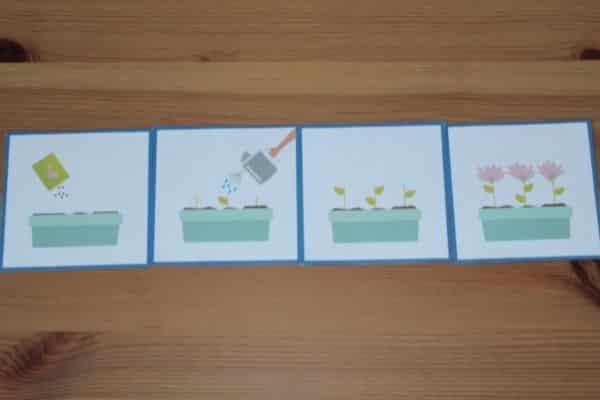 Next up is this cute plant story sequencing cards set!
This free printable shows seeds being planted and tiny sprouts being watered with a watering can. Then we see the plants growing tall and getting leaves. Finally, the last picture shows the plants blooming with flowers.
You can grab these plant themed free printable sequencing cards by clicking the black download button near the end of the article!
Snowman Preschool Sequencing Cards free printable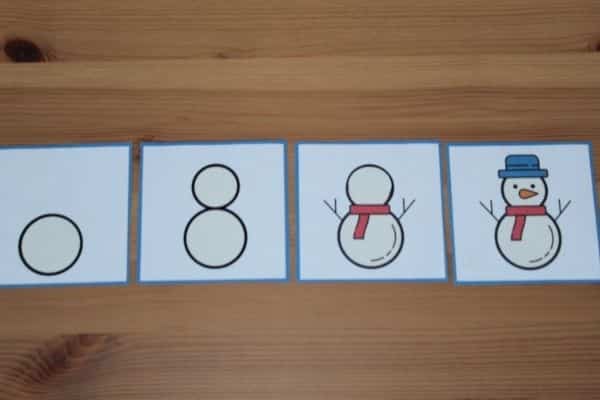 This last set of preschool sequencing cards shows a snowman being built.
First, there's just one large snowball. The next picture card shows 2 snowballs stacked on top of each other. The third picture shows a snowman with sticks for arms and a scarf around his neck. The last picture shows a complete snowman with a hat, eyes, and carrot nose!
How can I use these cards for younger kids?
These Preschool Sequencing card sets are 4 step sequencing cards. However, that doesn't mean you can't use them as 2 step sequencing cards for really young children.
Simply pull 2 cards from the set that make sense together to talk about what happens first and what happens last.
You could also use just 2 cards to teach the concepts of "Before and After." For example, you could use the first card of the snowman set to show the single ball of snow as "before"….and then the completed snowman for the "after."
Can I use these free printable cards for 3 Step Sequencing Cards?
Yes! These free sequencing cards can also be used for learning 3 Step Sequencing. If kids are struggling with understanding 4 steps, you can dial the lesson back to meet the child where they are. Simply remove 1 of the middle cards.
In most cases, I would recommend removing the third card. It seems like the more logical step to skip, if you are going to take out one of the sequencing cards for preschool.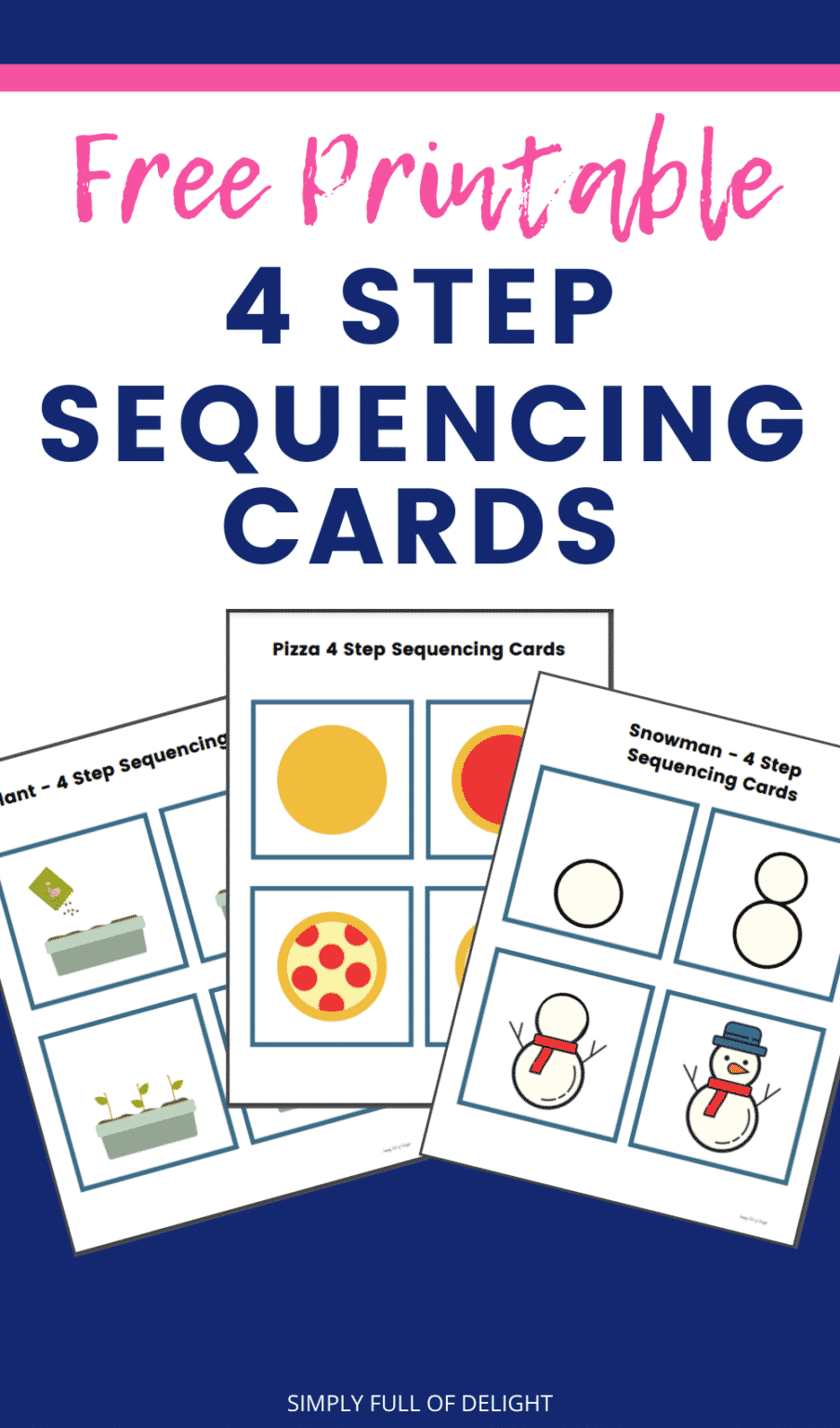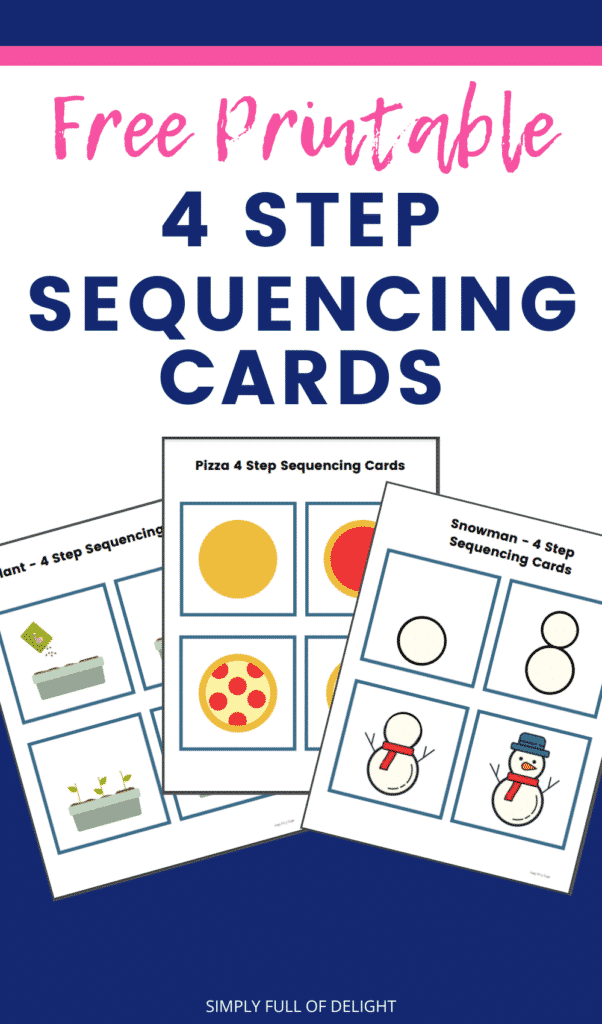 Books that Teach Sequencing
** Disclaimer: As an Amazon.com Associate, I earn from qualifying purchases made by readers clicking my links at no extra cost to you.
If you'd like to extend the lesson, reading a book can be a great way to teach kids about sequencing!
I think one of the best books for learning about sequencing is The Very Hungry Caterpillar by Eric Carle. It's a simple story that is easy to recount. Not that they will remember everything the caterpillar ate, but rather that he started as an egg, he hatched, he went looking for food, he ate a lot, built a cocoon, and became a butterfly.
Another book that is great for teaching sequencing is The 3 Little Pigs by Paul Galdone. You can talk about what each pig built his house with and what happened when the wolf came.
Lastly, I would recommend The Three Billy Goats Gruff by Paul Galdone. This is another classic story but also great for teaching sequencing! This story tells about 3 goats, 1 small, 1 medium, and one large who try to cross a bridge and meet a troll. Kids can recount what happened to the first goat, second goat, and third goat.
How to Print the Sequencing Cards
I recommend printing these Sequencing cards on cardstock and then laminating for durability. I use this Scotch Laminator and it's perfect for all of my at-home laminating needs. It's super easy to use and it even comes with some laminating pouches to get you started!
To grab the preschool sequencing cards free printable simply click on the black download button below!
Free Sequencing Cards Printable:
More Ideas for Preschool Learning
Looking for more preschool activities to teach young children basic skills or for homeschool preschool?? Or looking for some fun ideas to add to your lesson plan for preschoolers or kindergarten?
You can grab some free Number Coloring Pages here to teach numbers 1-10. It's a fun way to for young learners to practice number recognition and counting skills.
There's some awesome free color by number worksheets here to help with your child's fine motor skills development. These printable activities are great to help with your child's fine motor skills development.
There's also 20 unique ideas for teaching the alphabet here. You'll find ABC picture cards, play dough mats, and many more alphabet educational activities to help with early literacy.
You can also find some Free printable play money for kids here. Perfect for teaching about money or using for pretend play for younger children. (My kids love using it for their pretend ice cream shop!)
Lastly, you can find some amazing free ABC Flash Cards. Early learners will enjoy putting them in sequential order or using them in game play for this Alphabet Soup game. What a fun activity!
Want to save these free printable sequencing cards for later? Pin the image below.