Looking for the perfect gluten free red beans and rice recipe? Try this super easy 30 minute Cajun recipe that the whole family will enjoy!
I love that this classic southern dish can be enjoyed by those of us with celiac disease without any huge modifications!
This is a family favorite meal in my home. All 4 of my kids (and my husband) get excited when they see this meal on the stove top!
It's one of those comforting meals that come together quickly. I love that it's an easy main course and oh so delicious!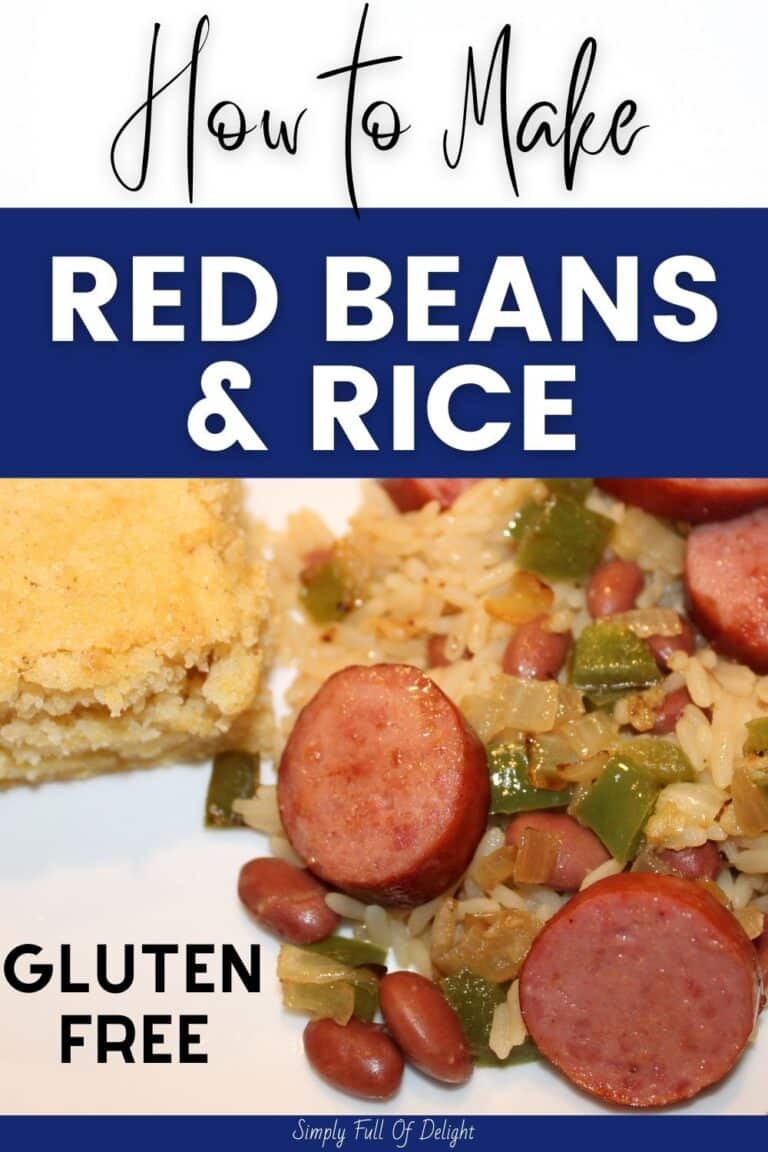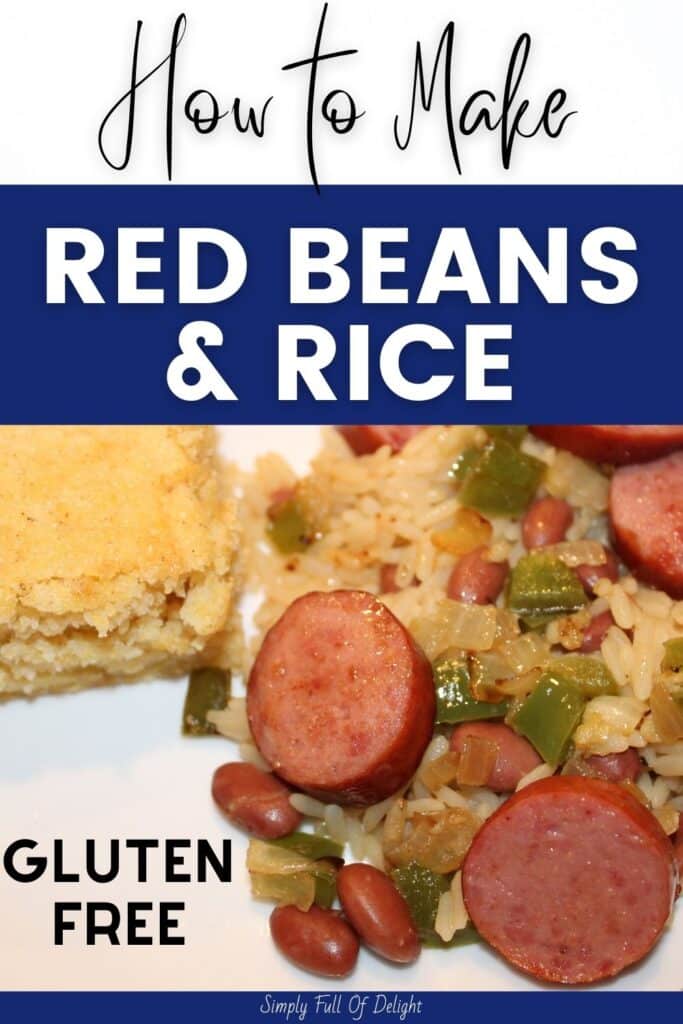 If you are looking to enjoy the spicy flavors of the deep south this recipe is a great addition to your recipe rotation! This delicious dish is a filling meal that is a great way to introduce Cajun food to your kids!
Cajun cooking typically means spicy, but the great thing about this recipe is that you can make it as spicy (or not!) as you like.
I have young kids, so I typically turn the spice level down a few notches to appeal to kid palates, but my husband likes to add an extra shake of the Cajun seasoning to his plate to amp up the spice level!
This recipe is an adaption of a recipe from Iowa Girl Eats.
Disclosure: As an Amazon Associate I earn from qualifying purchases from readers clicking my affiliate links at no additional cost to you.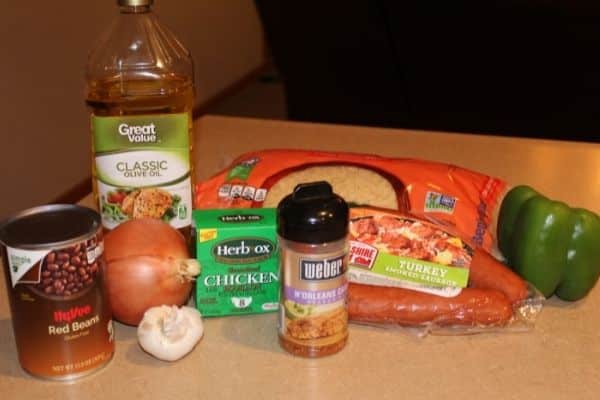 Ingredients for Gluten Free Red Beans and Rice Recipe
You will need:
– 2 Tablespoons of olive oil
– 13 oz Gluten Free Kielbasa sausage, sliced into 1/2 inch circles (we use the turkey kielbasa by Hillshire Farm)
– 1 cup chopped green bell pepper
– One small onion, chopped
– 3 Large fresh garlic cloves, minced
– 2 and 2/3 cups of water
– 2 chicken bullion cubes (We use Herb-Ox)
-15 oz Red Beans (most brands are gluten free – check labels to be sure)
– 1 and 1/2 cups long grain white rice (we use Uncle Ben's)
– Gluten Free Weber New Orleans Cajun Seasoning (I use a teaspoon – you may like more!)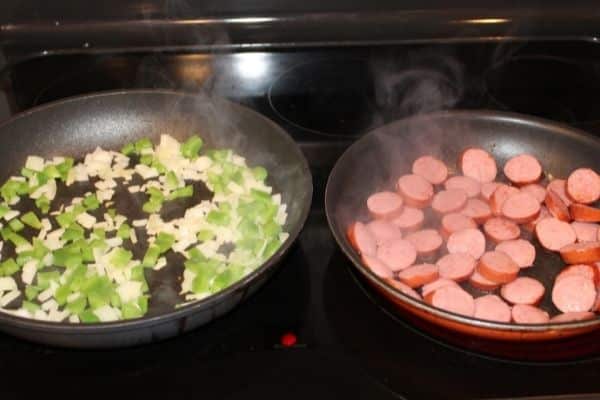 How to make Gluten Free Red Beans and Rice
First, in a large skillet, heat oil (1 tablespoon) on medium heat. Add the green pepper and onion and cook until tender. Add the garlic and saute for 1 minute. Remove from pan.
At the same time, heat a second skillet to medium-high heat with a tablespoon of olive oil and add your kielbasa. Cook the kielbasa until lightly browned on each side. Remove from heat and set aside.
Next using your first skillet, add bullion with water and stir to mix. Add the red beans and rice and bring to a boil/simmer. Sprinkle with 1 teaspoon of Cajun seasoning.
Turn down the heat and place a lid on top. Cook for about 10 minutes on low heat or until the rice is tender. Keep an eye on your dish, stir occasionally during the cooking process and add a tiny bit of extra water if needed.
When the rice is ready, combine the kielbasa, red beans and rice, and veggies and serve!
This dish goes nicely with a side salad and cornbread. We love the Krusteaz cornbread mix! It's so easy and always delicious!
Could this be an easy one-pot recipe??
Absolutely! My husband says if I make this meal with one pot (which I have in the past) that really…I am just cooking slowly. Two pans going at the same time speeds up the process.
If you decide to go with just one pot, I still recommend you remove items as they finish cooking.
I remove the items from the pan each time for 2 reasons. One is to prevent overcooking. The kielbasa can loose some of its flavor and texture if you keep it in the pan while the rice is cooking. Texture can change with the veggies as well.
The other reason I remove items is because I have kids who prefer this dish without the onions and peppers, so removing those items (and just mixing them into my plate and my husband's) makes it easier to serve to children.
Can I use Beef Kielbasa?
I recommend turkey kielbasa, because beef kielbasa tends to be more greasy and has less flavor in my opinion.
I'm normally a beef all the way kind of person, as is my husband. However, we both agree that turkey kielbasa just tastes better in this recipe!
Can I substitute broth for the bullion?
Absolutely! Broth is a great choice. My family usually does bullion because it's the less expensive option and I always have Herb-Ox in my pantry. If you use broth from a can, be sure to check the label to make sure you choose a gluten free broth.
How can I make this Gluten Free Red Beans and Rice Recipe spicier?
If you are looking to add a little flavor (heat) you can do the following:
– Adding extra Cajun seasoning is a good way to uplevel the spiciness of this dish.
– Another idea is to substitute the kielbasa with spicy andouille sausage.
– Add cayenne pepper! If all else fails, cayenne to the rescue!
How long does leftover rice last?
If you have a little red beans and rice leftover, it will stay good in the fridge in an air-tight container for 2-3 days. However, it never lasts that long in our house! It's usually gone by the next day!
I hope you enjoy this easy dish. This gluten free red beans and rice recipe is seriously one of my favorite things! You can find an easy printable version of this recipe by clicking the black download button below!
Pin the image below to save this recipe to your gluten free recipes board on Pinterest!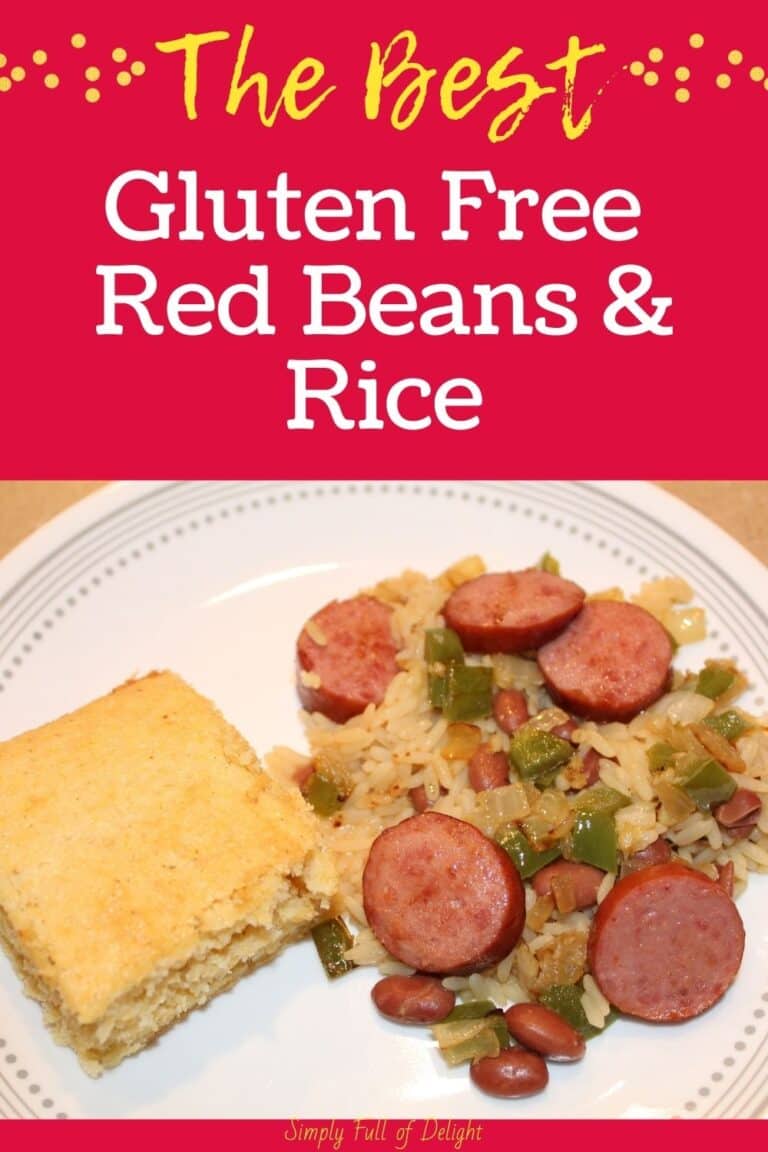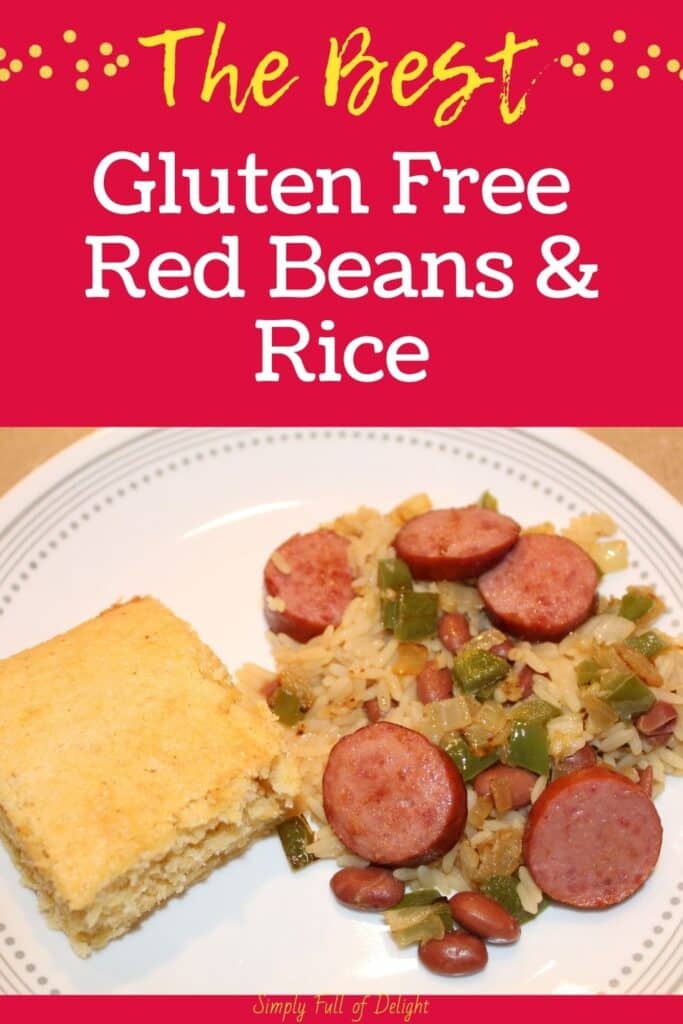 Looking for more Gluten Free Recipes? Check out this Easy White Queso Dip. Perfect for nachos or dipping!
You might also enjoy this Amazing Pot Roast Recipe. Once you try it, it will be your go-to recipe.
Also be sure to check out my family's favorite Chili recipe. It's Kid-Friendly and so Easy!