Looking for a fun apple craft for kids? Here's a Free Printable Apple Tree that's perfect for your preschool apple tree craft ideas!
Apple season is quickly approaching here in the Midwest. It's always one of my favorite times of the year!
We like to visit a local apple orchard and pick apples fresh off the tree. (Okay, actually ….these days our local orchard is my mom's house, but still, it's a fun time!)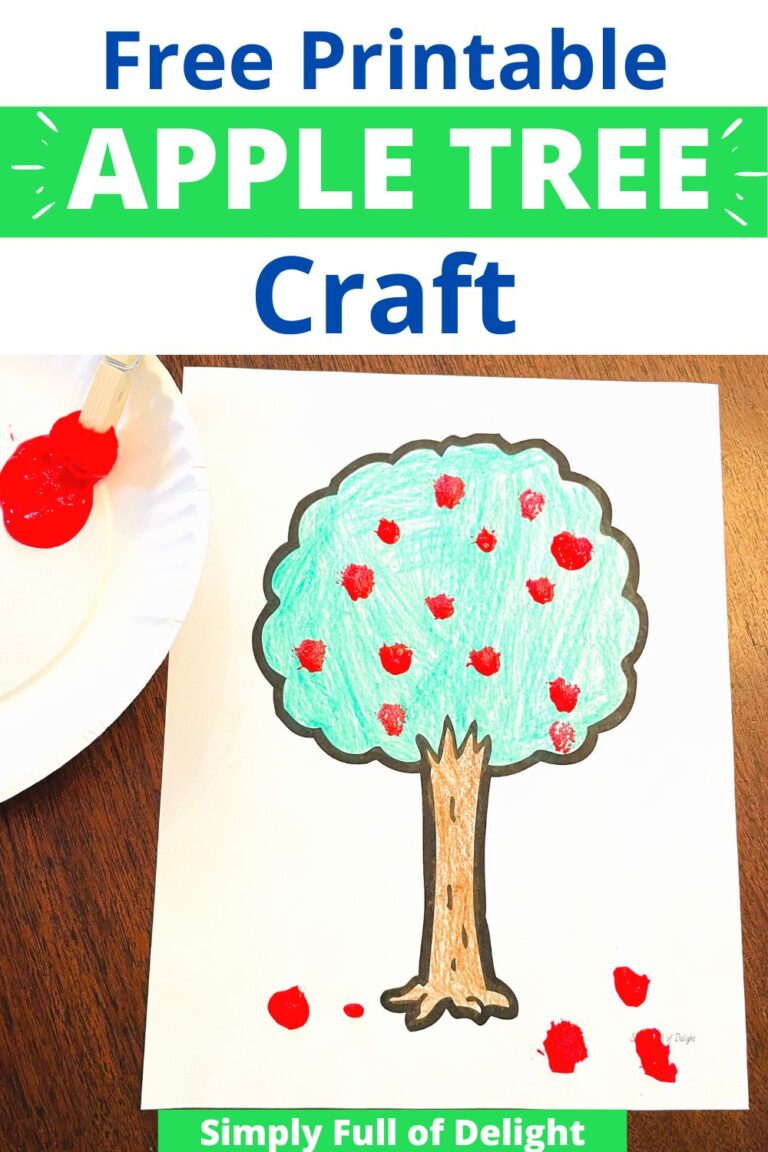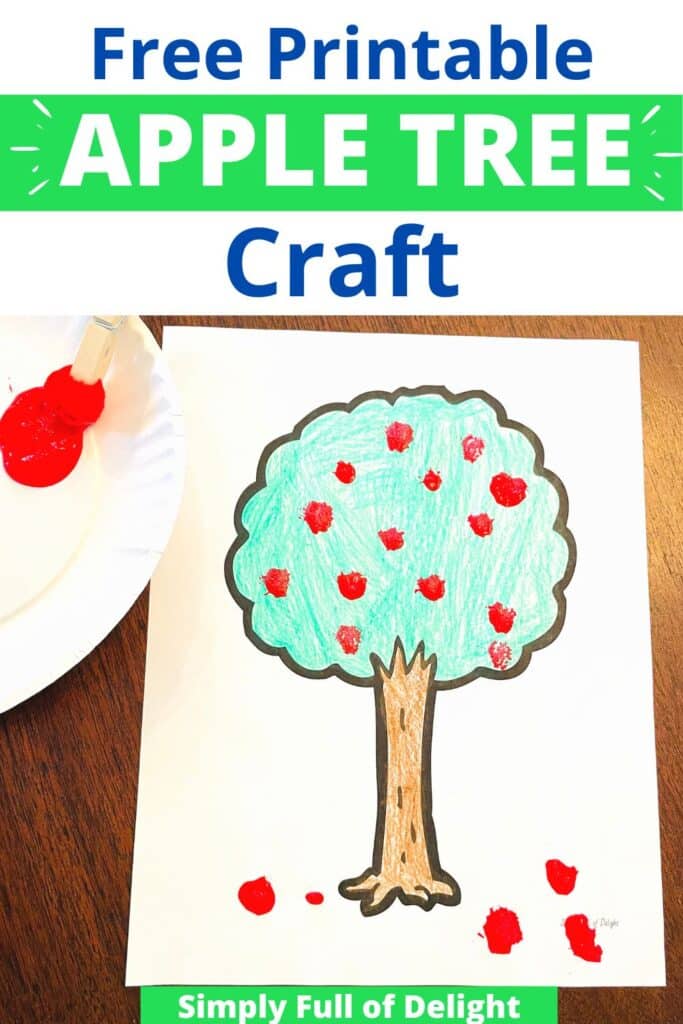 I love doing apple tree art with my kids, so I decided to create a free printable apple tree template to share with you.
This apple tree is just a simple tree trunk with a leafy tree top. It's perfect for all your great ideas for apple art projects.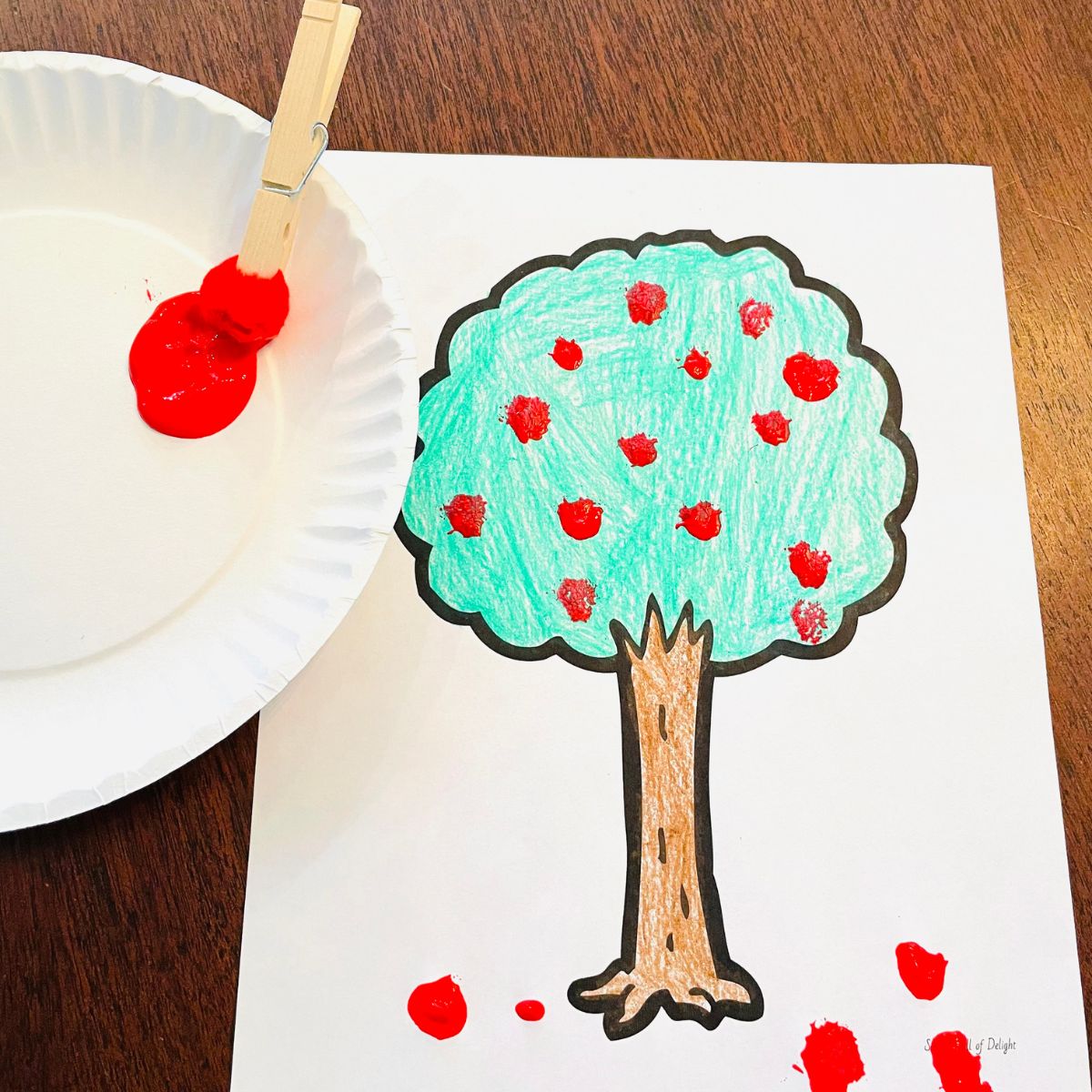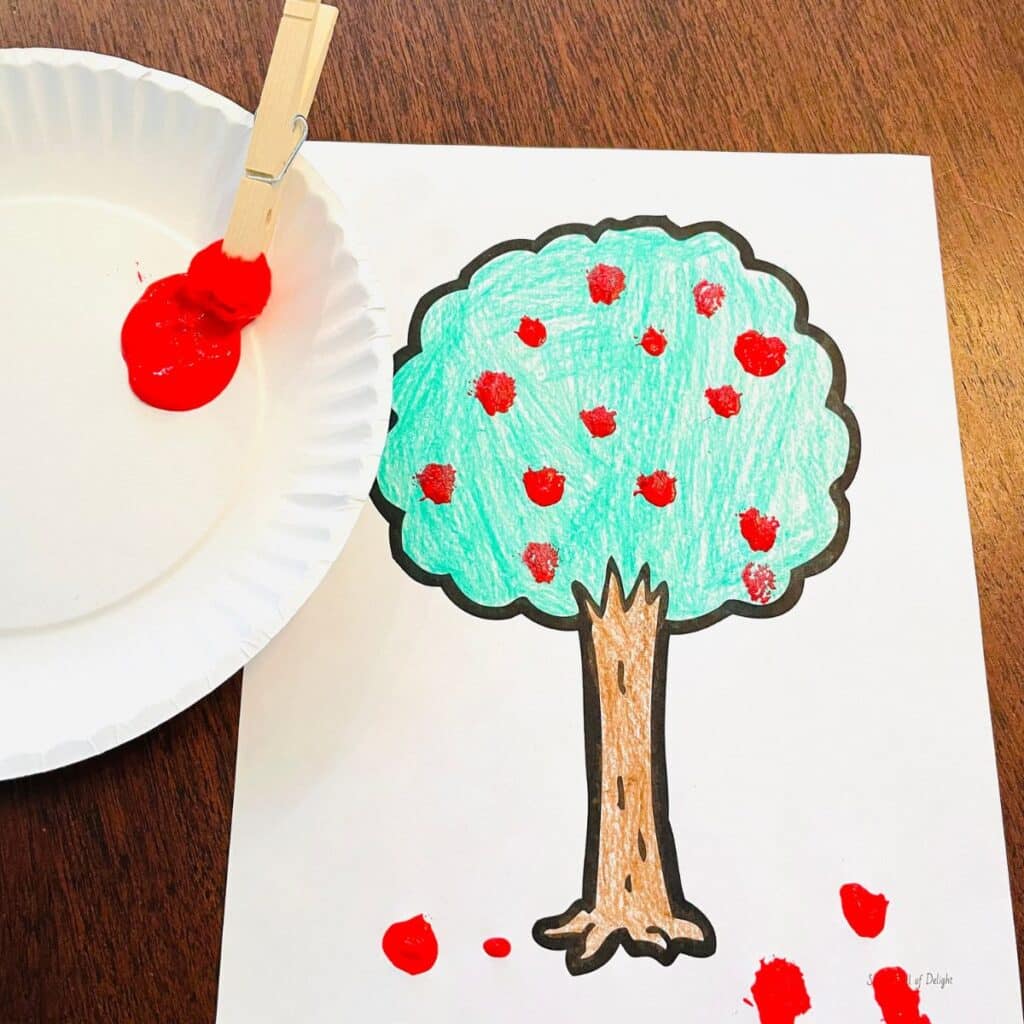 I am going to show you our fun apple tree craft, but feel free to use this apple tree template for your own apple craft ideas!
** Disclaimer: As an Etsy associate and as an Amazon.com Associate, I may earn from qualifying purchases made by readers clicking my affiliate links at no extra cost to you.
Supplies for Apple Tree Craft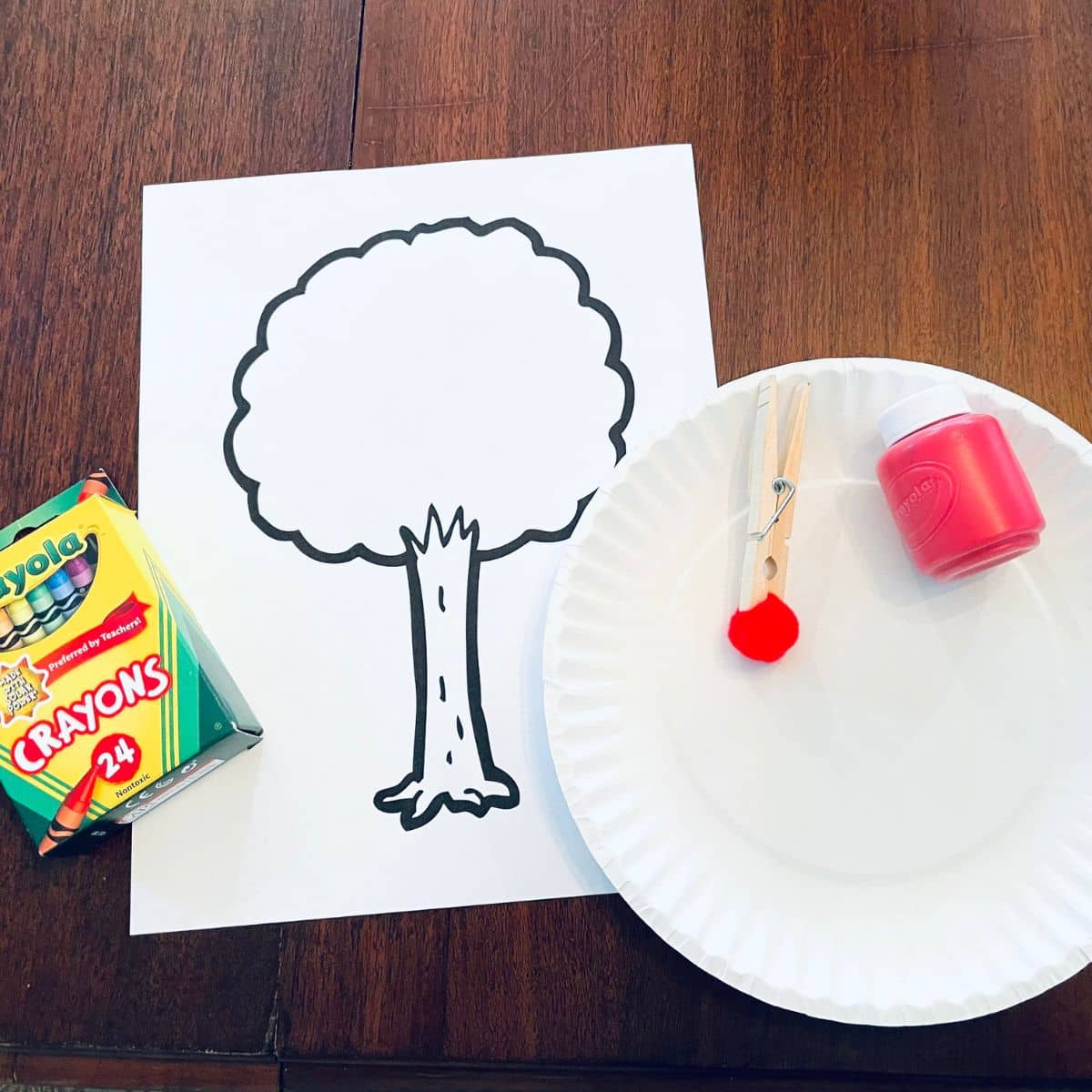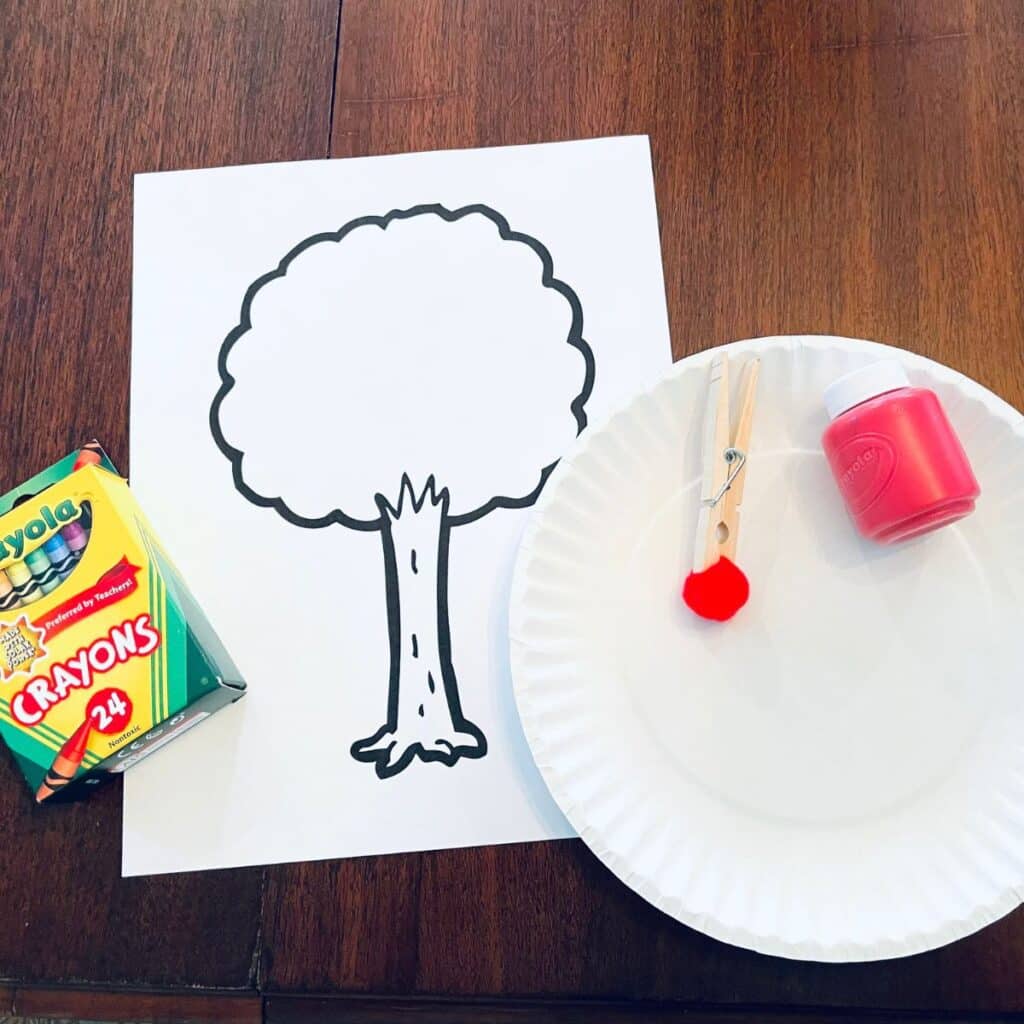 For this fun Apple Tree Craft you will need the following items:
The Free Printable Apple Tree – found at the end of this tutorial.
Crayons
Paper Plate
Once you've got your supplies ready – it's time to make an easy apple tree craft!
How to make Easy Preschool Apple Tree Craft
To make this easy apple tree craft, we printed out the free apple tree template onto white paper.
Next, color the apple tree. We colored the trunk of the tree brown and the leaves of the tree green.
This is a great way for kids to practice using their fine motor skills!
Once your tree is colored, it's time to paint!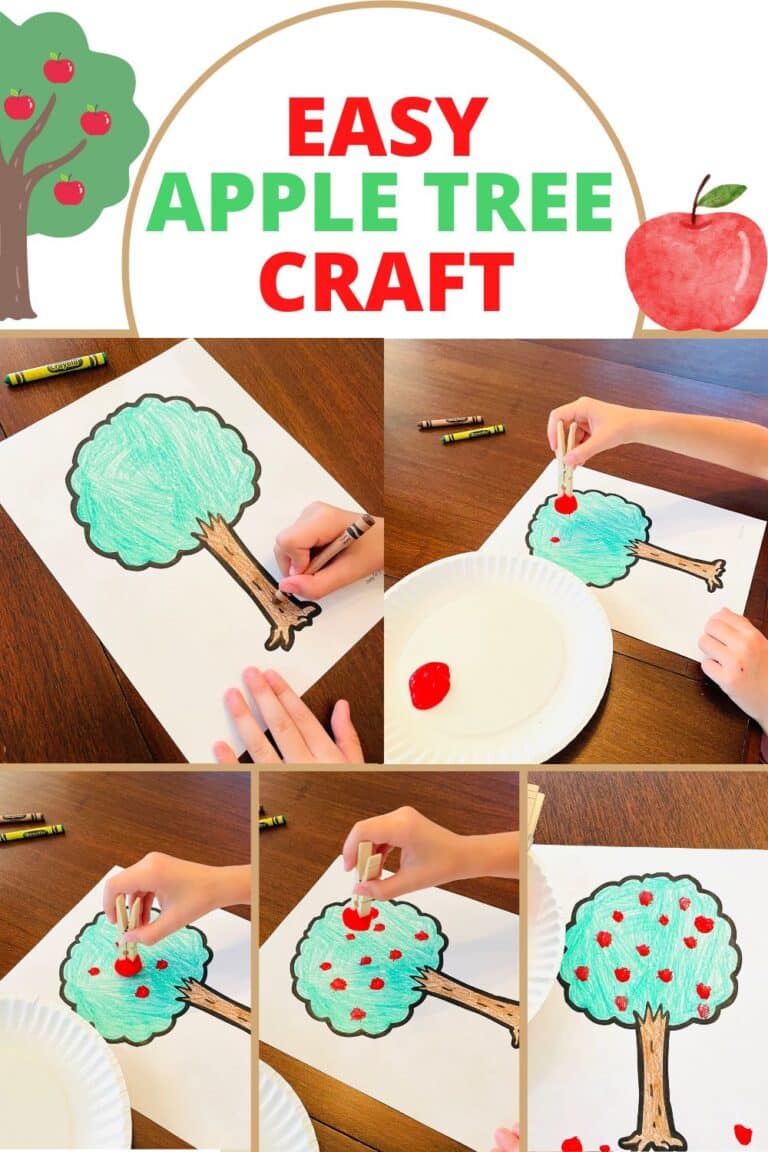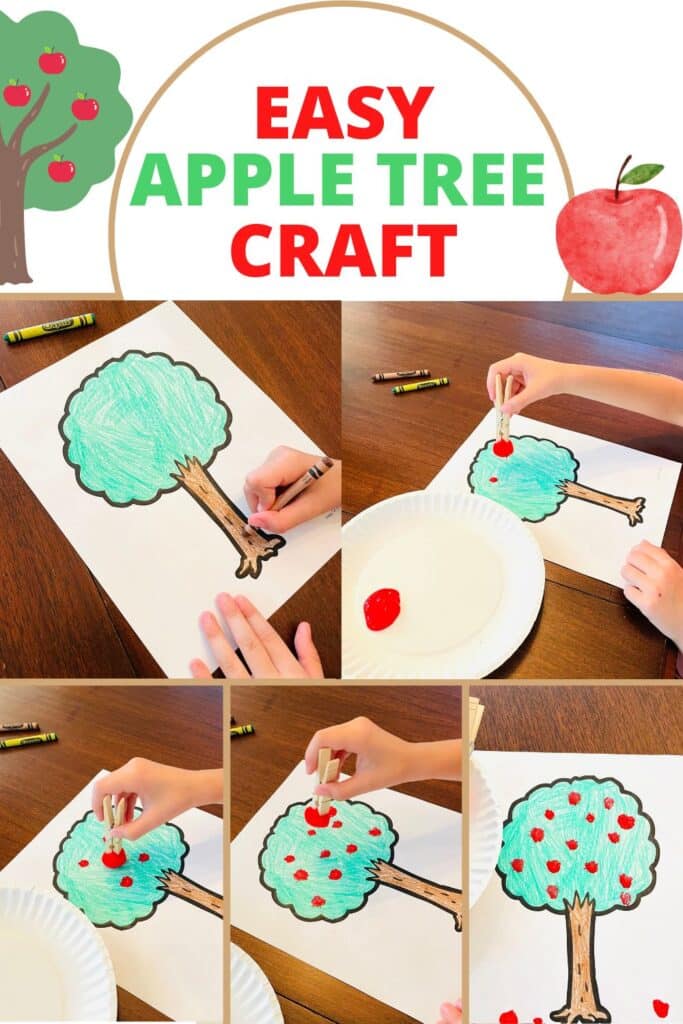 Pour a little bit of red paint onto a paper plate (or paper bowl).
Clip the pom pom onto the end of the clothespin.
Dab the pom pom into the red paint.
Then dot the apple tree with red circles of paint.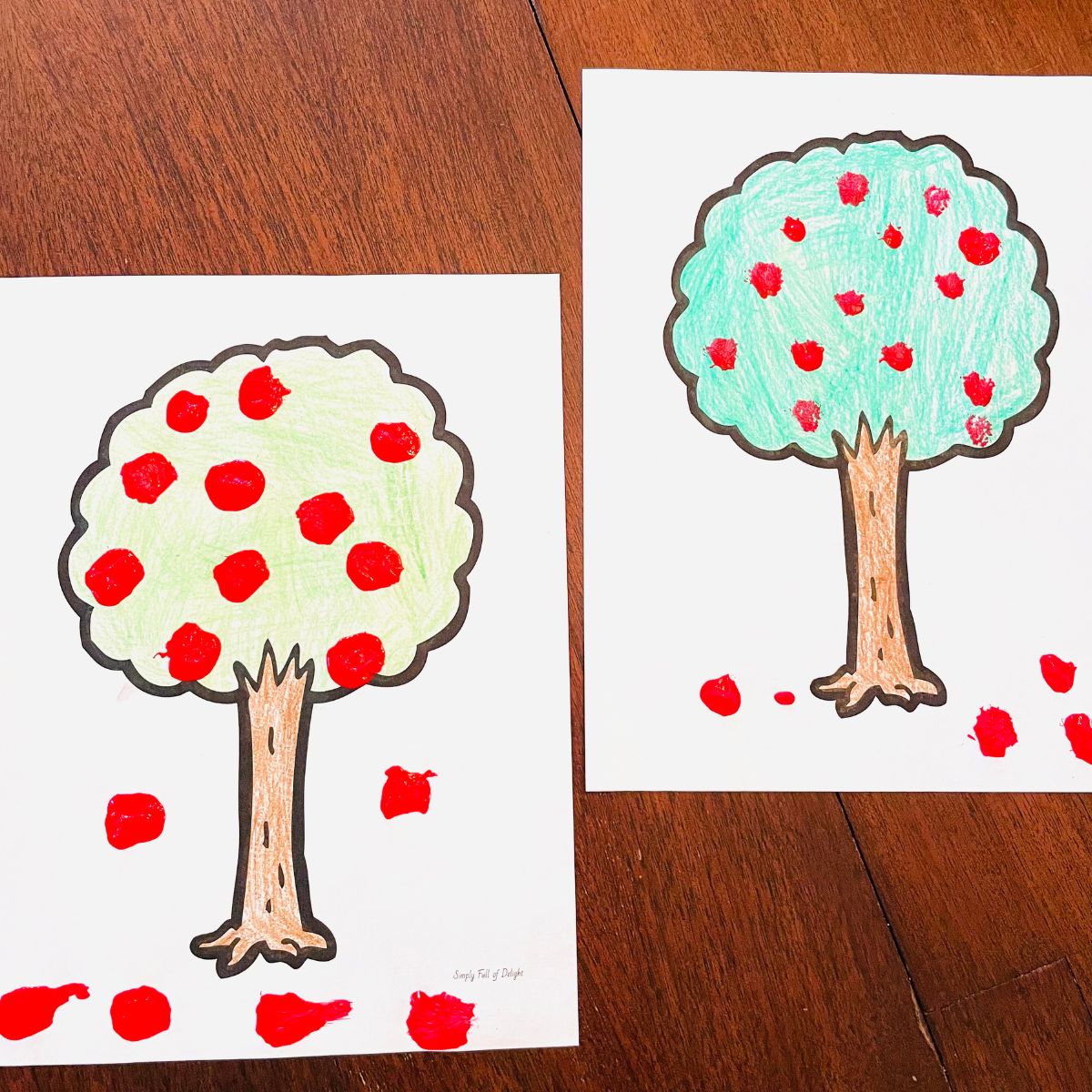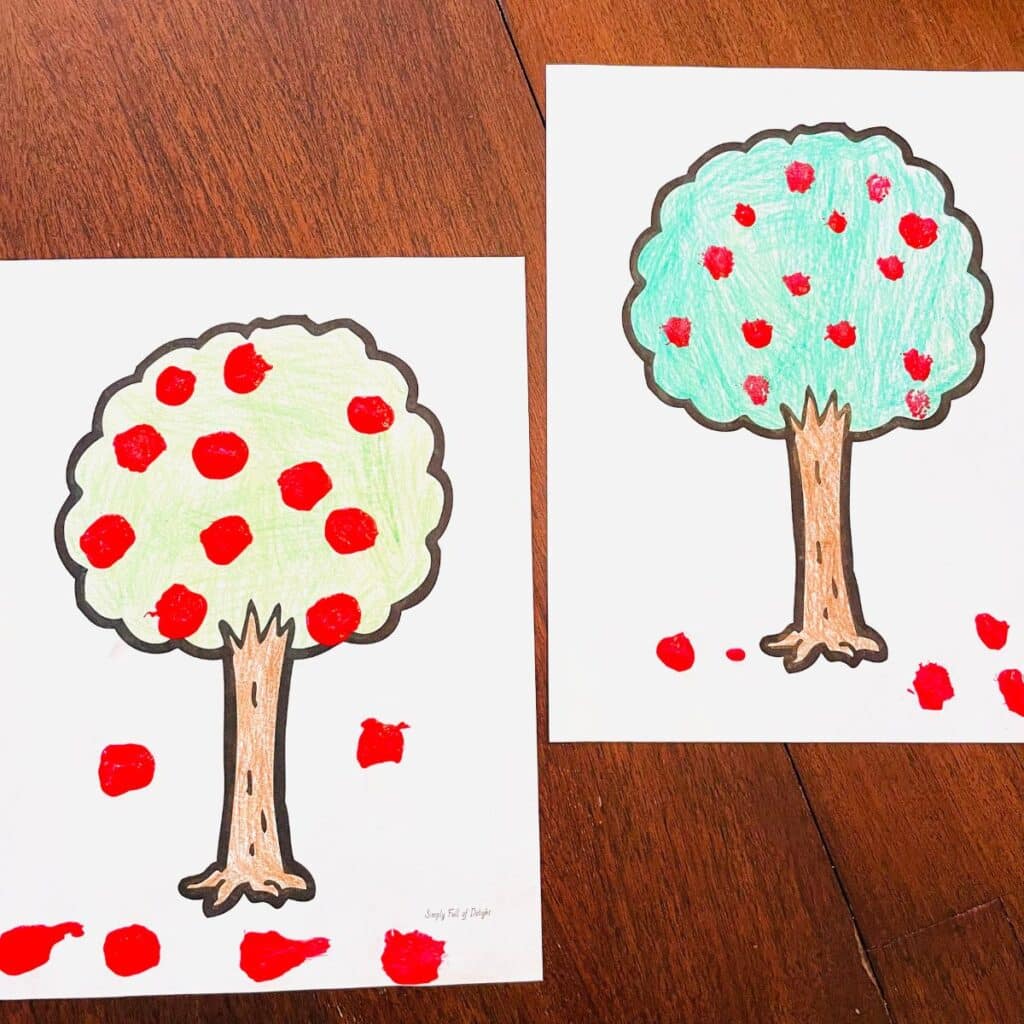 We also added some red apples to the ground as well for good measure.
Too cute! What a fun way to celebrate apple picking season!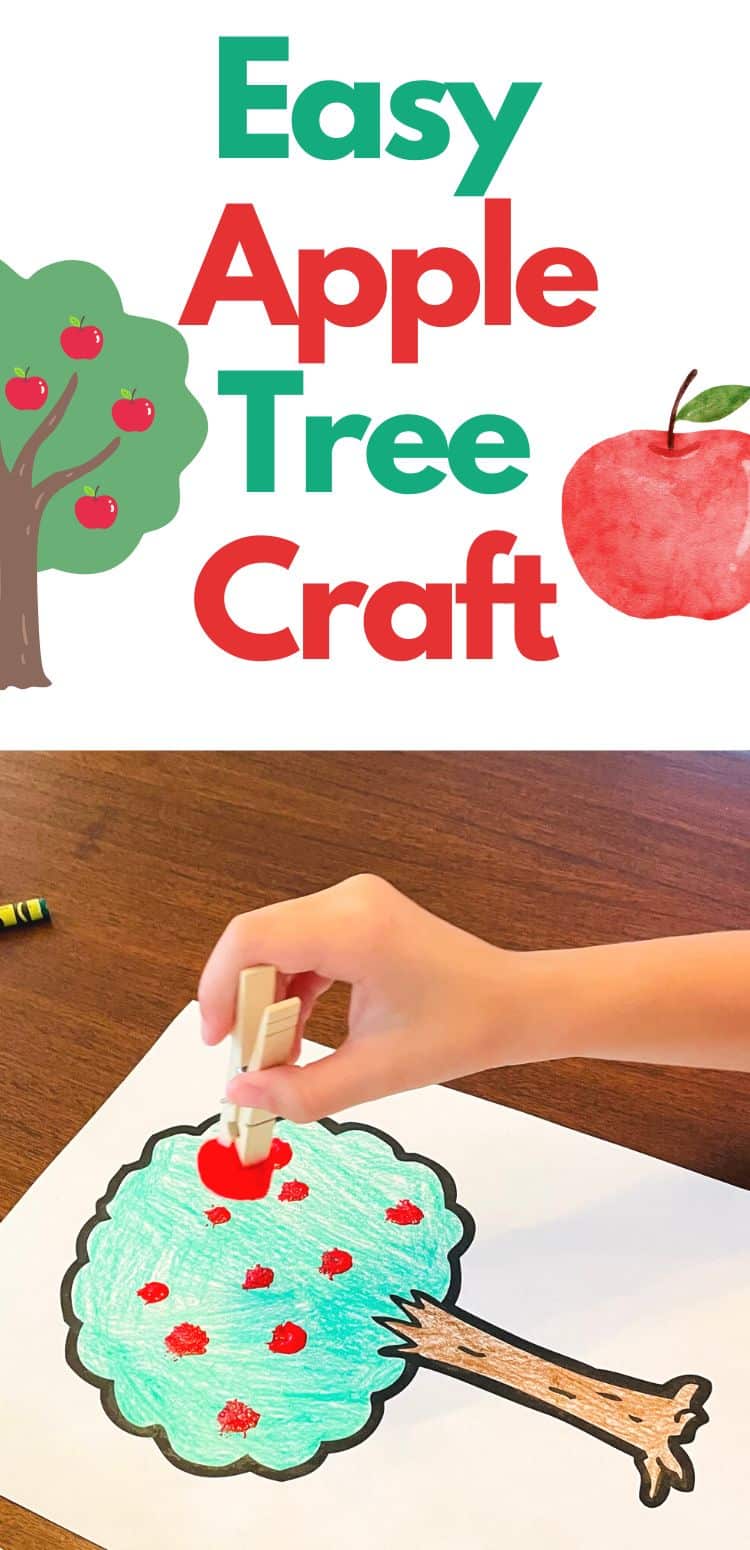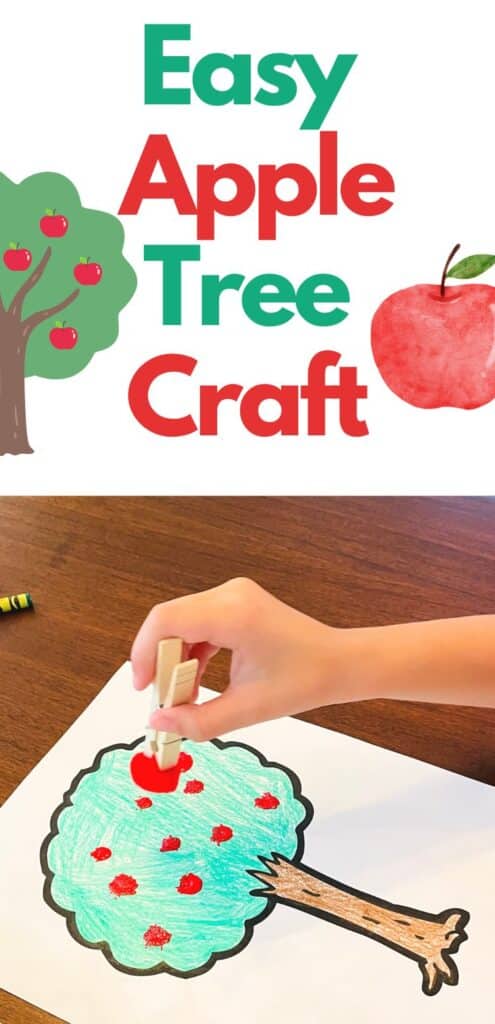 More Ideas for this Apple Tree Printable
This free apple tree picture is great for any of your apple picking season crafts.
Here's a few more ideas for next time:
– Use it as an apple tree coloring page – this printable can be used as simple coloring sheets for your apple theme.
– Color it and place it in a page protector and use it for a playdough mat. Have kids add red balls of playdough for apples.
– Glue little bits of red tissue paper to the printable apple tree, instead of painting it.
– Glue torn pieces of construction paper to it to create a one of a kind apple tree. There's so many fun ways to use this free printable apple tree!
– Paint both the tree and the apples – you could use green paint to blog on for the leaves of the tree and red paint for the apples. I'd let it dry before you add the red apples to avoid color mixing!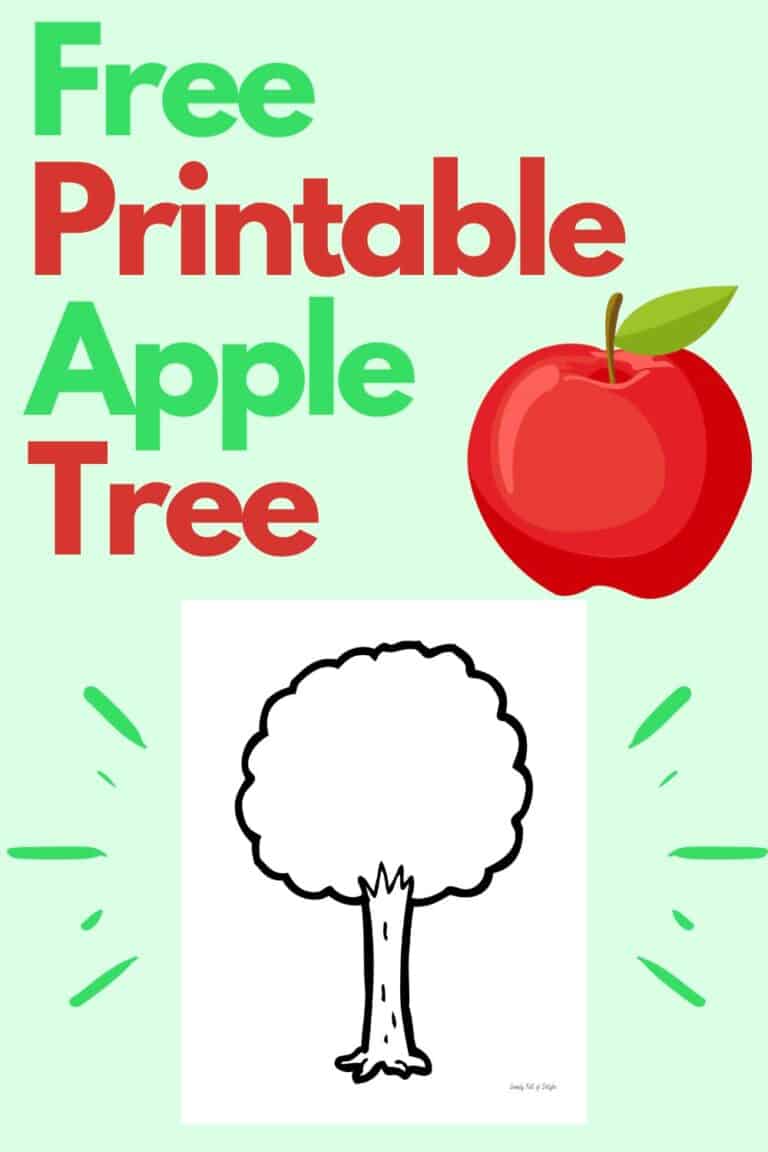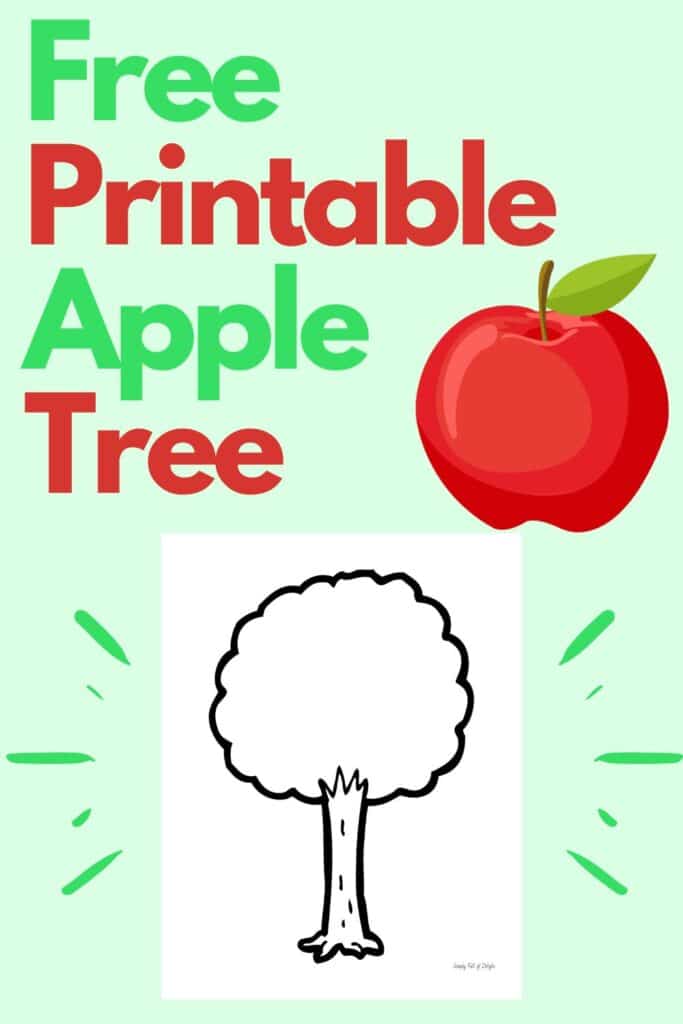 Get the Printable Apple Tree Template
Ready to make your own apple tree art?    You can download the free apple tree printable template pdf file below by clicking the black download button….and then get ready for your own apple tree craft ideas!
More Apple Crafts and Activities for Kids
Looking for more apple craft ideas?
Kids will enjoy this Marble Painting Apple Craft idea. It's such a fun way to paint and I love how each apple turns out differently!
There's a fun Pie Making Sensory Bin here. This would be a great addition to your apple activities unit. Kids will love rolling the dough, stirring the filling and making their own little apple pies!
Younger kids will love this Color Sorting Apple Tree Idea. Little ones can practice color recognition by sorting cereal by color onto the free apple tree printable.
You can find a fun Apple Stamping Basket here. Kids of all ages will enjoy stamping real apples into paint and printing them onto the apple basket printable. Too cute!
You can also find over 40 Apple Activities for kids here. There's sensory play, printables, apple crafts and more! You're sure to find the perfect apple activities for your classroom!
Want to save this apple tree craft for later? Pin the image below to you Apple Activities board on Pinterest.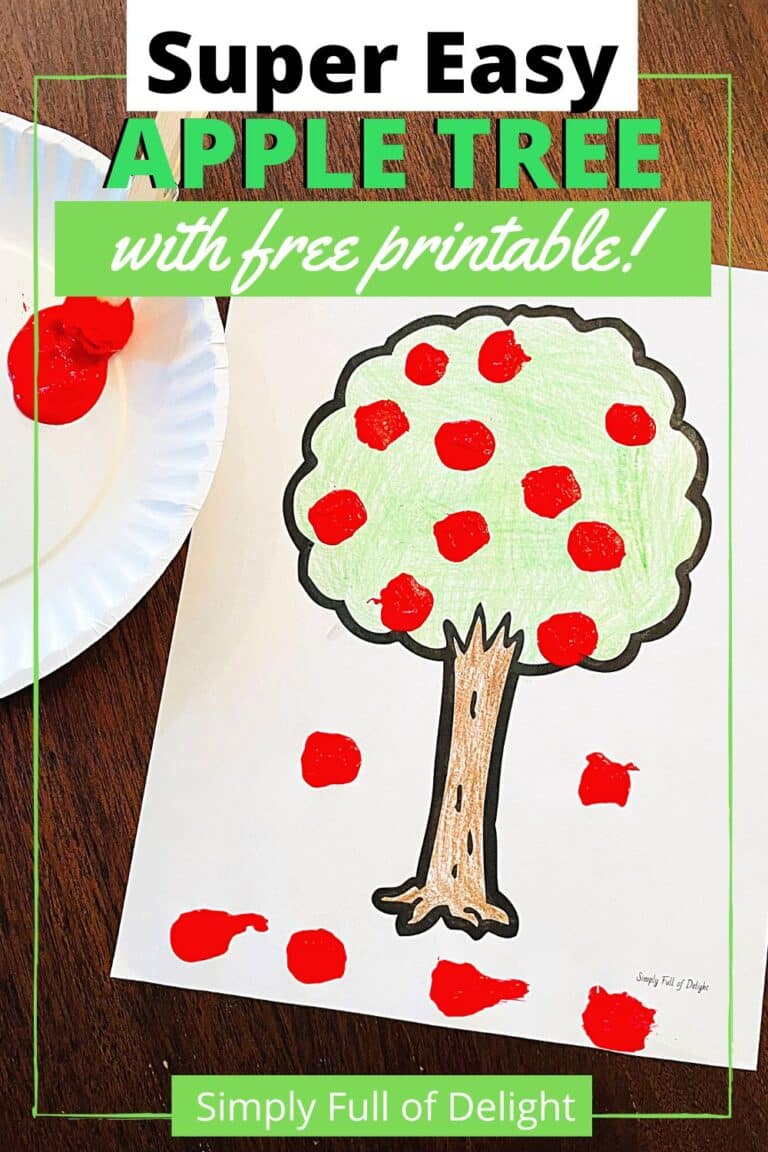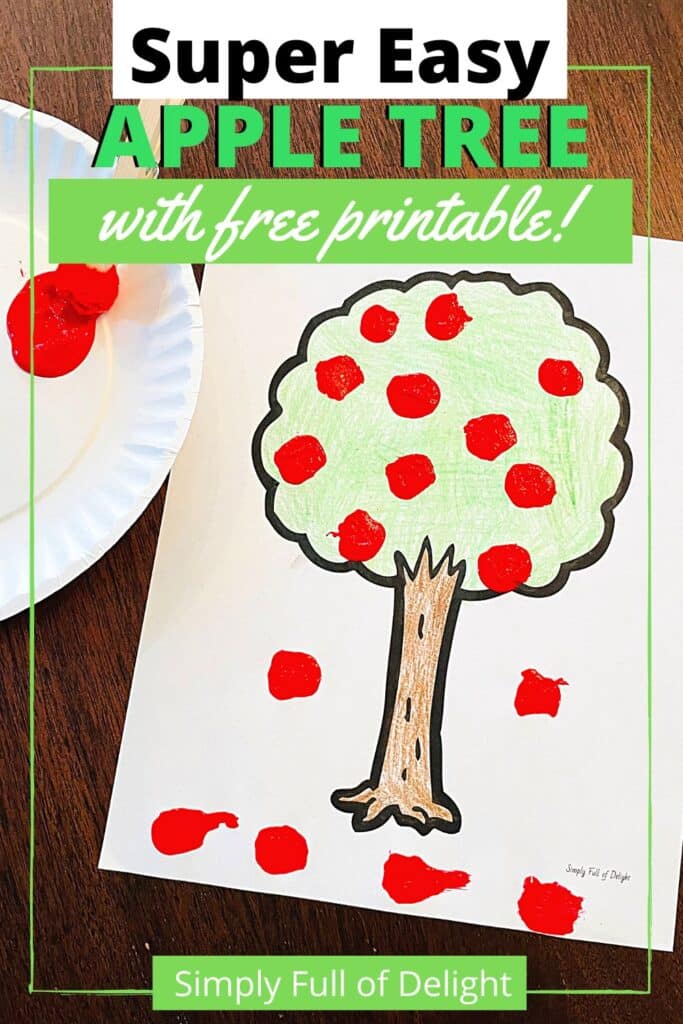 ** Disclaimer: As an Etsy Associate, I may earn from qualifying purchases made by readers clicking my affiliate links at no extra cost to you.
Fall Preschool Learning Pack
Looking for some more fall activities for kids? Check out this fun Fall Preschool Learning pack in my Etsy shop!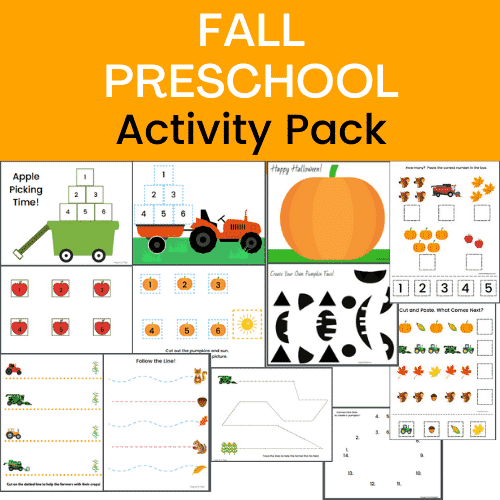 This Preschool Learning pack is perfect for teaching little ones!
There's number recognition, tracing, scissor skills, simple patterns and more.
​There's even a fun cut and paste apple wagon!
These make a great quiet time activity or you can add them to a busy binder.  Get your Fall Preschool Activities Pack here.