Do you have cat lovers in your midst? Check out these cute kitty coloring pages! There's 3 free printable kitty cat coloring sheets you can download right in this article.
Whether your child has a pet cat or an affection for cute cats, these kitten coloring pages are perfect for kids of all ages!
Cute cat coloring pages are great for a quiet time activity, an easy art idea, and perfect for adding to your art center to inspire creativity.
Plus, these printable cat coloring pages are a fun way for kids to practice fine motor skills.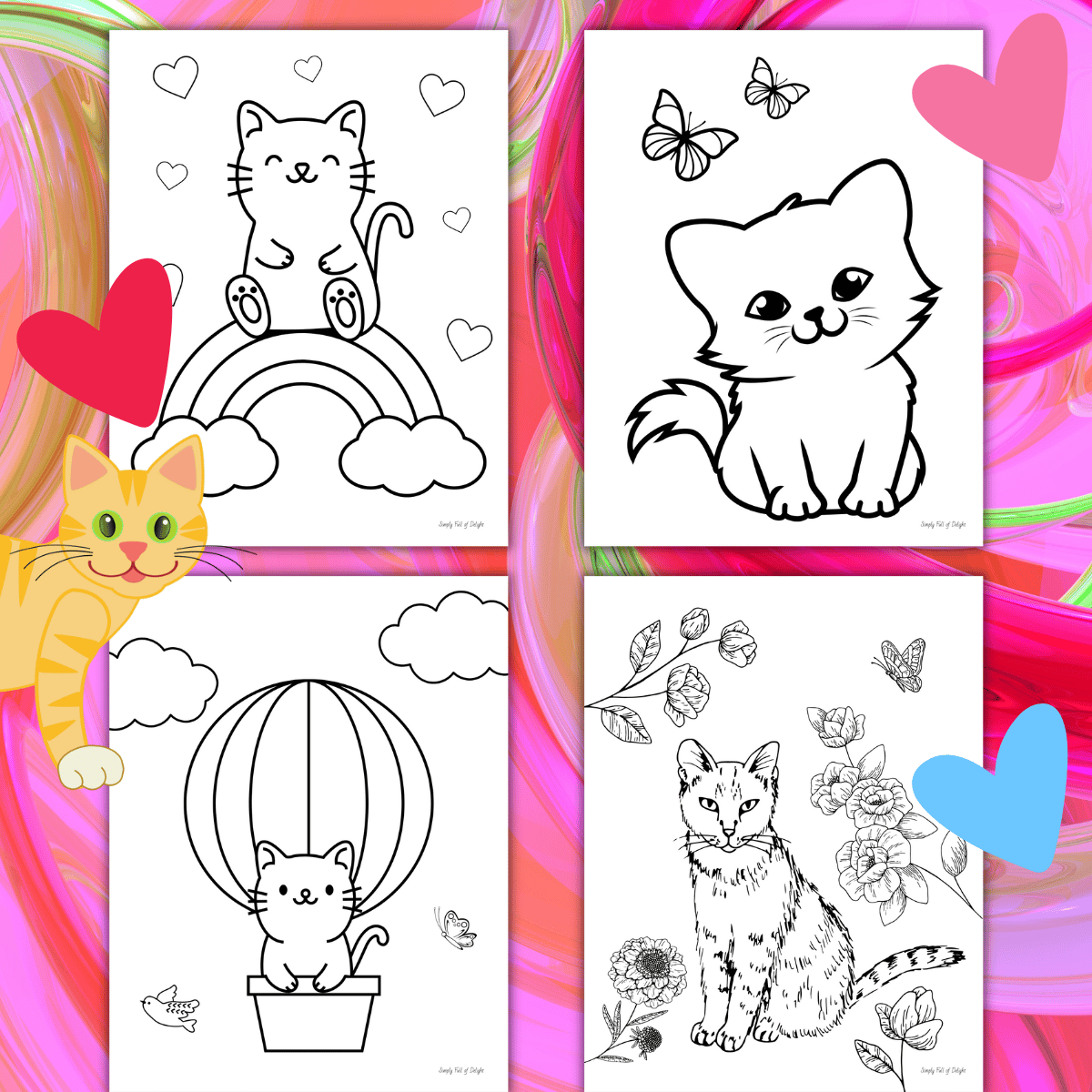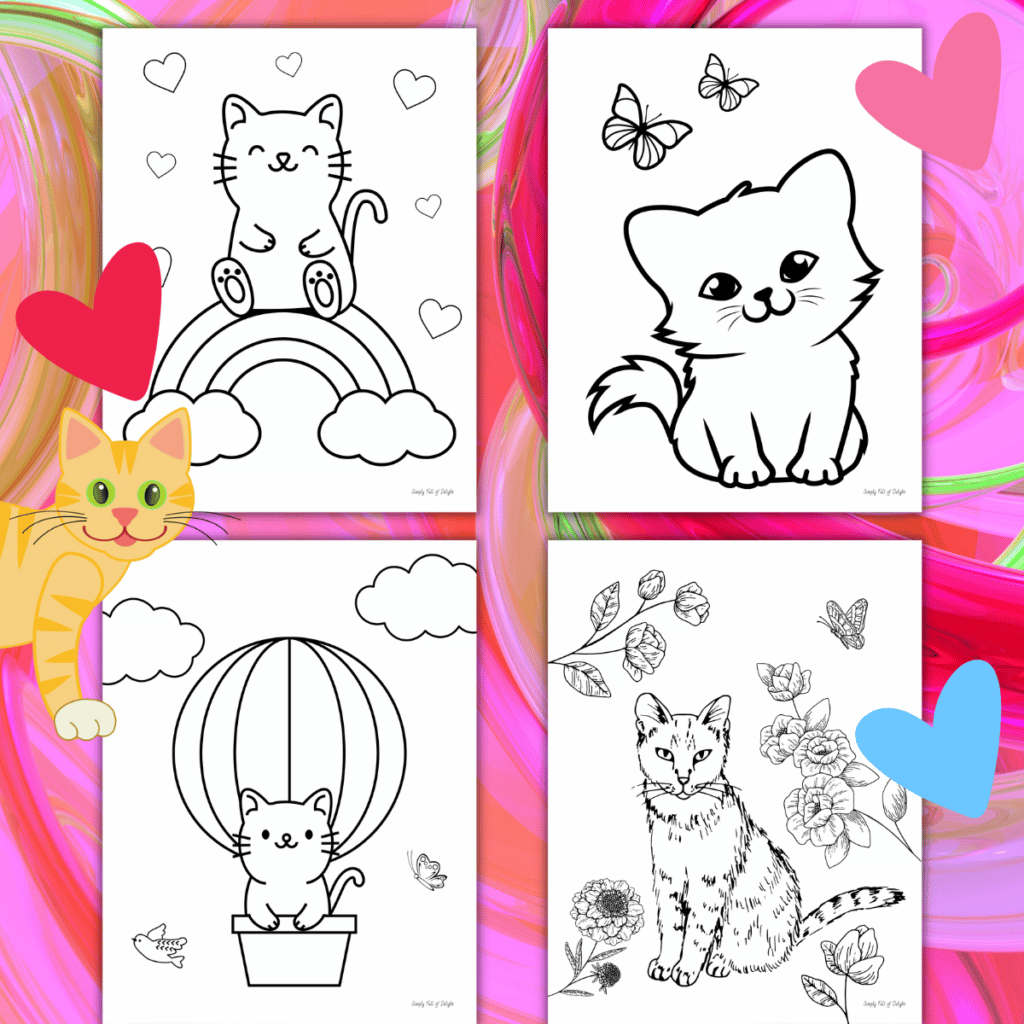 You might also like to use them at a birthday party.
You can use these free coloring pages to keep little ones busy as you get ready for the celebration.
Alright! Let's dive in and take a closer look at these cute coloring pages!
** Disclaimer: As an Etsy associate and as an Amazon.com Associate, I may earn from qualifying purchases made by readers clicking my affiliate links at no extra cost to you.
Easy Kitty Cat Coloring Page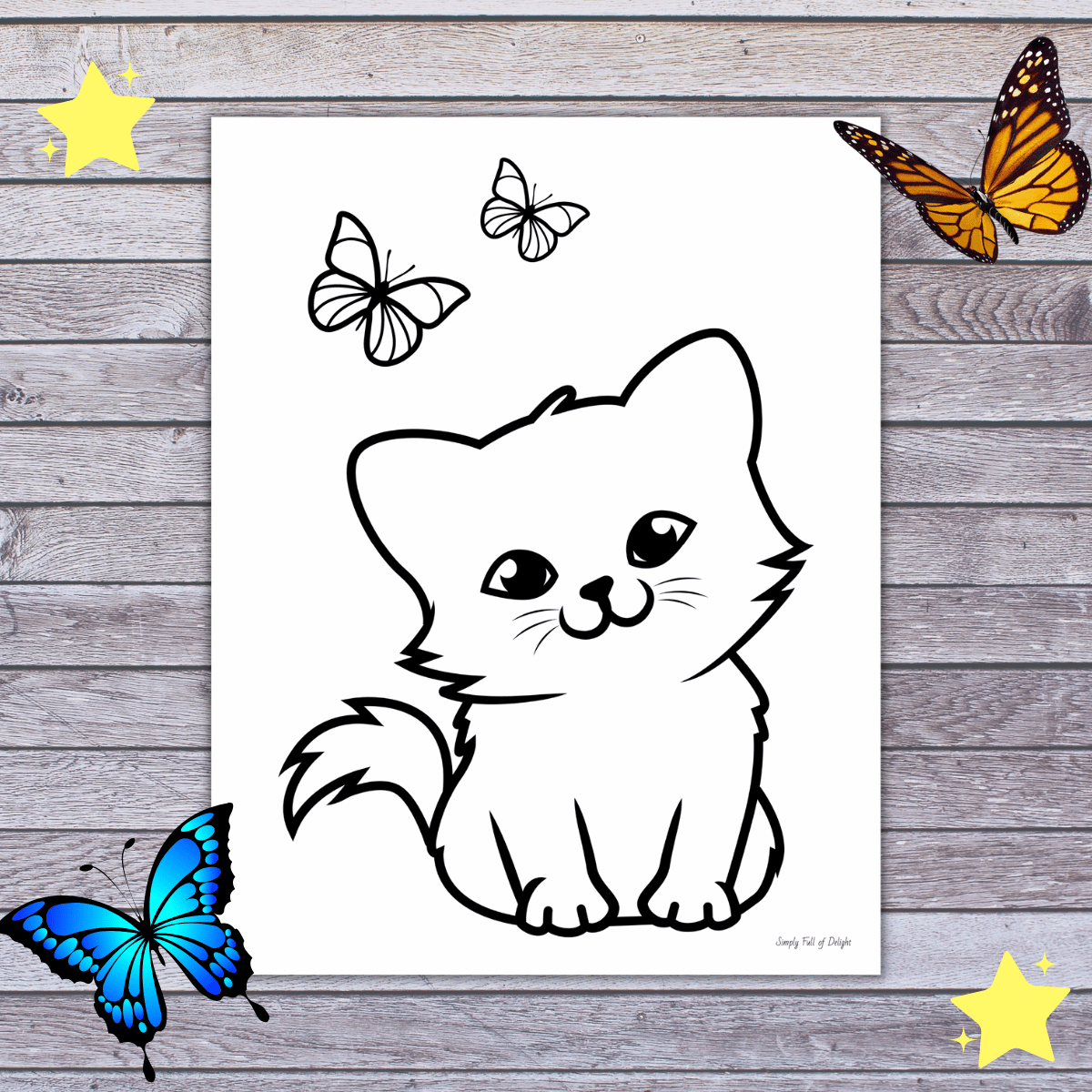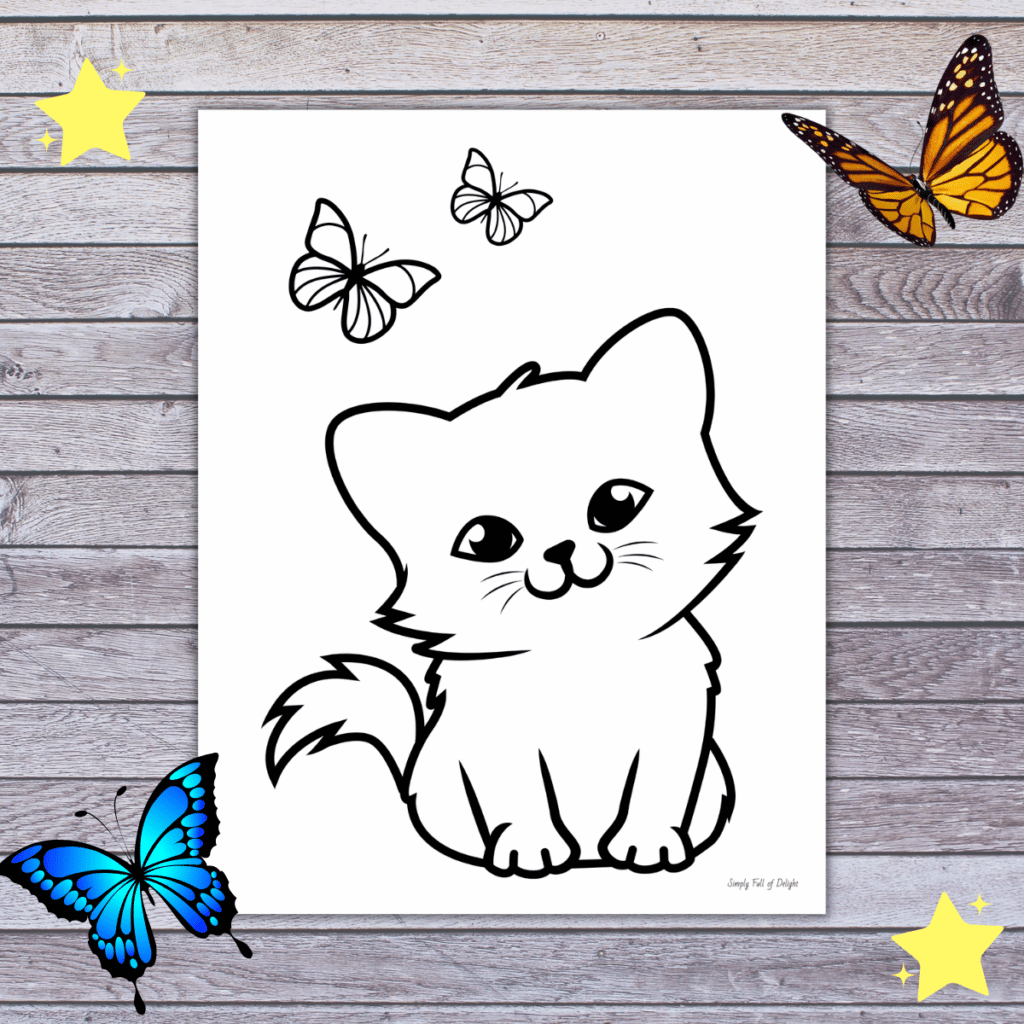 This first cute kitty coloring page features a little kitten with 2 butterflies.
This cat is smiling happily and ready for little ones to color it!
My kids really enjoyed using crayons for this page, but markers and colored pencils work well too! If you like, this page can also be used for watercolor paints.
You can download the kitten pictures by clicking the black download button.
Cute Kitty on Rainbow Coloring Page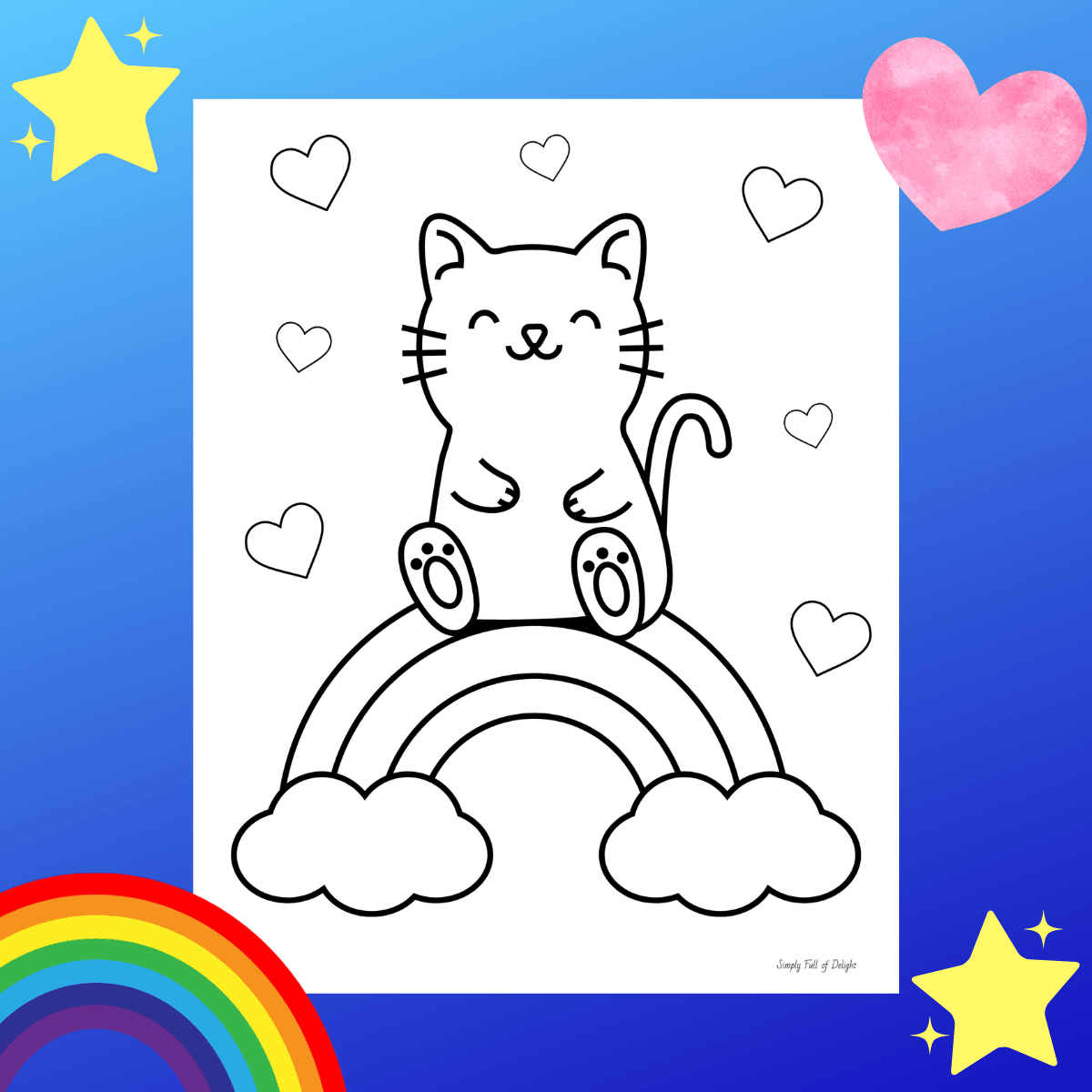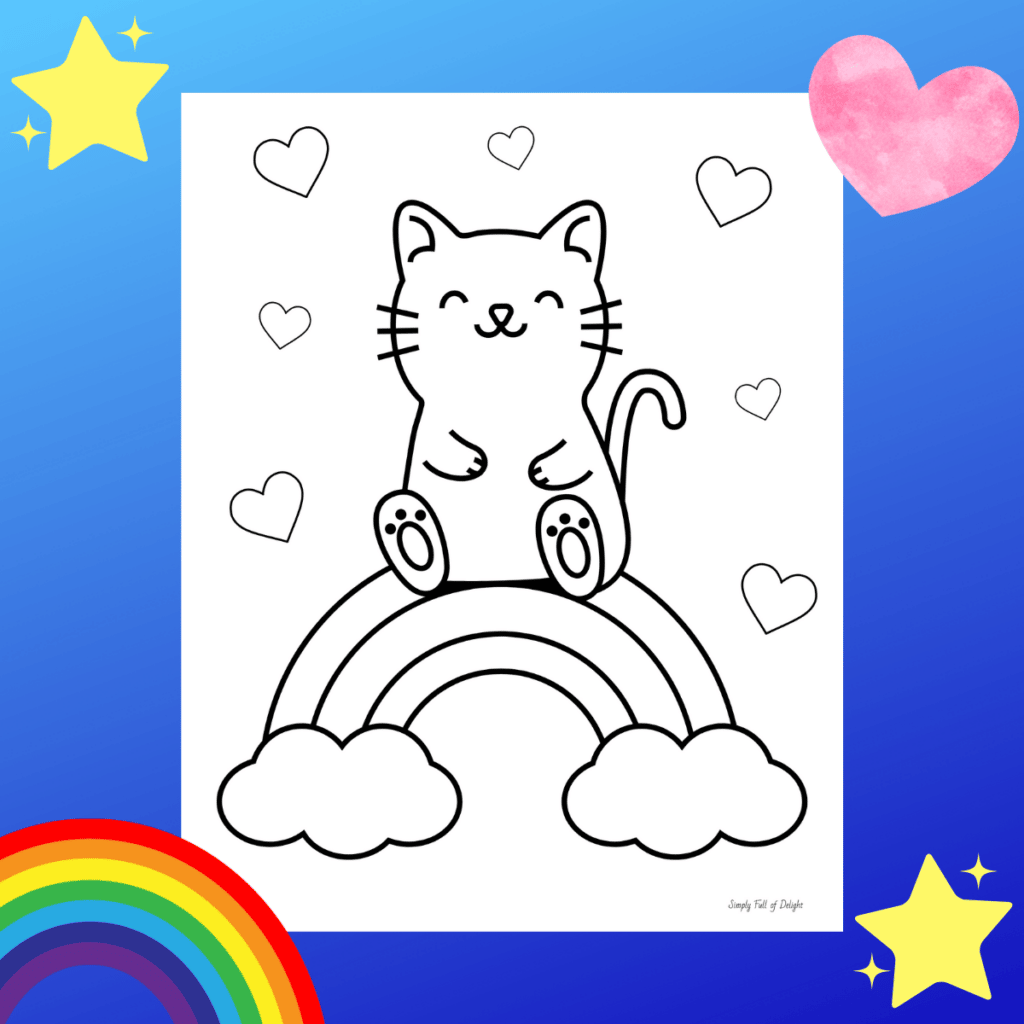 This cute kitty on a rainbow coloring sheet is sure to bring a smile to young children and older kids as well! This furry friend is smiling as she sits on a rainbow.
There's plenty to color on this page including lots of hearts, clouds, the rainbow and the sweet cat!
I loved how my little girl used bright colors to make her rainbow shine!
You can grab the cute kitten coloring page by hitting the black download button.
Cute Cat in a Hot Air Balloon Printable PDF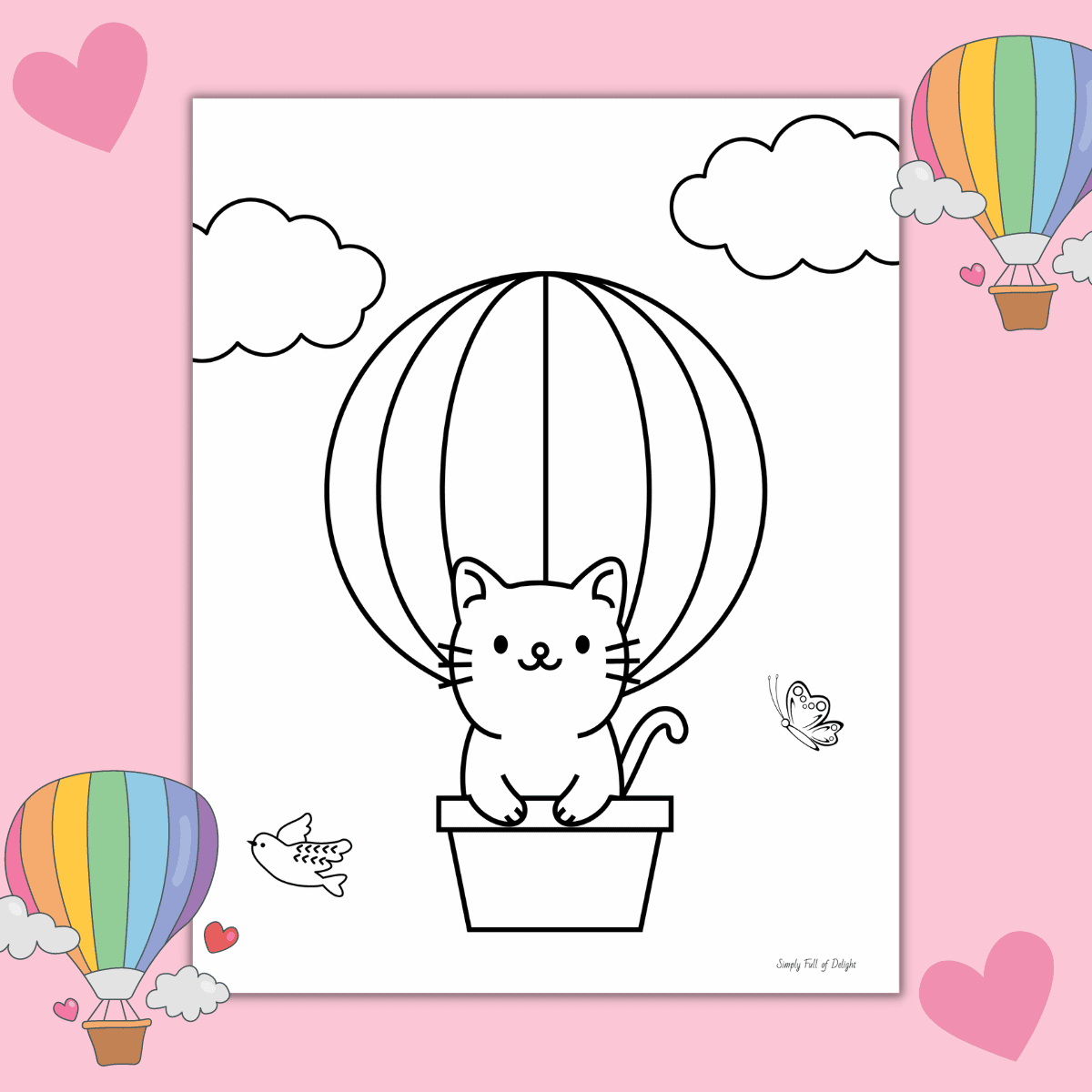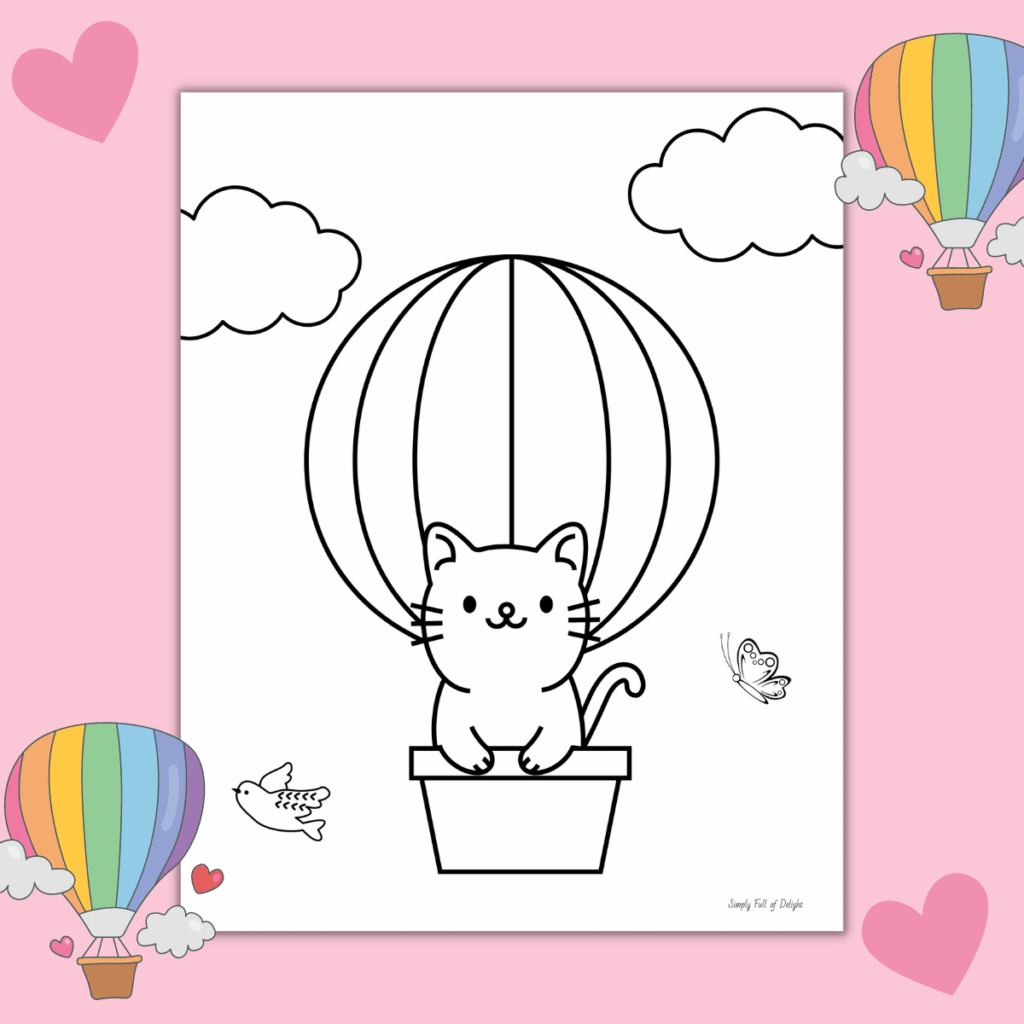 This next printable sheet features a cute cat in a hot air balloon.
This sweet kitty is taking a ride up into the sky!
There's lots of fun things to color on this page including a butterfly, a bird, the cat, clouds, and the hot air balloon.
My kids really enjoyed using their favorite colors to decorate the hot air balloon. What a fun little cat picture!
You can grab the hot air balloon cat here:
Realistic Kitten Coloring Sheet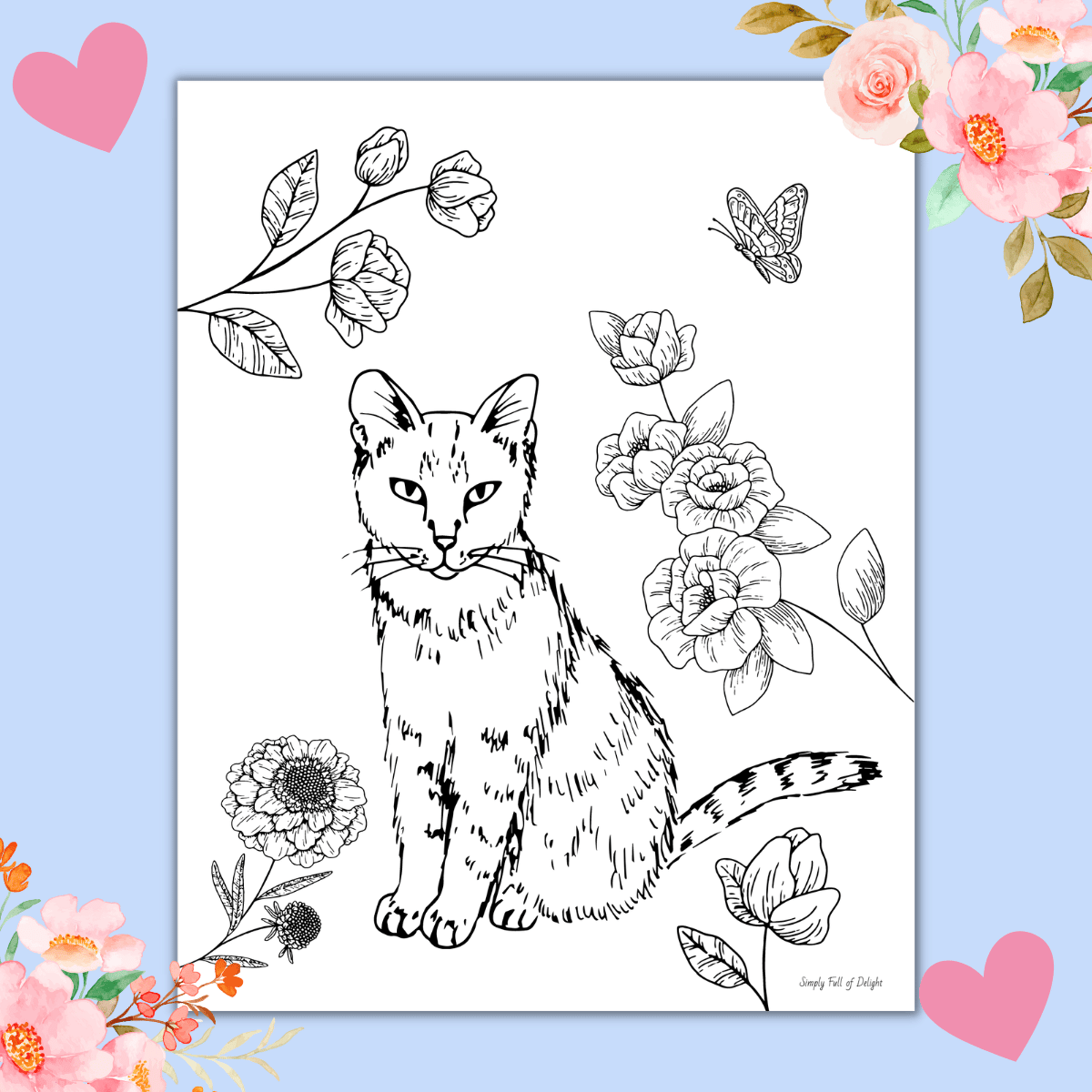 This last cute coloring sheet has a realistic cat on it.
There's flowers, a butterfly, and this fun real looking kitty cat to color!
Kids can color this cat to look like their favorite cats in real life.
My kids colored theirs orange and white to look like our orange tabby cat named Cinnamon.
This page is great to use with fine line markers or colored pencils as there is a lot of details to color.
You can download the realistic kitty picture here: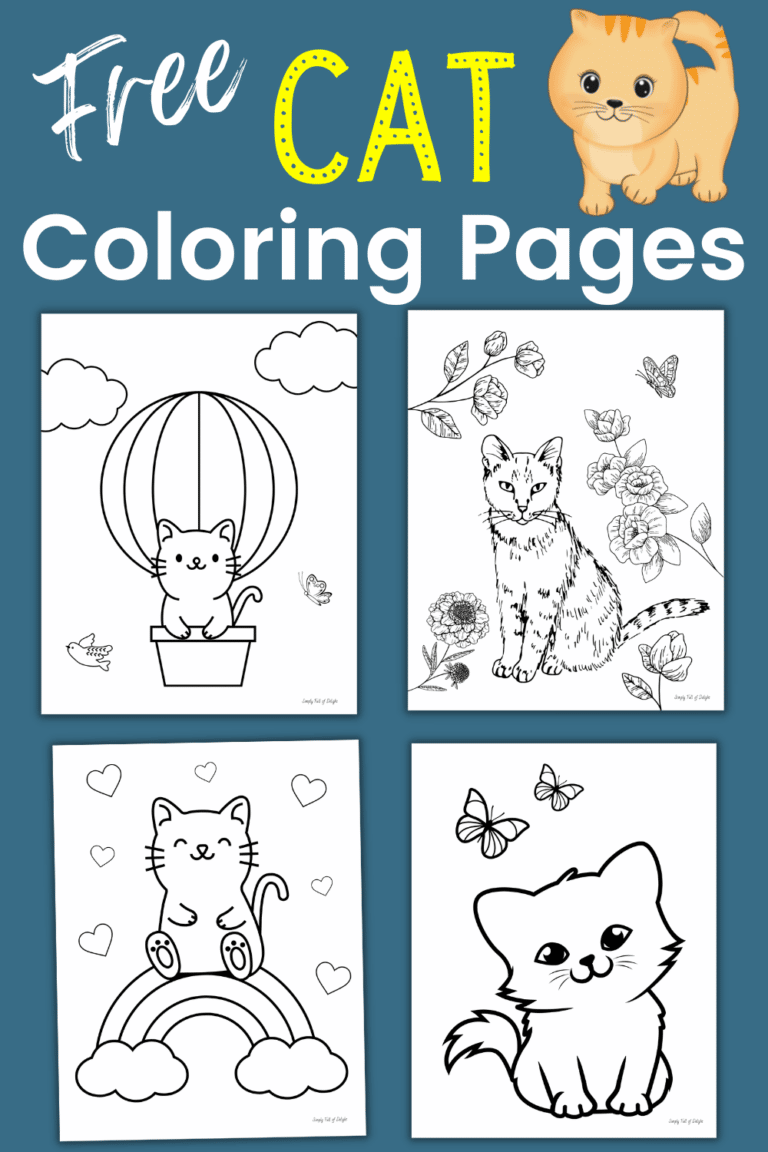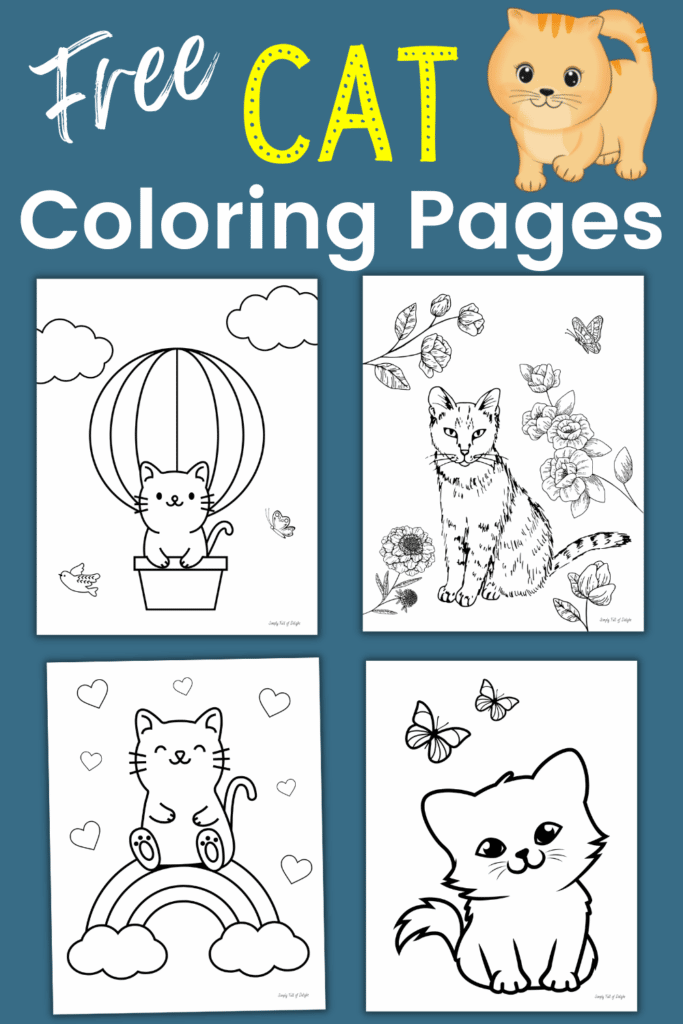 More Coloring Pages for Kids
I hope you enjoyed these free cute kitty coloring pages!
I had a lot of fun creating them for you!
If you'd like to learn how to create your own coloring pages, be sure to check this out.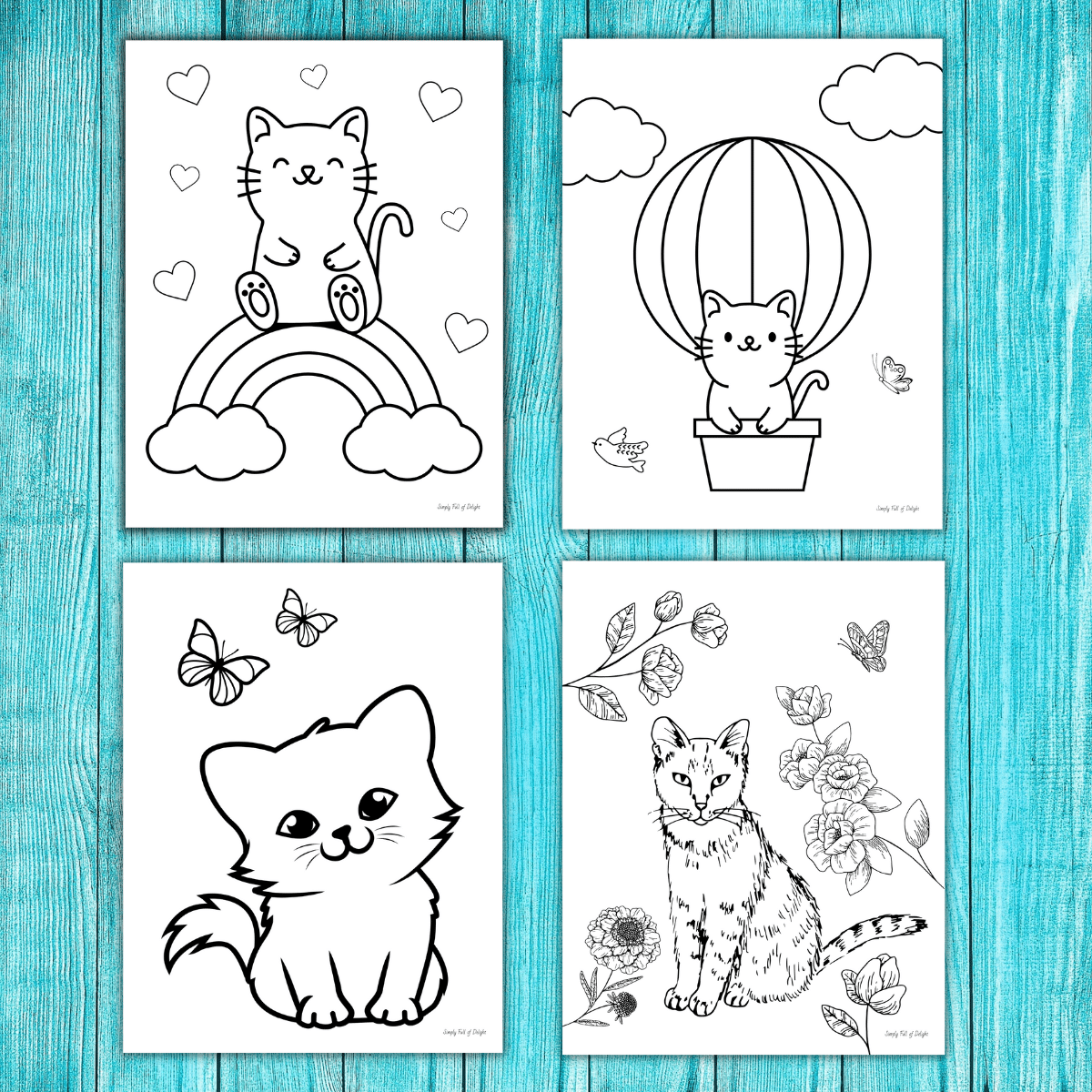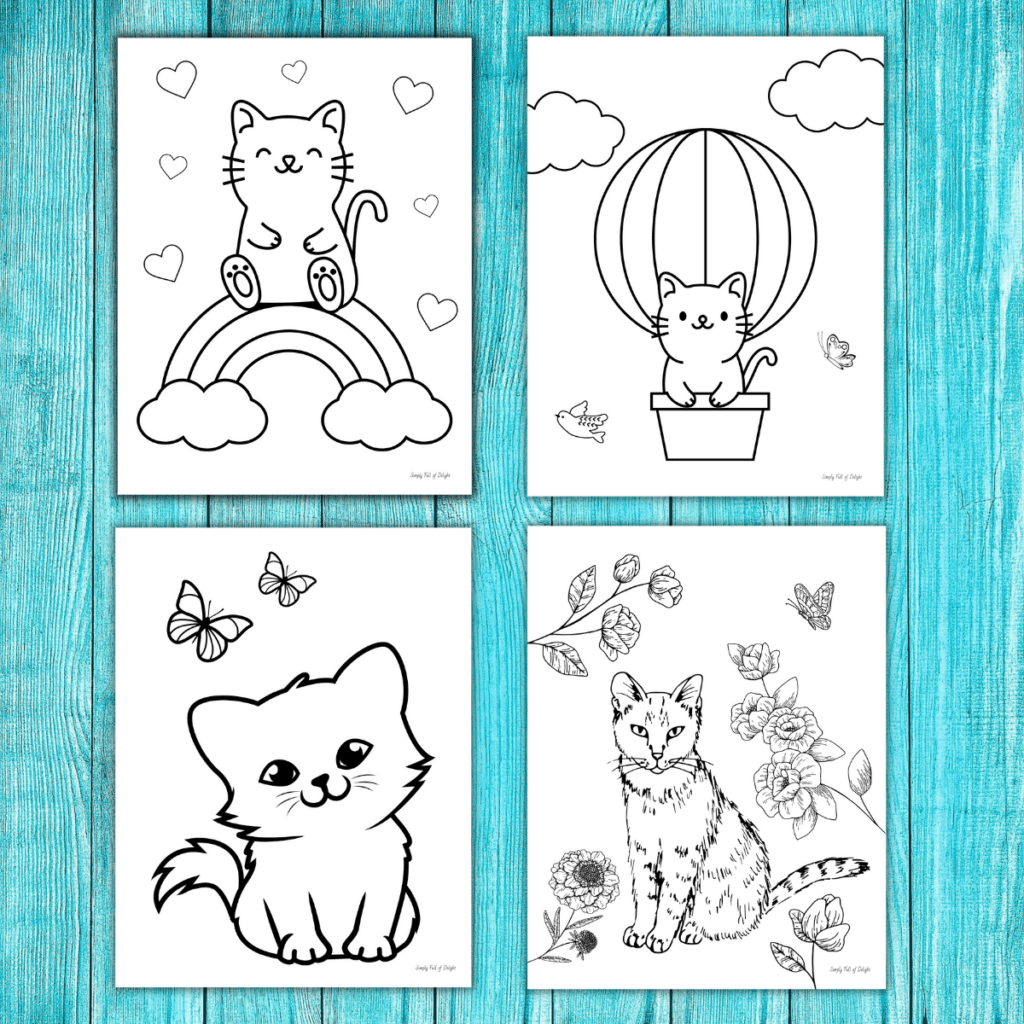 Want more Free Printable Coloring Pages for Kids?
You can find some free Caterpillar Coloring Pages here. Perfect for teaching kids about the life cycle of the butterfly.
There's also some free Dinosaur Coloring sheets here. You'll find 3 different dinosaur coloring pages including a Triceratops, a Stegosaurus, and a T Rex.
Your dino loving kids will love these free printables!
You can find some Mermaid Coloring pages here. Perfect for a mermaid birthday party or just a fun activity.
You'll find the best coloring pages for your mermaid lovers!
For some summer time fun, be sure to check out these free Ice Cream Coloring sheets. Perfect for your ice cream loving kids!
Plus, you can find tons more free coloring pages here on my site. There's free coloring pages for every holiday! Just check out the Seasonal section and sort by season.
Plus don't miss all of the fun coloring page sets in my Etsy shop. Super inexpensive and you can print their favorites again and again.
Use Coupon code COLORFUN for 15% off all coloring pages.
Want to save these free cute kitty coloring pages for later? Pin the image below to your Kids' Activities board on Pinterest!