Looking for the Best Water Bottle For Kids? Here's some great options for durable, leak-proof water bottles for school!
As a mom of 4 kids, I've done a lot of research on water bottles. With each of my kids needing a water bottle for school this year, I didn't want to end up with 4 water bottles that leaked or broke easily, so I did what any mom would do. I bought 3 different kinds to see what we liked best!
I chose kids water bottles that were different from each other. We bought one stainless steel bottle and two different models of plastic water bottles. The lids were different as well as the spouts.
As time went on, I noticed that we liked all three of our carefully researched water bottle purchases, so we bought a few extras of each of them as well!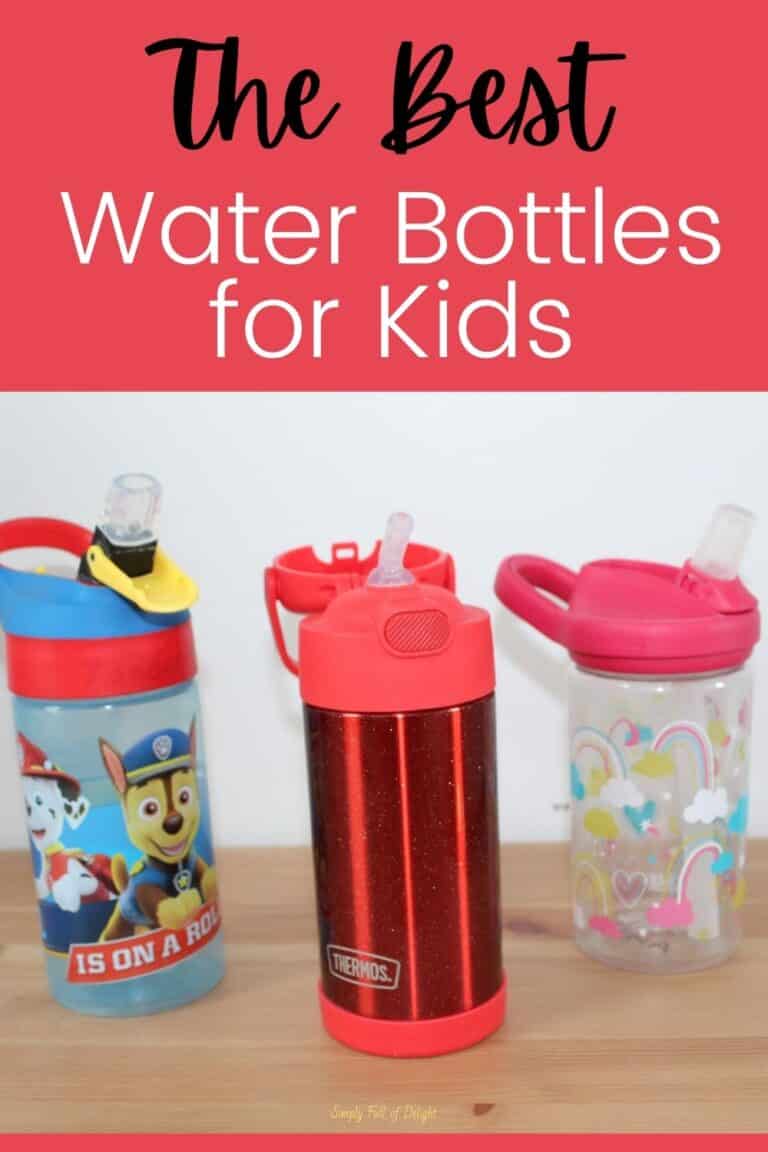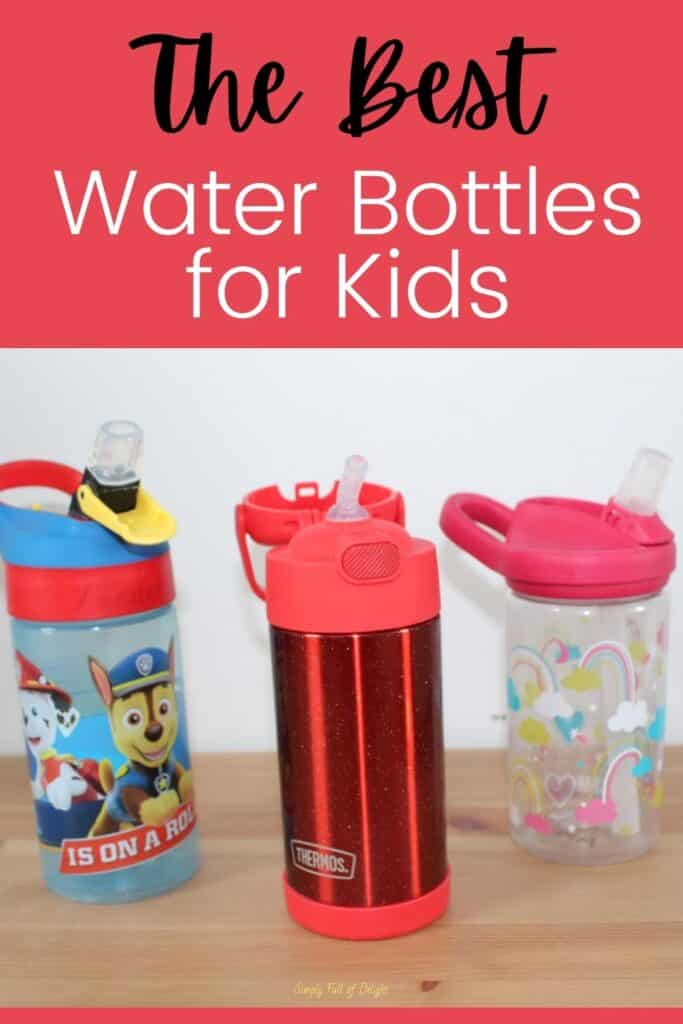 My kids have consistently used these water bottles every school day for at least 8 months. We've discovered what we like about them and how they rank in comparison to each other.
The 3 water bottles that we own and like are:
– Not Expensive – I don't want to spend $30 on a water bottle that might get lost.
– Durable – A good water bottle should be able to withstand the wear and tear of a child.
– Leak-proof – If it's going to be in my child's backpack, it can't leak.
– Dishwasher Safe – We are way too busy for handwashing. It must go in the dishwasher!
✅ Our First Choice – The Best Kids Water Bottle – The Thermos Funtainer
✅ First place goes to the THERMOS FUNTAINER 12 Ounce Stainless Steel Kids Bottle. My kids love it because it comes in so many fun characters and colors. They also love that it's insulated, so if you add ice cubes, you can have cold water all day.
This stainless steel water bottle features a push button lid with a pop up straw which is super easy to use. I love that it is easy to pull apart for running through the dishwasher.
It's a leak proof water bottle, that is also durable and affordable. This kids water bottle is even backed by a 5 year limited warranty!
The Thermos Funtainer Insulated bottle won our hearts over and we now have 3 of these in our home. You can check the current price of the stainless steel Thermos Funtainer here.
2nd Great Water Bottle for Kids – The CamelBak Eddy+
Another great water bottle for kids is the CamelBak Eddy+ Kids BPA-Free Water Bottle with Straw. This drink bottle features a flip, bite, sip function. It's easy to carry, lightweight, and easy to disassemble and reassemble. It's dishwasher safe and comes in so many adorable prints and colors!
This bottle came highly recommended by fellow parents, and we can see why! We've only had good experiences with our 2 CamelBack Eddy+s, however there appears to be some versions of this water bottle that aren't as durable. See the 1 star reviews here.
All in all, this is a water bottle I would buy again. It's my husband's favorite of the 3 as it's the fastest to assemble and disassemble. I think the quality is definitely worth the low price tag. Check the current price for the CamelBak Eddy+ reusable bottle here.
3rd Good Option for a Water Bottle for Kids – Zak Designs Kid Water Bottle
Coming into 3rd place is the Zak Designs Water Bottle with Straw and Built in Carrying Loop. Our family owns 3 of these and we've had nothing but good things to say about these. We love how it's easy to use, dishwasher safe, and easy to disassemble and reassemble. It has a leakproof lid and is all around easy drinking experience for little ones.
My kids love the fun character prints and colors that are available. It appears that these water bottles are also hit and miss with durability as there are some 1 star reviews you may want to view. I will say that on one of our water bottles, the character print has faded somewhat, but the other 2 bottles remain looking new.
Overall, our family has been happy with our 3 Zak Water Bottles and I very much appreciate a good quality product at a decently low price. Check the current price here.
If you aren't super excited about the top 3 options my family owns and uses, here's some more options. These options from Amazon come with Free Prime Shipping, are under $25 and have good 4-5 star ratings. I will note that each of the following water bottles didn't meet one of my requirements for a great water bottle, but that these are solely other options that are popular on Amazon.
Other Popular Water Bottles for Kids from Amazon
4) Milton Reusable Water Bottle
These Milton Kid Reusable Water Bottles have great reviews. Perfect for popping into lunch boxes! They are BPA free and Leakproof. They are cupholder friendly and feature a carrying strap.
Overall, the ratings are great, but people do mention the size is smaller than anticipated and they may warp in the dishwasher. So if you are a handwasher, this might be a good option. (That's not me! LOL)
5) Contigo Autoseal Trekker Kids Water Bottle
The Contigo Autoseal Trekker Kids Water Bottle also has great ratings. It has Autoseal technology which makes it leak proof and spill proof! It's BPA free and dishwasher safe.
These cups are best for kids who are capable of pushing a button while drinking. They are the cheapest of the cups I've reviewed as you get 2 cups for the price of one.
The reviews do mention concerns of cleaning the small crevices, so be sure to be aware of that.
6) Takeya Kids Insulated Water Bottle with Straw Lid
This
Takeya Kids Insulated Water Bottle with Straw Lid has solid reviews as well on Amazon. It comes in a variety of fun colors and features a folding straw lid that is leak proof.
This stainless steel water bottle is BPA free and has a double wall design to keep drinks cold. It also has vacuum insulation and powder coating to keep it easy to grip and sweat-free. There's a large carrying handle as well.
This water bottle for kids hits on the higher end of the price range. If I wasn't scared of the price tag, I'd think of adding one of these stainless steel bottles to my water bottle collection!
7) Stainless Steel CamelBak Eddy+ Kids Water Bottle
This Stainless Steel CamelBak Eddy+ Kids Water Bottle is vacuum insulated which makes it sweat-proof. It's durable, leak proof when closed and spill proof when it's open. The Flip, Bite, Sip function makes it easy for for kids to drink and you'll love that it's dishwasher safe making it easy to clean.
Despite thousands of excellent reviews, there was a single concerning one in the mix about possible rust development over time. Others mentioned that they weren't fond of the bite valve function. So, be sure to check the reviews to be fully informed on potential problems if you decide on this kids' water bottle.
I hope this has helped you find the perfect high quality, leak-proof, durable water bottle for your child! If you have any water bottle recommendations, be sure to drop a comment in the comments section below!
On a related note, be sure to check out these free Lunch Box Notes for kids to make lunch time special! There's jokes and words of encouragement for kids to fill your child's love tank at lunch time.