Looking for amazing heirloom toys and gift ideas for kids? Here's 17 awesome heirloom gifts that can be passed from one generation to another, along with sweet cherished family memories.
I'm a mom of 4 and in my own home there are definitely toys that wear out, get tossed after a short period of time, or get thrown in a giveaway pile.
Then, there's those other toys. The heirlooms. The high quality toys that I know I will keep for my grandchildren because they are so durable and will stand the test of time.
If you're tired of the onslaught of battery-powered toys & gifts on the market today, you are going to love this! There's nothing better than investing in a high quality item that inspires imagination or brings joy to a child for years and years.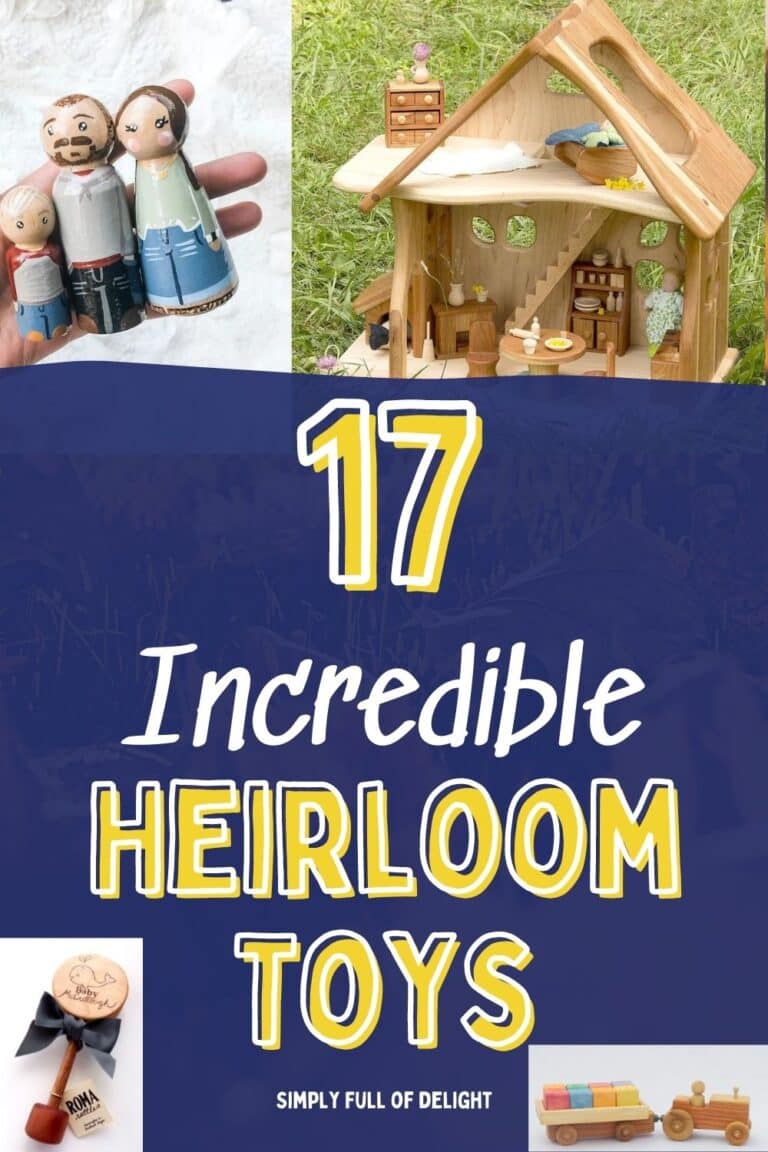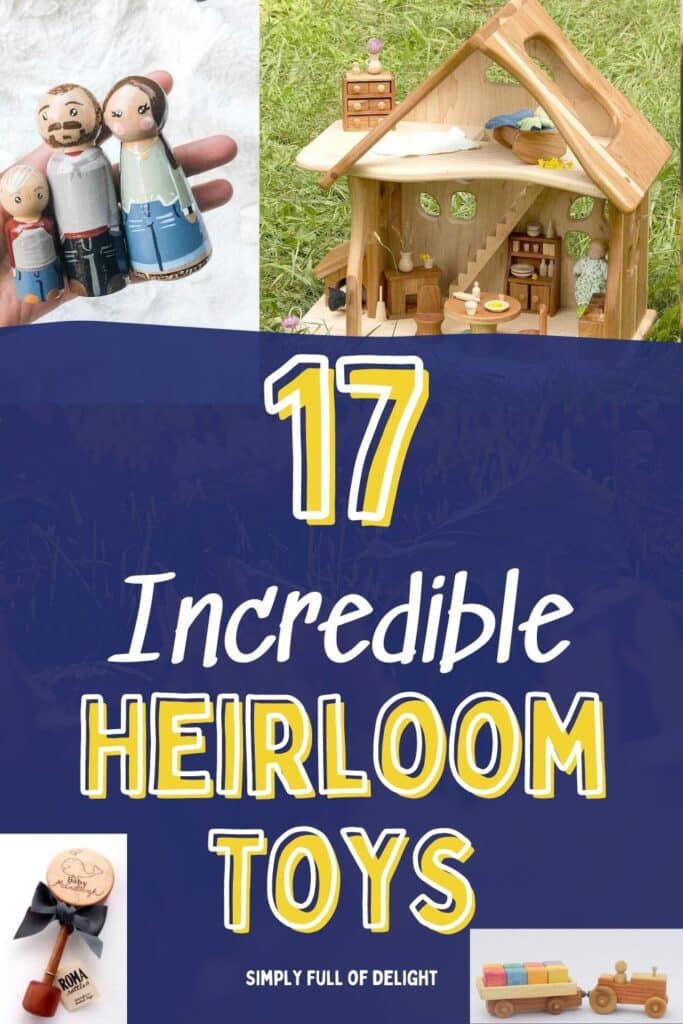 Heirloom Toys Meaning
What is an heirloom toy? An heirloom toy can be passed from generation to generation. It doesn't break easily, there's no concepts that could become outdated, and it doesn't rely on the latest technology to work. The best heirloom toys look and work just as well as they did 50 years ago.
Buying heirloom toys is a great way to practice sustainability, as you can buy one high quality item and it will last for years and years. No "throw away" toys here!
Best of all, heirlooms can connect generations within families and can become a fun tradition.
What could be better than seeing your own grandchild play with a toy that your son or daughter also enjoyed as a child?!
Let's dive in and discover some amazing toy family heirloom gift ideas!
** Disclaimer: As an Etsy and Amazon.com Associate, I earn from qualifying purchases made by readers clicking my links at no extra cost to you.
1) Wooden Rocking Horse – Heirloom gifts for kids
This Incredible Wooden Rocking Horse is by Labebe. Sturdy and durable, this sweet horse will be giving rides to kids year after year. It comes in a plain white finish which is beautiful in itself, but it can also serve as a blank canvas so that you can personalize this sweet pony into an amazing heirloom!
Add your own detailed drawings to make a one of a kind heirloom gift.
2) Melissa & Doug Wooden Blocks
These Melissa & Doug Wooden Building Blocks are a classic toy that will be enjoyed for generations. Blocks are great for imaginative play and promote math concepts. I love these classic wooden toys.
My Kids love to use their blocks to build castles, towers, obstacles for trains, car ramps, doll houses, and more! Playing with blocks helps kids develop fine motor skills, patience, and hand-eye coordination.
3) Radio Flyer Big Red Classic Wagon – Heirloom Gift Ideas
The Radio Flyer Big Red Classic Wagon truly is an heirloom quality gift for kids. It screams nostalgia in a super sweet way. Perfect for taking the kids on a ride around the yard or letting older kids haul your garden produce to the house.
It has rugged all-terrain rubber air tires which means you'll have a smooth ride everywhere you go. Kids will love it and it's so durable that you'll but using it in years to come with the grandkids as well.
Children will enjoy hauling their stuffed animal, book, plane, or any thing their parent will let them!
4) Die Cast Toy Tractor – heirloom gifts for son or daughter
This 1/16 Die Cast Tractor is one of the best heirloom gifts for a son or daughter.
This is the heirloom quality toy tractor you've been looking for! It's incredibly durable and made for play.
Perfect for the little farmers in your life, this awesome tractor will be played with for hours and hours today and still be in good condition to have plenty of life left to be passed down to the generations to come!
5) Tonka Steel Dump Truck
This might give you a bit of nostalgia! The Tonka – Steel Classics Toughest Mighty Dump Truck is the toughest dump truck out there. Meant to last a lifetime for even the toughest rough and tumble kids, this dump truck is made super durable materials.
It's nearly indestructible and is sure to be hauling loads for years and years to come. That's what heirloom toys are all about!
6) Wooden Rainbow Stacker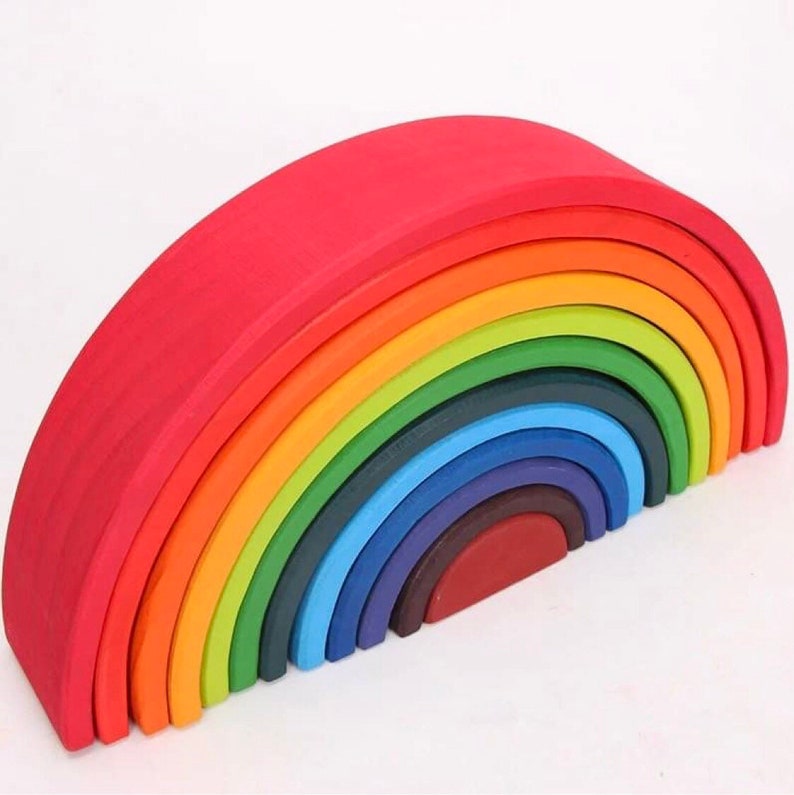 This Wooden Rainbow Stacker is by Di Little Corner on Etsy. Kids will love this 12 piece Montessori wooden stacking toy. It encourages open ended play and creativity.
It's not just for making rainbows! Kids can build structures, tunnels, bridges, towers, and more with this fun Montessori learning toy.
7) Wooden Train Tracks
This 56 Piece Wooden Train Track set is by Orbrium Toys. High quality and durability are what make this train set one that can be played with for years and years. My kids love playing with wooden train tracks at their grandma's house.
I love that track building helps my kids develop problem-solving skills and spatial reasoning. What a fun gift that will be played with for years and years! Be sure to grab a set of trains to go with this set.
What amazing Heirloom gift ideas that promote pretend play!
8) Wooden Tractor with Wagon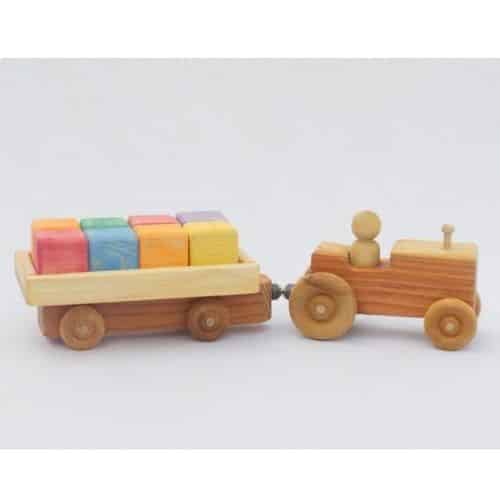 This adorable Wooden Tractor with Wagon is by Wooden Giraffe Toys on Etsy. Little farmers will love hauling blocks around with this sweet farming set! This set includes a wooden toy tractor, a wagon, a peg doll, and a set of wooden blocks!
The super durable tractor connects to the wagon with a magnet. This is an heirloom wooden toy set that is sure to rack up a lot of playtime over the years! Be sure to visit this Etsy shop that is full of woodworking and amazing transportation toys!
9) Heirloom Montessori Toys for Babies – heirloom gifts for baby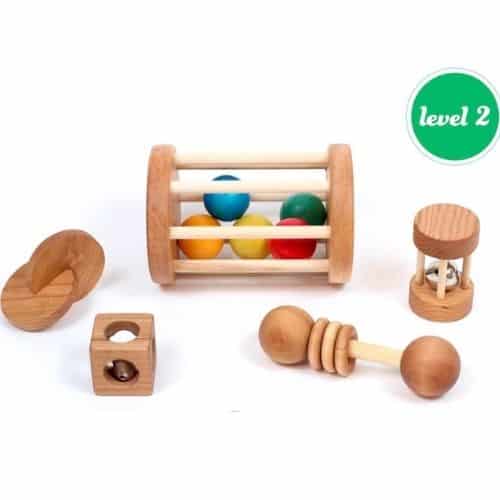 These Heirloom Montessori Baby Toys are by Heir Loom Kids USA on Etsy. This incredible wooden gift set is perfect for babies ages 4 to 8 months. You'll get 5 handcrafted toys including a bell cylinder, interlocking discs, ring rattle, the bell cube, and the ball cylinder.
These awesome educational toys promote fine motor and gross motor skills. What awesome high quality heirloom gifts for baby!
10) Personalized Wooden Name Puzzle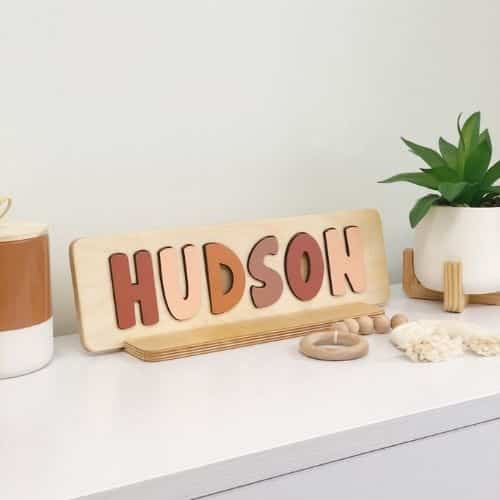 This Personalized Wooden Name Puzzle is by Bloom Owl on Etsy. These high quality wooden name puzzles make amazing gifts and if you choose to have your last name on the puzzle, it could definitely be passed from generation to generation.
This is such a cool heirloom toy that promotes letter recognition and fine motor skills!
11) Personalized Wooden Baby Rattle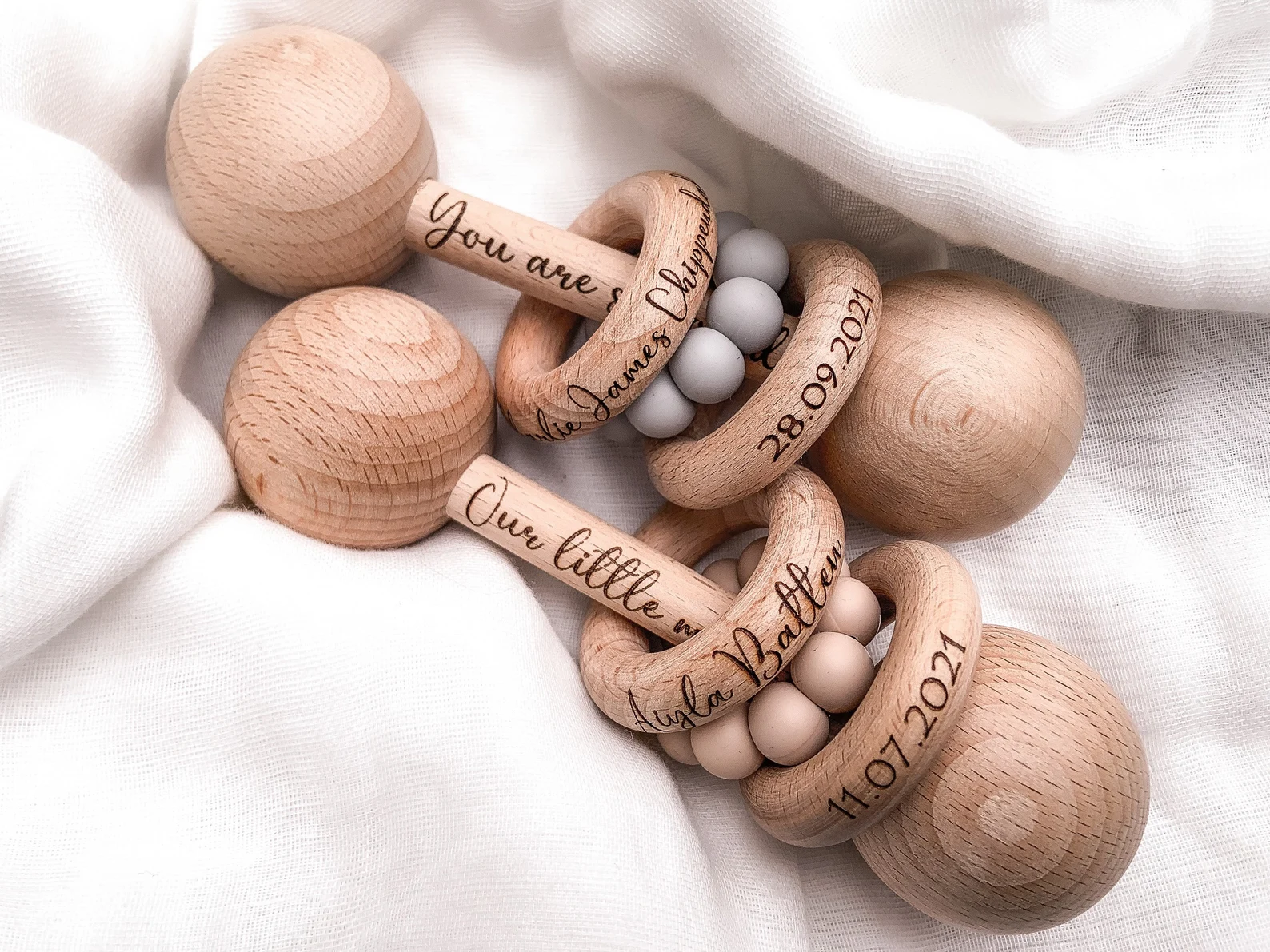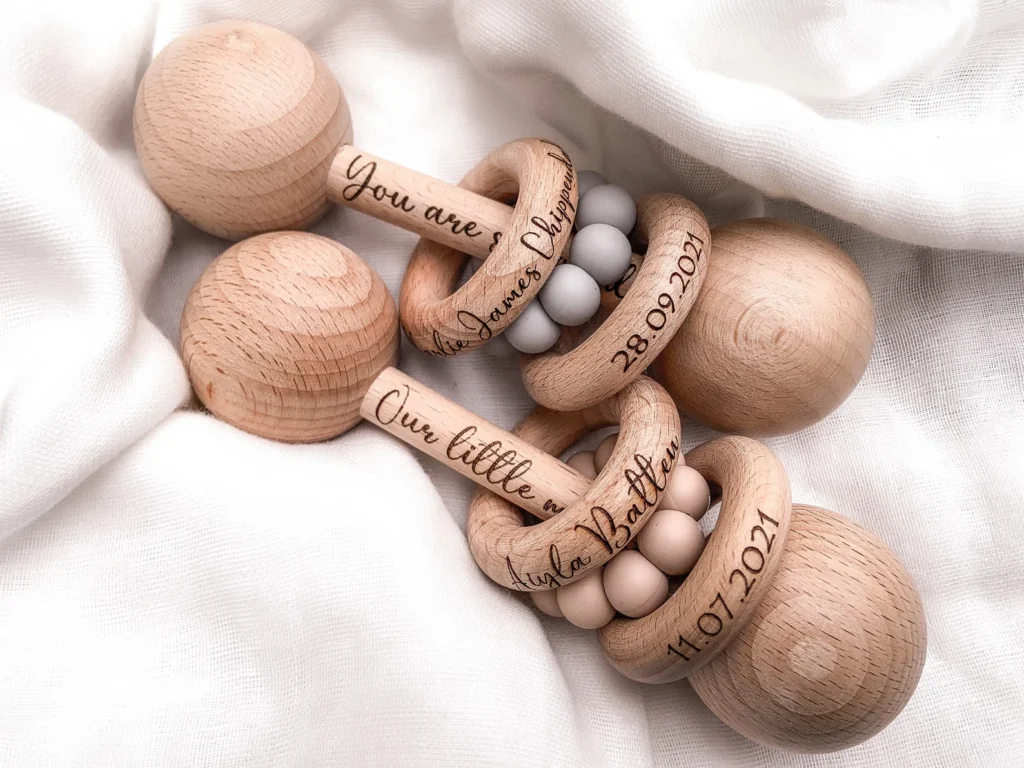 This Personalized Wooden Baby Rattle is from New Line Gift on Etsy. This beautiful wood rattle can be customized with your family name or initial. Such amazing detail!
What an amazing heirloom gift for kids to share with future generations! I love the thought that a baby years from now could hold the same rattle as his great grandpa. That's just incredible!
This would be one of the most perfect heirloom gifts for grandchildren.
12) Porcelain Tea Set – Heirloom Quality Toys
Check out this gorgeous Porcelain Tea Set. This set includes a tea pot with lid, 4 tea cups, 4 saucers, a creamer, a sugar bowl and a carrying case. Everything a little one needs for the perfect tea party of sophistication!
I love that the pieces are thick and not likely to chip or break. Made for real tea parties, you can actually use this set to drink from! This is definitely a very nice, high quality heirloom tea set for kids!
13) Wooden Chess Set
This high quality Wooden Chess Set is sure to be a favorite family heirloom! The set includes an amazing wooden board and all the chess pieces needed. The game board folds into a handy storage case.
This amazing set is sure to be used generation after generation. I love great heirloom gifts for kids that promote problem-solving and critical thinking!
14) Sensory Bin Wooden Toy Kit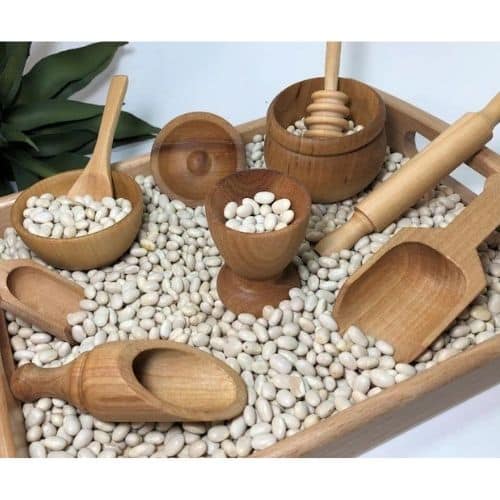 This awesome Sensory Bin Wooden Toy Kit is by Playful Petalz Btq on Etsy. Promote sensory play with this beautiful Montessori wooden toy kit.
This 9 piece set includes a bean pot with lid, a cup, a bowl, 3 scoops, a honey dipper, spoon, and rolling pin! Plus, you can optionally buy the tray as well. This heirloom quality set has everything your kids need to get started with sensory play. Just add sensory beans or another sensory material and let the fun begin!
15) Heirloom Wooden Puzzle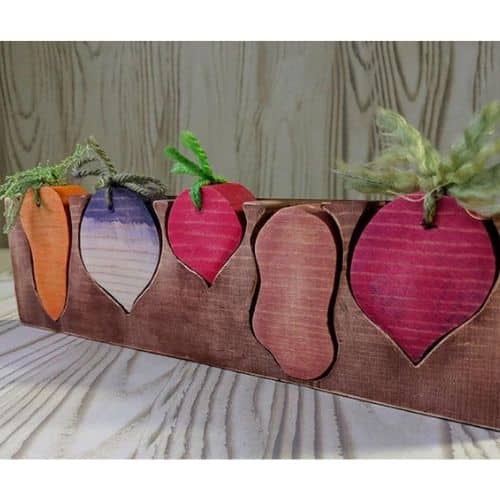 This super cute Wooden Root Vegetables Puzzle is by Addison Industries TLD. I love that this puzzle helps children visualize what vegetables look like when they are growing under the soil.
This unique wood puzzle includes the following shapes: a carrot, turnip, radish, potato and beet. What an adorable handmade heirloom quality gift for kids!
16) Wooden Fairy Country Cottage Dollhouse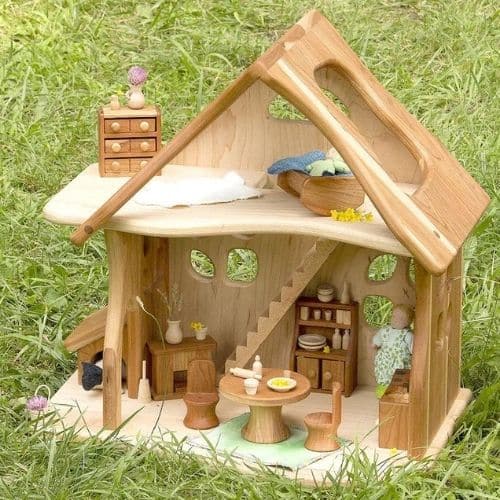 This Fairy Country Cottage Dollhouse is by Palumba Camden Rose on Etsy. Little ones will love the amazing details of this beautiful wooden dollhouse!
The tiny staircase and the little dog house on the side make it extra special! You can grab some high quality dollhouse furniture here. This is sure to be a family favorite heirloom toy!
This is another amazing heirloom gift for grandchildren that could be added to for years to come.
17) Customized Peg Dolls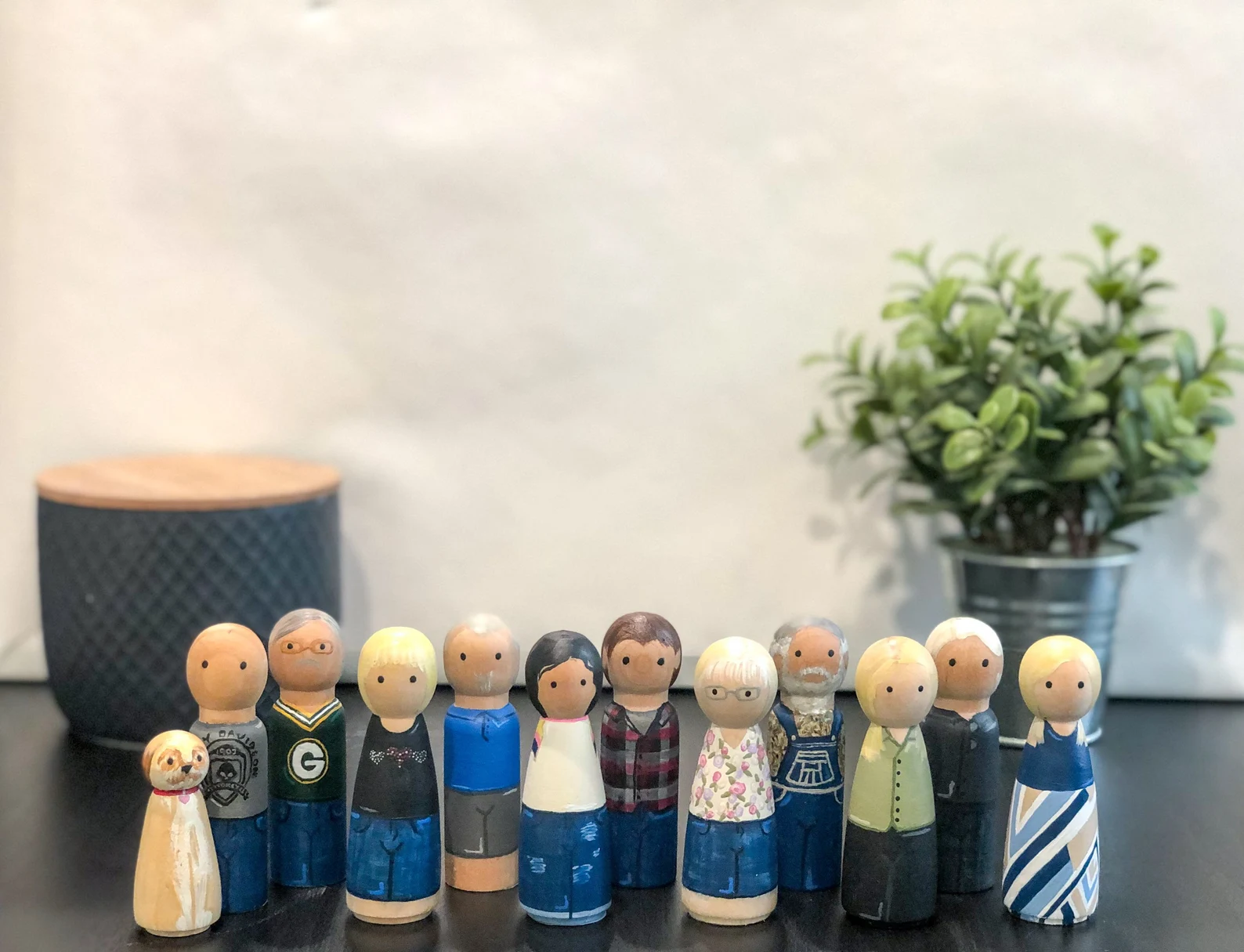 These Customized Peg Dolls are by Oh Golly My Dolly US on Etsy. You can have your entire family painted onto a peg doll set! How adorable is that!
You can add dolls to the collection over the years to reflect additions to the family. What a fun heirloom toy!
I hope you found some amazing heirloom quality toys and gifts for kids! These toys are made to last a lifetime and be passed down to future generations. I hope you find the perfect heirloom to create beautiful family memories!
Parents, if you are looking for more amazing gift ideas, be sure to check out these Personalized Gifts for Kids. You can also find more gift ideas for the whole family here!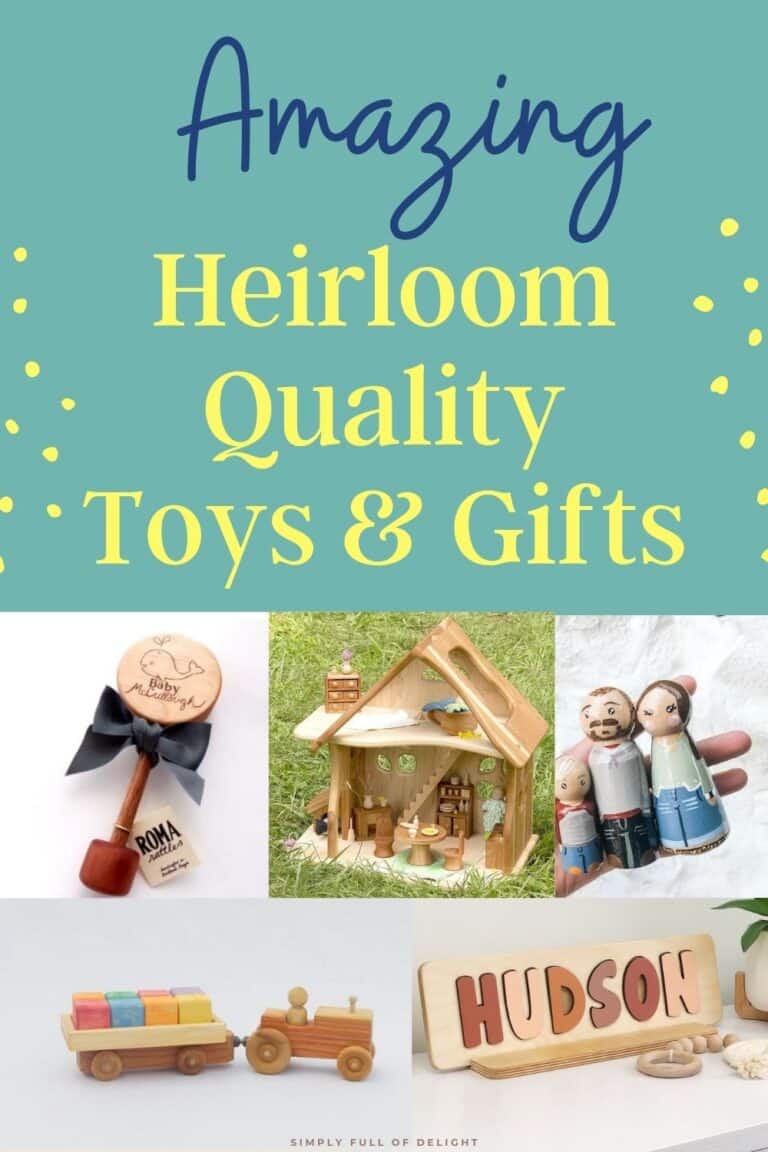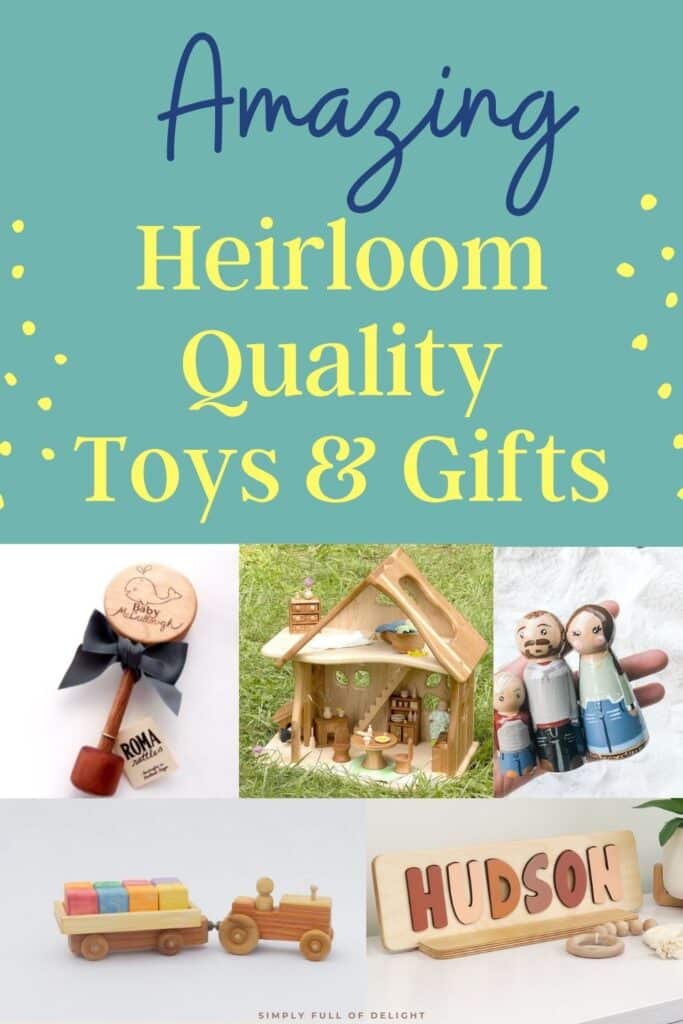 Related Posts