Looking for the Best Educational Toys for Toddlers? Here's 16 gift ideas that encourage learning and most importantly hold a toddlers' attention for more than 2 minutes!
Curious about what makes a great gift for todlers? After watching our 4 kids over the years, my husband and I noticed something interesting.
The toys that hold their attention the longest are not the ones with sounds or blinking lights. Instead, it is the toys that make them think, allow them to create, explore, imagine, and problem solve.
Check out this list of the best educational toys for toddlers!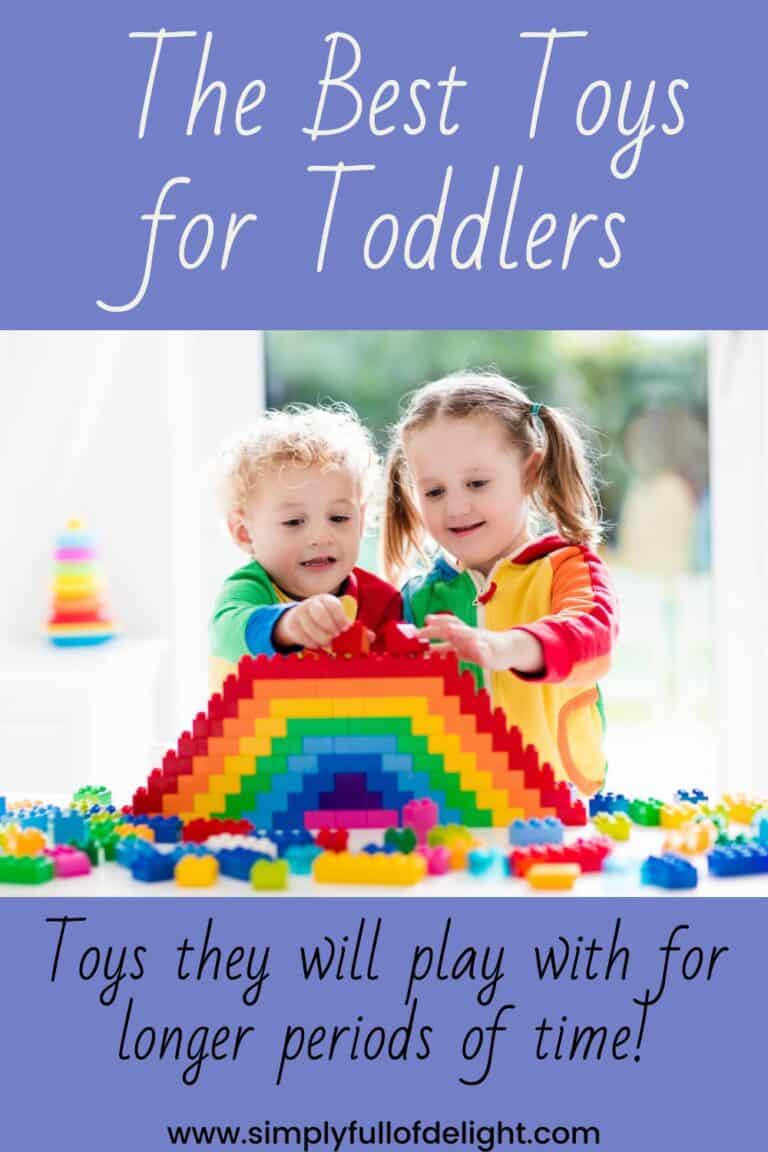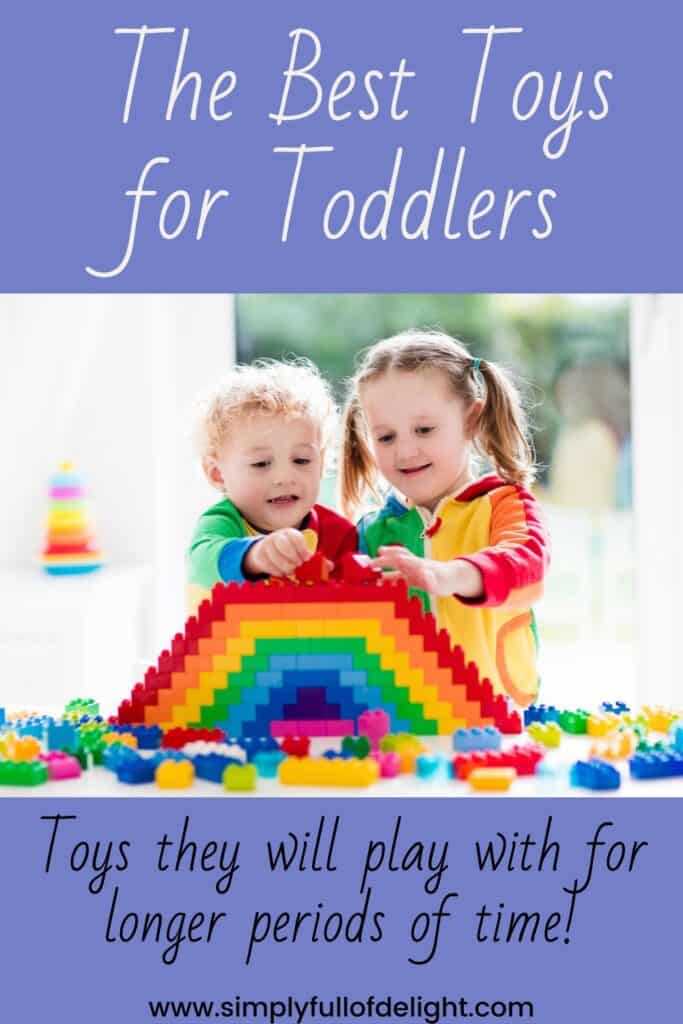 ***Disclosure: As an Etsy and Amazon Affiliate, I may earn a small commission from readers clicking my links at no additional cost to you.
1) Magformers
Magformers are very popular in our house! My kids love to make houses, geometric shapes, and simple stacks with these magnetic blocks.
This is one toy our family can't get enough of! We add to our Magformers set every Christmas. Even older kids love to play with them!
There are cheaper versions on the market, but the magnets aren't as strong as the Magformers brand which can lead to frustration when their creations literally don't stack up.
So, I completely recommend going with the name brand on this one! Magformers are the top of the line and you really do get what you pay for!
2) Lego Duplo Blocks
Lego Duplo Blocks are the toddler/small child version of Legos. Little ones can build anything they can imagine with these. My kids are often building towers, cakes, tree houses, and trains.
The Lego Duplos are superior to other brands because they neatly stack together and hold. The creation will stay together when you child plays with it. Other brands fall apart when the child tries to play, but Duplos function just like Legos.
There are many different sets available with various characters and themes. This is definitely a toy that stretches upwards that they will play with for years and years.
My 5 year old is VERY into Duplos and even my 10 year old gets drawn into the creativity sometimes! I love toys that grow with my child!
3) Step 2 Play Kitchen
The Step 2 Play Kitchen is another great toy for toddlers. Little ones love to pretend to cook. This kitchen has everything your child needs to get started. You might wonder…how is this educational? Pretend play is absolutely critical to child development. It promotes problem-solving and communication, builds creativity, and encourages language skills!
This toy easily engages children for long periods of time and you can renew interest by swapping out different food sets like these.
4) John Deere Build a Buddy Tractor
This John Deer Build a Buddy Tractor is an excellent educational toy for toddlers. Little ones can take apart the tractor and then put it back together again. My son played with his for years and years. It's an awesome, durable learning toy that's perfect for 18 months and up!
5) Melissa and Doug Animal Pattern Blocks – Learning toys for toddlers
The Melissa and Doug Animal Pattern Blocks are great for teaching problem-solving and early math skills. It's a fun way to introduce shapes and colors, while holding a toddler's attention, which is no easy feat!
These make an awesome quiet time activity and are perfect for putting into your puzzle/game rotation! These pattern blocks are unique and kids LOVE them!
6) Learning Resources Soup's On
The Learning Resources Soup's On playset is a huge hit with toddlers!
My kids love to use the ladle to serve the soup from the pot into the bowls. The pretend food pieces are high quality, which means it still looks new even after lots of play, and the textures and feel of the vegetables adds to the fun!
Be sure to check out the Garden Fresh Salad Set and the Grill It Set! Our family has all 3 of these and they are super engaging for little ones!
7) Melissa and Doug Water Wow
Melissa and Doug Water Wow Pads are reusable color with water activity pads. We have over a dozen of them because our kids LOVE them.
Water Wows are perfect for popping in your "go bag." and taking them out and about. Our family takes them to church, restaurants, on road trips, and basically anywhere that we need a quiet activity.
8) Raccoon Rumpus
Raccoon Rumpus is a great quiet activity for toddlers. It's actually a preschool game, but toddlers love to dress the raccoons. Anything that engages a child for a long stretch is a win in the toddler stage!
This game will grow with your child. Once they get a little older, they will begin to understand the game which involves color matching and counting.
9) Little Tikes Lil' Wagon
If you are looking to wow a toddler, get him/her a little wagon. This is not a full size wagon, but a smaller version.
Toddlers love to carry their toys around in it or give their stuffed animals a ride. The Little Tikes Wagon is durable and strong enough that if they decide to climb into the wagon or pull another child in it, it won't break.
10) Poke-A-Dot Books
Poke-A-Dot books by Melissa and Doug are amazing interactive books. When the "dots" are pressed, they make a pop sound. And of course, toddlers love to push buttons!
These books encourage fine motor skills, counting, and a love of reading!
11) Snappy Turtle Mower
This Snappy Turtle Mower by Melissa and Doug will keep your toddler busy for a long time! It doesn't need batteries like many toy mowers and it doesn't blow bubbles (which is actually a win, because those mowers don't work very long or leak!)
Instead, this mower has a little compartment for your toddler to hide his/her treasures. It has a tiny pretend gas can and all of the knobs turn or make noise! Perfect for pretending to mow, just like mom or dad!
12) Water Table
Water tables are great for engaging toddlers for a long time! You have anticipate that they WILL get wet, but it is a nice activity for those spring/summer days that you can't go to the pool! My kids have always enjoyed playing in water and I love how long it keeps them busy!
13) Camp Fire Set
This Kids Campfire Play Set made by Chimera Custom Quilts on Etsy is a perfect gift for toddlers! You can find everything he/she needs to make a pretend campfire and roast marshmallows! Great for teaching about camping and engaging your toddler in pretend play!
14) Pull Toy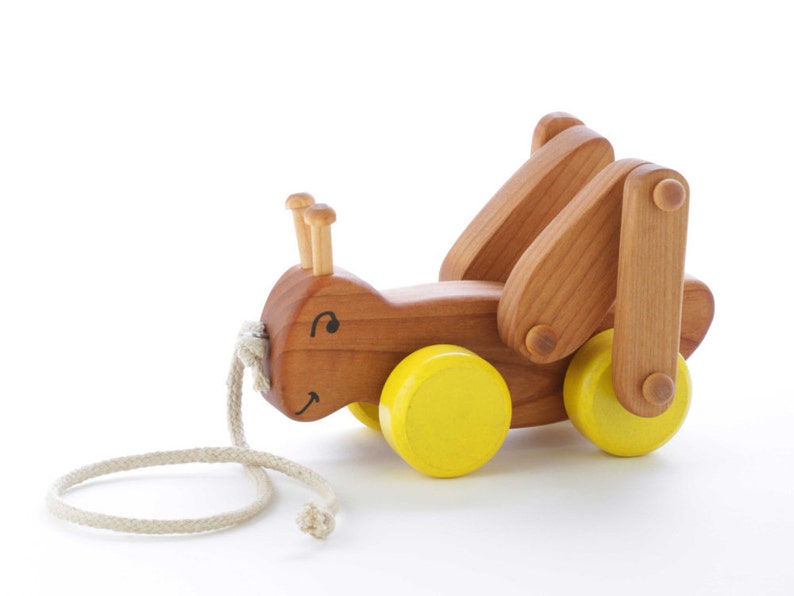 This adorable Grasshopper Pull Toy is made by Papa Dons Wooden Toys on Etsy. Pull toys are always a favorite with toddlers! This one is especially neat as the wheels make the articulated legs to move up and down and make a fun clacking sound. Soon to be a favorite that is pulled around the house or outside constantly.
15) Custom Super Hero Cape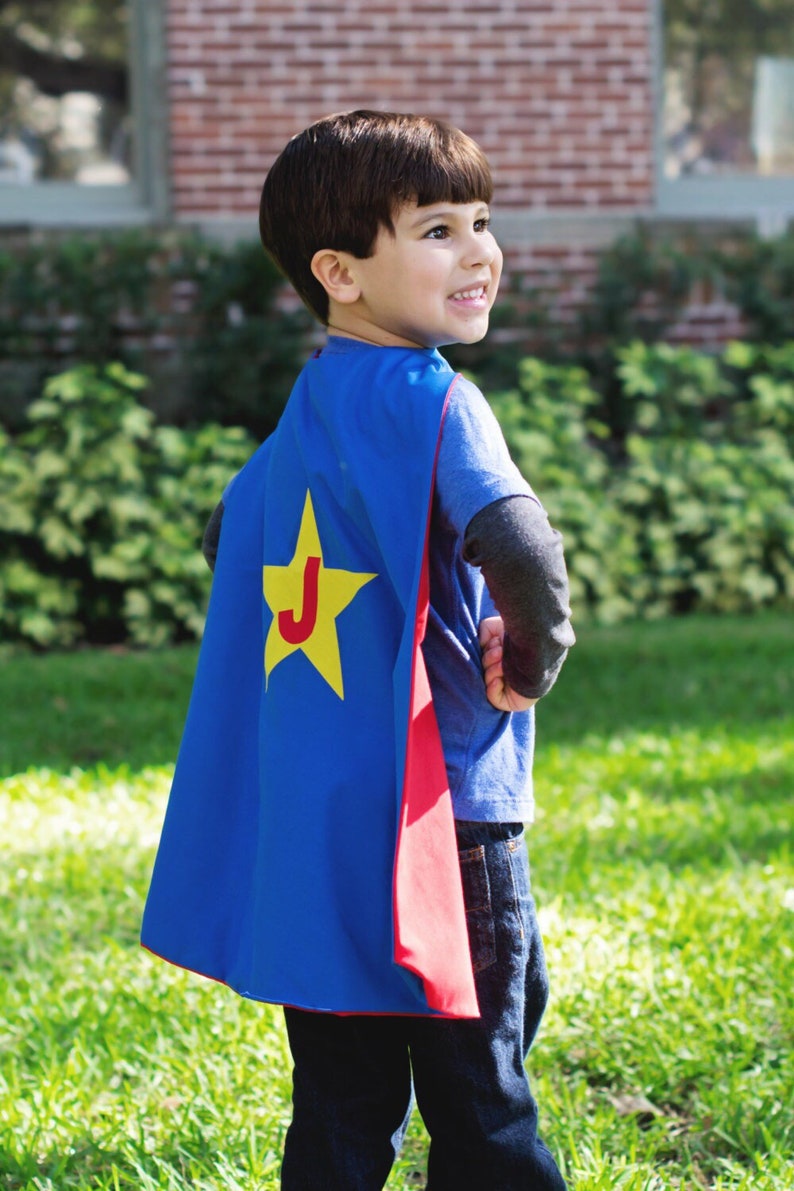 This Custom Super Hero Cape by the Custom Cape Shop on Etsy is the perfect gift for a toddler. Spark his/her imagination with a fully customized Super Hero Cape. Watch your toddler engage in pretend play and extend dress up play with this fun cape!
16) Learning Resources Snap-n-Learn Counting Sheep
These Learning Resources Snap-n-Learn Counting Sheep make a great learning toy for toddlers! Children can snap the correct numbered wool fleece onto the sheep with the corresponding number of dots on its back. Toddlers can build fine motor skills, practice number recognition, and counting with this fun toy!
And….That's it! 16 of the Best Educational Toys for Toddlers that will promote learning, creativity, and imagination AND most importantly will keep them engaged and busy! Drop me a comment and let me know your favorite learning toys for toddlers!
Other articles you might be interested in:
The Best Farm Gifts for your Little Farmer