Need a fun indoor winter activity for your children? Grab some crayons and print out these free Winter Coloring Pages for Kids.
You can grab a free snowman coloring page AND a winter clothes coloring sheet right here on this page! (WHAT?!?)
These winter coloring pictures are a great way to talk about the freezing cold season of winter with preschoolers.
You can use these winter pictures for painting as well. Watercolor paints are super easy to monitor with little ones, but paint pots and finger paints can be really fun too!
If you are feeling boldly adventurous, let them add glitter or glitter glue to their winter coloring sheets. It's messy for sure, but they won't soon forget it! Kids love glitter!
And as a side effect, your floors will sparkle…maybe not from cleanliness, but they WILL sparkle.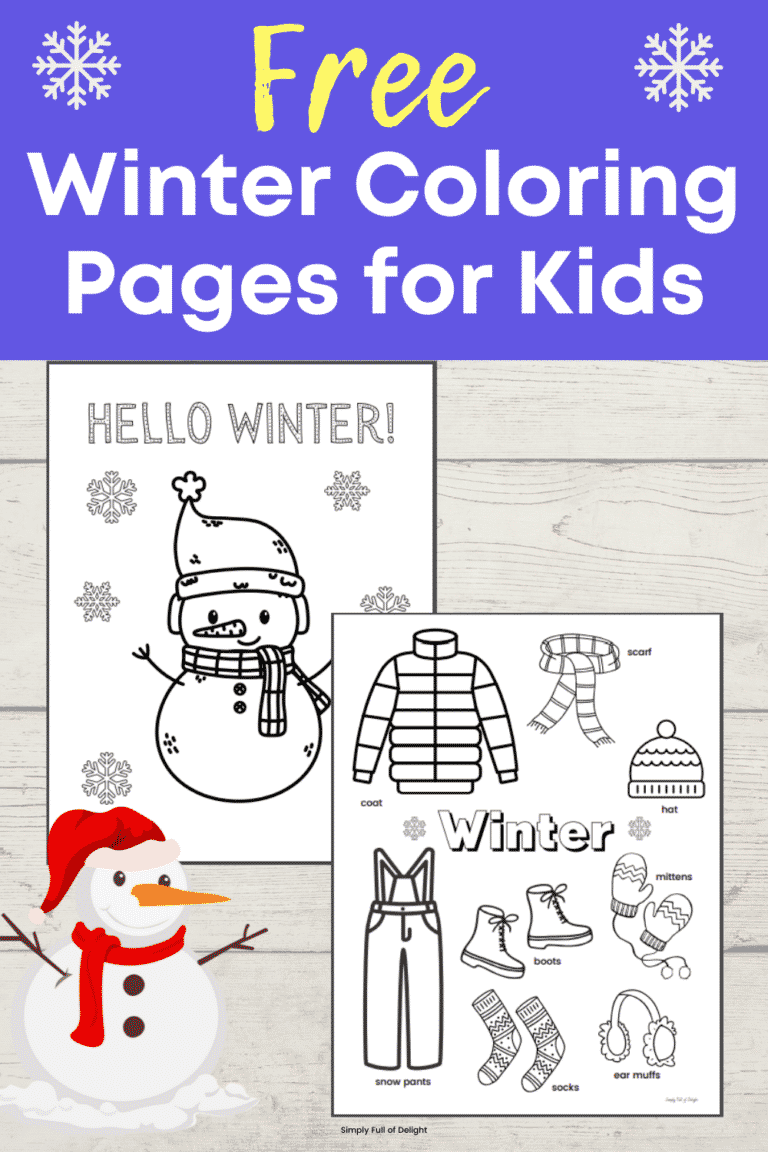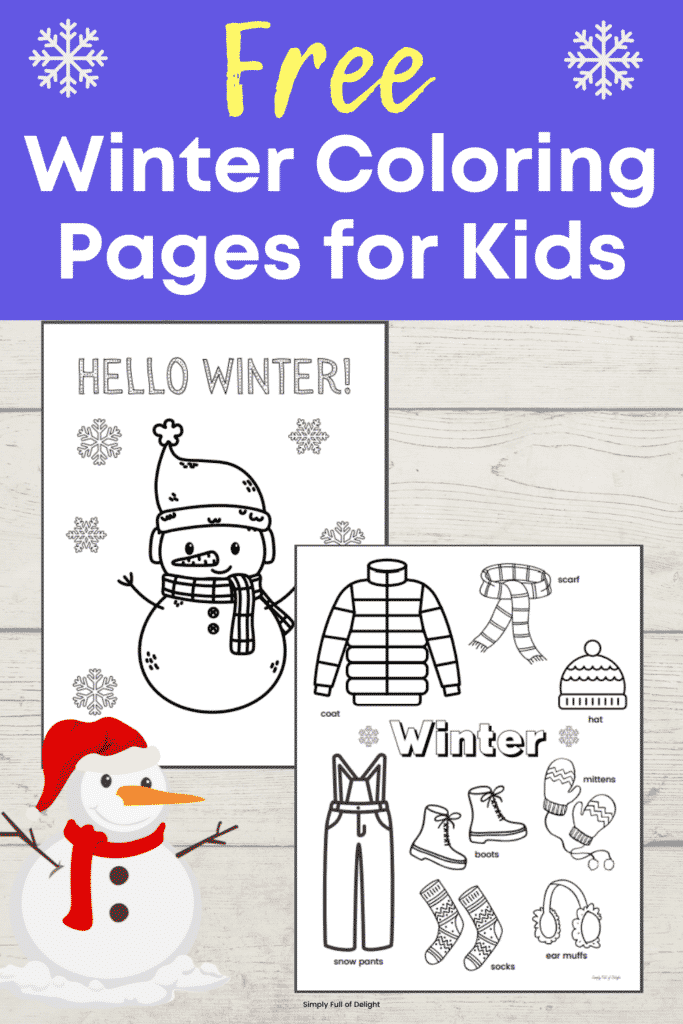 Alright, before I go down a sparkly rabbit hole of trading glitter war stories with you, let's take a look at these free printable winter coloring pages for kids.
Disclaimer: As an Amazon.com Associate, I earn from qualifying purchases made by readers clicking my links at no extra cost to you.
Winter Clothes Coloring Worksheet – Preschool
If you are needing winter themed worksheets for preschool, this one is perfect! This printable includes a bunch of winter clothes to color.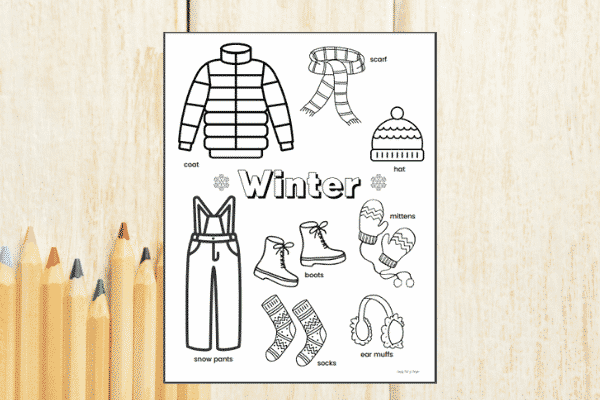 Kids will find a winter coat, scarf, hat, mittens, snow pants, socks, boots, and ear muffs.
This winter picture to color would work well for preschool, kindergarten, or first grade!
I love that this winter coloring page includes a bit of learning with it, as kids can become familiar with some basic winter vocabulary and make connections with what is worn in cold weather.
(I love adding vocab words to coloring pages! Can you tell I was a teacher!?)
My kids really enjoyed this page. My 3 younger kids used classic Crayola crayons while my oldest used these colored pencils. (I always buy Crayola because the colors are so vibrant and if you've ever colored, you notice the huge difference in quality).
My girls really got fancy with the details on the socks, scarf and hat on this winter coloring page. I let them go wild with glitter glue to add some dazzle as well. I monitored it carefully, as it can get out of hand fast. LOL
I'm not big on loose glitter, so we use this glitter glue. It works well for adding a bit of shimmer.
You can grab the Winter Clothes Coloring page by clicking the black download button.
Snowman Coloring Page – Free Printable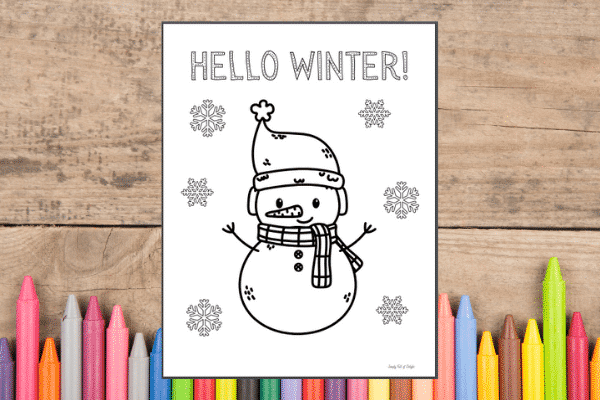 This next free printable is a Snowman Coloring Page. Nothing says winter, like a….. snowman!
Kids will enjoy coloring the snowman's hat, scarf, carrot nose, ear muffs and buttons, along with the snowflakes. The bubble letters on the top of the page say "Hello Winter!" and can also be colored in as well.
My kids LOVE snowmen! They love to create a family of snowmen each year. (Which reminds me….. I need to make sure I keep carrots in my fridge all winter long! Oops, sorry, tangent.)
This coloring page was a hit with my 4 children. They particularly enjoyed coloring the scarf and I allowed them to add a bit of glitter glue to the snowflakes, because sometimes, I'm a risk-taker.
You can download the free Snowman Coloring Page PDF by clicking the black button below.
More Preschool Coloring Pages for Winter
If you love these Winter Coloring Pages for Kids, be sure to check out the full set in my Etsy shop.
I have a set of 10 Winter Coloring Pages to download and print as often as you like for a super low price.
There's adorable animals ice skating, more snowmen, kids sledding, hot cocoa, mittens and more!
You can check it out here. Tons of fun winter coloring sheets! Your kids will love them but best of all while they are totally engaged, you can grab a few minutes to yourself to have a cup of coffee…and try to shake the glitter off your sweater.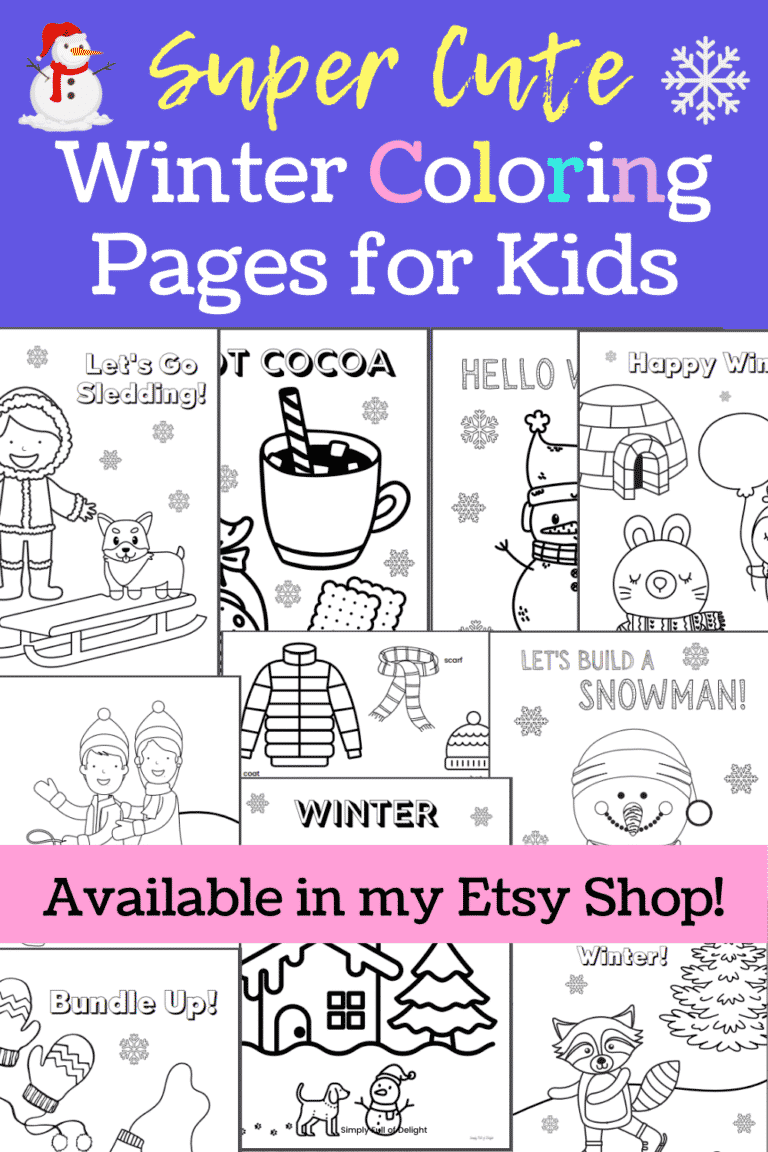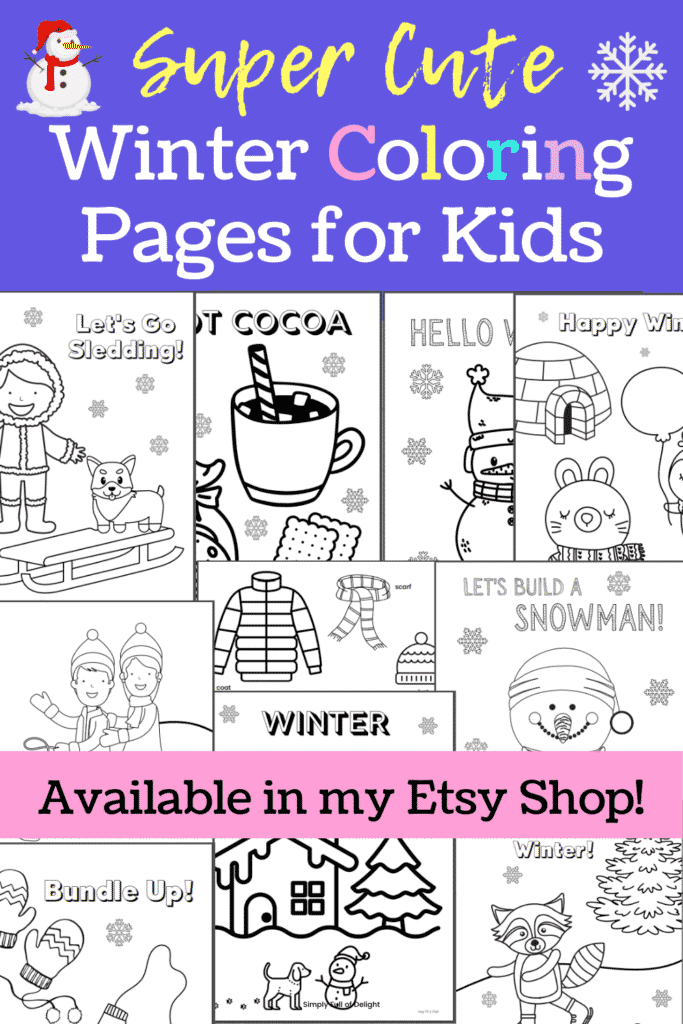 More Winter Fun For Kids
Looking for more fun for kids? You can also find more preschool winter activities here on my blog. There's a fun Snowman Craft here.
You can also find some Christmas Coloring Pages here.
If you are doing a winter theme for preschool, be sure to check out these Winter Clothes Activities for pre-k.
Lastly, there is a fun Winter Sensory Play Idea here.
Happy Winter!