Today, I want to share with you my family's Kid Friendly Chili Recipe. Ground beef is sauteed with onions and peppers, then added to diced tomatoes, corn, and beans. It's delicious and SO EASY!
As a mom, there's nothing worse than sitting down to a meal and having my children make faces and not eat the food I've prepared. It can be downright discouraging.
This kids chili recipe = it's a complete winner!
I've shared this recipe with many other moms, and every one of them has told me that their kids EAT this chili!
Real kids, real families.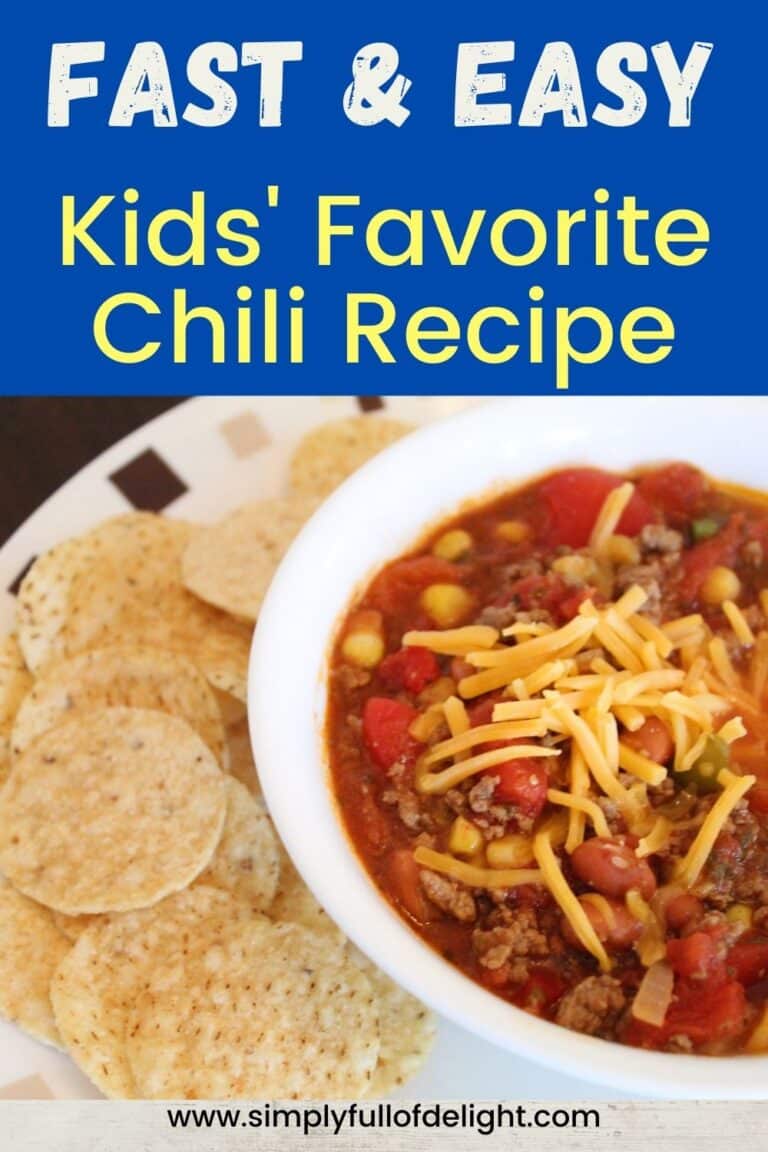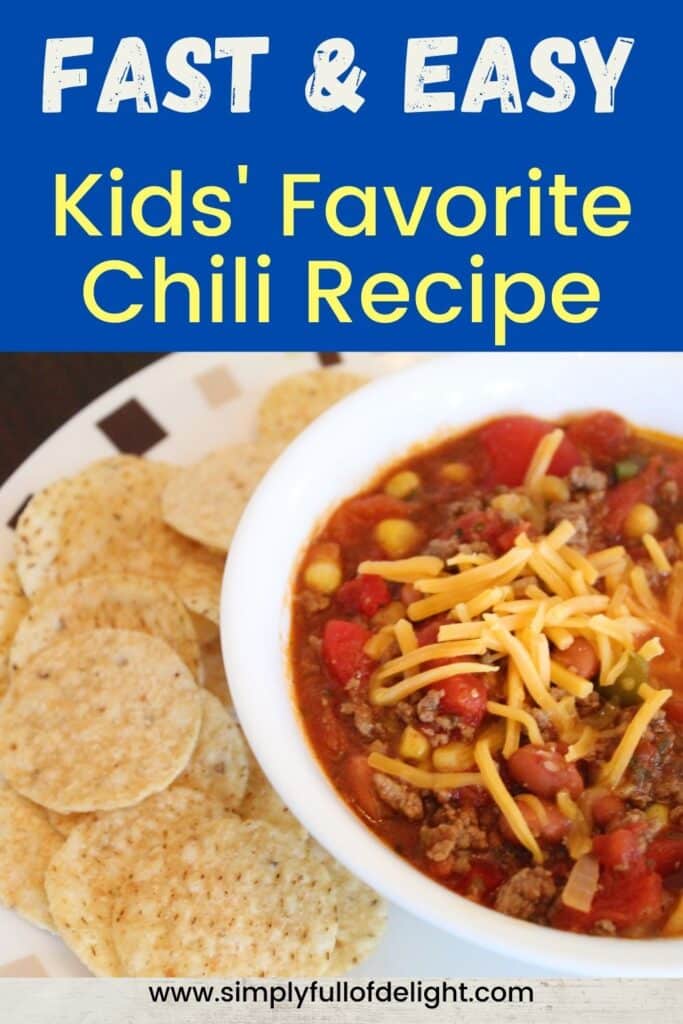 What's the difference? This chili is chunky. It's not so "soupy." Also, it has corn. Corn makes all the difference. Kids adore corn!
We eat our chili with tortilla chips. I think that this makes the chili seem a little more like a dip. I haven't met a kid yet who doesn't love dips!
Finally, I don't know about your family, but with my kids, anything served with tortilla chips HAS to be good!
According to the Mayo Clinic, a good portion of convincing kids to try new foods is just offering it again and again. Also offering familiar foods alongside the new ones can help a child be more open and adventurous when trying new foods. This recipe accomplishes that nicely!
This classic chili recipe is also naturally gluten free. As long as your spices and chili beans are gluten free, this makes an awesome gluten free soup the whole family can enjoy!
Alright, let's make some super easy Kid Friendly Chili!
Ingredients for Kid Friendly Chili Recipe
1/2 cup of fresh or frozen diced onion
1/2 cup of diced fresh or frozen green bell pepper
1 roll of ground beef (16 ounces)
2 – 28oz cans of diced tomatoes
1 – 15 oz can of chili beans in sauce (alternately you can use pinto beans with a little extra sprinkle of the spices below)
Frozen corn 1 cup
1 tbsp chili powder
1 teaspoon cumin
sprinkle of garlic powder
1 teaspoon oregano
Optional: Serve with tortilla chips and shredded cheddar cheese

How to make Kid Friendly Chili
In large soup pot, cook the ground beef until browned throughout. Add onions and green pepper to the meat, cook until your vegetables are cooked through (about 5 minutes).
Next, add the tomatoes, chili beans, corn, and seasonings. Cook until heated completely. We like to let it simmer about 20 minutes.
Serve with tortilla chips on the side and a sprinkle of cheddar shredded cheese on top.
There you have it! An awesome family friendly chili recipe that even the kids will enjoy.
If the kids are enjoying it, you are going to enjoy it even more because….what's that? Absolute silence. Everyone is eating and no one is whining!
That's what we can a winner! You might just say "Winner Winner, Chili Dinner."
I hope your family enjoys this kid friendly chili recipe. You can print a copy of the recipe by clicking on the download link below.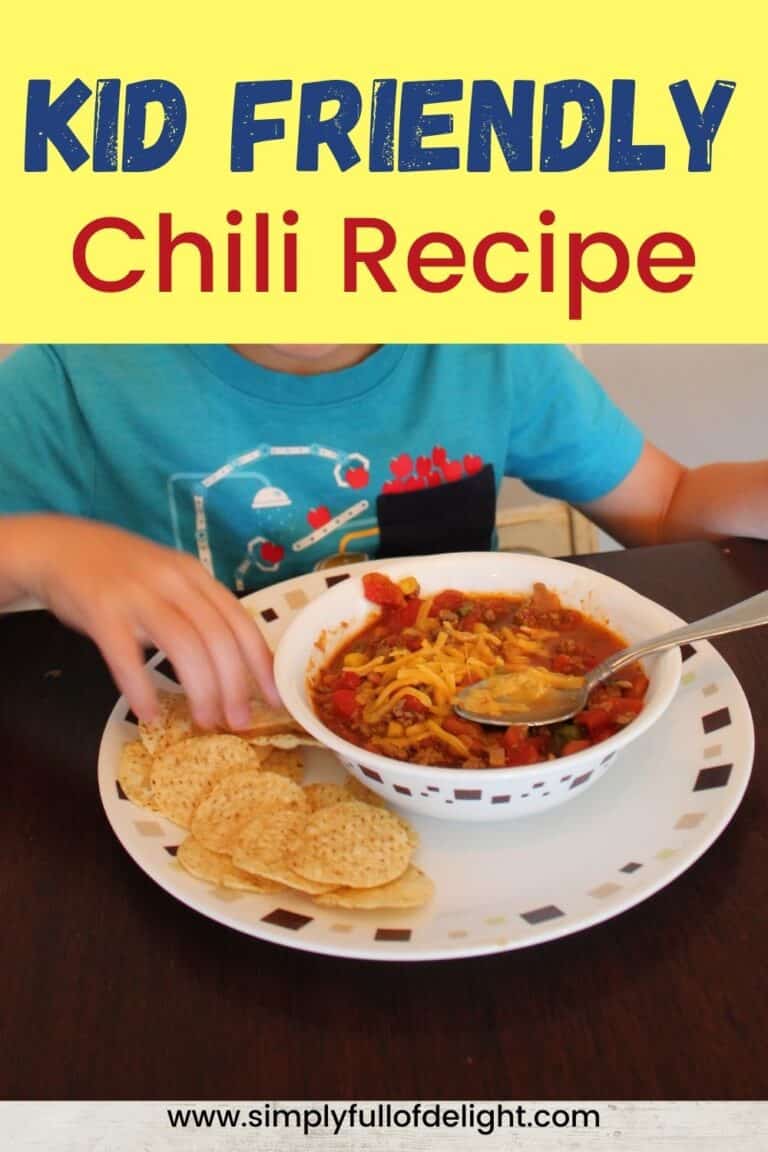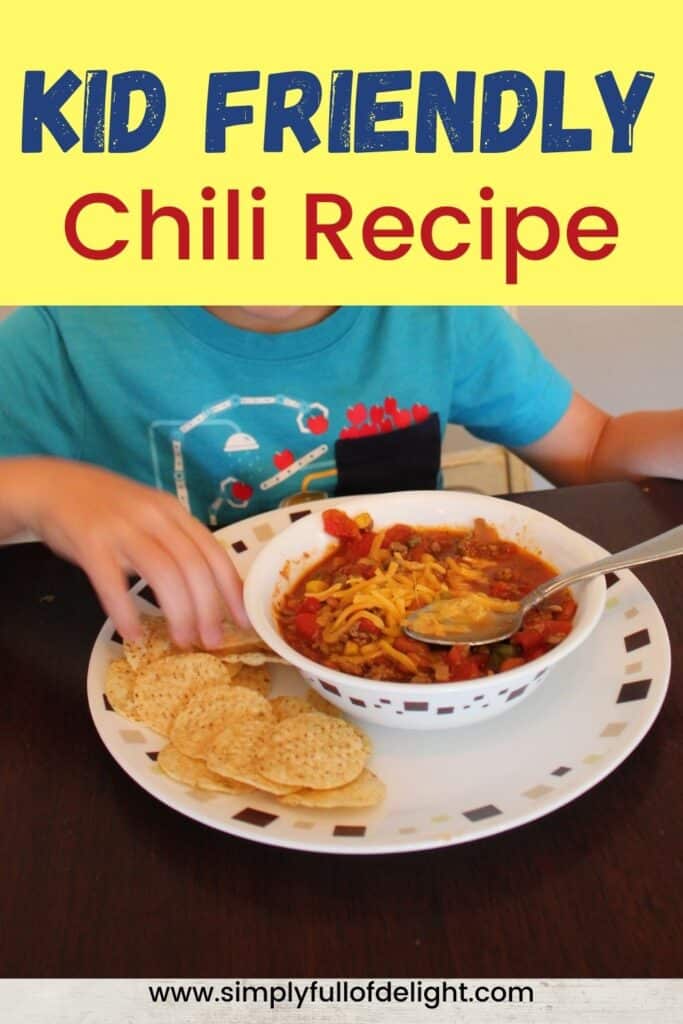 Be sure to check out this Red Beans and Rice Recipe. It's one of my kids' favorite meals and SO easy to make!
Don't miss this Easy White Queso Dip. It's perfect for topping nachos or using as a fun appetizer on Taco night!
If you have a picky eater, don't miss this article on How to Help Your Picky Eater. We've been there, done that!
If you enjoyed this Best Kid Friendly Chili Recipe, be sure to pin it onto Pinterest or share on social media so that more moms can find it!