Last month, I came up with the best grilled zucchini recipe. I've been so excited about perfecting this recipe because it's delicious, kid friendly, and now it's finally ready to share!
Our garden has been producing about 6 zucchini a day, so we have been making all the usual amazing recipes with zucchini like sauteed zucchini, fried zucchini, this amazing gluten free zucchini bread and of course, this delicious grilled zucchini!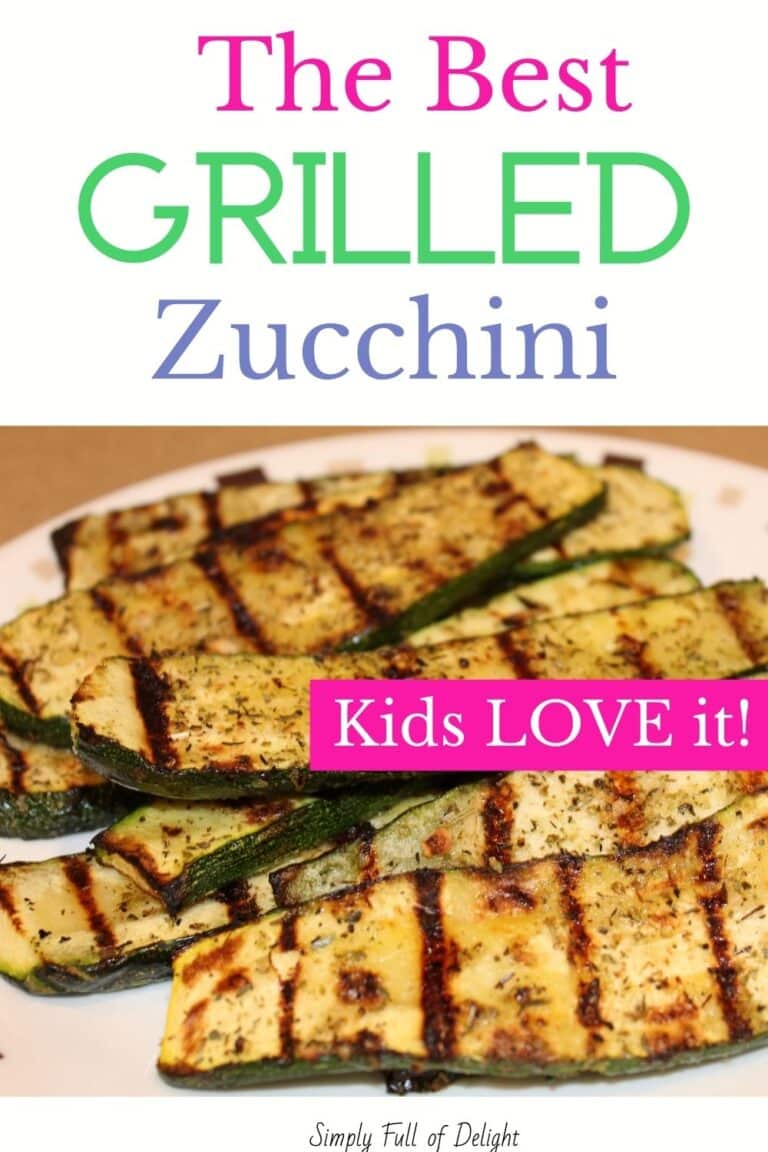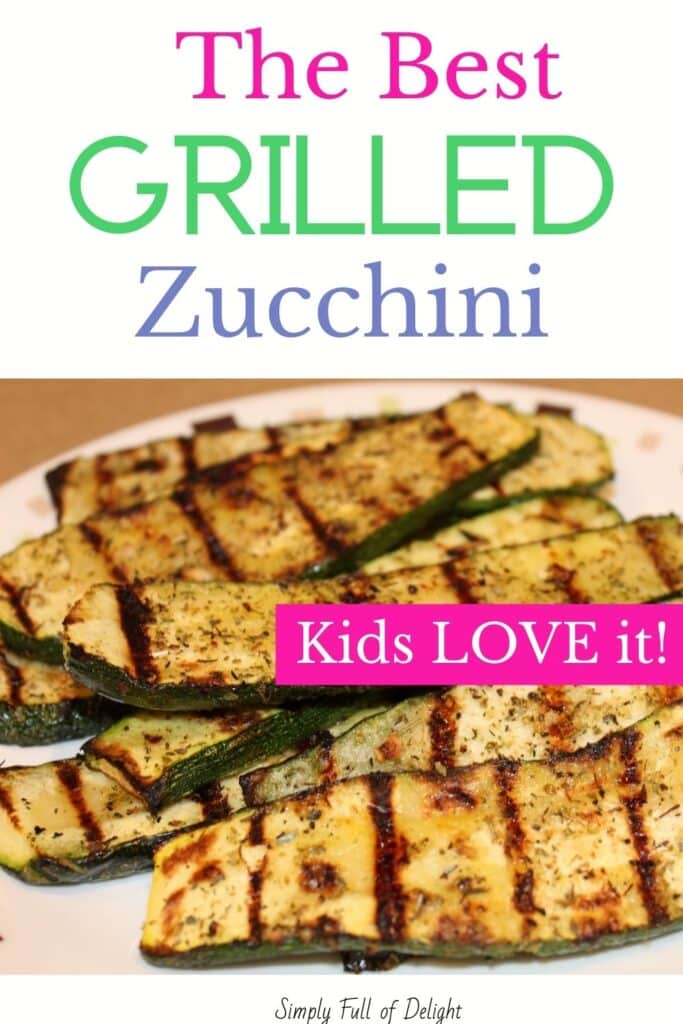 My 4 kids love this grilled zucchini recipe, which really says something. Plus, I'm happy to say that all 8 of the kids who taste-tested this grilled zucchini for me gave it a thumbs up and asked for seconds!
One of my kids is a picky eater, and surprisingly even she loves this grilled zucchini. Which is a huge win for our family! It's hard to find side dishes that are healthy, gluten free and picky eater approved!
And finally, I just overhead my little ones pretend cooking upstairs…and they were making grilled zucchini. Which means this grilled zucchini recipe = A Total Win!
** Disclaimer: As an Amazon.com Associate, I earn from qualifying purchases made by readers clicking my links at no extra cost to you.
What tastes good with zucchini?
Our family likes to serve grilled zucchini with any grilled or smoked meat. It is a quick side dish on a week night with grilled hamburgers, brats, hotdogs, grilled chicken, steak, or pork steaks. Or you can level up your meal and serve grilled zucchini with smoked brisket (we have this pit barrel cooker and it's amazing!) and these twice baked potatoes. SO good!
How do you grill zucchini without it getting soggy?
You'll want to make sure that your zucchini is cut 1/3 inch to 1/2 inch thick. If it is too thin, you risk your grilled zucchini getting soggy.
On the same note, always use smaller zucchini to grill. If your zucchini is large, it will have seeds in it and that will make your grilled zucchini soggy as well.
Lastly, grilled zucchini should be grilled on medium high and served immediately. That will help keep your grilled vegetables tender crisp, hot and delicious! Perfection!
How do you cut zucchini for grilling?
You'll want to choose small zucchini for grilling. I recommend cutting them 1/3 to 1/2 inch thick, longwise. See the pictures in this article for details.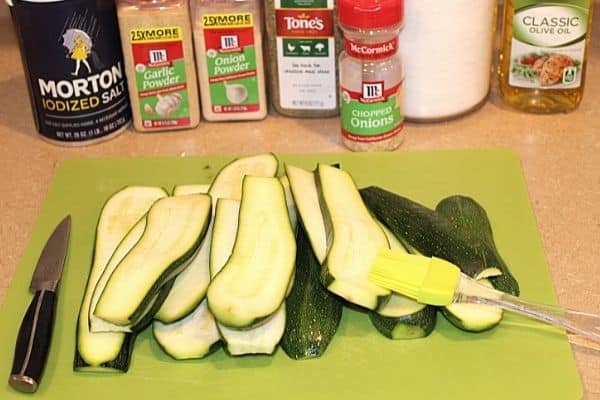 Should I peel zucchini?
Peeling zucchini is not necessary at all. It is totally fine to eat the skin of a zucchini! In fact, the "skin" of the zucchini is the best part! The skin of a zucchini is high in antioxidants. Also, you'll be happy to know that zucchini are very rich in vitamins.
The Best Grilled Zucchini Seasoning
The flavors in this recipe are inspired by Italian salad dressing. This seasoning recipe will make enough for you to make grilled zucchini several times.
I like to mix up a batch of seasoning and then store it in an empty spice container. The best container for the job is one that has large holes so that you can easily shake the seasoning out right onto your zucchini. Alright, let's dive into the recipe!
Ingredients for Grilled Zucchini
– 3 Tablespoons Tones Italian Seasoning
– 3 Tbsp. Sugar
– 3 Tablespoons Dried Chopped Onions
– 2 Teaspoons Salt
– 2 Tsp. Garlic Powder
– 2 Teaspoons Onion Powder
– Several small Zucchini (I usually make 4 zucchini for my family of 6)
– 3-4 Tbsp Olive Oil
First, heat your grill on high heat.
In a small bowl, mix the Italian seasoning, sugar, dried chopped onions, salt, garlic powder, and onion powder together. If possible, place your seasonings mixture in an empty spice shaker bottle.
Be sure to keep your seasoning dry so that you can use the unused portion another day.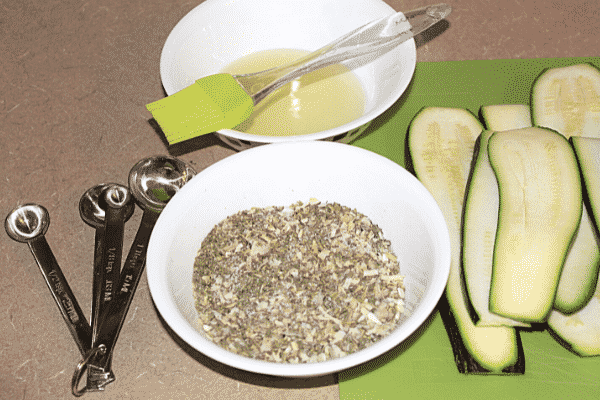 Next, slice your zucchini lenghwise in 1/3 to 1/2 inch strips. Using a pastry brush, brush the zucchini with olive oil on both sides.
Now, turn your grill to medium high heat. We only need to sprinkle one side of the zucchini with a generous portion of the seasoning mixture. (I add the seasoning to the inner portion, not the green skin side as it doesn't stick as well to the zucchini skin.)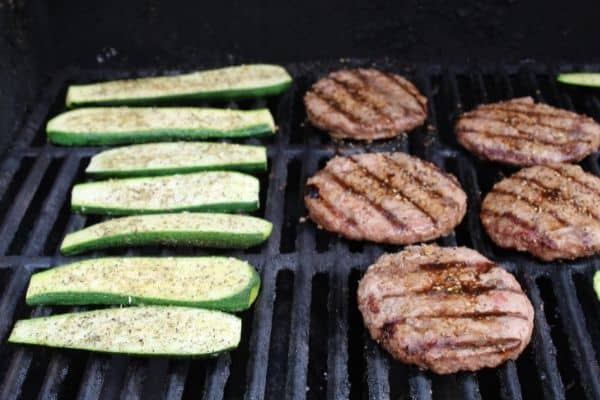 When your grill is hot, place your zucchini on the grill. I place the zucchini plain side down and seasoning side up first. Cook for 5 minutes. Then, flip each zucchini slice with tongs. Then cook another 5 minutes.
Make sure you close your grill lid, so that it can reach the proper temperature.
Set a timer as burned zucchini is not so great! LOL We may or may not know this from experience!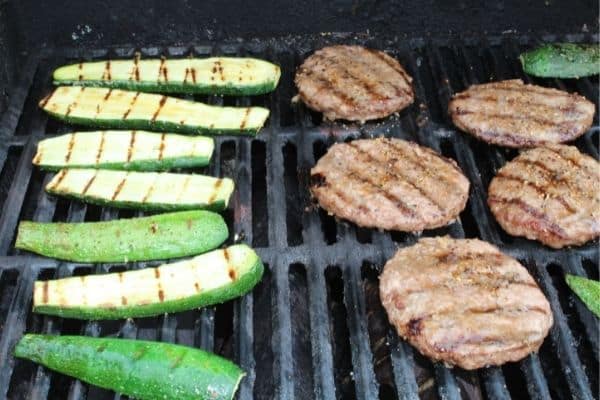 The zucchini should be tender-crisp when it is ready. Serve immediately. I find that using 4 small zucchini is the perfect amount for my family of 6.
A few helpful grilling tips:
– If you are grilling meat at the same time, I recommend placing your meat in the middle and turning off the burner heat in the middle. Your meat will cook nicely via the heat on either side of it. (Again, note that your grill lid must be closed!)
– Also, in order to get your meat finished at the same time as the zucchini, you'll want to start the meat on the grill first and then begin to prep your zucchini.
– Always set a timer. Zucchini overcook and burn quickly if you lose track of time.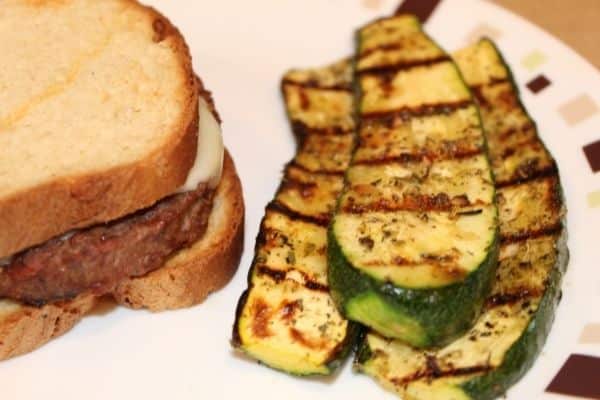 If you'd like a printable version of this awesome grilled zucchini recipe, just click the download button below for the free pdf.
Enjoy that grilled zucchini and be sure to share some with your kids! They'll love it! Be sure to pin this recipe to save for later!