Teaching numbers to your child is one the basic skills needed for school readiness. If you're looking for how to teach numbers to preschoolers and toddlers, you'll be happy to know that playing and reading are two of the best ways for children to learn!
As a mom of 4 and a former preschool teacher, I've put together a list of number books and toys that my family owns and I recommend to have fun teaching numbers to young children.
Let's jump in!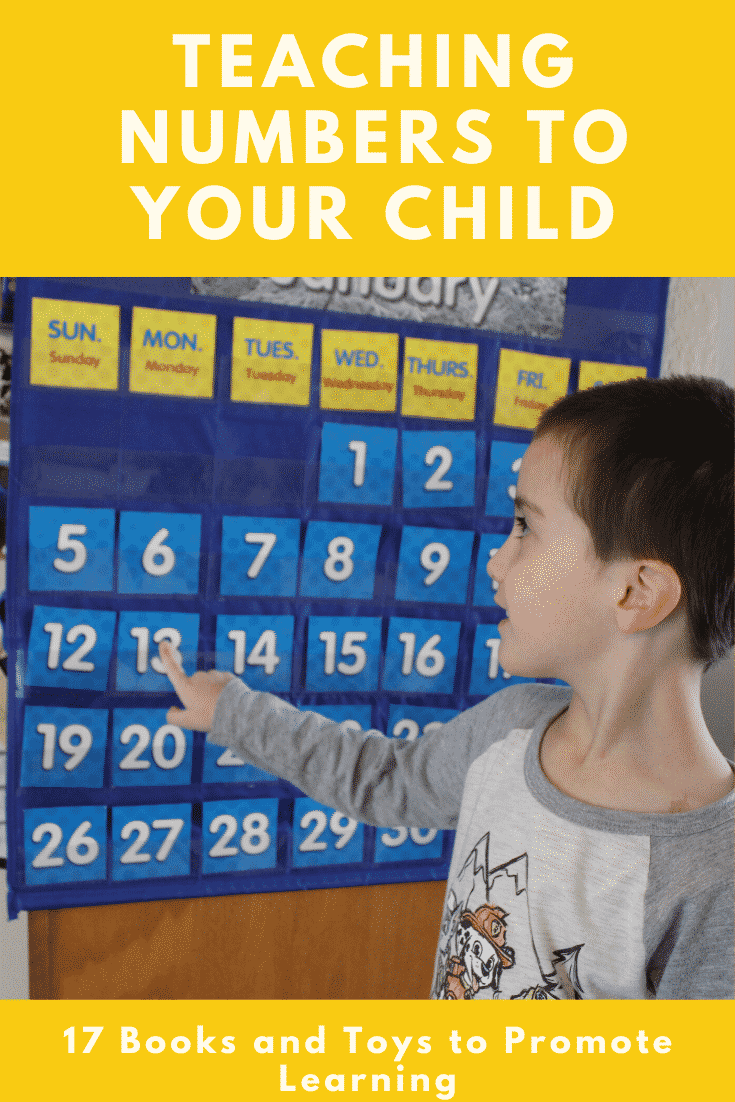 Disclosure: This post contains Amazon affiliate links. If you click on the link and purchase an item, I receive an affiliate commission at no additional cost to you.
1) The Very Hungry Caterpillar Book
The Very Hungry Caterpillar by Eric Carle is a classic book that tells the story of a caterpillar who eats his way (quite literally) through the book.
It counts up to 5, but the awesome part is that it teaches 1-1 correspondence. You can have your child touch each item as they count it.
The other great thing about this book is that it incorporates days of the week, which is why it is so popular in many Pre-K and Kindergarten classrooms.
Books are an excellent way to give your little learners a strong foundation in early math skills and literacy.
2) The Very Hungry Caterpillar Number Puzzle – Have Fun Teaching Numbers
If you child loves the Very Hungry Caterpillar book, they will love this Very Hungry Caterpillar Puzzle. It's a giant floor puzzle that literally runs across the entire length of our living room. My children LOVE this puzzle.
The numbers go from 1-20 and when it is complete, my kids can't help but count over and over as they march past each number. There's nothing better than fun number activities!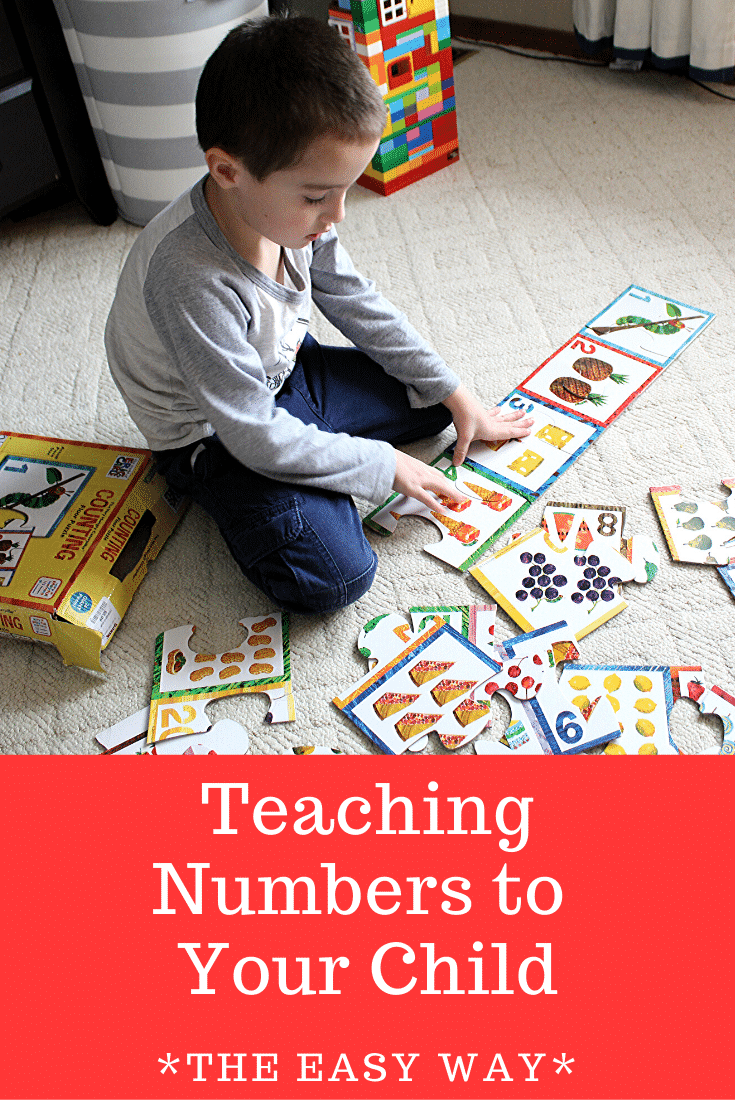 3) Spot Can Count – Teaching Numbers
Spot Can Count by Eric Hill is a sweet book that follows a little dog named Spot through a day on the farm. He counts his way past various animals and there is a flap to lift on each page, which is always a hit with preschool children.
I love that this book is short and sweet, promotes counting, and has great pictures. It's a book we gladly read over and over. What a great way for how to teach numbers to toddlers!
4) Nesting and Stacking Blocks – How to Teach Numbers to Toddlers
These Number Nesting and Stacking Blocks are a great tool to teach your child their numbers! One side features the numbers, another side shows the number of objects, and another side shows the ABCs!
I love how these blocks challenge children to sort from largest to smallest as well as reinforces numbers. So much more fun than rote counting!
5) Melissa & Doug Water Wow! Reusable Water-Reveal Cards
These Melissa & Doug Water Wow! Reusable Cards are a great quiet time toy that reinforces numbers. Children can use the water pen to paint the cards to reveal the pictures.
The cards are reusable, so once they dry, they are ready to be colored again! Each of the water wow flash cards features the number, simple objects to count, and number words.
These are perfect for taking to church, restaurants, or on long car rides to practice those number skills on the go!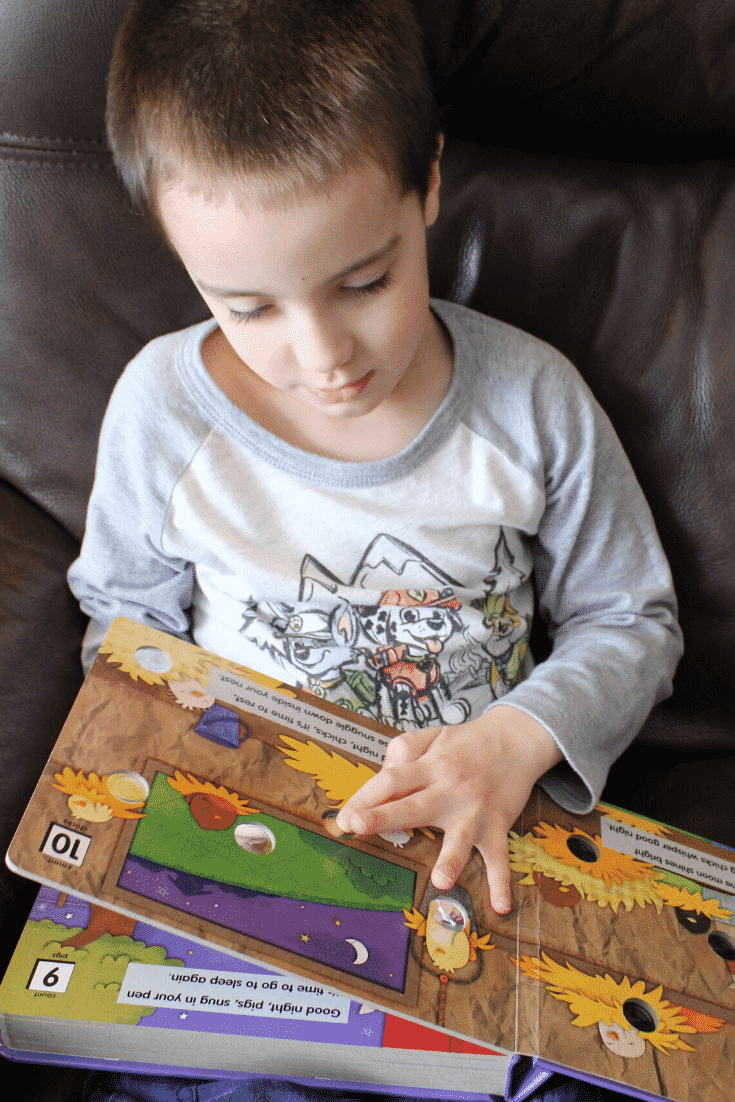 6) Poke-A-Dot Book – Teaching Numbers
Melissa & Doug Poke-A-Dot books are unique books that make a popping noise when you press the plastic buttons. I love that these books have a simple story line and encourage children to count as they press each dot, which teaches one-to-one correspondence and is great for fine motor skills.
7) Baby Bear Balance Set – Teaching Numbers
The Baby Bear Balance Set by Learning Resources is one of my favorite number toys. As children play with the bears, they can't help but start sorting the different colors.
I like to ask my children to count the bears as they put them into the balance buckets. This teaches both simple weighing skills, sorting by color, and of course, counting skills.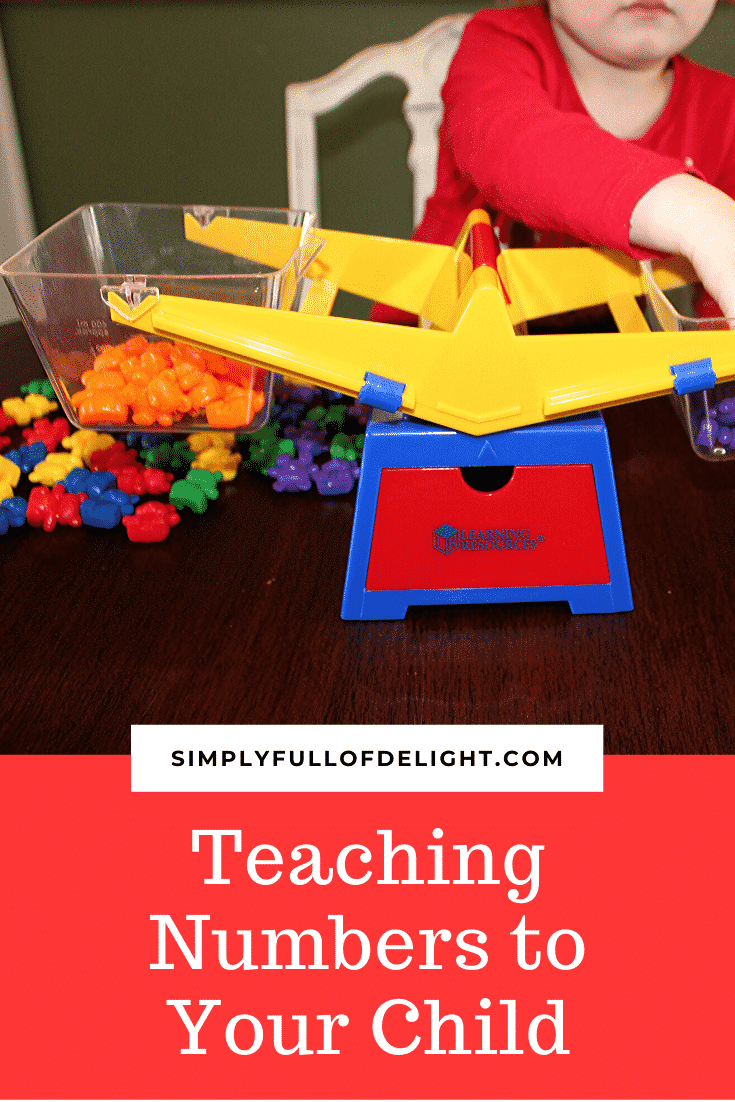 8) Corduroy's Numbers – how to teach numbers to toddlers
Corduroy's Numbers by Mary Jo Scott is a great book with a cute storyline that incorporates numbers. Corduroy walks through a farm, counting the animals and objects he sees along the way.
It's short, it rhymes, and I love that I can ask my kids to count on each page. It teaches numbers 1-10.
9) Monthly Calendar Pocket Chart – Teach Number Recognition
It may be my teaching background, but I can't think of a better way to teach a child numbers than to hang a calendar in an area where they see it all the time. This Monthly Calendar Pocket Chart by Scholastic comes with number cards and month cards that can be moved around each month.
My kids love looking at it and talking about upcoming events. I am convinced this is why my kids were able to recognize numbers 1-31 from a very young age. It's also a great learning tool for kids to understand timelines and days of the week.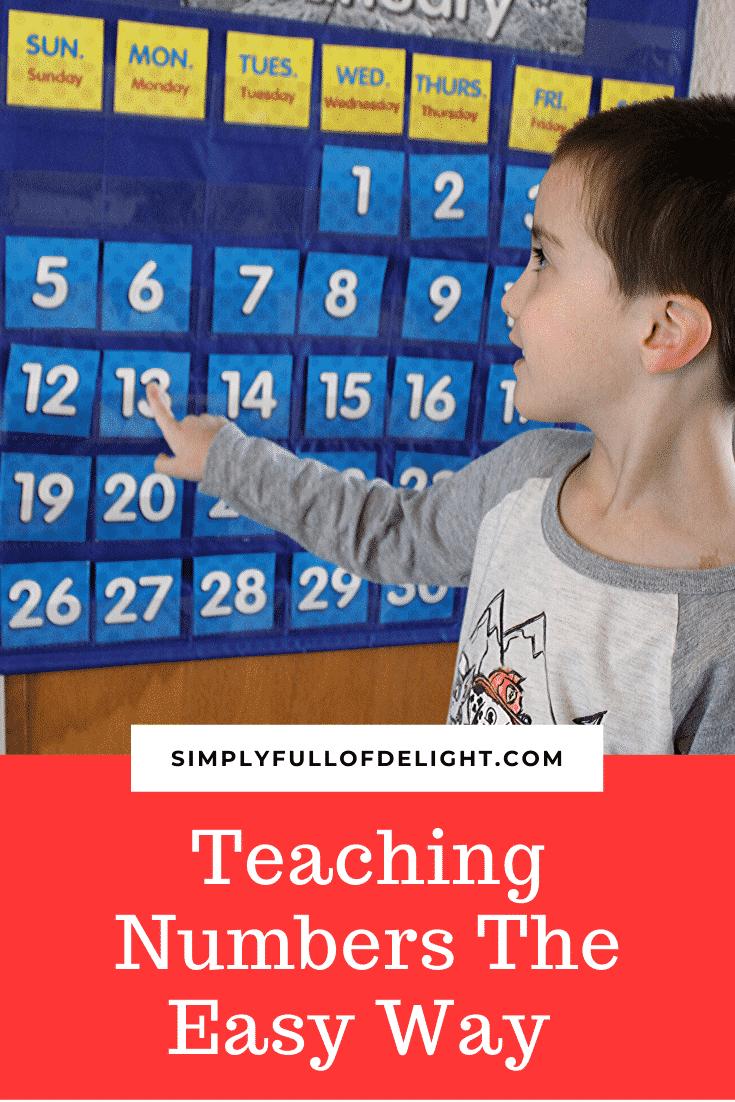 10) The Number Train Puzzle
This Number Train Puzzle by Melissa and Doug is an excellent puzzle that teaches the order of numbers in a fun way. It's a 20 piece floor puzzle that is 8 feet long when it is completed. I would recommend this puzzle for children ages 3 and up.
11) Curious George Learns to Count from 1 to 100
If you are teaching numbers 1-100, the book Curious George Learns to Count from 1 to 100 by H.A. Rey is perfect. Curious George walks through his town, counting various objects all the way to 100.
Obviously, it's a long book. Sometimes my family reads half one day and half the next day.
It's excellent for teaching quantity as you can really visually see the difference between the smaller numbers and the larger numbers. It's a fun book my kids look at ALL the time!
12) Wipe Clean Workbook Numbers 1-20 for Teaching Numbers
The Wipe Clean Workbook Numbers 1-20 by Roger Priddy is an excellent tool to teach your child to write their numbers. It's a wipe clean book, so you use a dry-erase marker to write and you can wipe it clean again, to reuse the pages over and over.
13) Dry Erase Pocket Sleeves
The Clipco Dry Erase Pocket Sleeves are great for placing number worksheets inside and allowing your child to trace them over and over with a dry erase marker. I like to print out number sheets, my child's name, the alphabet, or mazes to put inside these pocket sleeves.
Also sometimes I find a great page inside a coloring book or workbook. I simply take that page and place the sheet of paper in the dry erase pocket sleeve to make it reusable.
It's a great way to help kids practice number formation. It's important to keep it fun though because little kids learn best with fun activities!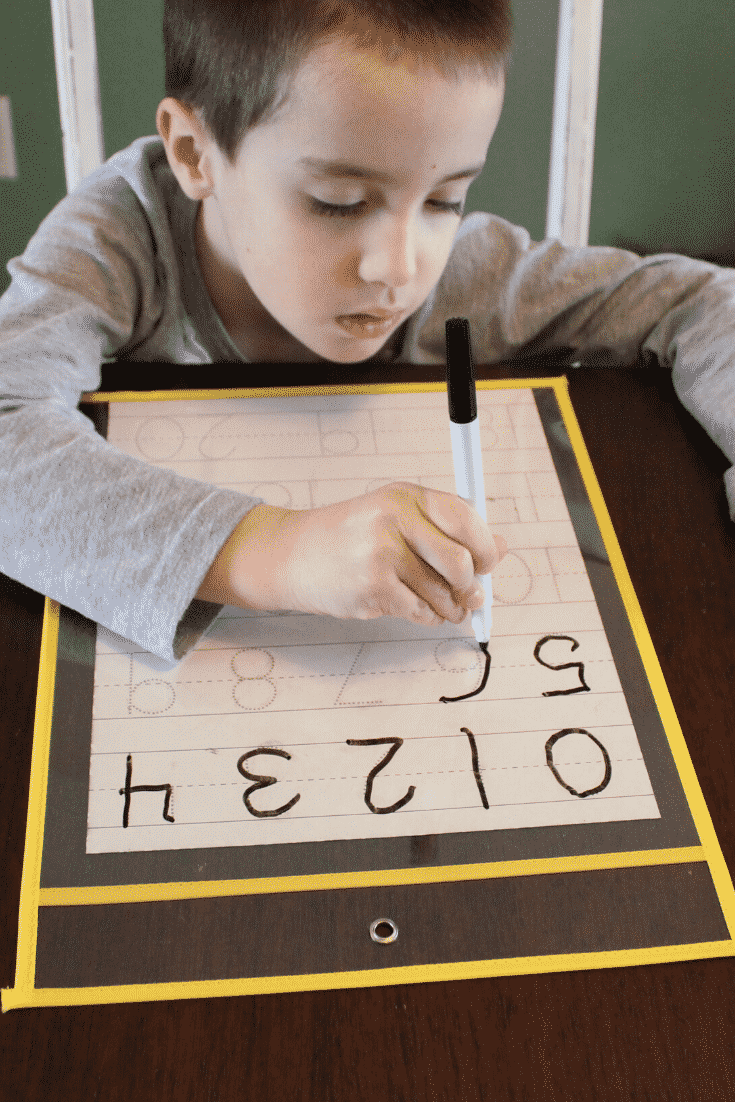 14) Cookie Monster Number Set
This Sesame Street Cookie Monster's On The Go Numbers set by Playskool is a fun toy for younger children. The 3-D numbers and cookies pop out of the case and the child can click them back into the correct spots.
I love that it promotes learning in several different ways. At an early age, kids will use the important skill of grabbing the puzzle pieces out.
As they get older, they will enjoy the fun game of placing the pieces into the puzzle. If you wanted to take it a step further, you could add the different numbers to a sensory bin and have kids pluck them out and place them into the puzzle. What fun!
There is also an alphabet version of this toy as well.
15) Learning Resources Smart Counting Cookies
The Learning Resources Smart Counting Cookies set combines learning with fun! Each cookie has the corresponding number of chips, so the number 1 cookie has 1 chocolate chip and 0 has no chocolate chips.
My kids love to pretend to bake the cookies and often I will request a cookie that has an exact number of chips on it.
Sometimes my kids start looking for a particular number based on the number of chips they count on the cookie and then flip the cookie over to reveal the number to see if they are correct.
It's a great game for early childhood that extends upwards beyond just preschool math and the concept of numbers. These same cookies can be used later on for addition!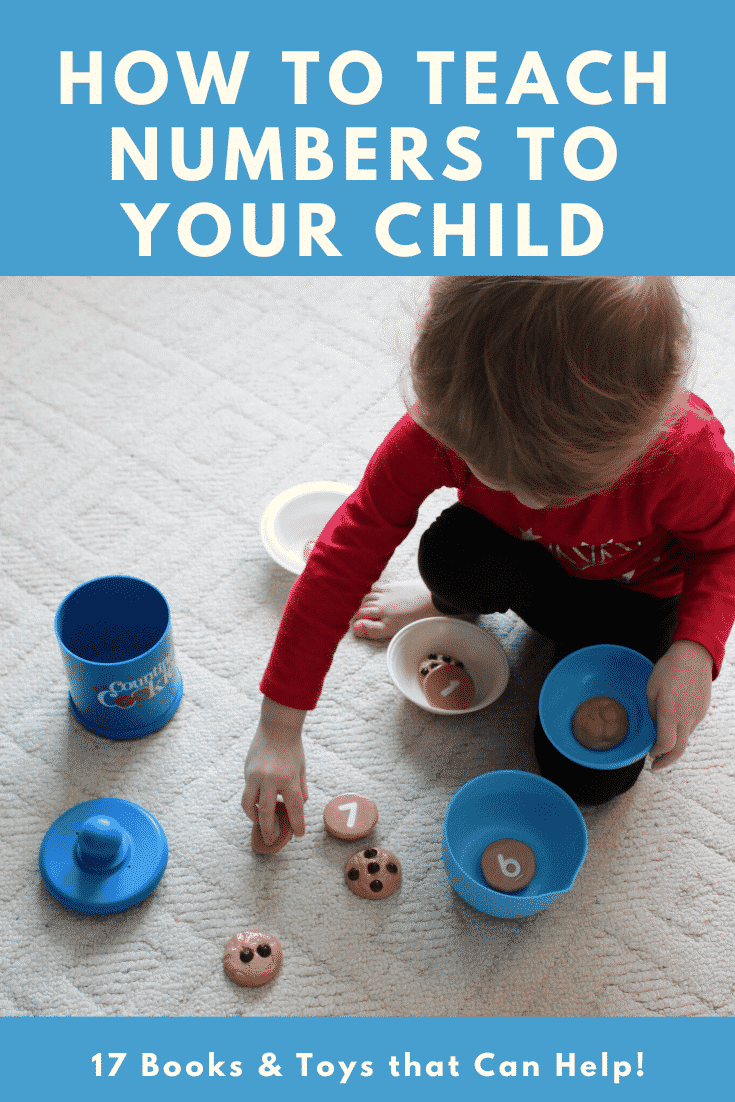 16) Number Magnets
These Melissa & Doug Number Magnets are a great way to give your child some hands-on learning! This set has enough pieces to create numbers 0-20. There are also pieces to create math problems as your child grows.
17) Melissa and Doug Clock
The Melissa and Doug Shape Sorting Clock is a fun way to teach number recognition, shapes, and telling time. Kids usually go through a stage where they are curious about time, so this is perfect to demonstrate how a clock works, while providing an opportunity to place the correct number in the correct order.
It's a great toy that truly makes learning fun!
More Number Activities for Preschool
I hope you've found some great ideas for how to teach numbers to toddlers and preschoolers.
There's some amazing toys and books out there to help you as you start teaching numbers to your child!
Don't forget to use simple everyday items, like counting stair steps as you go up, identifying numbers while you are out and about, or counting out loud to your child as you buy produce at the store.
There's so many opportunities in our daily lives to teach our kids about numbers!
Also, here's some free Number Coloring Pages to help with Counting and Number Recognition. You'll find coloring pages for numbers 1-10. Each page features the written number word, the numeral, and a fun animal picture. Your child will enjoy coloring or painting them after counting the animals.
As your child grows, they may enjoy Color by Number pages. I have a free Color By Number American Flag printable here. Plus you can find seasonal ones for various holidays here, or you can search my site for color by number!
If your child is ready to learn letter recognition, be sure to check out this article on How to teach your Child to Read. There's toy, book, and activity recommendations.
You can also find tons of ideas for fun ABC activities here. You'll find free printables, alphabet craft ideas, and more!
Plus, don't miss this article on how to teach your child to write. My son was a reluctant writer, so we doubled down and found some awesome ways to make learning to write fun. You can find those fun pre-writing activities here (plus some free pre-writing tracing pages for preschoolers!)
Lastly, you can find some cool ideas for teaching shapes to kids here. There's plenty of hands-on activities to make learning shapes fun for little ones!
I hope your child enjoys learning about numbers as much as my kids do! Want to save this article for later? Just pin the image below to your preschool activities board on Pinterest!