It's that time of year again! All things holiday and festive are happening and the kids have Tacky Sweater Day at school! If you don't have one yet, here's a tutorial for a last minute DIY Ugly Christmas Sweater!
This No Sew Ugly Christmas Sweater is perfect for both kids and adults! You probably already have the supplies you need!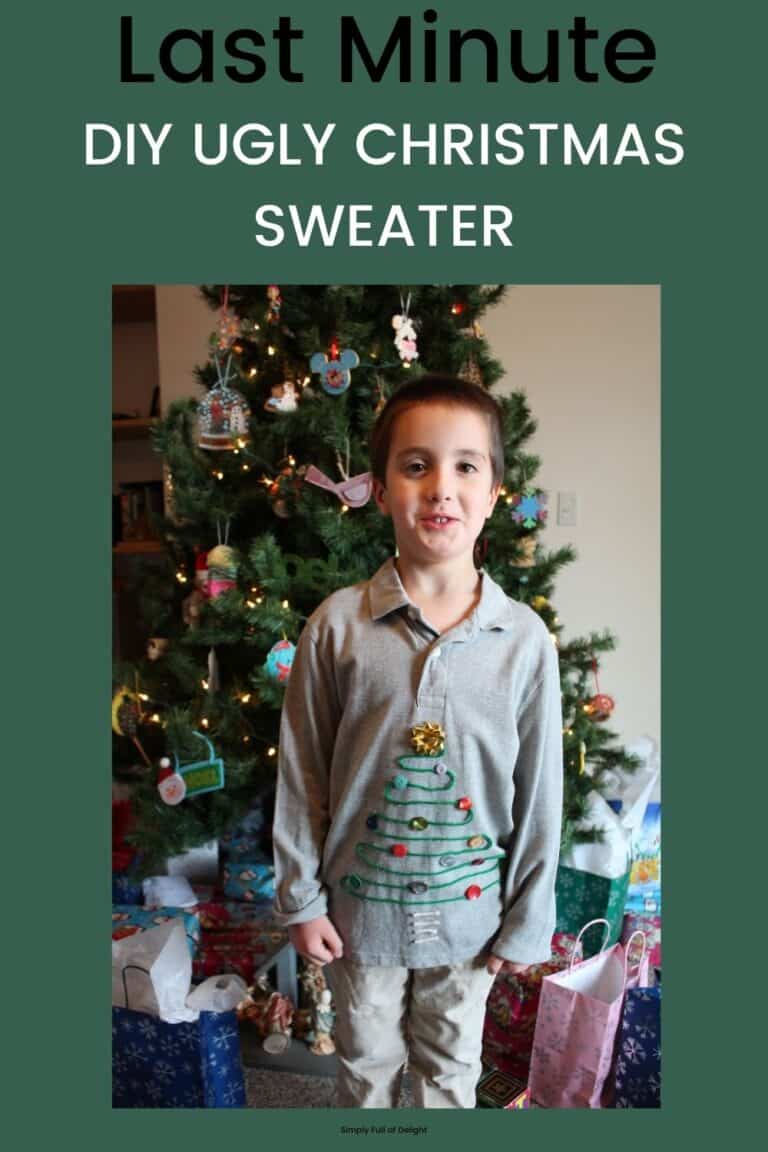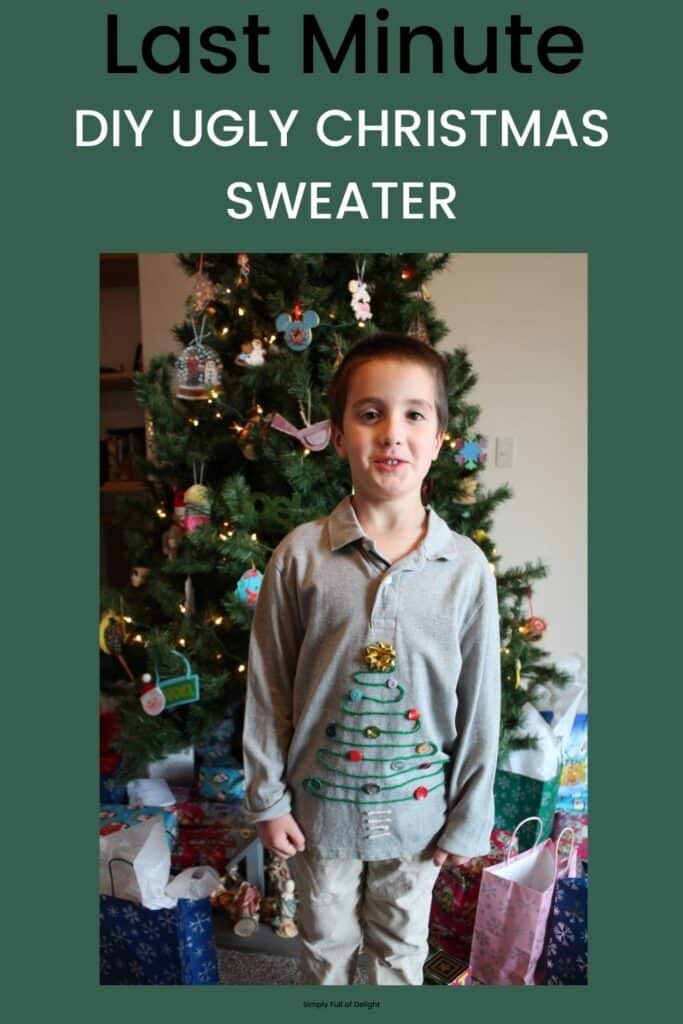 ** Disclaimer: As an Amazon.com Associate, I earn from qualifying purchases made by readers clicking my links at no extra cost to you.
Supplies for a DIY Ugly Christmas Sweater
For this project, I rummaged through my son's closet for a shirt that he wasn't using. You could use a long sleeve shirt, a sweater, or a sweatshirt. Go figure, the one my son wasn't using was a nice long sleeve polo shirt.
Next, gather up all things crafty. It's nice to have lots of choices, so that you can let the creativity flow.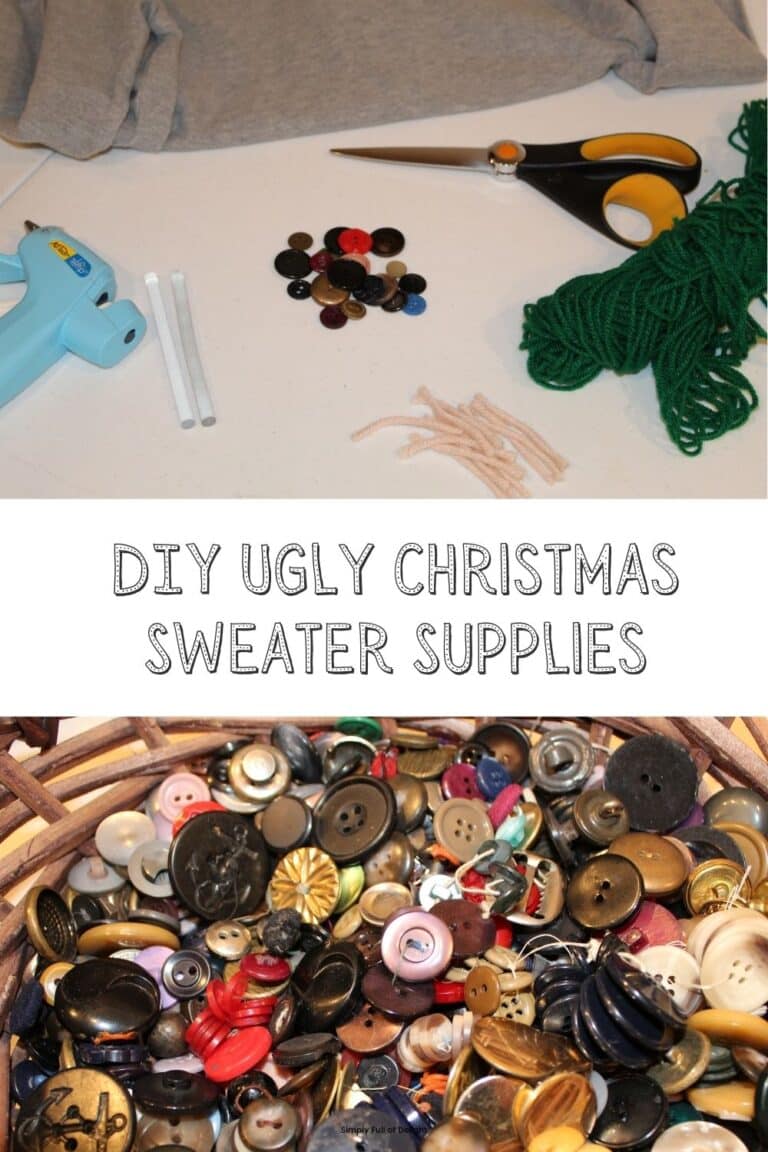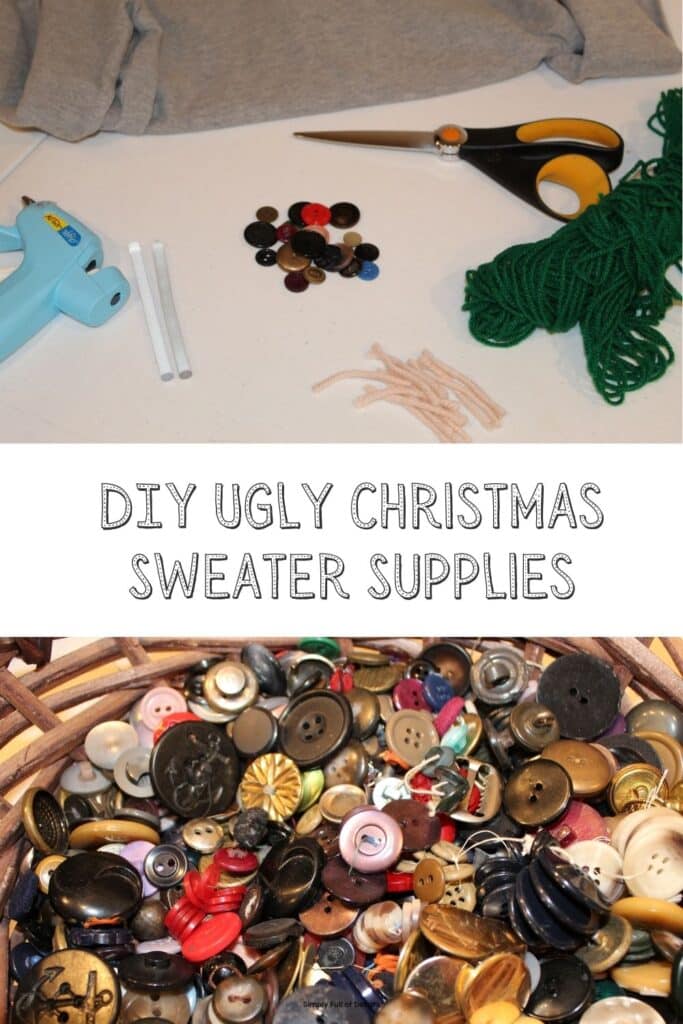 This giant pile of buttons from my grandmother was perfect for the occasion. It was fun to rummage through the vintage buttons to find some colorful ones!
After exploring the options for a while, I finally decided to use green and brown yarn, a handful of colorful buttons, a small gift bow, my glue gun with glue sticks, and scissors to make this DIY Ugly Christmas Tree Sweater.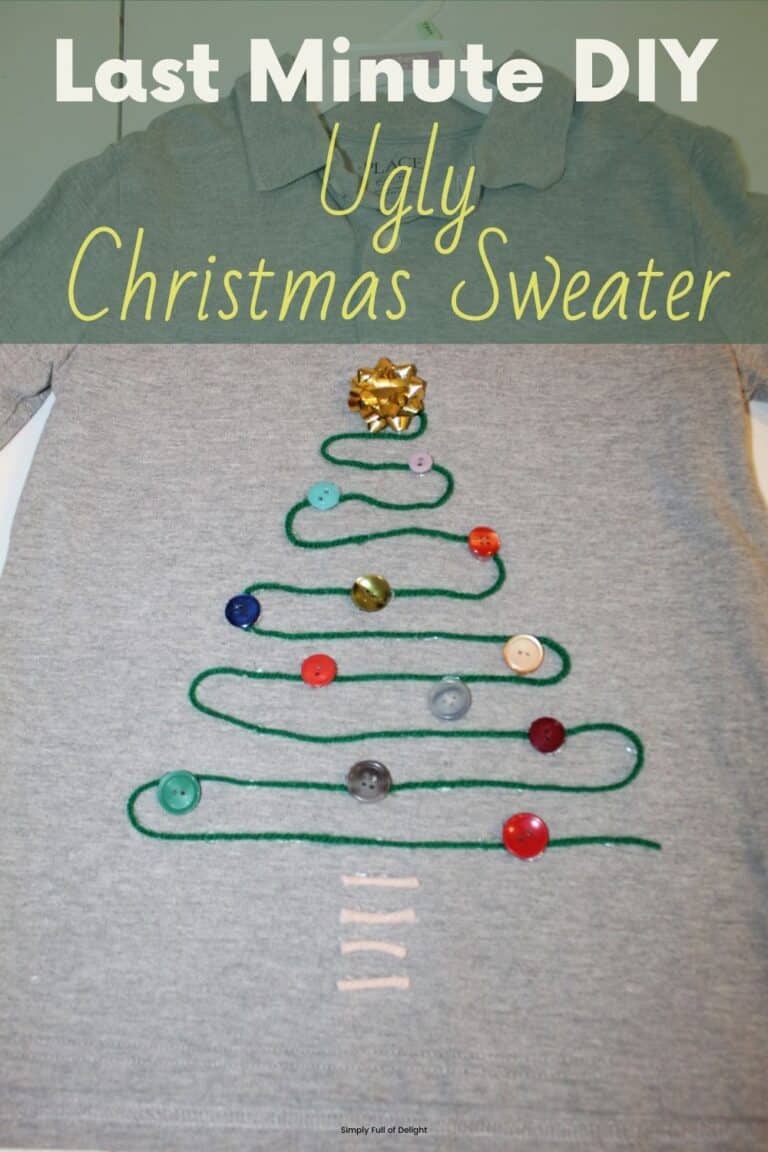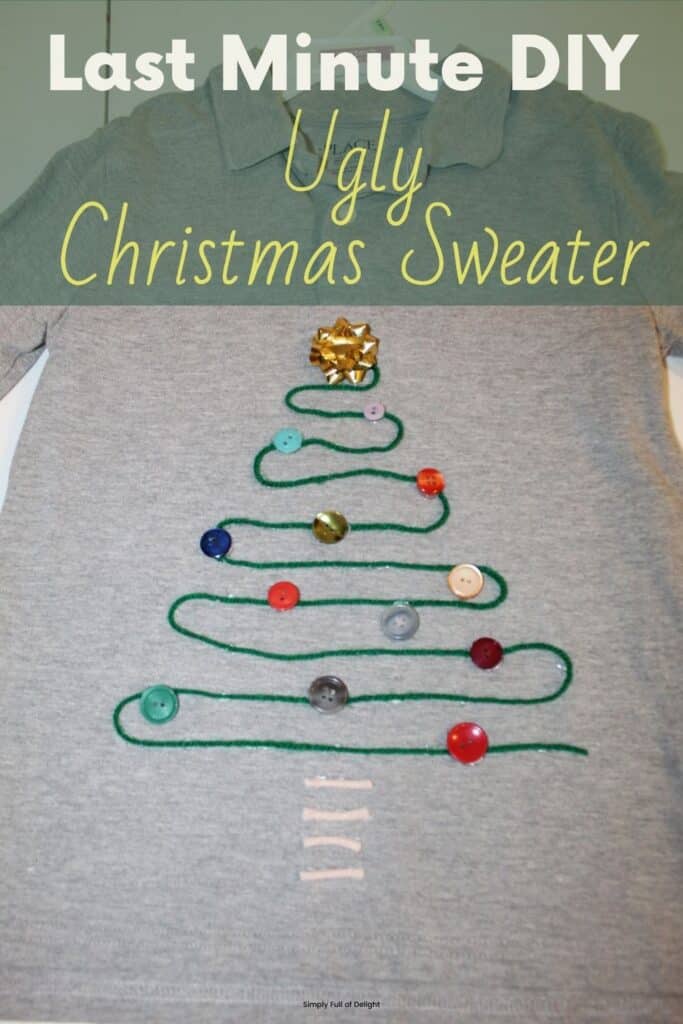 How to make a last minute DIY Ugly Christmas Sweater
Take the string, buttons, and bow and place them on the shirt to see how you want to lay out everything. When you feel like everything is fairly centered, start to glue everything down with tiny dabs of hot glue.
I glued down the green yarn in a swirling Christmas tree pattern first, along a few strips of brown yarn for the trunk of the tree. Then, I added the button "ornaments" and the bow "star" at the top.
Be sure to lift the shirt up when you are almost done to see if anything is too loose. If anything moves, simply add more hot glue.
There will be a lot of strings from the hot glue. Just wait until everything is cooled before you remove the hot glue strings.
And…you are done!
Yes, this is a super fast project. Once you gather the materials, it comes together really quickly.
Other Ideas for a Ugly Christmas Tree Sweater
Some other ideas to change this up would be to add jingle bells, presents under the tree with felt, or you could even make the entire tree out of felt if you like.
There are so many ways you can make an ugly Christmas sweater and yet keep it simple!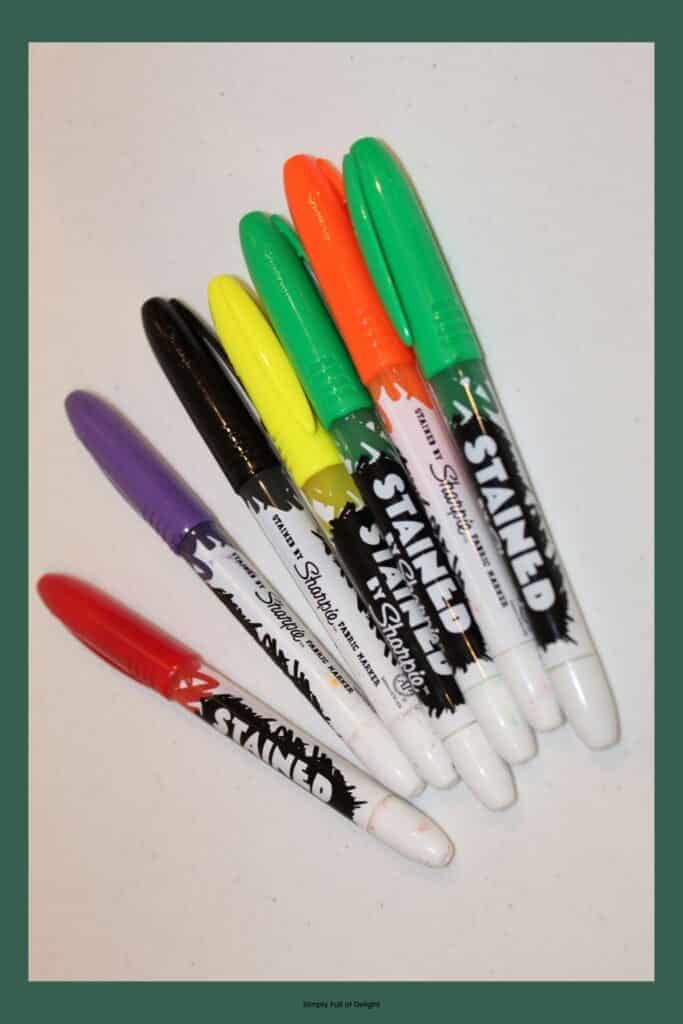 Also, remember that you could use Sharpie fabric markers to decorate a shirt or fabric paint. After all, people have been using fabric paint for years to make things tacky. LOL
You can use just about anything you find in your craft area to create the perfect Ugly Christmas Sweater for your child. If it turns out more tacky than cute, well then, that's the point!
I hope you enjoyed this tutorial for a last minute DIY Ugly Christmas Sweater!
If you make a Ugly Christmas Sweater, I would LOVE to see it! Feel free to tag Simply Full of Delight on social media!
For more holiday fun be sure to check out my 40 Family Christmas Traditions.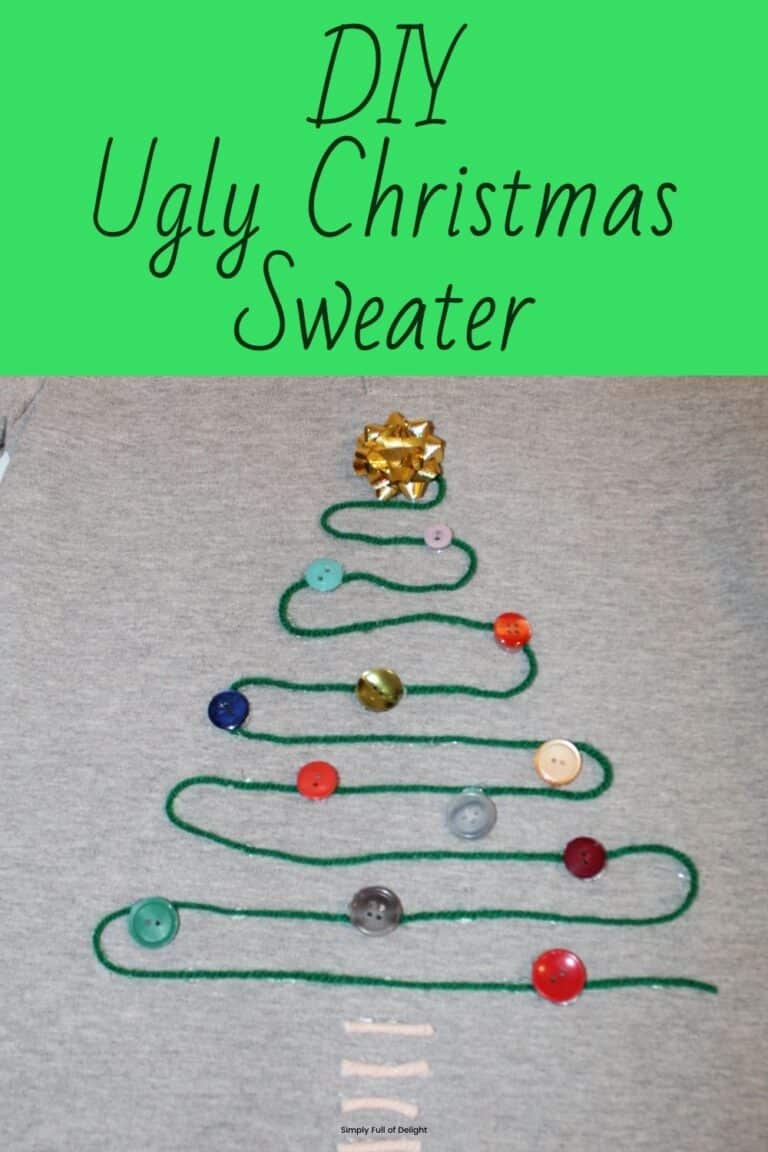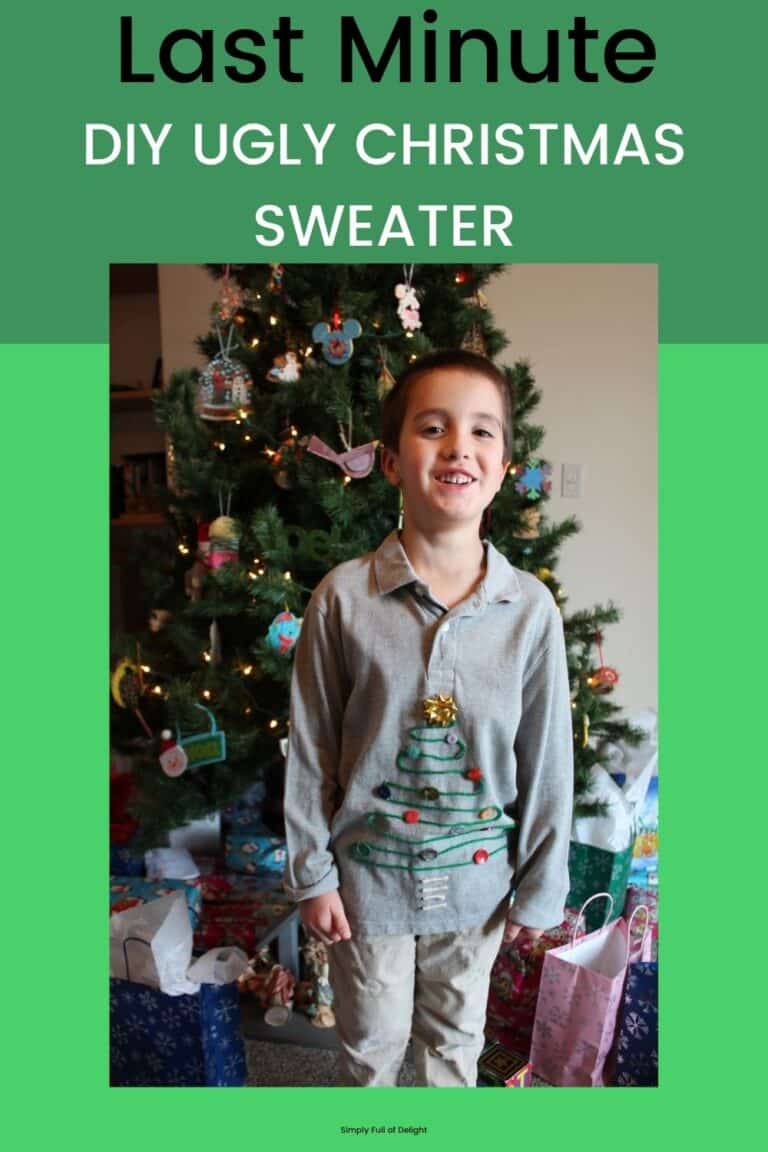 Related Posts