Family Christmas Traditions are activities your family does year after year during the holiday season. You might have some fond memories of things your family did every year when you were a child.
Christmas traditions can give a child a sense of comfort and belonging. These special activities can help family members build a closer bond through quality time spent together.
It's amazing how simple family Christmas traditions can impact our lives.
Long after they have grown up, your children may find comfort and joy each holiday season by carrying on many of the same family Christmas traditions with their own kids.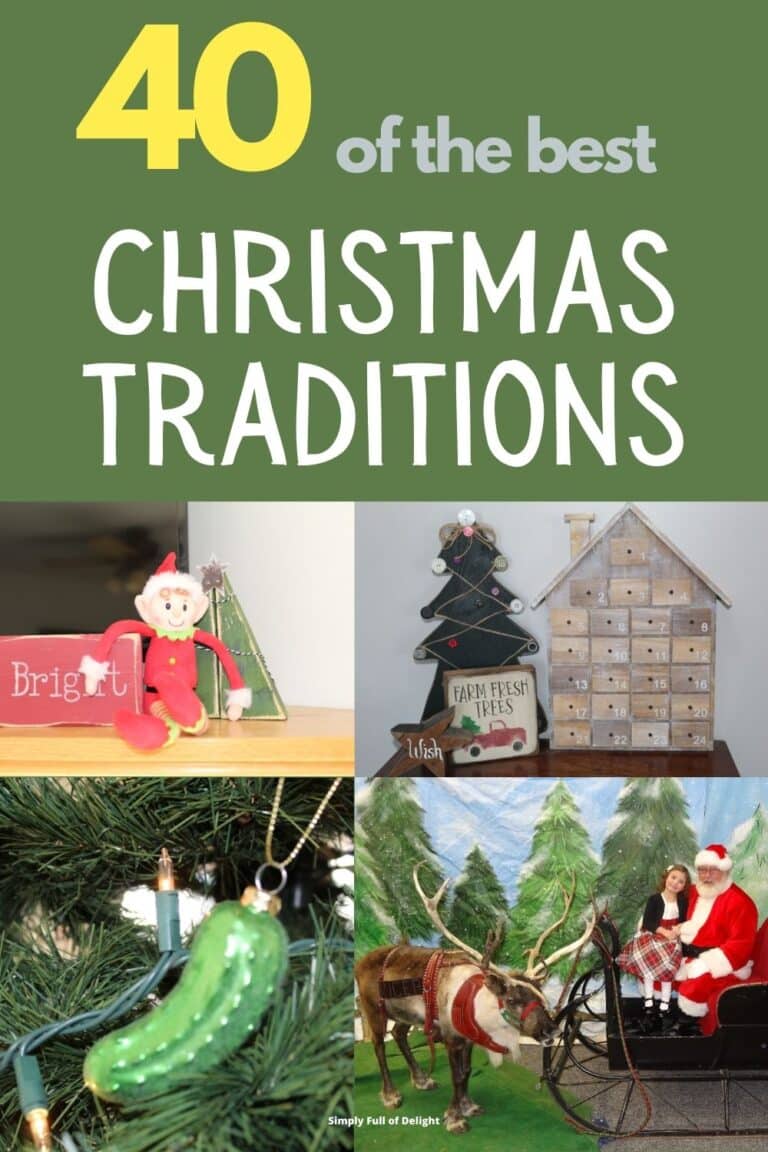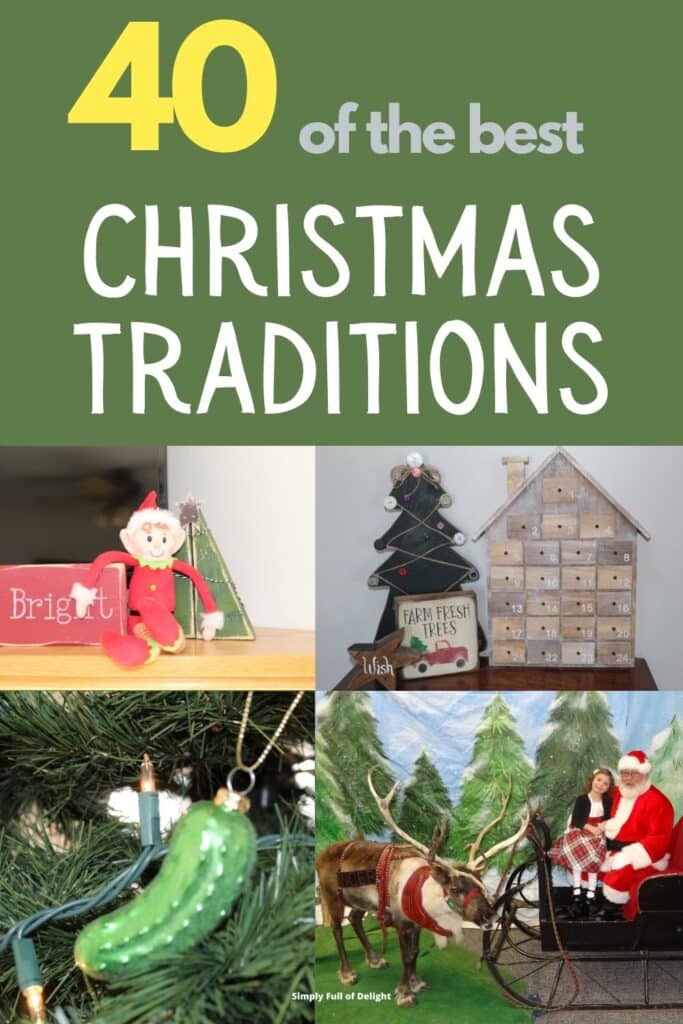 ** Disclaimer: As an Etsy Associate and Amazon.com Associate, I earn from qualifying purchases made by readers clicking my links at no extra cost to you. Thank you for supporting this blog!
I've listed 40 ideas for Family Christmas Traditions. These ideas are meant to spark your imagination and help you form your own Christmas traditions.
My family doesn't do all of these. This is not a to-do list. It is a buffet of ideas. Pick and choose the ones you want for your family.
Don't feel obligated to do it all. NO ONE can do it all! Especially during the holidays.
A special note to new parents:
Consider starting traditions with your little ones now, but don't take on too many. You can always add traditions later.
I didn't start the Elf on the Shelf tradition until my daughter was 6. It's fun, but quite a bit of work. I've learned that it's best to only take on what your family is ready to handle. Then next year, if you are ready, add on another tradition.
Let's get started! Here's 40 Family Christmas Traditions!
Start the Holidays with these Christmas Traditions:
1) Decorate the House – Pull out the decorations and string up the lights! It can be as complicated or as simple as you like. Either way, decorating the house really marks the beginning of the holiday season!
2) Visit a Christmas Tree Farm – Discover the magic of a Christmas tree farm and pick out a fresh Christmas tree or wreath with your family. You may find a Christmas Tree farm that holds special events like caroling or a hot cocoa night.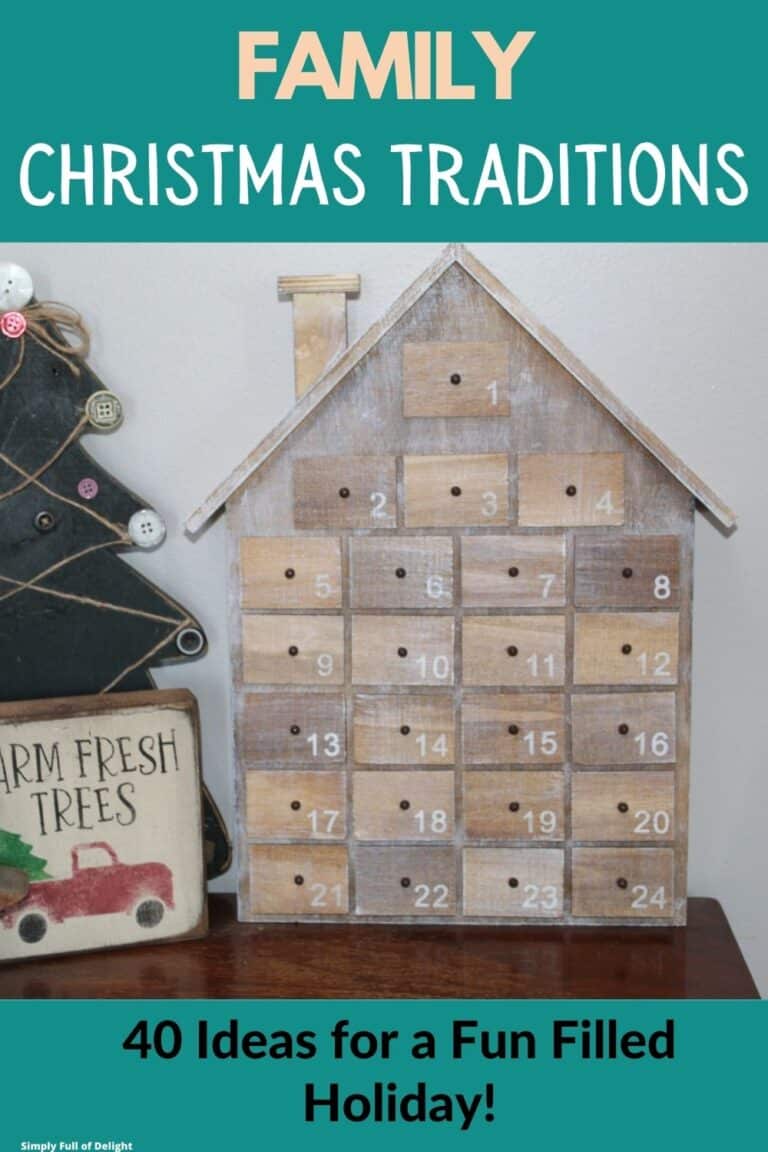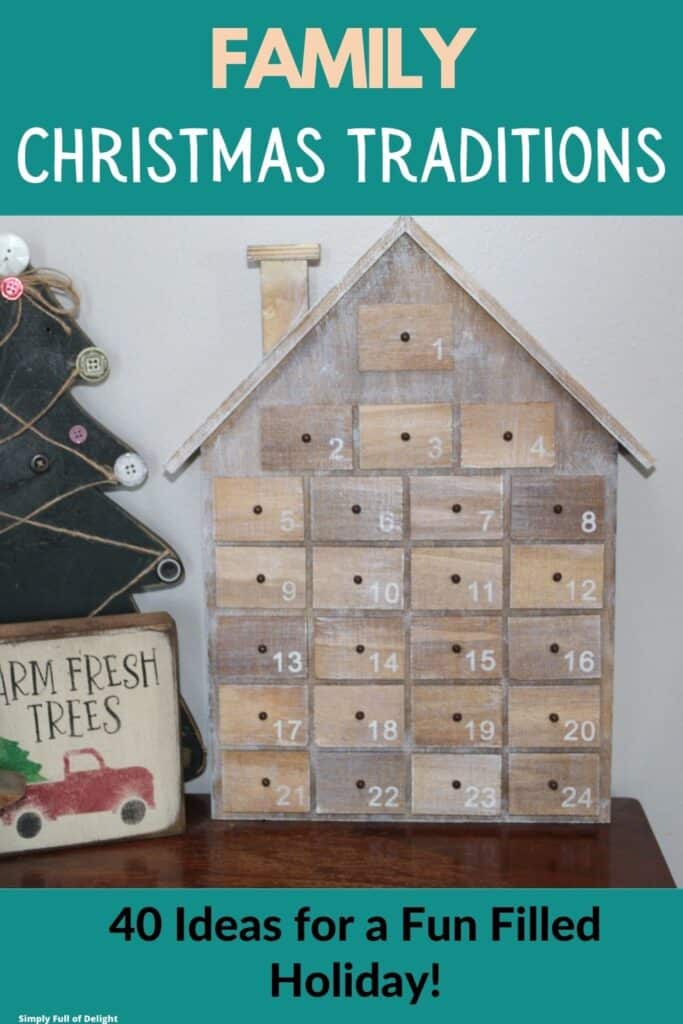 3) Advent calendar – Setting up an Advent calendar is a great way to build excitement during the holiday season. In addition, it can help your children keep track of how many days are left before Christmas.
Our family has a reusuable Advent Calendar that is a wooden house with drawers. We fill it with small candies like Starburst and Andes mints. Also, I put notes in the drawers that offer other items that are too big to fit inside. Some ideas are: hot cocoa, a game night, a round of hide-and-seek, or ice cream sundaes.
4) Set up a Nativity scene – Having a small nativity set for is a great way to teach your children the story of Jesus' birth. My grandmother had the tradition of giving each of her grandkids a piece of a nativity set each year at Christmas. Now each year, when I pull out my Nativity set, I look at it and it reminds me of her.
More Christmas Prep Holiday Traditions
5) Adding a new ornament each year – Many families add a new ornament each year. Our family picks one that reminds us of something big that happened that year. It might be a child's birth, a new pet, a vacation, or our kids' obsession with a character.
It's fun to look back each year as we decorate the tree and see those special ornaments that remind us of all the adventures we've had.
6) Elf on the Shelf – This is a fun tradition that our kids adore! Every family does this a little differently. Our family has an small plush elf that appears each year around December 1.
The elf introduces himself in a note to the kids as Santa's helper. He is there to report back to Santa.
So, each night the elf moves. When the kids find him the next morning, they might see something silly. You can make up your own storyline, or you can go with the Elf on the Shelf version.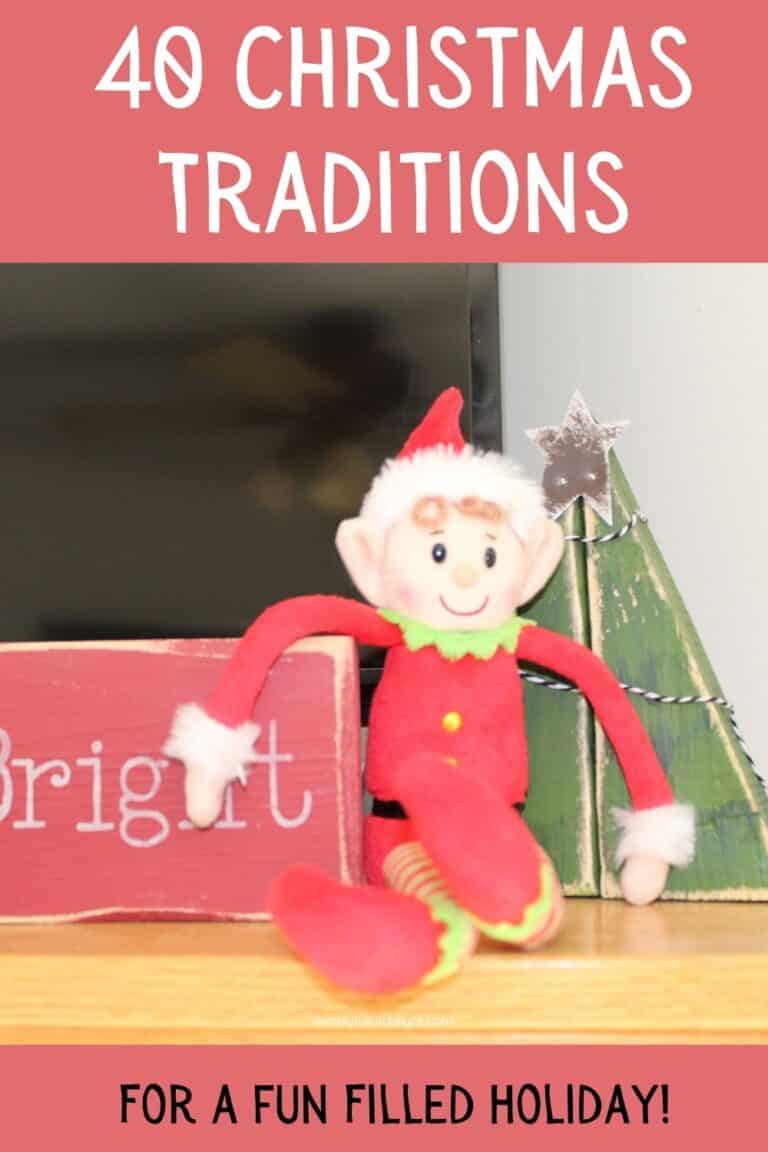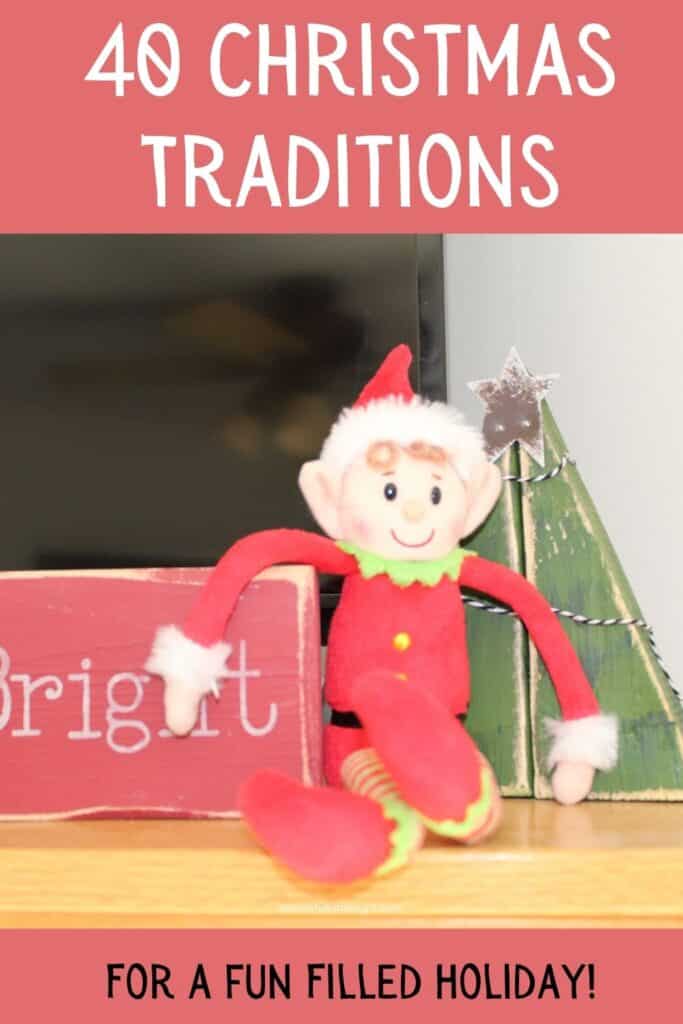 7) Christmas Music Playlist – Create your own holiday music mix that your family can enjoy the whole holiday season. Having a playlist can be both fun to create and handy for any holiday events you host!
8) Mistletoe – Hang some Mistletoe in a doorway to invite some sweet holiday memories. It's always good to see the kids grin (or groan) when their parents kiss under the mistletoe.
More!
9) Family Pictures – The beginning of the holiday season is a great time to take a family picture. It's nice to get one taken before Christmas so that it can be included in the Christmas card.
I love looking back at our previous family pictures and remembering what our family looked like at each crazy moment in time!
10) Send Christmas Cards – I know in many ways this is a dying tradition, but I think that makes it all the more special. I love to make a photo Christmas card and a Christmas letter to send to our friends and family.
We've lived in a lot of places. It's nice to keep in touch with people we don't see very often. It's fun to get cards in return and special messages from far away friends and family.
11) Allow the Kids to Buy Gifts – Our family has used this to teach our oldest child about giving to others and managing a spending budget. This is also a great way to teach children how to think about others and really consider what gift would be appropriate for each person.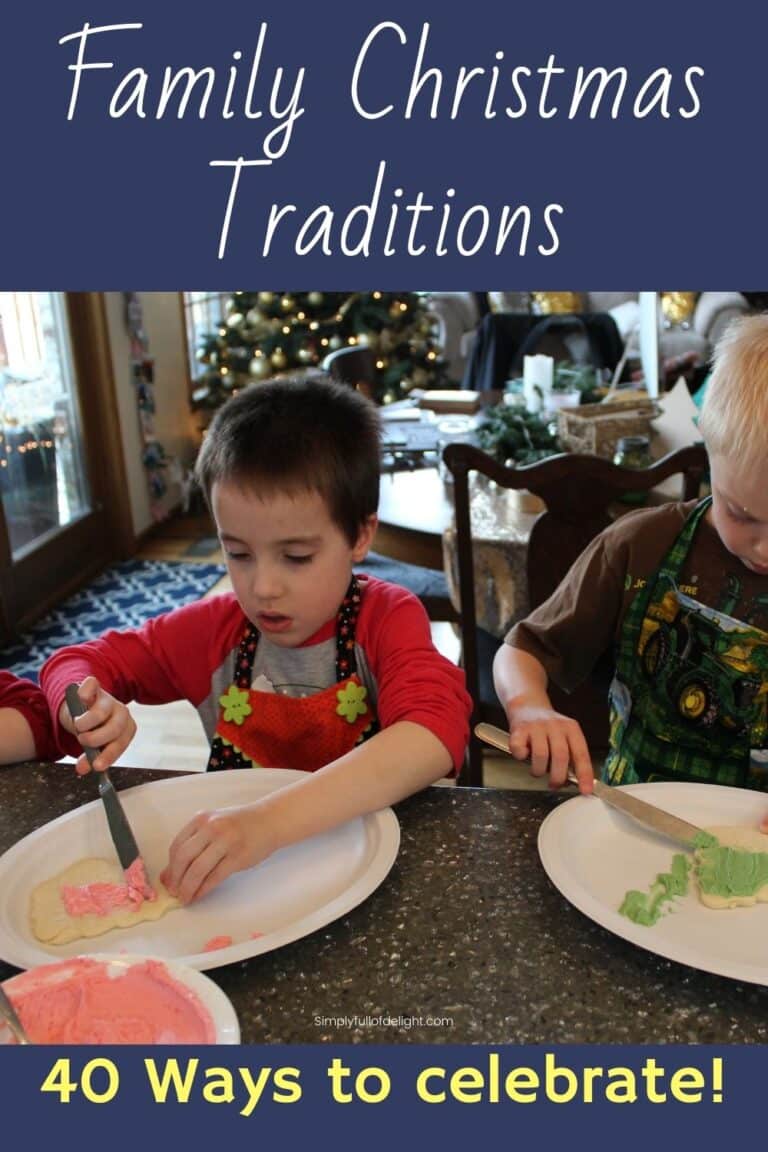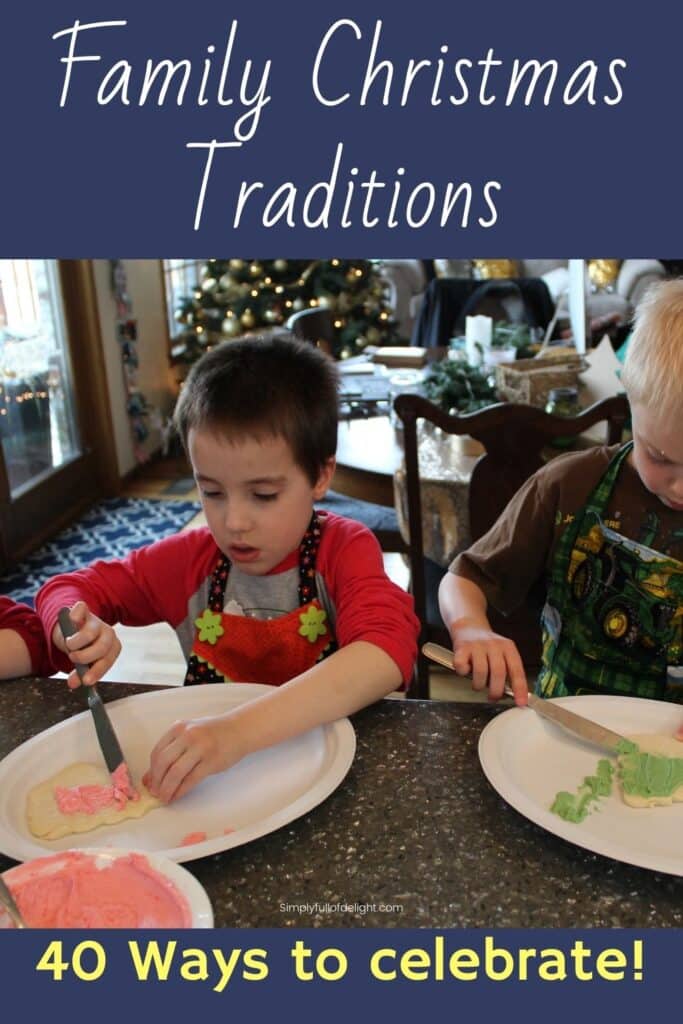 Ideas for Christmas Family Fun
12) Christmas Cookie baking – Invite the children into the kitchen to help bake cookies or decorate sugar cookies. My family goes over to my sister's house each year. We bake sugar cookies and decorate them with our little ones.
In addition, we often invite older friends who don't have little ones to come and participate in the tradition and have fun with the kids.
13) Drive Around and See Christmas Light Displays – Every year our family takes an evening and drives around looking at all the amazing Christmas Light Displays in our area.
There are certain neighborhoods that go ALL OUT decorating for Christmas. Our kids love seeing all the different light displays and it's mostly free (besides a little gas money!)
14) Go to a Christmas Play or Production – You might be able to find a local church, school, or theatre that puts on a Christmas play or live Nativity. It's a win-win. Support the local arts and at the same time, enjoy some holiday fun!
15) Christmas Movie Night – Pick a Christmas movie and go all out for a Family Movie Night! Have everyone wear something festive (maybe holiday pjs!) and snuggle under some holiday blankets.
In addition, serve special Christmas snacks or just enjoy a candy cane while you watch a Christmas movie together.
Traditions to Teach Your Child about Giving at Christmas
16) Buy Gifts for the Less Fortunate – Opportunities abound at Christmas to help others. Teach your children about giving by making a donation to Toys for Tots, the Salvation Army, or by picking a name off of an "angel tree."
Teaching your children to bless others during the holidays is a tradition that can make a huge impact over the years.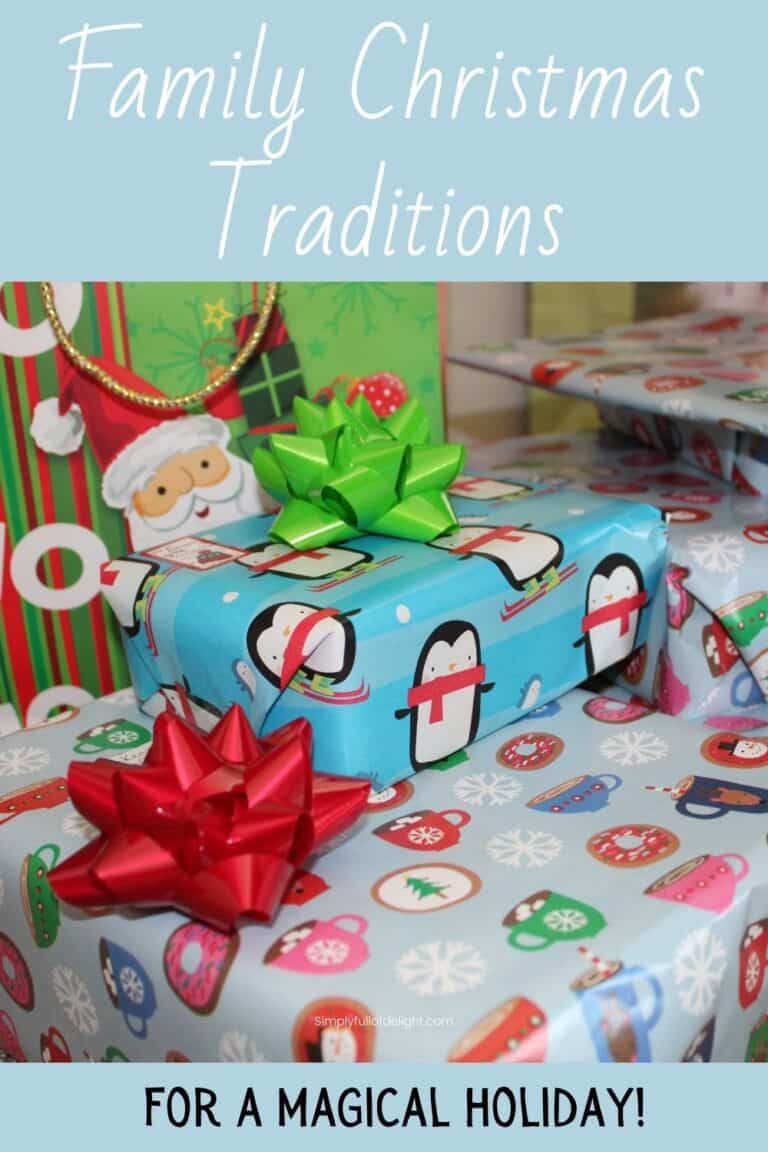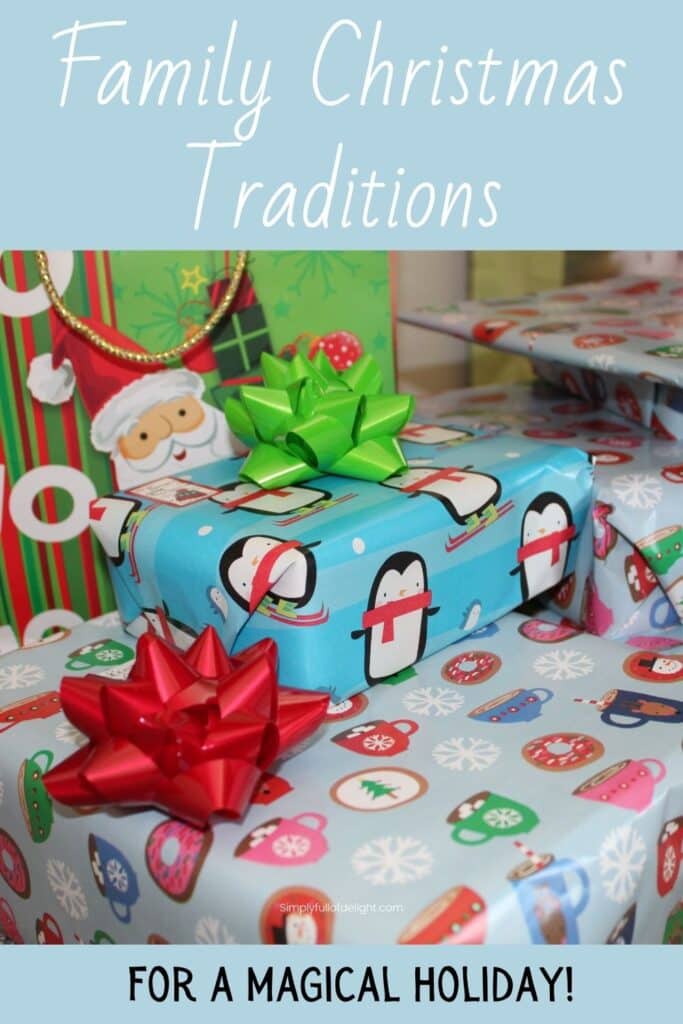 17) Volunteer or Donate at a Food Pantry/Soup Kitchen – Consider Volunteering as a family at a food pantry or soup kitchen. If your children are too young to help, allow them to help you buy food to make a food donation. You can find more ideas for Volunteering with Kids here.
18) Operation Christmas Child – This is a fun tradition that allows you to give a Christmas gift to the less fortunate. You simply fill a shoebox with essential items and some fun gift items and deliver it to a drop off center. More details about Operation Christmas Child can be found here.
More Volunteer Options at Christmas Time
19) Painting windows at a nursing home with holiday cheer – Find a nursing home that would be open to the idea of having their windows painted with holiday pictures for the month of December. Not only do the nursing home residents enjoy the paintings, but they also enjoy seeing and talking to the young artists at work!
You can find ideas for mixing window paint here. Make sure to offer to come clean the windows after the holidays are over.
20) Go Caroling – This Christmas holiday tradition is a great way to bless the elderly in your life. Put together a fruit basket or a basket of goodies as a gift.
Surprise some elderly friends or folks in the nursing home with a few holiday songs and the gift basket. And of course, be sure to invite them to sing along!
More Traditions for Christmas
21) Write a Letter to Santa or Go See Him – So many fun and funny memories are made when kids meet Santa. My daughter was indifferent or afraid of him until she was 4. That year, she was dancing with excitement. If you aren't able to visit Santa, be sure to help the kids write a letter to him! Believing in Santa brings an extra air of magic to the season.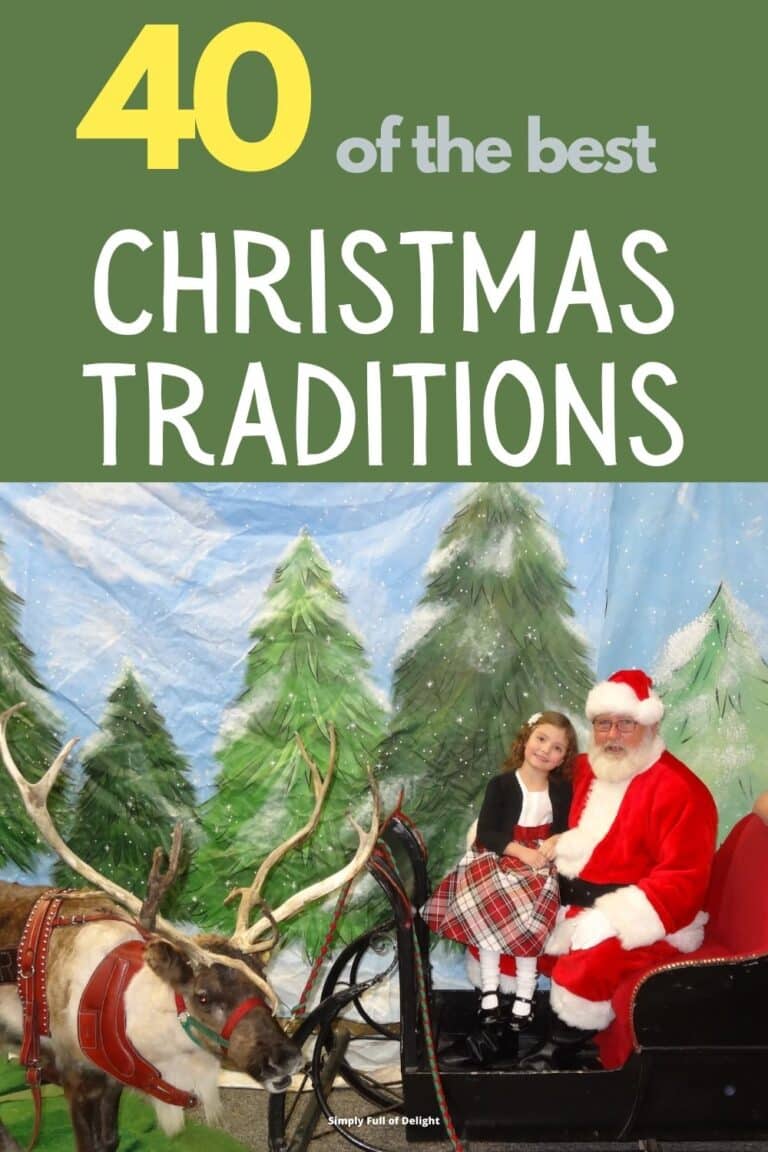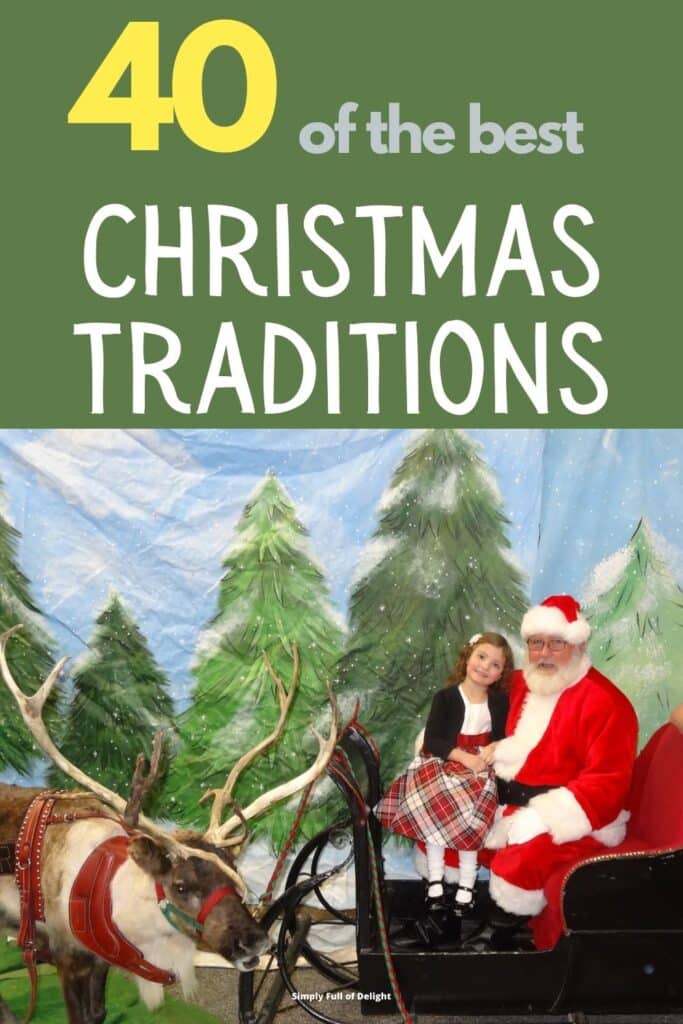 22) Gingerbread Houses or Gingerbread Men – Decorating a gingerbread house is a great way to spend quality time with your kids. You can buy a kit or construct your own! In addition, consider doing Gingerbread Men for another fun decorating experience!
23) White Elephant/Yankee Swap – Have some friends come over with a White Elephant gift and have a Yankee Swap. The general idea is that everyone brings a unique gift and sits in a circle. The first person opens a gift out of the pile. The next person can choose to take that gift away from the first person or open a new gift. You can see the complete rules here. This is a hilarious game and a great way to spend time with others during the holiday season.
Christmas Traditions with Books
24) Unwrap a New Book Each Day Leading up to Christmas – Many families wrap 25 books and set them in a pile, as a countdown to Christmas. Each day, the children get to open one of the books and enjoy it as a family.
25) Read a Christmas story each day before Christmas – Gather all of your Christmas themed story books and plan on reading one every day with your kids before Christmas. If you don't own many, check out the selection at your local library!
26) Add a Christmas Story Book to your Bookshelf each Year – Choose one new Christmas themed book to add to your child's collection. Kids love reading about Christmas year-round but especially enjoy it during the exciting lead up to Christmas.
27) Santa Brings a New Book Each Christmas – Start a tradition of Santa leaving each child a book in their stocking (or next to it!) each Christmas. I started this a few years ago and it's fun to pick out something that I know each child will enjoy reading!
28) Read the Christmas story – Read the story of Jesus' birth each year before Christmas. To create a cozy Bible reading experience for your kids, make hot cocoa and snuggle up to read it together as a family. If you have little ones, check out these Illustrated Bibles for Kids.
More Fun Family Christmas Traditions
29) Thank You to the Teachers – Christmas is a great time of year to say thank you to the teachers in our children's lives. Help your child write a thank you to their teacher. If they are young, have them color, paint, or use stickers. Here's a free Christmas Tree coloring page you could use. I like to send the child's note with a gift of appreciation.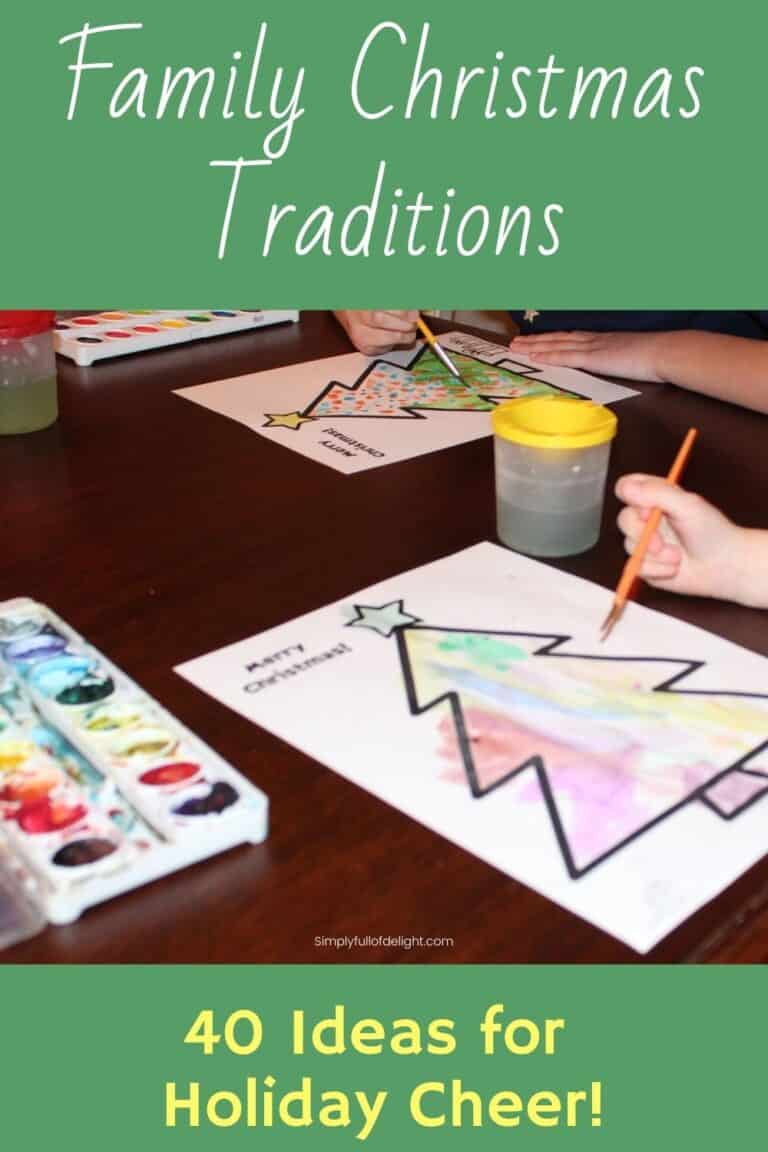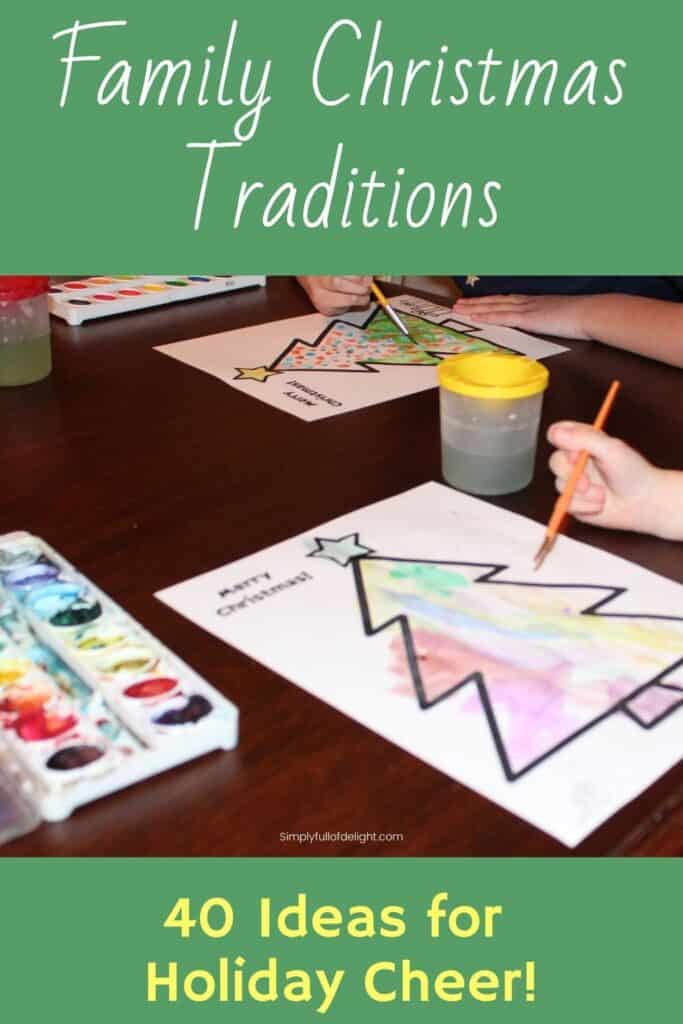 30) Hide the Santa – This is a fun tradition that we do every Christmas when we stay with my in-laws. My mother-in-law hides a bendable Santa figurine. The person who finds it gets to re-hide it. Basically, it's a hide and seek game that we play the whole weekend that we are staying with them!
31) Christmas Adam – This is a funny tradition that is the day that comes before Christmas Eve. It's a great day to fill with some of your Christmas traditions. Many people do a Christmas movie night on Christmas Adam, or give a small gift like fun socks or pajamas.
32) Invite Someone without Local Family over to be with your Family – Many years on Christmas Eve, our family has made a point to invite over those who might not have anyone to celebrate with. We often make a big meal and invite a guest or two over to enjoy the evening with us.
It brings us joy to spend time with others and it helps those who are far from home to feel loved and included during the holiday season.
Christmas Eve Family Traditions
33) Special Christmas Eve Meal – Every Christmas Eve we put together a nice meal to enjoy as a family. I buy special holiday napkins and make a special dessert. We even bring out the fancy cups and let the kids drink sparkling grape juice.
34) Special Pajamas – Matching pajamas or holiday themed pajamas are everywhere at this time of year. I love to get my kids matching pajamas to wear on Christmas eve because on Christmas morning, they are wearing something adorable for all of the pictures!
35) Hanging Stockings – Setting out the stockings on Christmas Eve is a fun tradition. For years, we didn't have a fire place, so we simply laid out the stockings on our couch. The kids get so excited about the Christmas stockings because they know that all kinds of fun stuff will await them in the morning.
36) Gifts on Christmas Eve – Many people have the tradition of opening one gift on Christmas Eve. Others do a Christmas Eve Box. Our family likes to split the gift opening up a bit and let the kids open a few gifts on Christmas Eve and a few on Christmas Day.
More Family Traditions for Christmas Eve
37) Leave out Cookies for Santa – This is such a classic tradition! Many people leave out cookies and a glass of milk for Santa as a thank you for coming and leaving the gifts. This tradition teaches children kindness and thoughtfulness.
38) Hide the Pickle – Parents hide a pickle ornament somewhere on the tree on Christmas Eve. Because both the tree and the ornament are green, it is rather hard to find. The tradition is that whoever spots it first on Christmas morning gets to open the first gift.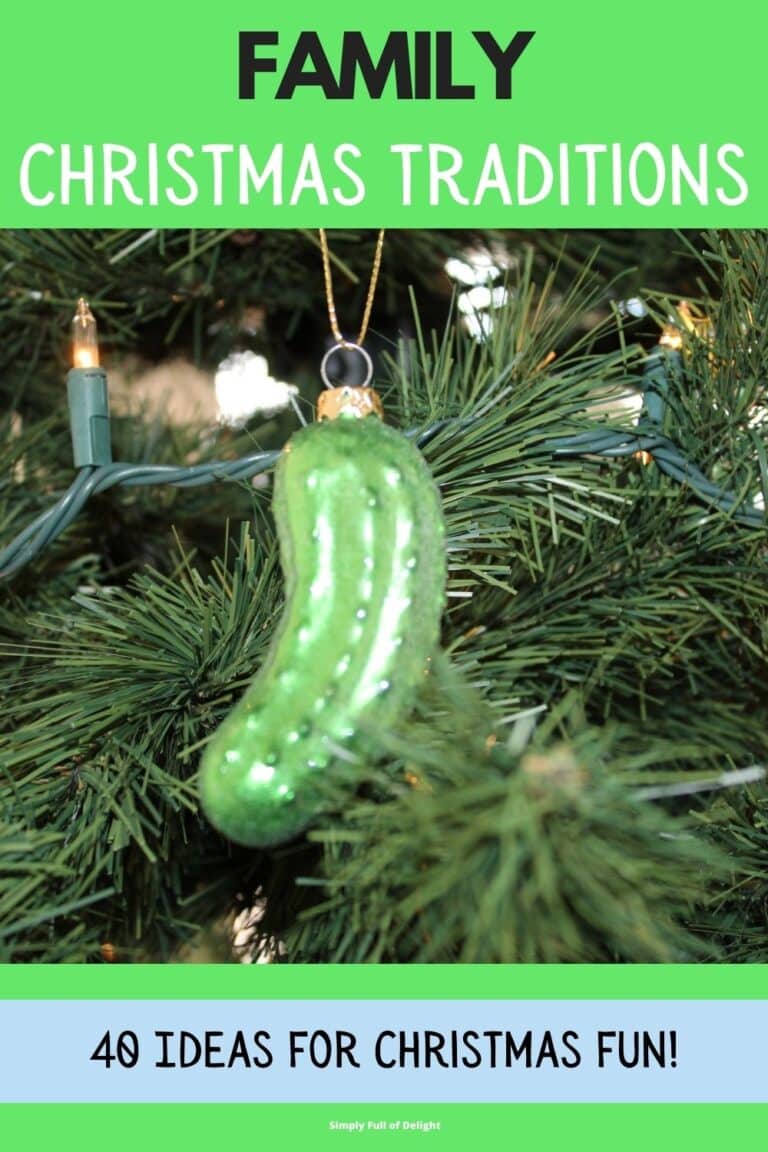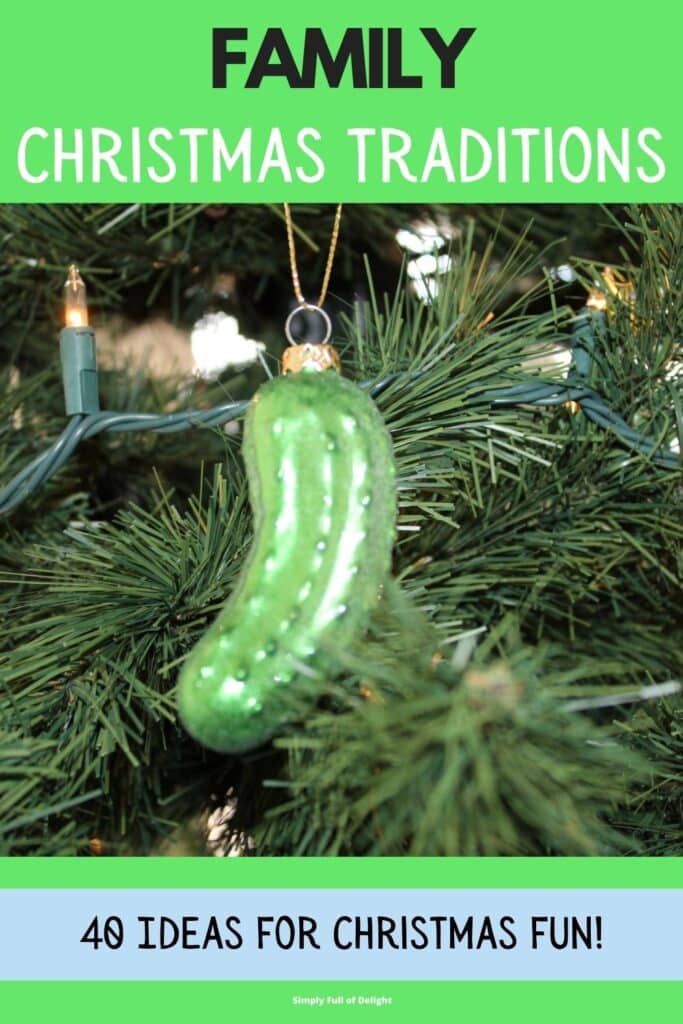 39) Carrots for reindeer – Many families also leave out carrots for Santa's reindeer on Christmas Eve. What a cute way for your kids to express a thank you for all of their hard work!
40) Powdered Sugar Santa Footprints – To make the magic really come alive, some parents place a shoe on the ground and shake baking soda around it to imitate Santa's footprints. Imagine the look of surprise on your child's face!
That's it! I hope you've found some fun Family Christmas Traditions! Please share your family's favorite traditions for Christmas in the comments section!
Related Posts