Looking for a fun DIY gift for mom or dad? Here's how to paint ceramic mugs that are dishwasher safe. These personalized mugs are both fun gifts to make and a super easy craft for kids!
With both Mother's Day and Father's Day quickly approaching, we decided to make a fun but functional gift. It took a bit of research, but we found an amazing glass paint pen that was easy to apply AND dishwasher-safe!
Nobody has time for that hand-wash only stuff!
Dishwasher safe is the only way to go for our family of 6.
So, let's jump right into it.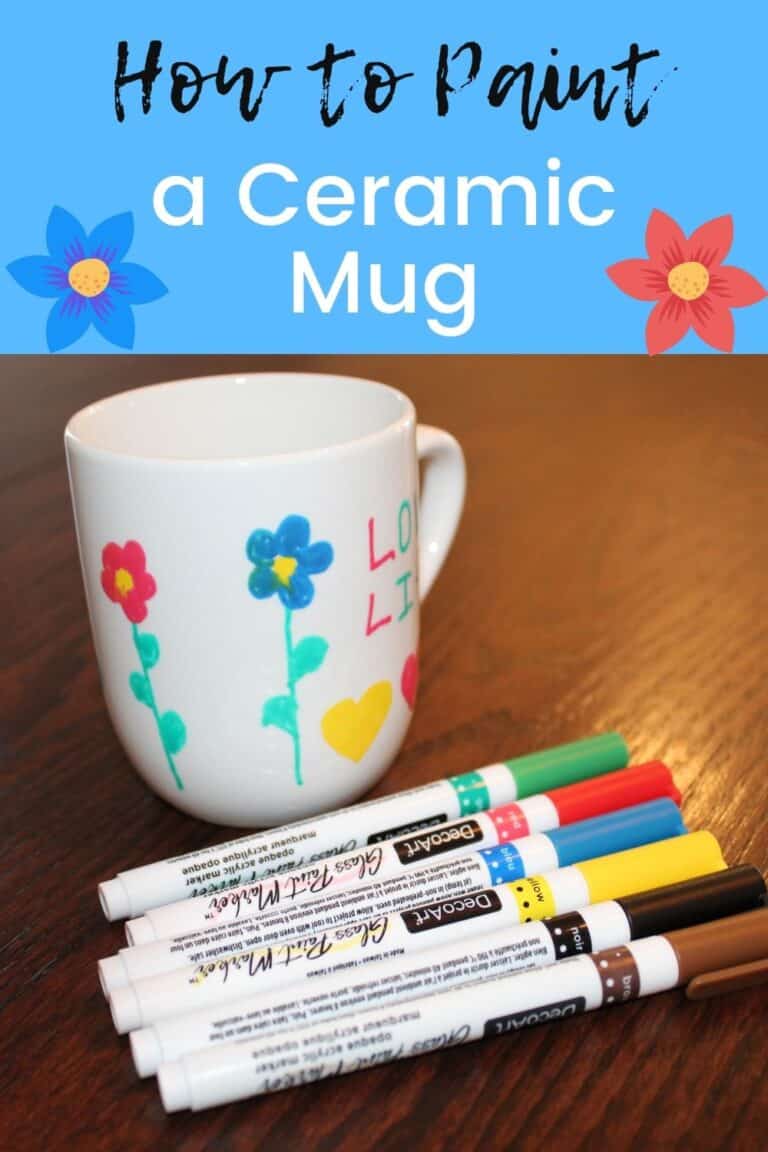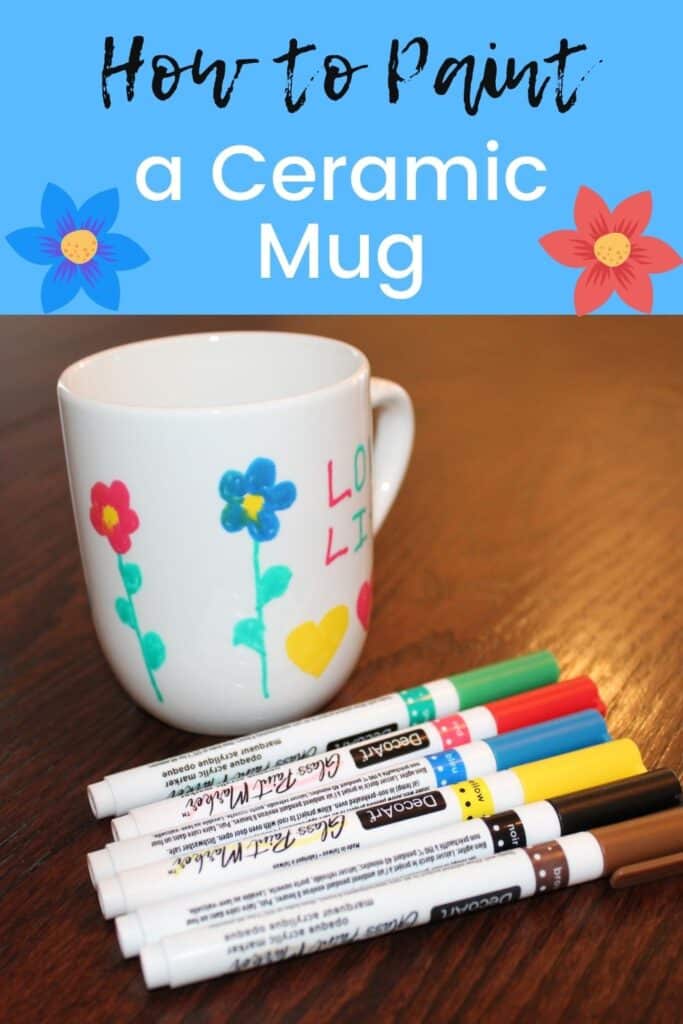 Here's How to Decorate a Ceramic Mug that is DISHWASHER SAFE!!!! (YAY!)
** Disclaimer: As an Etsy associate and as an Amazon.com Associate, I may earn from qualifying purchases made by readers clicking my affiliate links at no extra cost to you.
Supplies Needed for Painting a Coffee Mug (Dishwasher-safe!)
For this diy mug craft you will need the following:
DecoArt Glass Paint Marker (we used the primary color paint marker set) If those are out of stock check out this set.
An old cookie sheet
White Ceramic Mugs (we used a plain white mug from Walmart)
Glass cleaner (We used Windex)
Paper towels
Newspaper – for possible messes while painting mug
Once you have your supplies gathered, it's time to paint ceramic mug.
How to Paint Ceramic Mugs
First, take your ceramic mugs and clean the outside of them with glass cleaner. I sprayed a paper towel with Windex and then rubbed the outside of each mug with the moistened paper towel.
Lay down newspapers where the children will be working to avoid getting paint on your table.
Next, take the glass paint markers and shake them thoroughly. Press the tip down on each marker to activate the color.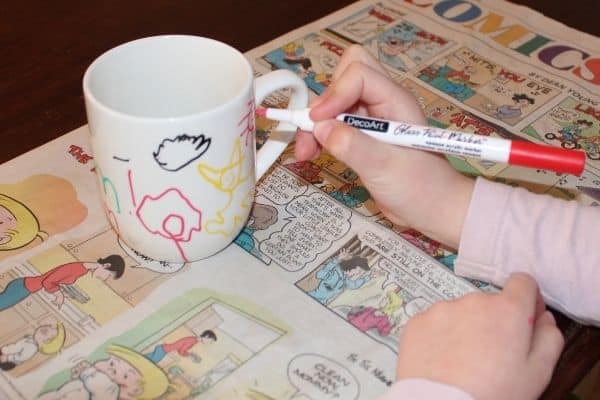 Allow the kids to decorate the outside of their mugs. It's nice if you have an idea ahead of time. You can find some inspiration for your mug here on Etsy.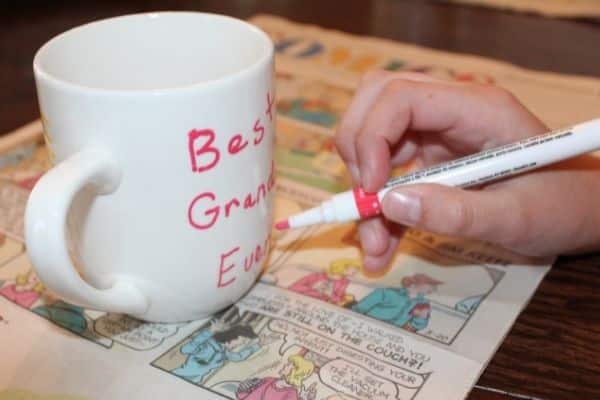 We did a little pre-planning and decided who each mug was for and what words would be written on the mug.
And then, I set the kids loose with decorating the mugs!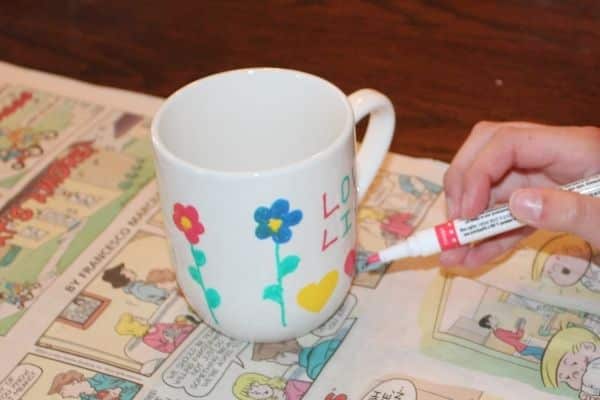 You'll want to allow the painted mugs to air cure for about 8 hours, so be sure to work this into your schedule.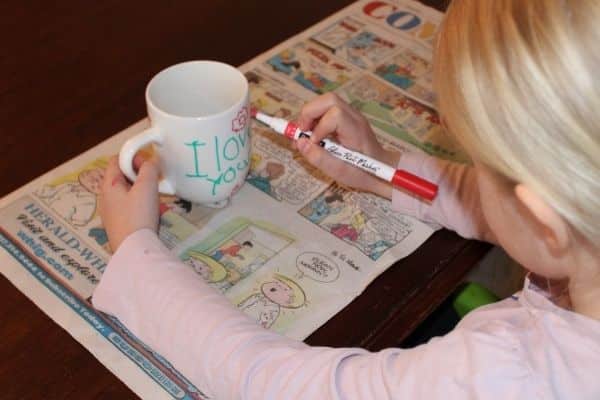 I followed the directions on the DecoArt paint markers exactly, so I don't know if you can leave them overnight or longer than 8 hours.
(Logically, it would make sense that you could, but I'm kind of a rule follower by nature. LOL )
How to Bake the Painted Mug
After they have dried for 8 hours, place the painted mugs on an old cookie sheet in a cold oven.
Once the mugs have been placed into the cold oven, turn the oven on and let it heat to 375 degrees. After it has reached the temperature of 375 degrees, allow it to bake for 40 minutes.
Once it has finished baking, turn off the oven and crack the door open to let some heat escape. Then, leave the oven door open and allow the project to cool completely inside the oven.
Your personalized ceramic mug is finished and ready to be used! And amazingly…. It is dishwasher safe!
I would recommend washing before drinking out of your painted ceramic mug.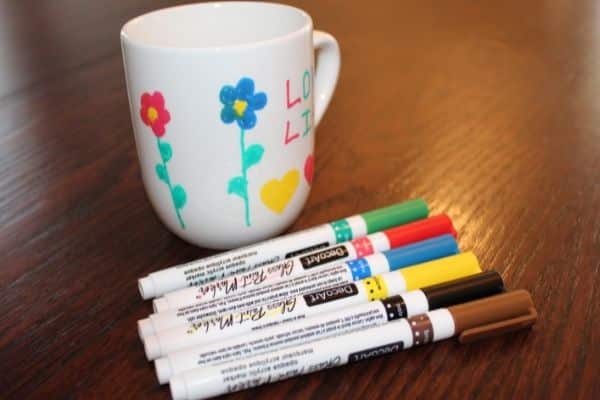 This customized mug would be a great gift for Father's Day paired with this fun free All About Dad Printables.
You could make painted ceramic mugs for mom or grandma for Mother's Day and add a fun All about Mom or Grandma printable to go with it as well.
FAQ
Do I need these specific DecoArt Glass Paint Markers?
I've done my homework and there's a million ways for painting ceramic mug, but none of them are dishwasher safe.
Many tutorials call for acrylic paint, ceramic paint, mod podge, nail polish, rubbing alcohol, enamel paint, or spray paint. Of course there's the phenomenon of the diy sharpie mug. But again, they are all handwash only.
If you want a dishwasher safe mug, I'd recommend you buy the DecoArt Glass Paint Markers.
More DIY Gifts for Mom and Dad
Looking for more fun gift ideas for kids to make for parents? Be sure to check out the adorable Flower Crafts for Mother's Day here. You'll discover adorable painting projects, paper flowers, cards and more.
You can find some amazing Father's Day craft ideas here as well, including adorable cards and functional gifts for dad.
Want to save this DIY mug painting craft idea for kids? Pin the image below to save it for later!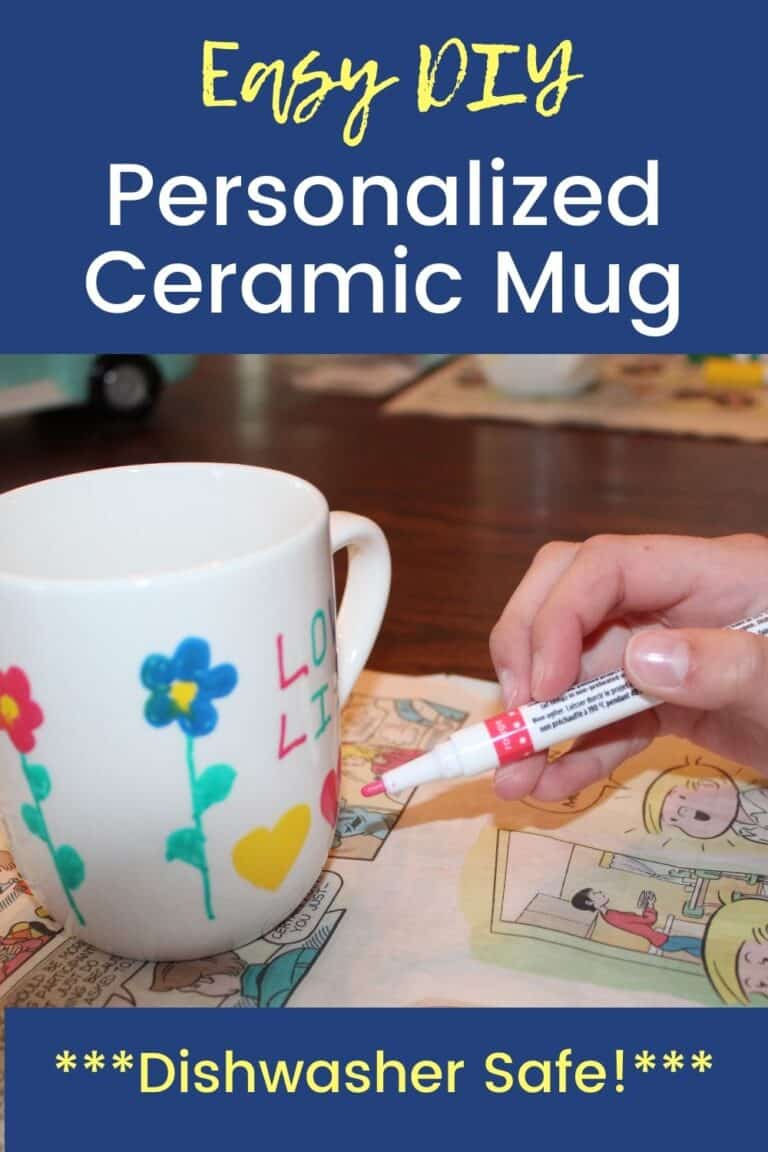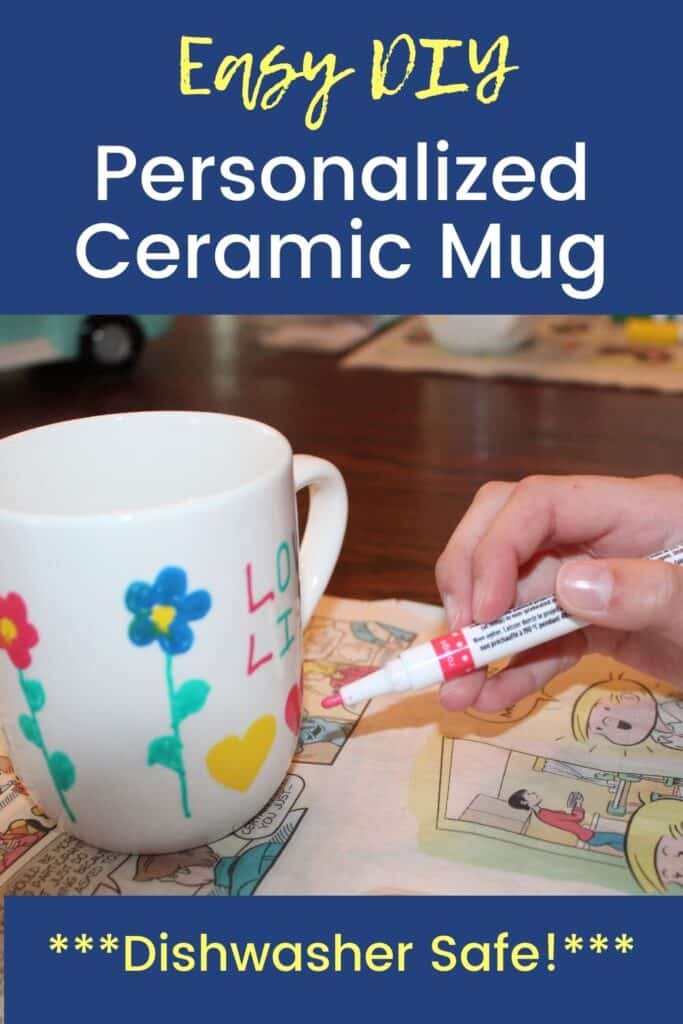 Related Posts