Looking for a fun idea to celebrate dad or grandpa on Father's Day? This free Father's Day Poem Printable for Preschoolers is a great way to let dad (or grandpa!) know how special he is!
These Father's Day Poems make an easy Father's Day card or craft. There are a few options to print out, so you can pick the one that suits your needs the best.
I hope you find the perfect poem to celebrate the best father and grandfathers out there!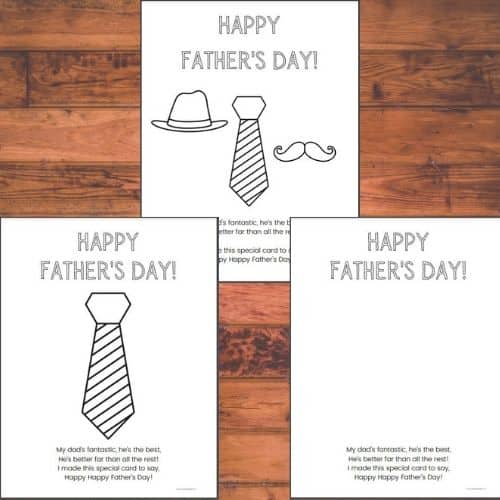 Free Father's Day Poem
These printables feature an original poem (written by me) that says:
My dad's fantastic, he's the best,
He's better far than all the rest!
I made this special card to say,
Happy Happy Father's Day!
**The Grandpa version of this poem substitutes the word "dad" with "grandpa."
Disclosure: As an Amazon Associate I earn from qualifying purchases at no additional cost to you.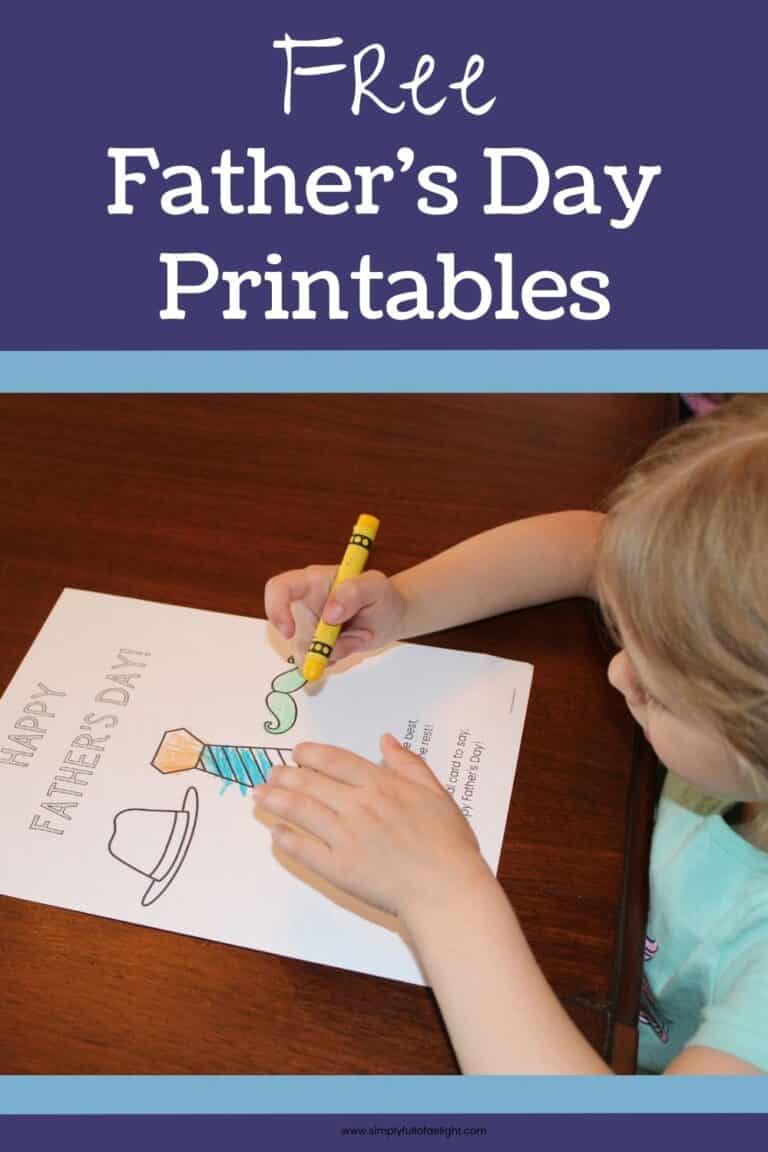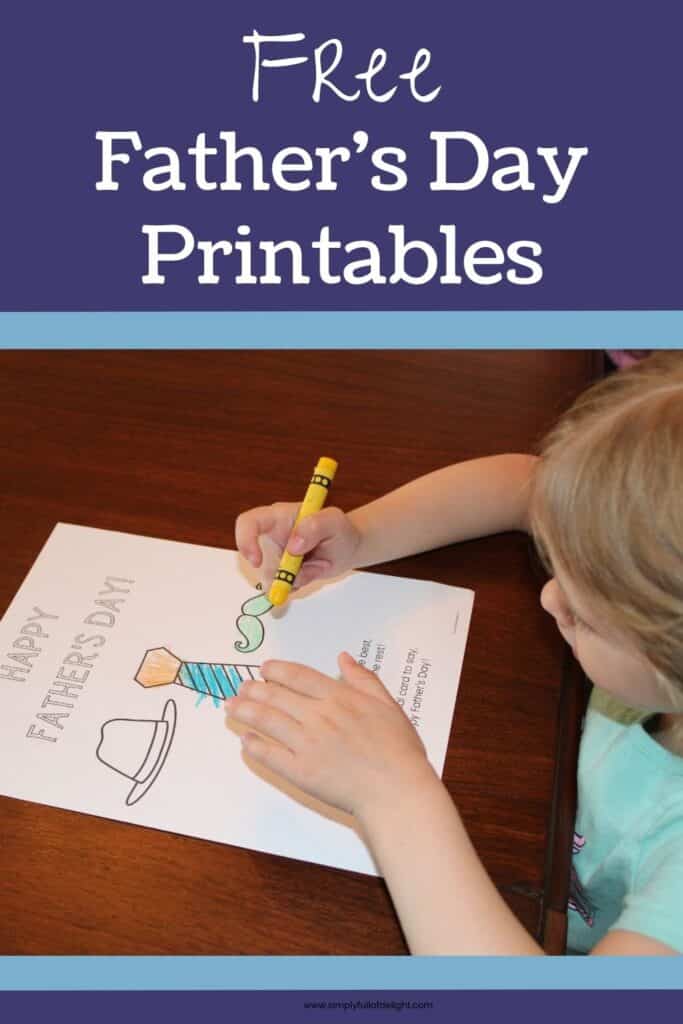 Father's Day Poem From Child – Quick Option!
This first template is your "fast and easy" option!
This Father's Day Poem Preschool Printable features a hat, a mustache, a tie, and the words "Happy Father's Day!"
Kids can color these Happy Father's Day Coloring pages with colored pencils, crayons, markers, or even paint them!
This is a great option is for a last minute Father's Day card!
You can grab both the "dad" version and the "grandpa version" of this printable. Click the download button to get the Father's Day Coloring pages below.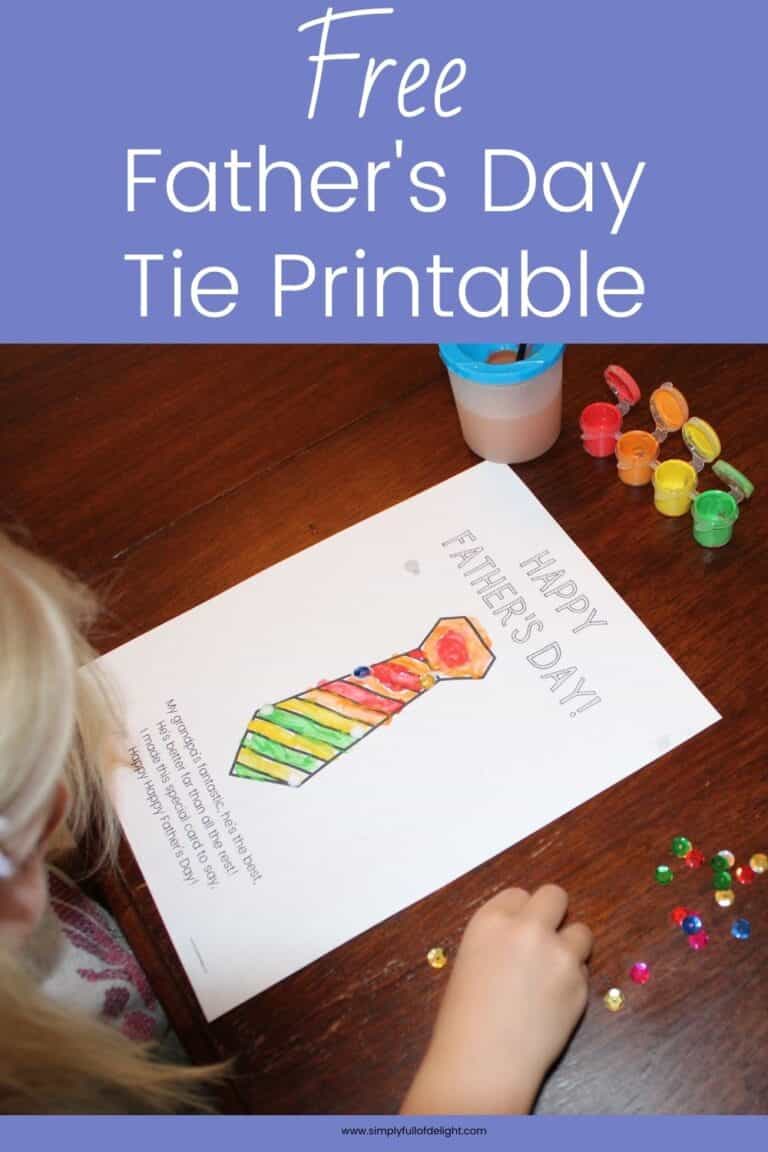 Finger Painting Father's Day Poem with Tie
This Finger Painting Father's Day Poem with Tie is another fun option.
The big tie graphic makes it simple for little ones to either color, paint or finger paint.
Older kids may enjoy painting the tie and adding elements like sequins or glitter glue to make the project really pop!
As you can see, my 5 year old enjoyed painting with Crayola Paint Pots and then adding sequins.
Once again, you can pick either the dad or the grandpa version of this printable. Just click the black download button below.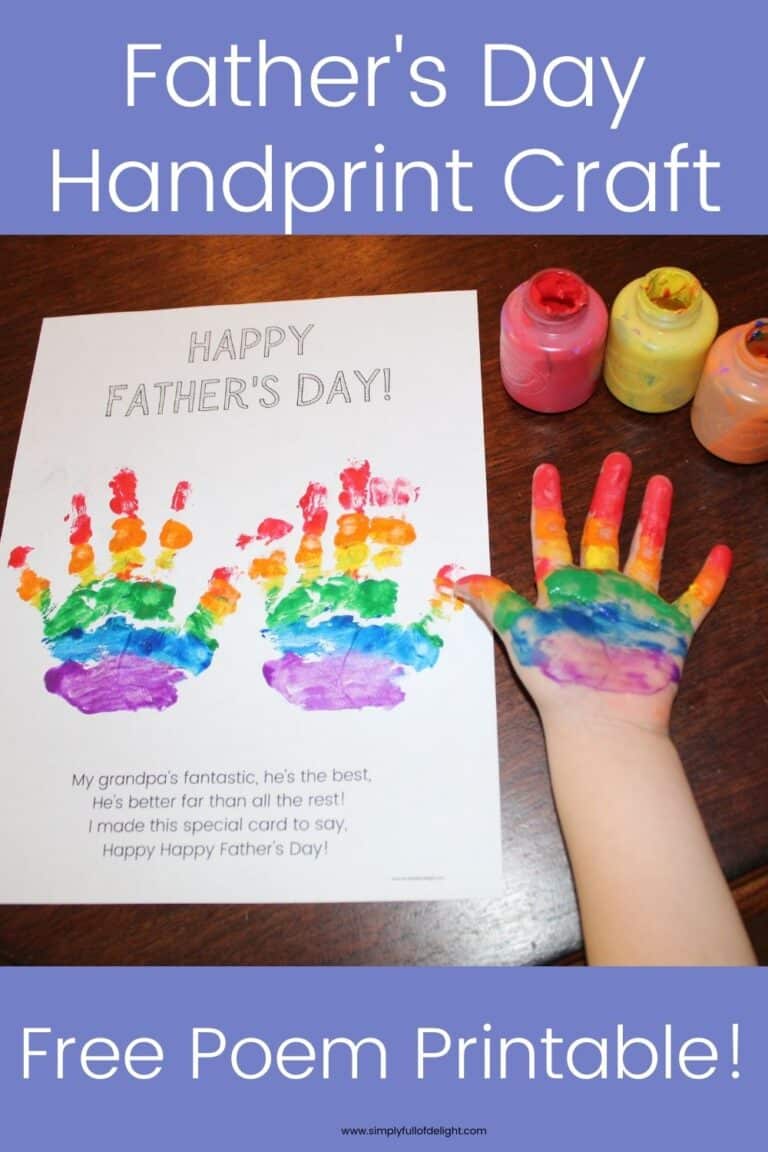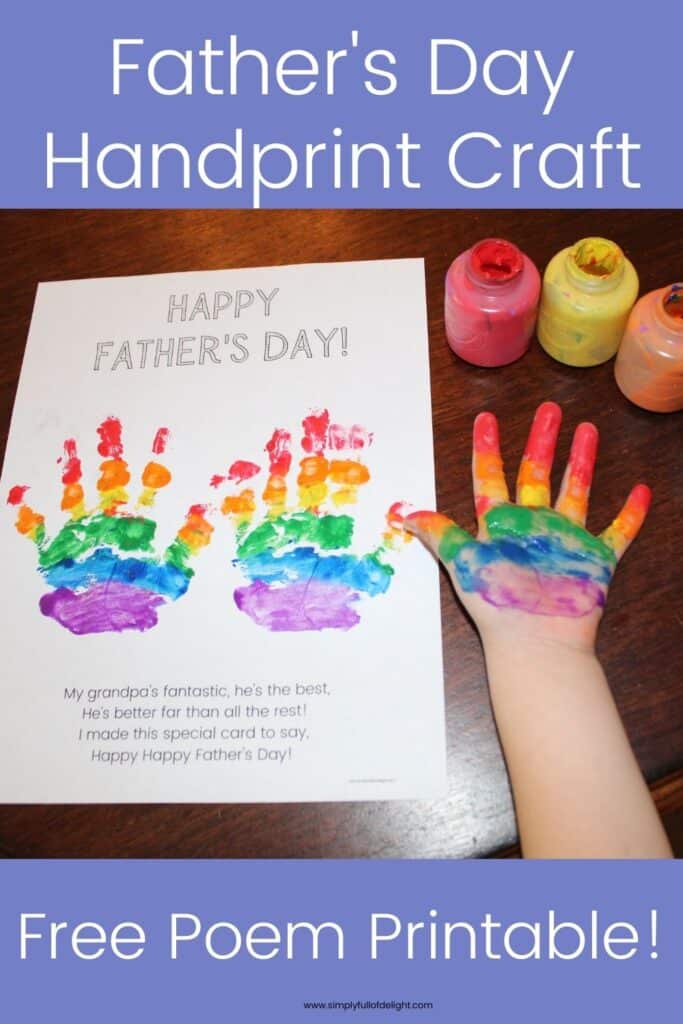 Father's Day Poem Child Handprints
This version of the Father's Day Poem features a blank page with the poem so that you have room for your own project.
Personally, as a parent, I love receiving artwork with my kid's handprints or footprints.
This blank page with the poem is a great place to do a handprint craft.
Grab some finger paint, a paint brush, and some paper towels (for clean-up!)
Paint the child's hand, covering the palm and fingers with paint.
Next, help the child print their hand on the blank template, making a handprint.
Feel free to use multiple colors on each hand or make multiple handprints to make the craft really colorful and fun!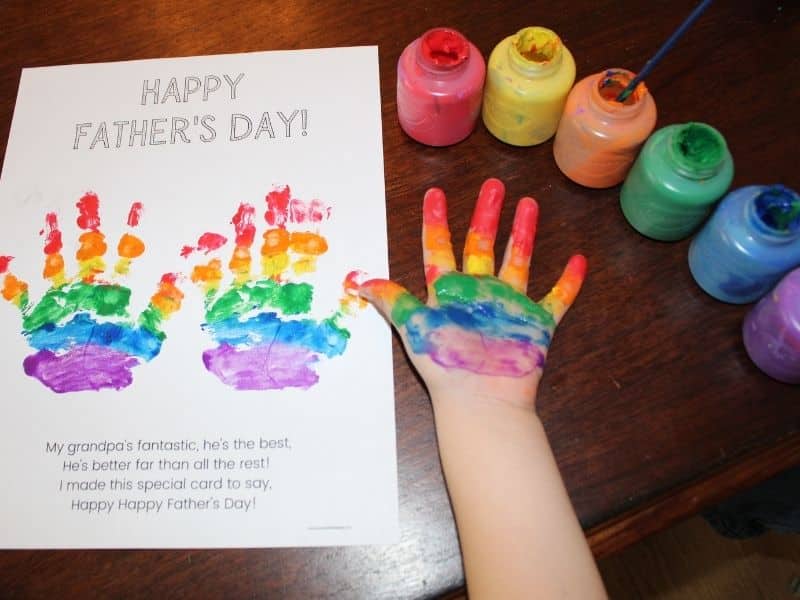 To create this rainbow handprint art, simply paint your child's hand starting with red at the fingertips and then do orange, yellow, green, blue, and purple.
On our first attempt, we didn't use enough paint and it dried too quickly, so after a quick repaint, we got the effect we were hoping for!
Both the dad and grandpa versions of this printable are available.
You can grab these two FREE Father's Day Printables below. Both are blank pages with just the poem, perfect for your own craft!
I hope you've found some great ideas for Father's Day!
More Father's Day Ideas
Looking for more Father's Day content? Be sure to check out these free "All about Dad" and "All about Grandpa" printables. These are a fun way to document what kids say about dad or grandpa. They are sure to make grandpa or dad smile on Father's Day!
There's some free Father's Day Cards to Print, Color, and personalize here. Perfect for young children who want to make a handmade card.
Find incredible Father's Day Crafts here. There's everything from simple cards to functional gifts kids can make.
Be sure to check out how kids can make a dishwasher safe personalized coffee mug here.
Makes a great gift for dad! It's a unique way to let dad know he's the best dad and pairs perfectly with this short dad poem printable.
If you are looking for the perfect gift for dad or grandpa for this special day, you can find unique gifts from Etsy and Amazon in this Father's day gift guide. Don't miss the gift for dad that ranked #1!
Related Posts