Today, I'm going to show you how to make a Pilgrim Hat! This Thanksgiving craft is fast and easy with the free printable templates! No major mess and barely any clean up!
Kids of all ages can enjoy these Thanksgiving hats, and it's especially great for little ones to practice their scissor skills!
Our family is in full thanksgiving craft mode this year! My little ones have been loving craft time lately.
These paper pilgrim hats make a great activity for kids on Thanksgiving day. They are the perfect fun craft for the kids table at your gathering. Kids will love wearing their cute pilgrim hats at thanksgiving dinner and they are great for dramatic play as well! I hope your little pilgrims love them!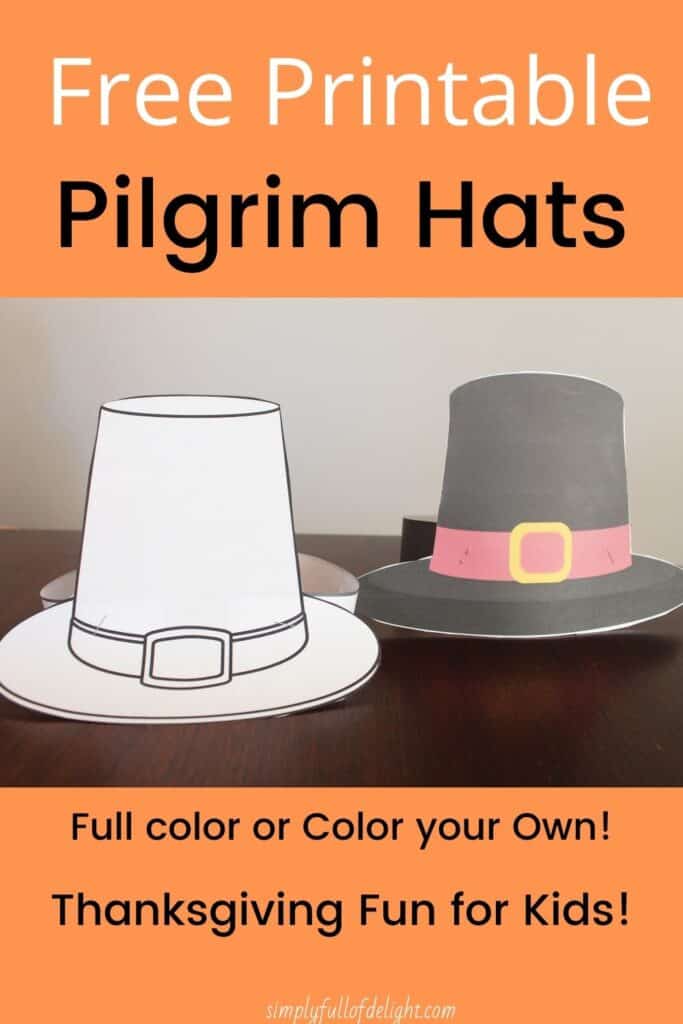 Thanksgiving is a great time to dive into a brief history lesson about the Pilgrims and the first Thanksgiving!
My little ones often ask questions about why we celebrate holidays and this is a great opportunity to teach your children while they are engaged in an activity and eager to learn!
Supplies to Make a Pilgrim Hat Craft
The supplies you need for this easy pilgrim hat craft are: a printed copy of the pilgrim hat, scissors, and a stapler (or tape!)
First, you will need to download the pilgrim hat from my free Resource Library.
Next print the pilgrim hat. You can print it on regular white paper, but if you would like to to hold up a little better, I recommend using cardstock.
Let's Make a Pilgrim Hat!
Alright, let's dive into the step-by-step instructions for these pilgrim crafts.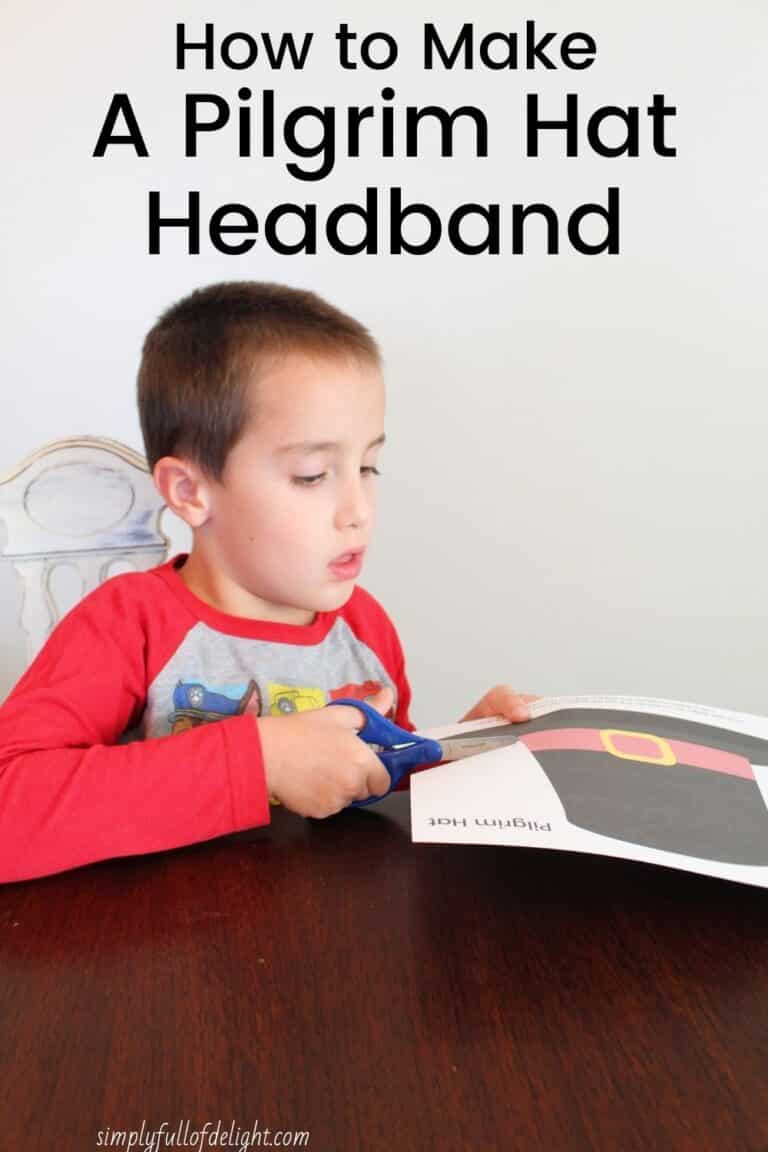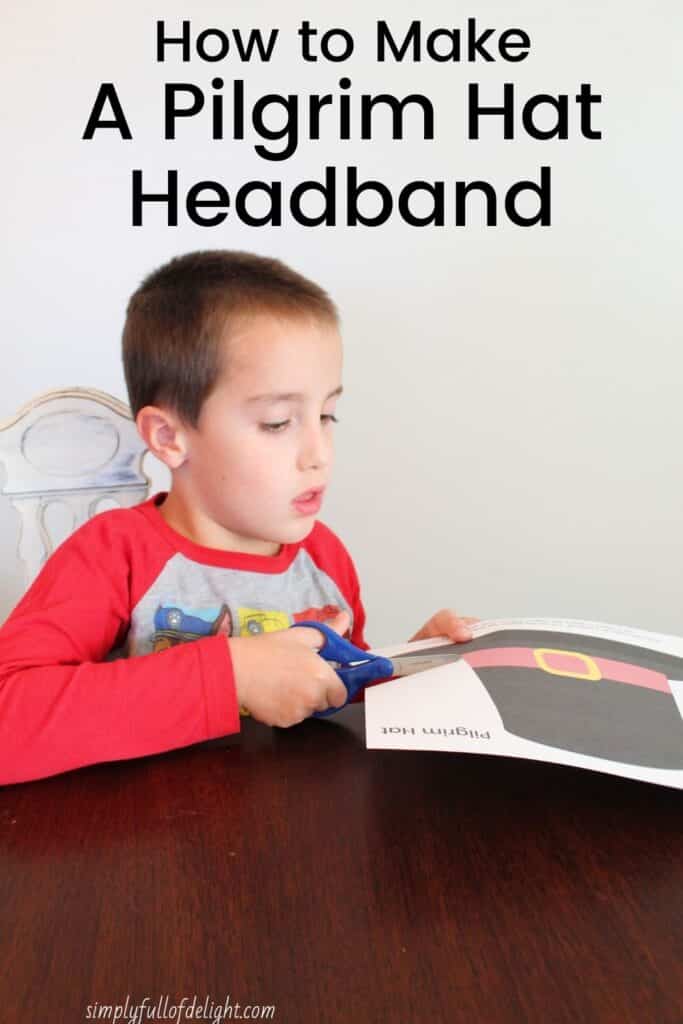 If you've chosen the Color Your Own Pilgrim Hat option, have your child color the hat. If you've chosen to print the Full-Color Pilgrim Hats option, skip ahead to the next step.
Now it's time to cut! Little ones might need extra help. My 5 year old didn't have any problems cutting out this hat, but if your child struggles with staying on the lines, you might want to help them.
I went ahead and let my 3 year old cut her own. This is great cutting practice. As long as you have tape on hand, no worries, right!?
Now it's time to assemble the hat! I like to join two of the strips of paper together with a staple to make one long band. Then I curve the strip behind the front of the hat and add a staple.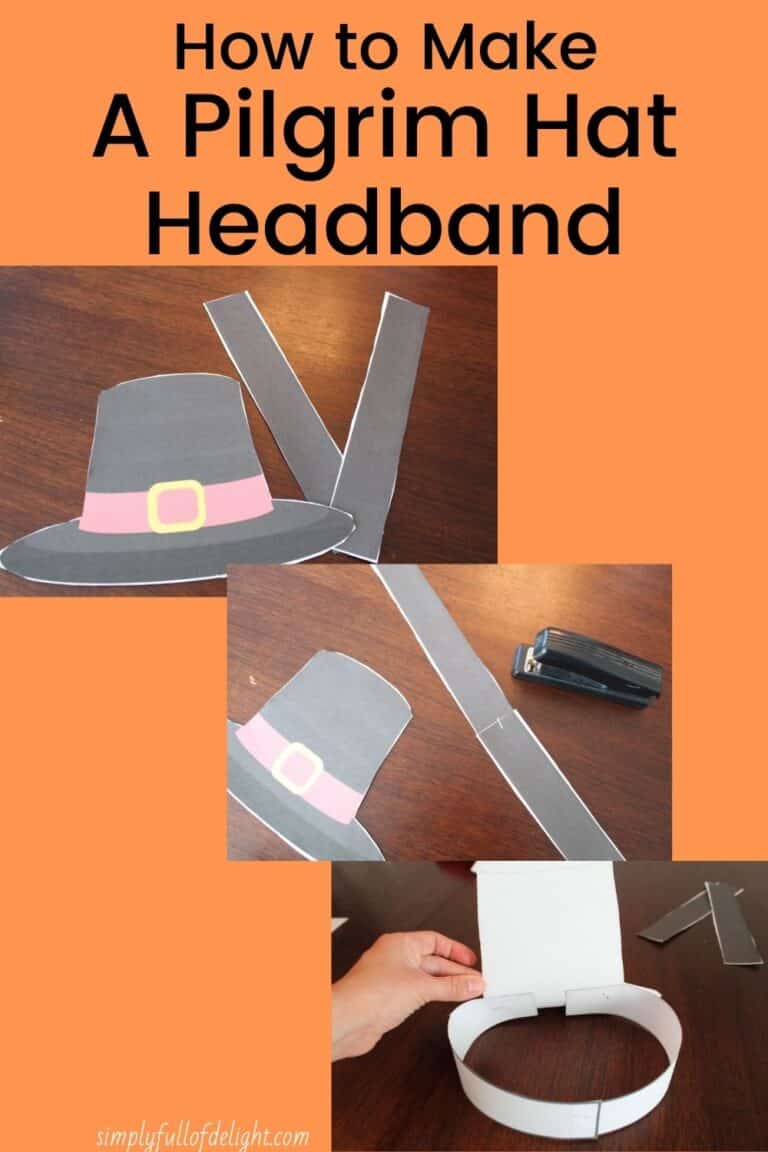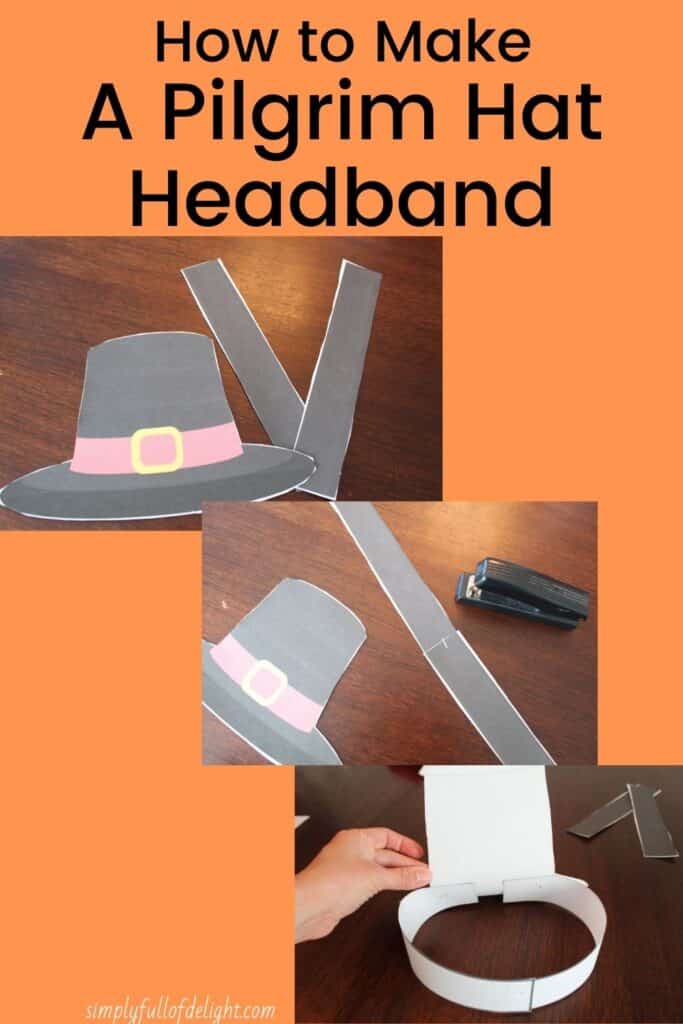 Next I measure the child's head. I cut off the excess paper to make it the correct size. Then I add one more staple to complete the pilgrim hat headband.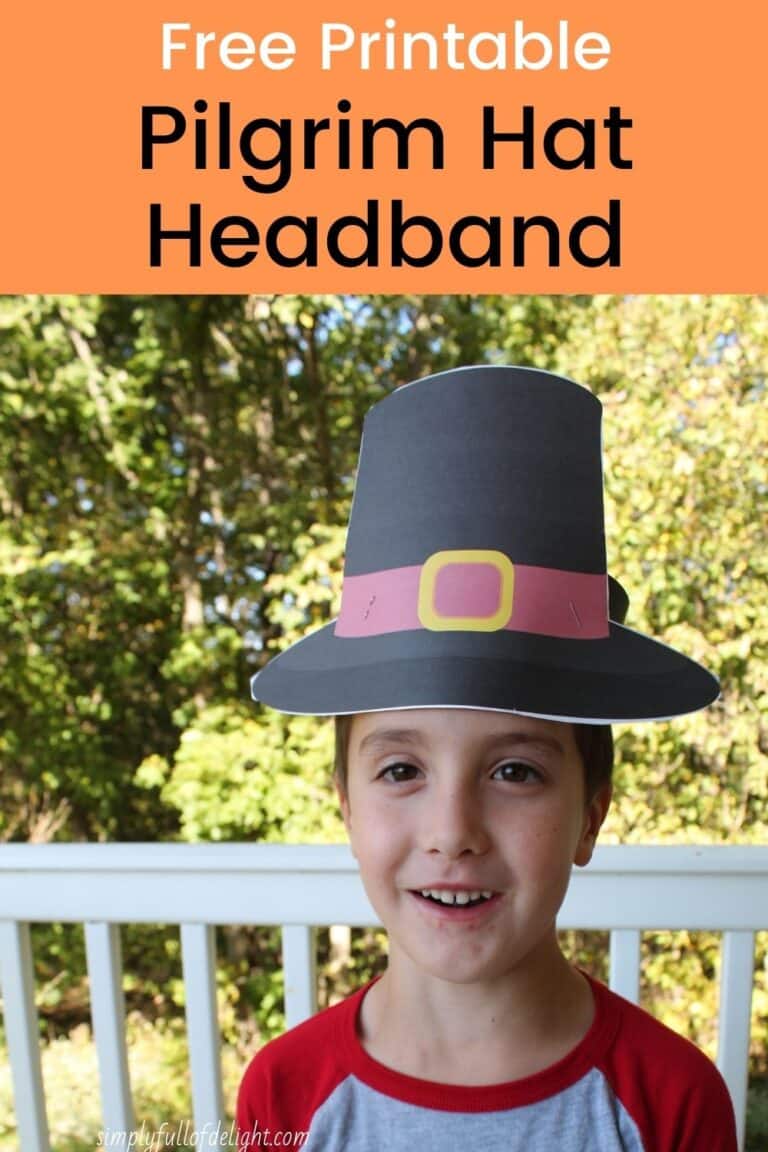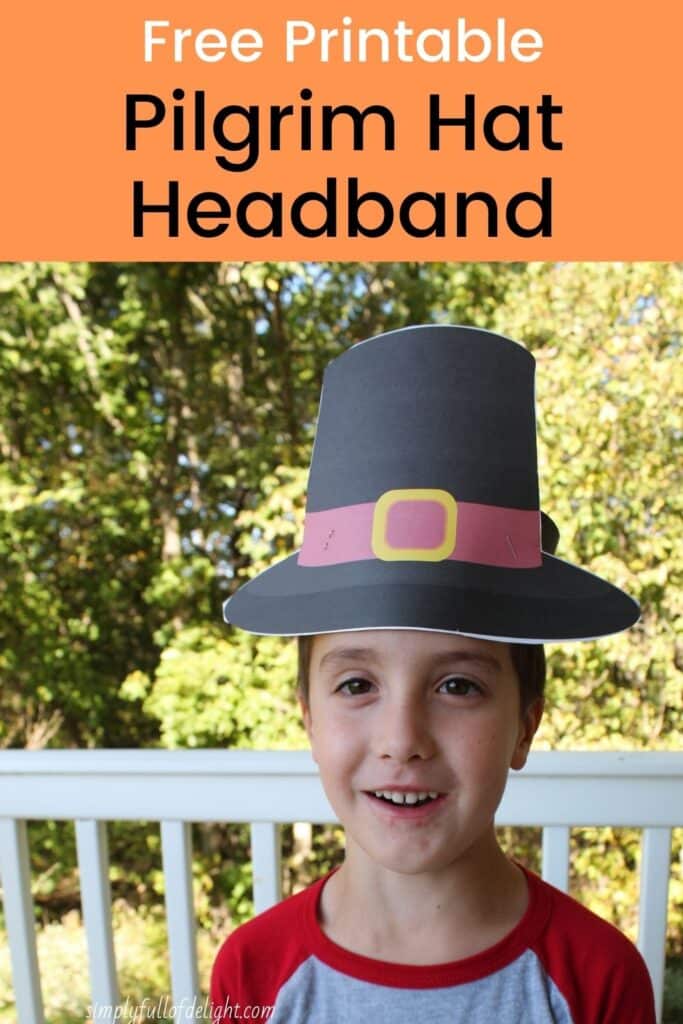 That's it! You have a special pilgrim hat headband! Feel free to use these pilgrim hats for your kids, in your classroom, or play group!
If you are looking for more Thanksgiving activities for kids, check out the Thanksgiving preschool activity pack in my Etsy shop!
I hope you all have an amazing Thanksgiving! To Print Your Free Pilgrim Hats Join My Email List below!
Alterations:
If you have a classroom of very young kids, you might like to use this free pilgrim hat template as a pattern piece to cut out stacks of hats from black construction paper.
Simply use a little school glue (or a glue stick) to add a yellow buckle from yellow construction paper.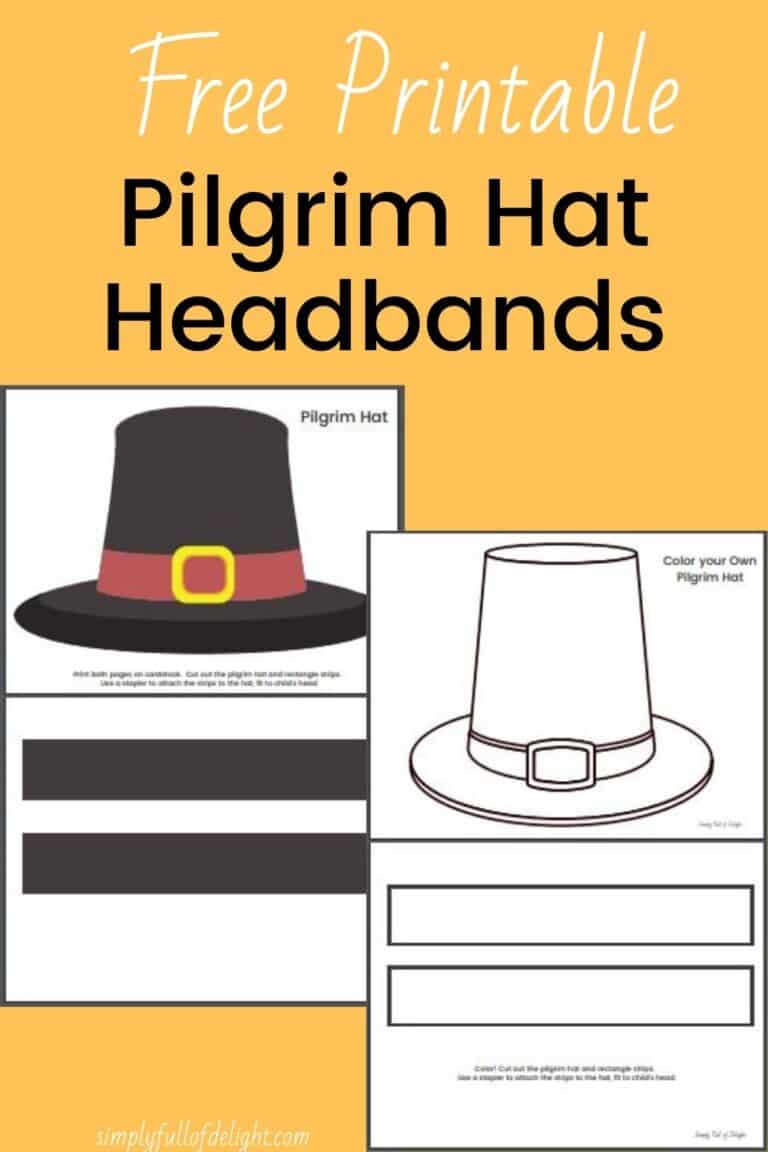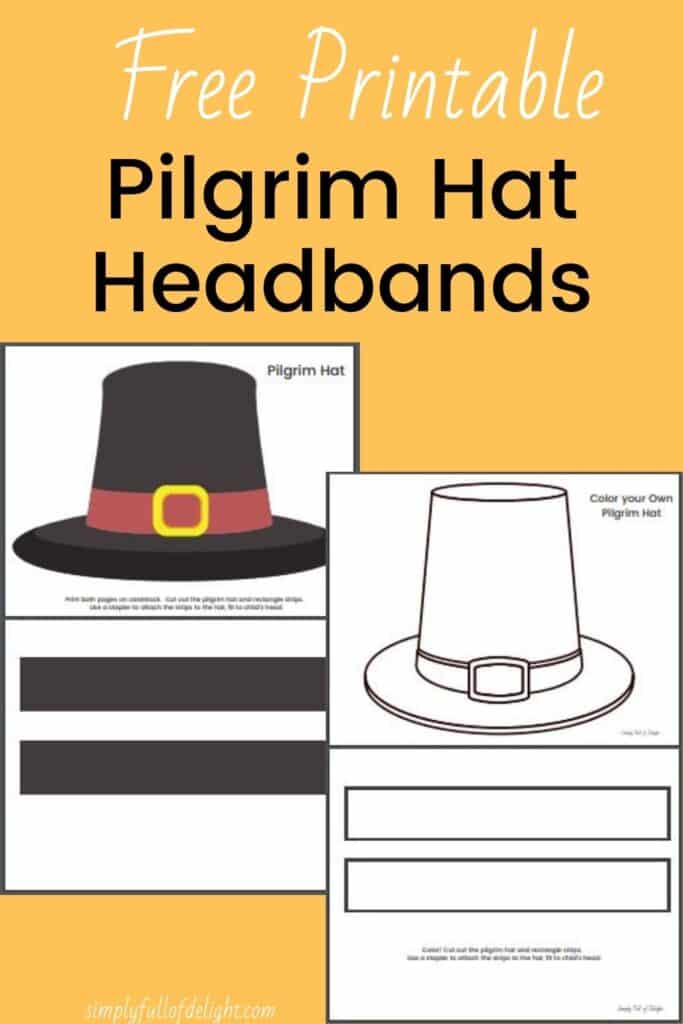 Another idea is to add a little glue and some glitter to the gold buckle. I would recommend using cardstock if you add this detail.
Other Thanksgiving Activities for Kids:
Looking for more kids crafts for Thanksgiving? Here's a Thanksgiving Corn Craft kids will love! We are all about easy crafts and this fun Thanksgiving craft is perfect for harvest time too!
There's some free printable Thanksgiving Pilgrim Coloring Pages here. These are perfect for the kids' Thanksgiving table.
And you can find 55+ free Thanksgiving printables for kids here! There's tons of activities to keep kids busy at your Thanksgiving feasts.
You can find some harvest themed activities in this post: Fall Activities for the Family (& Free Printables!)
There's a Gratitude Scavenger Hunt to teach thankfulness here.
Don't miss the adorable Thanksgiving Pie Sensory Bin here.
Also, if you'd like an entire preschool Thanksgiving activities set, check out this fun learning set in my Etsy shop! There's cut and paste activities, pattern work, tracing, and more!