It's time to start decorating for Halloween! There are so many amazing, unique Outdoor Halloween Decorations on Etsy. You'll find fabulous fall wreaths, Halloween yard stakes, wooden porch signs, and more!
I'm a huge fan of Etsy, both as a seller and as a shopper. It's amazing to be able to support small businesses while shopping from the comfort of your own home. I love the marvelous, unusual items you can discover.
When you shop on Etsy, you never know what you're going to find!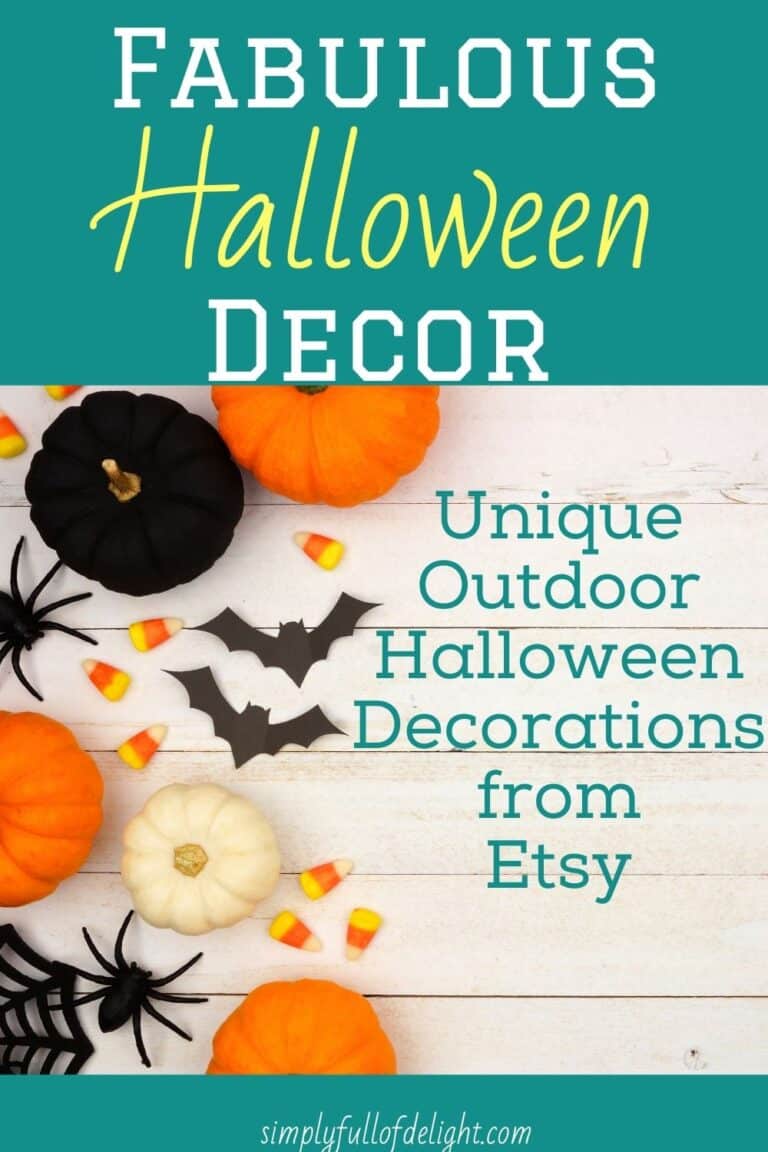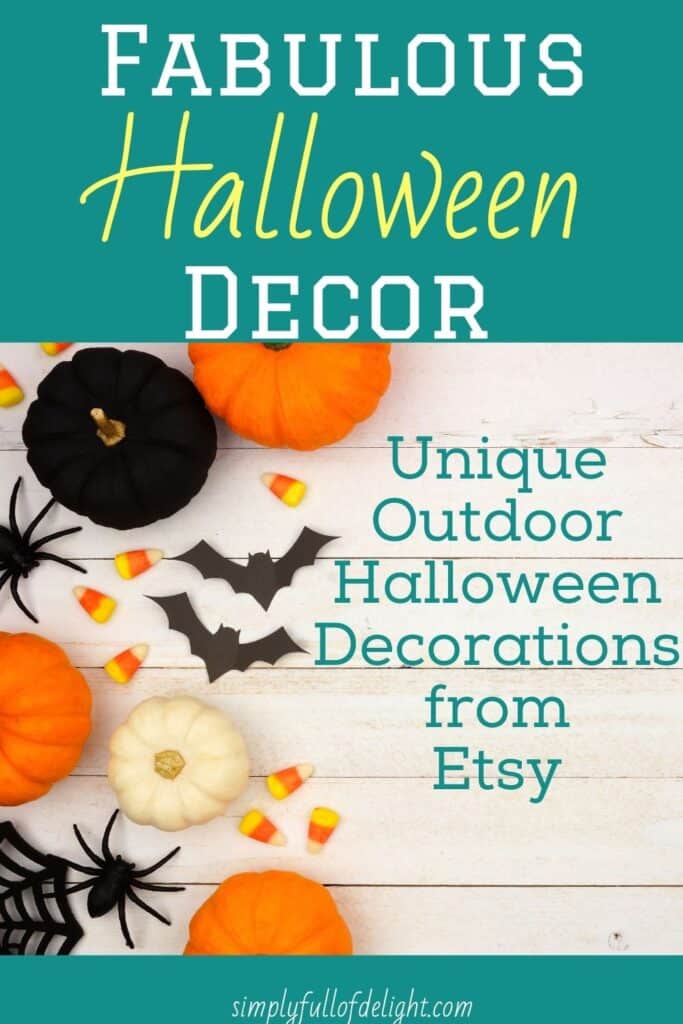 Disclosure: This post contains Etsy affiliate links. If you click on the link and purchase an item from Etsy, I may receive an affiliate commission.
Let's check out those fabulous one of a kind Outdoor Halloween Decorations from Etsy!
1) Boo Halloween Porch Sign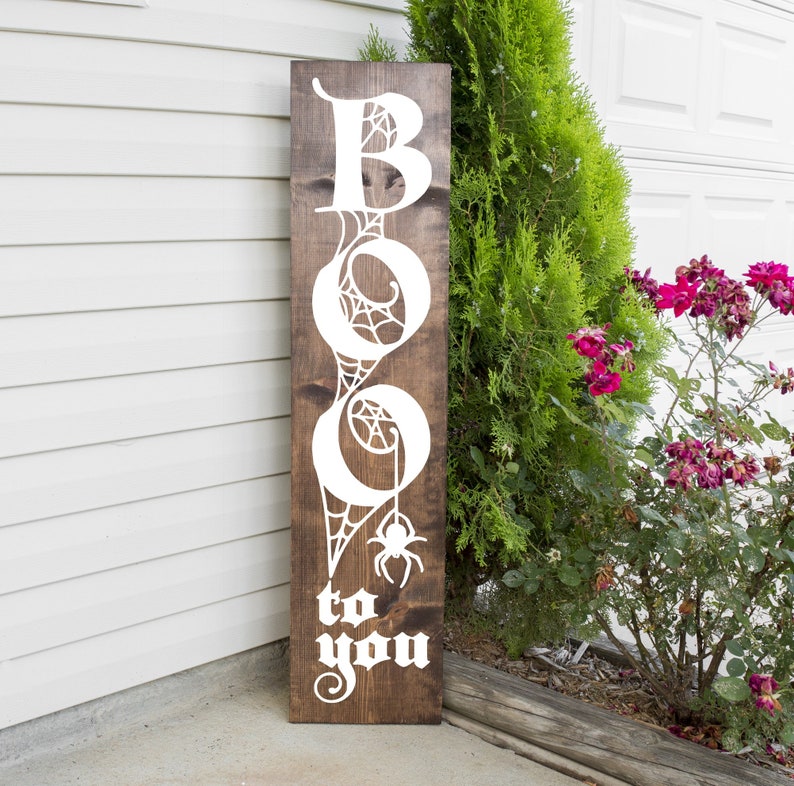 This adorable Boo to You Sign is by Happy Hooves Farm on Etsy. You can customize the color of the sign and the size. This Boo sign is perfect for your front porch display or you can hang it inside!
2) Custom Cobweb Door Sign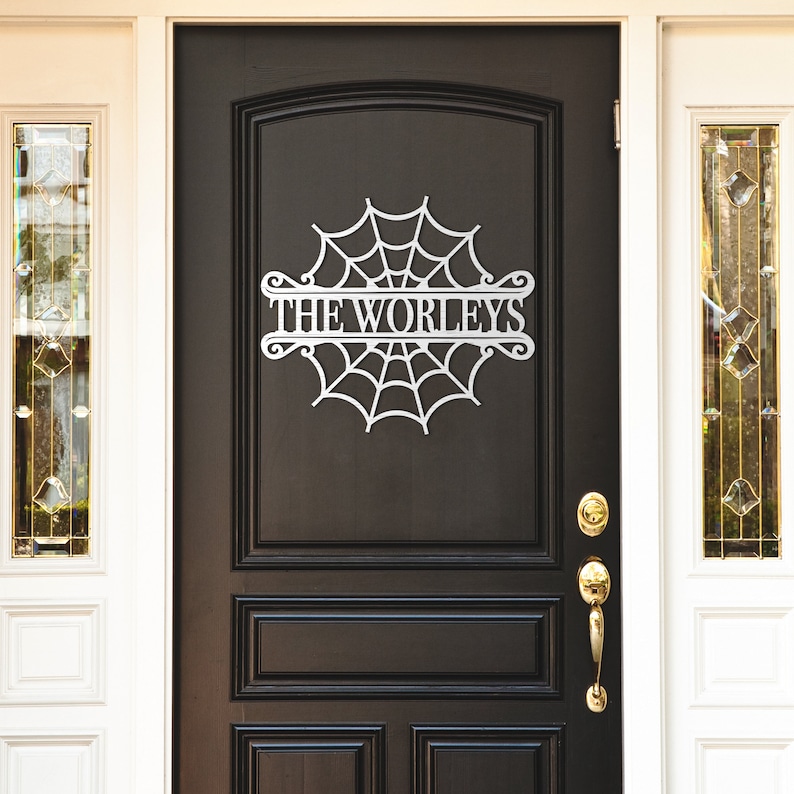 These Custom Cobweb Door Signs are by 48 Hour Monogram on Etsy. You can personalize these adorable signs with your family's name and you can even choose the size and the color! This Etsy shop specializes in getting your order out super fast!
3) Pumpkin Garden Stake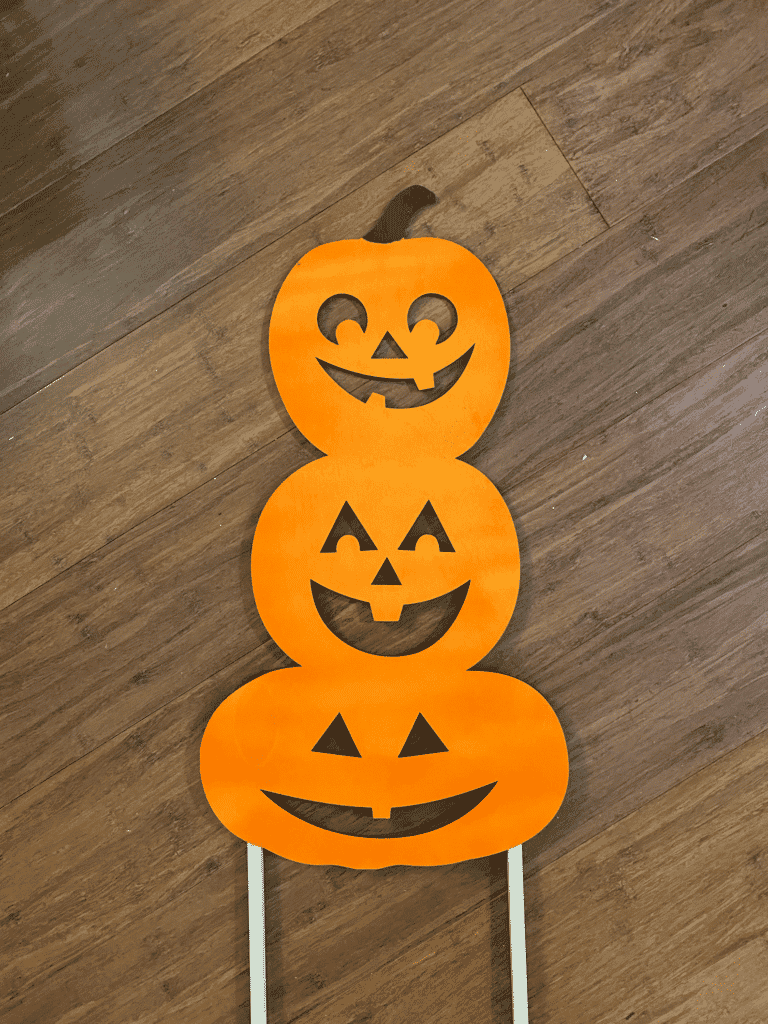 These fun Pumpkin Garden Stakes are by Found Penny Studio on Etsy. They are perfect for placing in potted plants or in your flower garden. I love that you can customize the color and words.
4) Ghost Yard Decor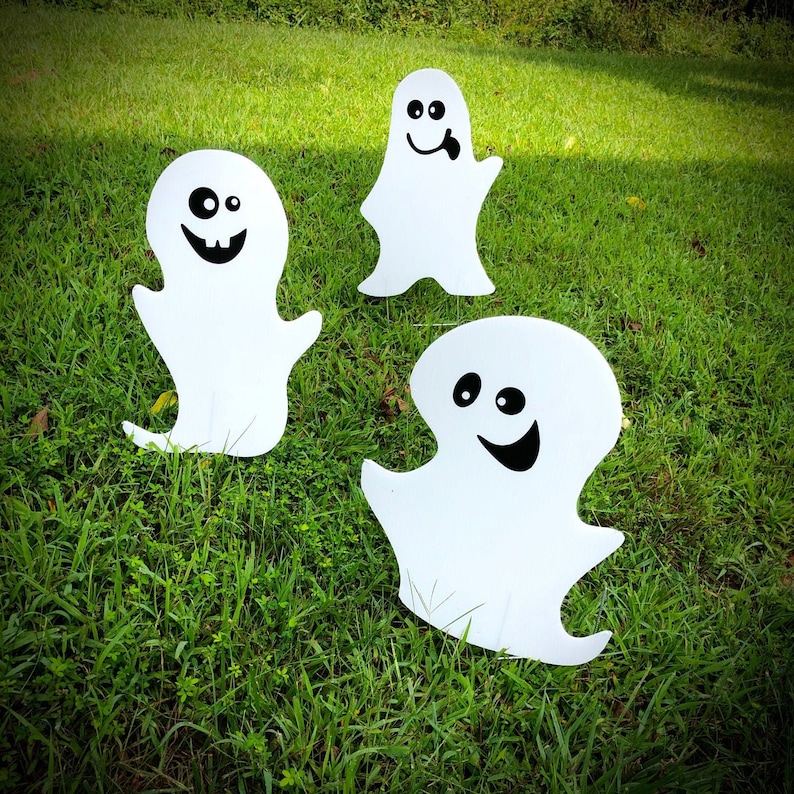 This Halloween Ghost Yard Decor Set is by Shannon Baum Signs. Made from white Coroplast sheeting and black 3M reflective vinyl, these ghosts are weather proof. What a fun yard and unique decor set!
5) Felt Bats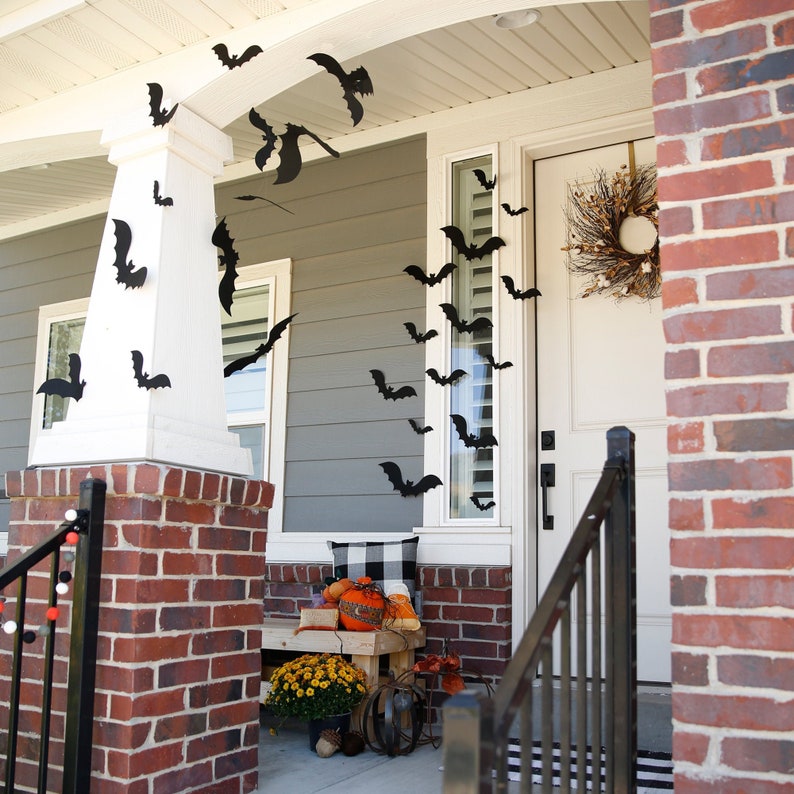 These Felt Bats are made by Wild Blu Yonder on Etsy. You can let these bats fly indoors or outdoors. Either way, they are sure to bring amazing Halloween atmosphere to your home!
6) Pumpkin Welcome Mat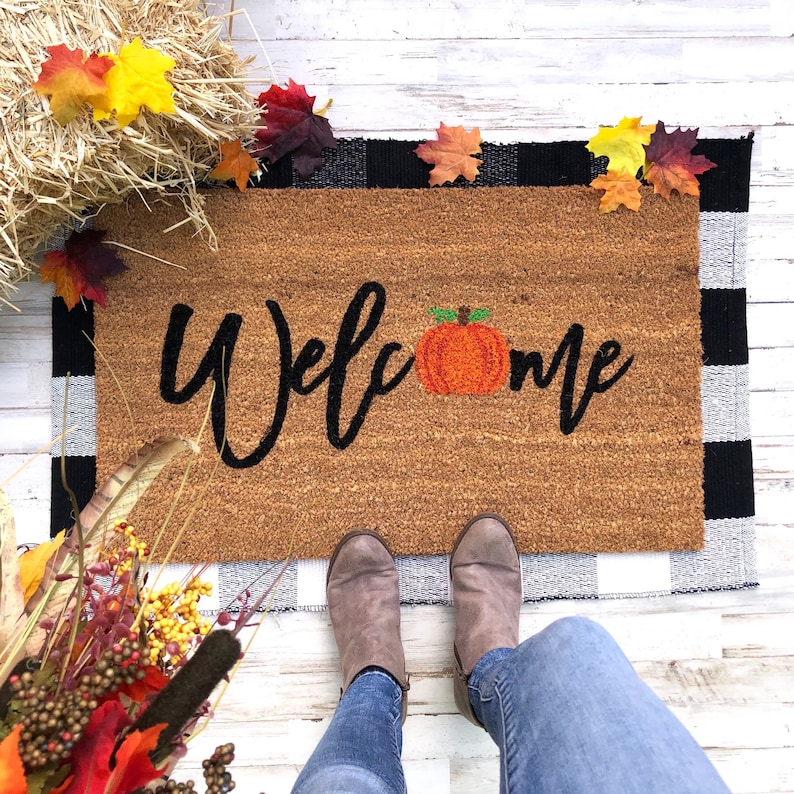 This Pumpkin Welcome Mat is made by Etsy shop Endie Co. I love that this decor item can be used all season long. There are many other Fall and Halloween options, so be sure to stop by this shop and see all the beautiful choices. I know you will find one you love!
7) Pumpkin Monogram Wooden Door Hanger – Outdoor Halloween Decorations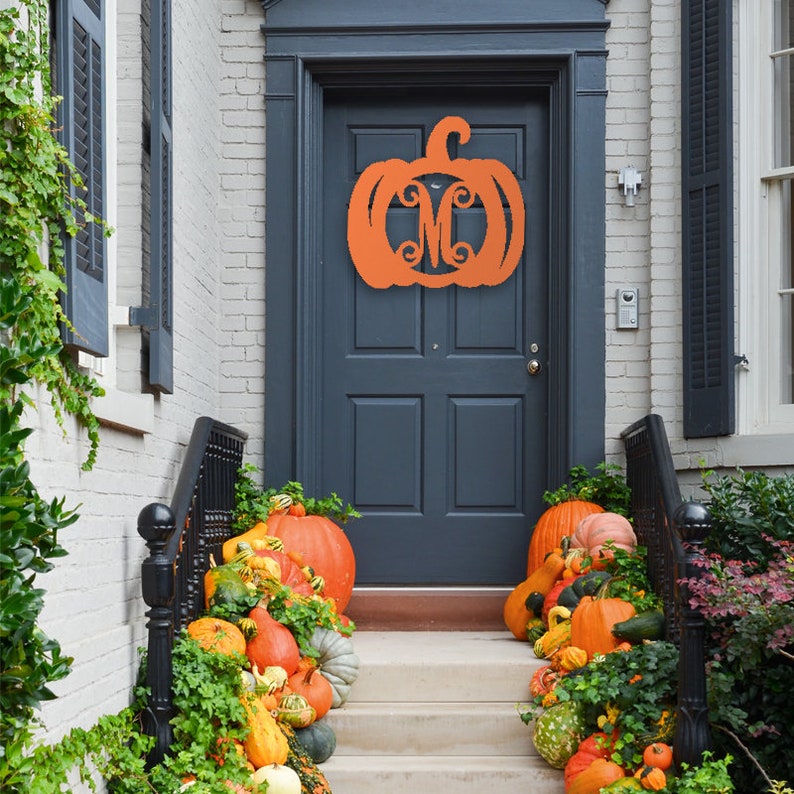 This Pumpkin Monogram Door Hanger is made by 48 Hour Monogram. This amazing Wooden Pumpkin is a unique Halloween decoration that will be the perfect addition to your home. Customized and durable, you'll be pulling this decoration out year after year!
8) Welcome Pumpkin Sign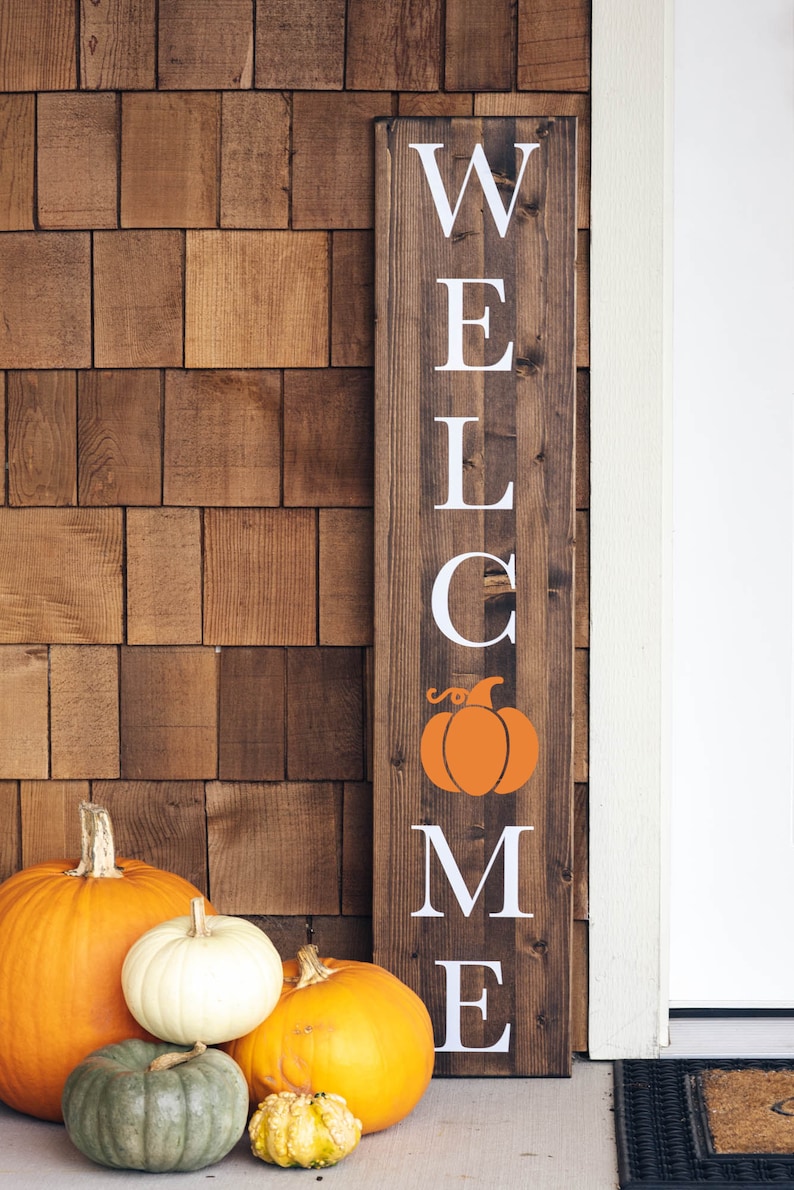 This Wooden Welcome Pumpkin Sign is made by Etsy shop Etch Craft. Truly a classic fall decoration piece, this wooden porch sign is sure to bring a smile to your day every time you see it. Excellent for both Halloween and Thanksgiving too!
9) Farmhouse Ghost Wreath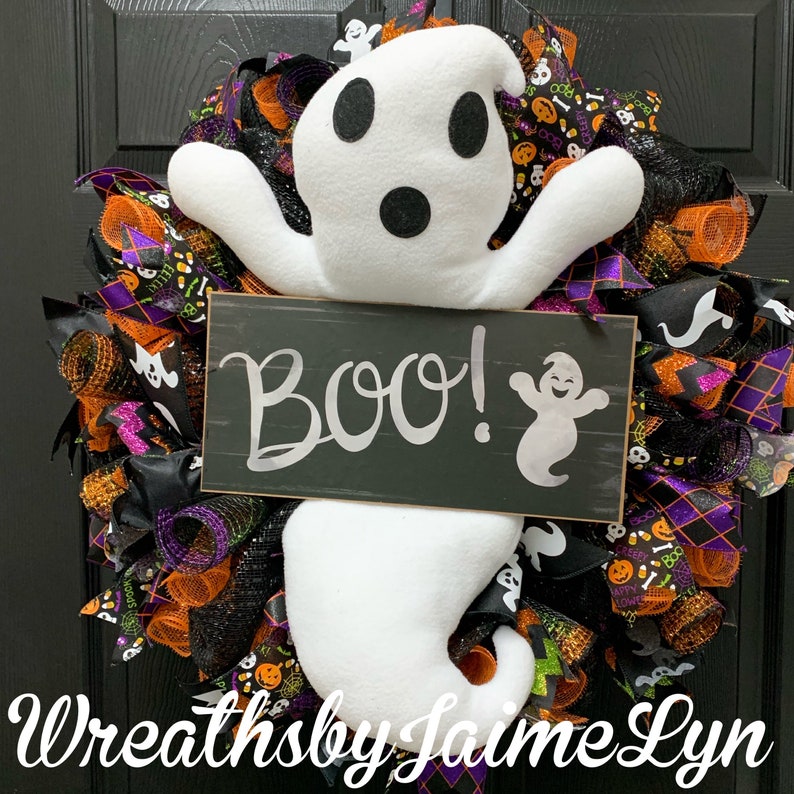 This Farmhouse Ghost Wreath is from the Etsy shop Wreaths by Jaime Lyn. Bring the fun of Halloween to your door with this amazing wreath that has a plush ghost and wooden sign. It's so adorable while maintaining an air of spooky!
10) Scarecrow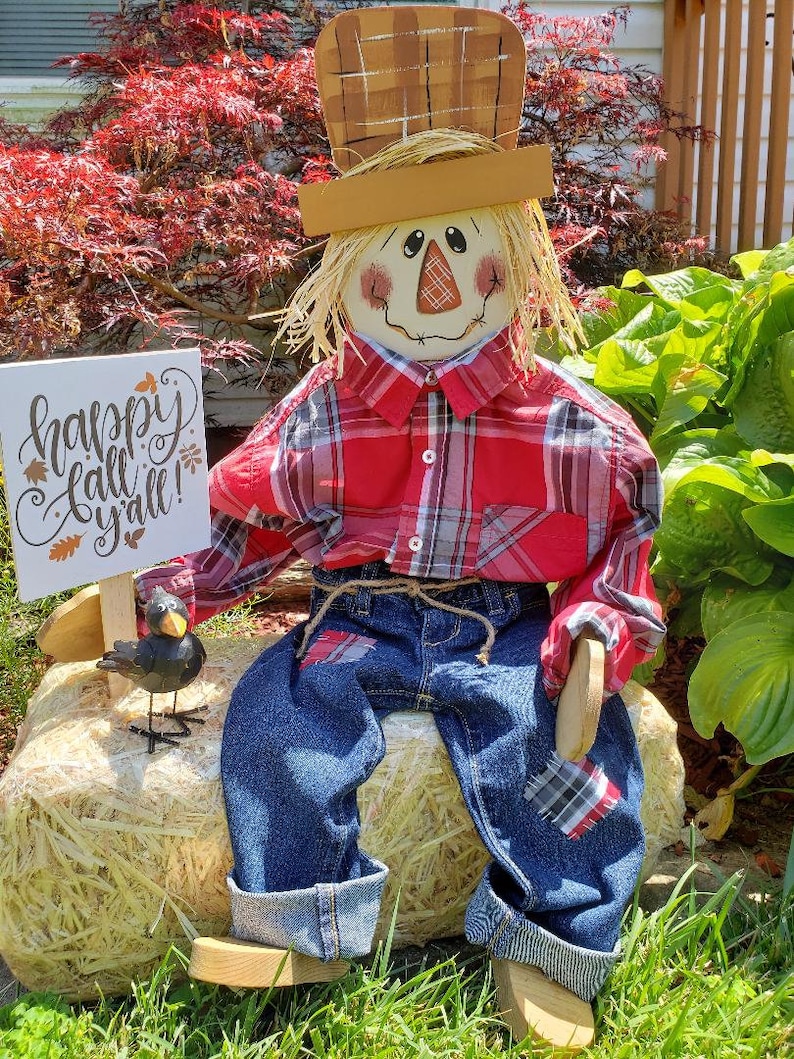 This Scarecrow is made by KY Backwoods Blanks on Etsy. He's ready to be the fantastic focal point of a pumpkin or straw display. So many fun ways to display this classic fall piece.
11) Personalized Halloween Flag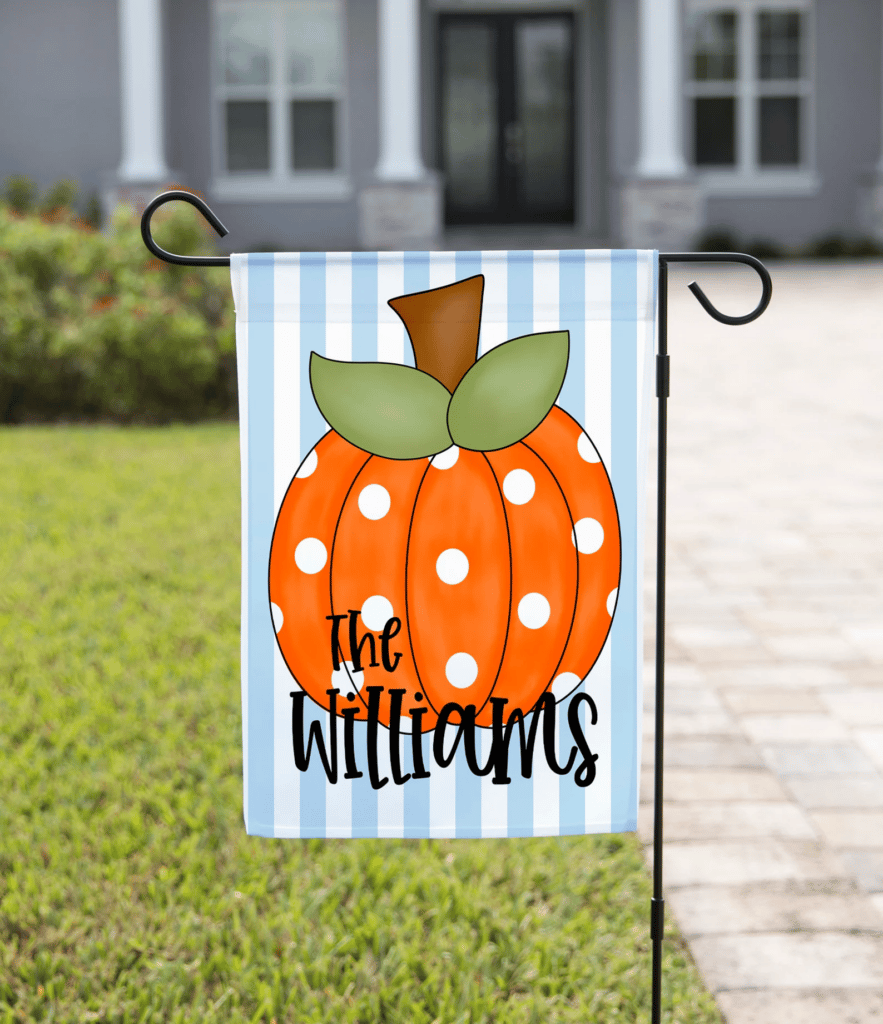 This Personalized Halloween Garden Flag is from The Navy Knot. These amazing garden flags are made from rustic faux burlap and personalized with your family's name and a phrase. What an amazing Outdoor Halloween Decoration to greet guests and trick-or-treaters.
12) Fall White Pumpkin Wreath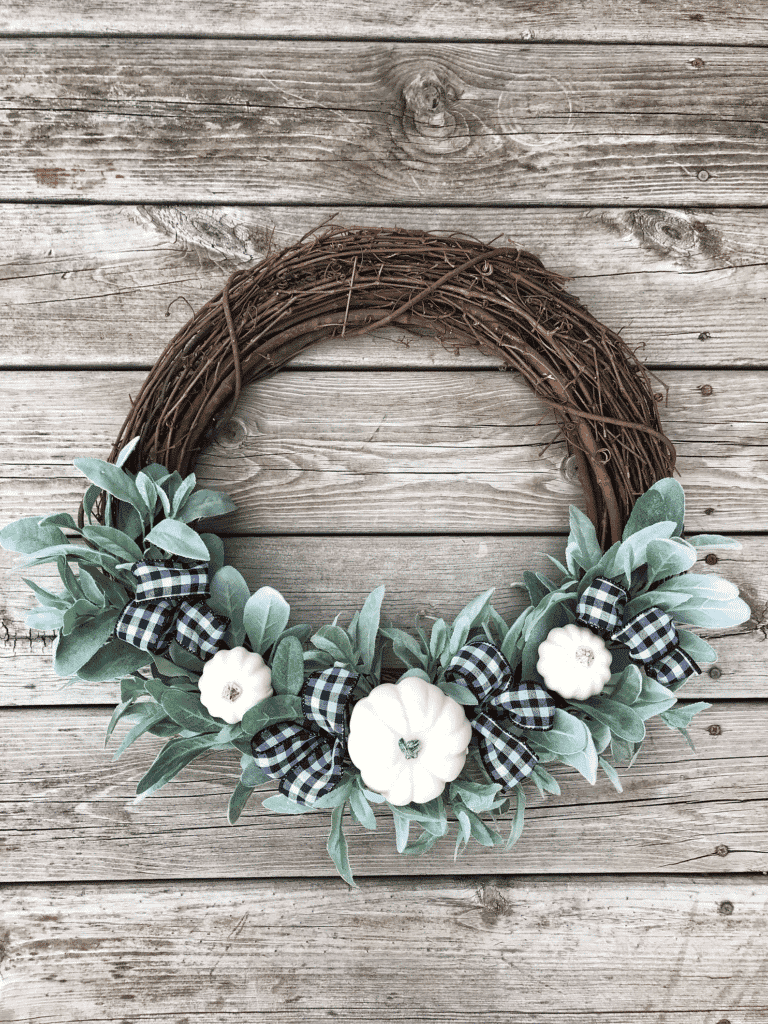 This Fall White Pumpkin Wreath is by Etsy shop Chrenka Doodle Designs. It's beautifully made with grapevine, lambs ear, white pumpkins, and accented with a striped bow. I love that it's classy and it makes the absolute perfect item to decorate your home for the fall season.
For more amazing Halloween decor ideas as well as Halloween costumes, be sure to check out the Etsy Halloween Guide: Editor's Picks!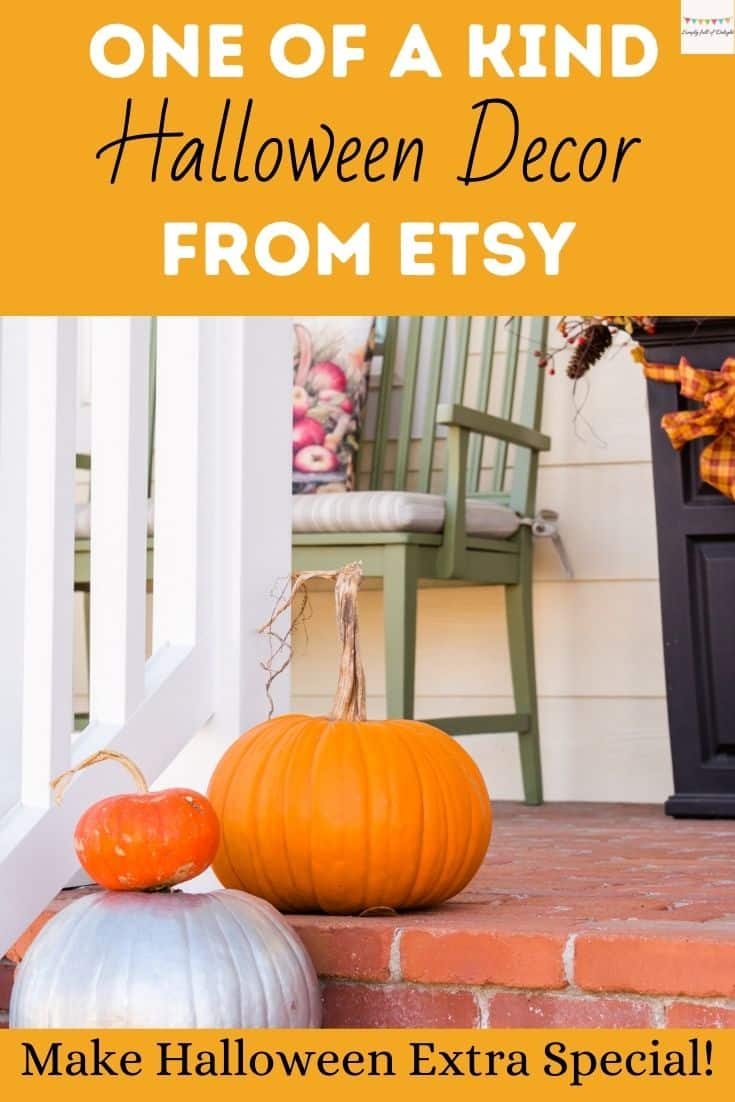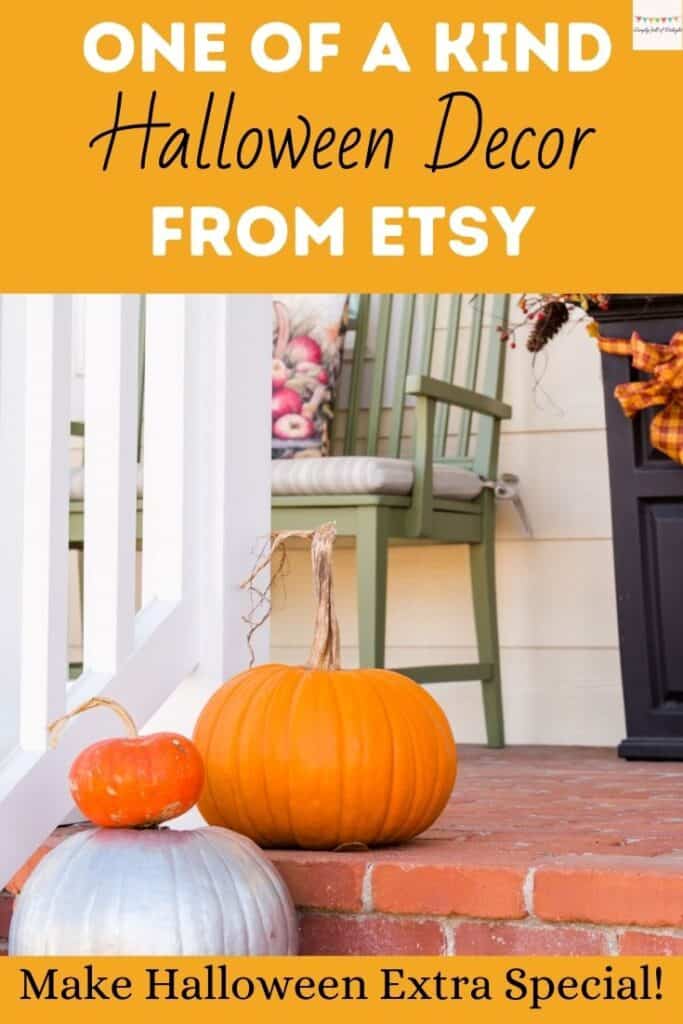 For More Halloween Fun, check out these Free Fall Printable Activities on my blog!
Also, be sure to check out these Candy Alternatives for Halloween. 51 Awesome ideas for non-candy treats.
Want more Halloween fun? Grab these free printable Monster Coloring Sheets for kids. Perfect for your Halloween celebrations.