Looking to give out something more unique than candy on the spookiest night of the year? Here's 51 of the best Candy Alternatives for Halloween in 2023!
Candy and Halloween have always went together quite nicely. But if your family is anything like mine, it seems like the amount of candy received each year is a bit excessive.
Don't misunderstand. We are absolutely thankful for how generous people are and our kids adore it, but I decided that this year our family was going to go a different direction.
Instead of adding to the sugar rush, we plan to give out a candy alternative to trick-or-treaters this year!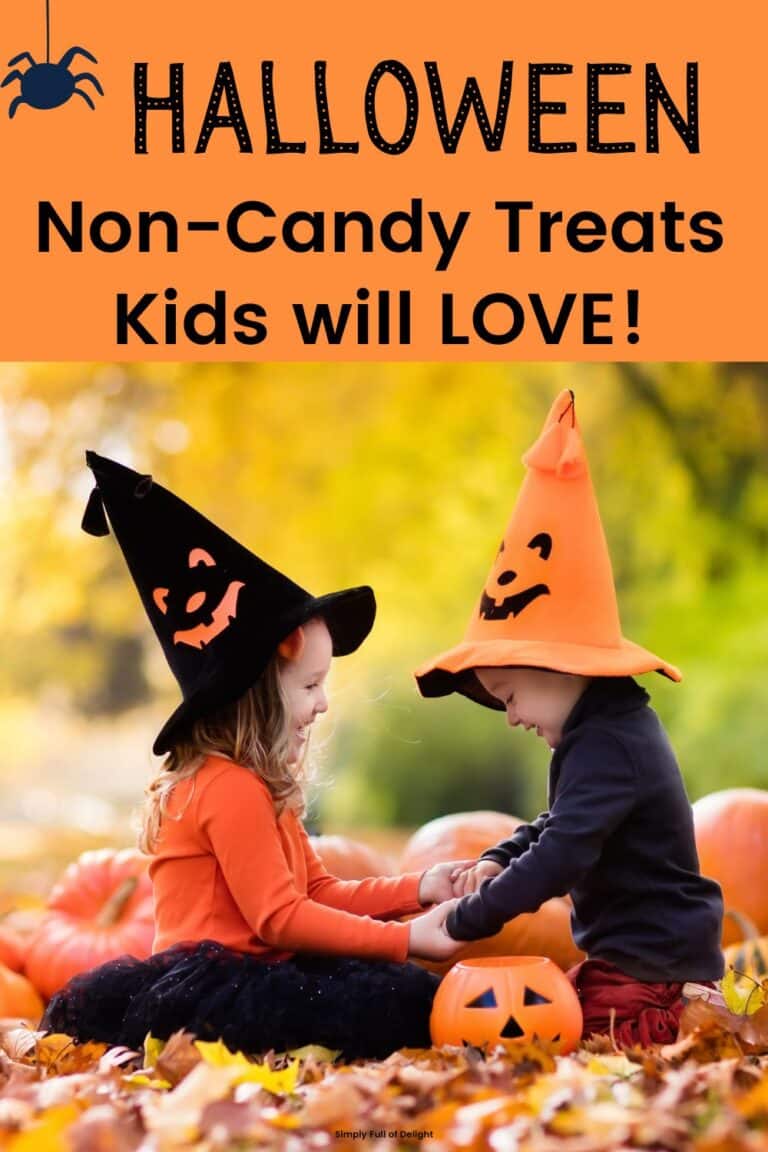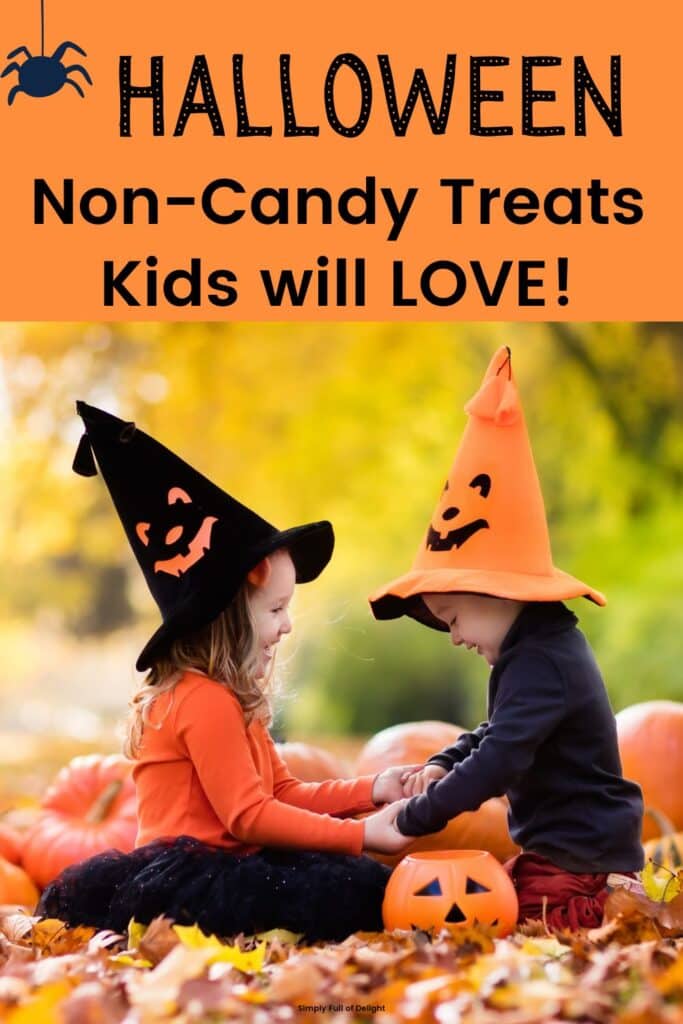 So, now you might be wondering….
What can I give on Halloween instead of candy?
There's tons of options for candy alternatives for Halloween! You can give out small toys, stickers, rings, bracelets, glow sticks, key chains, and more! You could also give out food items that aren't candy….like pretzels, microwave popcorn, or oranges.
Kids won't be disappointed. Believe me. They love seeing variety!
One of my favorite stories is about a person who put a potato in the Halloween Candy bowl. (Yes, a potato! So funny!)
Anyway, kids were so excited about the potato because it was funny and the potato was picked over candy every single time it was offered. Ha!
Now, I'm not suggesting something as weird as a potato, but there are some totally awesome candy alternatives out there!
** Disclaimer: As an Etsy and Amazon.com Associate, I may earn from qualifying purchases made by readers clicking my affiliate links at no extra cost to you.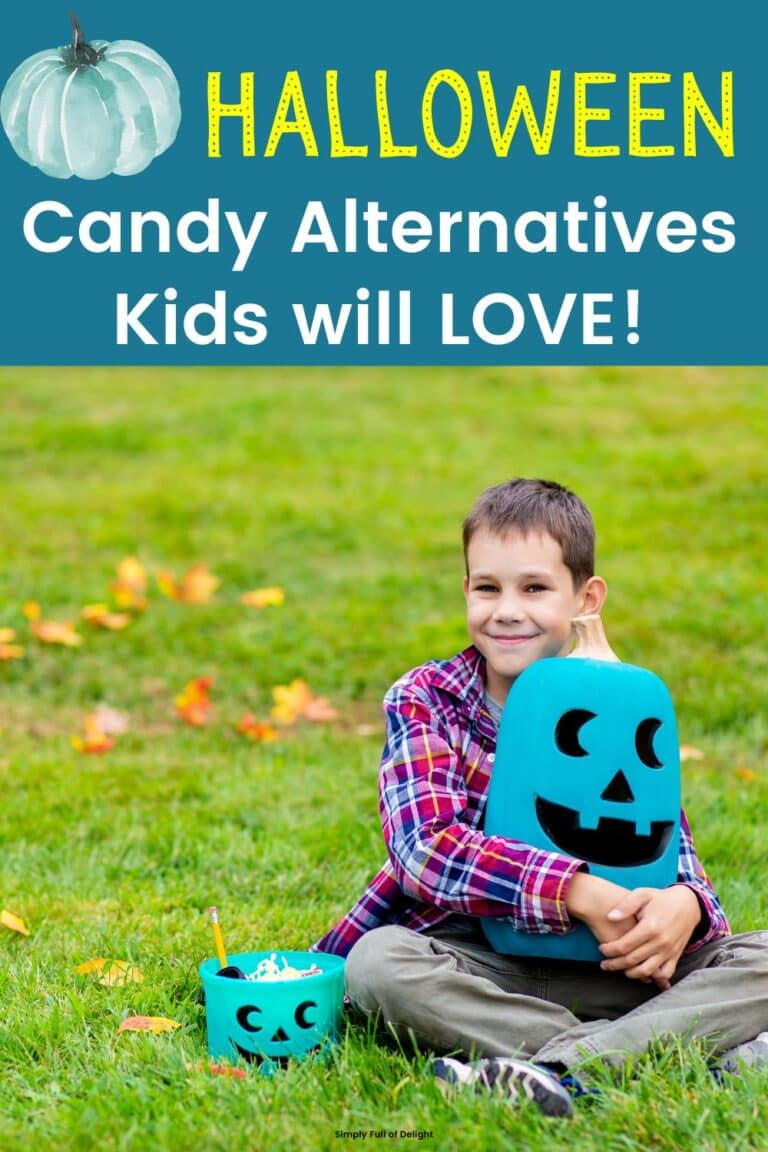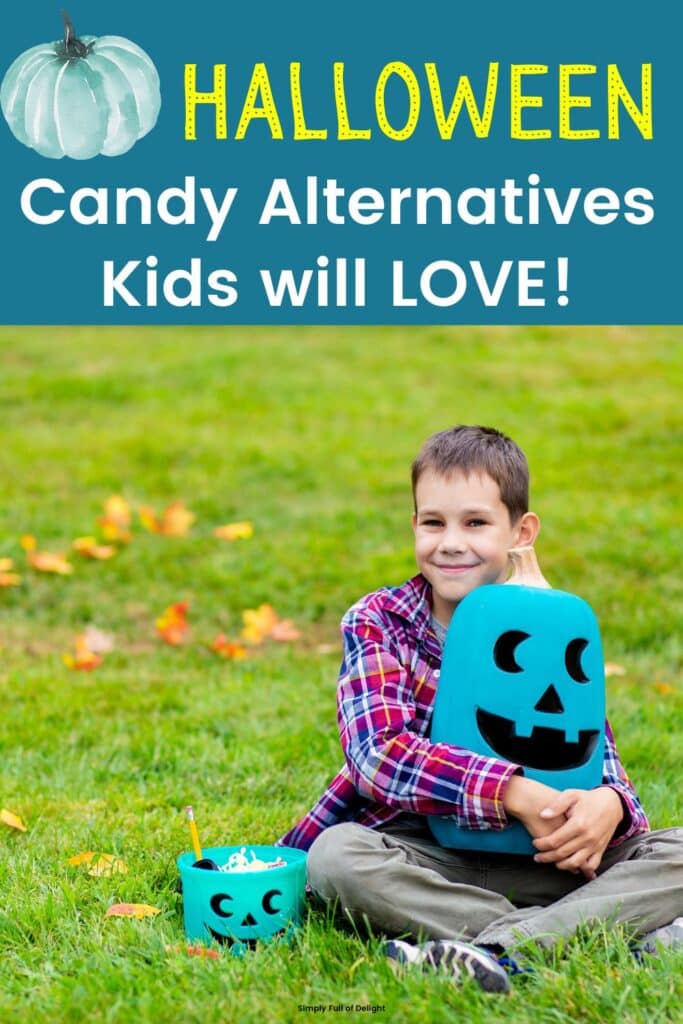 Teal Pumpkin Project
In addition to offering candy alternatives, you might also like to consider joining the Teal Pumpkin Project.
According to FoodAllergy.org, Teal Pumpkin Project was started as a way to make trick-or-treating more inclusive and safer.
A teal pumpkin outside your door lets trick-or-treaters know that you offer non-food options that are safe for all kids. You can also offer candy/food items as well if you like, but the teal pumpkin signals that you do have non-food options.
As a family who deals with Celiac Disease, I adore this concept of making Halloween fun and inclusive for kids with food allergies! We have to watch out for gluten, but other families might be watching out for peanuts or dairy, etc.
The non-food options are perfect for those with food allergies!
Alright! Let's dive into our list!
Halloween Candy Alternatives
Here's 45 Incredible Candy Alternatives for Halloween!
1) Halloween Pop Sensory Toys
These Halloween Pop Sensory Fidget Toys are sure to be a hit with kids of all ages! I love that they also have a keychain so they can attach to backpacks for fun on the go!
2) Halloween Parachute Toys
These Halloween Parachute toys are so cute. My kids adore Parachute toys and so do I. They are the perfect way to promote outdoor playtime.
3) Halloween Stretchy Skeleton Toys
These Halloween Stretchy Skeleton Toys are so much fun. I love the retro vibe of these. What kid doesn't need a stretchy skeleton!?
4) Slap Bracelets
Remember those fun slap bracelets from your childhood? They're back! I love the spooky Halloween designs on these Slap Bracelets.
5) Halloween Glow in the Dark Rings
These Halloween Glow in the Dark Rings are such fun non-candy alternatives. Kids will love wearing them while trick-or-treating. Anything that glows in the dark is a hit with kids of all ages but especially bat or spider rings.
6) Glider Plane Toys
These Glider Plane Toys will be a hit with little ones. The 8 inch long planes soar through the air as their little propellers spin. So cute and a super unique Halloween Candy Alternative.
7) Glow Sticks
Glow sticks are a classic fun item that always delight children. Grab a giant pack of these and make the whole neighborhood light up on Halloween.
8) Halloween Wind Up Toy
Halloween Wind Up Toys are sure to surprise your trick-or-treaters. There's something so fun about a wind up toy that even adults enjoy them. (Or maybe that's just me!)
I love that there's so many great options that even older kids can find one they like!
9) Halloween Make a Face Sticker Sets
Check out these Halloween Make a Face Sticker Sets. Kids will love creating a face on a spooky Halloween themed character. Such a great idea for non-candy treats.
10) Halloween Slime
Grab some Halloween Slime to delight your trick-or-treaters. Slime is all the rage and I love how this slime comes in a cute Halloween themed container. What a great way to promote sensory play!
11) Glow in the Dark Bouncy Balls
How cute are these Glow in the Dark Bouncy Balls?! Kids absolutely love bouncy balls – mine sure do. I love that these glow.
What great alternatives for Halloween party goody bags!
12) Halloween Fidget Sensory Pop Bracelets
Check out these Halloween Fidget Sensory Pop Bracelets. It's so cool that these will appeal to both girls and boys. Plus, the added bonus of being pop bracelets will keep kids busy as they travel or are on the go.
13) Halloween Stamps
Looking for something creative? These Halloween stamps fit the bill! Kids will love using these stampers to make Halloween artwork.
14) Halloween LED Light Up Rings
Kids will go wild over these Halloween LED Light Up Rings. Add to the excitement of Halloween night with these awesome accessories. Plus, as an added bonus, people will see the little trick-or-treaters better in the dark when they are wearing these.
15) Halloween Scratch Art
Parents will adore you for giving out these awesome Halloween Scratch Art Kits. It's a fun little art activity that will keep kids busy for a while being creative. What a perfect Halloween candy alternative!
16) Glow in the Dark Tattoos
These temporary tattoos glow in the dark. Yes, that's right! What a fun item for kids.
17) Halloween Squishies
These Halloween Squishies are sure to make kids smile. These are the cutest stress relief toys out there. My kids would love taking these in the car or on the bus. What fun!
18) Halloween Spring Toy
This fun little Halloween Spring toy is a classic. These fun little toys have been popular for decades, and for good reason. There's just something awesome about a spring!
19) Halloween Sticker Sheets
Looking to spark creativity? These Halloween Sticker Sheets are perfect. Kids will enjoy using these stickers to decorate their artwork or make cards for others. What fun!
20) Halloween Bracelets
These Halloween Bracelets are another classic. Kids will enjoy getting a fun accessory to wear with their costume on Halloween!
21) Color Your Own Halloween Bookmarks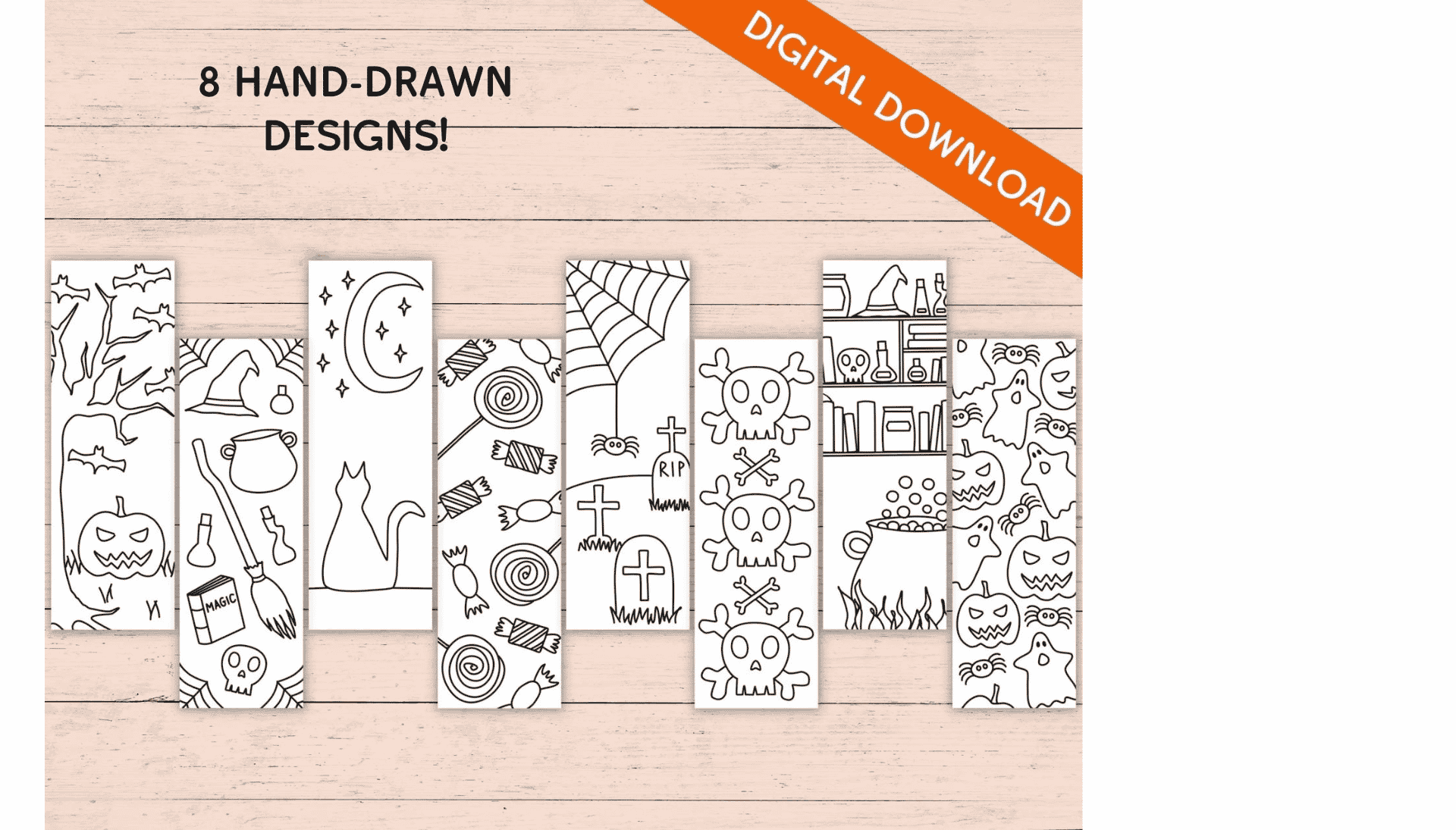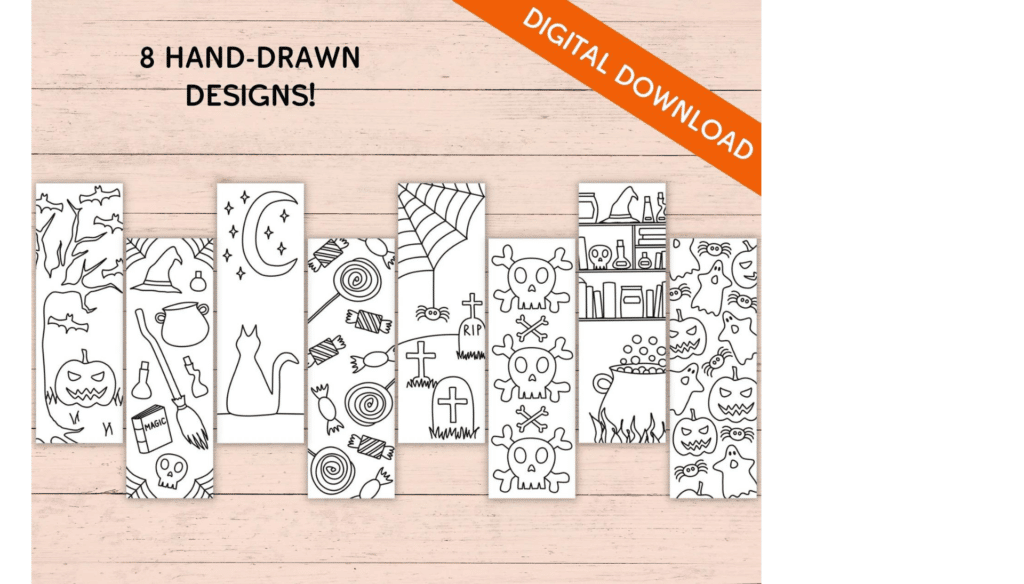 These Halloween Color Your Own Bookmarks are from Pretty Printed Perfect on Etsy. These are a Digital Download, so you can print as many as you like, year after year!
I recommend printing on cardstock to make them durable.
This would be perfect for teachers and librarians to give out at Halloween. What a fun way to promote reading with little ones!
22) Pumpkin Mini Play Dough Mats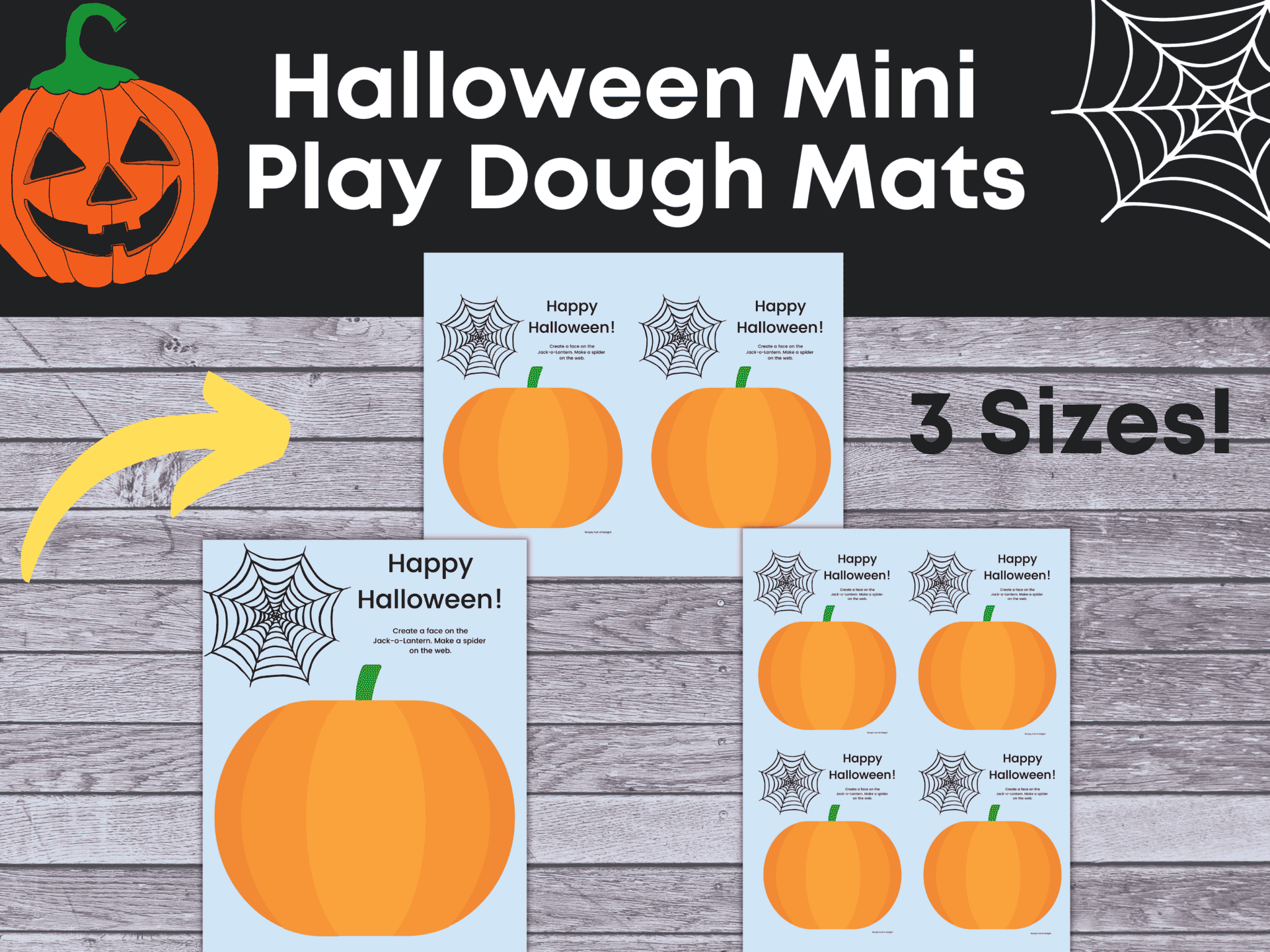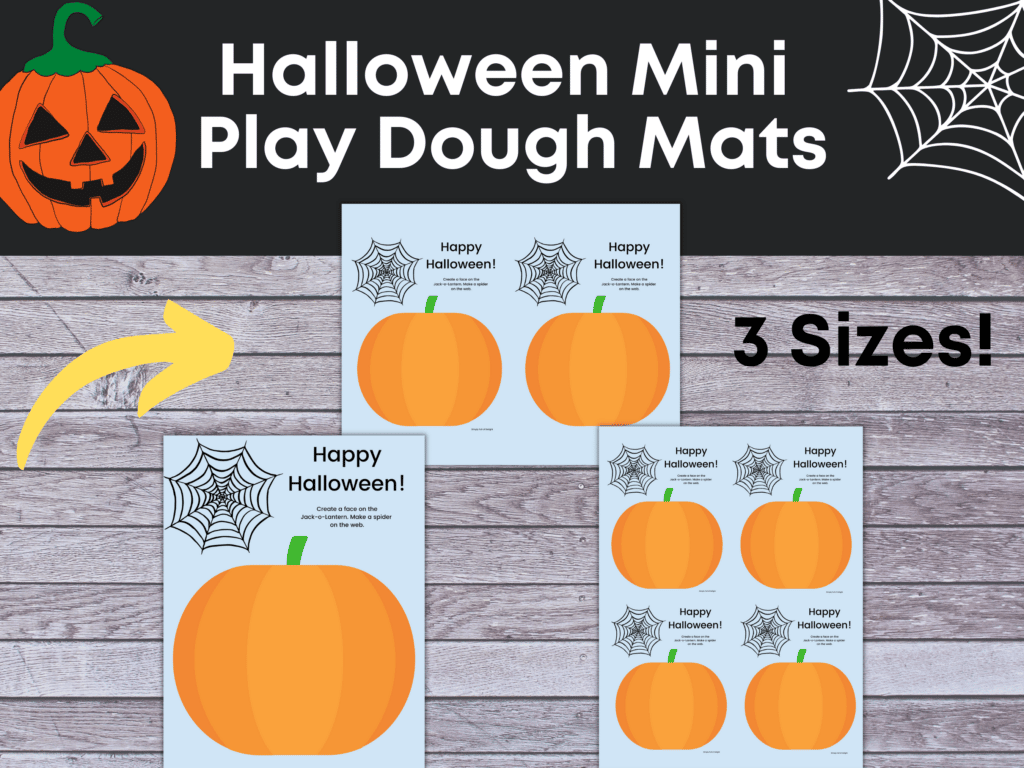 These adorable Pumpkin Mini Play Dough Mats are from my Etsy shop Simply Full of Delight. They are a Digital Instant Download. You can print miniature ones and give them out with some homemade playdough or the playdough mentioned below.
I would print on Cardstock and laminate for durability. (You can find the laminator I use (and totally recommend) here.
23) Play Doh Party Favors
These Play Doh Party Favors make a fun non-candy treat for Halloween. Kids will love playing with the dough at home. These pair perfectly with the mini pumpkin play dough mats I mentioned above.
(Please note that Play Doh brand is not gluten free, so you may want to have other options for kids with Celiac Disease. The gluten free homemade playdough recipe in this article is a great option if you need it for a small amount of kids).
24) Mini Halloween Notebooks
Check out these Mini Halloween Notebooks. My little ones love writing in these. I love that they are just the right size for a fun writing session and they promote fine motor skills.
25) Bendable Halloween Monsters
These Bendable Halloween Monsters are a fun toy for kids. I love that they aren't directly Halloween themed. Perfect for long road trips, bus rides, and car rides!
26) Glow in The Dark Bug Toys
These Glow in The Dark Bug Toys are really cool. Kids will go wild over these amazing bugs. There aren't many in the package, but these would be great for smaller gatherings or your own kids.
27) Halloween Bubbles
Halloween Bubbles make a great non-candy treat. Kids of all ages will enjoy blowing bubbles from these fun Halloween themed bottles.
28) Small Halloween Coloring Books
Mini Halloween Coloring Books make fun candy alternatives for Halloween. Parents will love this idea as it keeps little ones busy and engaged in a quiet time activity.
29) Rubber Duckies
These Rubber Duckies are cute. Perfect for playing in the bathtub, at the beach or in a water table.
30) Halloween Pencils
Halloween Pencils are a great candy alternative for Halloween. They are super functional and make every day tasks more fun.
21 Halloween Treats that are not Candy
Alright, so I'm going to give the next 21 ideas in bullet points, super fast with no pics! Ready?!?!
Here's 21 of the best non-candy Halloween treats: edible treats to add to your Halloween bags for school parties or for trick or treaters!
31) Microwave Popcorn (mini bags!)
32) Skinny Pop (individual size)
33) Juice Boxes
34) Cutie Oranges (you can draw pictures of Jack 'o' Lanterns on them if you like!)
35) Individual size bags of pretzels
36) Individual size bags of chips
37) Granola bars
38) Raisin Boxes
39) Cereal Bars
40) Individual size cookie packs
42) Cheez-it crackers (individual size)
44) Apples
45) Bananas
46) Hot chocolate packs
48) Beef Jerky sticks
49) Fruit Snacks
50) Mini Soda cans (I'd stick to non caffeinated drinks)
51) Shelf staple flavored milk boxes like this.
Alright! That's it! I hope you've found some amazing fun Alternatives for Halloween candy.
Whether you plan to give out non-food treats this Halloween season or next year, I hope you've found the perfect non-candy items that meet your needs.
More Halloween Fun
Looking for some fun ideas to celebrate Halloween? You can find some free Halloween Monster Coloring pages here. Perfect for classrooms and Halloween celebrations.
There's also some fun Halloween Dot to Dot printables here. Perfect for practicing number recognition.
Plus you can find fun ideas for decorating for Halloween with your kids here.
Happy Halloween!