Looking for an easy Gluten Free Pot Roast Recipe? Learn how to make a delicious and super easy gluten free pot roast in your slow cooker!
Pot roast is one of those meals that I grew up with here in the Midwest. It's a comfort food that reminds me of my childhood.
I grew up on a farm and this delicious pot roast was always on the menu, especially in the winter!
My family always made pot roast with carrots and potatoes, but when I got married, my husband wasn't a fan of those pot roasted veggies, so we started making pot roast with mashed potatoes instead.
You'll find that this recipe is versatile and will allow you to add veggies to your slow cooker if you like.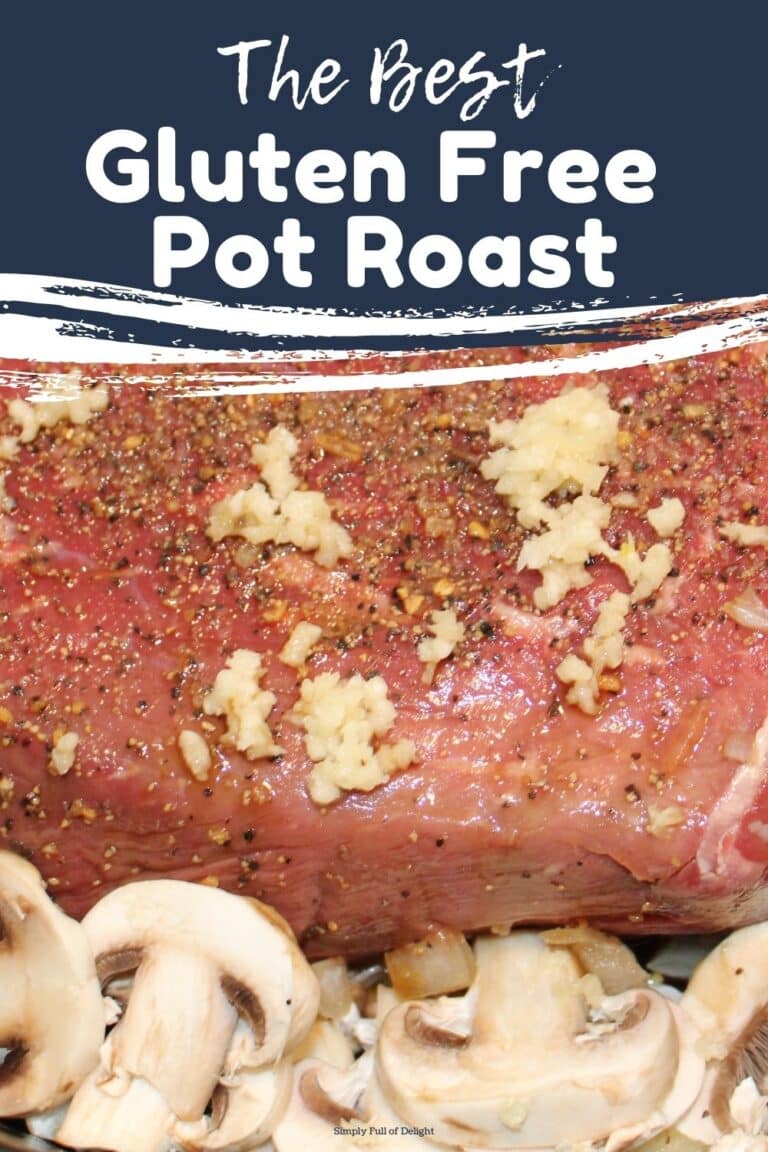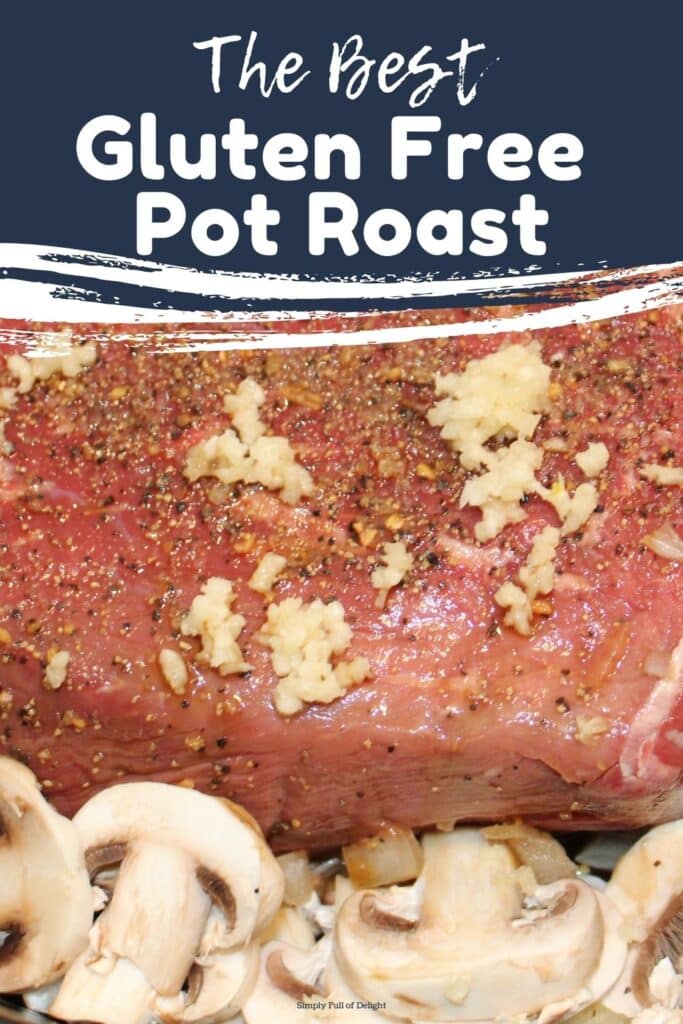 Do I need to Brown the Roast?
My favorite thing about this gluten-free pot roast is that it only requires simple ingredients and you don't need to brown the roast.
Many recipes call for this extra step, and honestly, I've never noticed a big difference in taste. It's a great deal of work for little reward, don't you think!?
I'm a big fan of doing things the easy way, so into the crockpot it goes, no browning required!
The best cut of meat for this great recipe is a beef chuck roast. This is the key ingredient as it has a wonderful flavor and tender texture.
You can use inexpensive cuts of meat, but the meat won't be as tender. Cheaper cuts of meat also can take longer to tenderize and require a longer cooking time. For the best pot roast, you'll want to use a chuck roast to guarantee a tender piece of meat.
Let's get started making this slow cooker Pot Roast!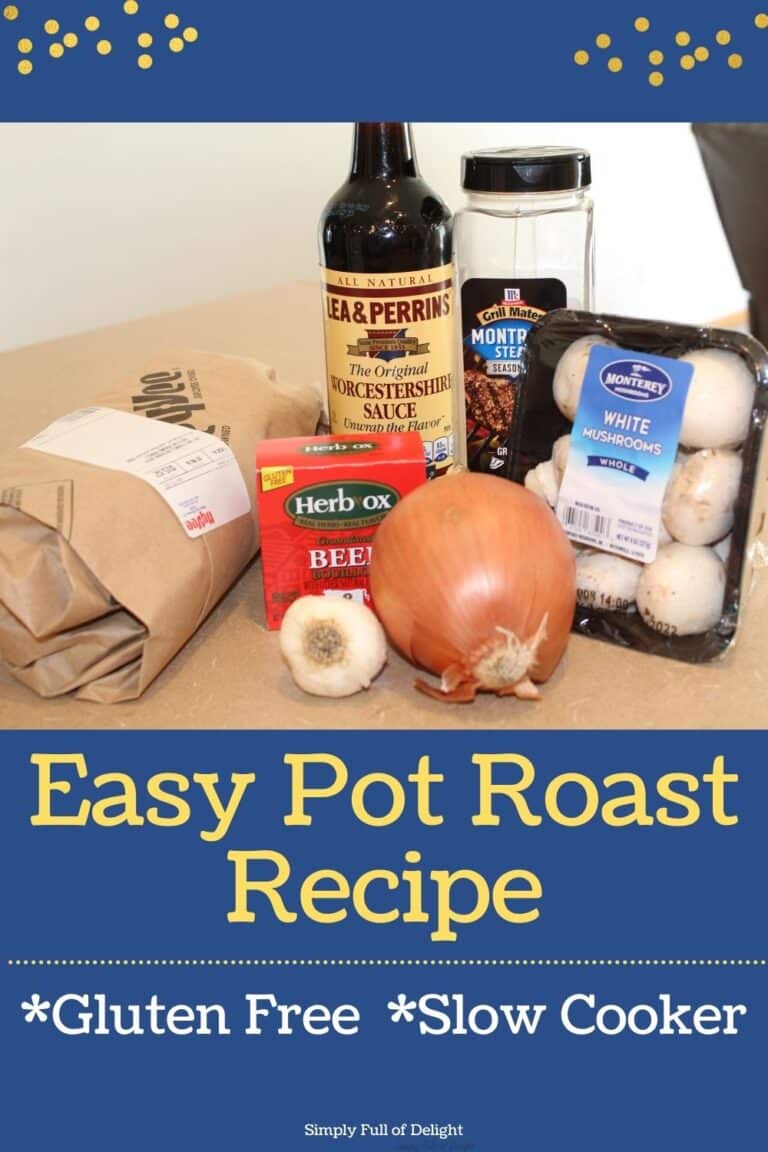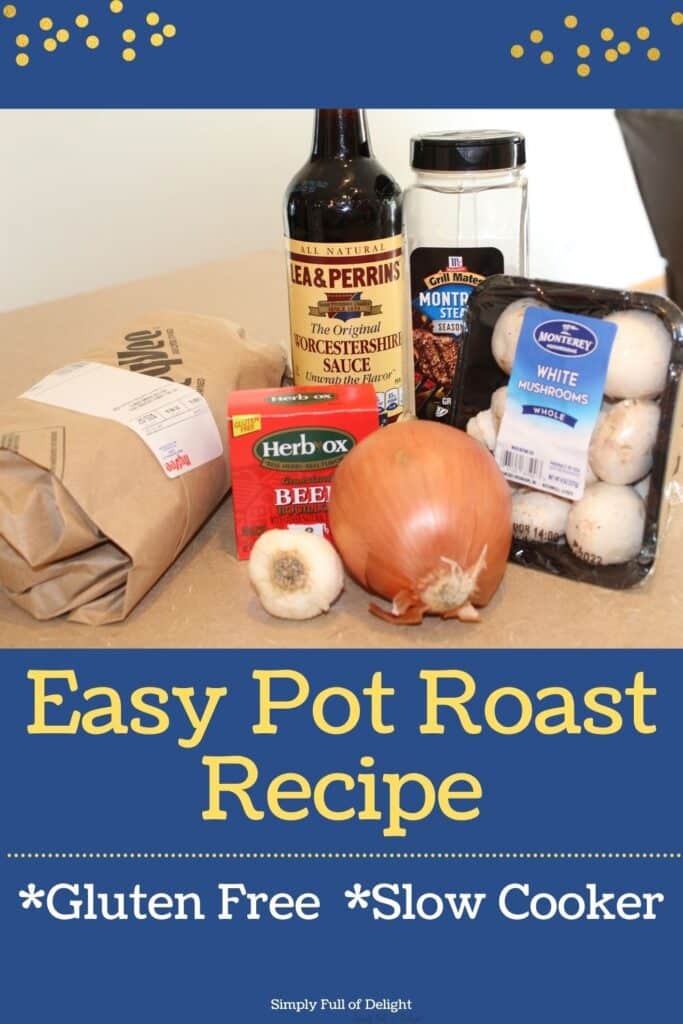 Disclosure: As an Amazon Associate I earn from qualifying purchases from readers clicking my affiliate links at no additional cost to you.
Ingredients for Gluten Free Pot Roast Recipe
– 3lb Boneless Beef Chuck Roast
– 3 beef bullion cubes in 1 cup of water (We like to use Gluten free Herb-Ox) but you could also use beef stock or broth
– 4 fresh mushrooms, sliced
– 1/2 cup onions, chopped
– 3 large garlic cloves, minced
– 1 tsp. Montreal Steak Seasoning
-1 Tbsp. Worcestershire sauce (Lea & Perrins is gluten free)
Optional: Cut Veggies like carrots and potatoes
How to make Gluten Free Pot Roast in Slow Cooker
First, place your roast in the slow cooker. (If you are adding carrots and potatoes, add them now).
Mix the beef bullion cubes with water and add to the crockpot.
Add the chopped mushrooms, onions, and garlic. Sprinkle the meat with the Worcestershire sauce and a teaspoon of Montreal Steak Seasoning.
Cover the crockpot and cook on low for 6 hours or until the meat is tender.
***If you have a different cut of meat (such as a bottom round roast), you will need a longer cooking time than if you have a chuck roast.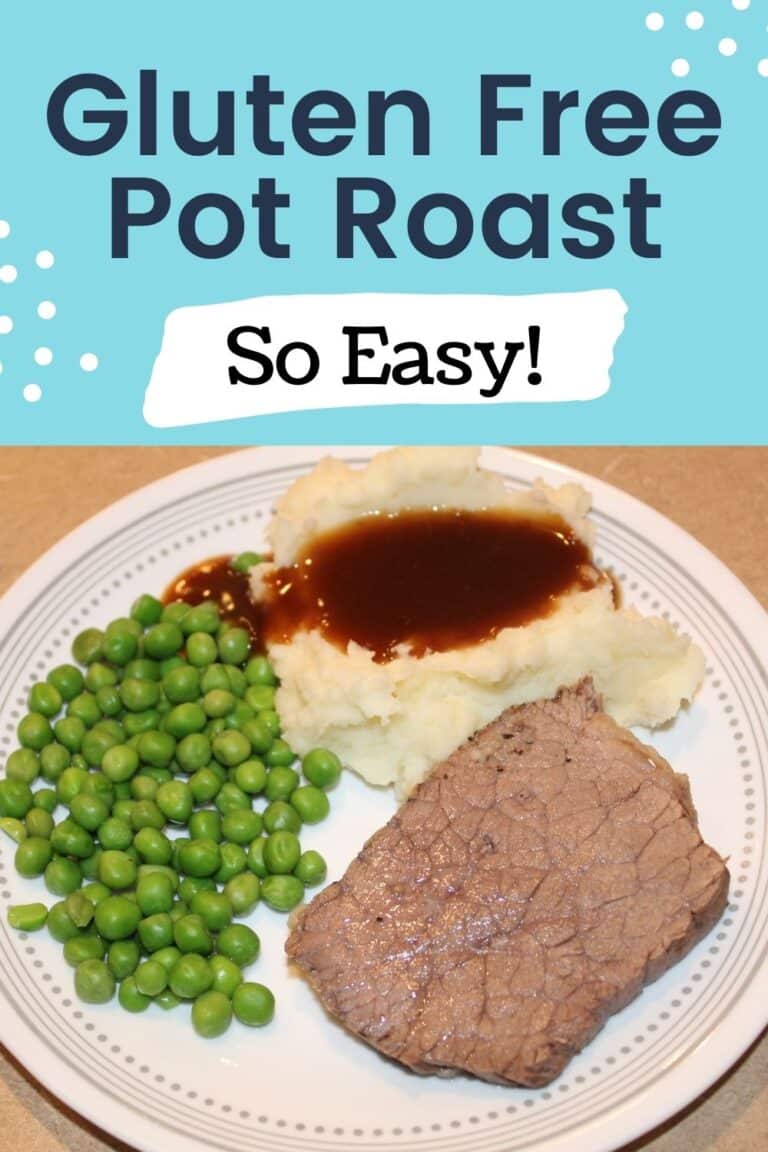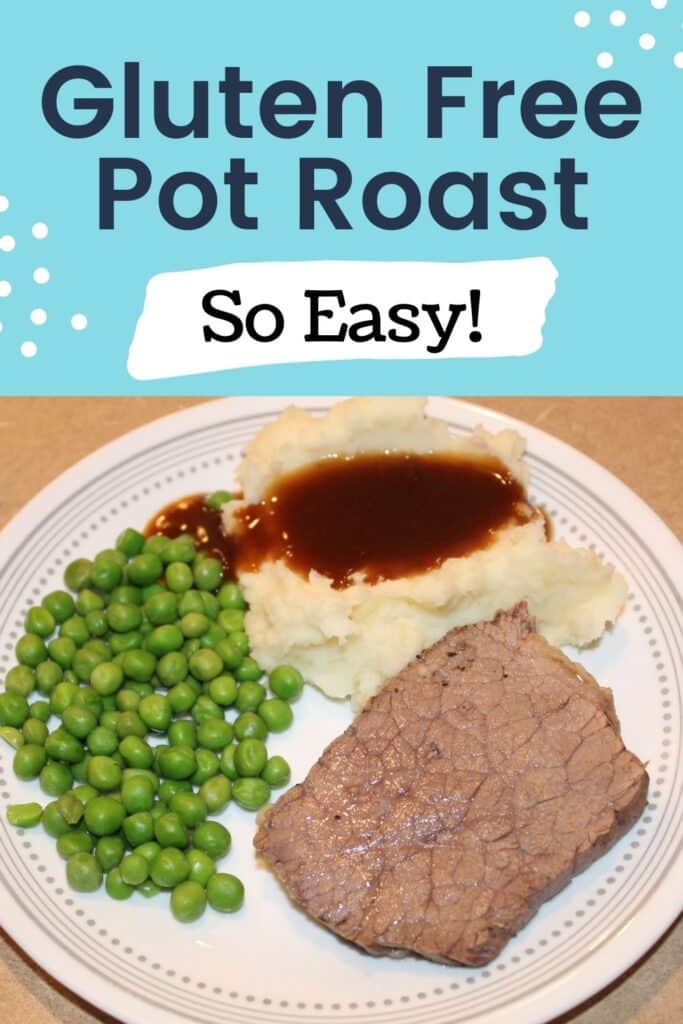 What to Serve with Slow Cooker Pot Roast
If you decide to add veggies to your crockpot, that is a natural side dish and makes this a one pot meal!
We like to serve our gluten free pot roast with mashed potatoes and gravy. (We love the McCormick Gluten-free Gravy that we find on Amazon!) I usually make an easy vegetable side dish such as peas or salad as well to add some additional nutrition and color to the plate!
The cooking juices from this roast are especially delicious, so sometimes I will serve a small bowl of au jus (cooking juices) alongside the roast, for dipping!
I hope you enjoy this gluten free pot roast recipe! It's a favorite meal in my home. I love gluten free recipes that are "normal" and can be enjoyed by the whole family. And it's a bonus that it's a slow cooker meal!
Want to print this gluten free slow cooker pot roast recipe? Click the black download button below!
If you enjoyed this slow-cooker pot roast, be sure to check out some of my other favorite gluten free delicious recipes including this Twice Baked Potato recipe. If you'd like another crock pot recipe check out this Slow Cooker Gluten Free White Chicken Chili.
And of course, be sure to pin the image below to save this slow cooker gluten free pot roast recipe for later!