Looking for an amazing Gluten Free Pork Chop Recipe?
This Easy Gluten Free Pork Chop Recipe is perfect for a quick dinner! These sweet Pork Chops are oven baked and pair wonderfully with rice or potatoes.
Our family enjoys this recipe on a regular basis throughout the winter months when we don't want to go outside to grill. Oven baked pork chops are a great comfort food that packs a ton of flavor. These pork chops are a great option when you need a hearty meal quick!
These delicious oven-baked pork chops are gluten free, dairy free, and super easy!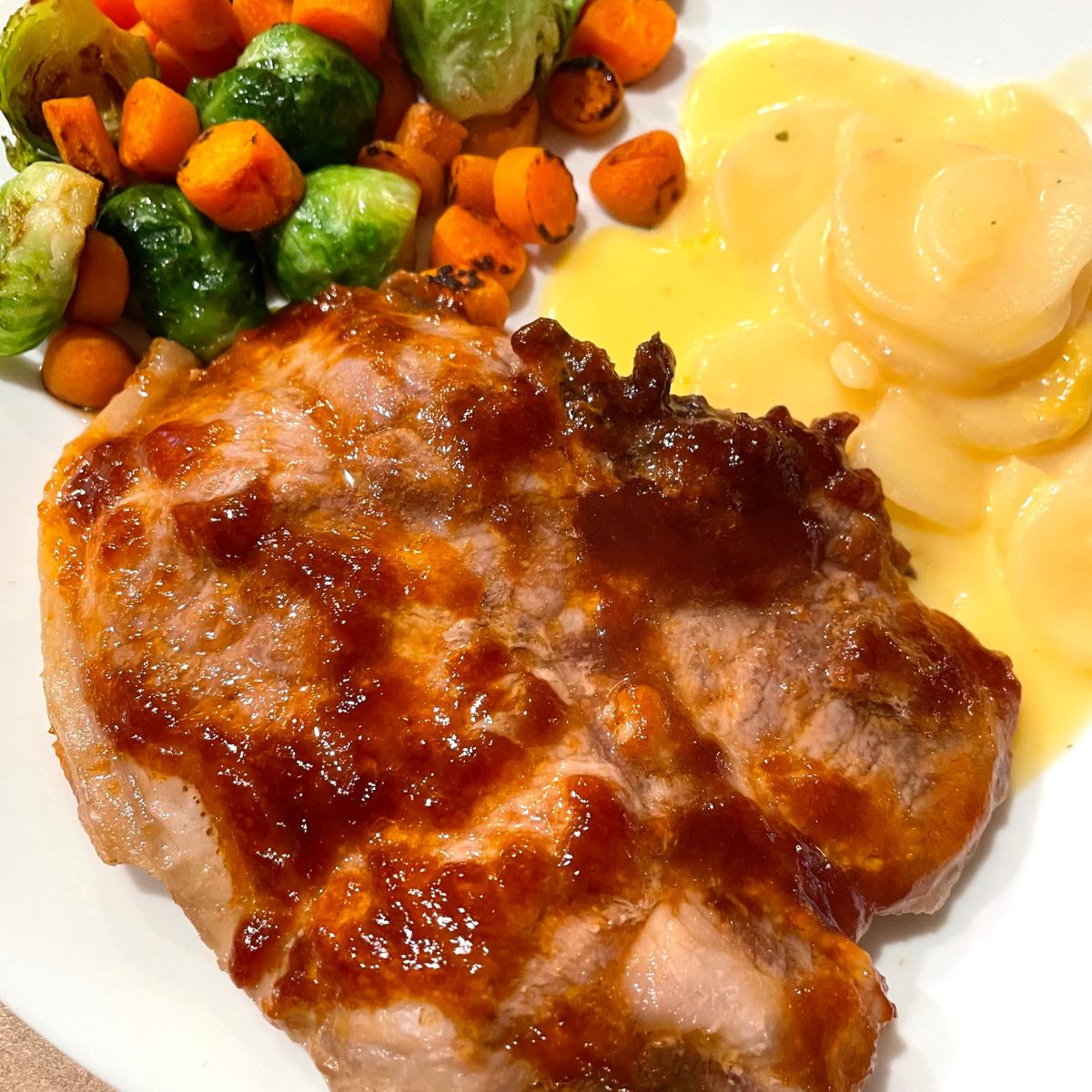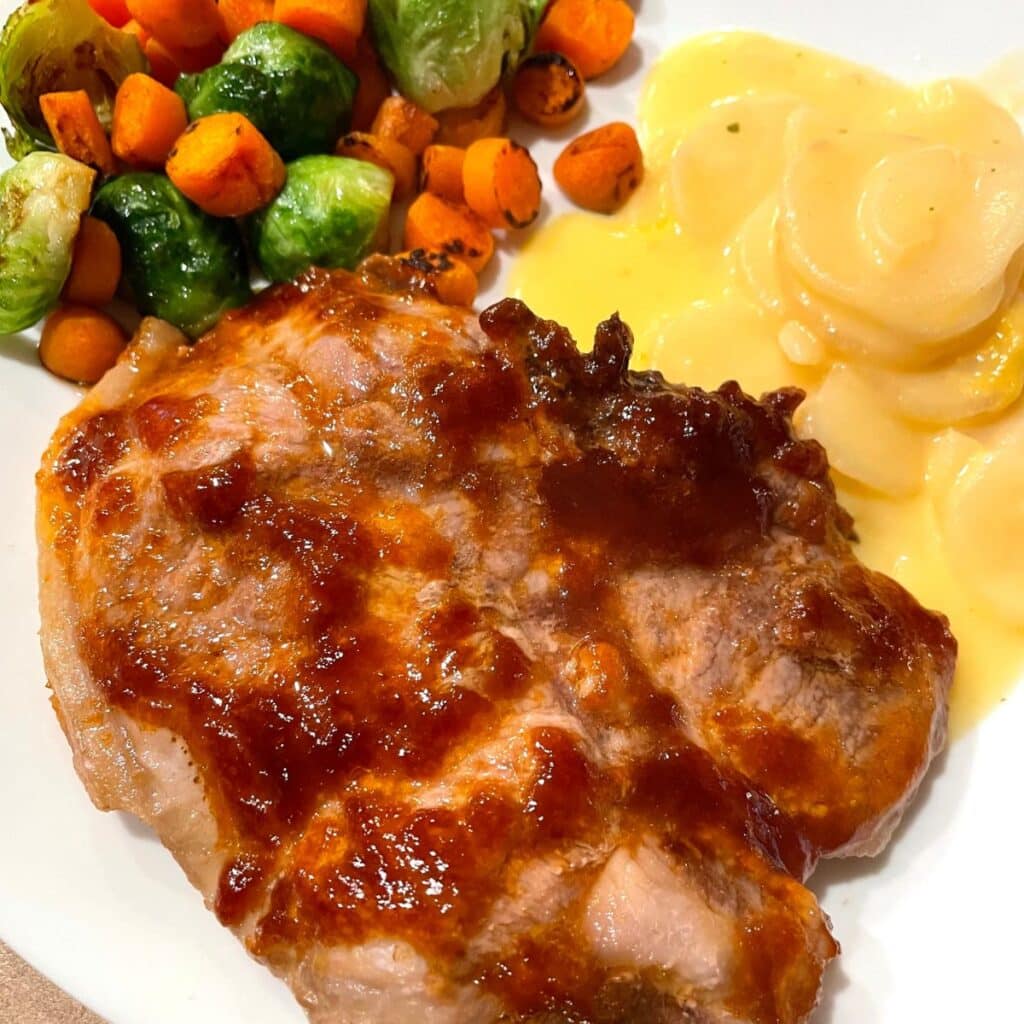 Our family has been creating gluten free meals for over 7 years now. My husband and I both have Celiac disease. It's nice to have quick recipes that use "normal" ingredients that our whole family can enjoy!
Let's start cooking!
** Disclaimer: As an Etsy associate and as an Amazon.com Associate, I may earn from qualifying purchases made by readers clicking my affiliate links at no extra cost to you.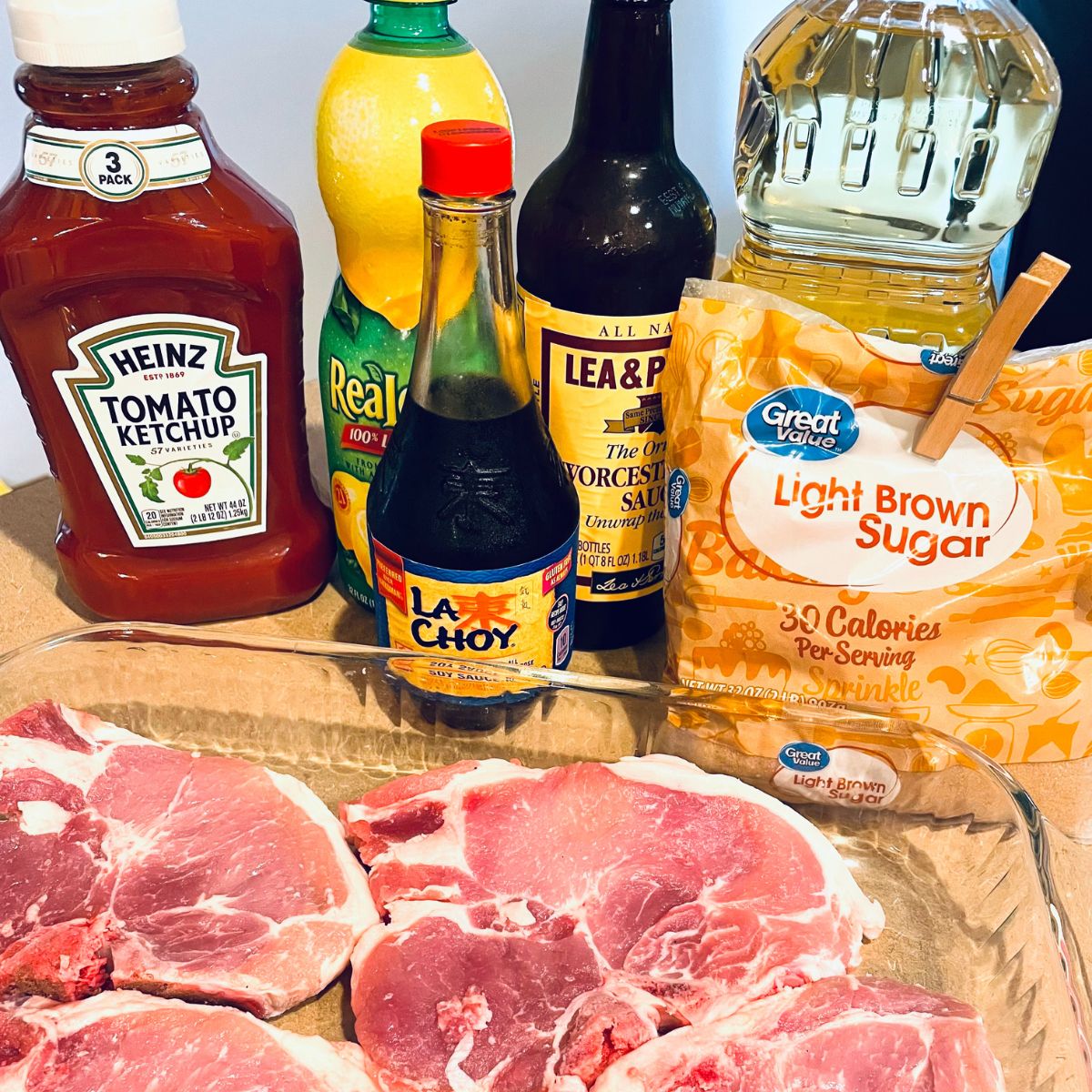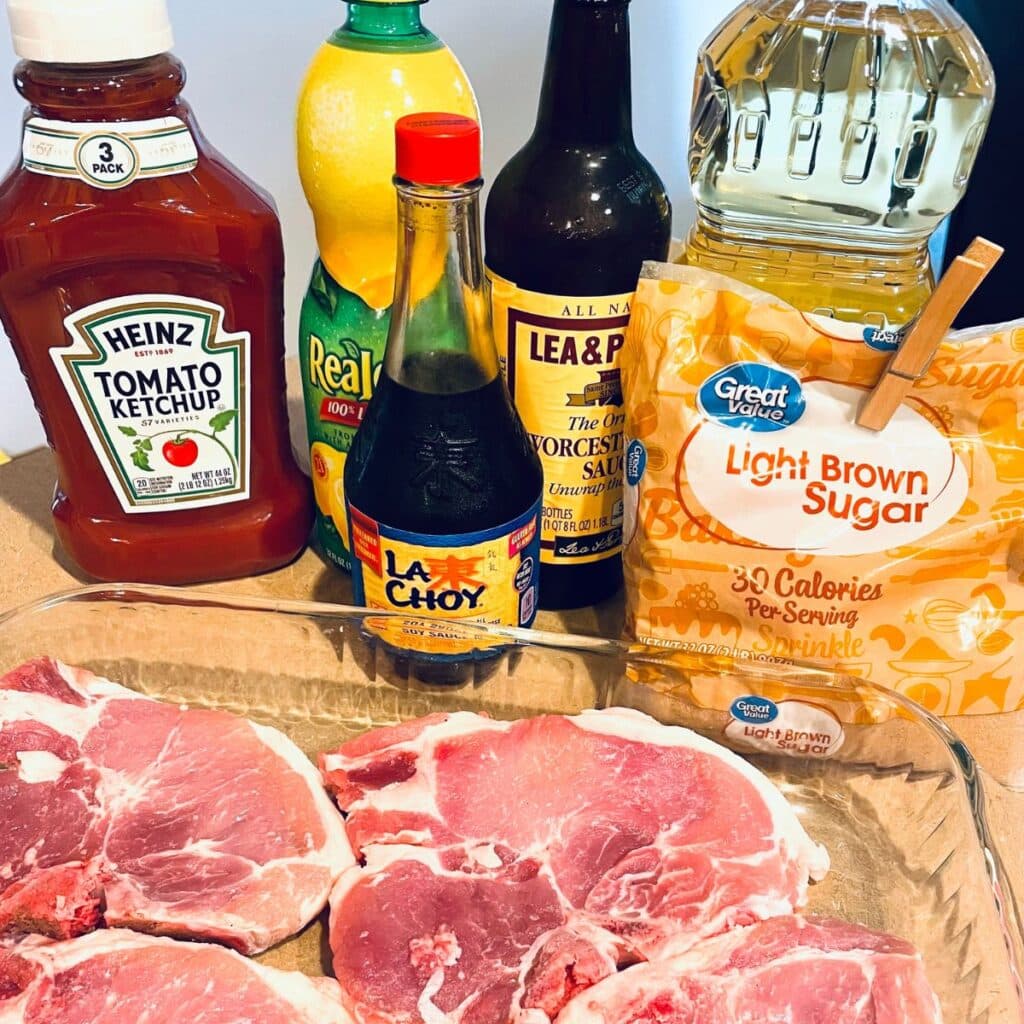 Ingredients for Gluten Free Pork Chops
For this gluten free pork recipe you will need:
4 Pork Chops – We used 4 large bone-in pork chops.
2 Tbsp. Canola Oil
1 Tbsp. Worcestershire Sauce
1 Tbsp. Soy Sauce – make sure your brand is gluten free
2 Tbsp. Lemon Juice
1 Tbsp. Brown Sugar
3 Tbsp. Ketchup
Make sure you read food labels to ensure that you are using gluten free products.
How to Make Easy Gluten Free Pork Chops
Alright! Let's make this easy gluten free pork chop recipe.
First, you'll need to preheat your oven to 350 degrees.
Next, lay your pork chops in a 9 x 13 glass baking dish.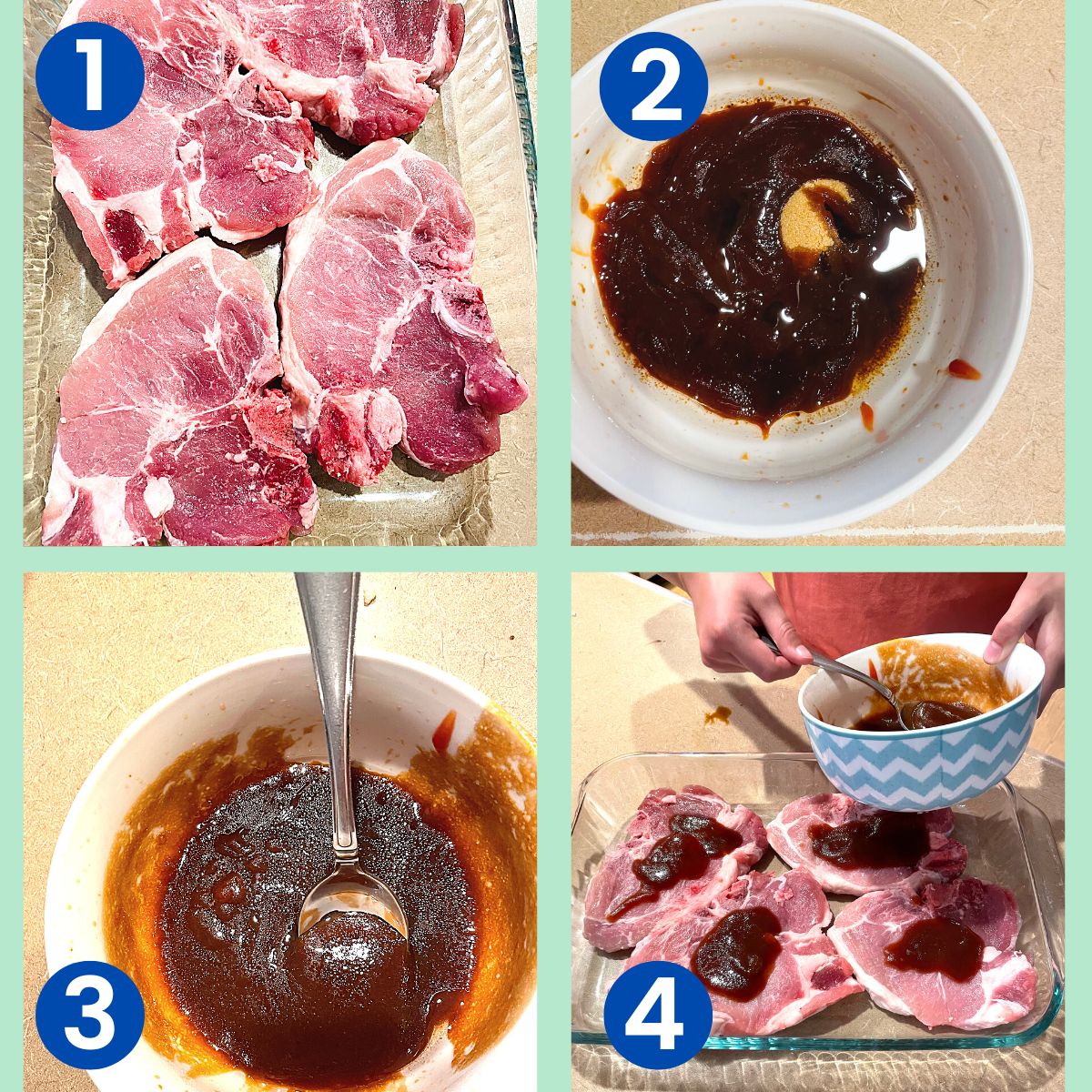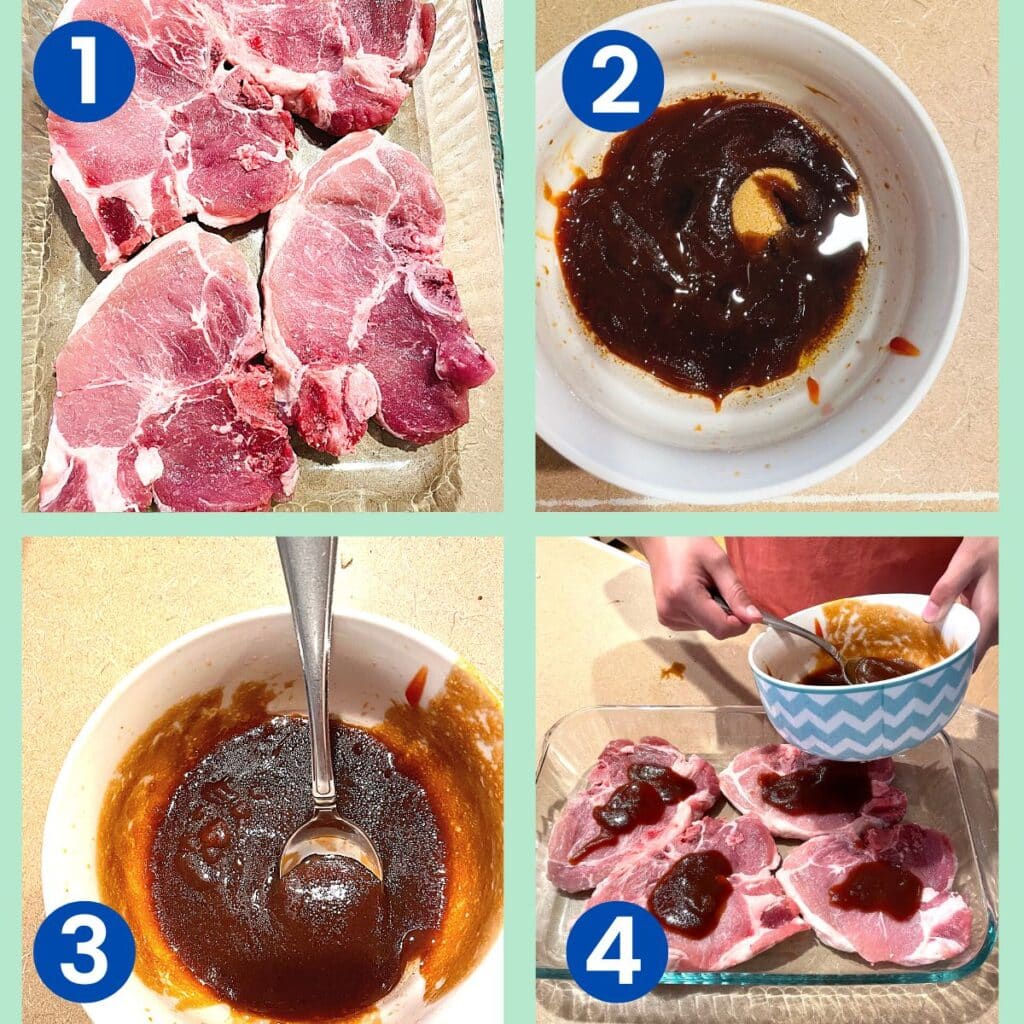 In a small mixing bowl, add the oil, Worcestershire sauce, soy sauce, lemon juice, brown sugar and ketchup. Mix with a spoon by hand until blended.
Drizzle the pork chops with the sauce mixture.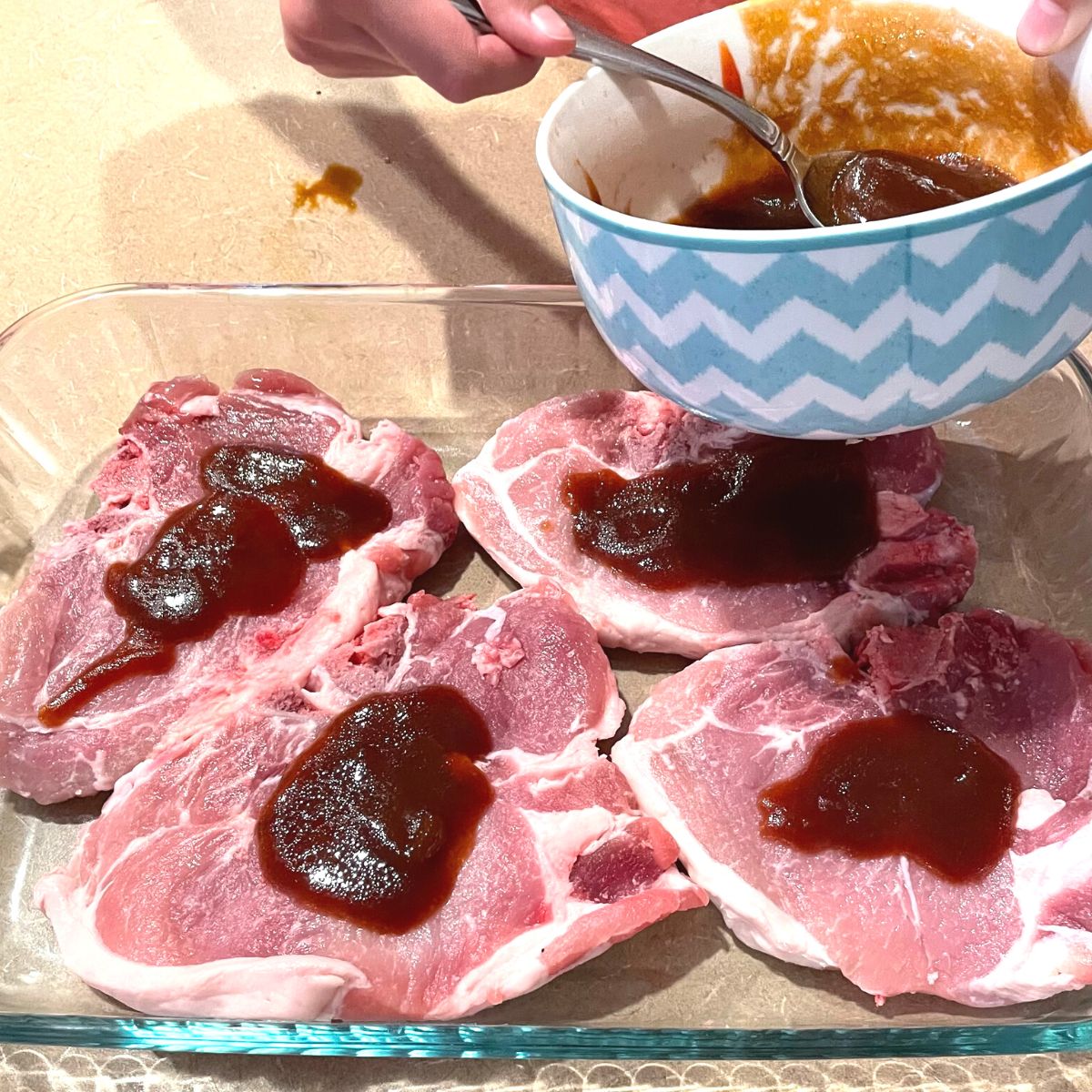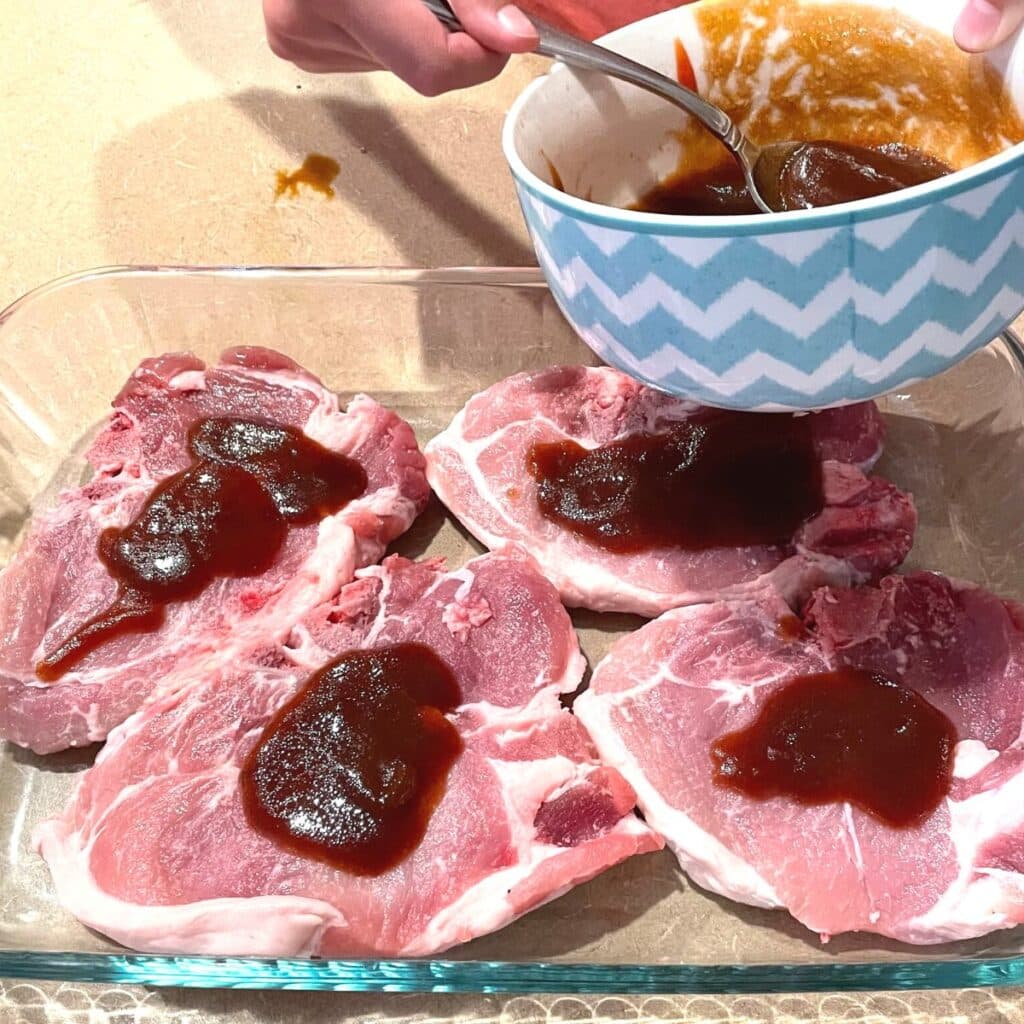 Bake the pork chops at 350 decrees for about 30-35 minutes or until the internal temperature reaches 145 degrees.
Your pork chop cook time may vary due to size and your oven. To get the best results and tender pork chops every time, be sure to use a meat thermometer. It's the easiest way to know when your pork is done!
I like to check the internal temperature near the end of cooking time just in case it gets done early. We LOVE this easy digital meat thermometer. You'll never overcook meat again!
Once your oven baked pork chops have reached the internal temperature of 145 degrees, they are finished.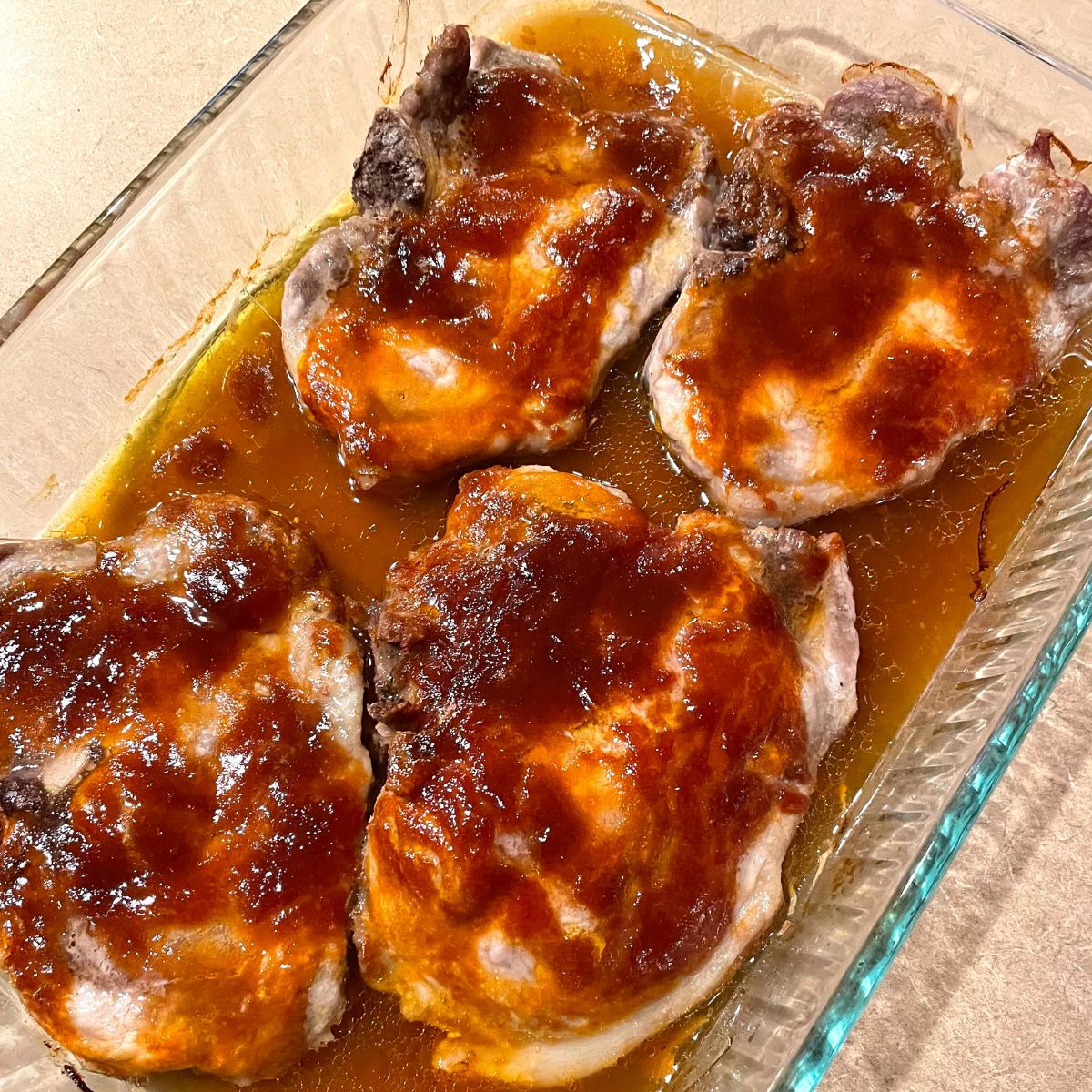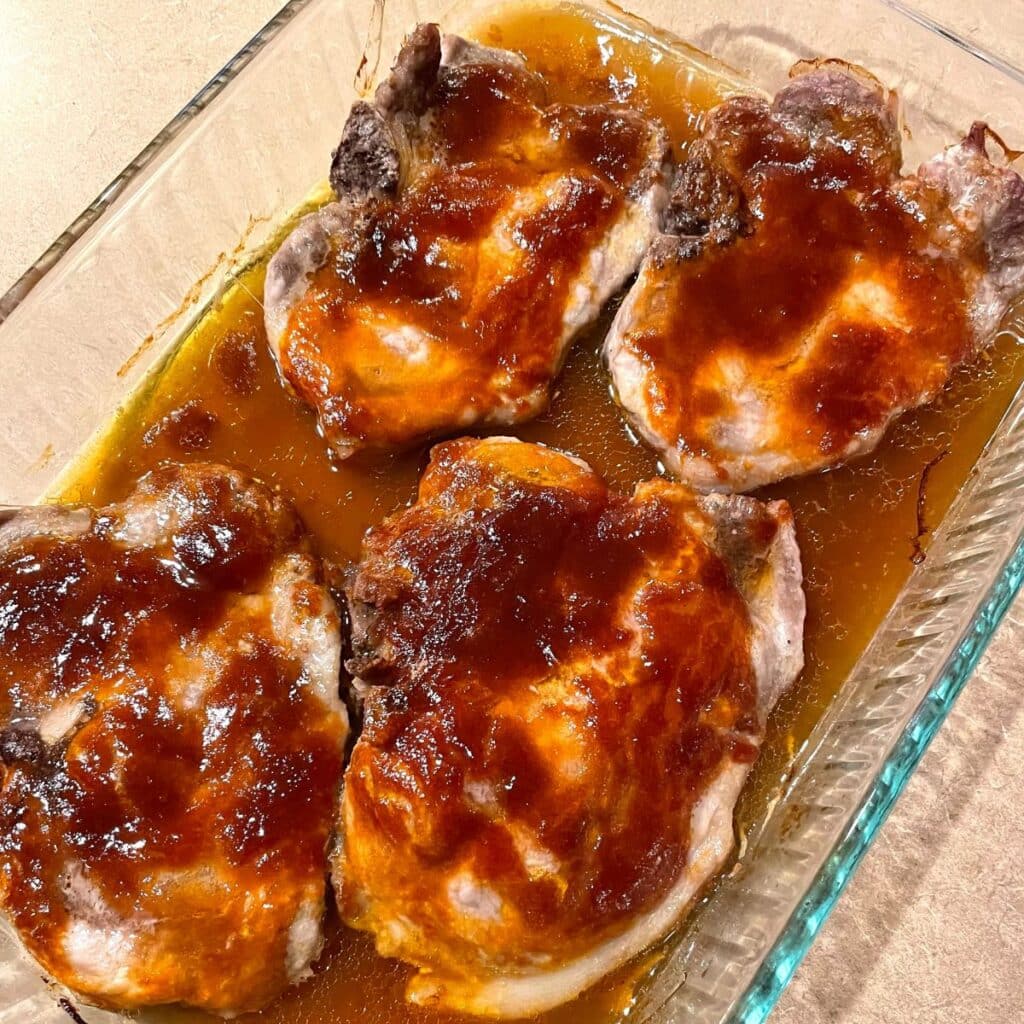 Your cook time will vary based on whether you use bone-in pork chops or boneless pork chops. Boneless tend to take a little longer to cook. Also, if you have extra thick pork chops they will take longer as well.
Side Dishes for Pork Chops
If you are on a gluten free diet, side dishes can feel tricky at times. However, once you get the hang of it, find good choices, and learn great recipes – those become your go-to side dishes!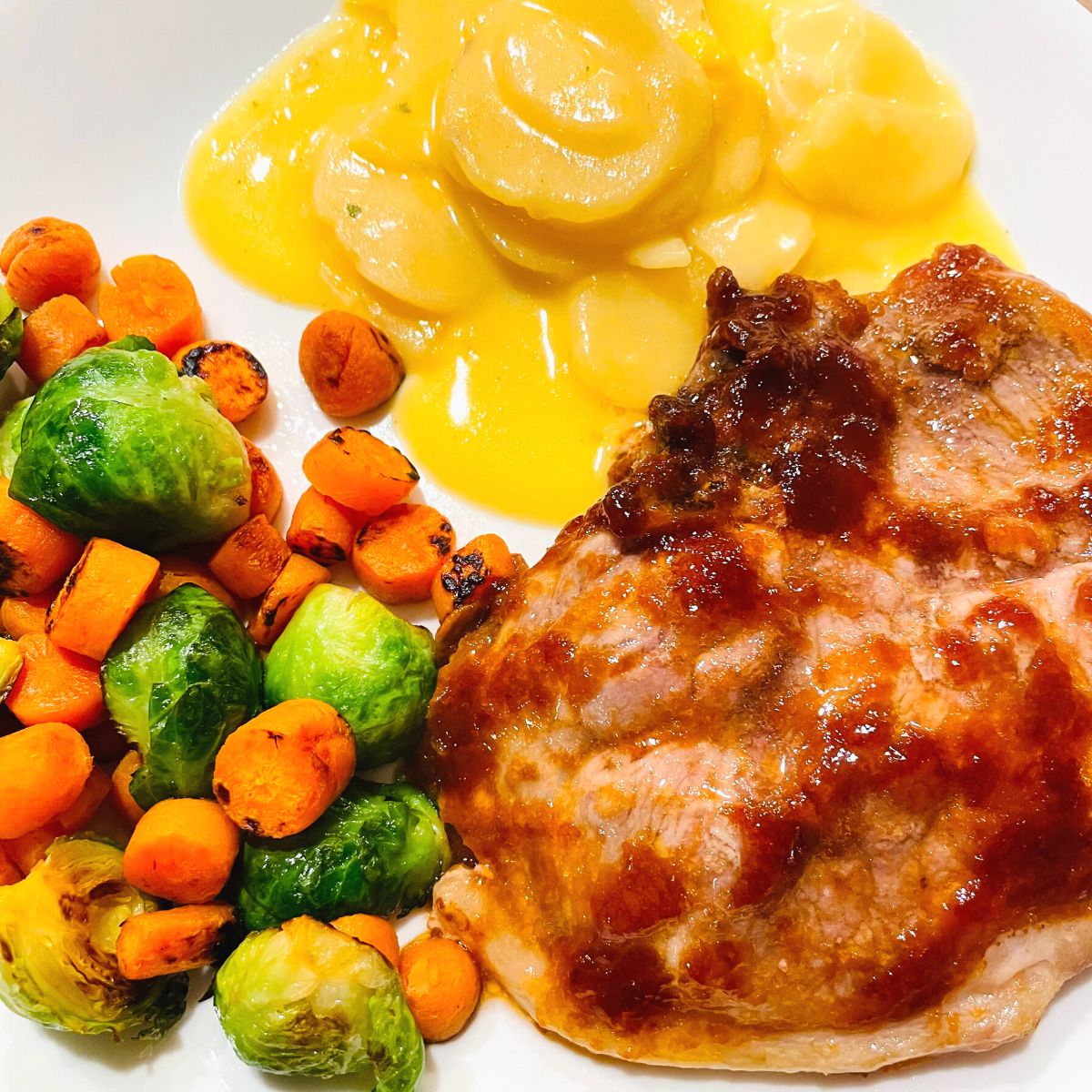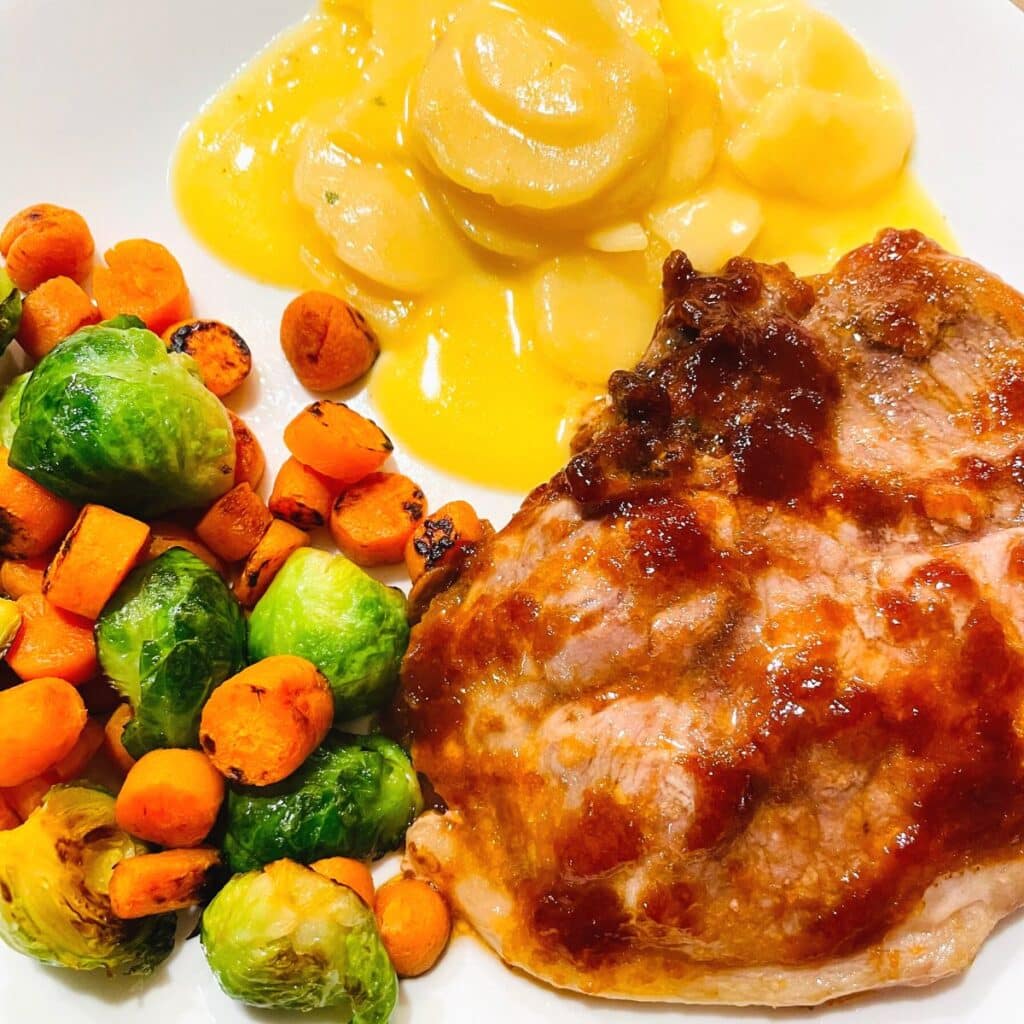 We often pair these delicious pork chops with Idahoan Au Gratin Potatoes and peas.
Another great side dish for a busy weeknight is rice. Plain white rice is delicious with the sauce of these pork chops, but we also enjoy Zatarain's Yellow Rice as well.
We also enjoy mashed potatoes, baked potatoes, or a Gluten Free Cheddar Bay Biscuit.
Pork chops tend to go well with most vegetables. We often opt for something easy like broccoli, peas, green beans, or a side salad. You might like to try a Brussel Sprouts and Carrot sauté as a healthy side dish.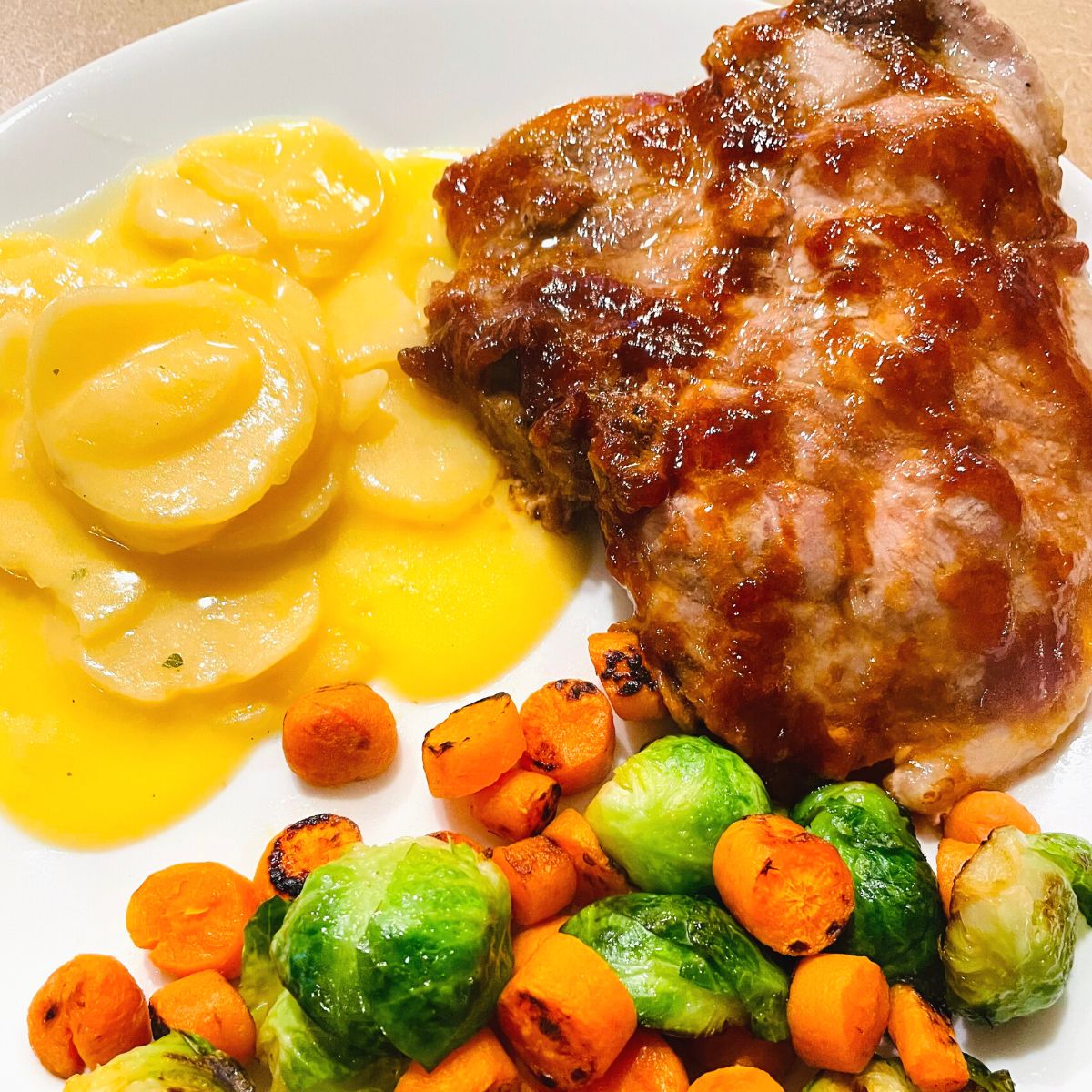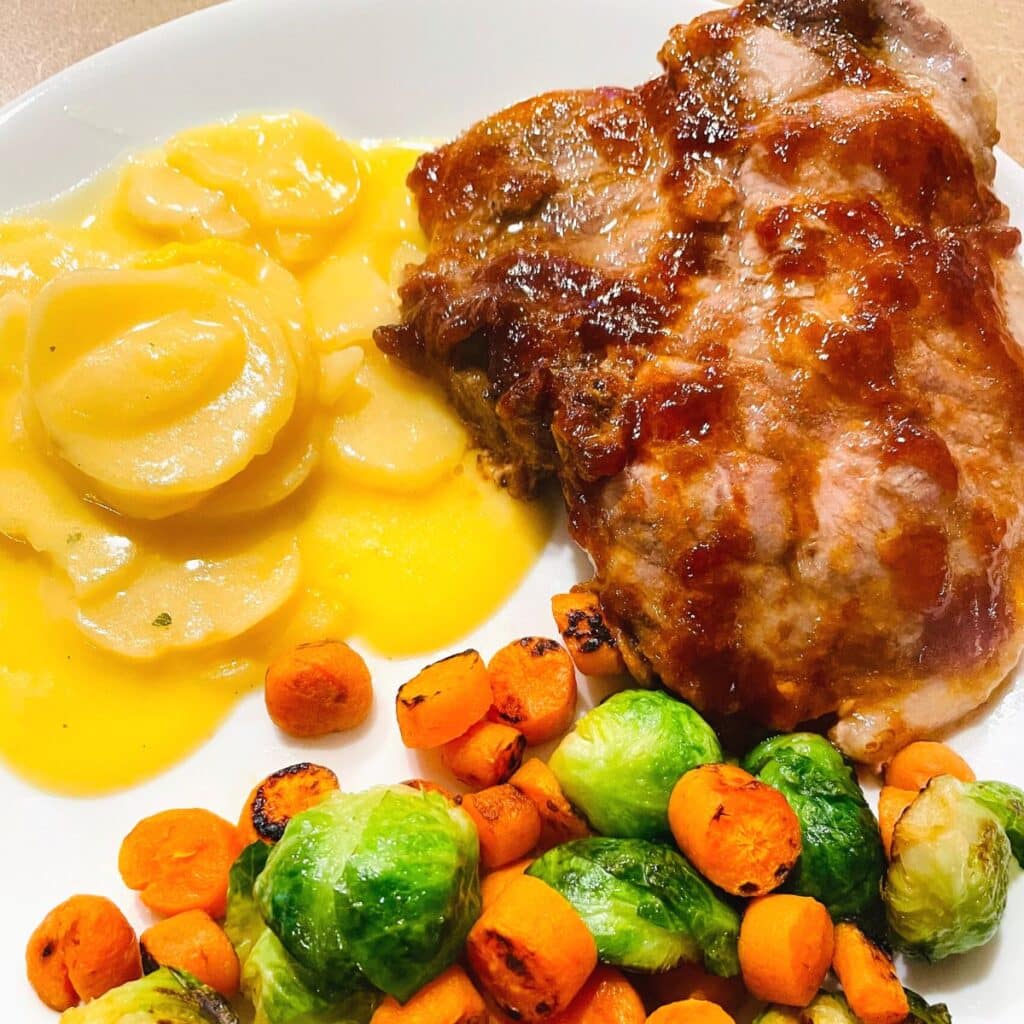 Substitutions
Don't have pork chops? You can also make this recipe with sliced pork loin. The cook time might vary due to the thickness of the meat, so keep your meat thermometer handy.
In general this recipe works for most cuts of pork. Just use the cut of pork you have on hand. This sauce works well for a boneless pork chop recipe as well as thin cut pork chops. Just keep an eye on that cook time!
The Canola Oil can also be replaced with vegetable oil. We've made it both ways and it turns out delicious every time!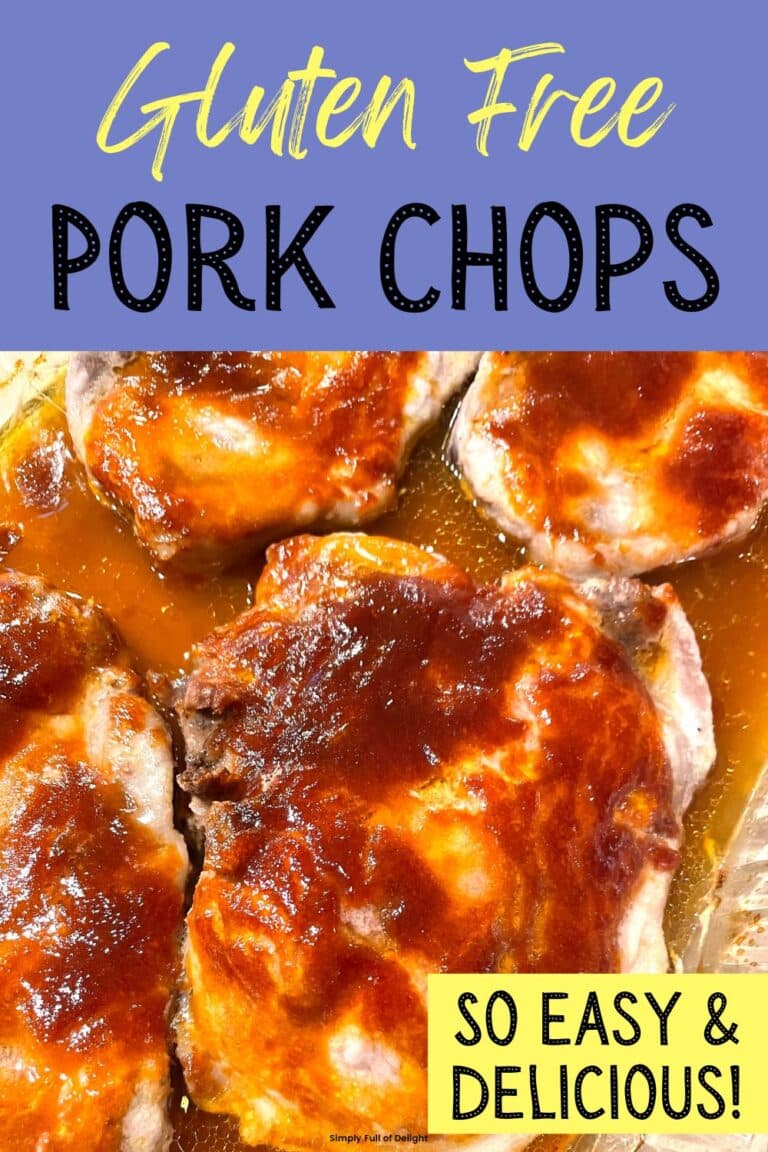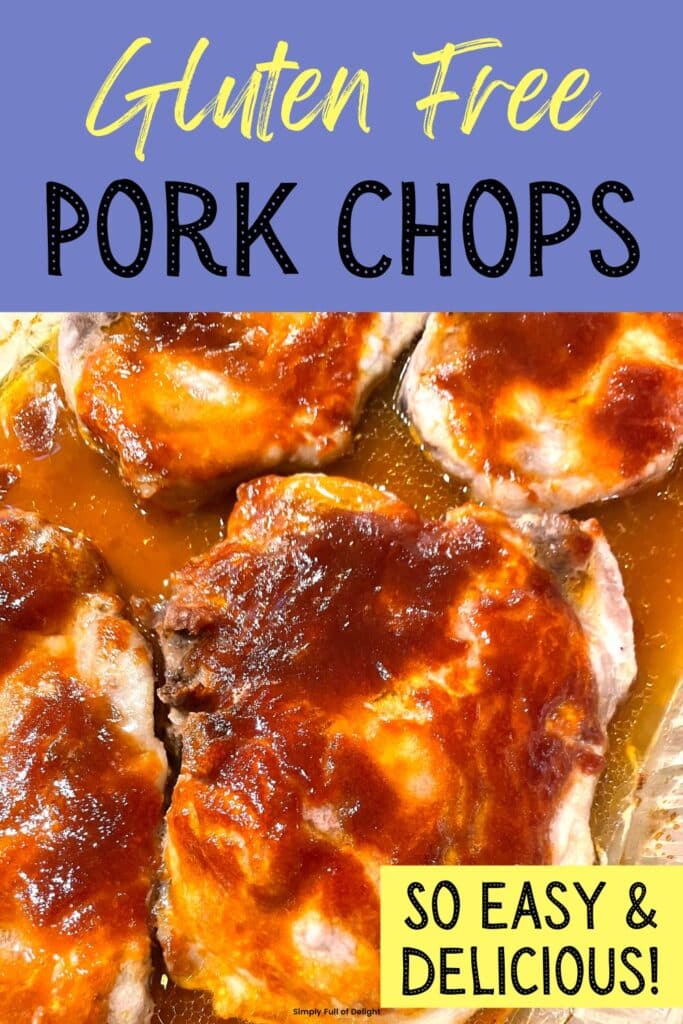 More Gluten Free Recipes
I hope your family enjoys this gluten free pork chops recipe as much as mine does! It's been the perfect addition to winter comfort foods.
If you're looking for more family friendly gluten free dinner recipes, check out our Kid-Friendly Chili Recipe. It's gluten free, easy, and super delicious. We make it every week in the winter!
Also, this Gluten Free Red Beans and Rice is another family favorite! My kids request this dish all the time. It's a great way to introduce Cajun flavors to kids.
If you want a great slow-cooker recipe, be sure to check out this Gluten Free Recipe for Pot Roast. It's easily adjustable to meet your family's tastes.
Plus, if you want an easy but delicious dinner, don't miss this Gluten Free Garlic Bread. Topped with cheese and served with marinara sauce, this is a simple dinner that kids will rave about every single time.
Want to save this juicy pork chops recipe for later? Pin the image below to your Gluten Free Dinner Ideas board on Pinterest.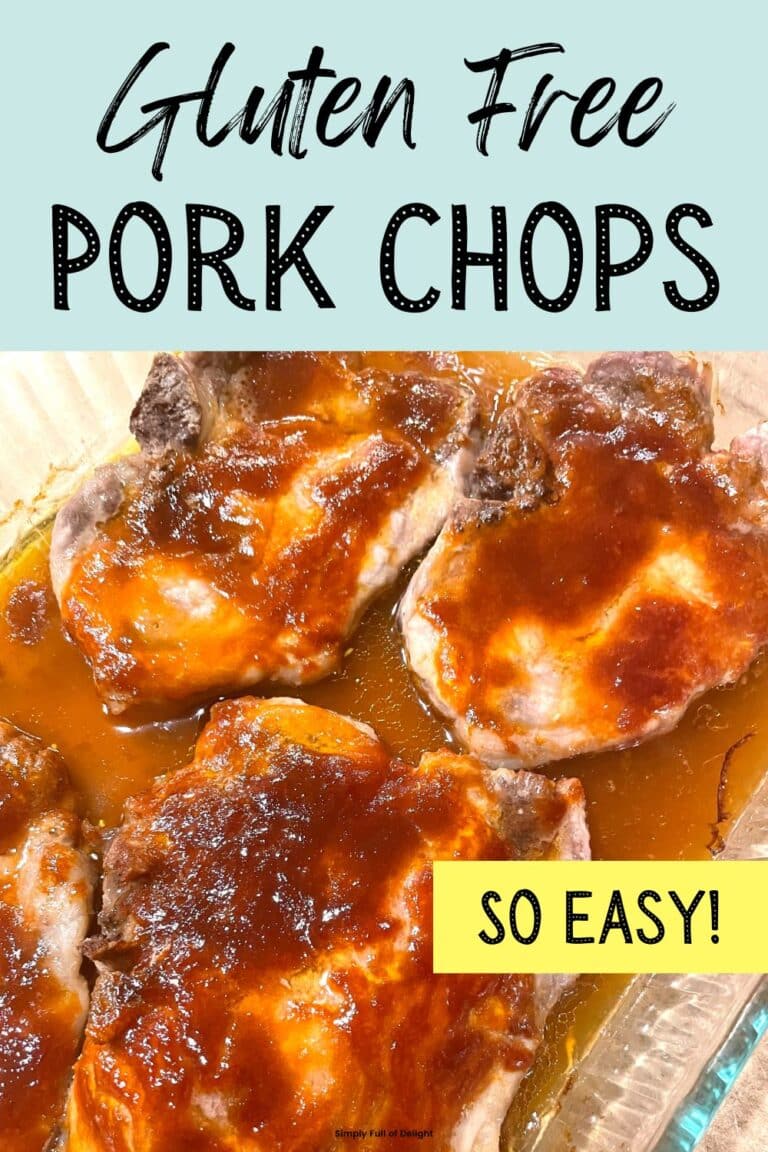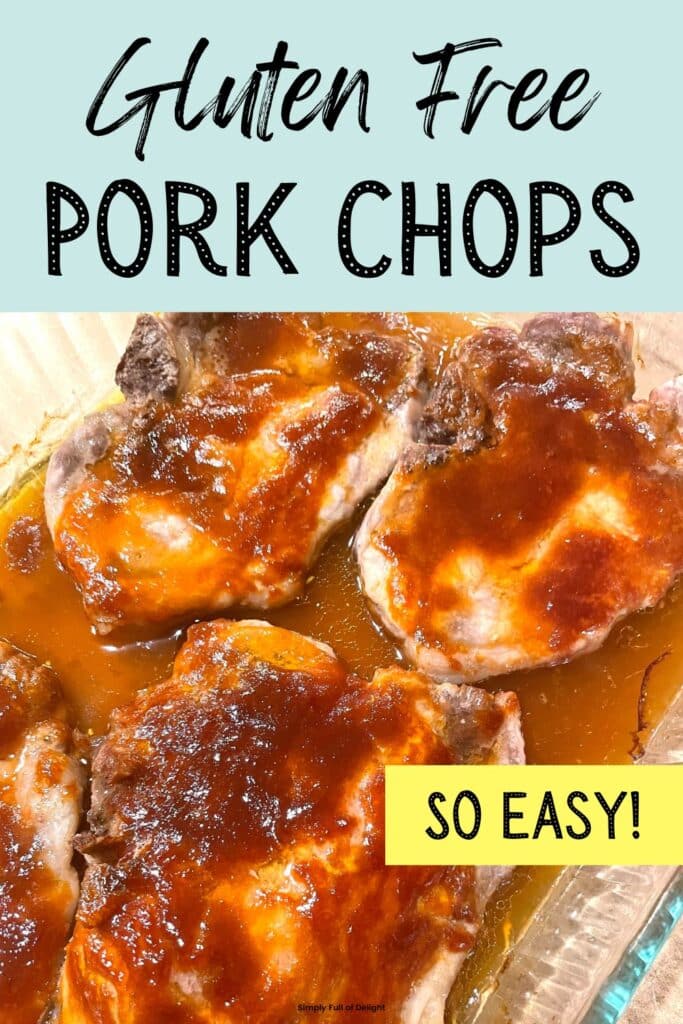 Print the Recipe:
You can find the full recipe on a printable recipe card below for these Perfect Pork Chops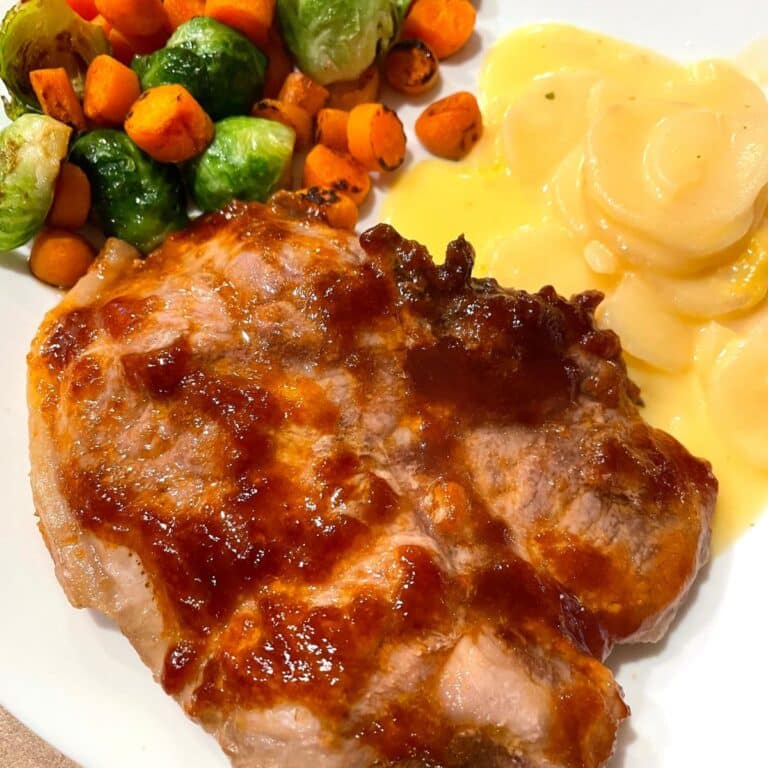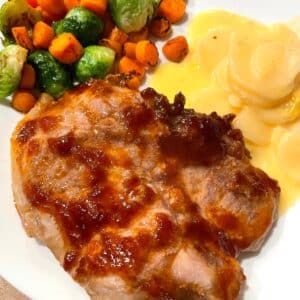 Gluten Free Pork Chop Recipe
Gluten Free Pork Chops are Oven Baked in a sweet sauce
Ingredients
4

Pork Chops – bone in

2

tbsp

Canola Oil

1

tbsp

Soy Sauce

1

tbsp

Worcestershire Sauce

2

tbsp

Lemon Juice

1

tbsp

brown sugar

3

tbsp

ketchup
Instructions
Preheat oven to 350 degrees.

Place the pork chops in a 9×13 baking dish.

Mix the oil, soy sauce, Worcestershire sauce, lemon juice, brown sugar, and ketchup together in a small mixing bowl.

Drizzle the meat with the sauce.

Bake for 30-35 minutes at 350 degrees. Check meat with a meat thermometer for an internal temperature of 145 degrees.
Notes
Other cuts of pork may be substituted.  Adjust baking time accordingly.
Related Posts