If you're looking for the perfect gluten free white chicken chili recipe…Congratulations! You've found it!
I got this white chicken chili recipe from my aunt (who is an AMAZING cook). She brought a crockpot of this soup to a family gathering and it was so good, I HAD to have the recipe.
Turns out, I'm not the only one….every single time I bring this soup to a gathering, I am asked for the recipe. It's SO good!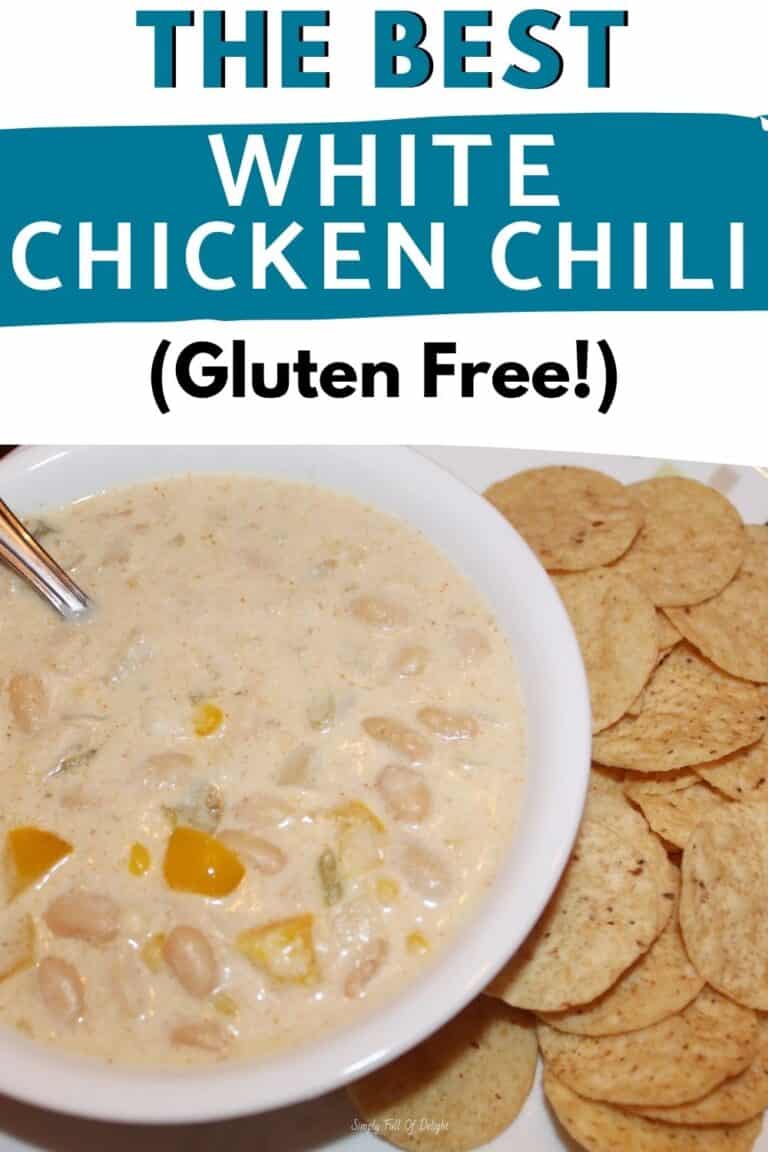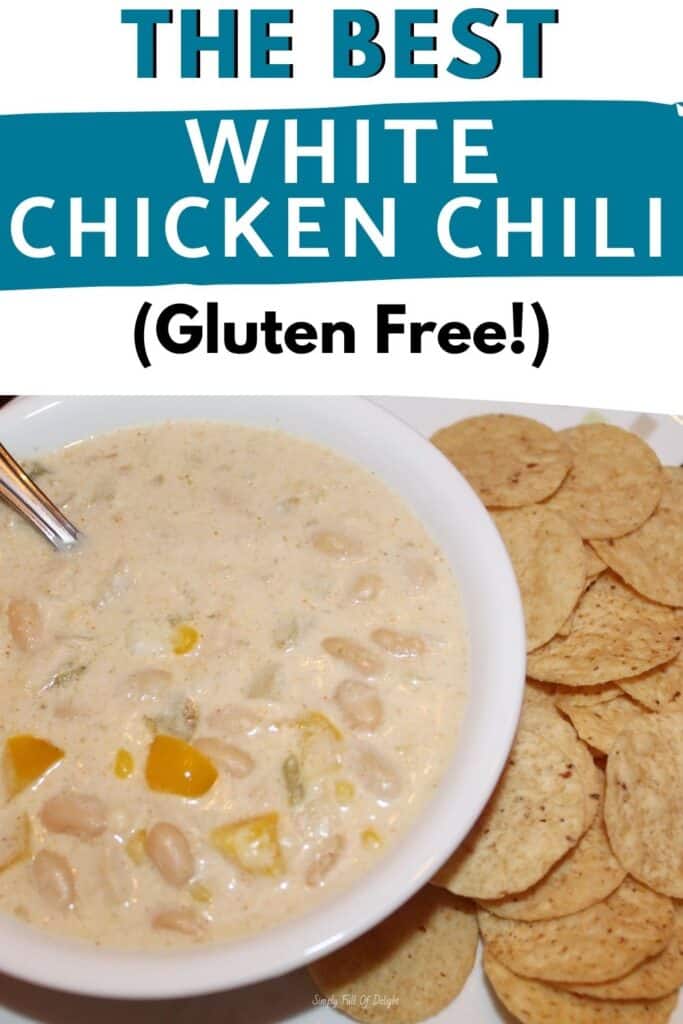 What is white chili made of?
This white chili is made from alfredo sauce, sour cream, chicken, white beans, veggies and spices. There's cumin, cayenne pepper, white pepper, and green chiles in this gluten free white chicken chili….so you can imagine… it's a spicy soup!
I personally turn down the heat a bit (I like to taste my food! LOL) but if you love heat, feel free to take it up a notch!
Is white chicken chili kid friendly?
On that note, this isn't super kid friendly due to the spice level. If you are looking for more traditional chili, be sure to check out my Kid-Friendly Chili Recipe (yes, chili that kids will actually eat!)
I like to serve this white chicken chili soup with sides that ARE super kid friendly, so I can enjoy my soup while the kids enjoy sides like these amazing Red Lobster Cheddar Bay Biscuits, tortilla chips, veggie sticks, and fruit.
I still pour a tiny bowl of white chicken chili for each of my kids because I believe kids should be served to lots of different foods, even if they don't partake. It took several years before 3 of my 4 kids dove into hot wings….so I anticipate they will eventually love this too!
The Mayo Clinic says that repeated exposure to new foods alongside familiar dishes leads to kids being more adventurous. (High five, Mayo! I totally agree!)
Is white chicken chili easy to make?
This is my all-time favorite recipe to bring to a gathering because it is so delicious and super easy to put together. Yes, it takes time chop those veggies and open all those cans…..but once it's in the slow cooker you're all set….just a few hours later…it's time to eat!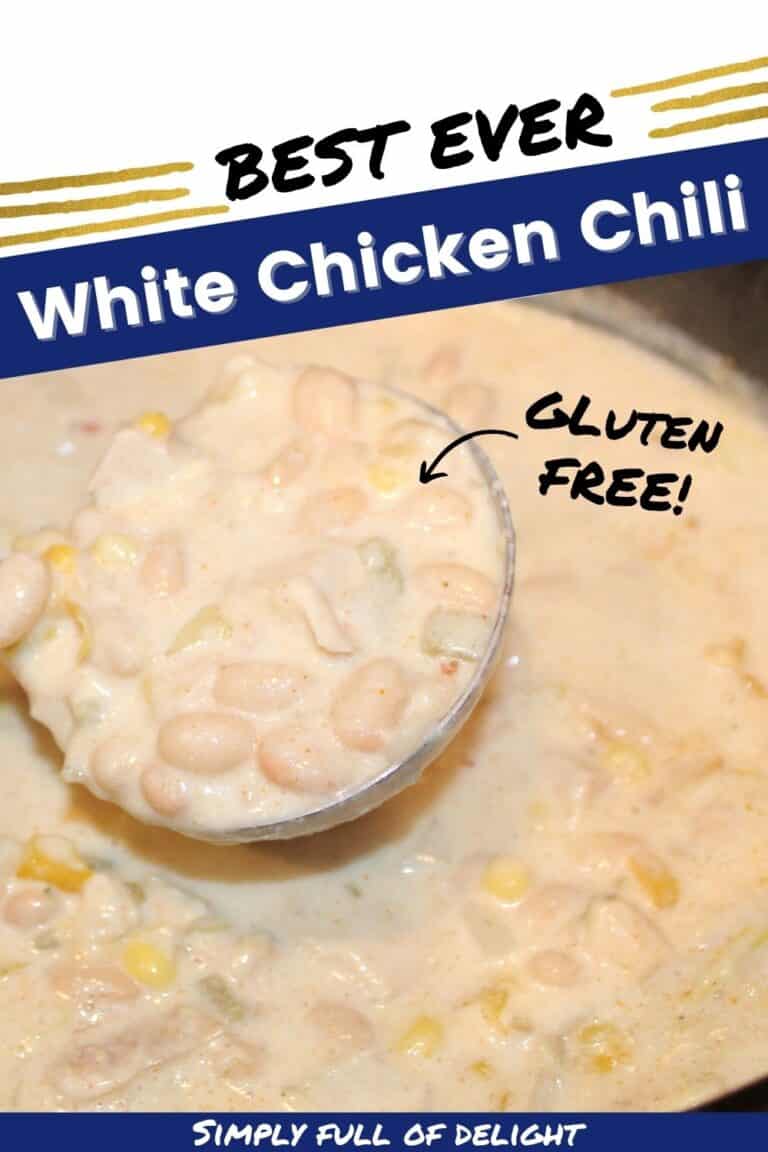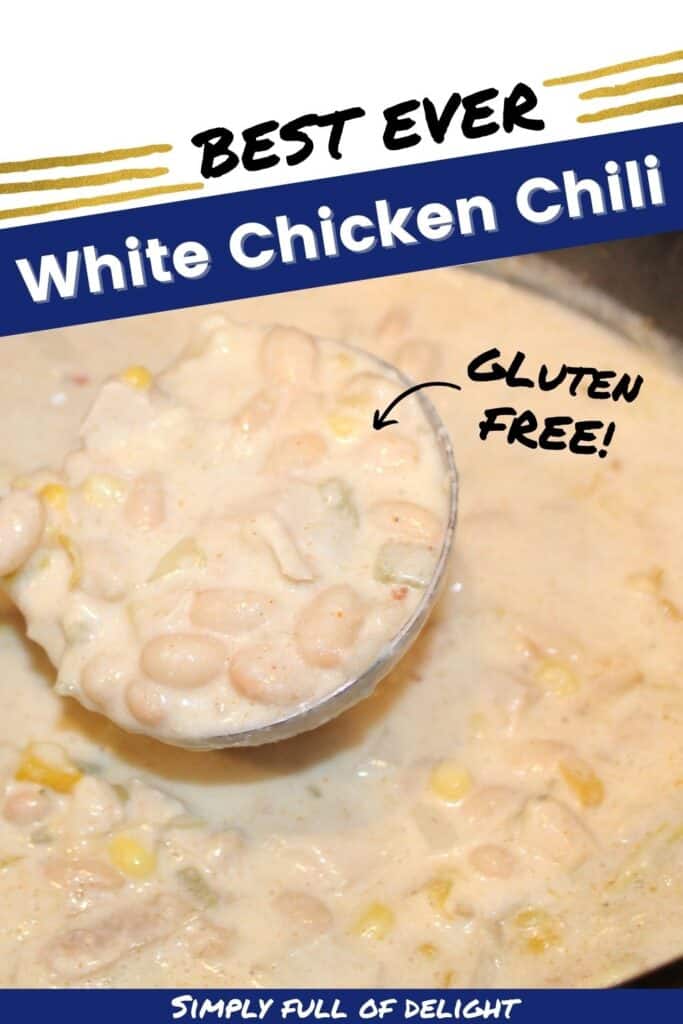 What makes this white chicken chili gluten free?
All of the brands I use are gluten free, making this soup a gluten free slow cooker recipe that is great for potlucks because it doesn't "taste gluten free!" LOL
How do I make white chicken chili less spicy?
If you are preparing this for kids or for someone who wants less spice, you can skip the cayenne, and use just half as much of the other spicy items: cumin, white pepper, and green chilies. I don't recommend omitting those items as that would change the flavor too much.
If it's too late and the spices have already been added, you can tone down a spicy chili by adding toppings like sour cream or cheese. You could also take half of the chili out of the pot (to be used as a second pot) and add more beans, chicken, corn, veggies, etc to make a milder batch.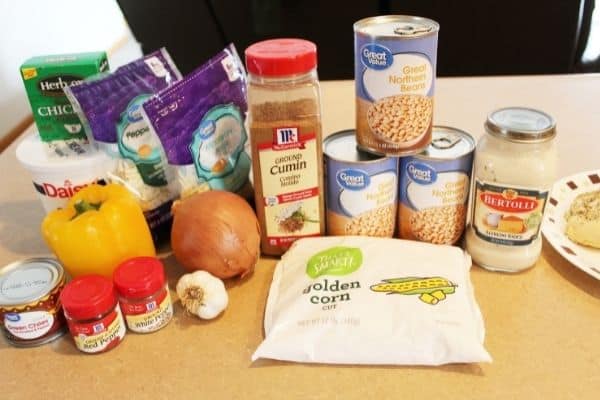 Ingredients for Gluten Free White Chicken Chili Recipe
I'm giving the amounts of spice I personally use for our family, but there suggestions in parentheses afterwards for those of you who LOVE spicy foods and want to level up the spice factor!
– 3 Cans (15.5 oz each) of Great Northern Beans, rinsed and drained
– 3 Cups of Cooked Chicken (You can grill it, use rotisserie chicken, or prepare chicken in the crockpot ahead of time).
– 1 jar (15oz) Alfredo sauce (I use Bertolli)
– 2 cups of Chicken Broth (I use gf Hormel Herb-ox bouillon with 2 cups of water)
– 1 can (4oz) Chopped Green Chilies (use 2 cans to really heat things up!)
– 1 1/2 cups frozen corn
– One cup shredded Monterey Jack Cheese
– 1 cup shredded Pepper Jack Cheese
– 1 cup sour cream
– A medium sweet yellow pepper chopped
– 1 small onion chopped
– 3 large garlic cloves minced
– 1 tablespoon cumin
– 1 1/2 teaspoons white pepper
– 3/4 teaspoon cayenne pepper (you can use 1-1.5 teaspoons to make it extra spicy)
Optional: Serve with Tortilla chips or cheddar biscuits.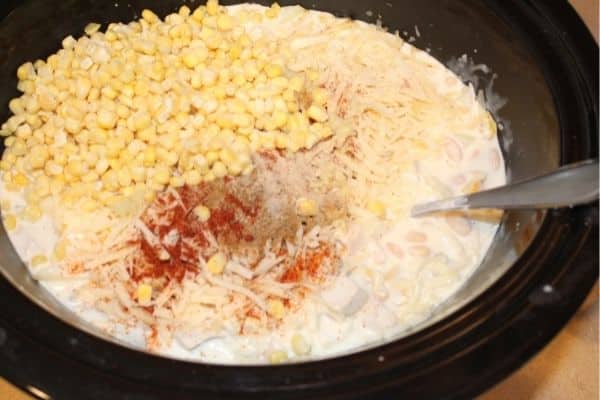 How to Make Gluten Free White Chicken Chili Soup
Place all of your ingredients in the crockpot. Stir in the spices and set your crockpot on low.
In 4 hours, your soup will be ready to eat! Simply stir and serve! We like to eat ours with tortilla chips, fresh veggie sticks, and a fruit bowl. Cheddar bay biscuits make a nice side to this soup as well.
Want to print the recipe? Simply click the black download button below to get a printable version!
Pin the image below to save this recipe for later!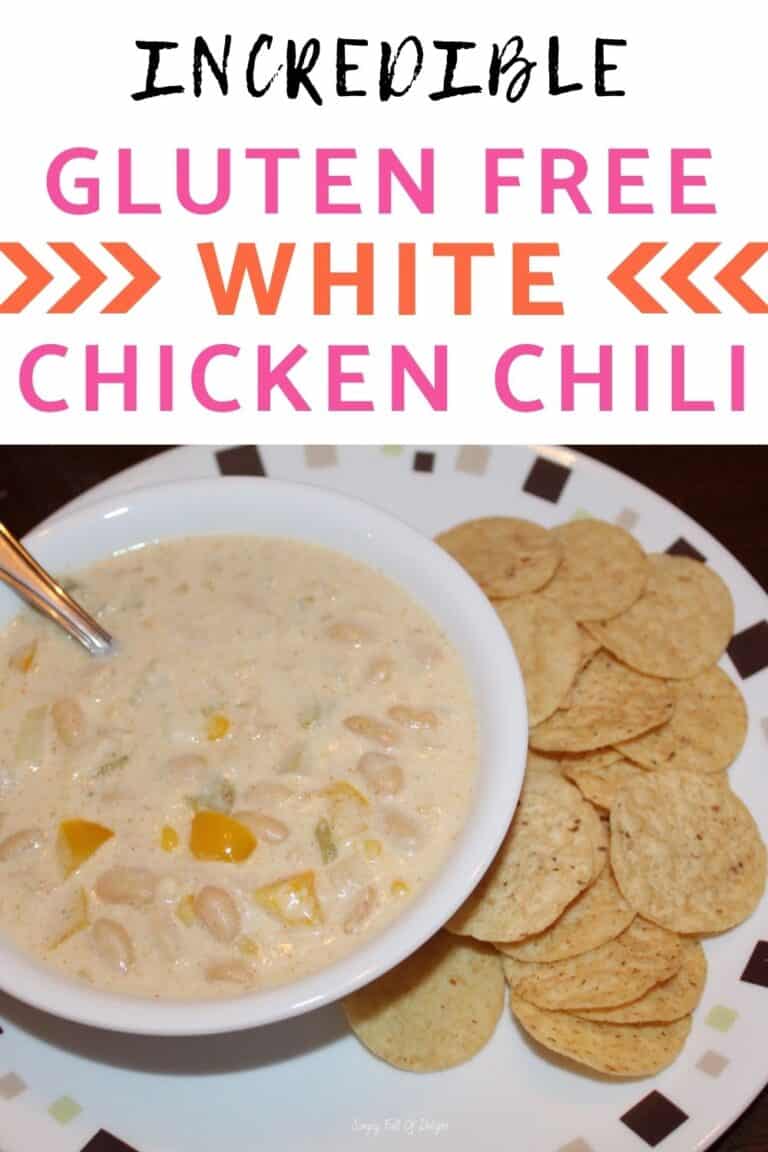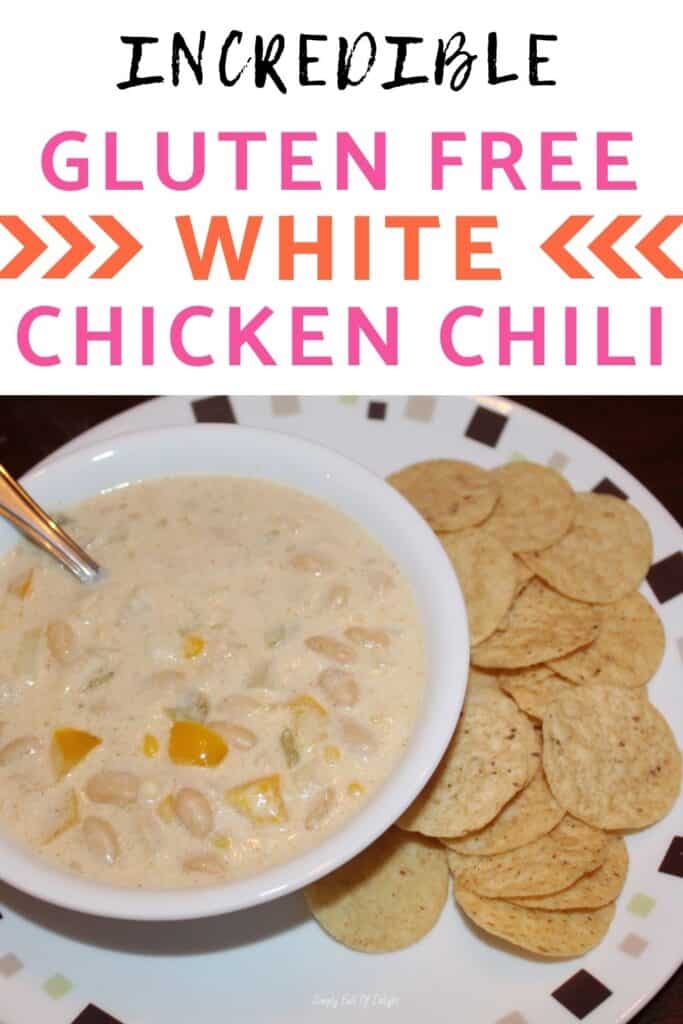 More Gluten Free Recipes
Looking for more delicious gluten free recipes? Check out my Kid-Friendly Chili recipe here.
You can also find a bunch of amazing Gluten free crockpot recipes here.