Looking for some new Gluten Free Breakfast Ideas? You just hit the jackpot! Here's a collection of 23 unique and delicious gluten free breakfast recipes!
I was recently diagnosed with Celiac's Disease and oddly enough my husband also has Celiac's. With such a major diet change, I've been looking for gluten free recipes that will please the whole family. I asked some of my fellow bloggers if they had any delicious gluten free breakfast ideas and wow, they surely did!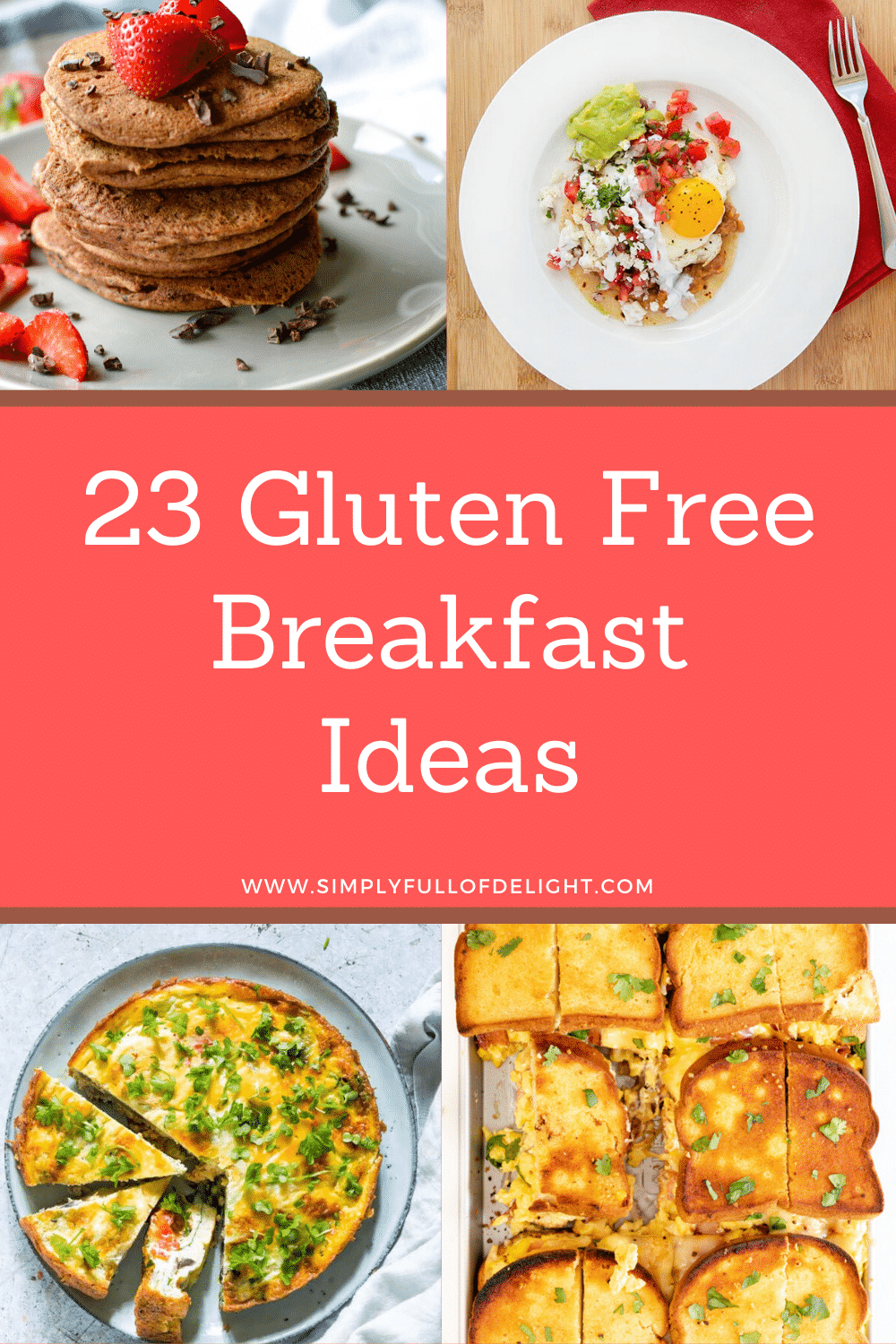 I hope this article will help you find some new gluten free breakfast ideas that your whole family will enjoy!
1) Roasted Breakfast Potatoes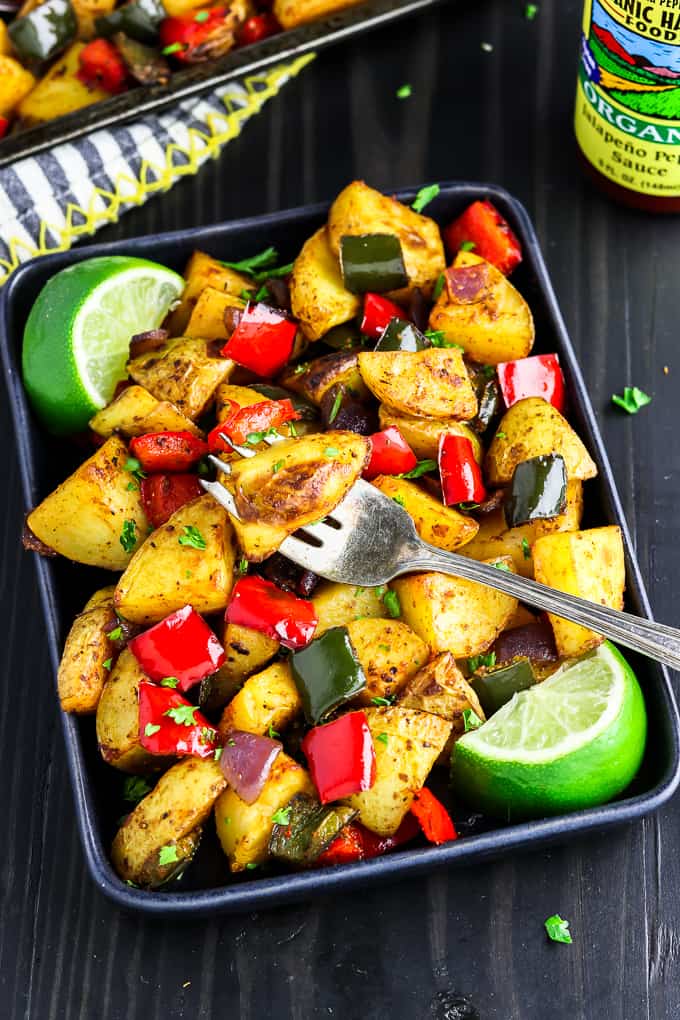 These Roasted Breakfast Potatoes by Vegan Huggs are full of smoky flavor and require very little effort to make. Everything is roasted in one pan and done in 30 minutes or less!
2) Sweet Potato Muffins
These Sweet Potato Muffins by Cass Clay Cooking are both gluten free and vegan. You can make them ahead of time so they're a great grab and go breakfast option for busy mornings.
3) Best Gluten Free Bagels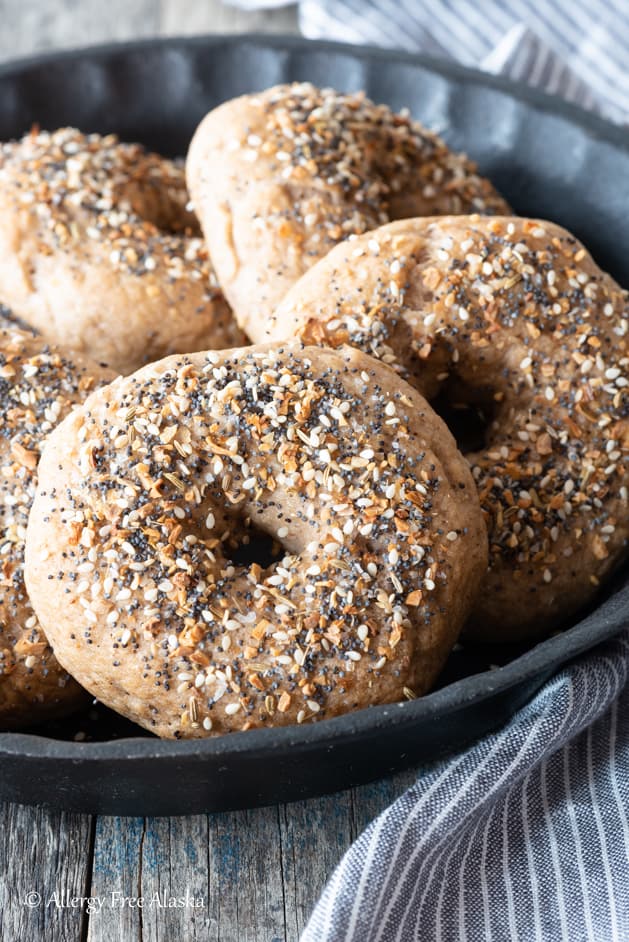 These soft and chewy gluten-free bagels from Allergy Free Alaska are entirely dairy-free and vegan. The toppings can be varied to change the flavor to sweet or savory. They are delicious fresh, excellent toasted, and you can even freeze them for later use!
4) Spinach and Feta Egg Cups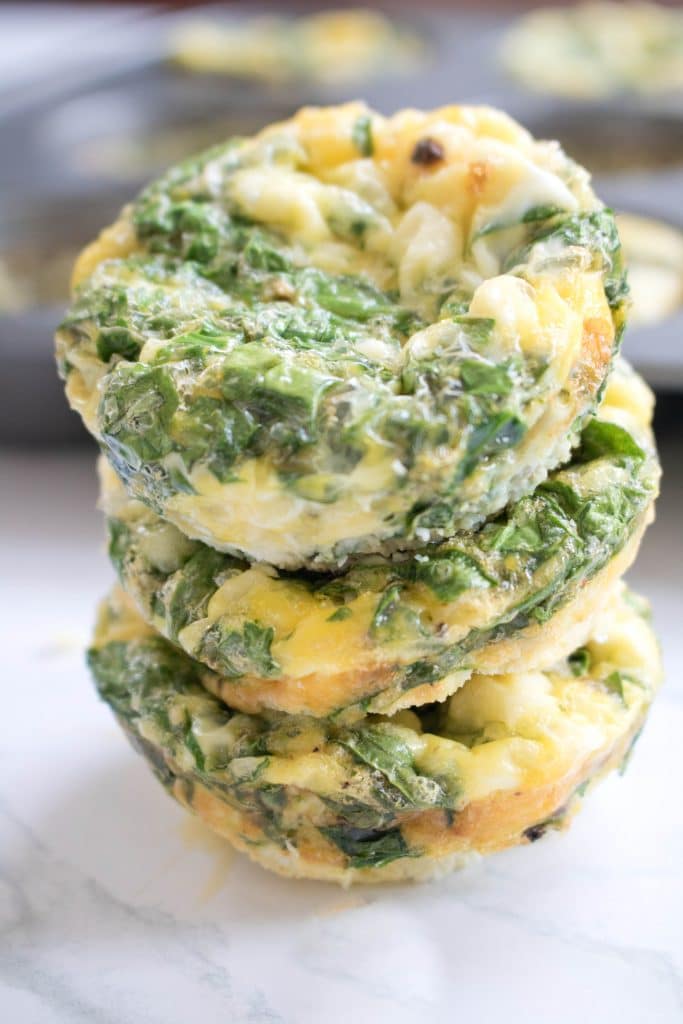 These Spinach and Feta Egg Cups by Served From Scratch are a delicious, easy to make grab n go breakfast that's packed full of nutrition and flavor. Not a fan of feta? Swap it out for cheddar…or add sausage instead of spinach…the possibilities are endless! You are sure to find a combination everyone in your family will enjoy!
5) Gluten Free Apple Cinnamon Baked Oatmeal Squares
Looking for a yummy, healthy, and hearty make-ahead gluten-free breakfast? These Gluten Free Apple Cinnamon Baked Oatmeal Squares by My Gluten Free Kitchen can be made one day and enjoyed for breakfast the next few days!
6) Overnight Oats For Dummies
These Overnight Oats for Dummies by Camp Brighton are the perfect make-ahead breakfast. Easy, healthy, and delicious, you are sure to jump on the overnight oat bandwagon after trying these!
7) Easy Low-Carb Waffles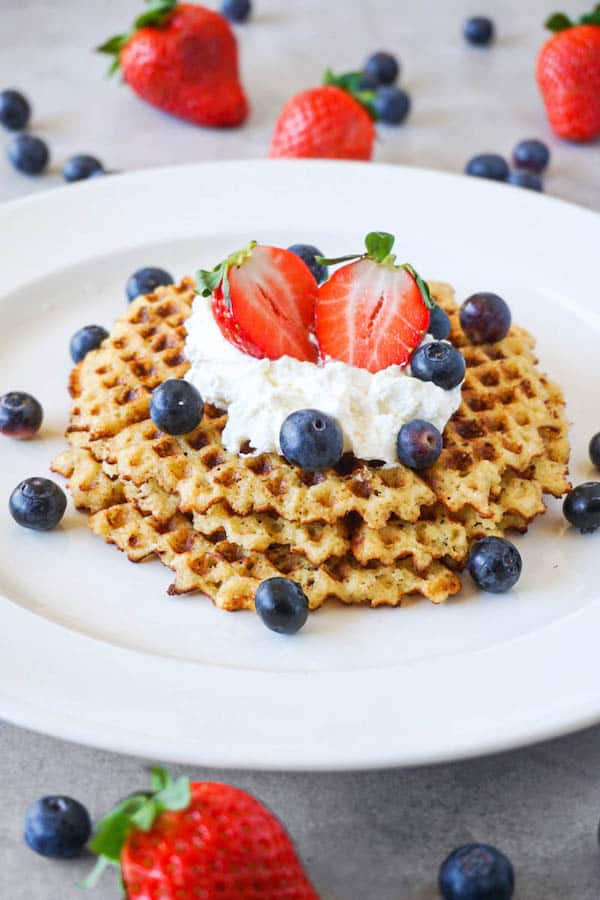 This Easy Low-Carb Waffle Recipe by Here To Cook is an amazing gluten free breakfast idea. You will be making these waffles again and again as they are easy to whisk together and there are so many flavor combination ideas.
8) Tater Tot Breakfast Casserole
When you're in need of an easy and delicious ham breakfast casserole perfect for serving and feeding a crowd, it's hard to beat this Tater Tot Breakfast Casserole by The Anthony Kitchen! With less than 15 minutes of prep time and no pre-cooking required, it's a simple breakfast solution you can whip up in a hurry!
9) Gluten Free Breakfast Sliders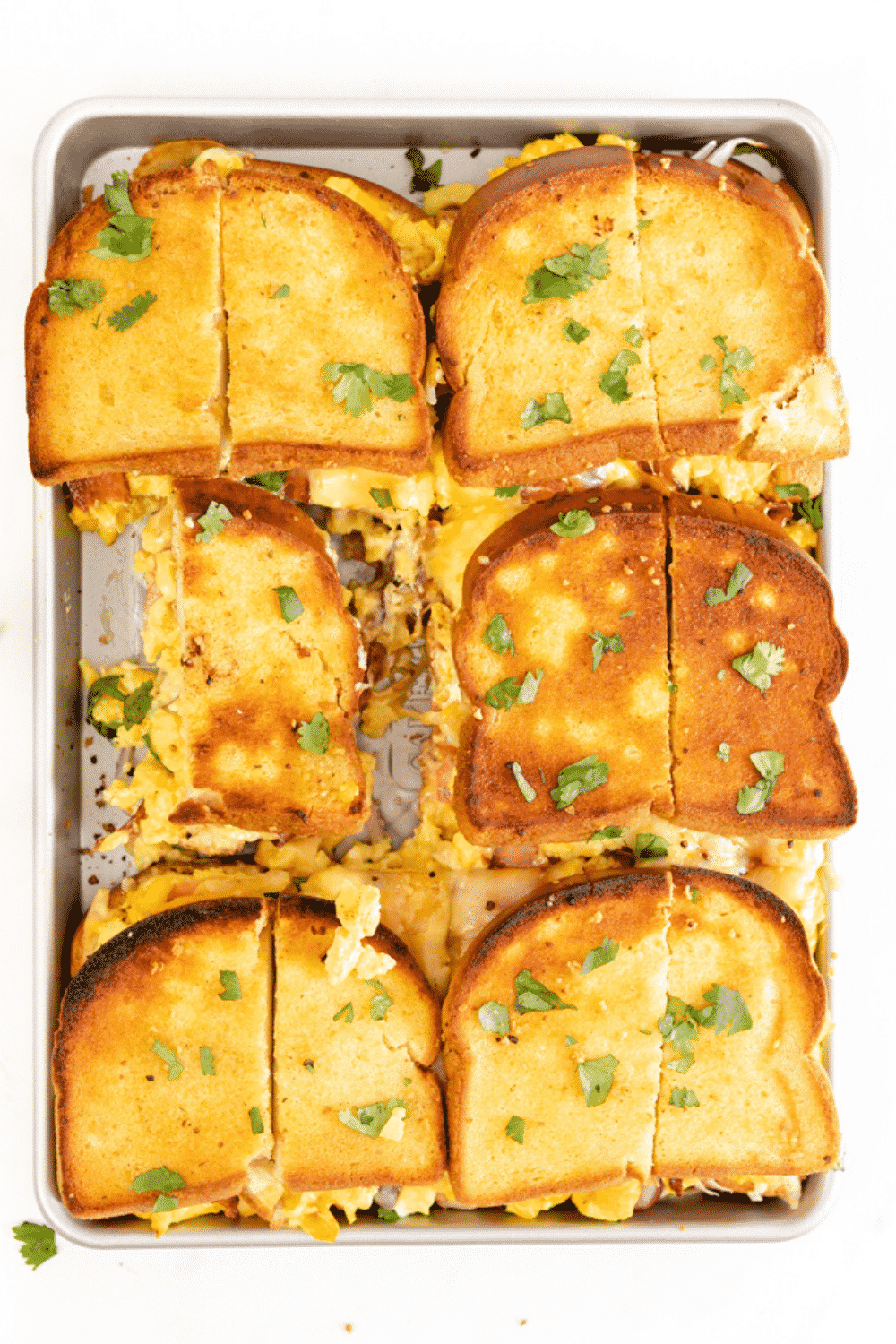 Looking for a handheld breakfast? These Gluten Free Breakfast Sliders by Cutefetti are the perfect easy-to-make breakfast sandwiches that are not only gluten-free, but totally delicious and filling.
10) Creamy Baked Eggs with Leeks, Spinach and Bacon
This Creamy Baked Eggs with Leeks, Spinach and Bacon recipe by Low Carb Spark makes a uniquely delicious breakfast. It's super easy and loaded with flavor!
11) Air Fryer Breakfast Frittata
This Air Fryer Breakfast Frittata by Recipes From A Pantry is a quick, easy and protein-packed dish that comes together in just minutes.
12) Cheesy Tater Tot Breakfast Bake
This Cheesy Tater Tot Breakfast Bake is by Two Pink Peonies. It's a naturally gluten free dish that combines breakfast favorites! There's sausage, eggs, cheese, and tater tots….what a delicious way to start your day!
13) Easy Sugar-Free Date Granola
This Easy Sugar-free Date Granola by Nutriciously is so crunchy and flavorful! Ready in 30 minutes, meal prep friendly and easily customizable, it's made with affordable staple foods, oil-free and fully vegan. No sugar or syrup is needed to make this healthy cinnamon granola!
14) Gluten Free Pumpkin Silver Dollar Pancakes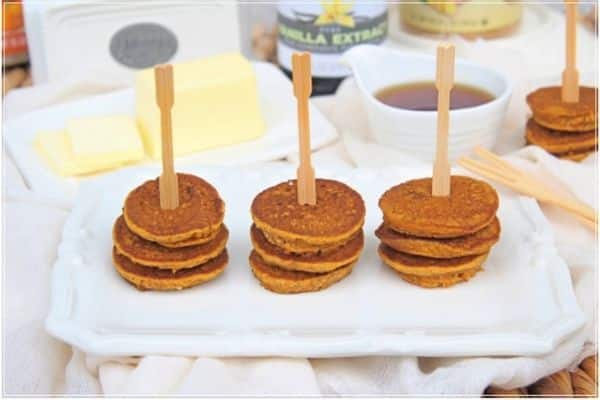 These quick cooking, flavorful little Gluten Free Pumpkin Silver Dollar Pancakes by The Gluten Free Gathering are the perfect breakfast treat. No need to wait until fall to enjoy all of the pumpkin goodness!
15) Paleo Chocolate Pancakes
These Paleo Chocolate Pancakes by Calm Eats will be your new go-to breakfast. Make these early in the week and then easily warm up a few pancakes and slather them with almond butter and honey each morning!
16) Breakfast Tostadas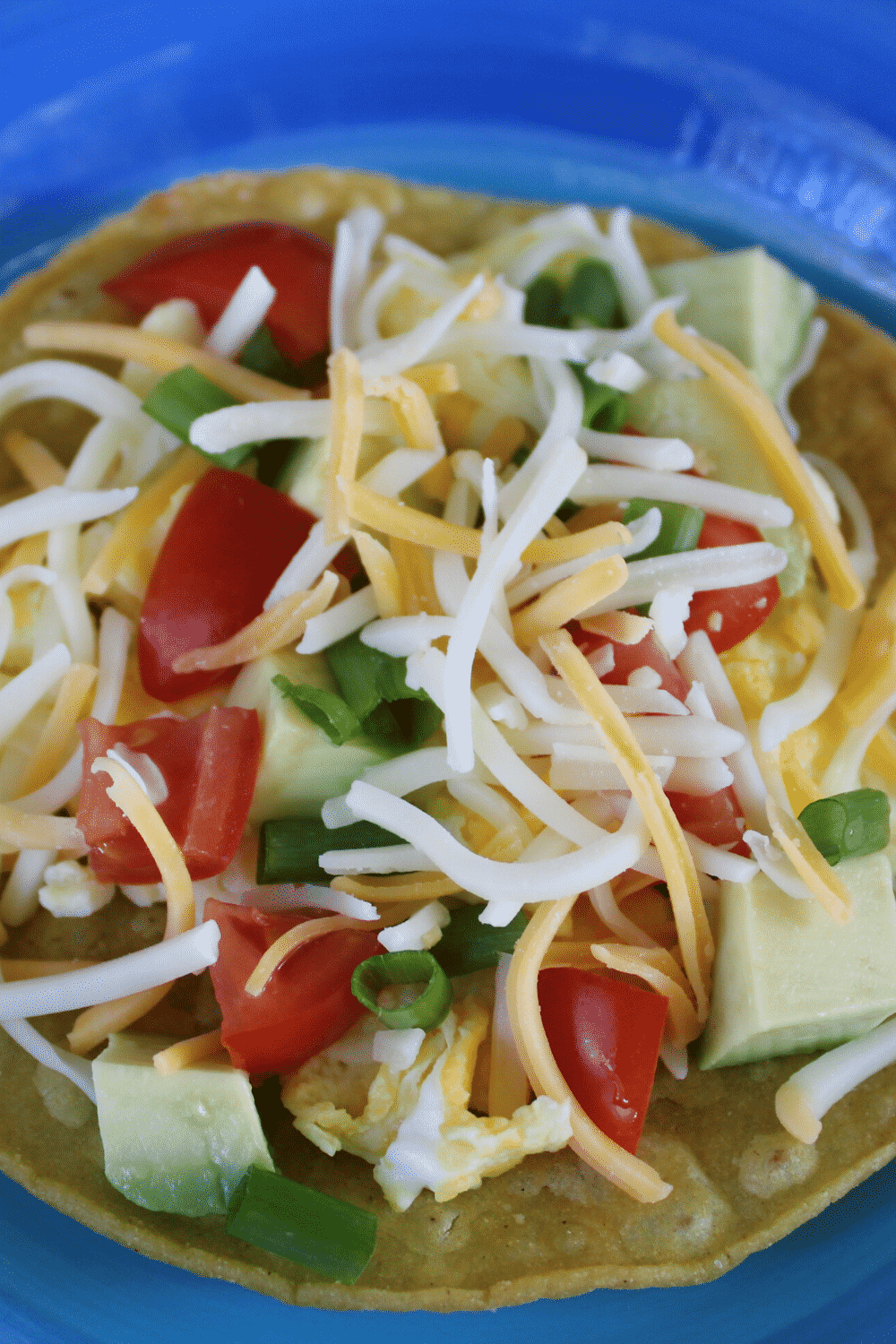 These Breakfast Tostadas from my blog Simply Full of Delight are by far my favorite breakfast food! Crispy tortillas are topped with scrambled eggs, cheese, tomatoes, green onions, and avocado! Sure to please the whole family!
17) Mini Crustless Quiche Cups with Sausage and Cheese
These Mini Crustless Quiche Cups with Sausage and Cheese by Two Healthy Kitchens are a quick and delicious breakfast option! They also refrigerate and freeze well so you can make them ahead for a quick weekday morning breakfast!
18) Chocolate Peanut Butter Banana Breakfast Cookies
If you're looking for a healthy snack or breakfast, these Chocolate Peanut Butter Banana Breakfast Cookies by Chisel & Fork are amazing. Loaded with healthy ingredients and easy to make, this is sure to be a new family favorite.
19) Lemon Matcha Pancakes with Acai Berry Compote
These aren't your Grandma's pancakes. These Lemon Matcha Pancakes with Acai Berry Compote by Pink Fortitude are gluten-free and vegan and full of energizing superfoods like lemon, blueberries, matcha, and acai. They just might be the most delicious pancakes you will ever taste. Think brunch at a 5-star spa/resort.
20) Huevos Rancheros
These Huevos Rancheros by Ask Chef Dennis bring authentic Mexican food to the breakfast table. It is an easy meal that is sure to please even the pickiest eaters!
21) Air Fryer Breakfast Potatoes
These Air Fryer Breakfast Potatoes by Recipe This are restaurant quality! Enjoy the best ever breakfast potatoes in the air fryer. Easy to make, little prep time and a real crowd pleaser!
22) Gluten Free Honey Lemon Muffins
These Gluten Free Honey Lemon Muffins by Foodal are moist, light and sweet and have a slight lemon tang that will make you want more than one. This recipe also features dairy-free and vegan options making them awesome for families with varying dietary restrictions.
23) Brazilian Cheese Bread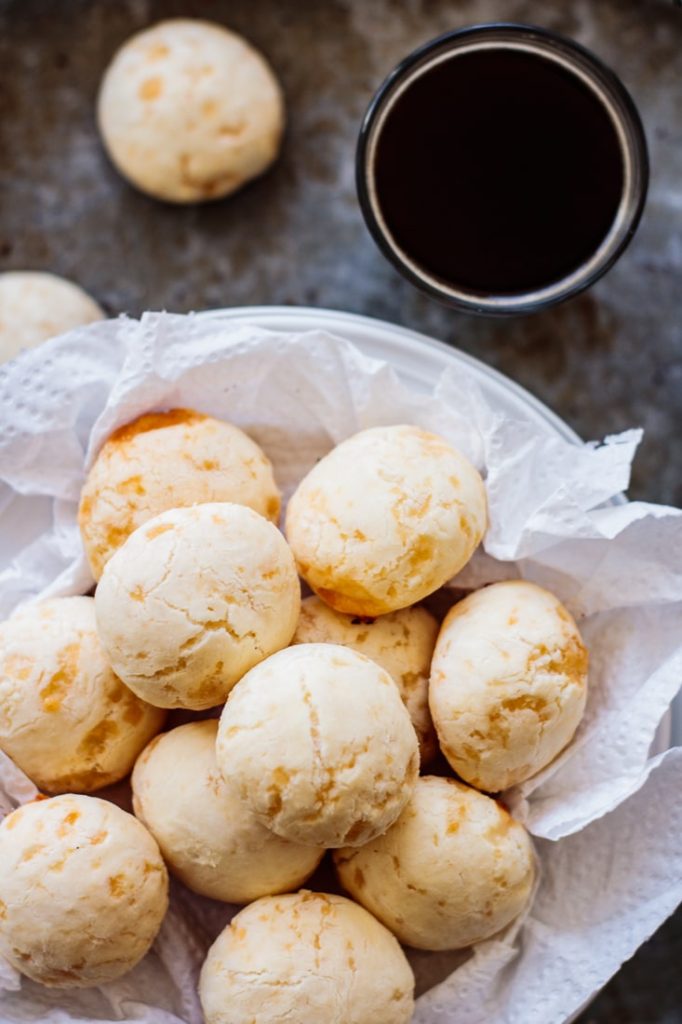 Enjoy Brazilian Cheese Bread by Milk and Pop for breakfast with your coffee! Serve this delicious bread with cream cheese, caramel sauce, or butter. It's soon to be your favorite gluten free treat!
That's it! I hope you have found some amazing gluten free breakfast ideas! I know I sure have! If you try any of these recipes be sure to let me know!