You won't believe how delicious this gluten free zucchini bread is! The secret is the gluten free baking tips that will change the way you bake!
Growing up on a farm, my family always planted a big garden. Zucchini were always plentiful so we were always looking for recipes to make good use of them! Every year we would make zucchini bread muliple times.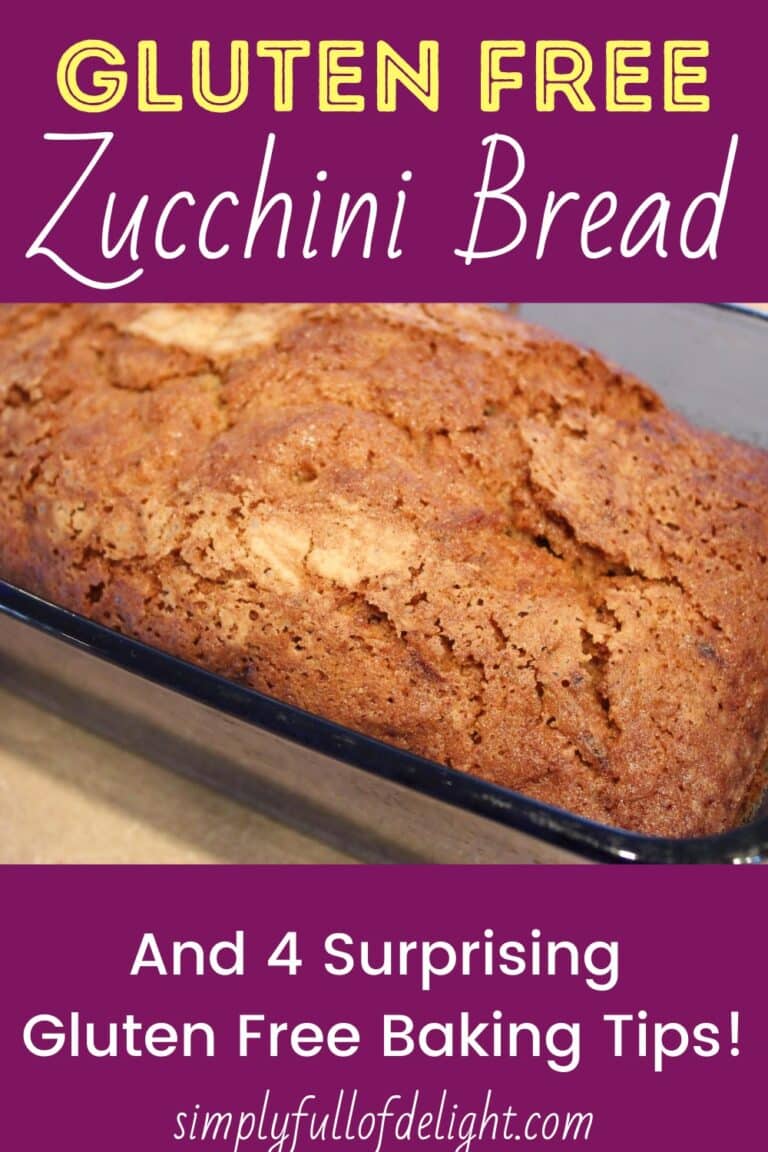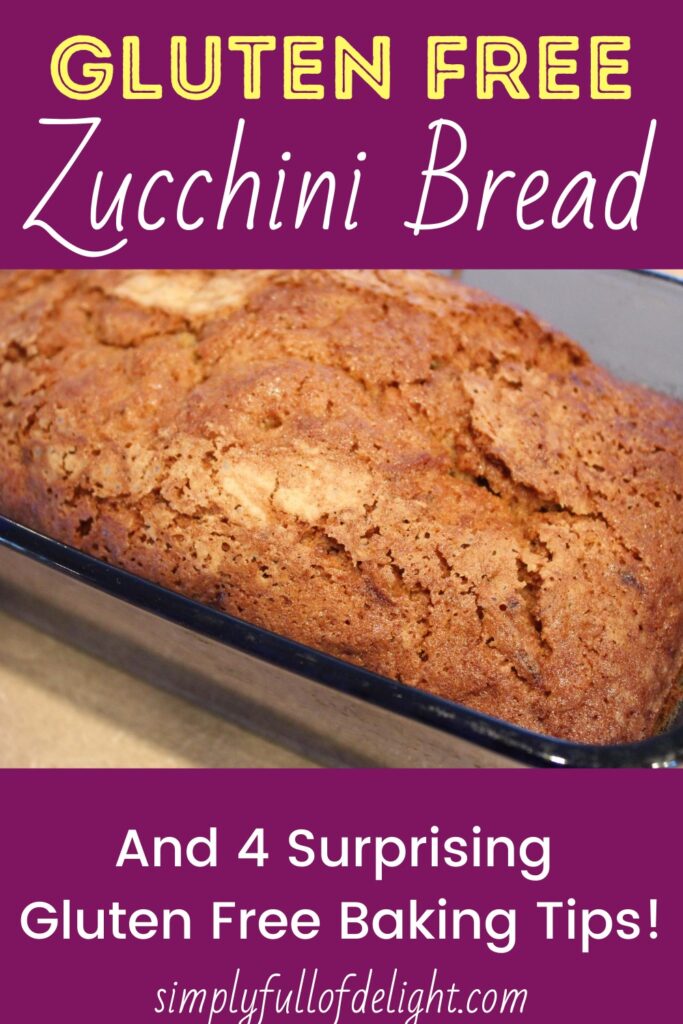 As an adult, when we finally owned a house, I started my own garden. We planted tomatoes, peppers, green beans, kale, onions, and of course zucchini. My daughter would tell everyone she was growing "zucchini bread."
My go-to recipe over the years was the Zucchini Nut Bread from Taste of Home. If you aren't gluten free, you can check that out right now. It's delicious!
When I was diagnosed with Celiac's Disease, I knew I had to come up with a way to keep this bread a tradition in our family.
I did some research and some trial runs. America's Test Kitchen had some amazing gluten free baking tips. Here's the highlights:
Successful Gluten Free Baking Tips
♥ Add an extra egg when you are converting a recipe to gluten free! This will give it a lighter, fluffy texture.
♥ Let your batter sit for at least 30 minutes covered. For this particular recipe, we can just leave it on the counter top because the eggs being out 30 minutes won't hurt. Surprisingly, many gluten free bakeries leave their batter in refrigerator overnight and bake the next day!
♥ Bake 10 minutes past the "toothpick" check. This means you will have to keep an eye on your bread at the end of the bake time. I like to set several timers, to ensure that I don't miss the toothpick check mark. Once you can insert a toothpick and it comes out clean, bake for 10 more minutes to avoid a gummy texture.
♥ Lastly, you need to let your bread cool completely before cutting into it. This is the hardest one for me, because I love warm bread. However, if you want to avoid gummy texture, you've got let the bread cool.
Game changers? Absolutely! Now let's bake some amazing gluten free zucchini bread!
*** Disclaimer: As an Amazon.com Associate, I earn from qualifying purchases made by readers clicking my links, at no extra cost to you. ***
Gluten Free Zucchini Bread Ingredients
2 cups of sugar
1 cup of canola oil
4 eggs (this includes the extra egg I was talking about!)
2 teaspoons vanilla extract
3 cups of Bob's Red Mill Gluten Free All Purpose Baking Flour (this stuff is amazing!)
1 teaspoon of salt
A teaspoon baking soda
1 teaspoon ground cinnamon
1/4 teaspoon baking powder
3 cups of zucchini (Measure carefully and level. I wouldn't add more than that.)
Instructions:
If you haven't already shredded your zucchini, go ahead and do that! I like to use my Kitchen Aid Mixer for the job! It's so fast and easy! All you need to do is use a grating attachment. Gone are the days of shredding by hand (and shredding your hands!)
If you haven't invested in a Kitchen Aid Mixer yet, I absolutely recommend it. We've had ours for over 10 years and it's been well used and totally worth it!
Alright, now that your zucchini is shredded, let's bake!
Grease two loaf pans with butter. I used glass Pyrex 1.5 Quart Loaf pans. The size of your pan and the material your loaf pan is made from WILL affect the way your bread cooks. If you use something different, you will need to tweak your bake time.
In a large bowl, combine your sugar, oil, eggs, and vanilla until well mixed. (I use the Kitchen Aid for this!)
In another bowl, mix the flour, salt, baking soda, cinnamon, and baking powder. Next, adding just a little bit at a time, add this flour mix into your sugar mixture. Last, add your zucchini and mix thoroughly. I use the Kitchen Aid mixer for this step.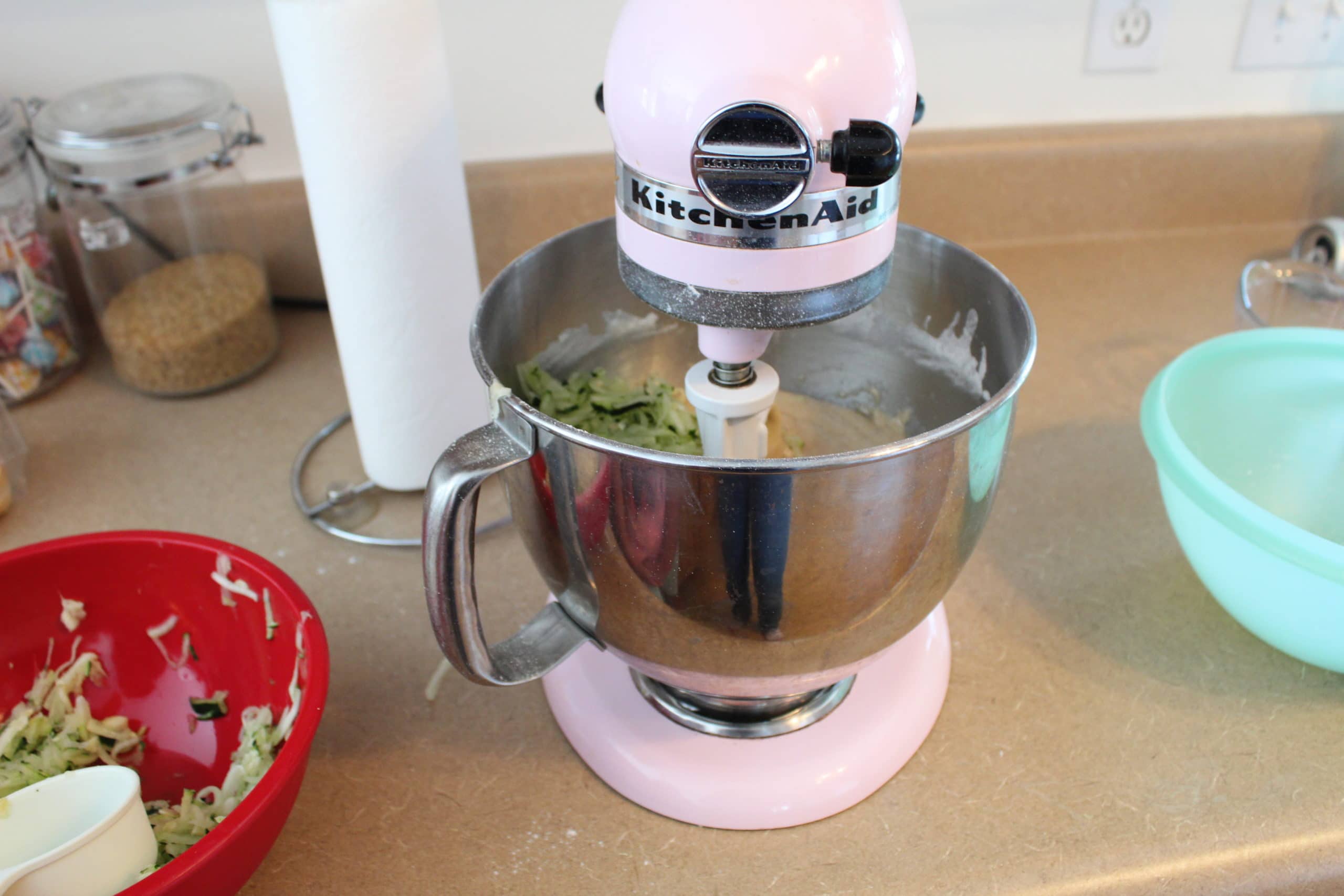 Cover and let it sit on the counter top for at least 30 minutes. This is going to allow your flour to soak in the moisture it needs. I like cover mine with a dishtowel.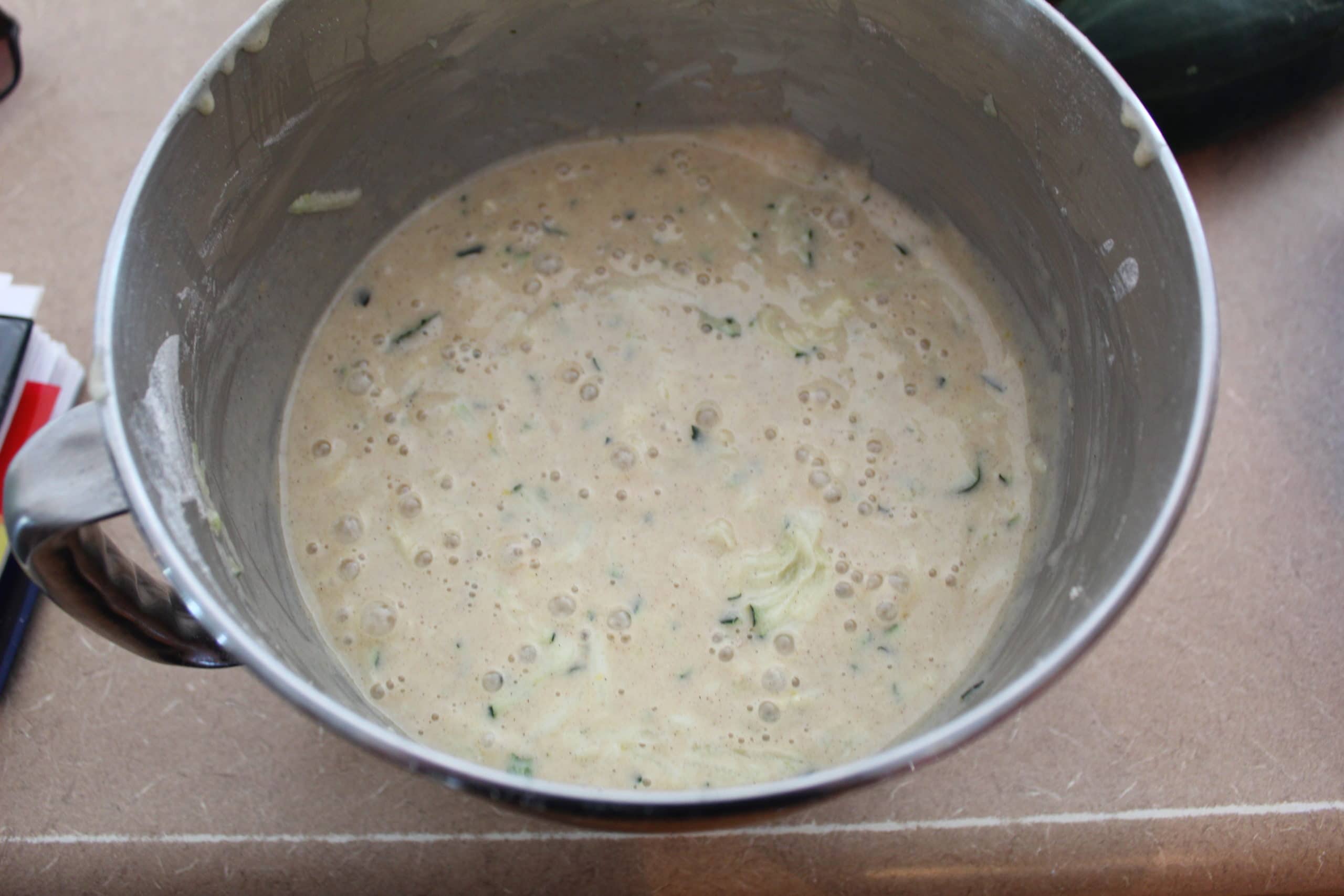 Set a timer for 30 minutes. When it goes off, preheat your oven to 350 degrees. Pour your batter into the greased loaf pans.
Baking
Place in the oven and bake for 60 minutes. Do a toothpick check to see if it comes out clean. If it does, continue to bake for 10 more minutes. If you didn't pass the toothpick check, continue to monitor in 5 minute increments until you do.
Once your loaves have baked the extra 10 minutes, it's time to let them cool. Let them cool completely before cutting in to avoid gummy texture.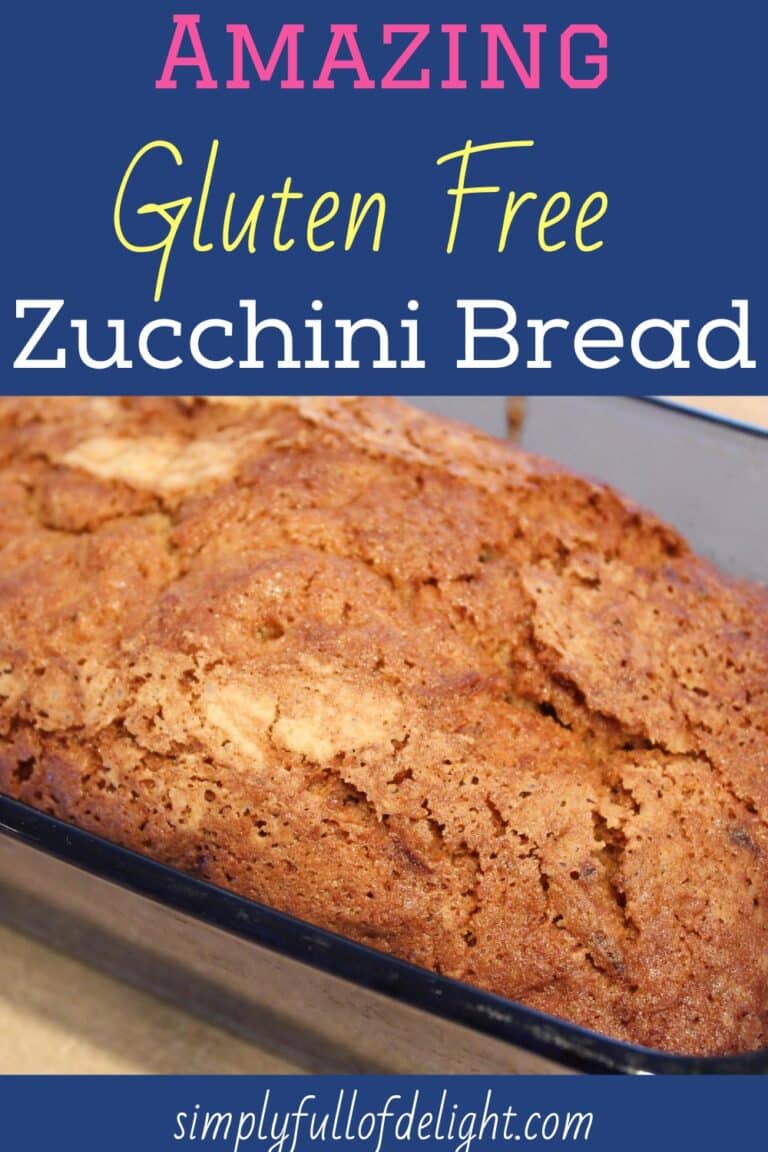 So, bake time will be about 70 minutes total. Ovens vary, and pans vary so keep that in mind and keep a close watch. Your bread may take more or less time to bake.
And that's it! The Best Gluten Free Zucchini Bread recipe! I hope you enjoy some amazing gluten free zucchini bread really soon!
To Print the Recipe, Simply click the Download button below!
If you still have a million zucchini to use up, be sure to check out this Kid-Friendly Grilled Zucchini Recipe. It's fast, easy, gluten free, and my family adores it!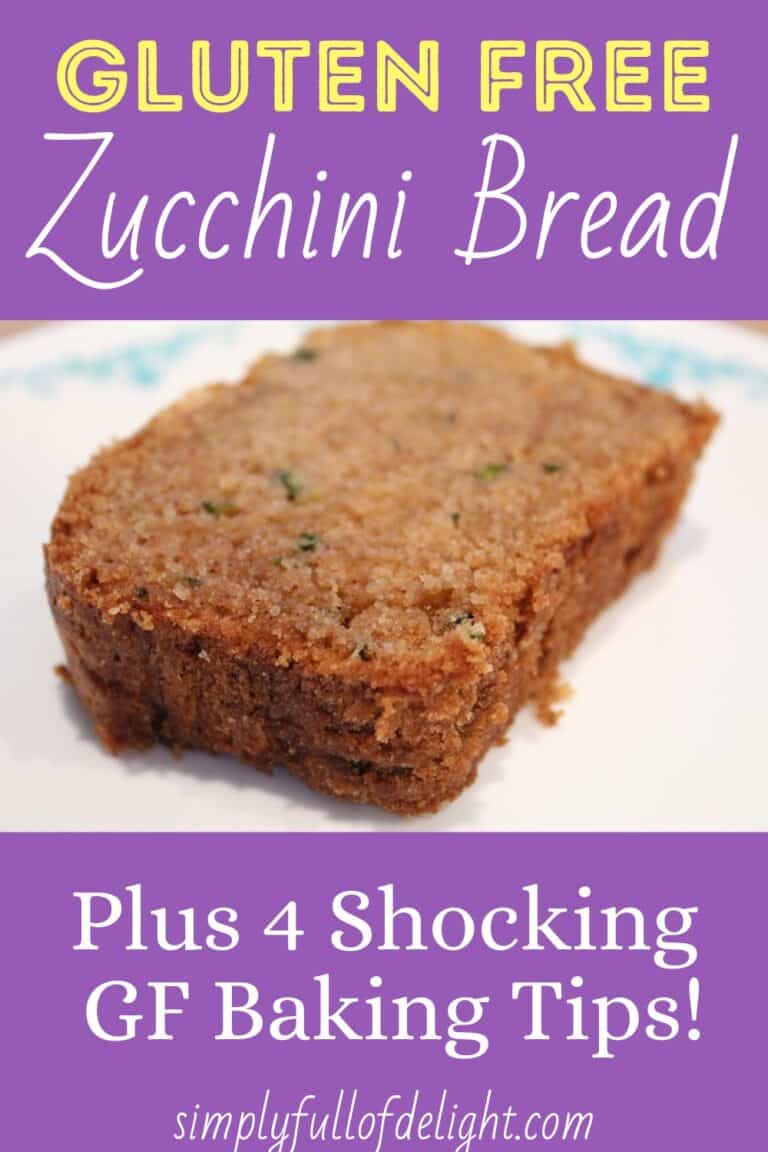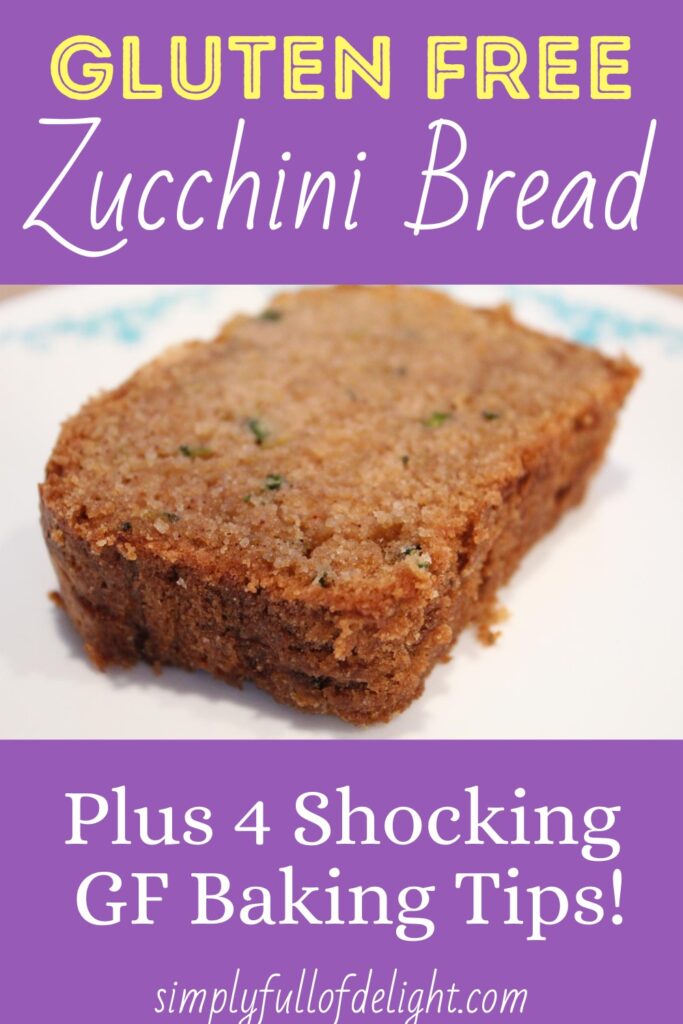 Other Gluten Free Articles You Might Enjoy:
Gluten Free Chocolate Lush Dessert
Surprisingly Easy Gluten Free Ice Cream Cake