Looking for an Easy Skeleton Craft for Preschool? Try this Sand Art Skeleton!
With Halloween quickly approaching, we are all about decorating with fun Halloween crafts around here! We made some easy DIY Colored Sand recently, so we decided to use that beautiful sand to create a fun skeleton craft for preschool!
This Colorful Skeleton Craft is perfect for Halloween, but it also works well for the Mexican Heritage holiday: Day of the Dead (Dia de los Muertos).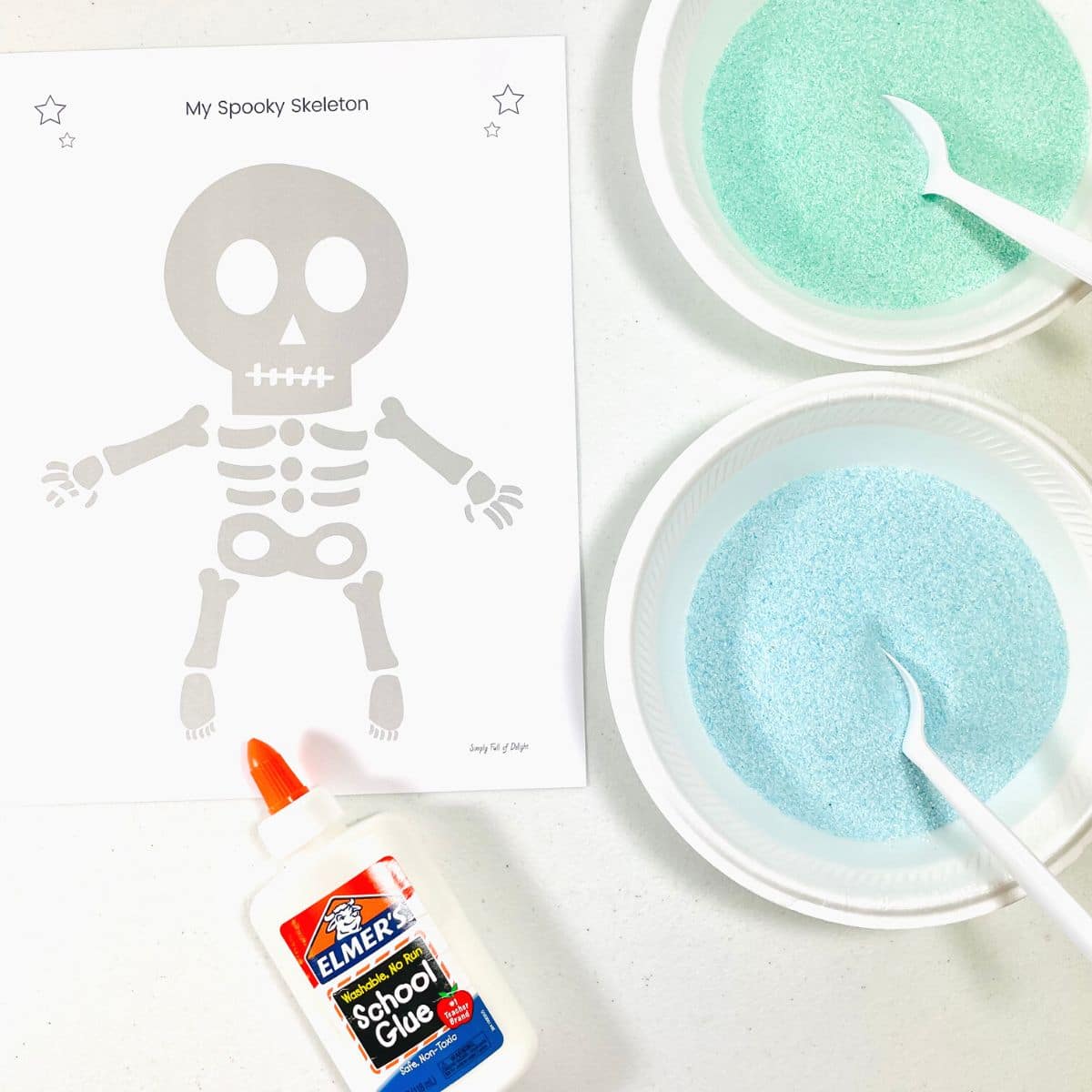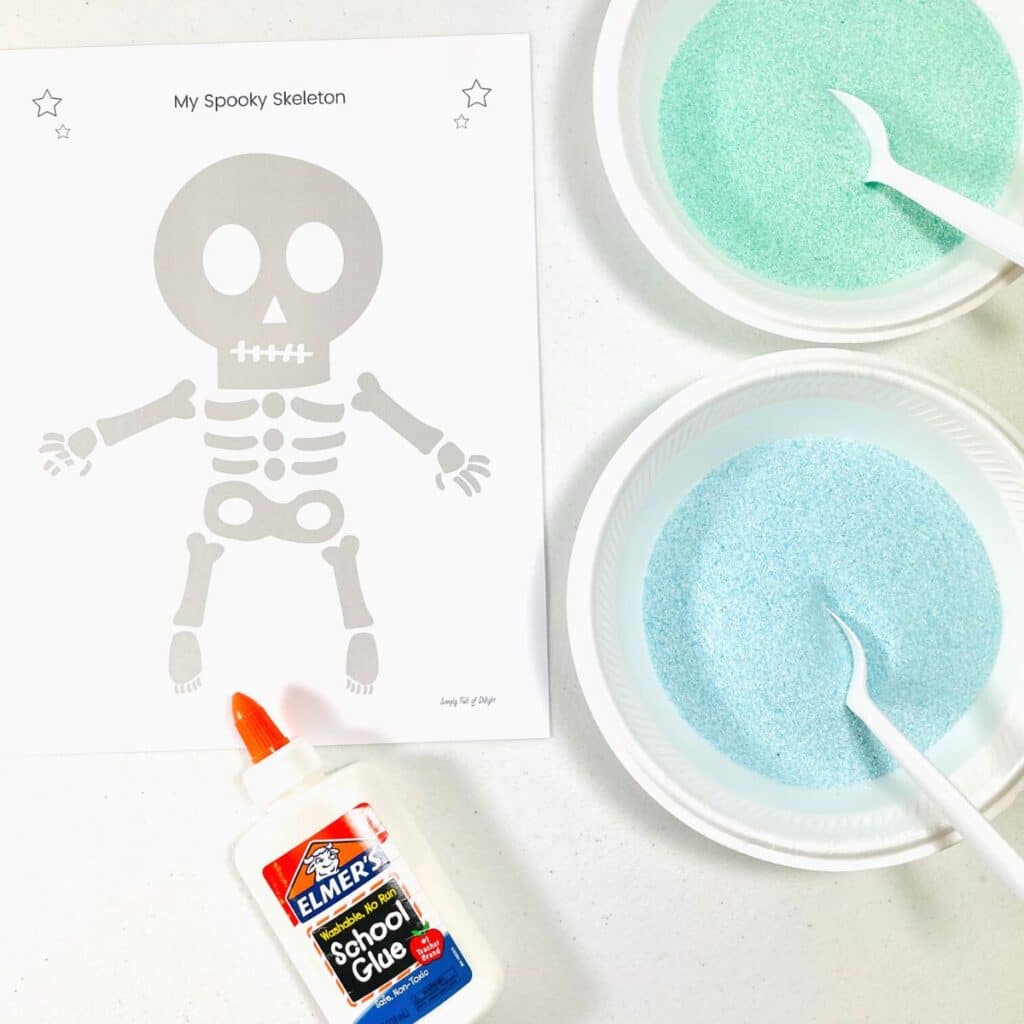 Also, it's a fun way to introduce the skeletal system to young kids. My template is more "cute" than scientifically accurate, but it's still a great way to talk about the human body and how we have different bones!
Older kids will enjoy making these spooky skeleton crafts as well. My older kids enjoy fun crafts like this that are open ended. They always decorate in such creative ways.
Alright! Let's dive into our easy skeleton craft for preschool!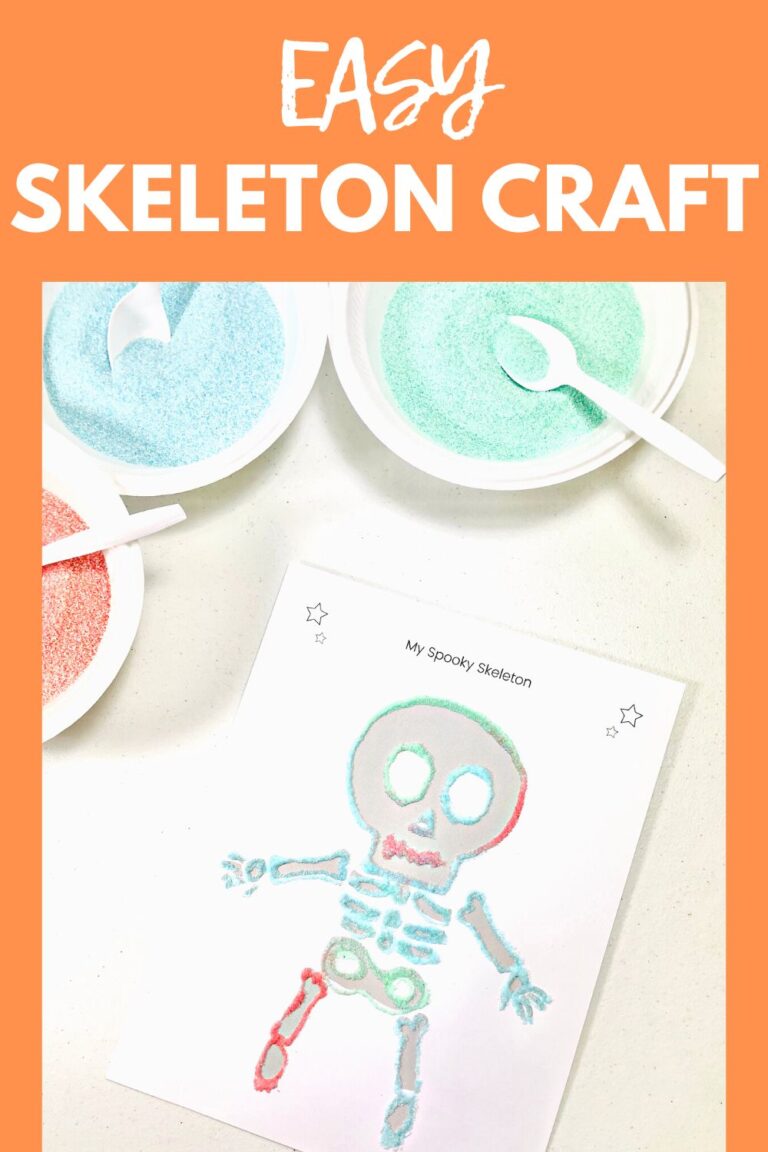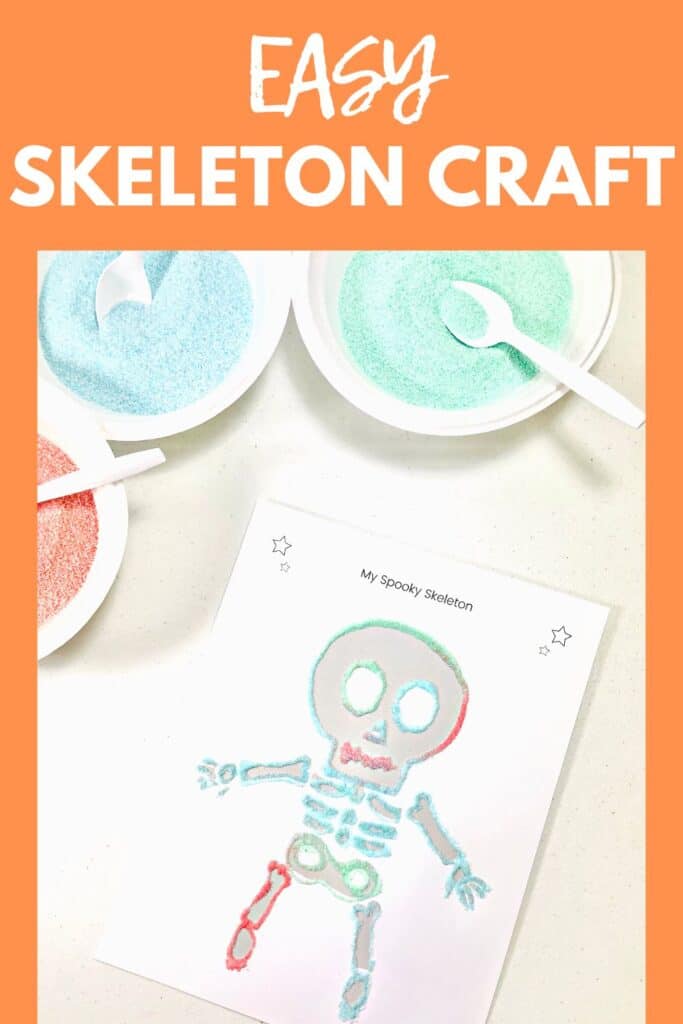 Supplies for Sand Art Skeleton Craft:
You will need the following items for this simple Halloween Craft:
Free Printable Skeleton Craft template – found at the end of this article!
White Cardstock (to print the template on)
School Glue – I used White Elmer's School Glue
Colored Sand – You can find Colored Sand on Amazon here, or you can make your own with this DIY Colored Sand tutorial.
Shallow Card Board Box – one from a canned goods section is ideal or a small shipping box.
Plastic spoons
Bowls to hold the sand
Let's get started on this great craft for Halloween!
How to Make an Easy Skeleton Craft
First, print out your skeleton template onto cardstock. I have 2 free printable skeletons for you to choose from for this fun Halloween craft. They are only slightly different, so choose the one you like best!
If you can't tell the difference, one is a little more "wonky" than the other one. The smile is slightly crooked as well as the legs, like he is a Halloween skeleton in motion.
You will want to print onto cardstock because the sand can become heavy and normal white paper will have trouble supporting the weight of the sand.
Next, pour the colored sand into bowls and add a spoon for distributing the sand onto the skeleton page. You can find an easy tutorial to make your own DIY Colored Sand here.
Once you are set up, go ahead and have the kids take their skeleton template and outline part of it with glue. This works best if they only do part of the skeleton at a time. This allows kids to be more exact with their colored sand.
Be sure to show kids how to use a little bit of glue at a time. If they use a lot of glue, the craft will get very heavy and it will be hard to dry and too heavy to hang up.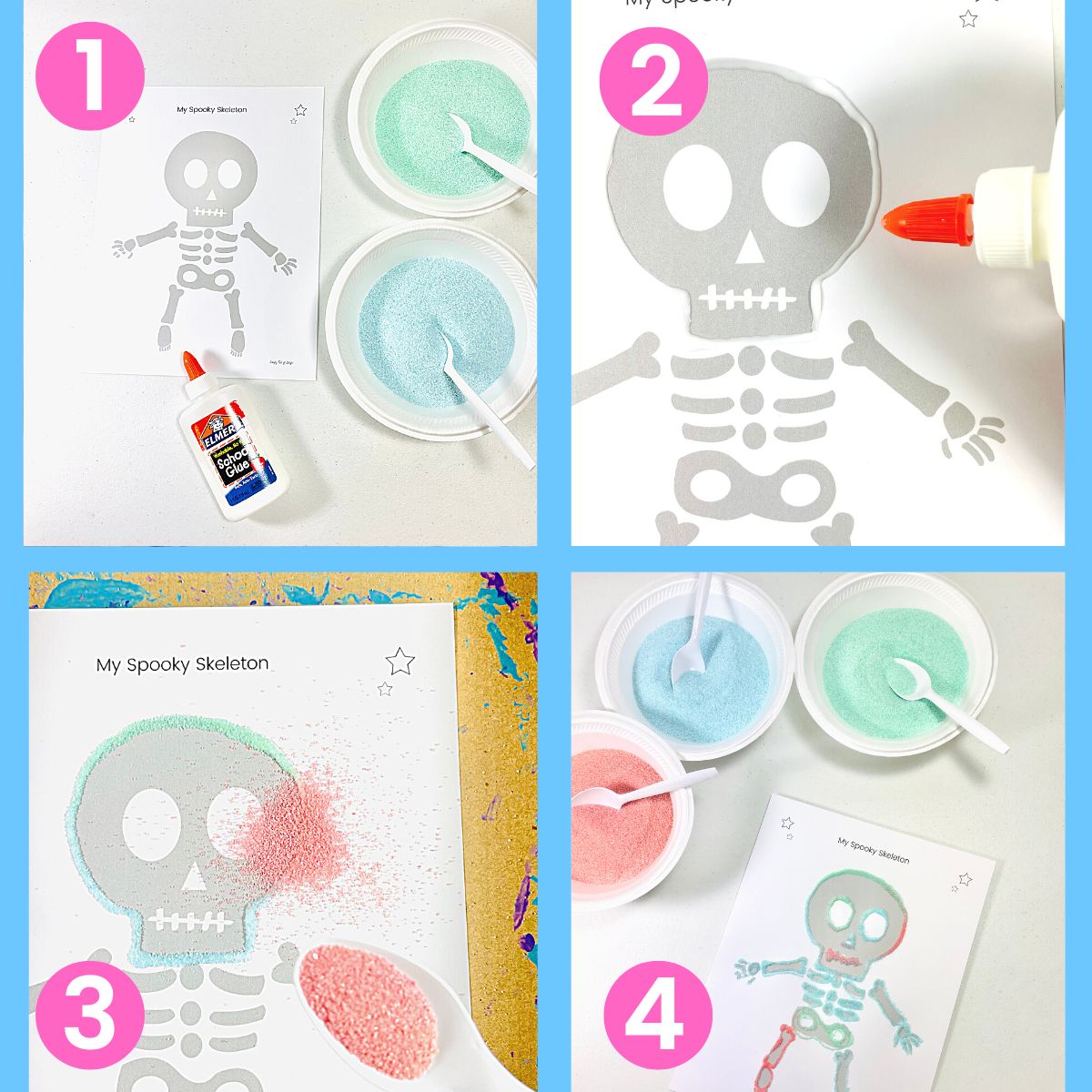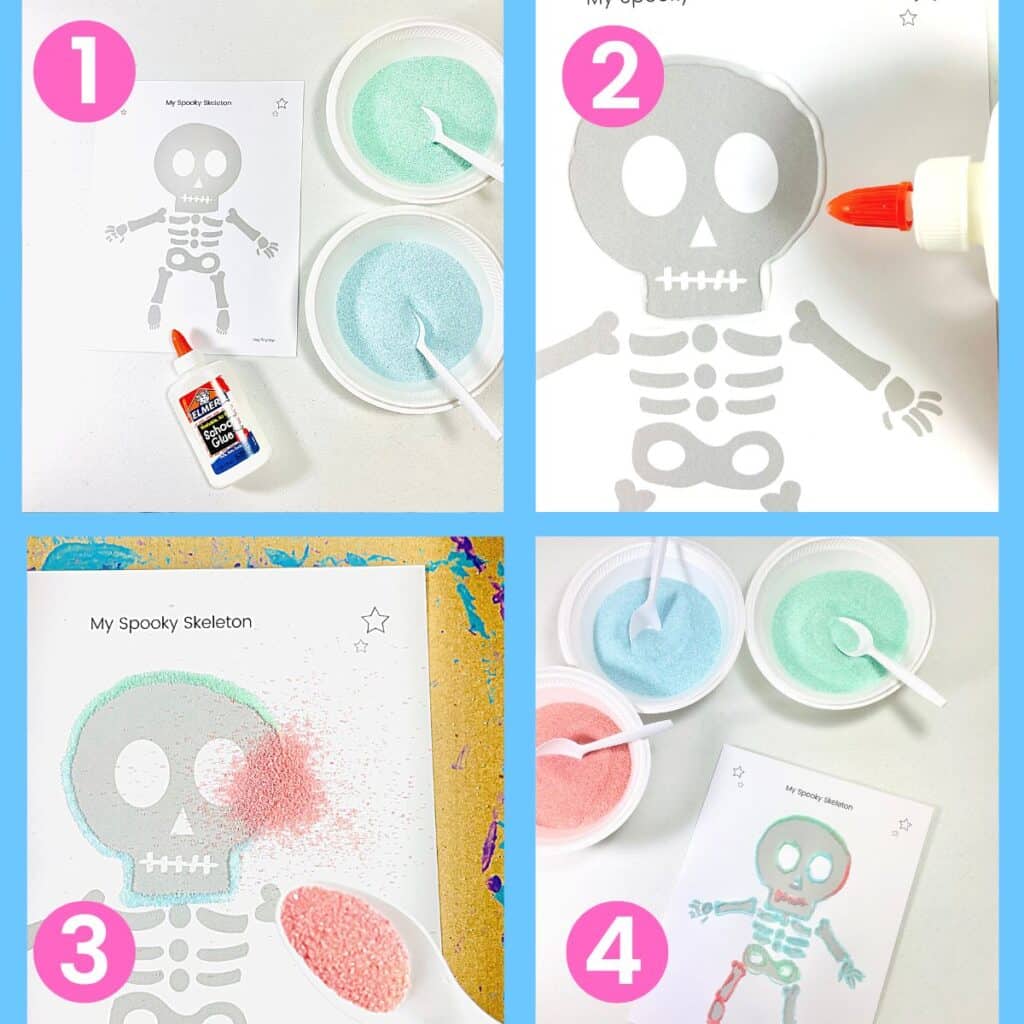 Once they have outlined part of the skeleton with glue, have them set it in the shallow box.
Show them how to lightly sprinkle a tiny bit of colored sand onto the glue using the spoon (or their fingers if you like). Then demonstrate how to shake off the excess into the box.
Continue to outline the skeleton adding more glue and then more sand. Keep going until the skeleton is complete!
You can save the excess sand that is shaken off. The colors will be mixed, but it's still pretty! If your kids are older they might be able to shake the excess sand back into the proper bowl.
And…that's it! You've got an Easy Skeleton Craft!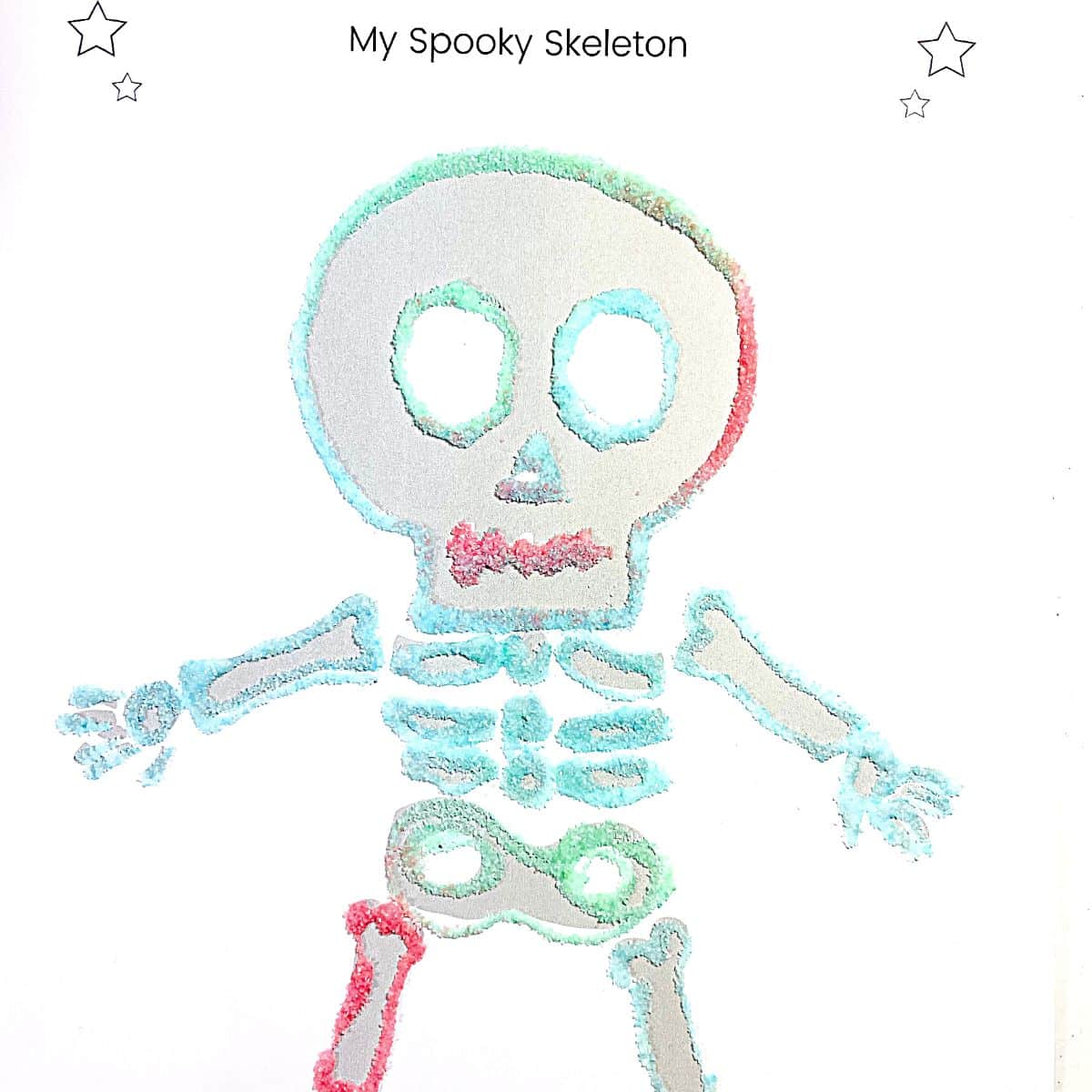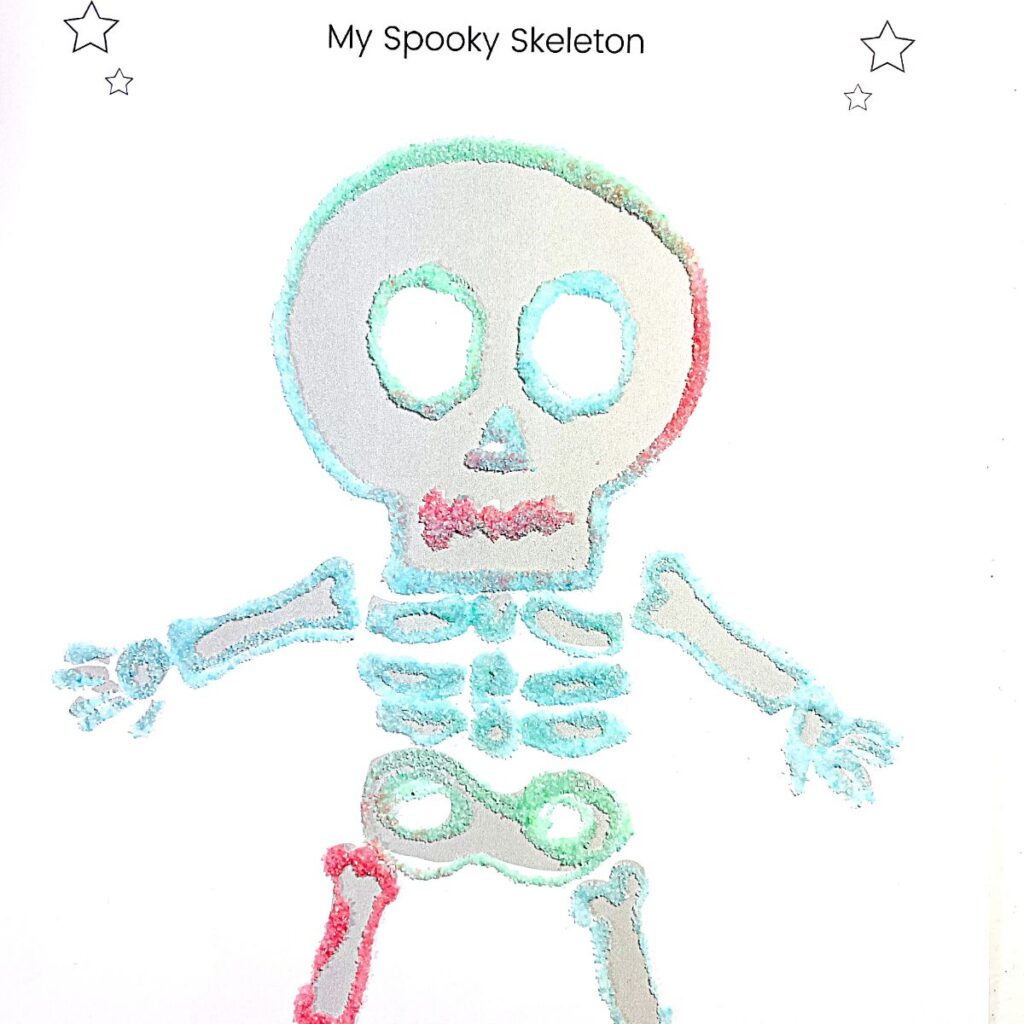 I hope this craft is a great addition to your Halloween projects this year.
I always love to see the different designs kids make and how everyone's sand art turns out differently! So cool!
Download the Free Skeleton Printable PDF
Ready to get started on these fun skeleton activities for young children? You can grab the free Skeleton template below.
Just click on the black download button. There's a couple of different skeletons to choose from, choose the one you like best for these easy skeleton crafts!
FAQ
Can I use White Paper Instead of Cardstock?
I recommend cardstock because it will be difficult for regular paper to bear the weight of the sand.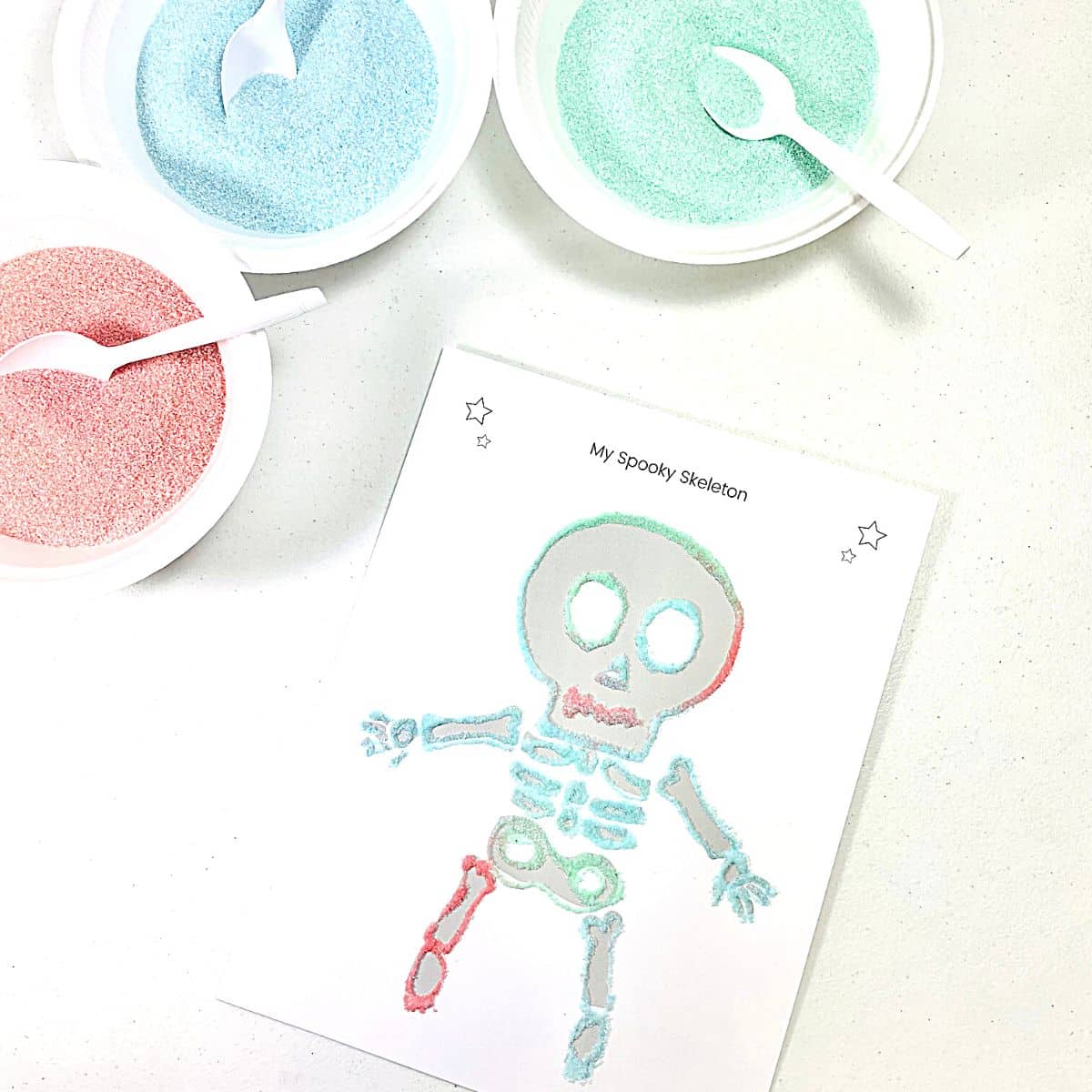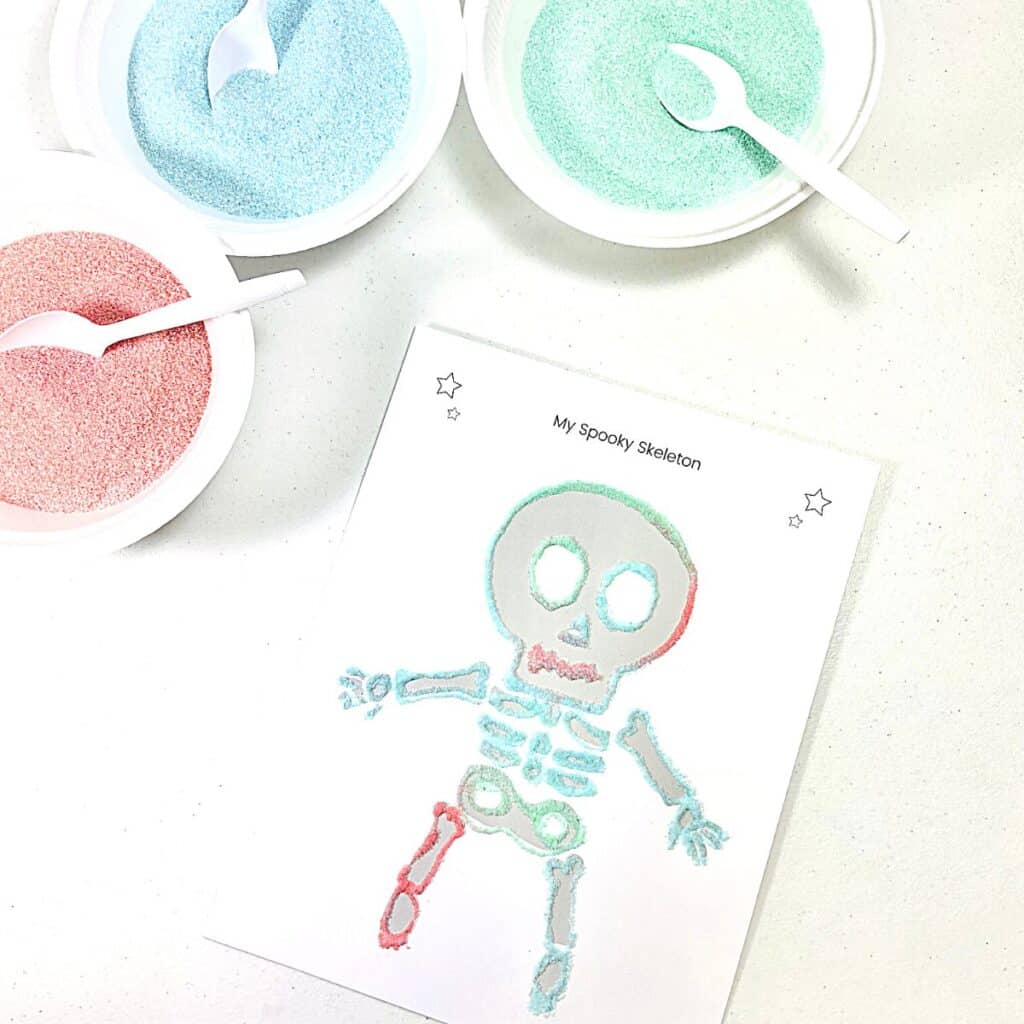 What are some fun ways to alter this Craft?
You can use Glitter instead of Colored Sand on these spooky skeletons. Anything with glitter is automatically my daughter's favorite project!
You can contain the mess by having them shake glitter in a shallow box (just like we did with the colored sand!)
Another fun idea is to use black cardstock instead of white. You may need to trace the template with white.
Also, you can use salt instead of colored sand for another fun look! Add watercolors to turn the white salt into a rainbow colored skeleton decoration.
There's so many fun ways to change up these cool skeleton themed crafts!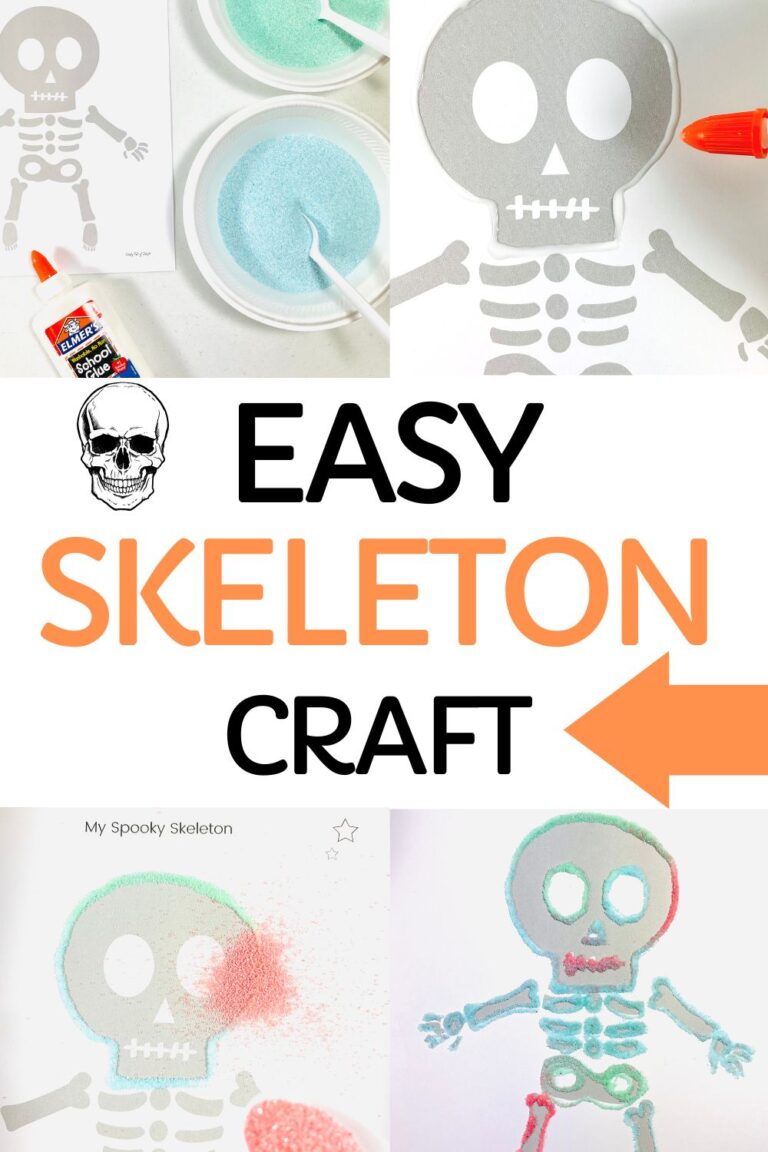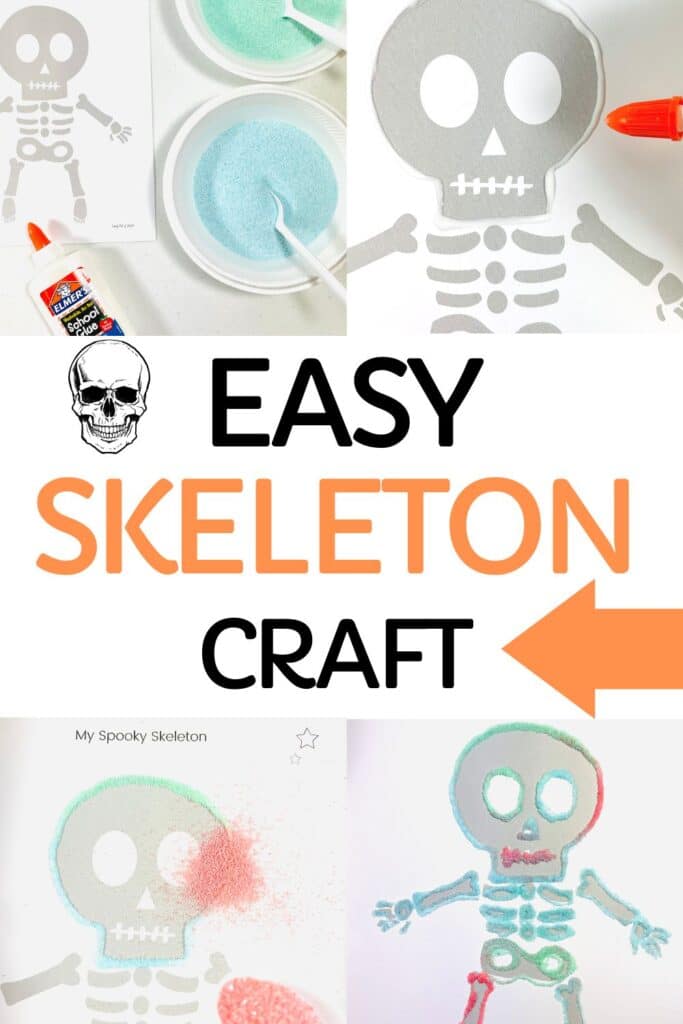 More Halloween Crafts for Kids
You can find more cool ideas for Halloween activities here on my blog!
Be sure to check out the Black Cat Puppet here. It's a super easy Halloween craft that kids will love!
There's also fun printable Halloween Monster Coloring pages here. You'll find 3 different pages including a Create your own Monster page. Coloring and drawing is great for fine motor skills and of course it's so much fun!
There's a fun Witch Hat headband here. It's the perfect Halloween craft for classroom parties as kids will love wearing the fun Halloween hat they create!
Little kids and older children alike will have a great time with this Marble Paint Bat Craft. It's a fun activity that only takes a few simple supplies!
Plus don't miss the HUGE list of Mummy Crafts for Kids! So many adorable Halloween crafts for kids of all ages and Halloween decoration ideas!
Related Posts