Looking for a fun transportation sensory bin idea? Try this Easy Car Wash Sensory Bin for Toddlers and Preschoolers!
This super easy DIY car wash for kids is perfect for your transportation unit and of course, a fun way to engage little ones in imaginative play!
This sensory car wash is seriously the easiest sensory bin you will ever create. It only requires a few items and it's just so simple!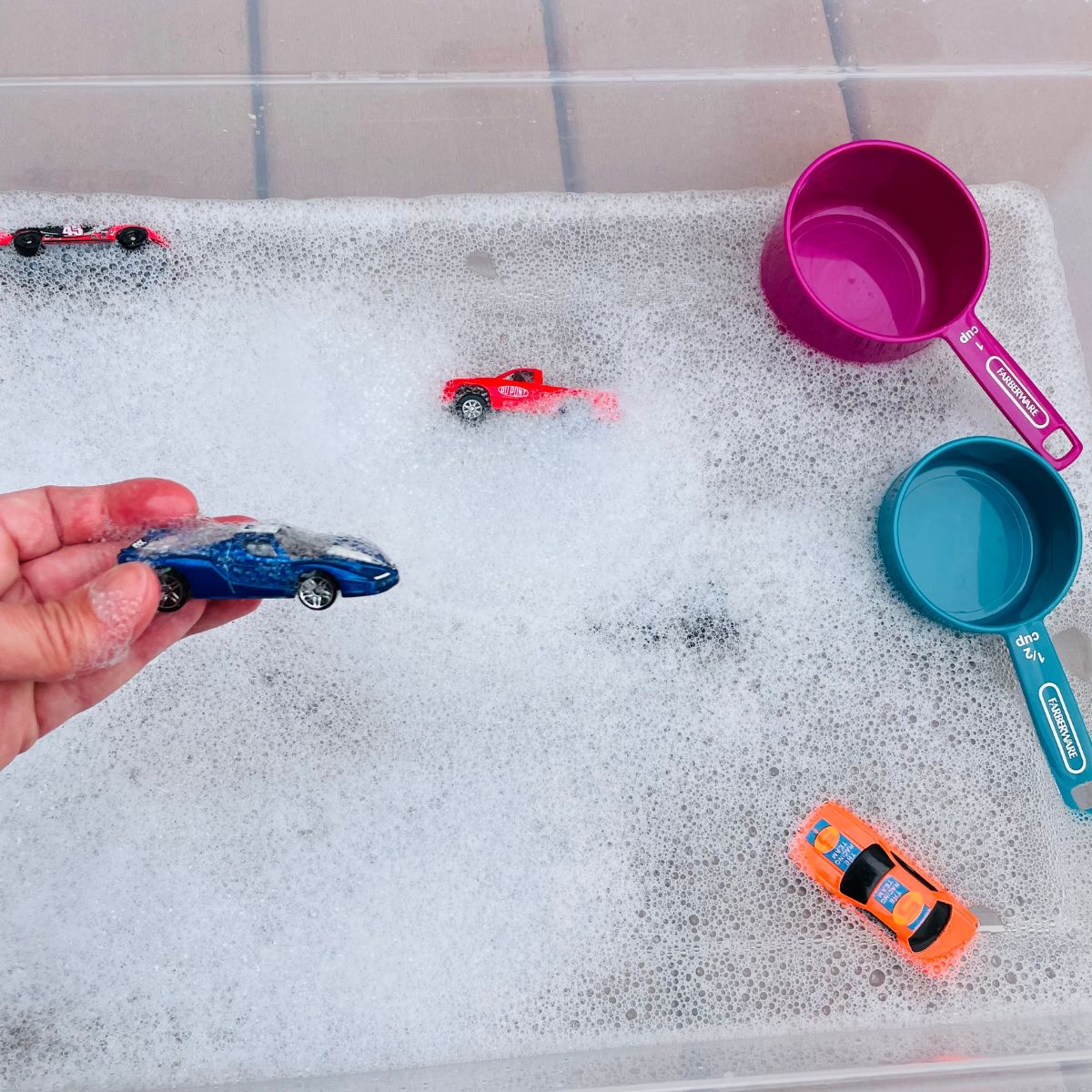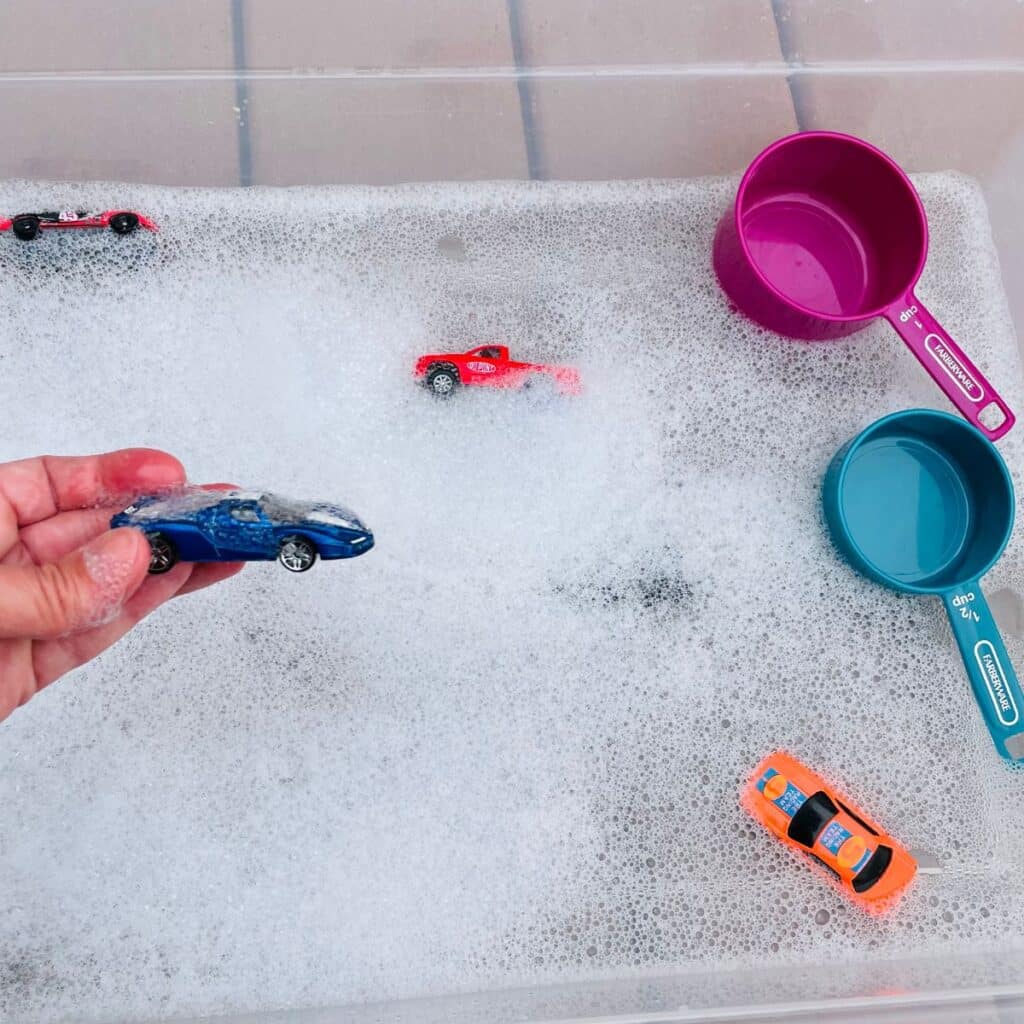 My kids love this play car wash. We have been doing this activity for years! It was my go-to in the toddler years when I just needed a few minutes to get things done.
Yes, this was my first sensory bin I ever created….back before I even knew about sensory bins or that they were "a thing."
If this is your first time learning about sensory play you might be wondering….
What is a Sensory Bin?
A Sensory Bin is a container that is filled with objects that encourage curiosity and imaginative play, while stimulating the senses.
Many sensory kits have a theme like transportation, farm, dinosaur, winter, etc.
A sensory bin has a filler for kids to scoop or pour – this might be water, sand, beans, dry corn, uncooked pasta or rice. So many ideas!
You can find more ideas for creating easy sensory bins for your child here.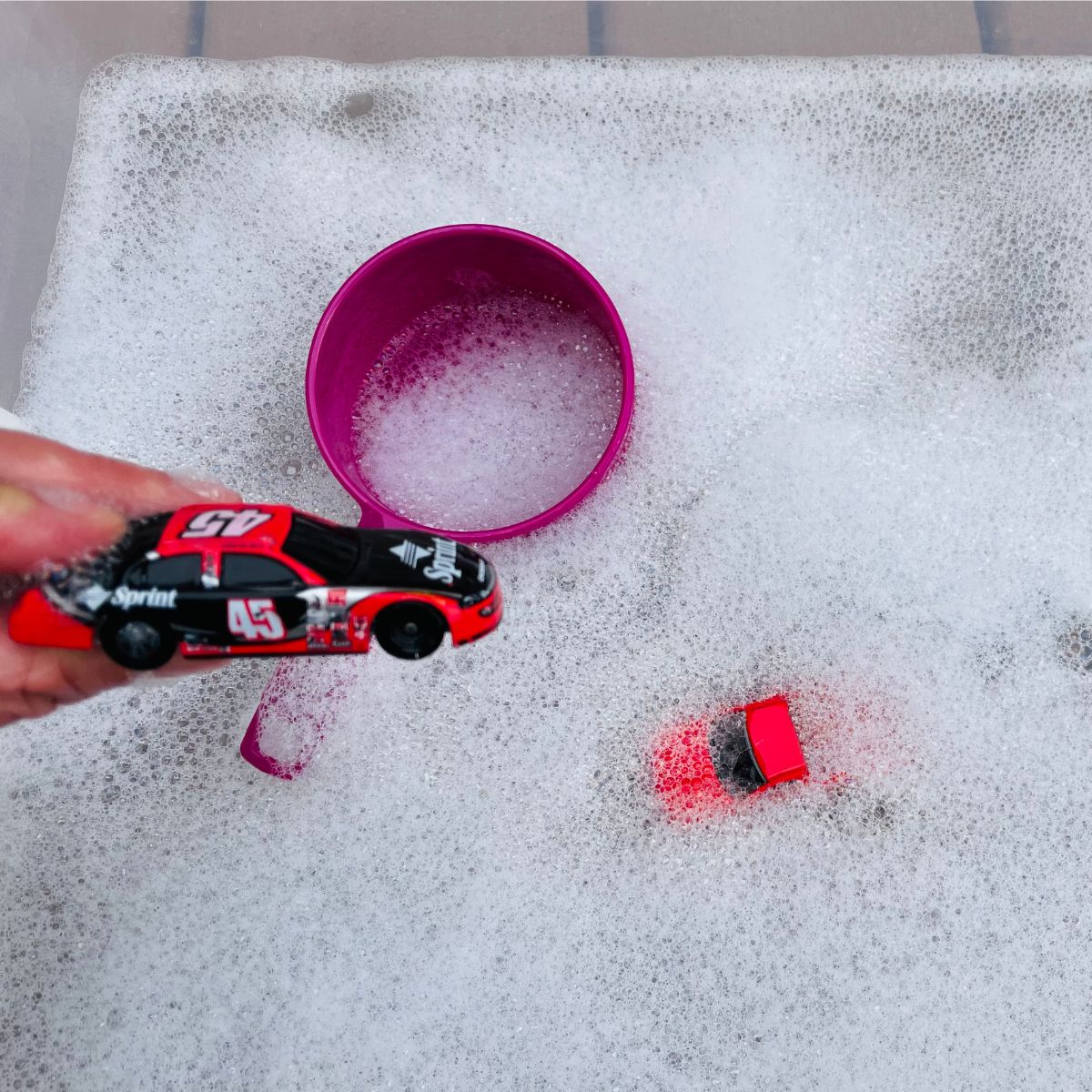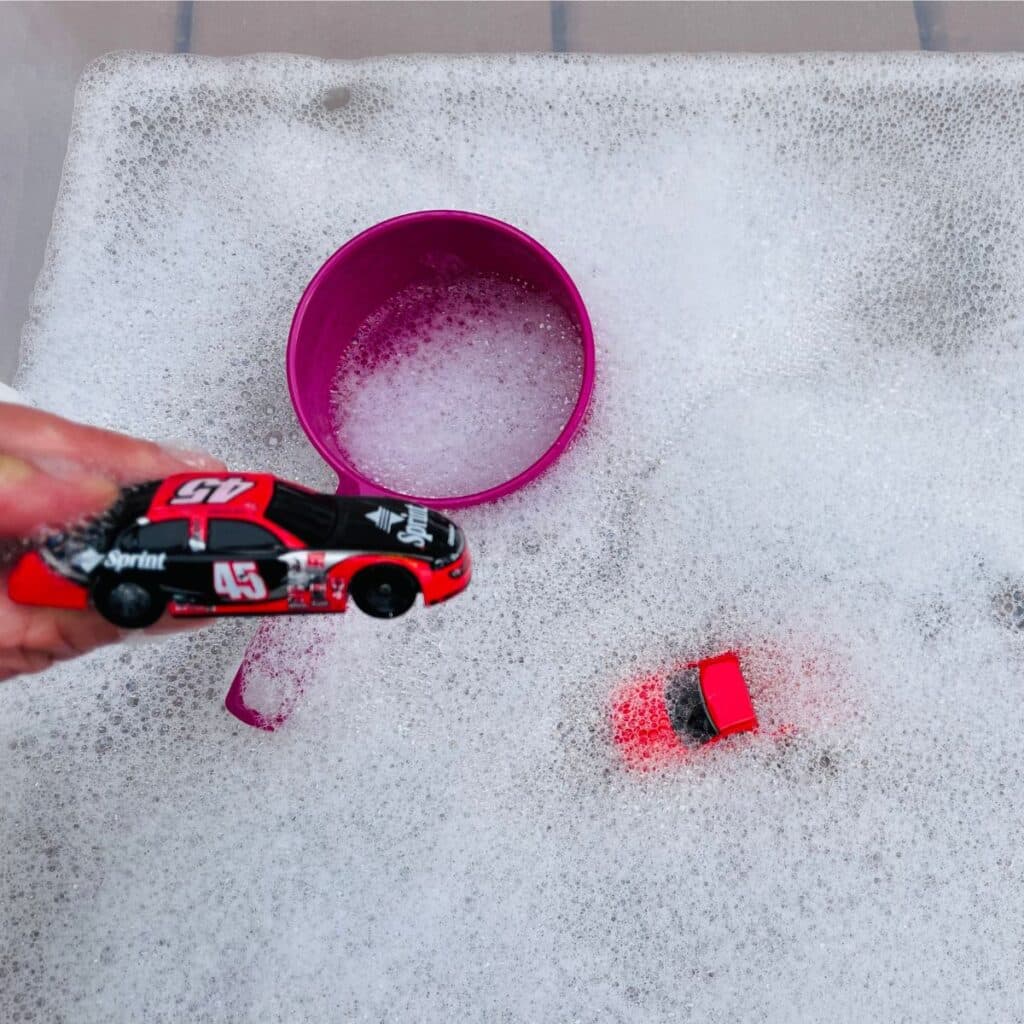 Benefits of Sensory Play
According to Good Start Learning, sensory play beneficial to kids because
It builds nerve connections in the brain
It encourages the development of fine motor skills and language development
Sensory play builds 'scientific thinking' and problem solving
There's lots of reasons to do a sensory activity. Plus, they are so much fun for kids!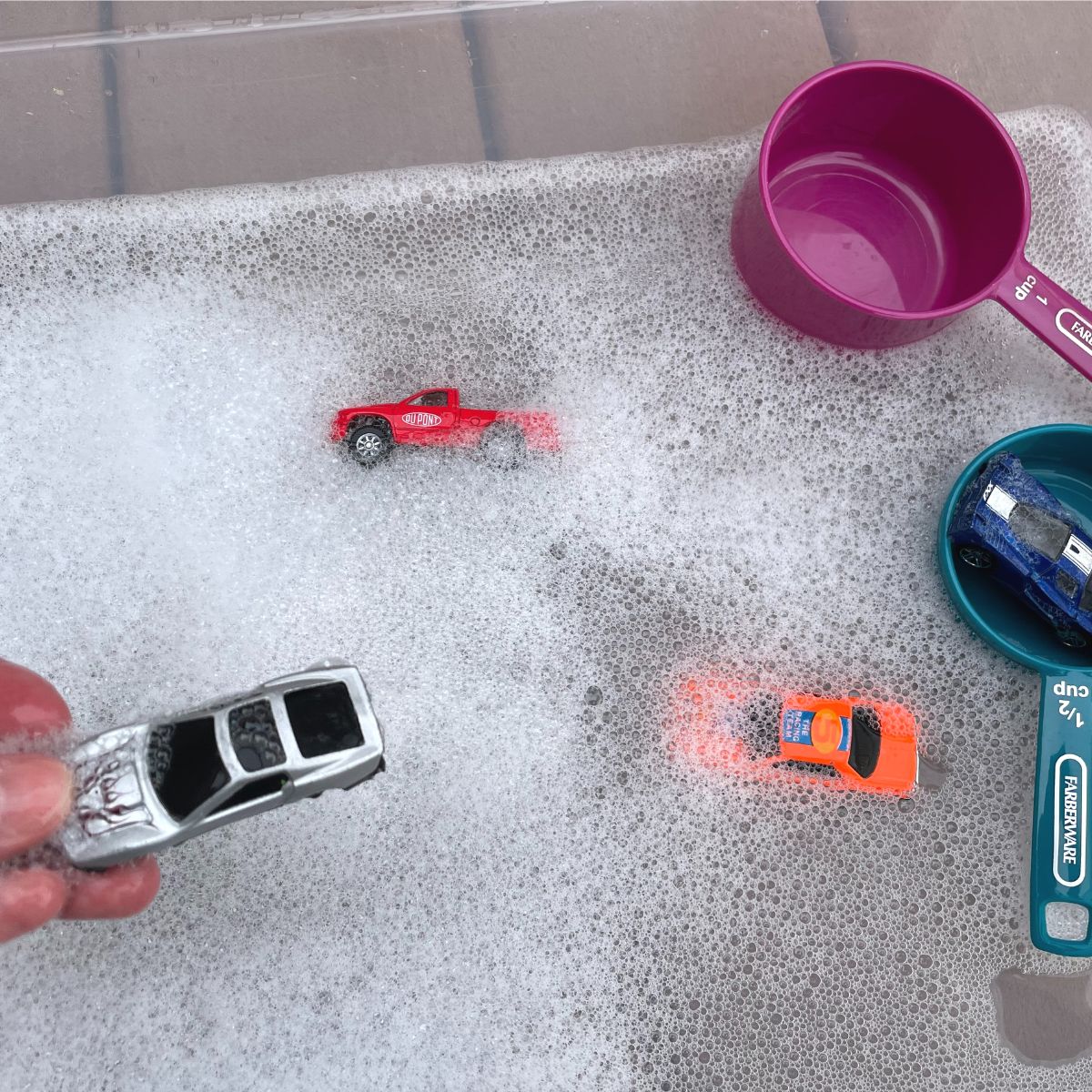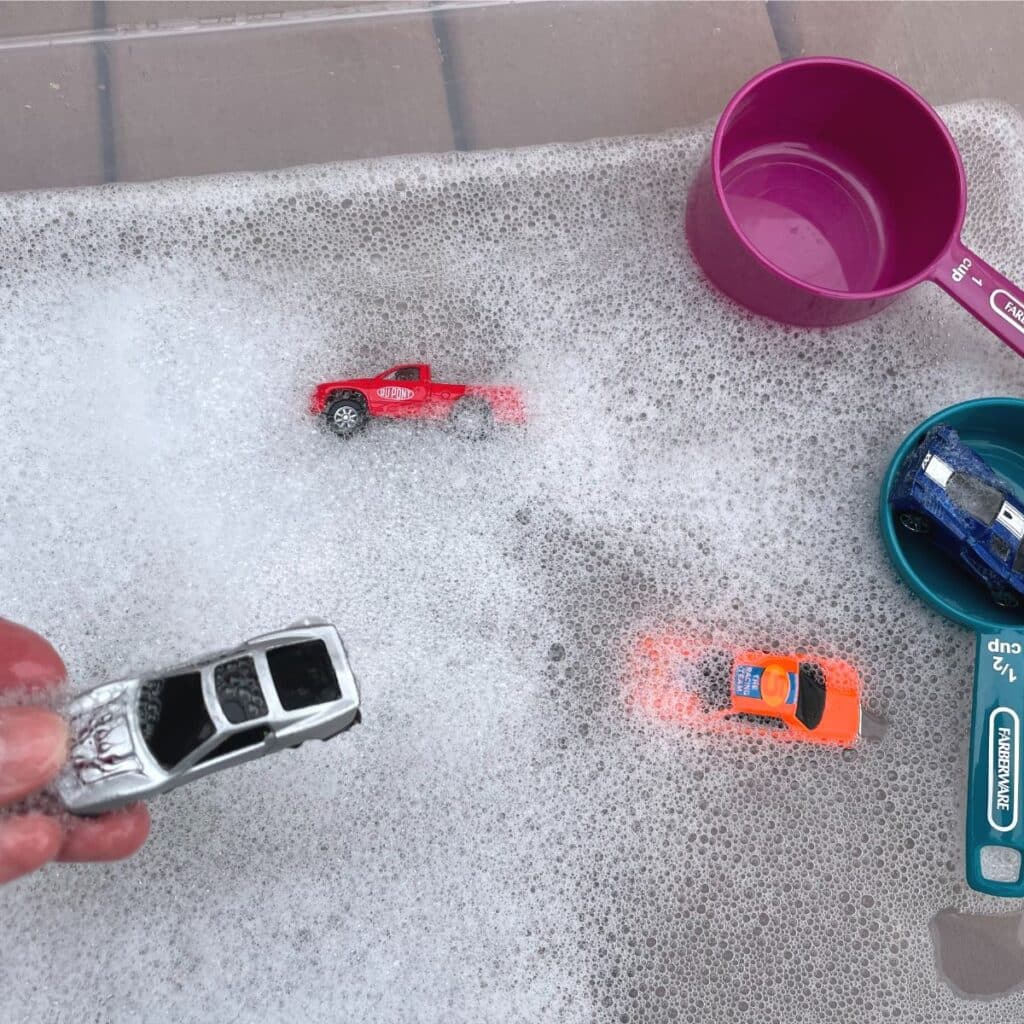 Supplies to make a Car Wash Sensory Bin
** Disclaimer: As an Amazon.com Associate, I earn from qualifying purchases made by readers clicking my links at no extra cost to you.
You will need the following items to make this car wash sensory bin: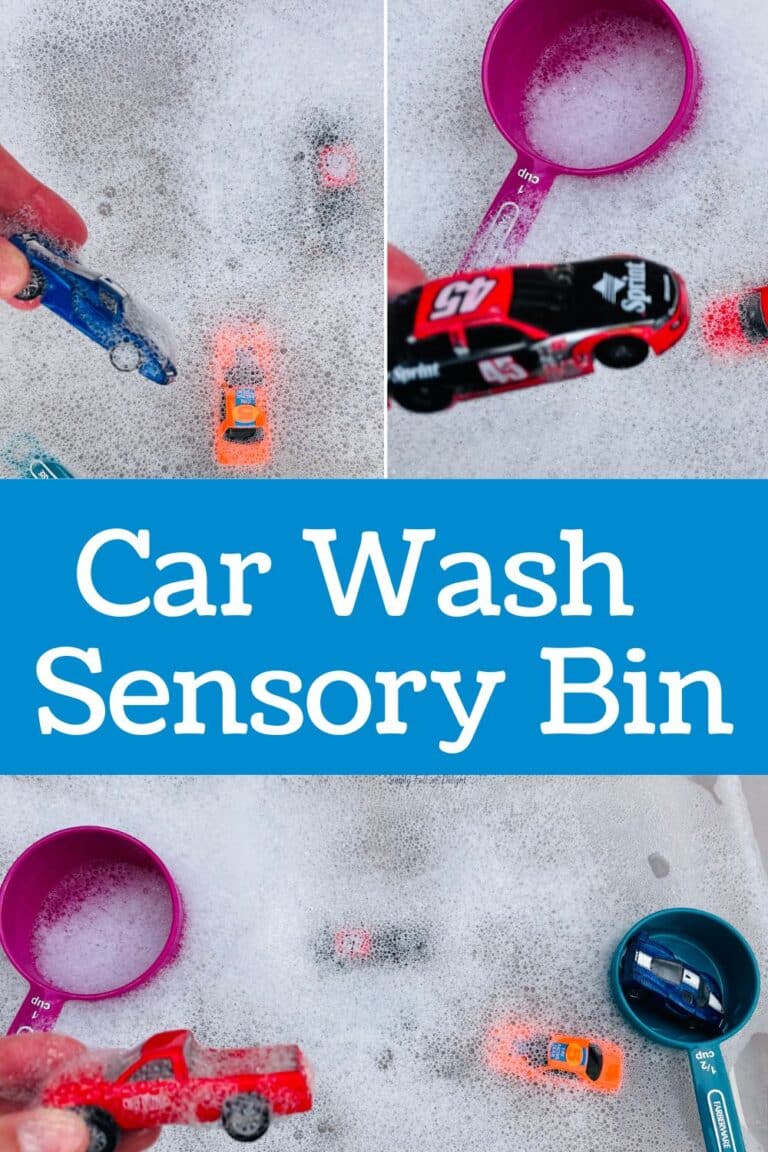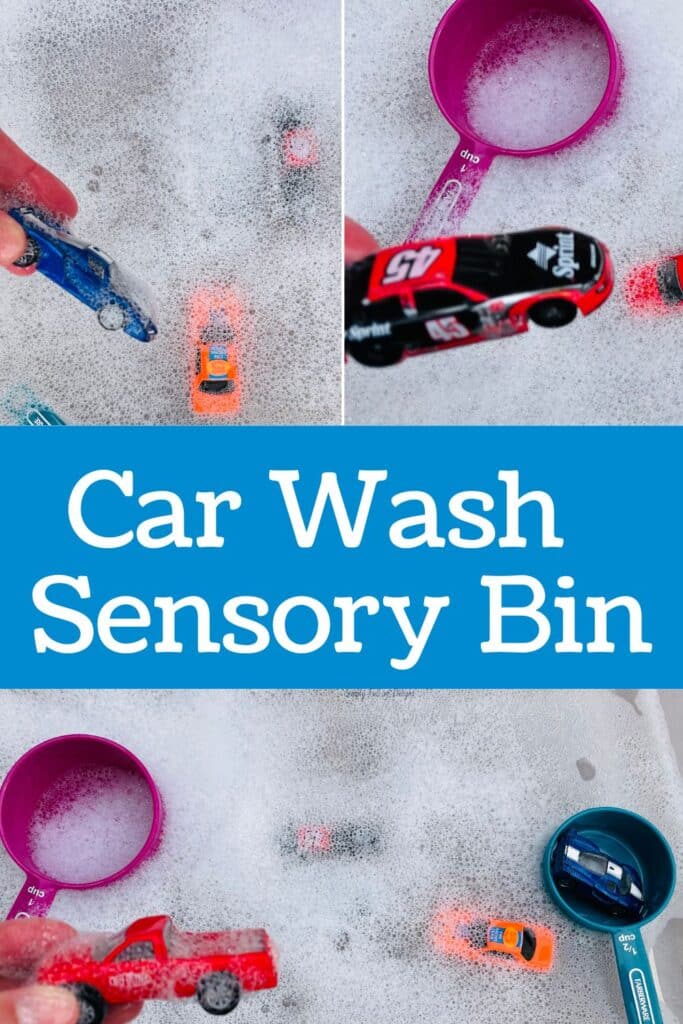 How to make a Car Wash Sensory Bin
Ok! Let's get starting making our car sensory bin!
First, take your beach towel and lay it in the spot that the kids will be playing. I recommend doing this sensory bin in your kitchen, where it won't matter if a little water is spilled. Alternatively, you could also do this activity outside!
The purpose of the towel is to catch the water spills (hey, it happens!) and also for the kids to dry the cars off if they want to.
Next, take your sensory bin and partially fill it with water. I usually use warm water, as it will cool over time. This also makes it more pleasant for the kids to play in.
Next, add your dish detergent. I use about a teaspoon of dish soap… swirl the water around to make bubbles and then add more soap if needed.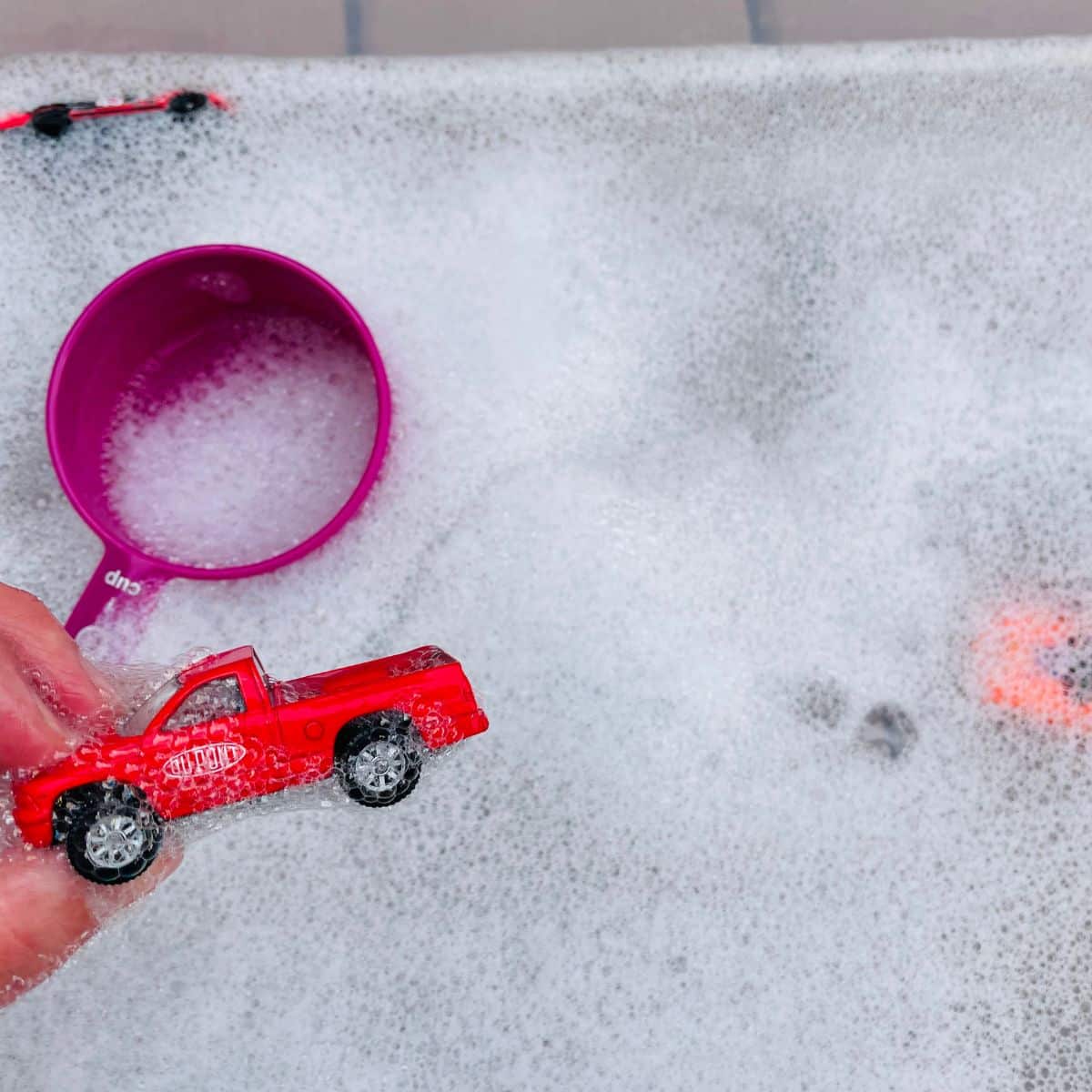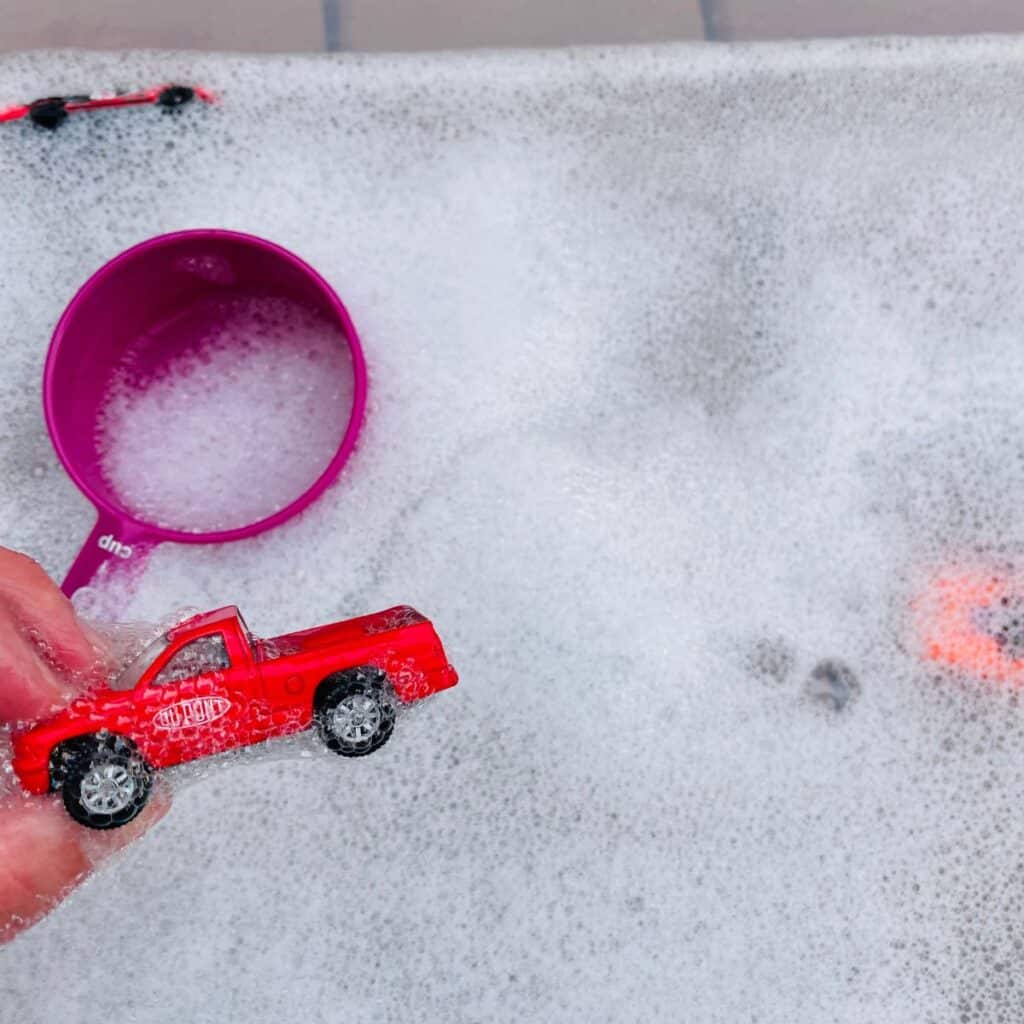 Now it's time to add your cars, trucks, and scoops.
We just used cars we already had. Make sure you choose cars that can't be damaged by soapy water.
I always like to include something to scoop with as well. It makes the sensory bin more engaging for little ones. We used some plastic measuring cups for our water play.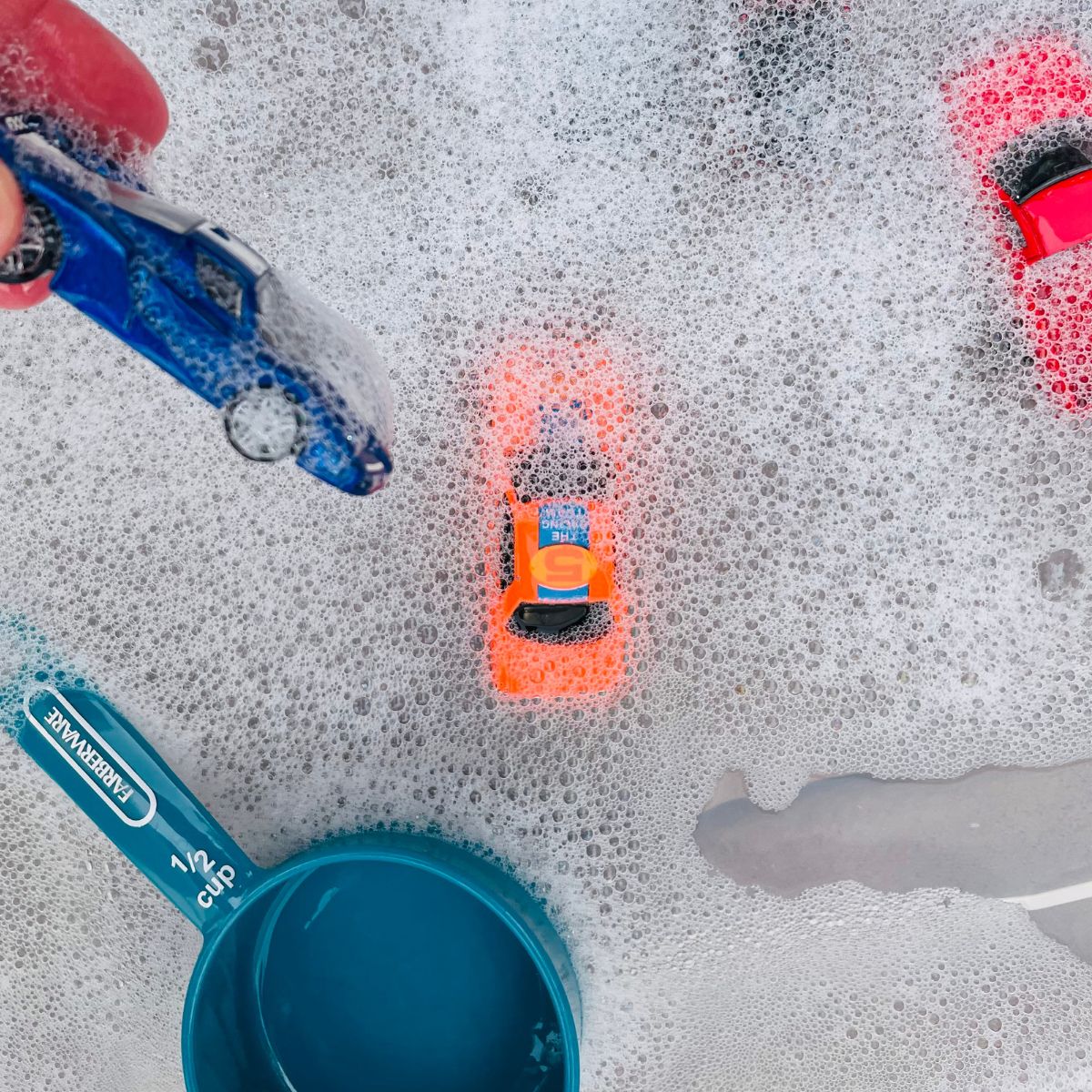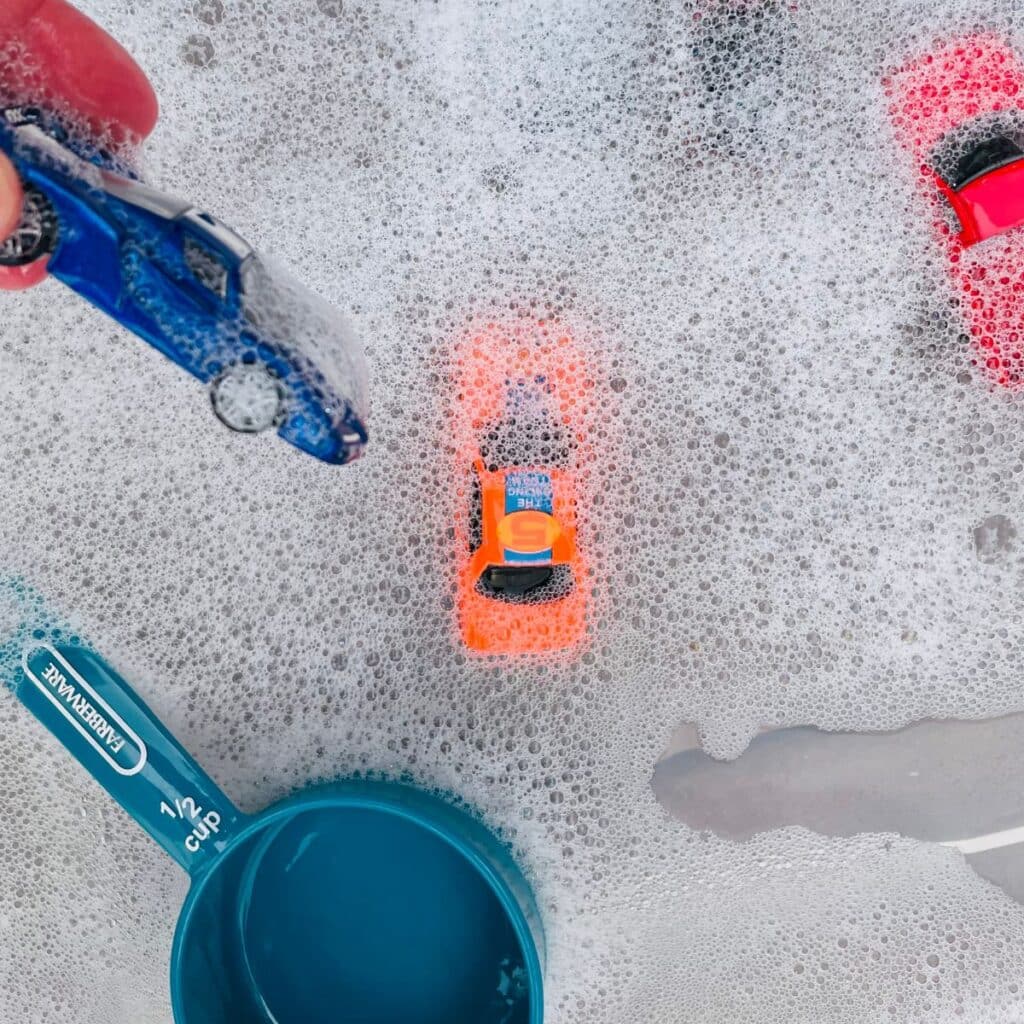 My little ones enjoyed scooping the water, driving the cars through the water, playing in the bubbles, and then drying the cars on the towel.
And that's it! Our super easy car wash activity.
This toy car wash is definitely one of my kids' favorite activities and it always lends itself to keeping little ones engaged for a long time.
Even my older kids ask for this fun activity from time to time!
It's a great activity for a rainy day or on a hot day on summer break.
Keep in mind, kids should never be left alone with water for safety reasons. But you can definitely wash your dishes, while the kids wash the cars next to you!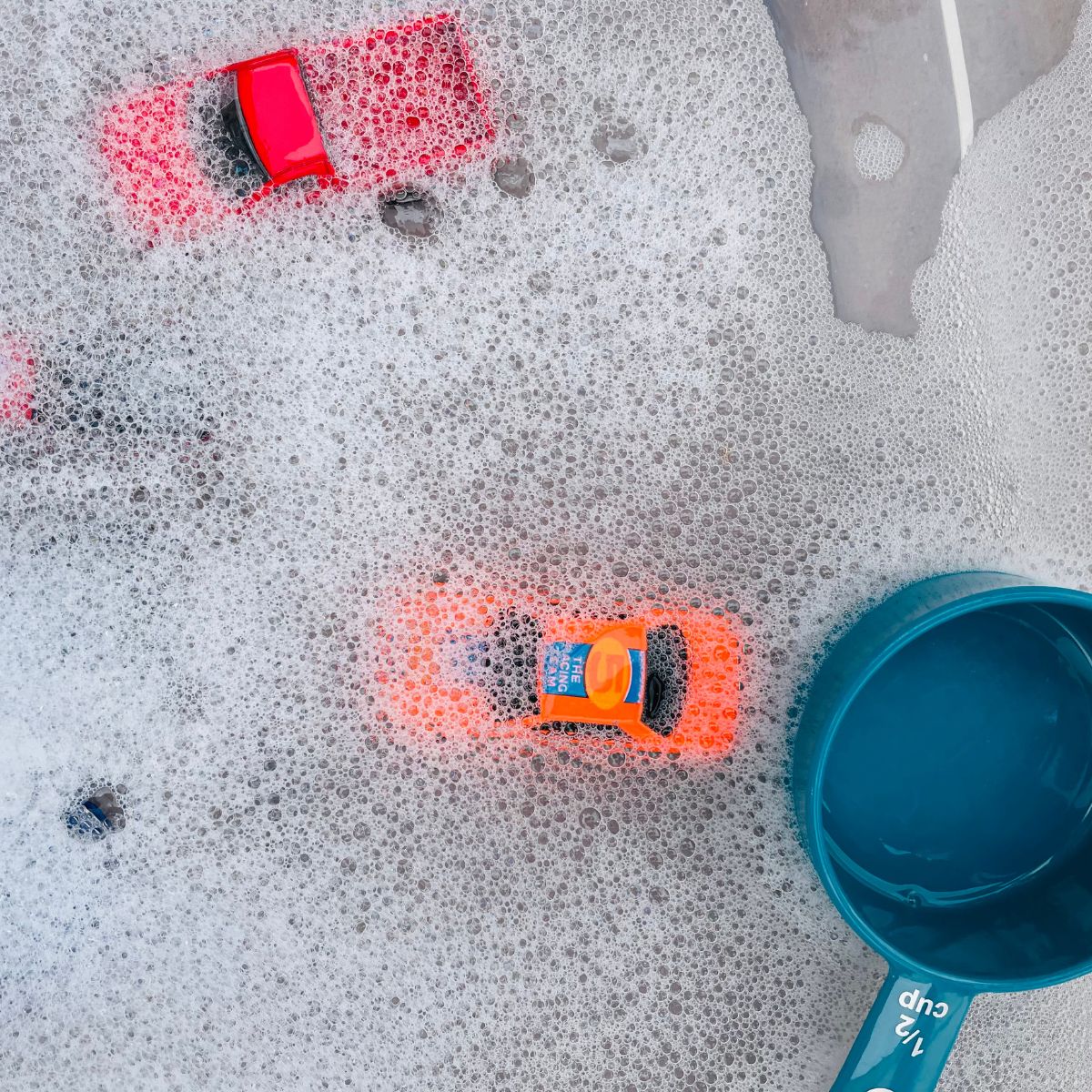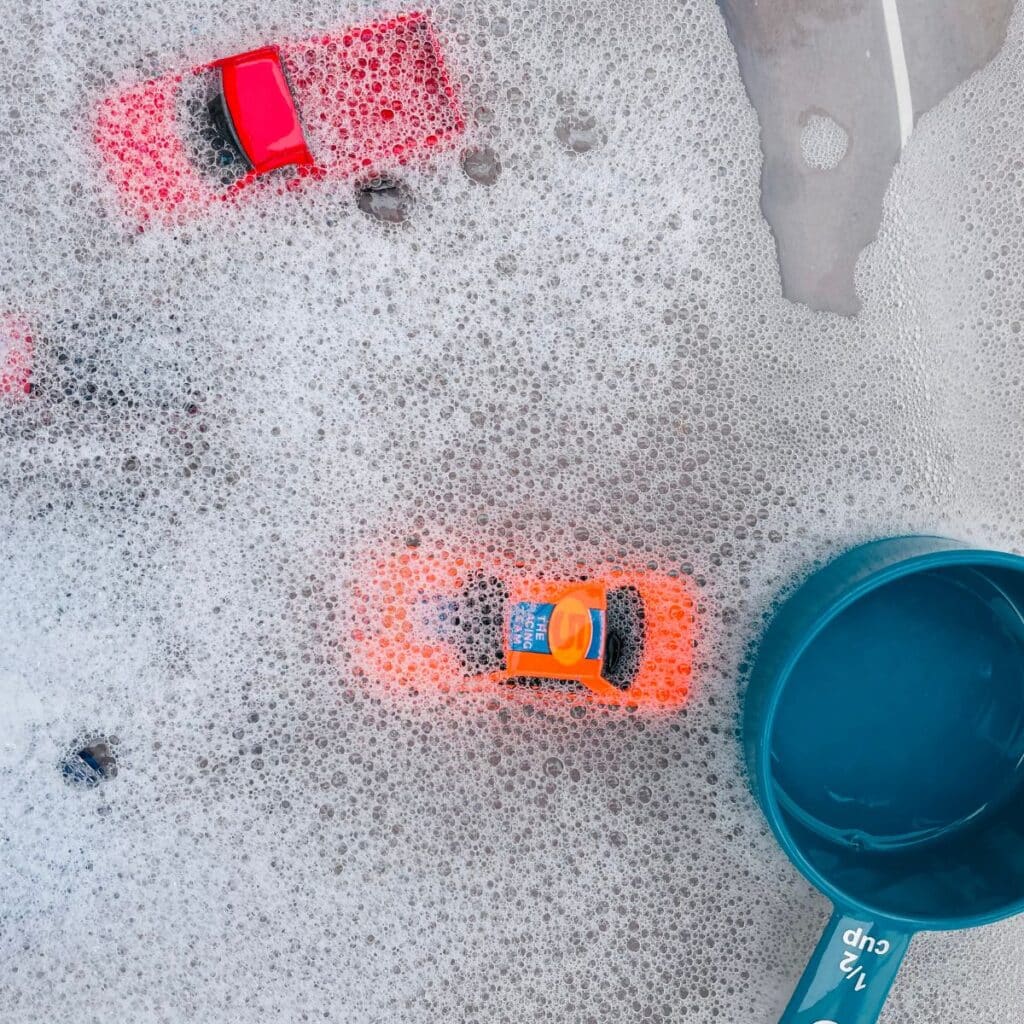 More Sensory Activities for Kids
Looking for more sensory play ideas?
Be sure to check out this fun Arctic Ice Sensory play activity. Kids can form igloos by freezing ice and then playing with it in a plastic bin. It's always a big hit!
Don't miss this awesome Alphabet Soup Sensory Bin. Little ones can practice letter recognition while making "soup" in this sensory play idea.
There's a fun Hot Chocolate Sensory Bin here. Big kids and little ones alike will enjoy serving up cups of hot cocoa topped with marshmallows. What fun!
Have a little one that loves animals? There's an adorable Farm Sensory Bin here that will engage your child's imagination.
You can also find tons of ideas for sensory play here as well.
Want to save this pretend car wash idea for later? Pin the image below to your preschool activities board on Pinterest.