Need a fast and easy Valentine's Day activity? Print out these free Valentine's Day Coloring Pages for preschool!
With Valentine's Day just around the corner, it's all things hearts and red/pink around here! My littles are excited about giving valentines to their friends and classmates.
I hope you'll find these free coloring pages for Valentine's Day helpful as you prepare for this love-ly time of year!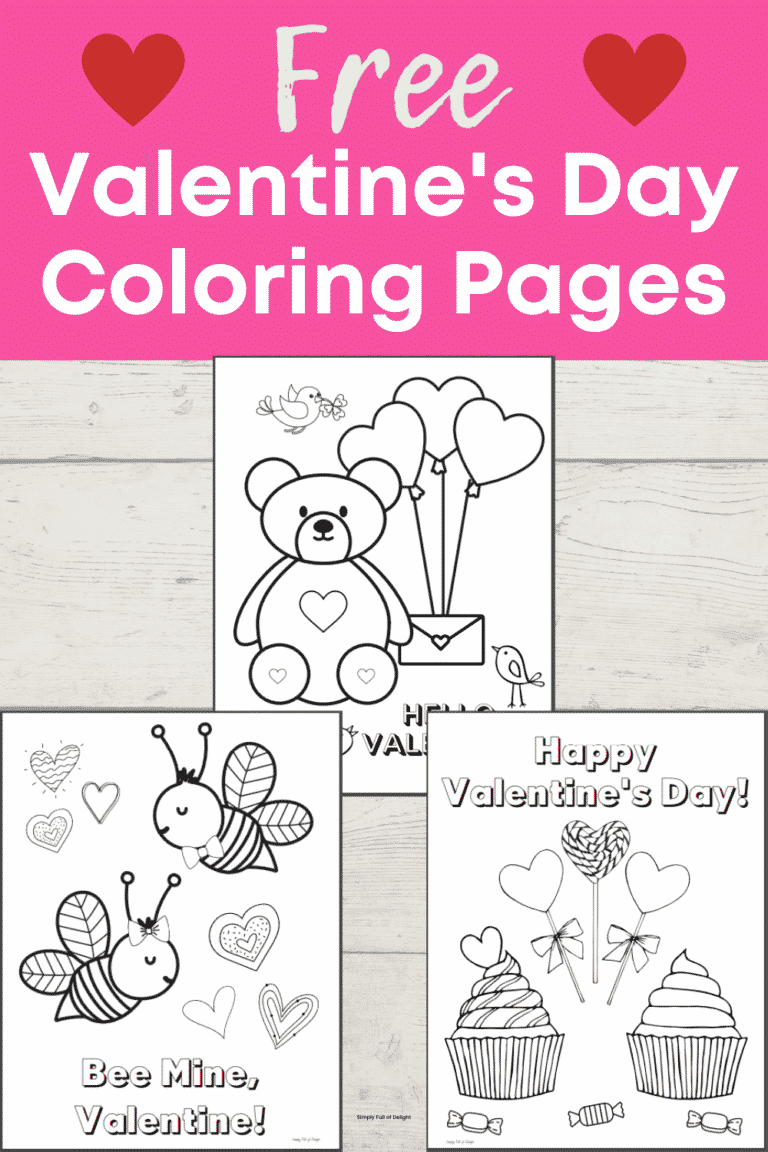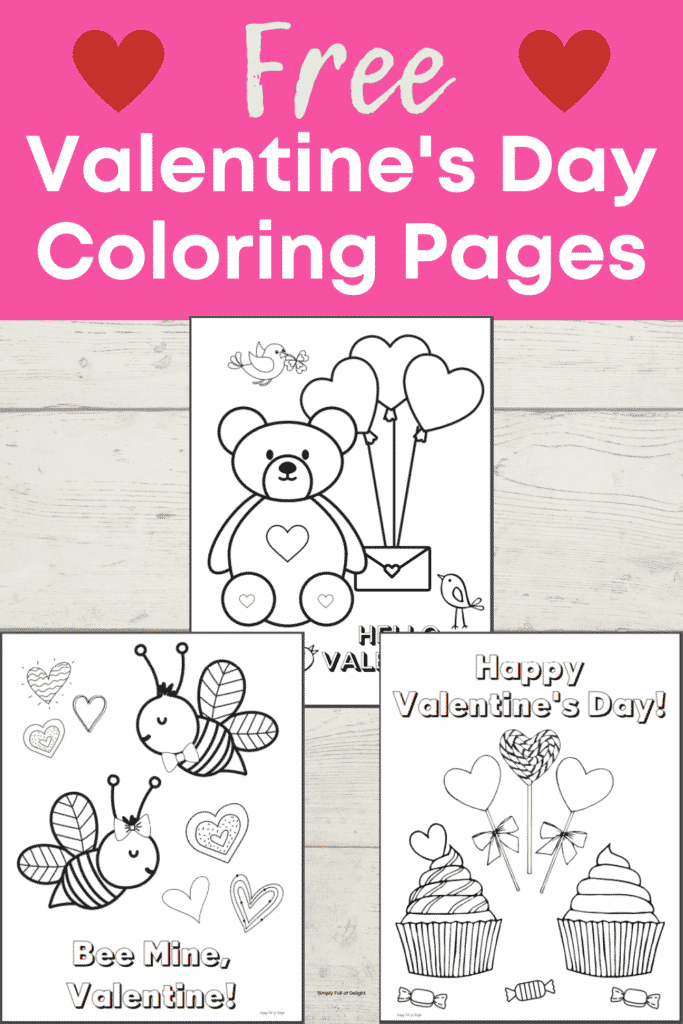 These Valentine coloring pages are great for adding to your art center. They can be used as a quick art project, or as a fun quiet time activity. You might even like to use these for a Valentine's Day classroom party activity after all the Valentine's day cards have been passed out.
You might even like to use these printable pages to make your own coloring book for personal or classroom use.
Coloring is a fun way for kids to practice their fine motor skills. My little one used crayons on her Valentines day coloring sheet. My older kids enjoyed using markers and colored pencils on these Valentine's coloring pages.
Alright! Let's dive in and check out these Valentine's day themed coloring sheets!
First up is this…..
Bee Mine Valentine Coloring Page PDF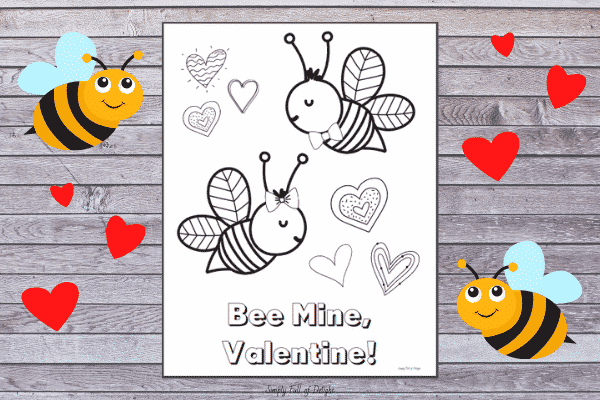 Kids will be buzzing with excitement over this one!
Need a cute valentine's day coloring page? This Bee Mine Valentine coloring sheet is perfect!
This page mixes intricate valentine doodles with a simple hearts making it buzz with fun!
This free printable features 2 bees, a boy and a girl, one with a bowtie and one with a bow on her head. They are surrounded by various hearts. Kids can color in the block letters that say "Bee Mine, Valentine!"
I couldn't help but use this classic play on words for this bee Valentine coloring page. I love the mix of bees with these classic heart coloring pages.
You can download this free printable Valentine's Day coloring page with the black download button below.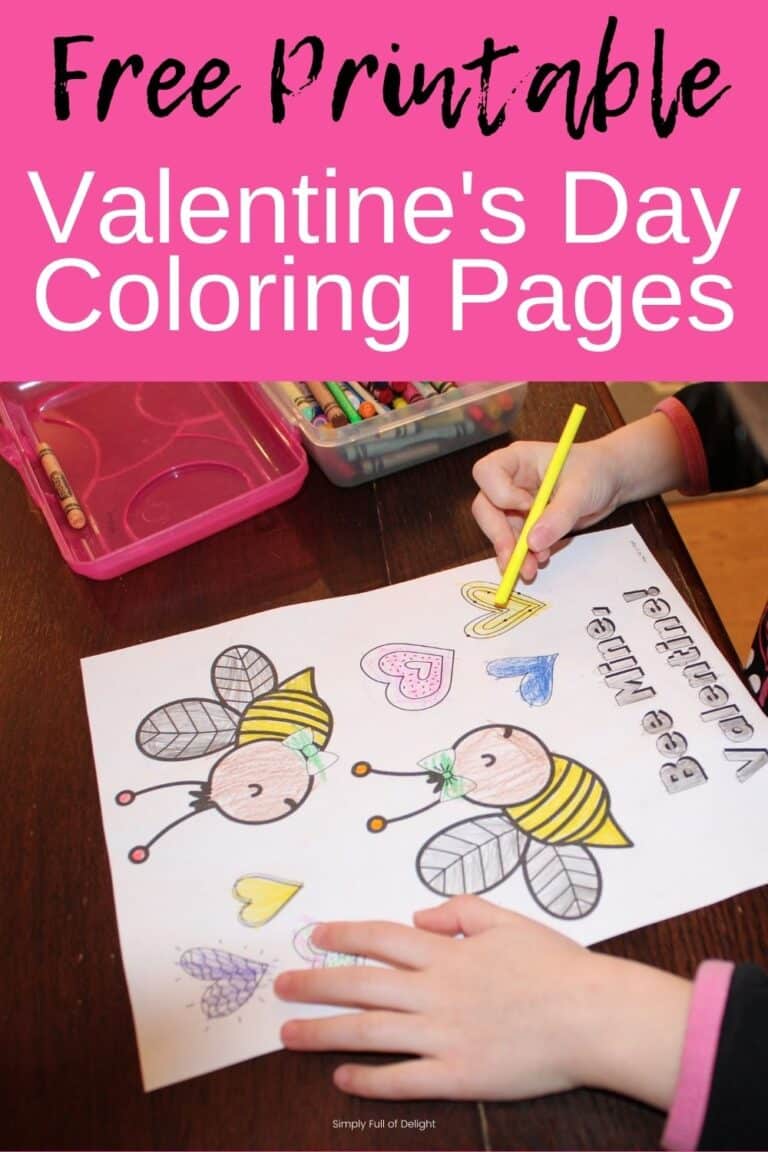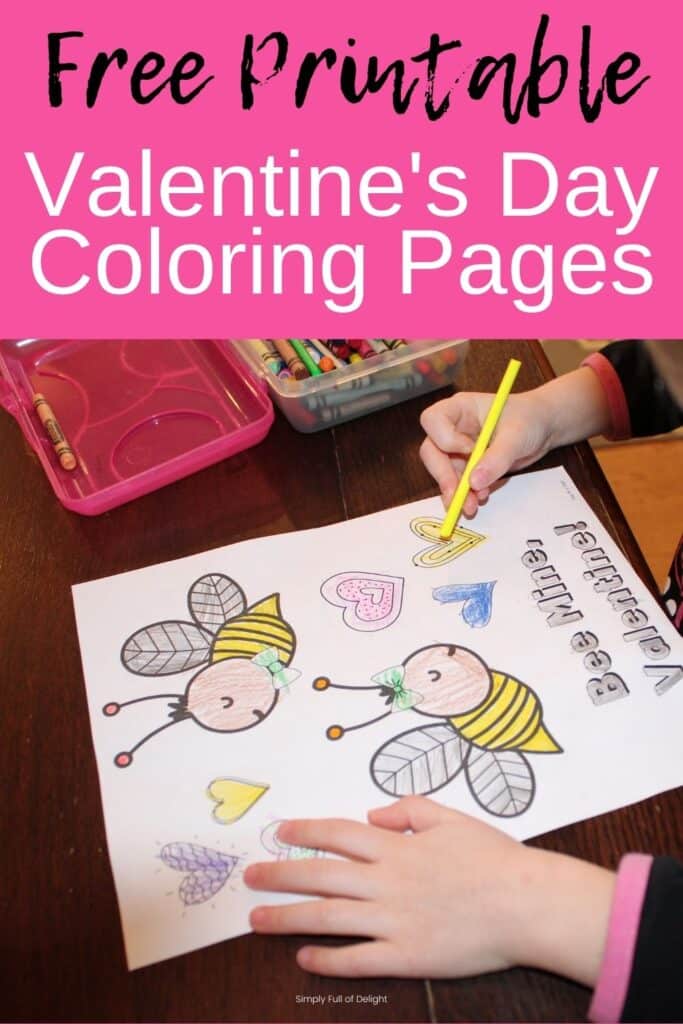 Next up is…..
Teddy Bear Valentine Coloring Page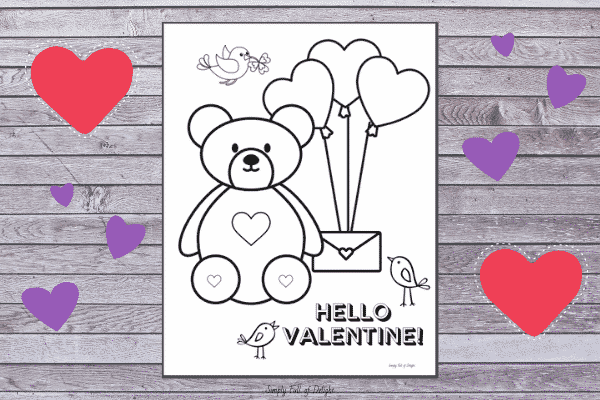 This Teddy Bear Valentine Coloring page will be a quick favorite with kids!
This free printable features a Teddy Bear with a heart on his stomach as well as little hearts on his feet. There's 3 little birds to color, as well as a bundle of heart balloons and a Valentine. The bubble letters say "Hello Valentine!"
This is a classic bear Valentine coloring page that is sure to be enjoyed by kids of all ages!
What's better than teddy bears for young children? You can grab these simple coloring pages by clicking the download button below.
And finally….
Cupcake Valentines Coloring Pages for Preschool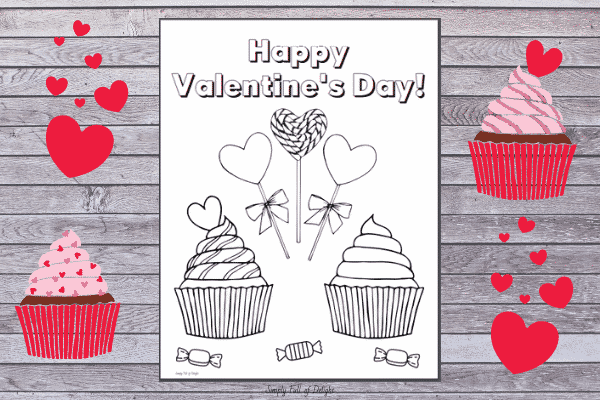 This last free printable Valentines Day Coloring Page printable is a sweet one! Literally. This sweet treats cupcake themed page features 2 different Valentines day cupcakes, with some candy and 3 lollipops.
The bubble letters can be colored in that say "Happy Valentine's Day!"
My kids loved this fun coloring sheet the most. Sweets are hard to beat! They enjoyed coloring in the tiny details on the lollipops and deciding on the colors of their cupcakes!
You can instantly download the pdf file for your Cupcake Valentines Coloring Pages for Preschool with the black button below.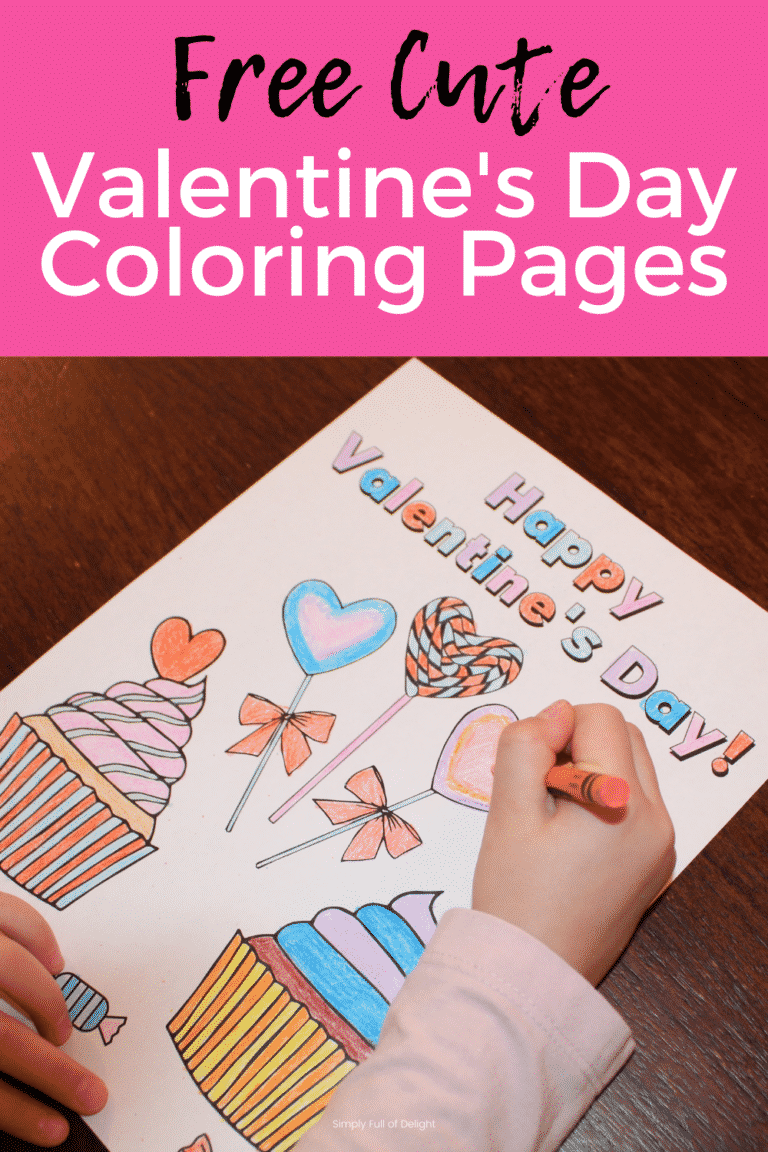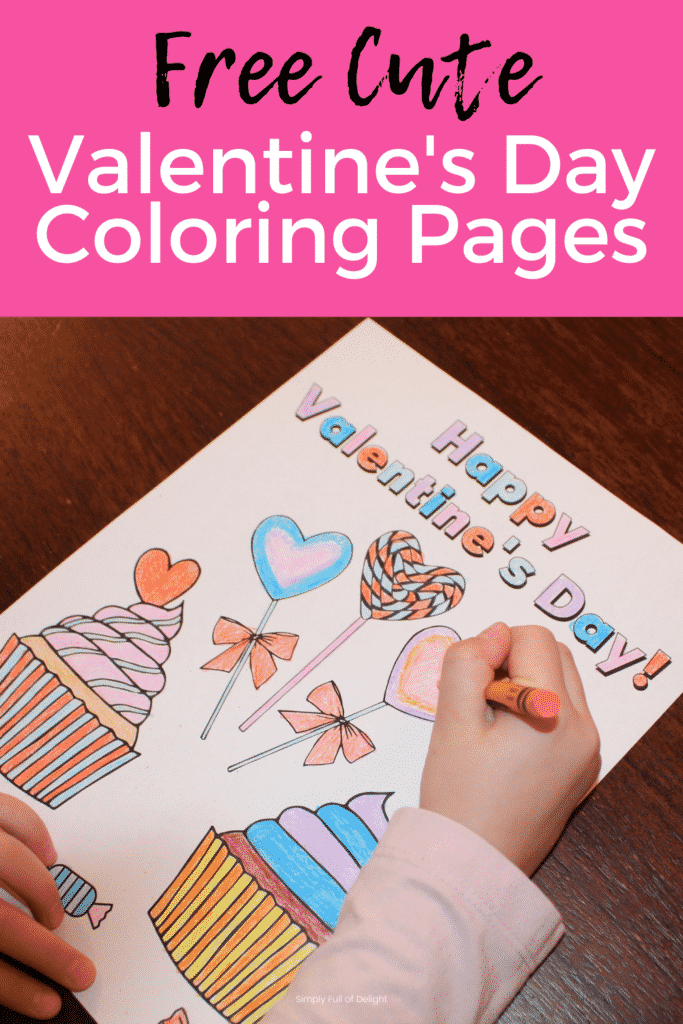 More Ideas for Valentine Coloring Fun!
I hope you enjoy these cute Valentine's Day Coloring pages for preschool as much as I enjoyed creating them! (And on that note…if you've ever wanted to make your own coloring pages check out this out.)
These preschool Valentines Day coloring pages would also be a great way to say "I love you!" to your little ones.
** Disclaimer: As an Amazon.com Associate, I earn from qualifying purchases made by readers clicking my links at no extra cost to you.
Pair these free Valentine coloring pages with some new art supplies (like glitter crayons or heart stickers) and you'll have a fun little Valentines gift for your sweet little ones that will help develop their fine motor skills!
For more Valentine's Day fun, be sure to check out this printable Valentine's Day banner. Kids can cut out, color, and assemble their own "Love" banner to decorate the house for Valentine's Day!
You can also find a free Valentine's Day poem printable here for handprint art perfect for a valentine card for parents or grandparents.
Want more Valentine's Day coloring pages?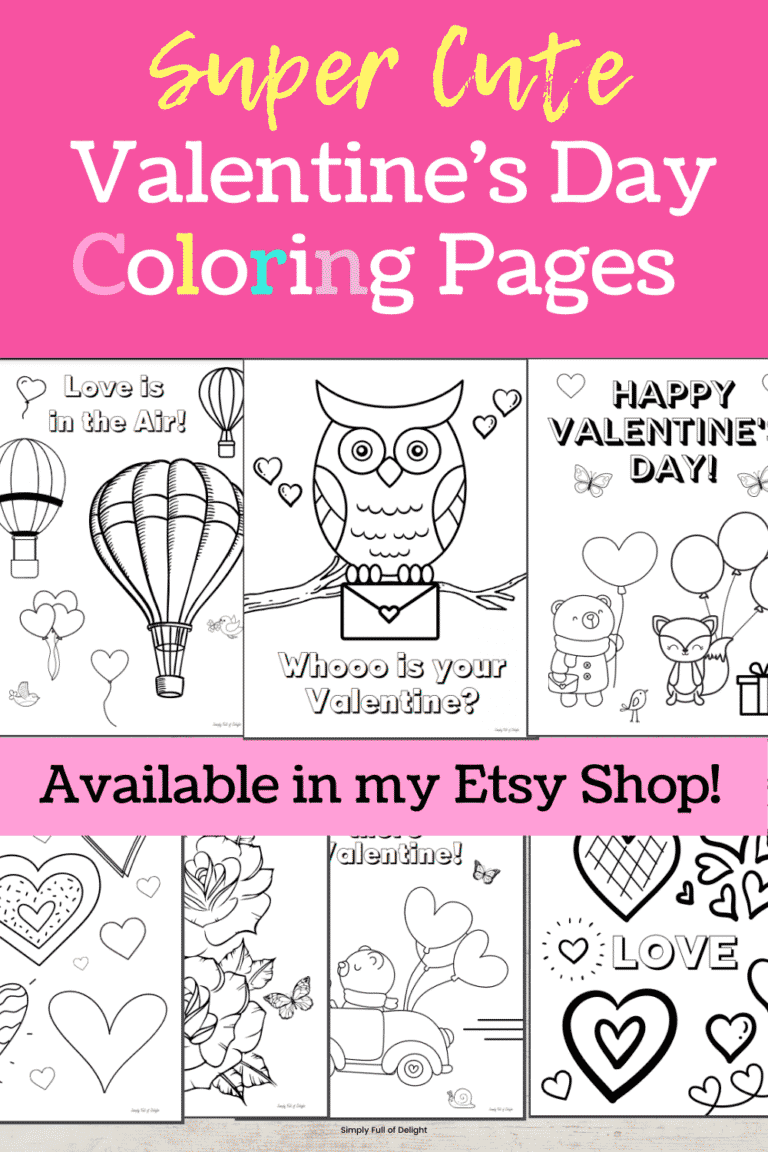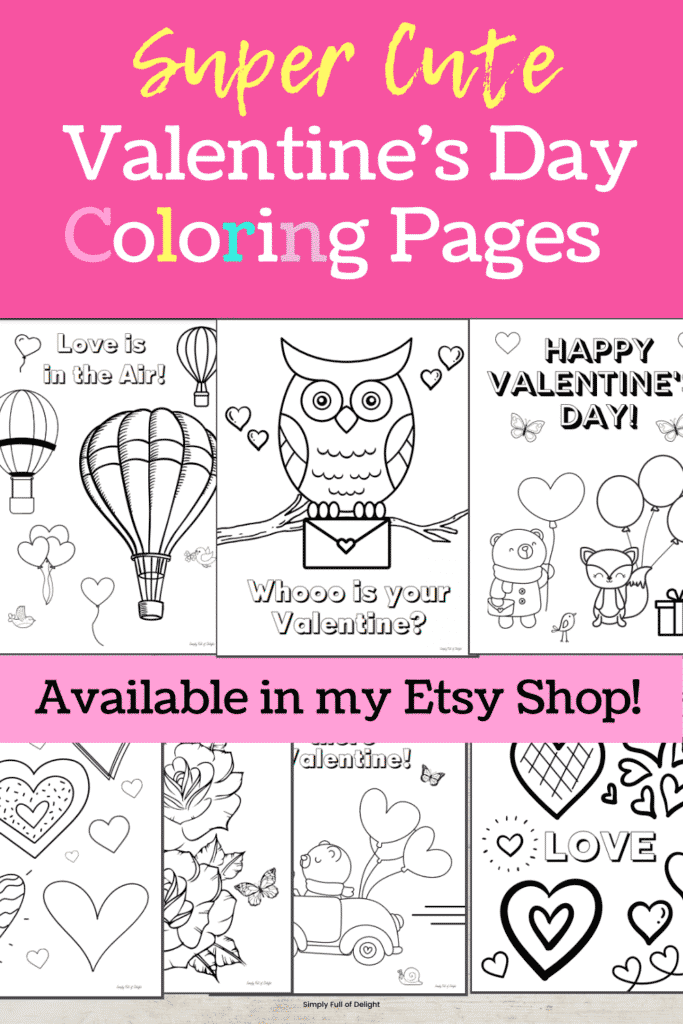 If you are interested in more preschool Valentine coloring pages, but sure to check out the full set in my Etsy shop!
You can grab the full set of 10 Valentine Coloring Sheets for preschool here including an owl, hot air balloons, an animal driving a car, and more! To sweeten the deal, use coupon code SWEET15 to get 15% off!