Here's a fun way to show some love on Valentine's Day! Check out this adorable Handprint Heart Valentine Poem for Preschoolers.
With a little help, preschoolers can create this quick and easy Valentine craft to make their parents (or grandparents) smile!
This free Valentine's Day Preschool Poem makes a simple Valentine's Day activity. All you need is the free poem printable and some paint to make this simple and cute handprint heart craft!
There's 3 different versions of the short Valentine's Day poems printable, so you can be sure to find the perfect craft or card to suit your needs. Let's dive in!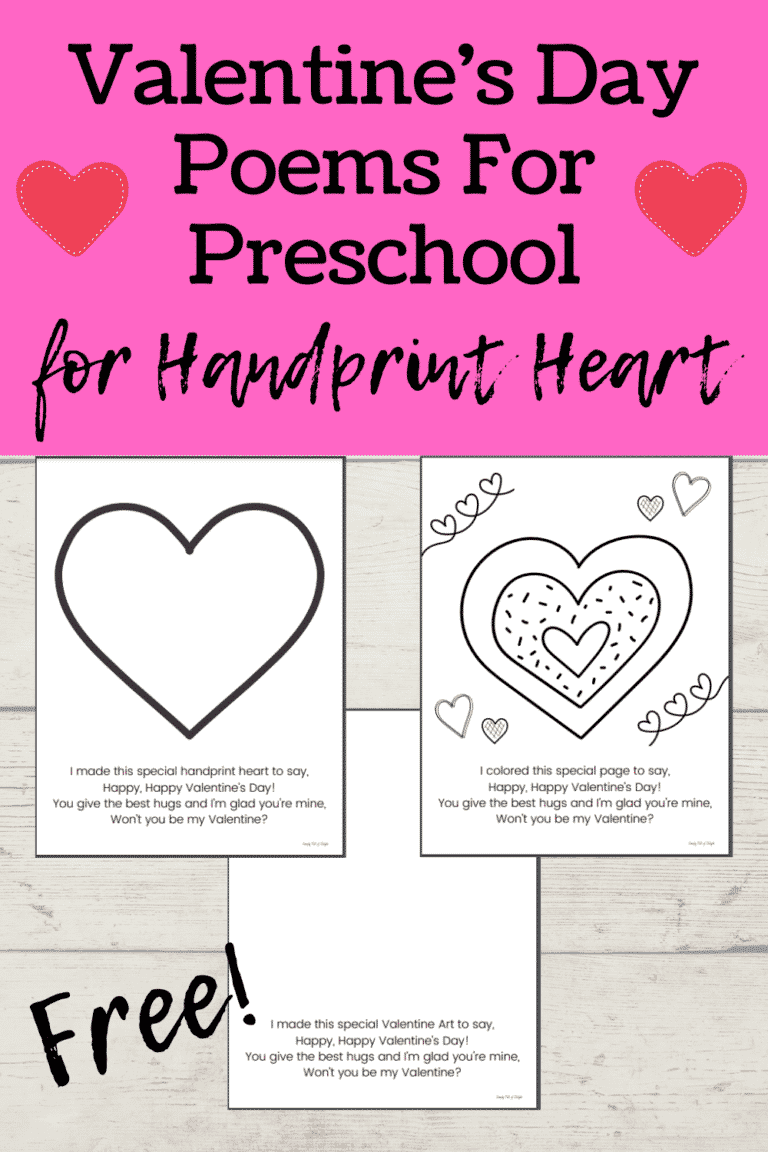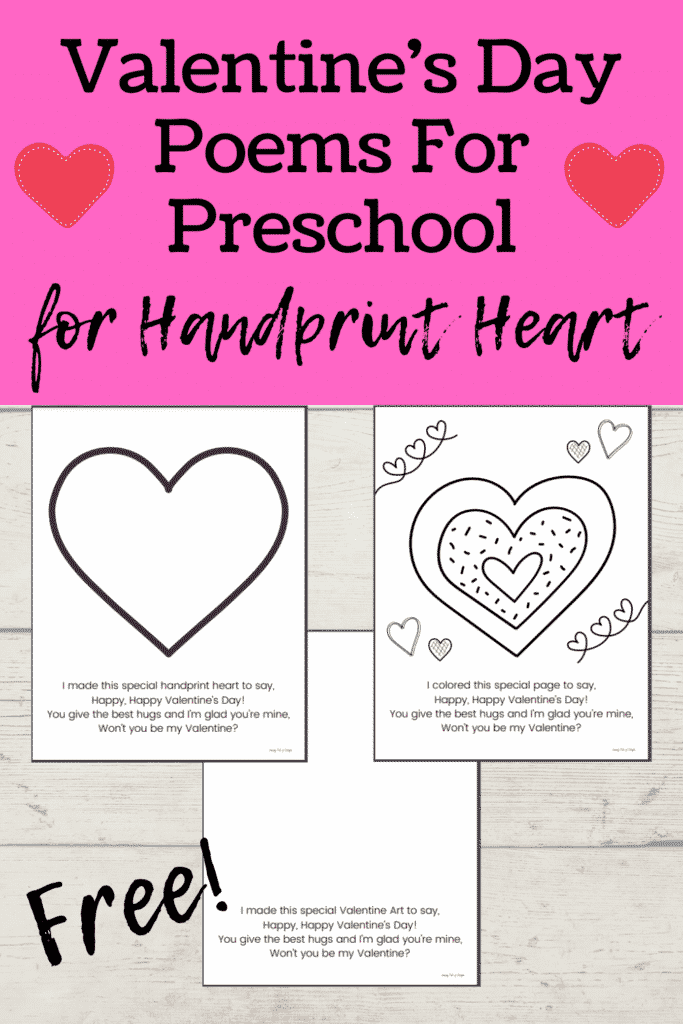 Disclosure: As an Amazon Associate I earn from qualifying purchases at no additional cost to you.
Free Valentine's Day Poem from Preschoolers to Parents
This first printable features a large heart and an original poem (written by me) that says:
I made this special handprint heart to say,
Happy, Happy Valentine's Day!
You give the best hugs and I'm glad you're mine,
Won't you be my Valentine?
This Heart page is perfect for creating a handprint heart craft.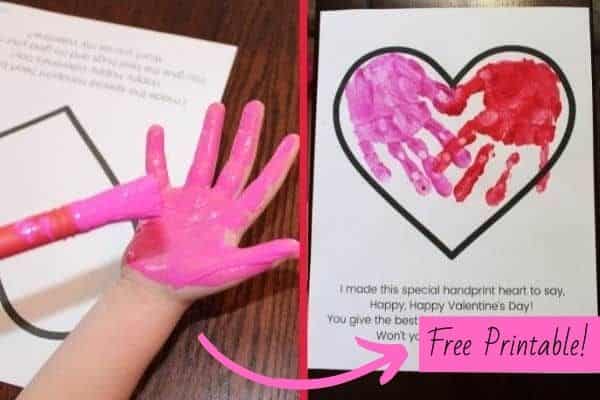 Heart Made from Handprints
You will need the following:
– Washable Paint (we prefer this paint by Crayola)
– Paper plate or towel to lay the brush down
– The Free Valentine's Day Poem printable (directions to access it are at the end of this tutorial)
Simply take your child's hand, paint it generously with your choice of paint. With the heart printable upside down, carefully take their hand and place it on the poem printable page. Press his/her hand down firmly and lift it back up again.
I prefer the look of the hands when you turn the page upside down and their thumbs meet in the middle of the heart, but you can absolutely do your own creative spin on this!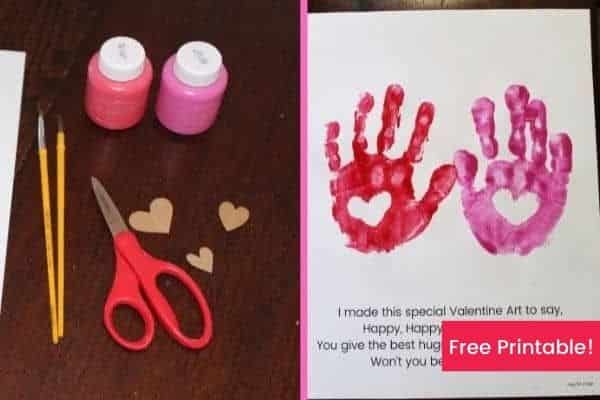 Valentine's Day Poem with Heart Handprint Art
Next up is another Valentine's Day Poem with child handprints. This page has a modified poem that replaces the first line of the poem so that it reads:
I made this special Valentine Art to say,
Happy, Happy Valentine's Day!
You give the best hugs and I'm glad you're mine,
Won't you be my Valentine?
Aside from the poem, this page has been left blank for your own purposes or craft idea.
We did something kind of fun with it!
I cut out two hearts from cardstock and placed it on the page. Then I painted my child's hand and stamped their hand right on top of the heart.
This created a cool effect where the hand appears to have a heart on it! Isn't it so cute!
Note: I probably wouldn't attempt this craft with a whole classroom because you do need 2 hearts per kid (and that can get tedious!) but it's a fun idea to do with just a few kids!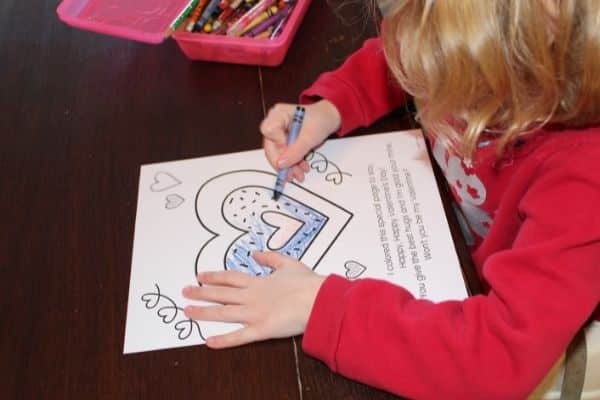 Valentine's Day Poem Coloring Page
Lastly there's a third Valentine poem printable that is a coloring page. You can use this page if you need a quick and easy Valentine card or last minute Valentine's Day art project!
The Valentines Day poem is at the bottom of the page with the first line changed to say "I colored this special page to say."
This Valentine's Day poem coloring page features a variety of hearts to be colored. You can see my daughter above coloring excitedly the blue hearts and pink hearts.
There's nothing like a coloring page to give to a good friend or family member. Coloring sheets are a great way for a little child to make homemade cards.
Get the Free Printable Valentine Poem for Preschoolers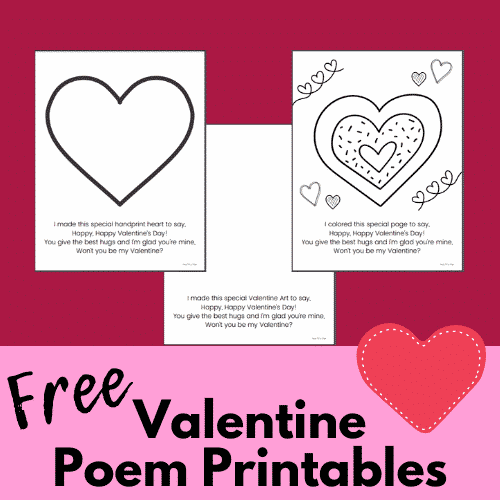 I hope your kids enjoy making their own homemade Valentines with these kids' Valentine poems. I love the pairing of a cute poem with a handprint for a Valentine's Day Card.
To grab all three versions of the Valentine Poem for Preschoolers, enter your email into the box below and become an email subscriber. You will receive instant access to all 3 of these Valentine's Day poem printables, plus ton of more freebies in my Resource Library.
If you are already a subscriber, simply visit the Resource library and enter the password that is in nearly every email I send and grab these new free Valentine's day poem printables!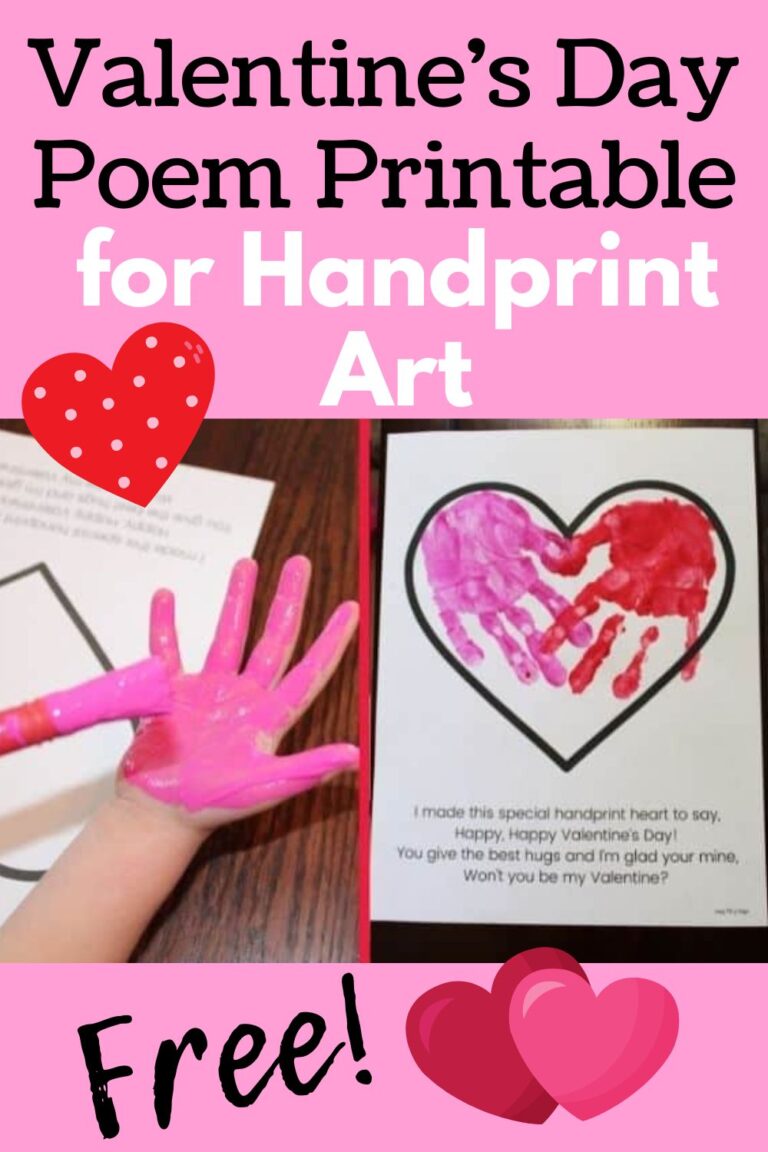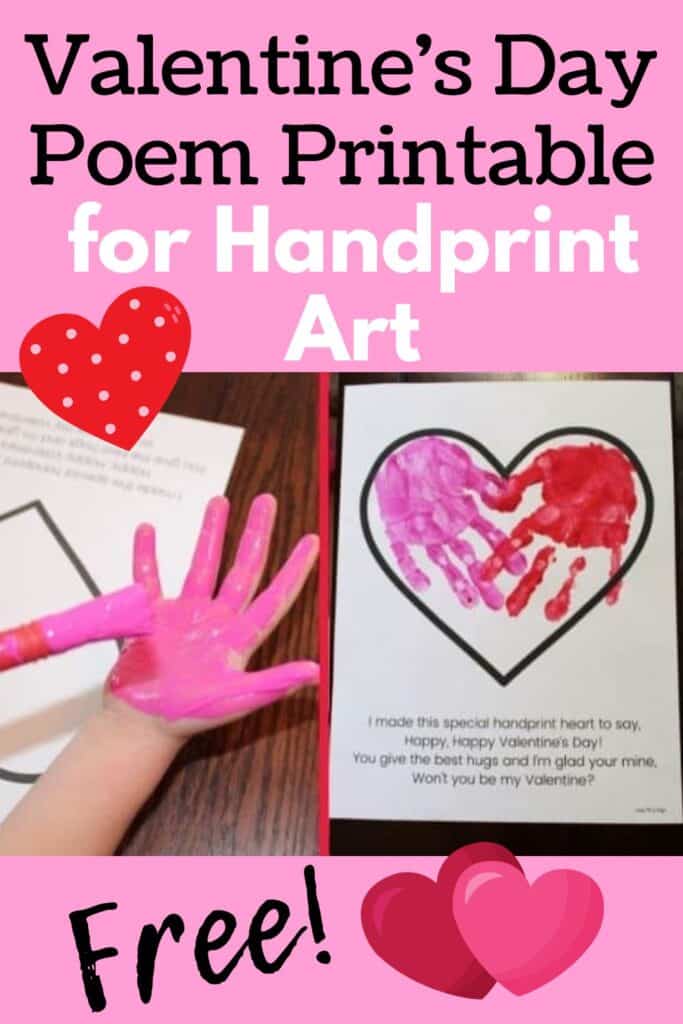 More Valentine's Day Activities for Kids
If you enjoyed these Valentine's Day poems for preschoolers and you need more Valentine's Day activities for kids, you can find plenty more ideas here on my blog!
Be sure to check out these free printable Valentine's Day coloring pages. You can print them directly on the article page. Perfect for your little valentines to enjoy on that special day! Kids will enjoy giving them to best friends and new friends alike!
There's also a fun Symmetry Heart Craft here. It's an easy craft for younger children. Kids paint half of the heart and then fold the page to print a symmetrical print on the other side. It's so much fun! And it's super cute to give to a special friend (or the best mom) along with a great big hug.
There's 3 Free printable Color by Number Valentine pages here. The first little Valentine page is a sweet cupcake with little hearts. Yum! The second little Valentine printable is a Teddy Bear with a big red heart Valentine envelope and the third little Valentine color by number is a red Valentines rocket shooting out rainbow hearts.
Kids of all ages will enjoy this Valentine's Day printable LOVE banner. It makes such a pretty Valentine decoration. Kids will enjoy coloring red hearts and making this cool banner to display for the day of love.
And if you want more sweet poems (and silly poems) be sure to check out Jack Prelutsky's book It's Valentine's Day.
Also, be sure to check out my Etsy shop for more Valentine's Day fun!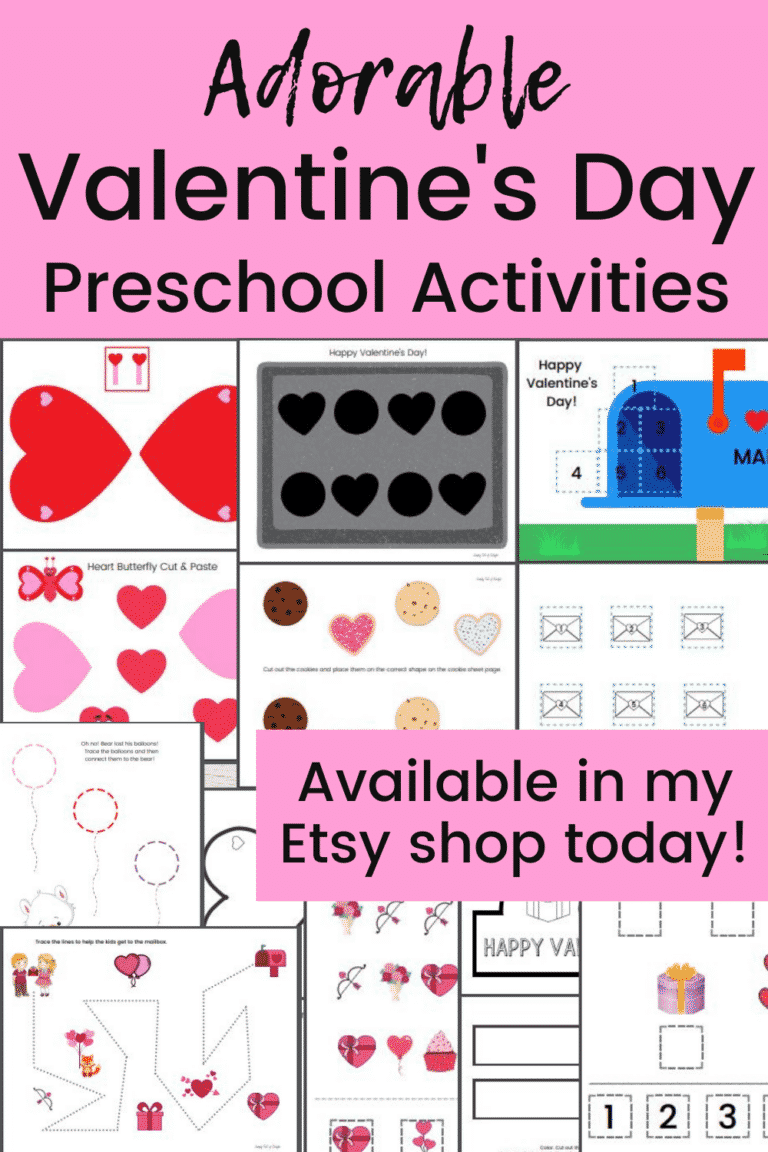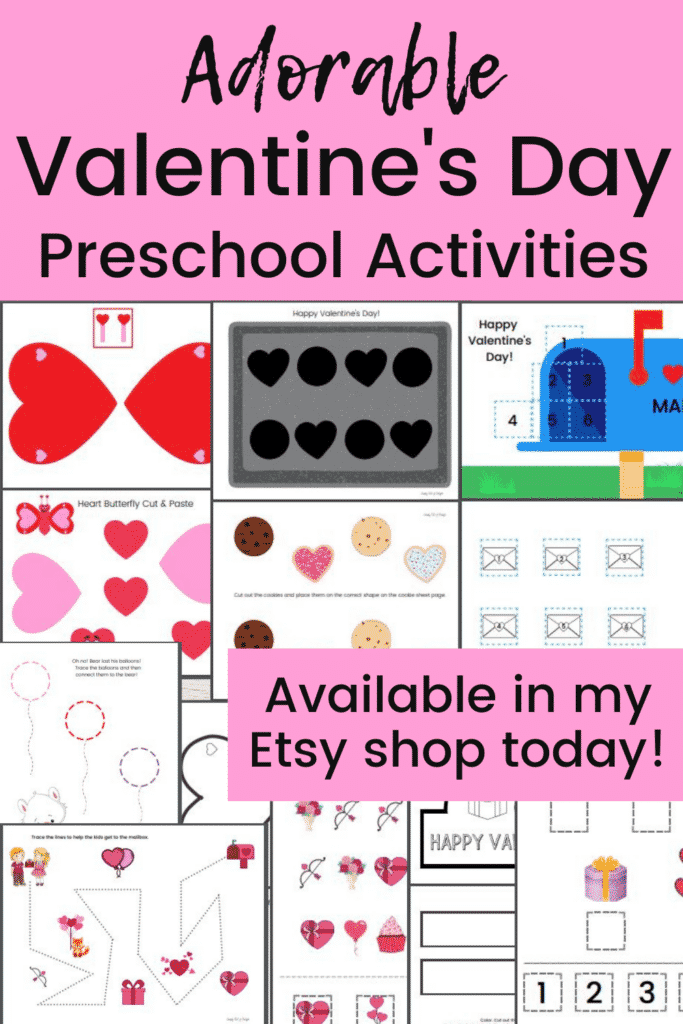 You can grab this amazing Valentine Preschool Activities pack in my Etsy shop! There's cut and paste activities, tracing, patterns and tons of engaging Valentine's Day activities to make learning fun for kids. Shop now!