Whether you have a budding astronaut or you want to teach your little one about space, these space gifts for kids are out of this world! Here's the Best Space Gifts for Kids in 2021.
My son has been asking all sorts of questions lately about planets, rockets, and astronauts. I love it when a child has a natural hunger and curiousity about a topic.
I try my best to provide inspiration and educational items to help fuel that learning process. Naturally, when it is near their birthday or Christmas, I try to give them presents that reflect those interests.
So, if you've got a little astronomer in the family or an aspiring astronaut, you're going to love these unique gift ideas for kids who love outer space.
Here's 20 of the Best Space Toys and Gifts for Kids to help you find the perfect gift for your space enthusiast!
Let's dive in!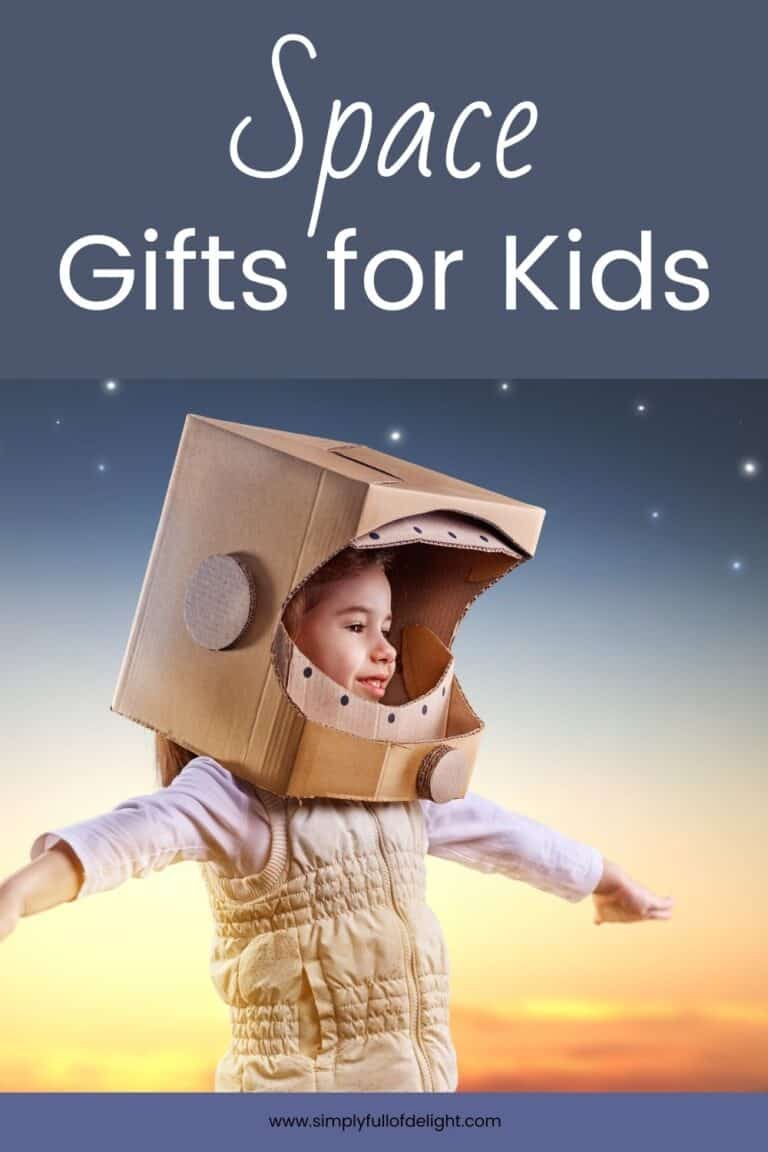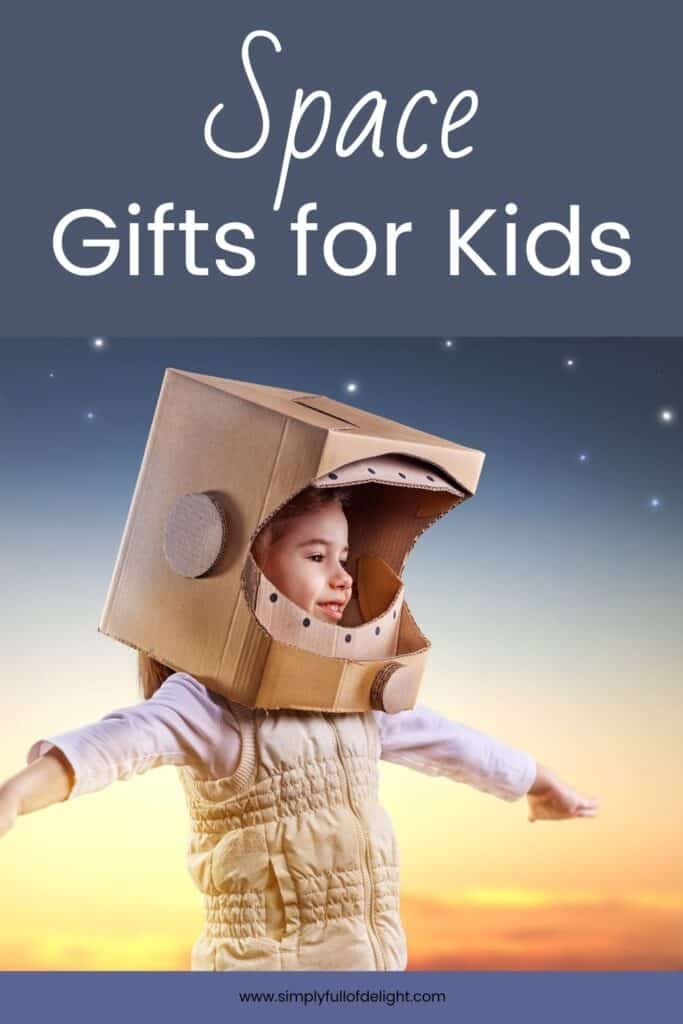 ** Disclaimer: As an Amazon.com Associate, I earn from qualifying purchases made by readers clicking my links at no extra cost to you.
1) High Quality Telescope for Beginners
This fantastic Telescope for Beginners has everything your child needs to begin star gazing. It has amazing features that allow your child to take photos with your phone. It comes with a tripod, 2 magnification eyepieces, wireless remote, and a storage bag. An amazing space gift for your little astronomer.
2) LEGO City Deep Space Rocket and Launch Control
This LEGO City Deep Space Rocket and Launch Control is a perfect for the Lego enthusiast. Your child can build a rocket and launch control tower, along with a cool monorail system. There are 2 astronauts, 2 scientists, along with a few other cool minifigures to go with the set. There is also a rover with an articulated arm! This set is made to wow!
3) Beginner Model Rocket Launch Set
This Model Rocket Launch Set is perfect for beginners! If you've ever thought about getting into rocket launching, this is a great set that can soar up to 1000 feet. It doesn't go as high as other models, which is better for kids who are learning to launch and it comes with almost everything you need to get started. (Be sure to pick up the necessary pack of engines so you are ready to launch.)
4) Stomp Rocket
These Stomp Rockets are perfect for rocket enthusiasts that are ages 5 and up. Completely kid-powered, your child can launch these rockets by simply jumping on the launcher. No batteries are needed which makes this outdoor toy a true win!
5) Universe Night Light Projection Lamp
This Universe Night Light Projection Lamp will wow your space enthusiast! It functions as a projector and a night light (with the addition of the shade). There are 3 different films included as well as multiple options for color. You can even make it rotate. Such a cool gift!
6) Rocket Pajamas
These Rocket Pajamas are a fun and functional space gift for kids! They feature a rocket on the shirt and an array of planets on the pants. Sure to be a hit at bedtime!
7) Melissa & Doug Astronaut Role Play Set
The Melissa & Doug Astronaut Role Play Set is perfect for your aspiring astronaut. It's made for ages 3-6 and includes the astronaut jumpsuit, gloves, helmet, and reusable nametag. Put their imagination to work during play time!
8) My First Book of Planets
My First Book of Planets is a great book for younger kids about the solar system. There's a good deal of information in an easy to digest manner along with some great pictures. Sure to be a hit with your solar system scholar.
9) DIY Glow In The Dark Astronomy Planet Model
This DIY Glow In The Dark Solar System Model is a great gift for the creative astronomy fan. Your child can paint the planets and assemble the solar system. The planets actually rotate around the sun and they can glow in the dark! What a great way to make learning fun!
10) Melissa & Doug Space Puzzle
This Melissa & Doug 48pc Space Voyage Wooden Jigsaw Puzzle is a great space gift idea for kids! Puzzles help children develop fine motor skills, hand-eye coordination, and practice problem-solving skills. I'd recommend this puzzle for children ages 3-6! Melissa and Doug also makes a Solar System Floor Puzzle as well.
11) LEGO City Space Mars Research Shuttle
This LEGO City Space Mars Research Shuttle is a great space toy for kids 5 and up. My son has this set and he adores it!
Your child's imagination will soar as they build a space shuttle and take off on space exploration adventures. This set also includes a Mars rover that has an articulated grappling arm. What a cool present for a space lover!
12) Green Toys Rocket with Astronauts
The Green Toys Rocket with 2 Astronauts Playset is a great gift for younger space enthusiasts. Made in the USA from recycled plastic, this educational toy is durable and one that you can feel good about. Encourage your child's fine motor skills and imagination with this rocket with a detachable capsule with astronauts.
13) Astronaut Food
If you think your space enthusiast would enjoy trying astronaut food, these LuvyDuvy Freeze-Dried Neapolitan Ice Cream Sandwiches would be a hit! These Space treats were originally invented for the astronauts on the Apollo Missions. Eating freeze-dried ice cream sandwiches is an experience your little astronaut won't forget!
14) Magnetic Rockets Toy
This Gifts2U Magnetic Rockets Toy will be a hit with the younger rocket fans. The set comes with 33 magnetic blocks to build 4 different rockets. Perfect for fostering imagination and creativity.
15) Astro Venture Space Shuttle Toy
This Astro Venture Space Shuttle Toy is perfect for imaginative play! The set comes with 2 astronauts, a space rover, and the rocket ship. Your little one will be excited that this shuttle has lights and sounds!
16) LEGO Creator 3 in 1 Shuttle Transporter
This LEGO Creator 3 in 1 Shuttle Transporter is an amazing toy! Your child can build a Space Shuttle with a big rig to transport it. Amazingly, this set also can be configured into 2 other items as well: Helicopter Transporter and a Car with Caravan! Got to love those toys with multiple functions!
17) Space Themed Bedding
This Space Themed Bedding is a fun and functional gift. Your little space enthusiast will be excited to blast off to bedtime with this amazing bedding set. Check out all the cool space themed bedding here.
18) Build Your Own Spaceships Sticker Book – Space gifts for kids
This Build Your Own Spaceships Sticker Book is perfect for your spaceship aficionado. This book contains stickers and scenes with outlines that your child can add the stickers to create their own spaceship design. Great for road trips, airplane rides, and quiet time.
19) Rocket Ship Playset
This Rocket Ship Playset is a wow gift! The rocket has three compartments and the set comes with five characters. Promote space travel and send your budding astronaut over the moon with this perfect gift for space loving kids! Your little astronaut is certain to love it!
20) Solar System Color Changing Cup
This Solar System Color Changing Cup will surprise and delight your child. The mug has a plain starry sky when it is empty or has a cold drink inside of it. However, when you add a hot liquid, like hot cocoa to the mug, magically the planets and milky way appears! What a great functional gift for the child who loves all things outer space!
I hope you discovered some amazing space gifts for kids! Be sure to check out my other gift guides for gift suggestions for the whole family!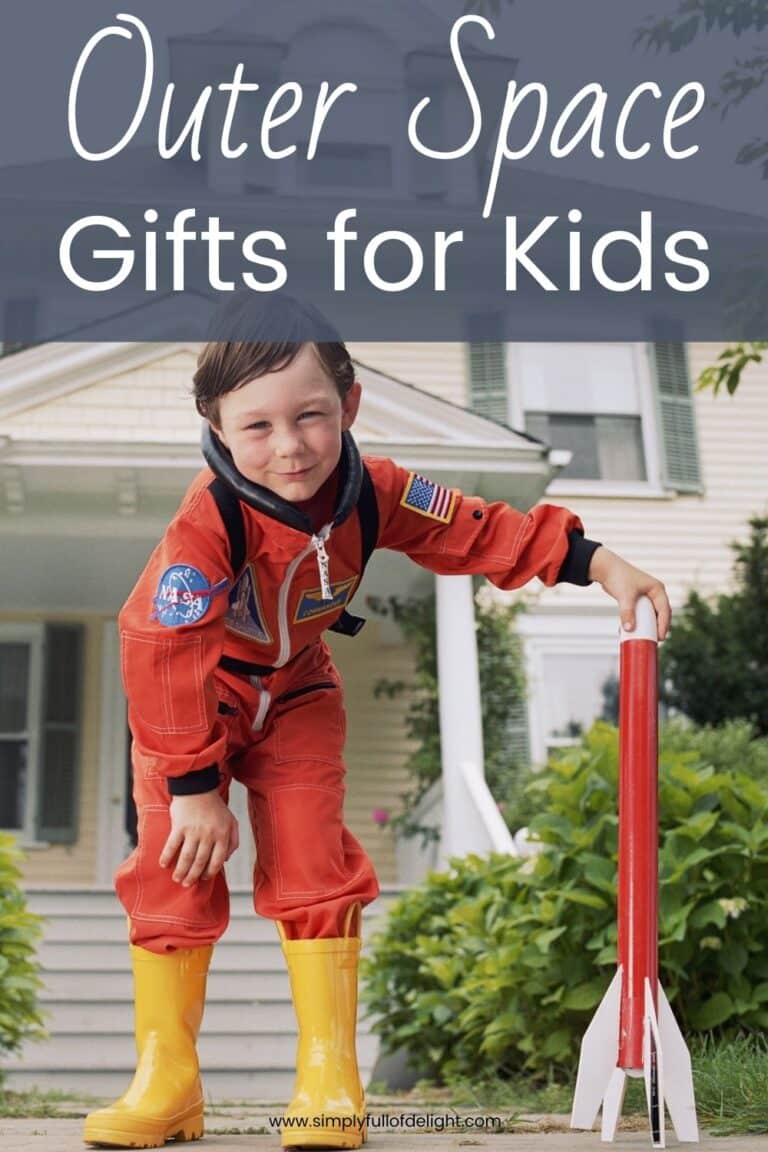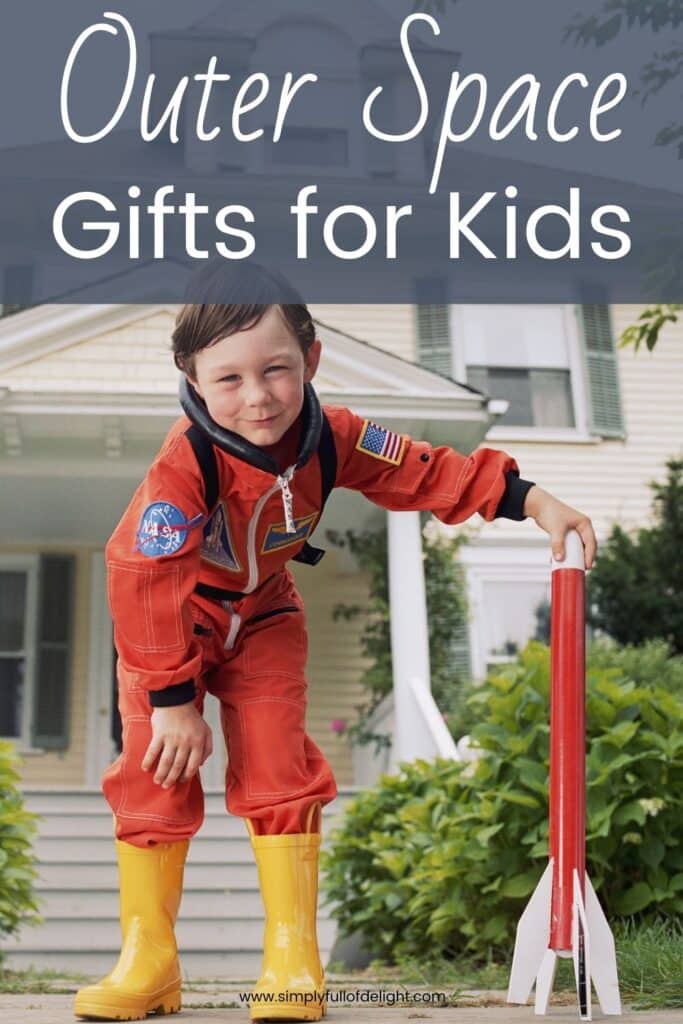 Related Posts