Stuck at home with kids on New Year's Eve? No problem! There's plenty of fun options for celebrating New Year's Eve with kids.
I asked 10 fellow bloggers how they celebrate New Year's Eve with their family members. They had some fantastic ideas to share!
You don't need to go to Times Square in New York City to have a great New Year's Eve party. Get ready to have some fun with the entire family with this list of fun things to ring in the new year!
So, let's dive in! Here's 10 Fun ways to celebrate New Year's Eve with Kids!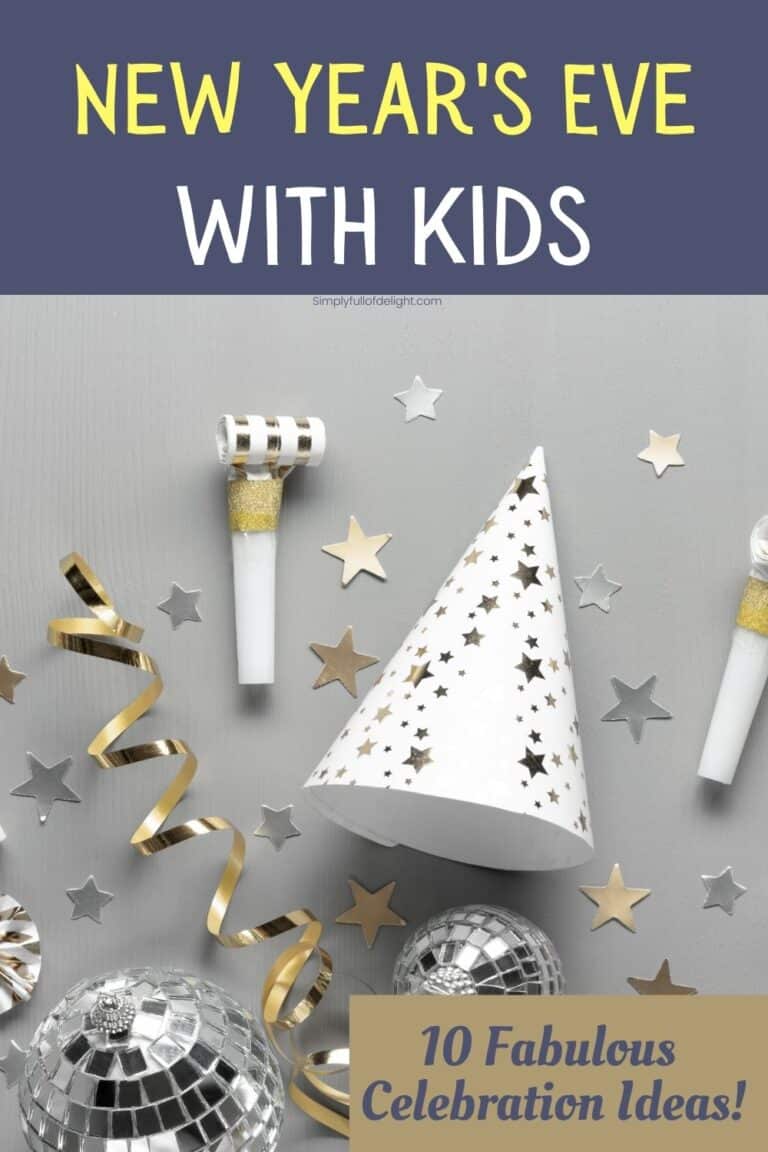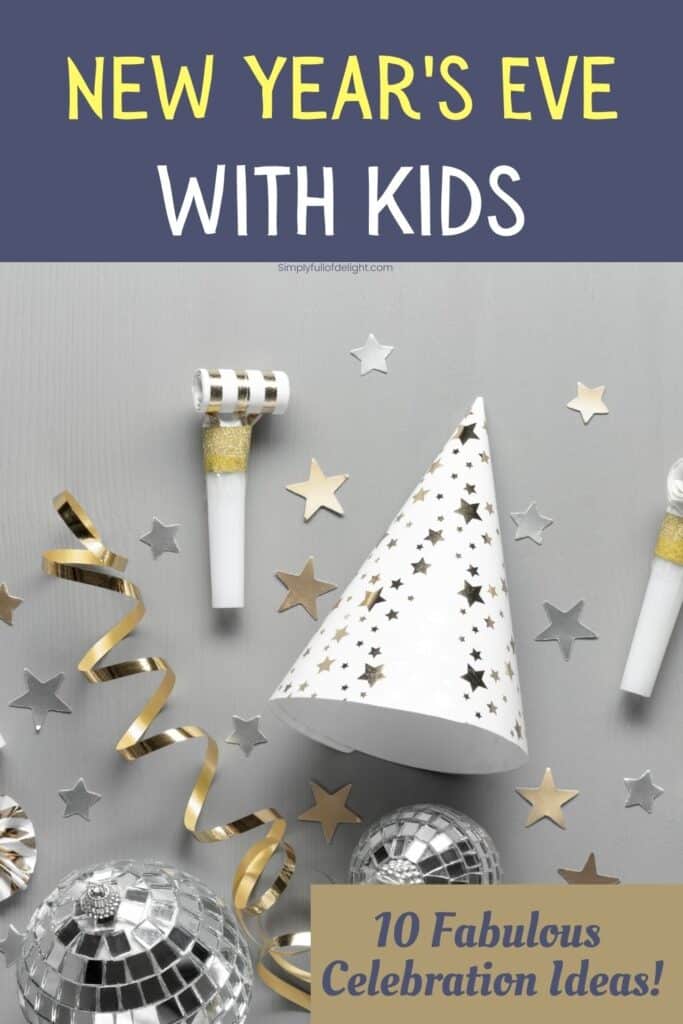 1) Camp Out
Here's a great option for family fun with younger kids….
"We love to do tamales on New Year's Eve and camp out in the living room together and sleep together. Sometimes we don't even watch the ball drop because we are so tired! If we don't watch the ball drop then we will the next day and do a fun countdown!" – Kallie at From Mamma With Love
2) Ball Drop with Noise Makers
Have an early New Year's Eve celebration with your own special countdown and balloon drop…
"We have a toddler so there are no late nights here. My husband is Venezuelan so we'll enjoy hallacas for dinner. Then we'll play a board game as a family. Right before our toddler's bedtime, we'll have a mock New Year's celebration with the ball drop and noise makers." – Stephanie from Plant Prosperous
3) Celebrate with Another Country
The whole family can enjoy the new years eve celebrations if you celebrate at different times! Children of all ages can enjoy a noon year's eve party!
"We have little kids and can barely stay up to midnight ourselves! So, we like to celebrate right before bedtime and we'll usually pretend like we're in another country where it's midnight. Sometimes that involves international cuisine or treats. Mainly, we pull up a video of a New Year's Eve countdown and then do a little dance party." – Marcie from Marcie in Mommyland
4) Fondue
Build your family's own little tradition for a family-friendly celebration.
"We always make fondue! We make a cheese one with accoutrements for the main meal and later have a chocolate one with fruit for dessert. All our family are on the east coast and we are on the west (military family) so we celebrate with them by watching the ball drop via Facetime. With little kids, we can't stay up until midnight anyways! We open up a new board game to play together too." – Kate from Adventure Oyster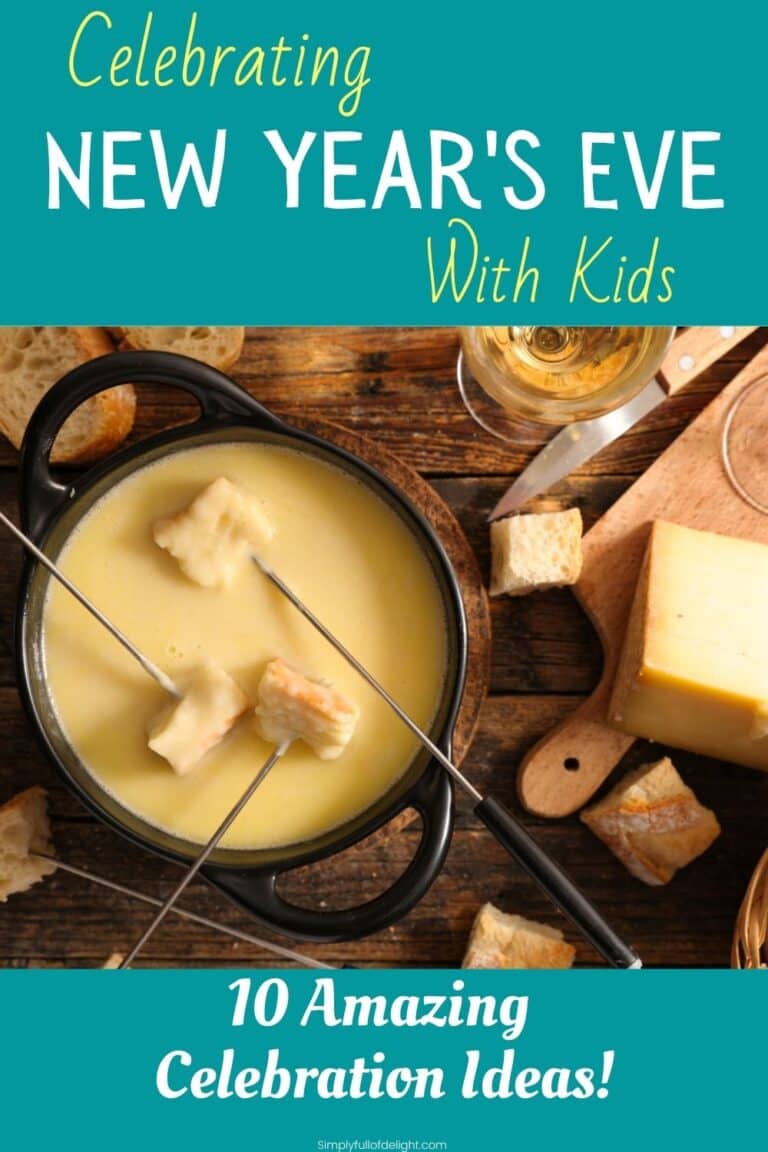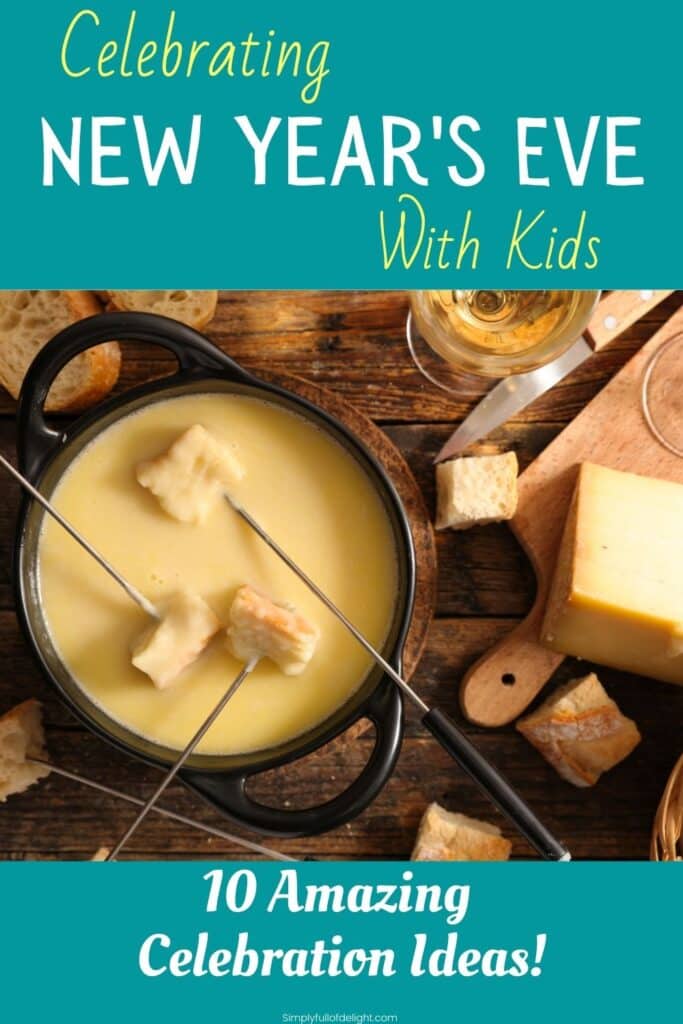 5) Puzzles & Snacks
Your own wonderful new year celebration with young children doesn't have to be complicated.
"We love to do a puzzle! Even little ones can get engaged by sorting puzzle pieces by color. It gives us an opportunity to share snacks (and drinks for the adults), and tell stories from the year. We also discuss things we are looking forward to in the coming year!" –Holly from I'm With Holly
6) DIY Decorations & Photo Booth
If you are the crafty sort, maybe you'll have a great time making your own decorations on December 31st.
"We love to make a whole day of it! During the day we DIY decorations together including noise makers, party hats, crowns and confetti to make a mess with later. In the evening, we make our favorite foods and enjoy them with some sparkling apple juice to toast while we watch our annual home movie of the top memories of the year. Don't forget to dress up for the occasion and snap some pictures too. I love to include some fun new years eve themed props to do photo booth style photos at home with our polaroid camera. Then before bedtime we all share our favorite memory of the year followed by a wish for the coming year." – Cendu from Cenzerely Yours – Adventures in Motherhood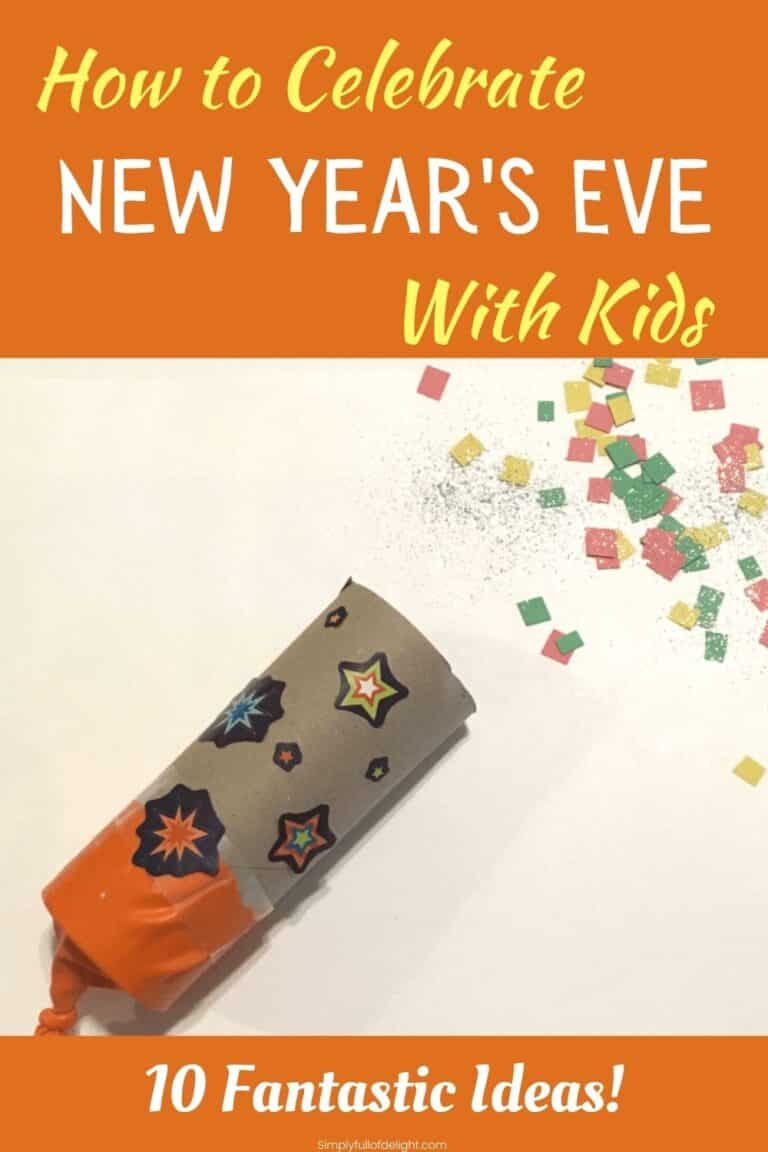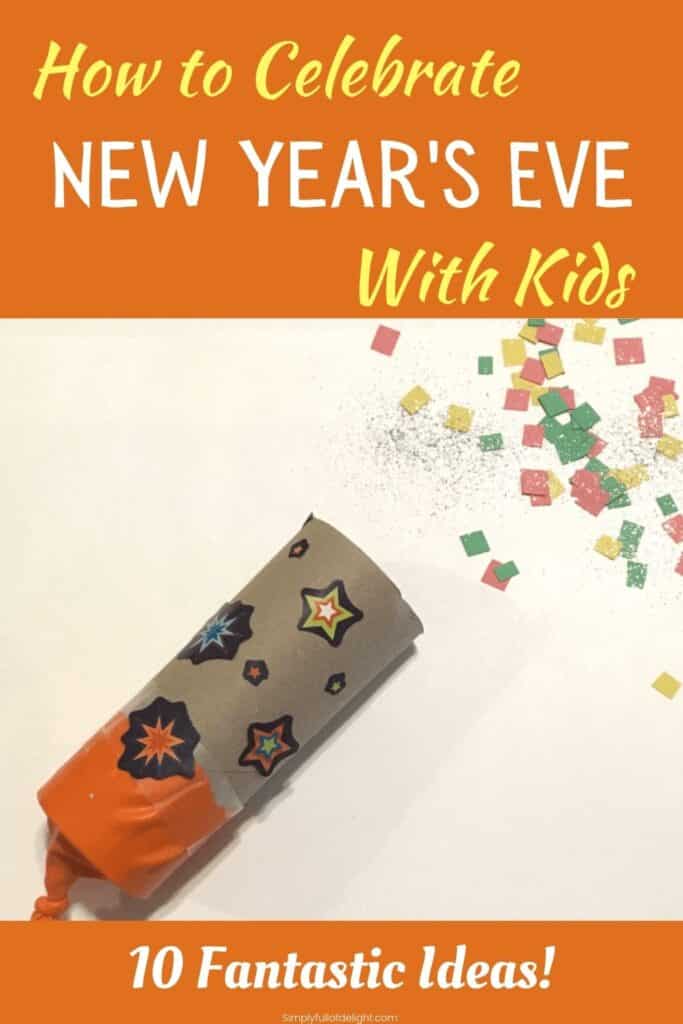 7) Confetti Poppers
Have your own family friendly event by celebrating big with your own New Year's Eve activities and party poppers. Add your own live music and live performances via the internet and tv!
"We make it a party! The kids get fun snacks and we dance. We do all the countdown videos we can find on the tv while we cheer and pop confetti poppers. The kids love that we celebrate big, and we love that we all get to bed at a reasonable hour." – Kimberly from Team Cartwright
8) Picnic & Fun with Friends
Mix it up with a little kid fun and a little grown up fun!
"We live in the southern hemisphere, so we spend most day at the beach, including a lunch picnic. Then we have friends over for dinner – they have a son my daughter's age, so it's nice that they can play together. We then have an "early countdown" so we celebrate all together with the kids. And after they've gone to bed, adults can keep socializing until the actual countdown" – Monica from Conquering Motherhood
9) Celebrate with London & Dress up!
Get into the mood of the holiday season and get fancy! Just because you aren't leaving the house for New Year's Eve events doesn't mean you can't look the part!
"We live in the Eastern time zone so we celebrate a "London" New Year because our kids (and adults) need to be in bed WAY before midnight. We have noise makers, party hats, and sip sparkling cider. I still like to wear something fancy, even though we don't go out anymore, just for fun." – Sarah from Mama Take Care
10) Game Night Marathon
Here's a great idea for those who love to play games!
"My favorite New Year's Eve growing up was when we just stayed in as a family and did a game night marathon! We tried to see how many games we could play before the clock struck midnight! We all took turns choosing the games so that everyone got to play their favorites!" – Jenny from Wholesome Family Living
I hope you've found some amazing ideas to inspire a fun New Year's Eve celebration with your family! Be sure to check out my fun free New Year's Eve printables here!
There's also 3 Free Happy New Year Coloring Pages here. Great for kids of all ages.
If you'd like a fun printable New Year's Eve Scavenger hunt, you can grab one here in my Etsy shop!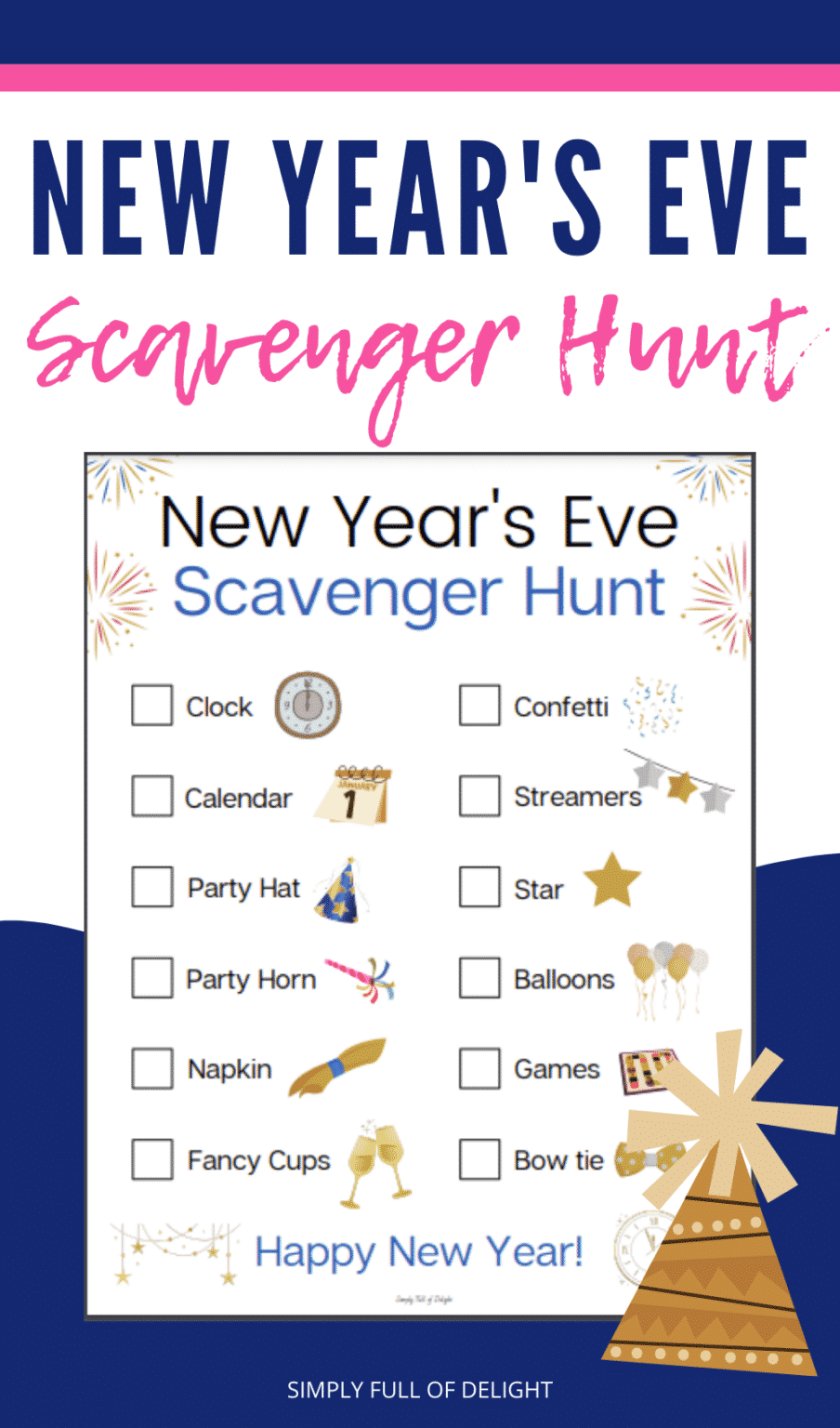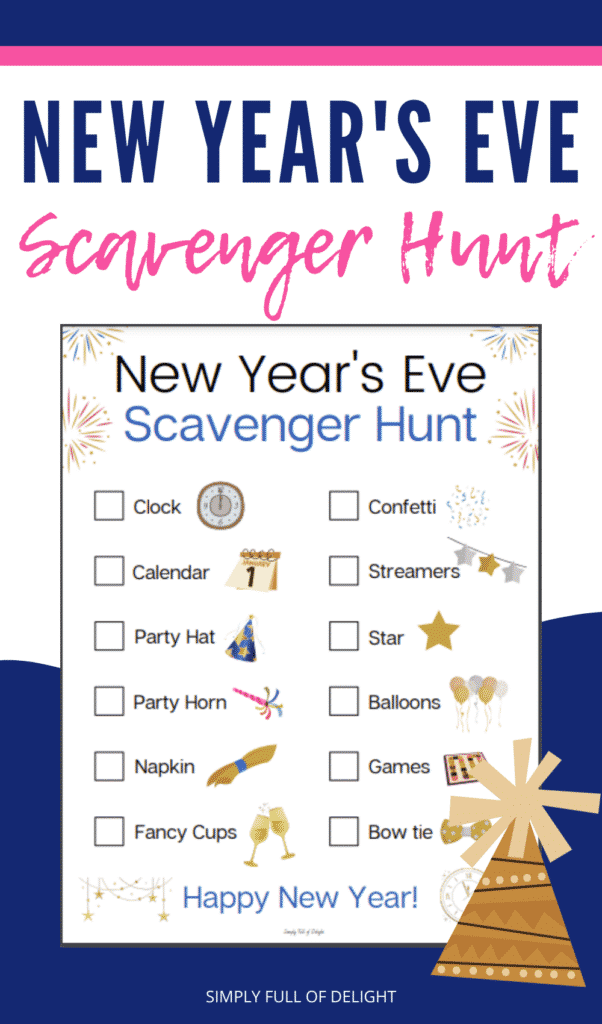 As an Etsy affiliate I earn from qualifying purchases by readers clicking my links at no additional cost to you.
More family friendly New Year's Eve Ideas
You can find more family friendly new Year ideas here on my blog!
There's 3 free New Year Printables for kids here. You'll find a Look & Find page, a Happy New Year Coloring page, and a Reflections on the Year printable. Perfect for thinking back on the past year and celebrating New Year's Day.
You can also find a cool New Year's Eve Scavenger Hunt here in my Etsy shop. Kids will love finding all the fun New Year themed items. It comes with both a checklist of items to find and picture cards to hide.
If you have a fun way to celebrate New Year's Eve with kids, feel free to share it in the comments below! Happy New Year!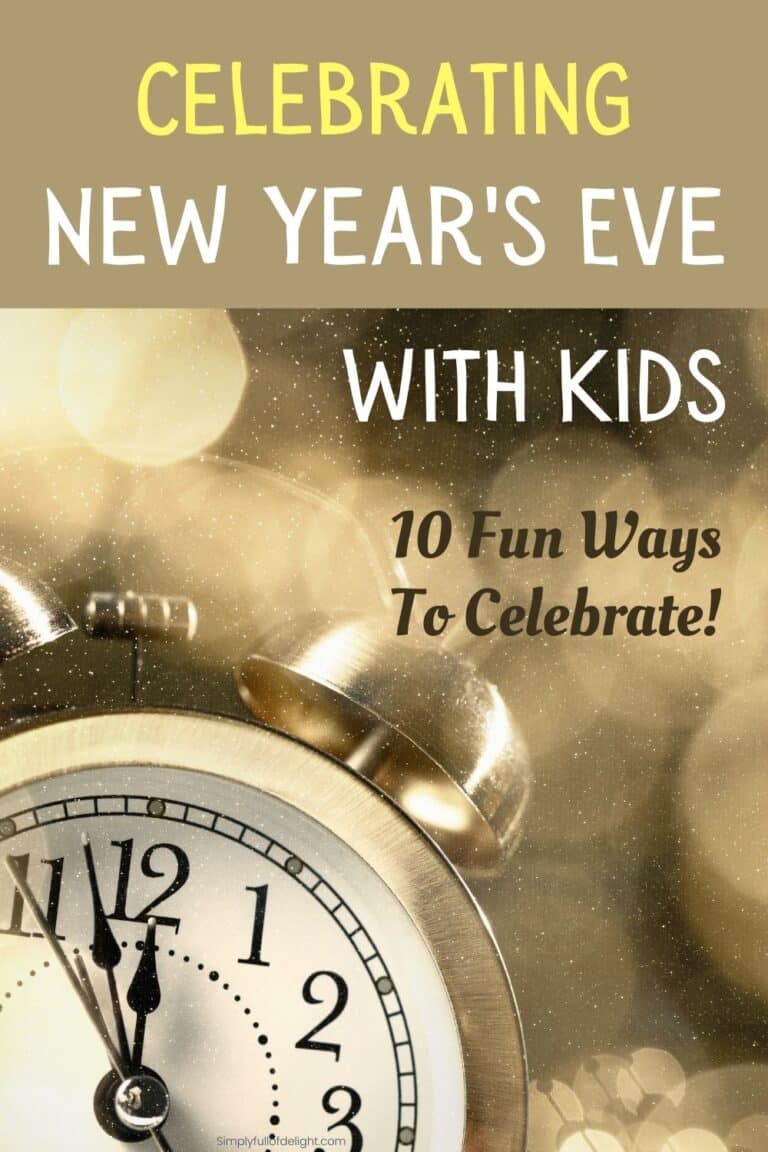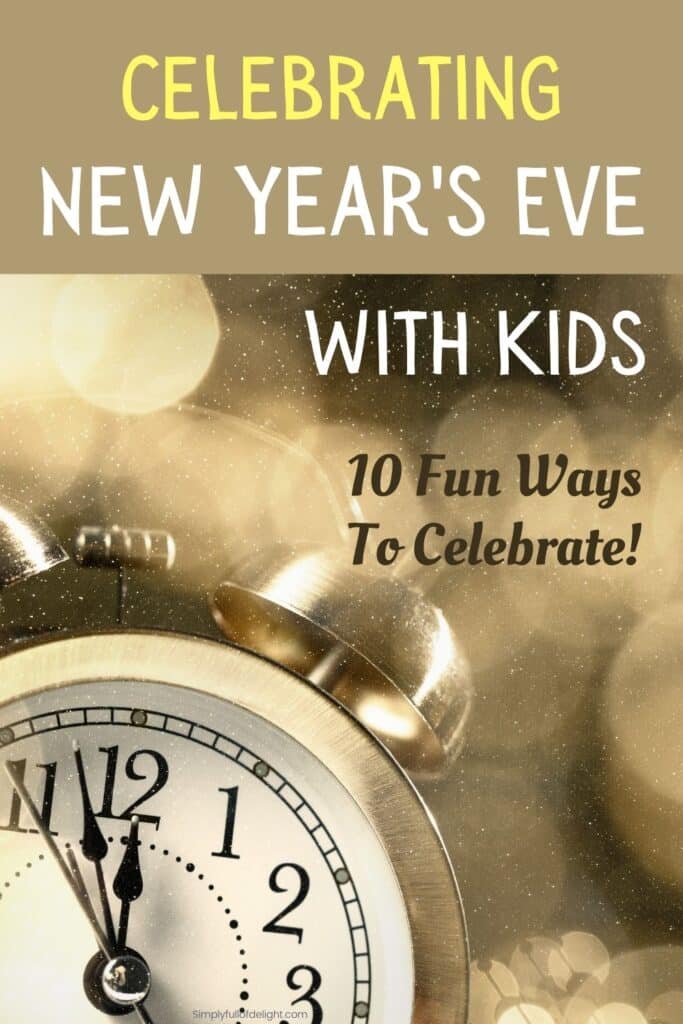 Related Posts