With fall quickly approaching, it's time to start thinking about that First Day of School! I've compiled the very best First Day of School Signs of 2021! I hope you find the perfect one for your child's first day pictures!
Taking Back to School photos is a fun 1st Day of School tradition that your family will treasure for years to come!
Let's kick off the new school year with a cute sign for those adorable photos of your kiddo!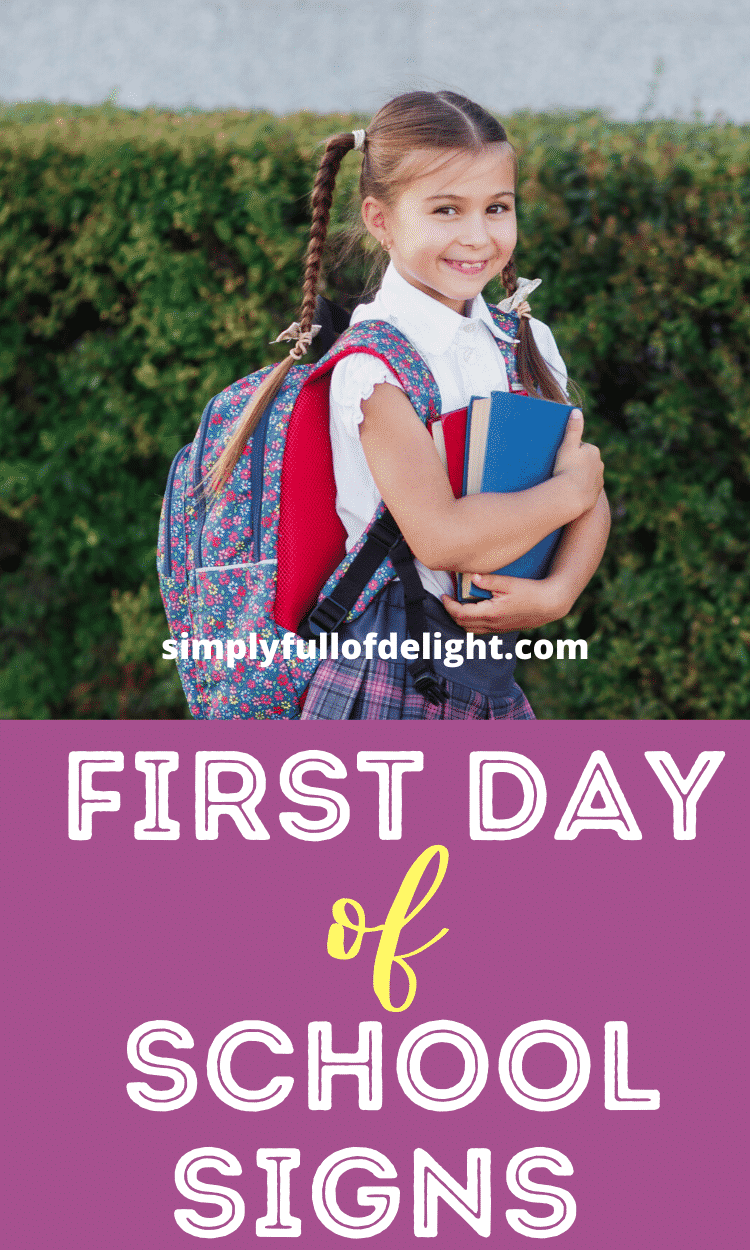 *** Disclaimer: As an Etsy and an Amazon.com Associate, I earn from qualifying purchases made by readers clicking my links, at no extra cost to you. ***
1) Reusable First Day of School Sign Chalkboard with Ruler Frame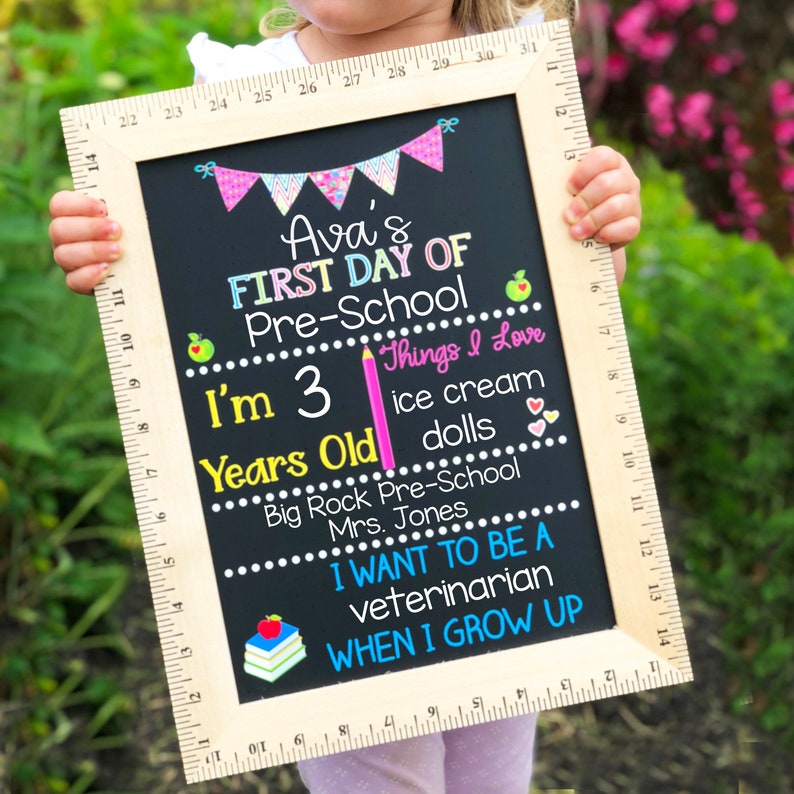 This adorable First Day of School Sign by Bloom Owl on Etsy is easily the cutest reusable chalkboard sign of the bunch!
It has a ruler frame and the chalkboard is already prepped and ready to go! You can have it personalized with your child's name or you can get a reusable version if you have multiple kids.
So many marvelous pictures are waiting to happen with this adorable board!
2) Chalkboard First Day of School Sign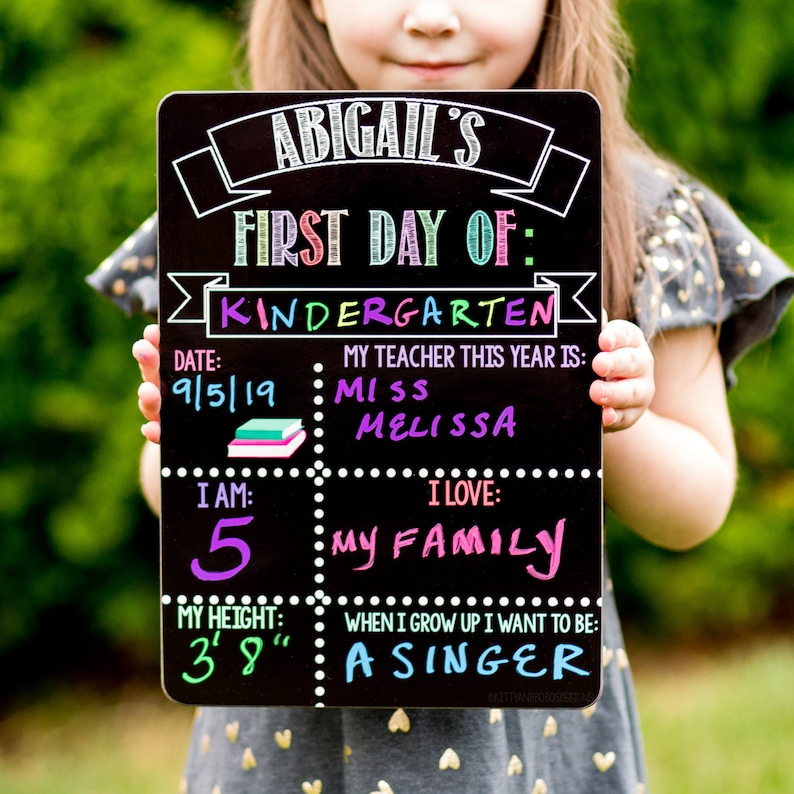 This adorable reusable chalkboard sign is by The Little Blue Lion on Etsy. It includes spaces for Name, Grade, Date, Teacher, I am___, I Love____, Height, and When I grow up I want to be_____.
What a fun way to keep track of your child's favorites! This board also comes with optional personalization and First Day/Last Day options.
3) Large Reusable First Day of School Chalkboard Sign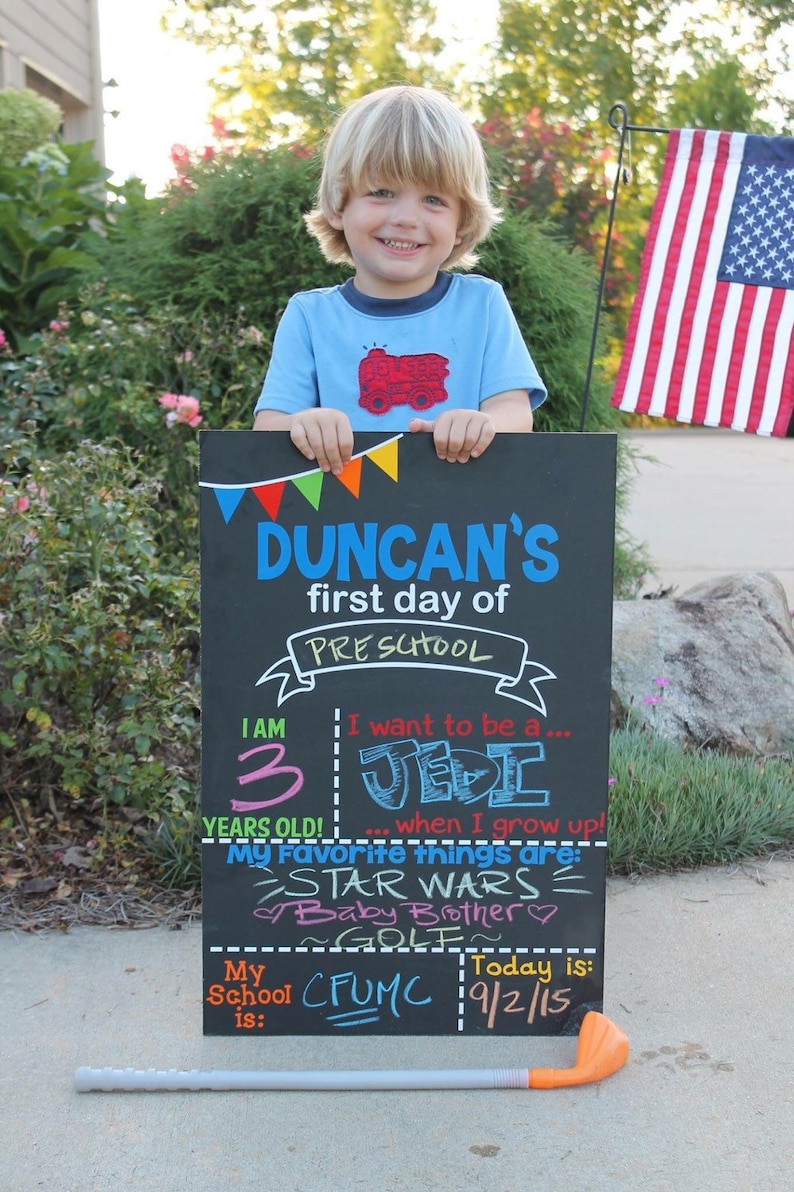 This Large First Day of School Chalboard Sign by Rose to the Occasion on Etsy is perfect for displaying your child's name, age, grade, favorite things, school, date, and what they want to be when they grow up!
I love the giant size and the bold colors! Super cute pictures will be made easy with this sign!
4) First Day & Last Day of School Board with Chalk Pens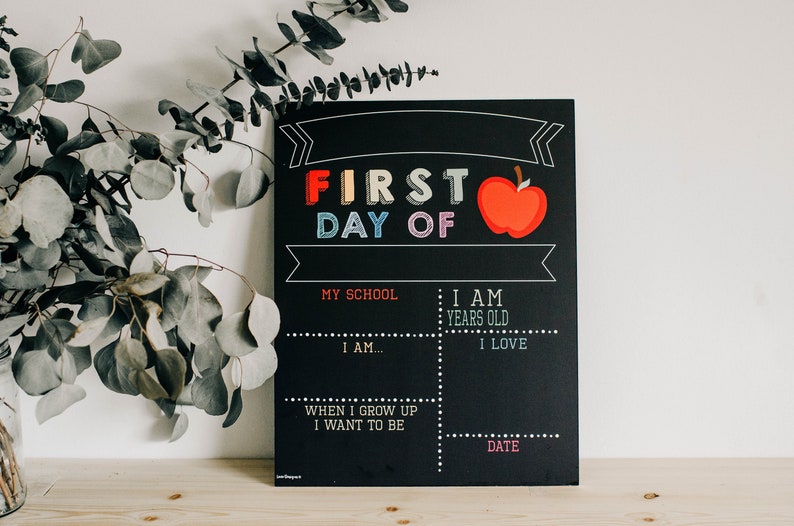 This amazing First Day of School Sign by Love Designs Shop on Etsy is ready to help you capture those amazing first day memories!
This sign is even double sided, so you will be all set for the Last Day of School Pics too! In addition, it comes with the appropriate chalk markers! Can't beat that!
5) Thick, Durable Chalkboard with Real Wood Frame
This Reusuable Chalkboard is found on Amazon! There are many Back to School Signs available on Amazon but long lasting and quality are important for something that should last for your child's entire childhood. This one has great reviews and is high quality!
6) Printable Fully Editable Back to School Sign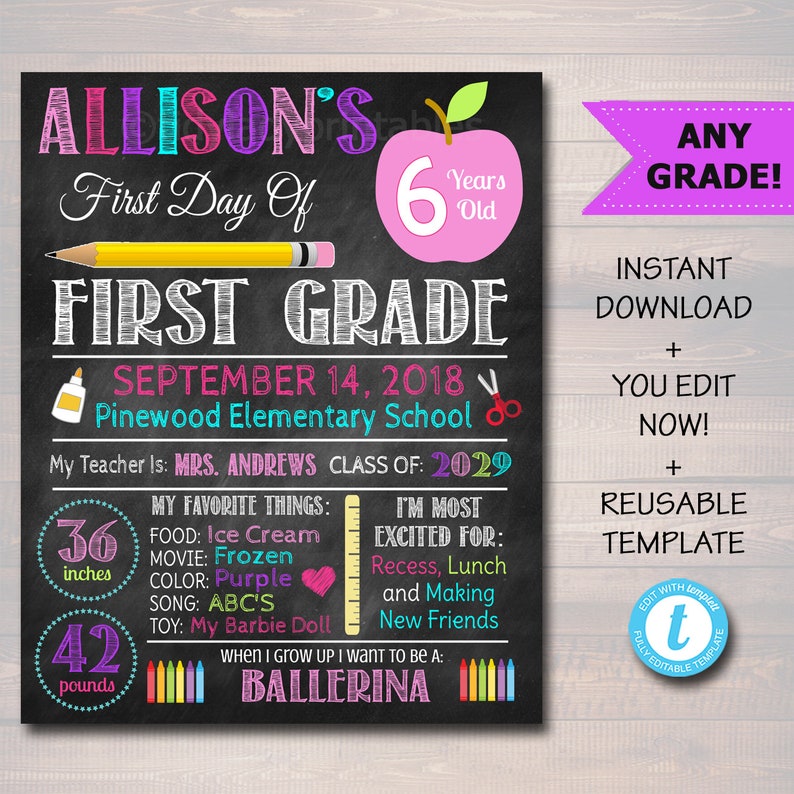 This printable first day of school sign by Tidy Lady Printables on Etsy is perfect for keeping track of your child's milestones! Year after year, you can use this printable template for each child in your family!
You can also visit her website here and check out her full line of printables and blog!
7) Hello Printable First Day of School Sign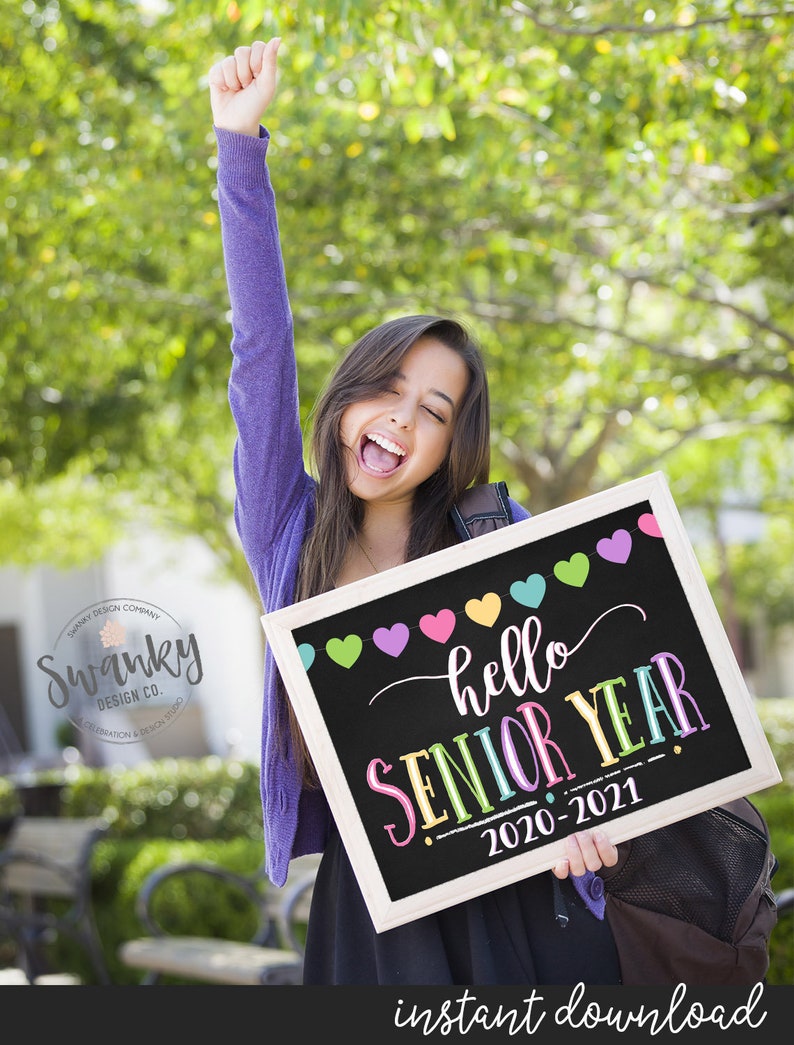 This Hello sign by Swanky Design Co is one of my favorites! I love that it works for older students as well! It's the perfect, simple sign and you can print it out to use right away!
8) Simple First Day Printable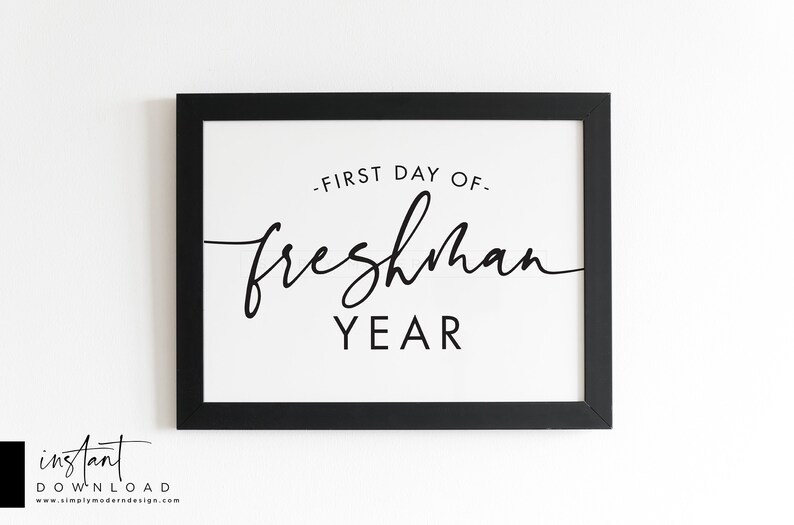 If you are looking for a simple, classy First Day of School Sign, this one by Simply Modern Design Co on Etsy is perfect! You can find several designs in this shop that fit the bill for simple and cute. Best of all it's instantly ready to download and use!
9) First Day of School Sign Digital File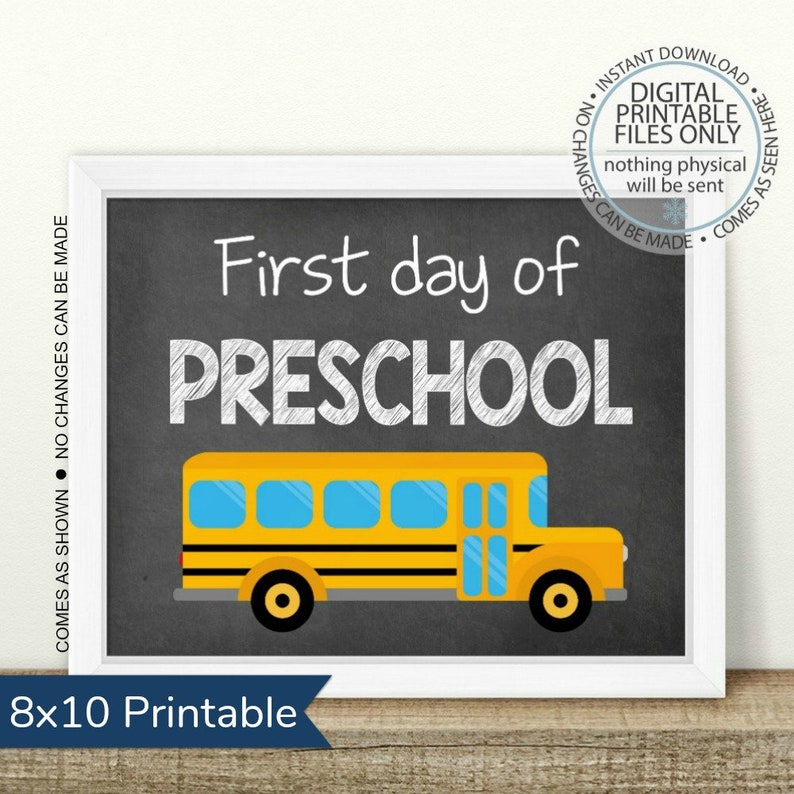 I love the simplicity of this printable First Day of School sign by Snowbound Prints on Etsy. It's perfect for those of us who need something TODAY!
Simply purchase, download, and print! Within minutes you will be ready to take those first day of school pics!
10) First Day of School Printable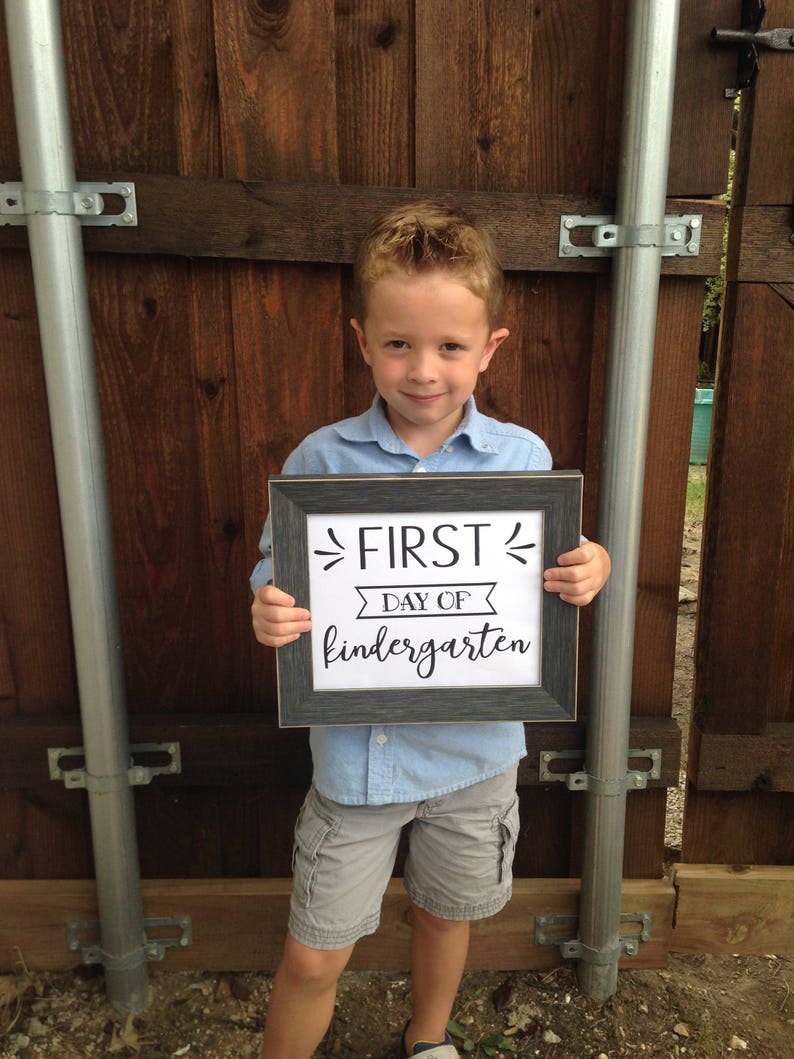 This First Day of School Printable is by Joyful Art Designs on Etsy. I love the simplicity of this design and how well you can see it from a distance!
This digital file comes with all grade levels (Pre-School thru 12th grade). You are all set for every year!
11) Editable First Day of School Sign Printable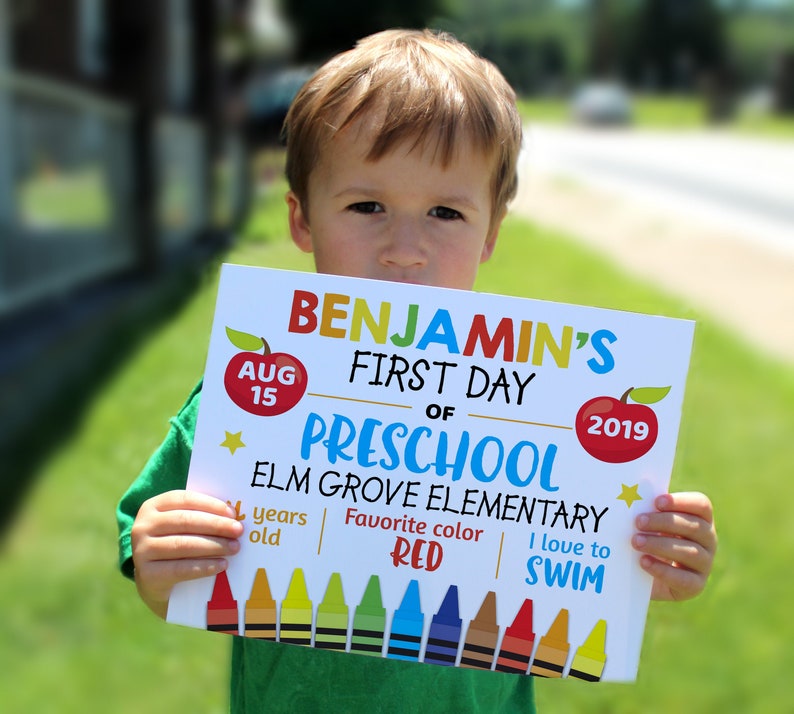 This Fully Editable First Day of School Sign Printable by Little Bees Graphics is perfect for the mom who wants to make changes to the printable! This also means you can use it for more than one child's school photo! What a deal and how adorable is this preschool sign!
12) Editable First Day of School Printable Sign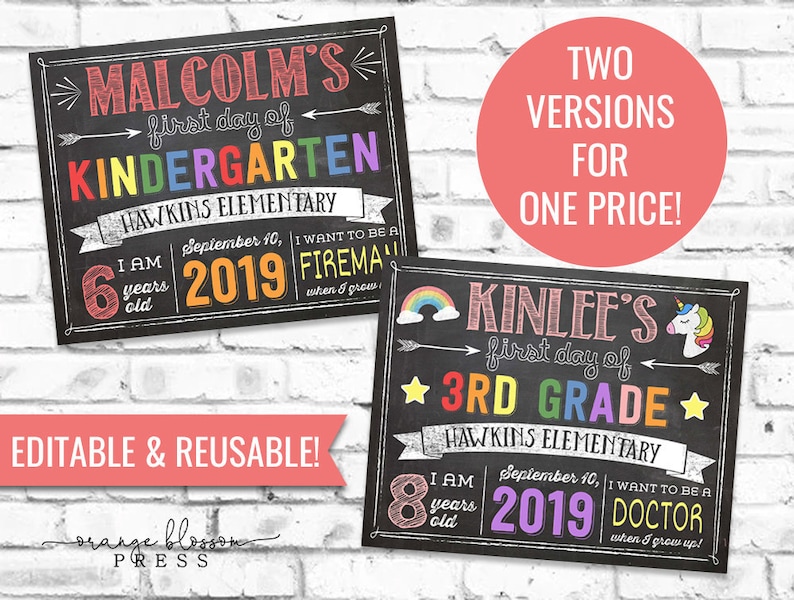 This Editable First Day of School Printable is by Orange Blossom Press on Etsy. I love that you get two versions of the file and it is editable and reusable for multiple kids. Additionally, there is no expiration date on this file, so you can use it again and again!
13) Rustic Chalkboard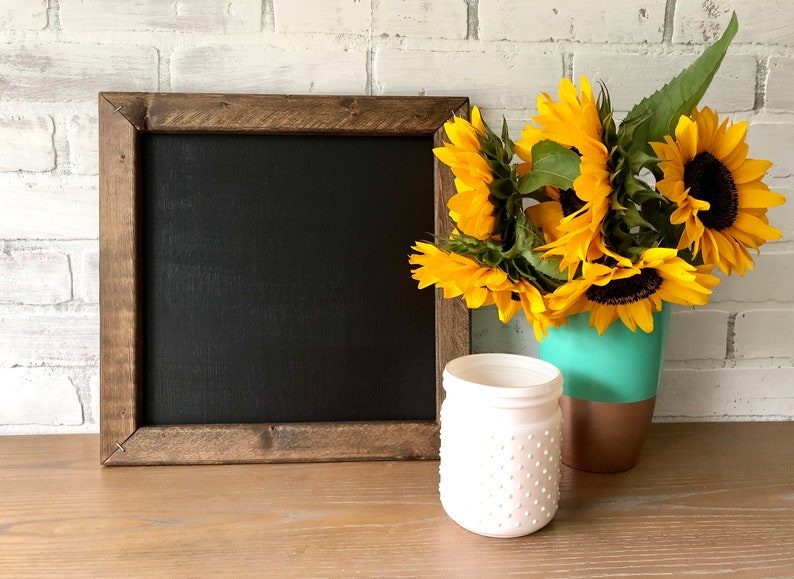 Buying an regular Chalkboard is a great idea if you want to invest in something for multiple purposes! This Adorable Rustic Chalkboard by Happy Little Home Shop on Etsy is perfect! I love that it has that simple farmhouse feel. It would work very well for back to school pics!
14) Reclaimed Wooden Frame Chalkboard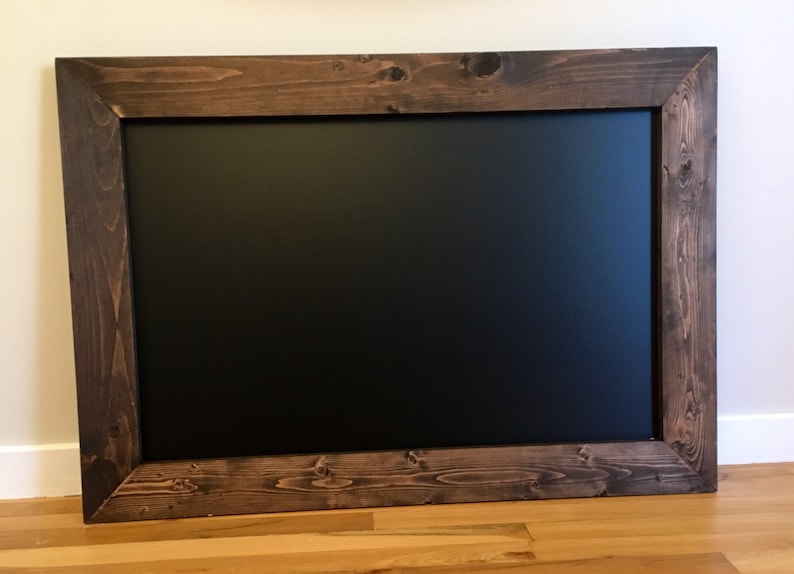 This Rustic Framed Chalkboard Sign by Autumn Rustics on Etsy is perfect for back to school pictures!
I love that you can give this chalkboard multiple uses in your own home. After the school pictures are taken it can be used as a year round home decor item. How cool is that!
15) Magnetic Non-porous Framed Chalkboard
This beautiful framed Chalkboard is from Amazon. I love that this chalkboard can be used functionally around the house, but also is very pretty for those back to school pictures for your little ones. You might want to size up to make sure you have plenty of room to write!
16) Felt Letter Board Set with Farmhouse Rustic Wood Frame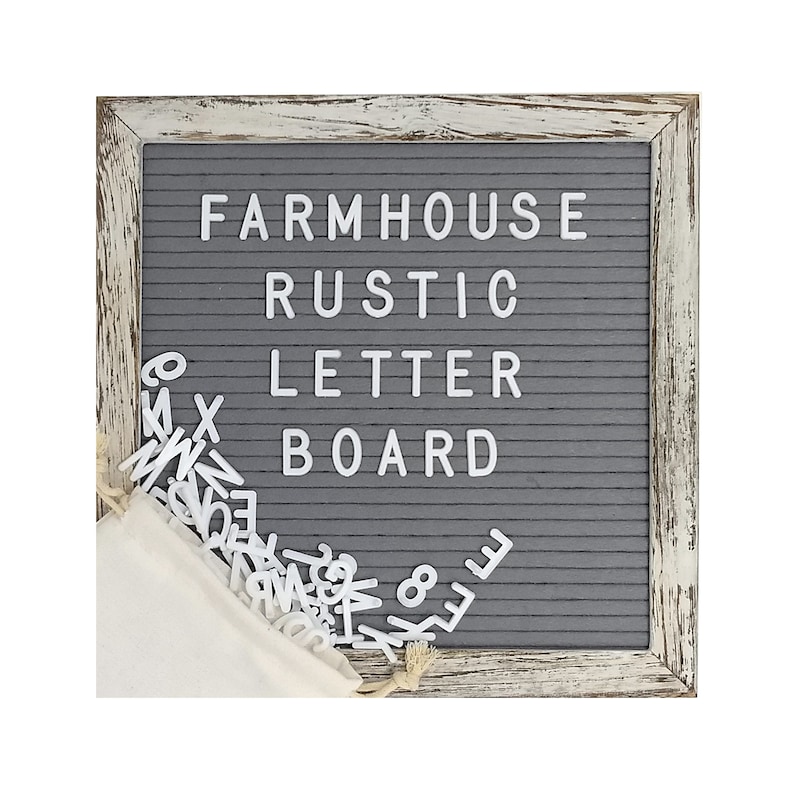 Another great option for First Day of School Pictures is this Felt Letter Board Set with a Farmhouse Rustic Wood Frame by Main Event USA on Etsy. Not only can you take adorable school pictures, but you can continue to use it around the house and for events!
You could use one board for all the kids and write "First Day of School" with the date or you could get a felt board for each child. Either way, super cute pics are bound to happen!
I hope you have found some unique options for First Day of School signs! Tell me which ones are your favorites in the comments!
Be sure to grab the FREE lunch box notes here!
Be sure to grab these free 1st Day of School Printable worksheets. You can find tons of 1st Day of School activities for preschool, kindergarten and elementary age kids here.
Also, be sure to get your free printable Welcome Back to School Coloring Pages here. There's customized coloring pages for preschool, kindergarten, 1st grade, 2nd grade, and 3rd grade.
Best Wishes to you and your family as you start this new school year!
Other articles you might enjoy:
4 Easy Sensory Bins for Preschoolers
Playdough Mats – Free Printable