You've found the perfect new house, your offer was accepted, and the inspections are finished. Now it's time to prepare to sell your home! Here's 10 tips for selling your home fast in 2024!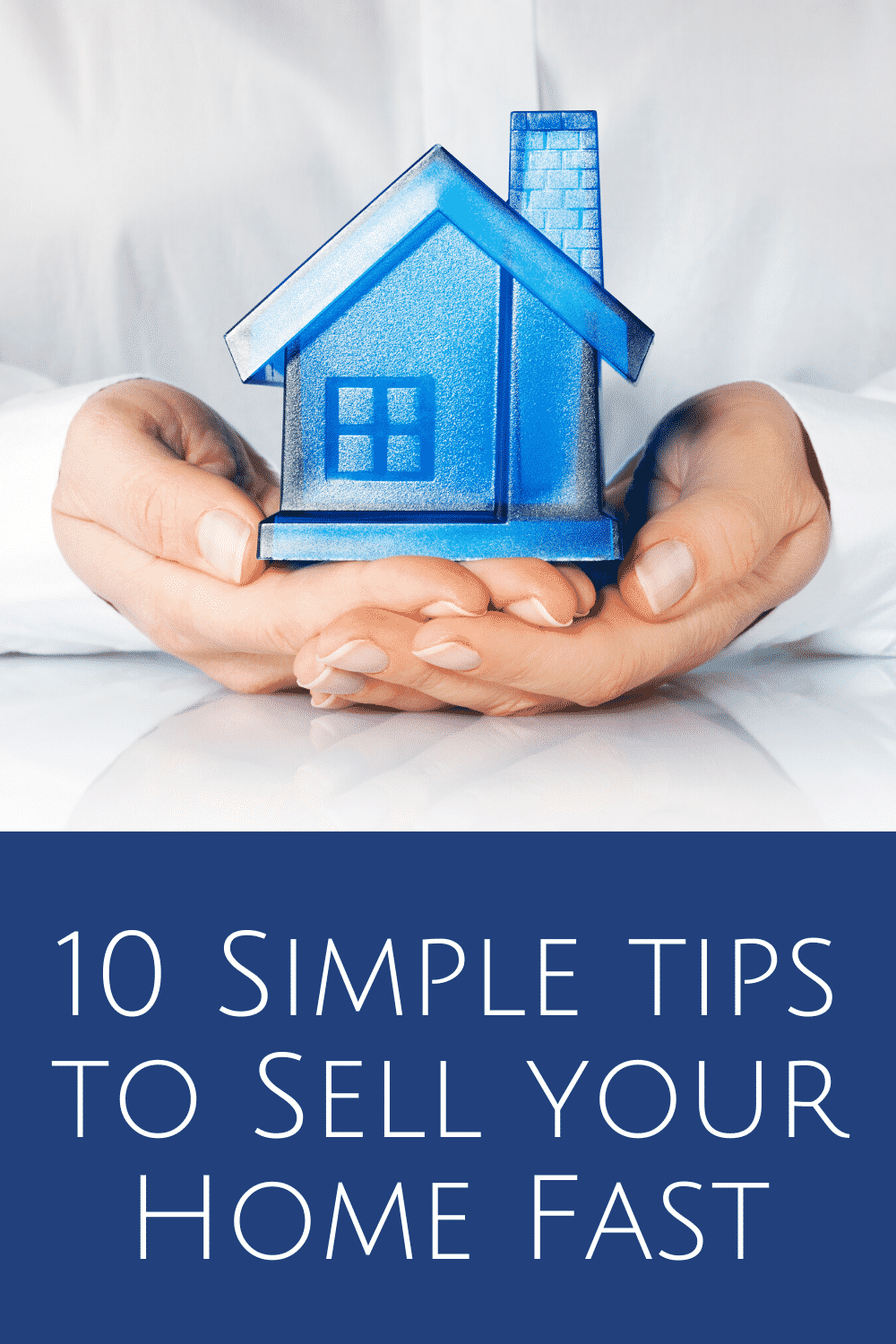 As I write this, our family is preparing to sell our current home. We are due to close on a new beautiful home in the country at the end of the month!
My mother-in-law is an award winning real estate agent, so we have been consulting her every step of the way. She gave us some excellent tips to help us get our home sold fast!
As you well know, time is money. This is especially true in real estate. No one wants to pay two mortgages, so a quick sale is definitely going to save you some serious money!
So, let's dive in!
Disclosure: This post contains affiliate links for Amazon. If you click on the link and purchase an item from that site, I receive an affiliate commission.
1) Declutter!
It's no surprise that you will need to pack up about a 1/3 of your belongings to make your home less cluttered. An overstuffed closet makes the storage space look small compared to an organized closet with just a few items neatly hung.
Eliminate distractions. Remove items that are odd, eccentric, or bold. You want potential buyers to remember the details of your home, not your odd taste in art.
We have 4 kids, so naturally we have a lot of toys, clothing, and an overwhelming amount of stuff! My husband and I are planning to leave our nicer items/furniture to stage our home and move the rest to our new home. If you don't have this option, consider renting a storage unit or packing boxes to neatly store in one area of your home.
2) Fix Broken Items
Take a look around your house and fix those broken door knobs or screen doors. Replace tiles on the floor that are cracked. Clean the grout, fix leaky faucets, and make sure the closet doors are on their tracks.
If your carpet needs to be replaced but you don't have time, consider adding a flooring allowance into the deal.
3) Sprucing Up
It's amazing what a fresh coat of paint can to do to brighten up a space! Wallpaper in particular can deter buyers as it can make your home look dated, so consider taking down any wallpaper or wallpaper borders.
When you repaint, neutral colored paint is always best. For the best shades of gray, beige, and "greige" check out this article. If you have a room that is painted in a non-neutral or bold color that may deter buyers, you may want to repaint that room as well.
4) Deep Clean
One of the best ways to prepare your home to sell quickly is also one of the most overlooked: A good deep clean! Simply making sure your home is swept, vacuumed, and dusted can make a huge difference to potential buyers.
Make sure you wipe down window sills, wash windows, wipe the blinds, and clean every surface in every room. At first it sounds overwhelming, but just dedicating time each day to do one small job can get the work done!
This power drill brush is amazing for cleaning your bathtub. Gone are the days of scrubbing by hand! If you don't own a carpet cleaner yet, now is the time to invest. This one is excellent! It definitely pays for itself over time and it comes in handy for other situations like sick kids, pet messes, or potty training children!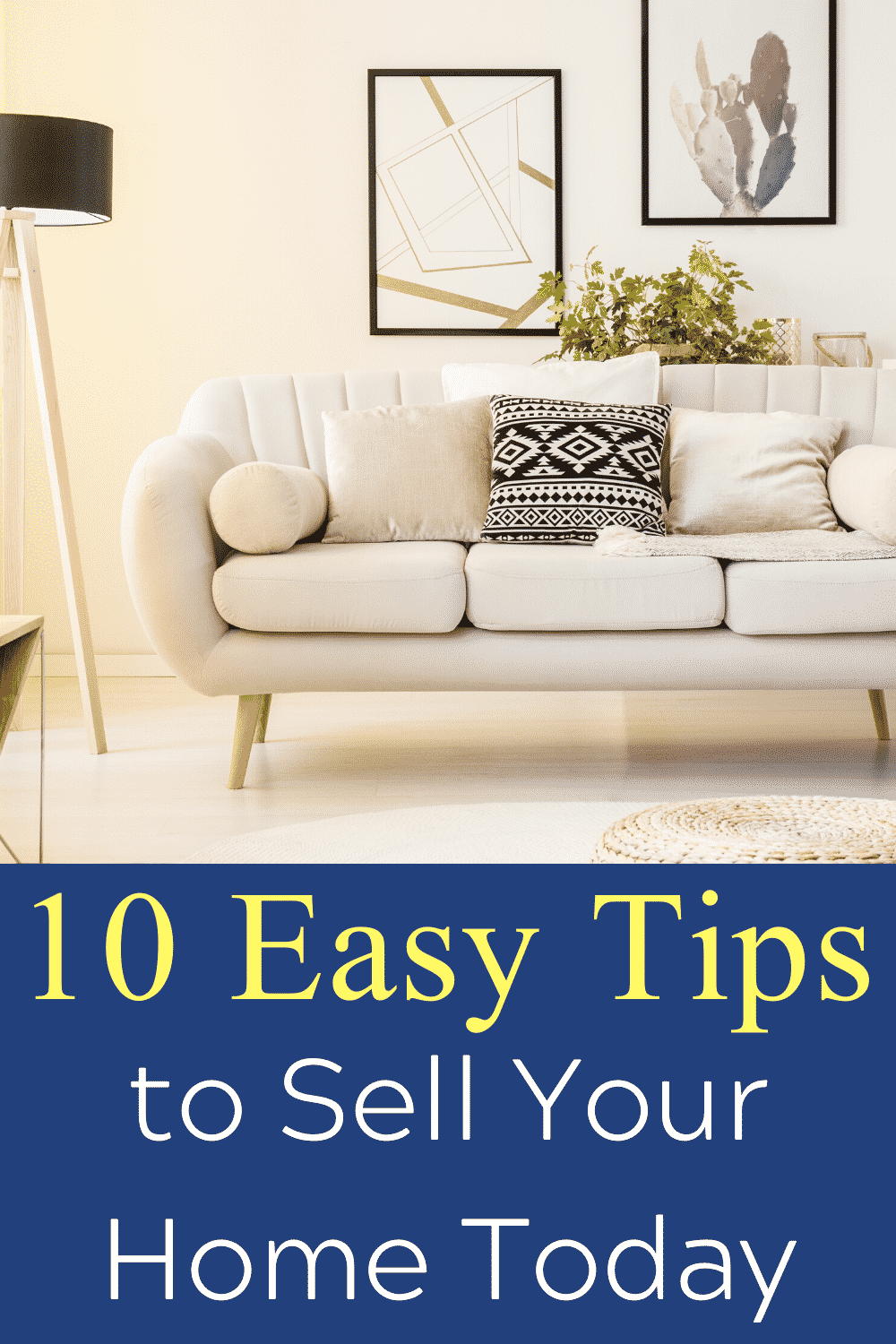 5) Stage Your home
As you pack, look for items that would be great for staging your home. Empty homes look less inviting, so leave your kitchen table, your couch, and nicer furniture.
Remove any personalized items (like family pictures) so that perspective buyers can picture themselves in your home.
Consider updating light fixtures that look worn or dated. A new light fixture can give a room a whole new look!
Consider hiring a professional to stage your home. If you want to do it yourself, check out this article for some helpful staging tips.
6) Natural Light
Make sure to open the shades, draw the curtains back and let in as much light as possible. Location and natural light are two of the biggest factors that buyers consider!
Increase the wattage in your home and cut any shrubs that are blocking light. Check your blinds to make sure they are in great condition and consider buying inexpensive neutral curtains if you have a bold prints/colors.
7) Curb Appeal
First impressions are a big deal when you are selling your home. It is hard to overcome an initial bad impression. Make sure your lawn is neatly kept and if you are able, some beautiful pots with brightly colored flowers make a huge difference for a tiny investment! Plus, you can take them with you to enjoy at your new home!
8) Taking Great Pictures for Selling Your Home Fast
Many realtors take pictures of listings with their phone. To get great pictures, I would definitely suggest investing in a proper camera to get great results….or hiring a professional.
Most buyers are looking online at listings, so the more information and pictures you can provide, the better! If you are able to add video to show the layout of the home, it is a plus! Here's an excellent article about taking real estate photos.
9) Be Accommodating
Always have your home ready to show. That means no dirty dishes, clean bathrooms, no dust collecting, and floors that are immaculate. It's a lot of work to always be ready, but if you want to sell quickly, you need to be able to say yes anytime a potential buyer wants to stop in.
10) Pricing Right
When pricing your home, be sure to be aware of what strategies work in your community.
Some areas find that bidding wars are quite common, so pricing low in hopes of attracting multiple bidders is customary. In other areas of the country, buyers will want to negotiate a price that is lower than the asking price, so you will want to price a little over your acceptable price. Here's a helpful article about how to price your home to sell!
That's it! 10 Tips for Selling Your Home Fast in 2024! Best wishes to those of you who are preparing to sell! You CAN DO this!
Other Articles You might Enjoy:
8 Ways to Create a Budget Vacation
Save Money on Groceries – 9 Easy Ways
How to Survive Working From Home with Kids