Need an Easy Bat Craft for kids? Check out this Marble Painting Preschool Bat Craft! It's simple with the free printable Bat template!
Halloween is the perfect time to talk about bats with little ones. Preschoolers often see bat decorations at this time of year along with lots of fictional creatures, so it's the perfect time to talk about these real night time creatures.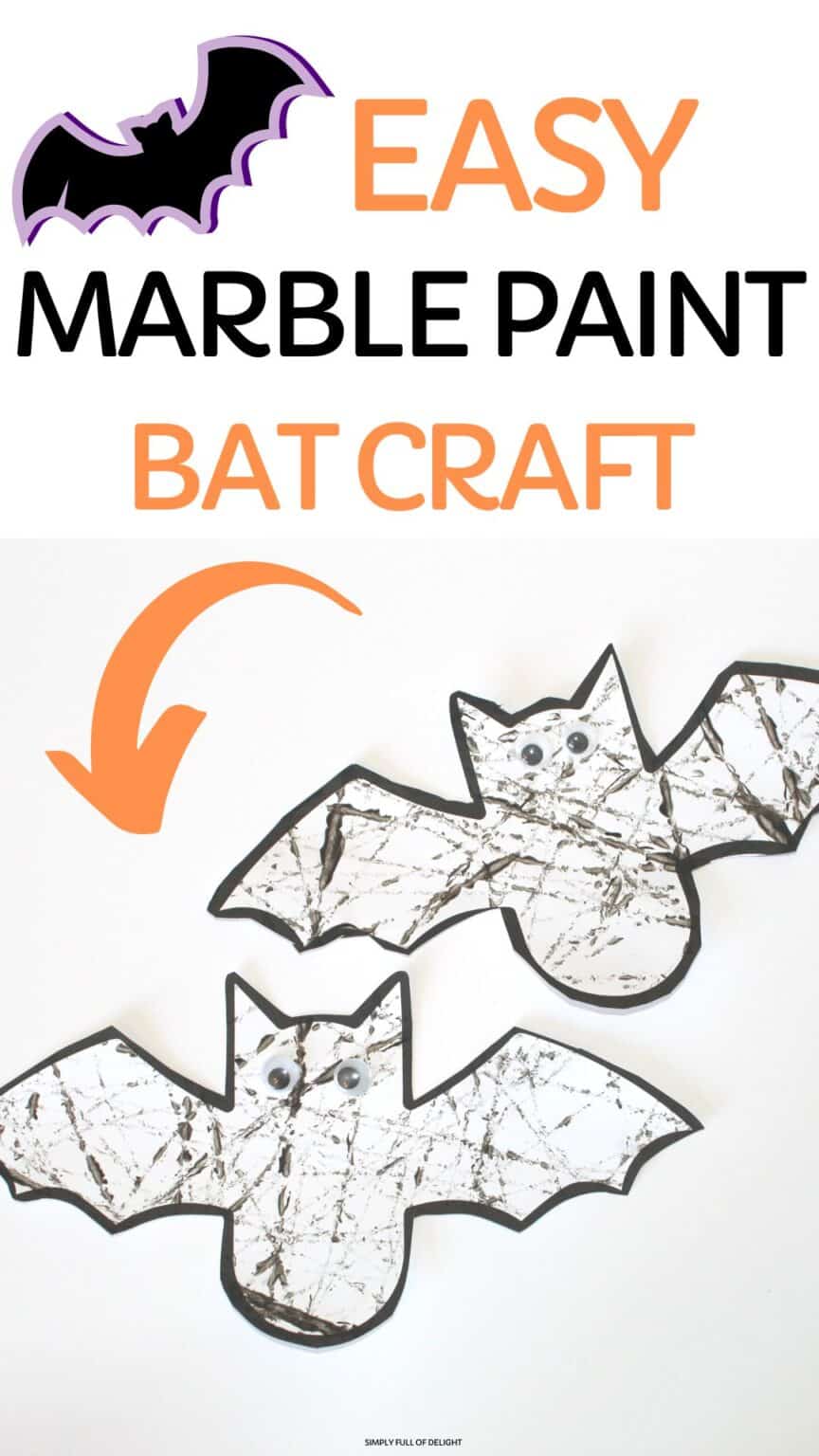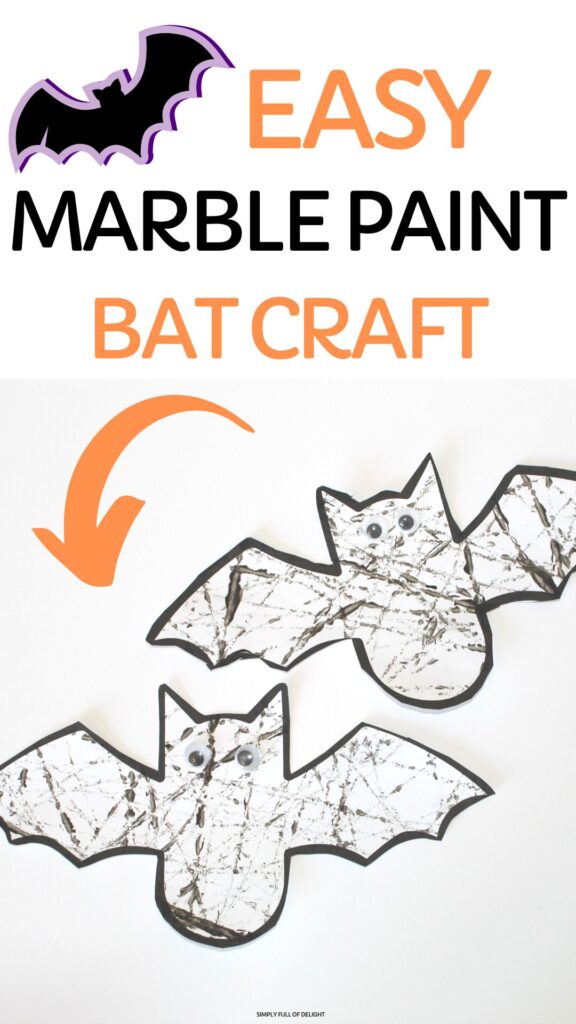 Fun Facts about Bats
Here's some fun facts to share with your kids about bats from The U.S. Department of the Interior website.
Bats are pollinators. Without bats, we wouldn't have bananas, mangos and avocados.
Bats eat insects…. lots of insects! Each night, a bat can eat thousands of insects.
By eating bugs, bats help farmers protect their crops from insects.
They are the only flying mammal.
Bats are fast. Certain species can fly up to 100 mph.
If you have been looking for a fun bat craft idea that is great for little hands, this is great! Painting with marbles is fairly easy for little ones and they'll love how cute this bat craft turns out!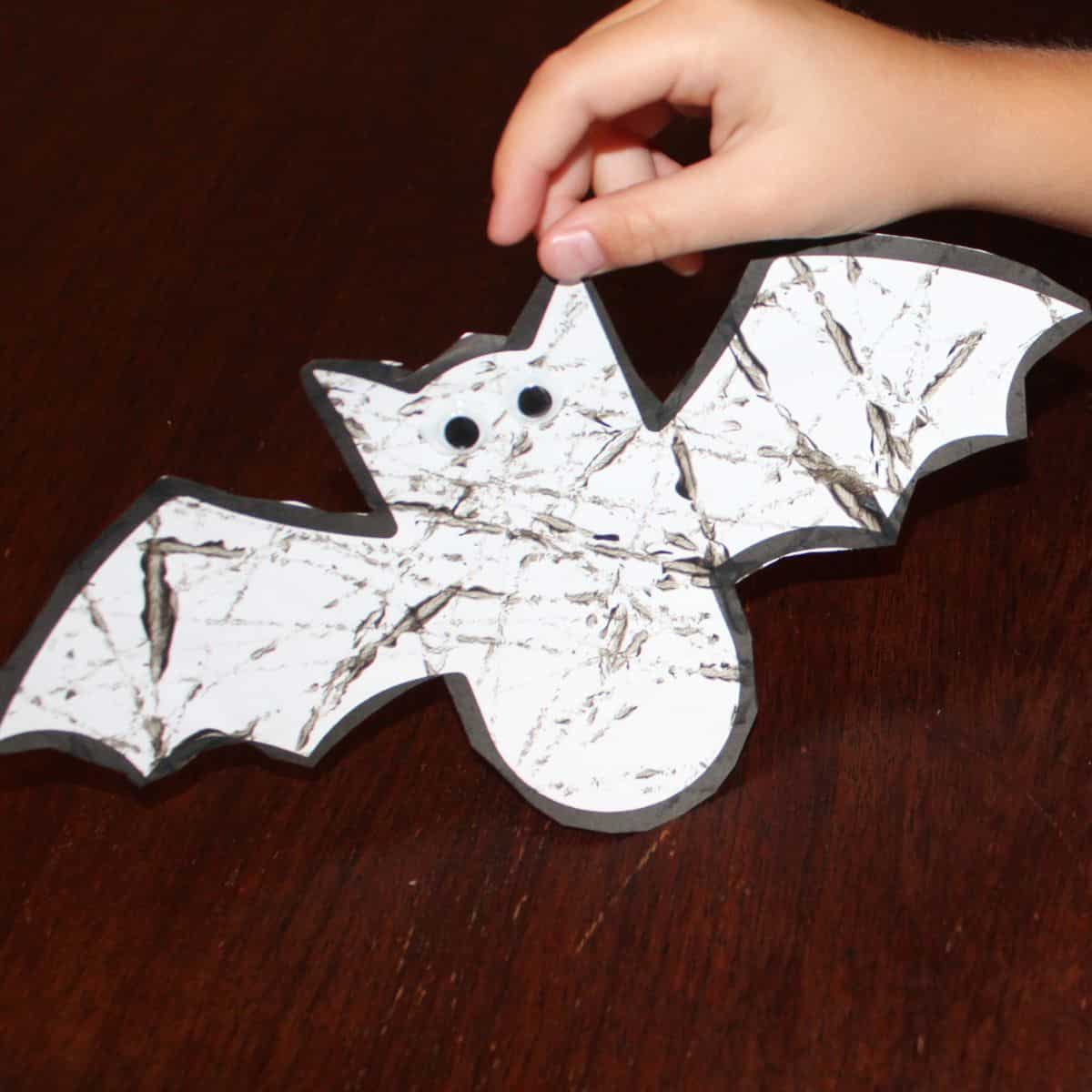 Marble Painting Benefits
According to Science World, painting with marbles helps kids practice their hand eye coordination and observation skills.
It's also an easy way for little ones to be creative while doing a structured art activity that has adorable results.
Alright! Let's get started on our marble painting Easy Preschool Bat Craft!
** Disclaimer: As an Amazon.com Associate, I earn from qualifying purchases made by readers clicking my links at no extra cost to you.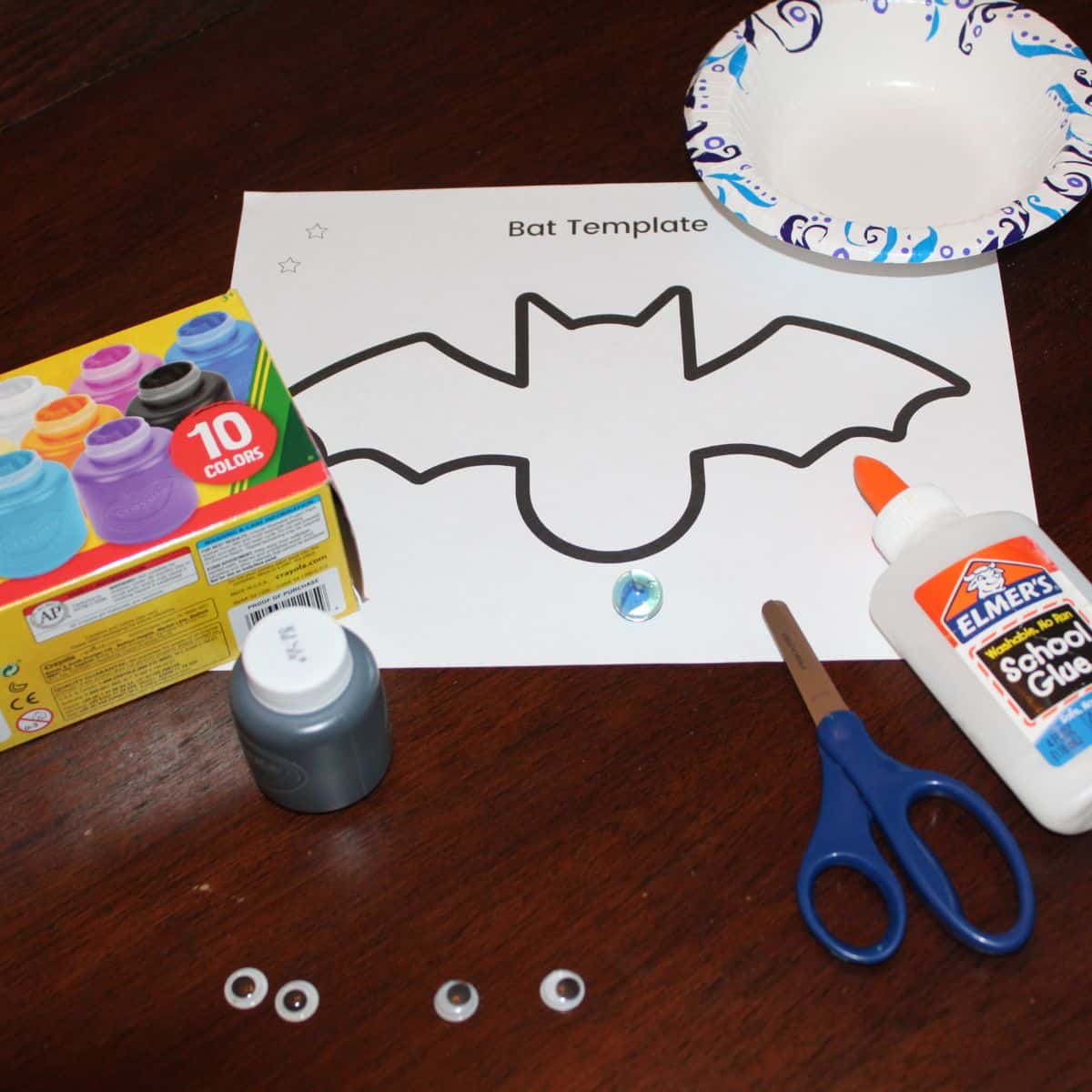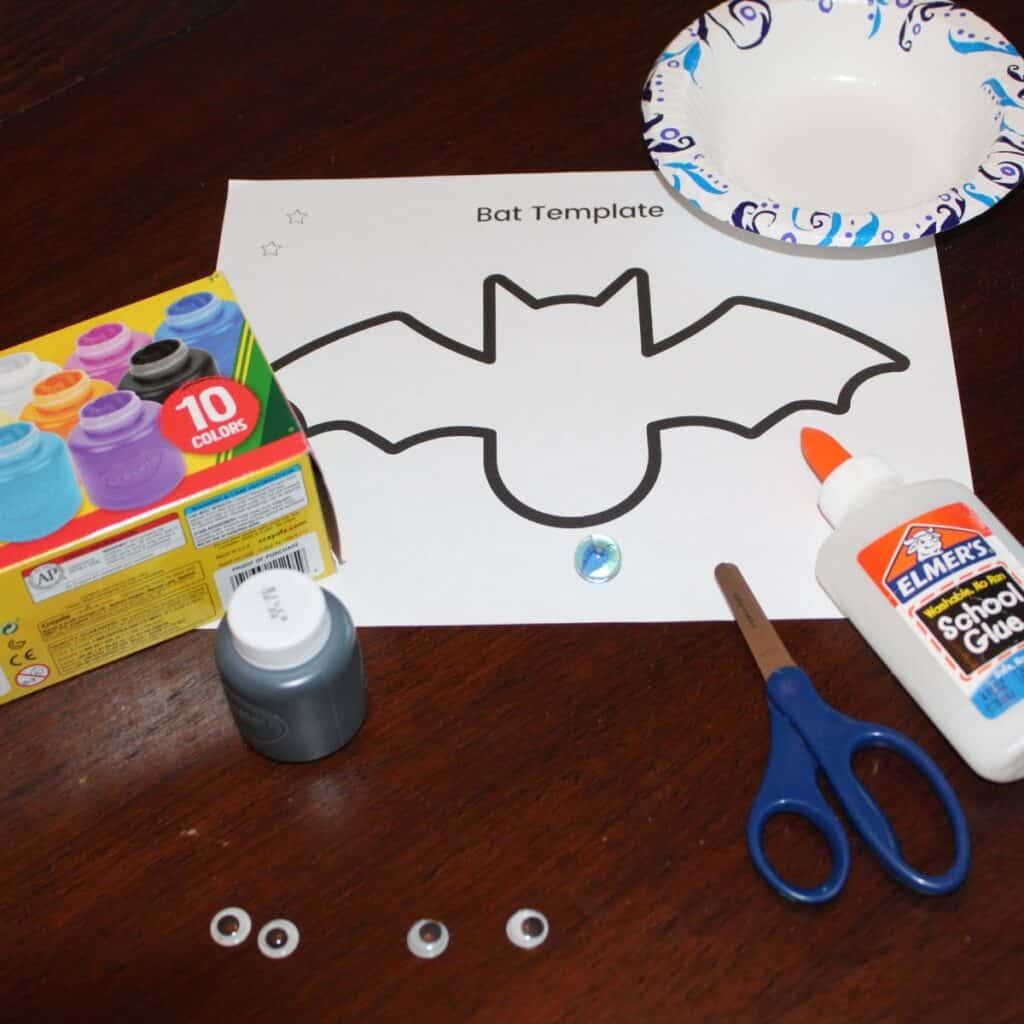 Supplies for Preschool Bat Craft
For this paper bat craft you will need:
The Bat template (I highly recommend printing on cardstock)
A few Marbles ( you might also like to experiment with small balls of different sizes.)
Bowl for Paint
Black Washable Paint (We love this Crayola paint)
A Box that isn't too shallow or too deep, that a child can maneuver easily. We used a box from the canned goods section from a local store.)
Baby Wipes or Paper Towels – in case things get a little messy!
How to Make an Easy Preschool Bat Craft
Print the paper bat craft template. To make it more sturdy you can print the template on cardstock, but regular printer paper will work as well!
I created this simple bat shape template printable to make this craft easier for you! You can find it in the Resource Library which is available to all of my email subscribers.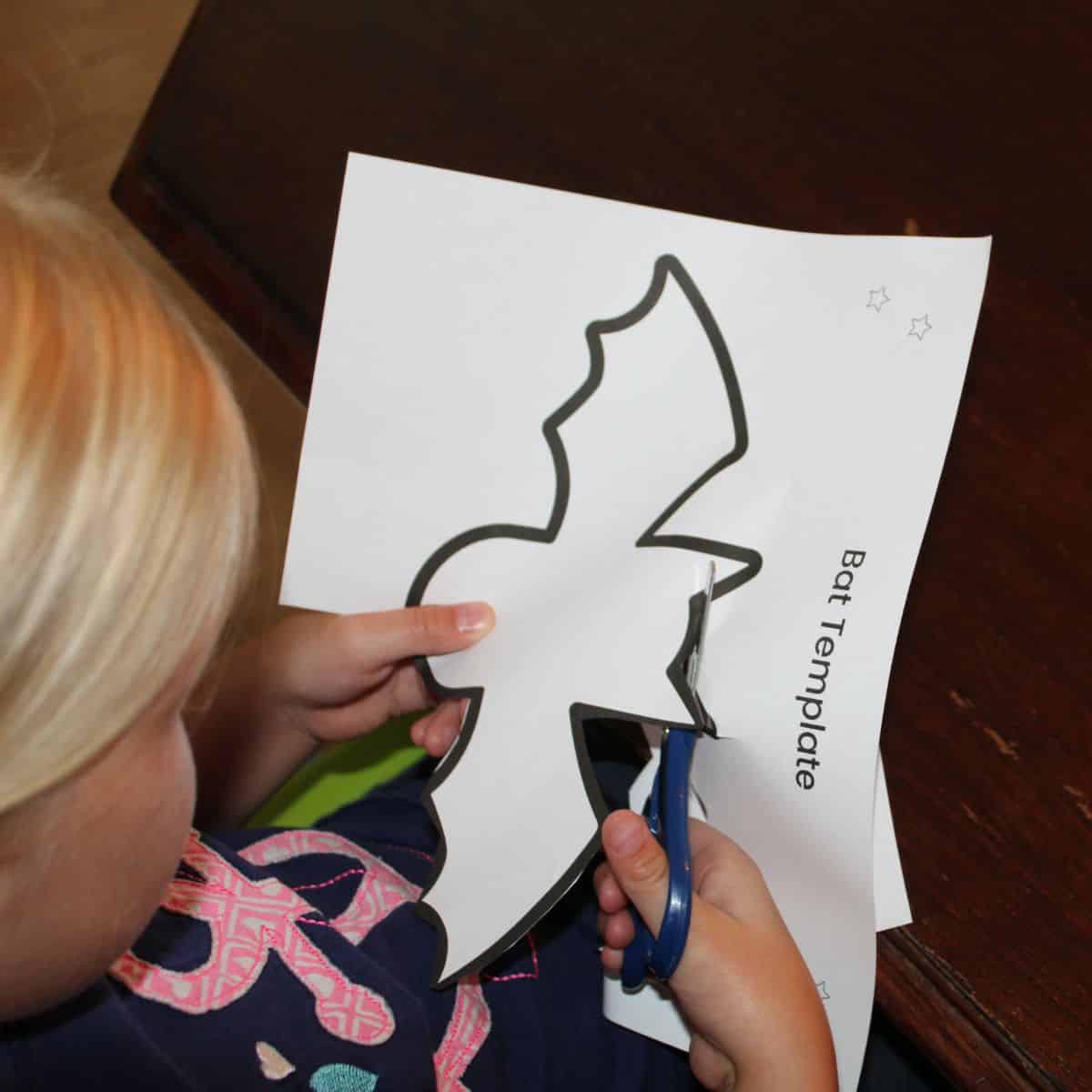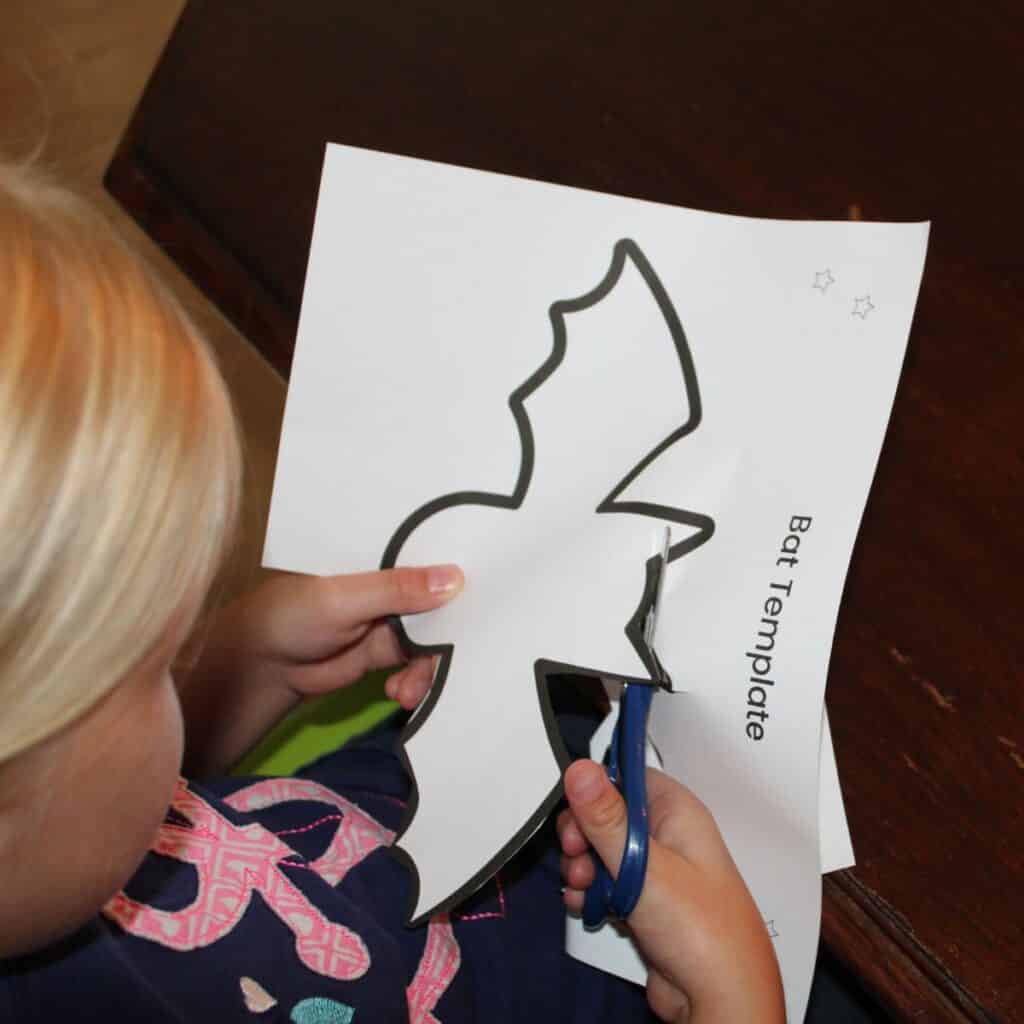 Next, it's time to cut!
With child safe scissors, have your child cut out the bat template. This is a great chance for kids to practice their scissor skills. My preschooler cut this out with no trouble, but if you have younger children, they may need a little assistance.
**Don't forget that this is also a great time to have kids write their name on the project!
Now it's time to marble paint the bat craft!
Marble Painting a Bat Craft – Preschool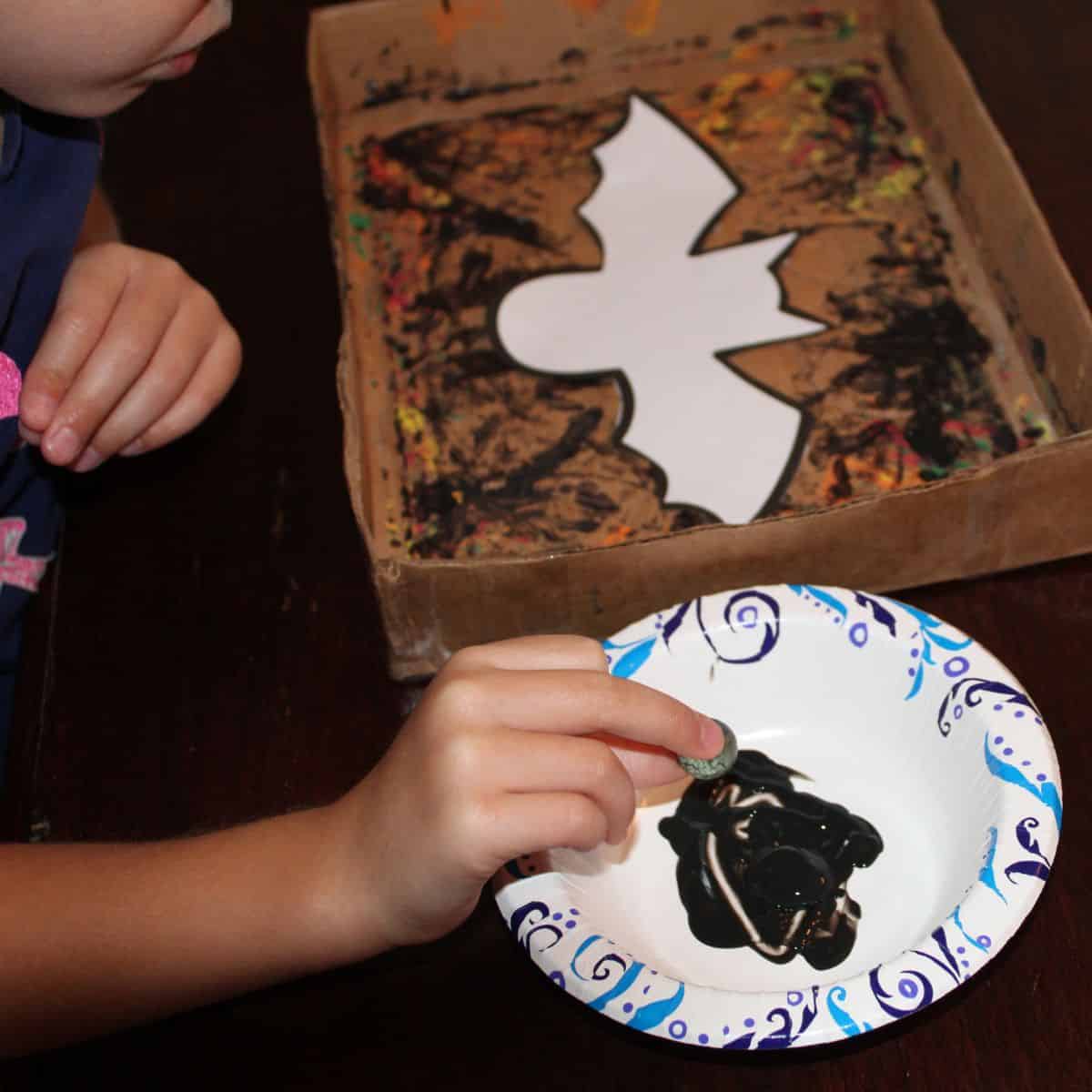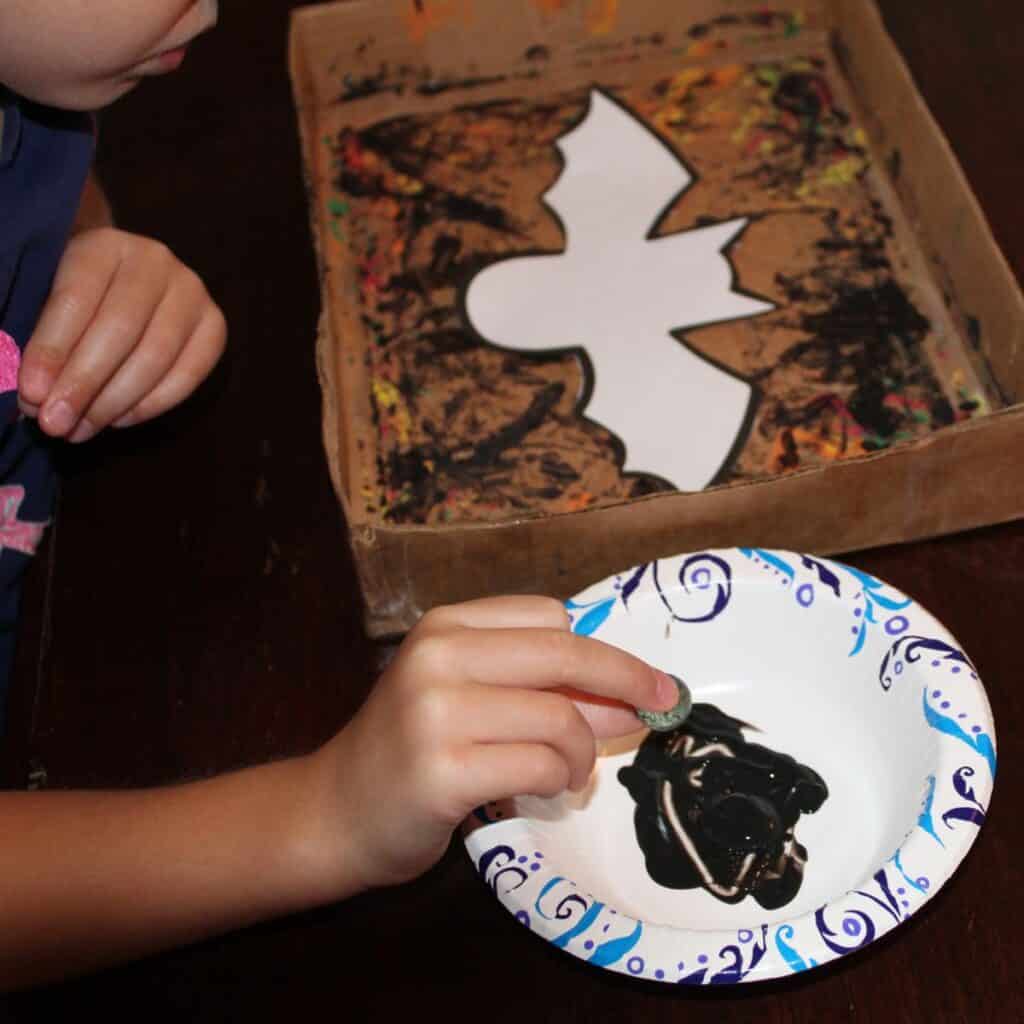 Put the bat template in the shallow box. We used a box from the canned goods section of a local store.
Pour some black paint into the bowl. Add your marble or ball to the paint.
Have your child roll the marble around in the paint to fully cover it. Then have them place the paint covered marble and put it into the shallow box.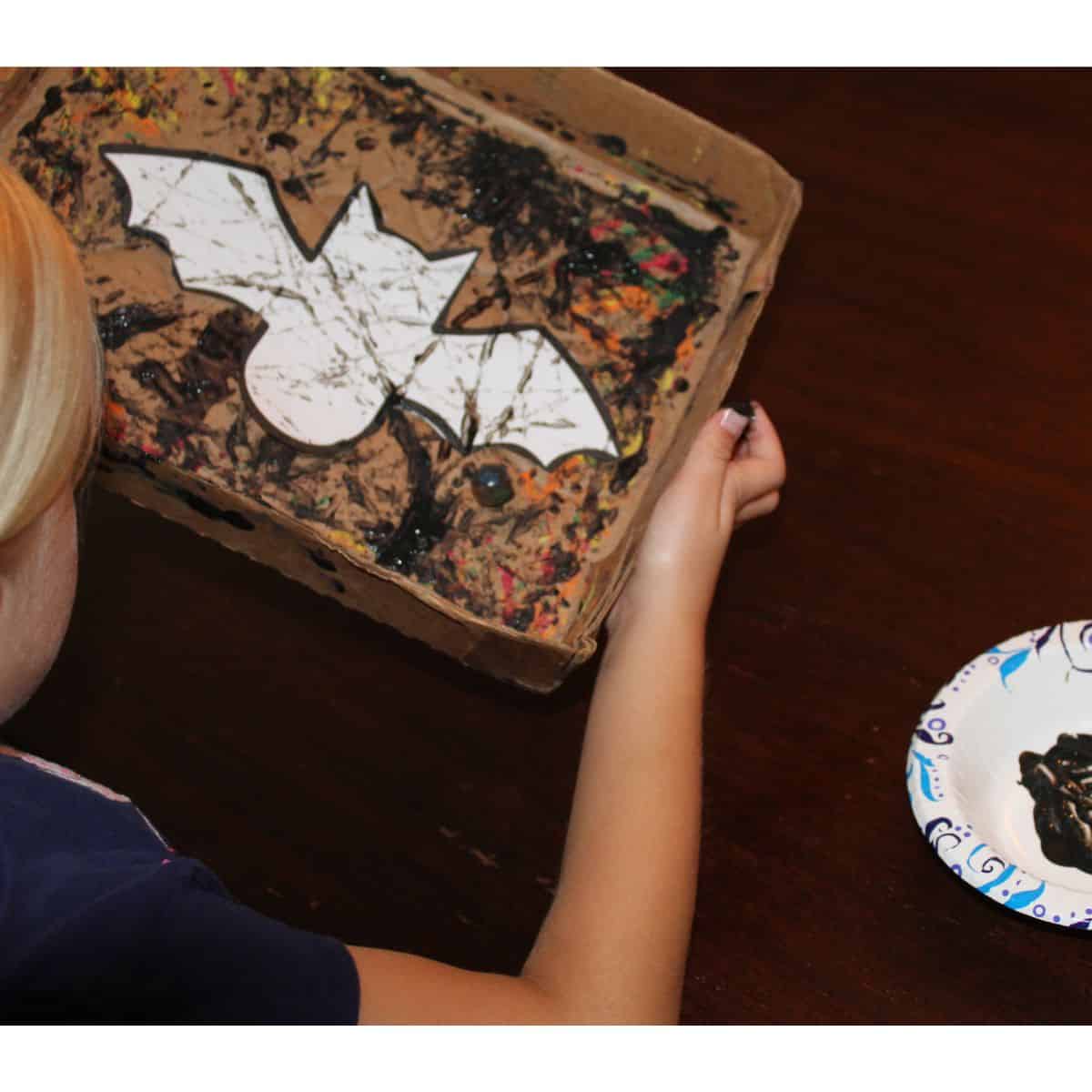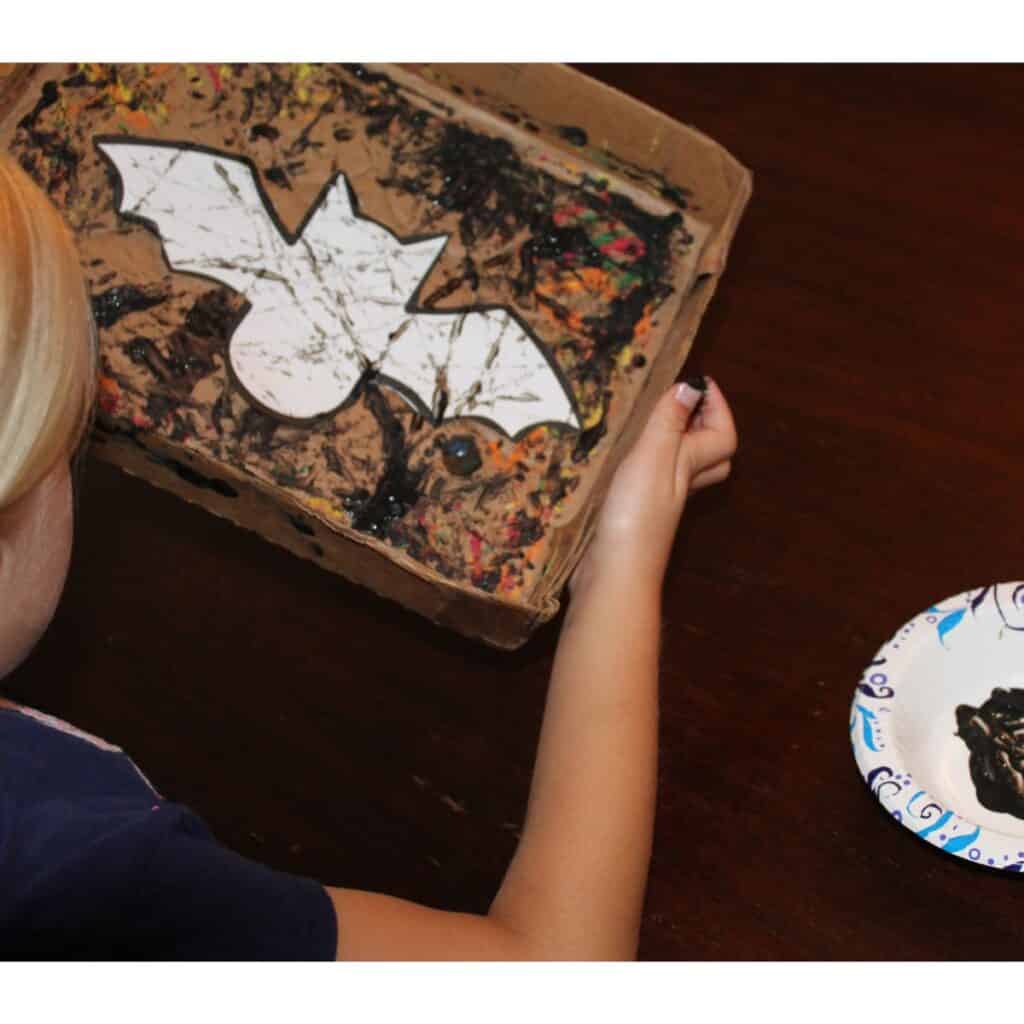 Place the paint covered marble to the side (not on the bat) to avoid big splotches of paint on the actual bat.
With the child holding the box, show them how to move the box to make the marble travel across the bat. They can move the box up and down and side to side to make black marble trail marks on the bat template.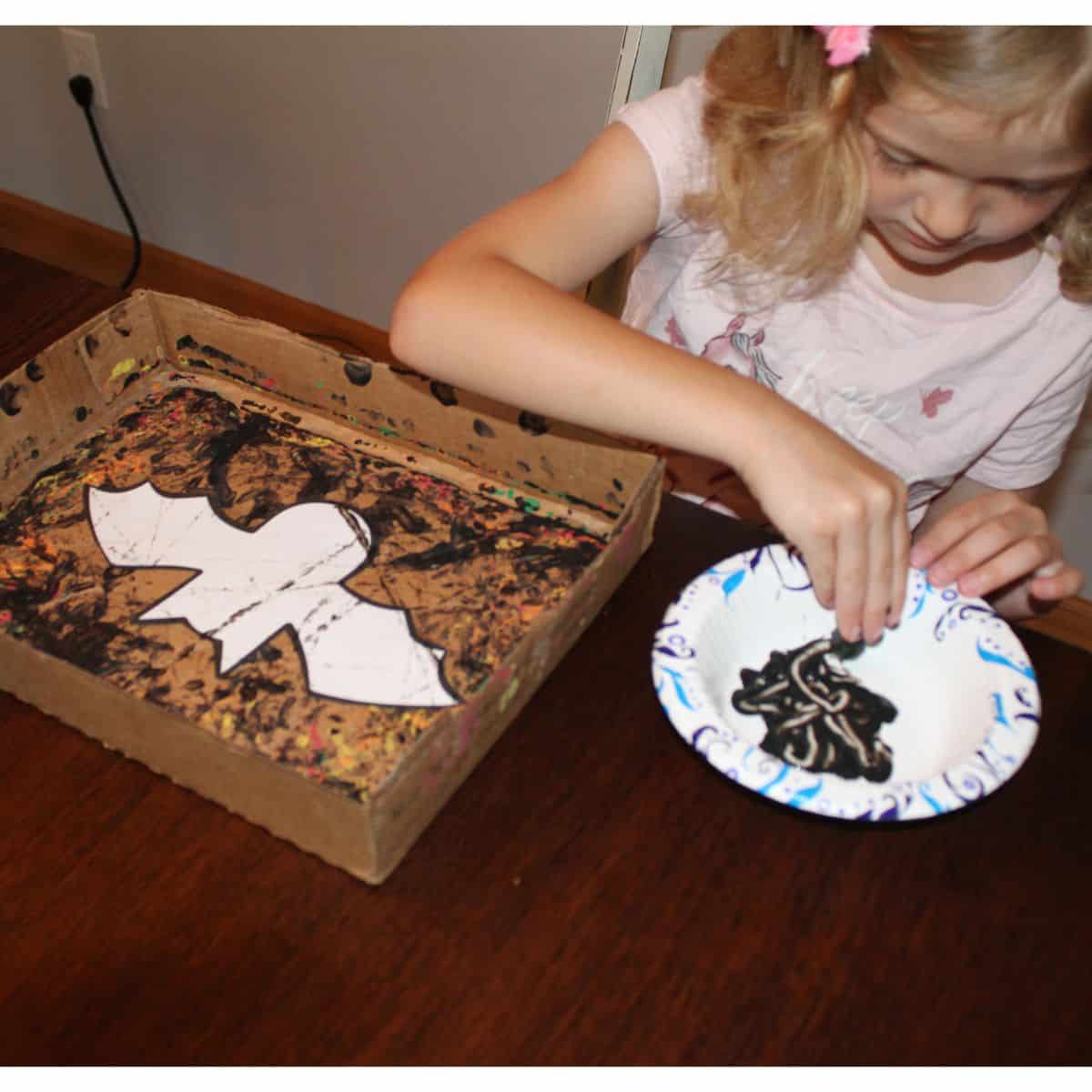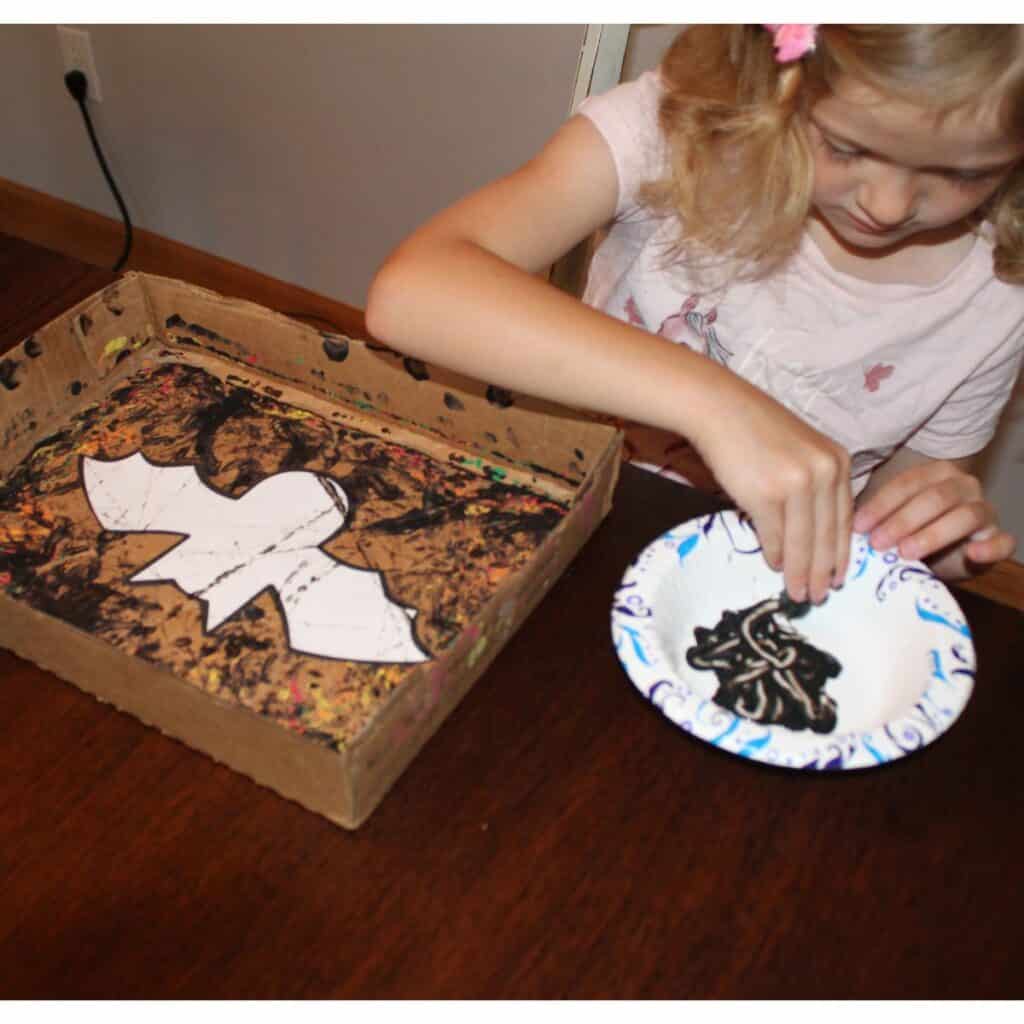 It's fun to experiment with different sized marbles or small balls.
To keep messes to a minimum, I always keep baby wipes or paper towels nearby.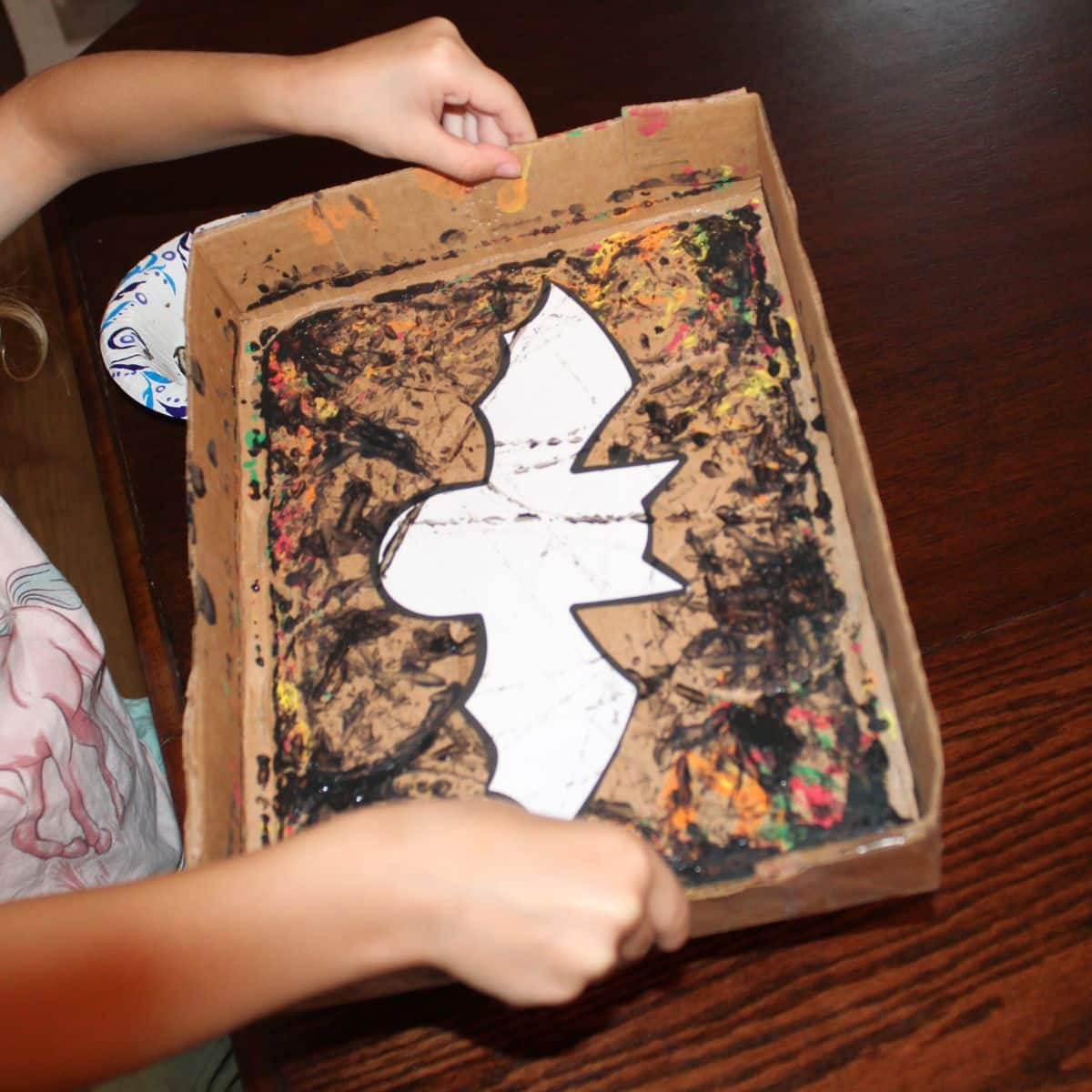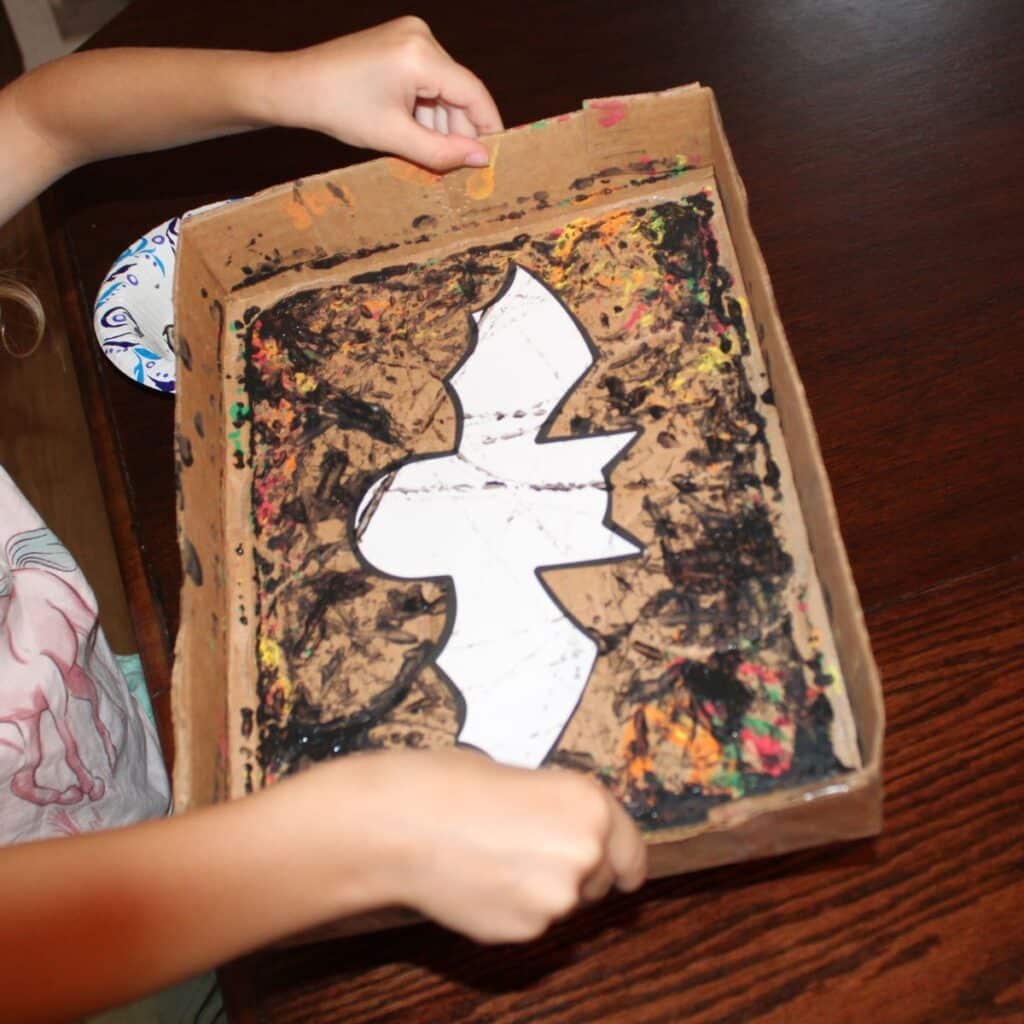 Once your kids are finished marble painting, set the bat preschool craft aside to dry.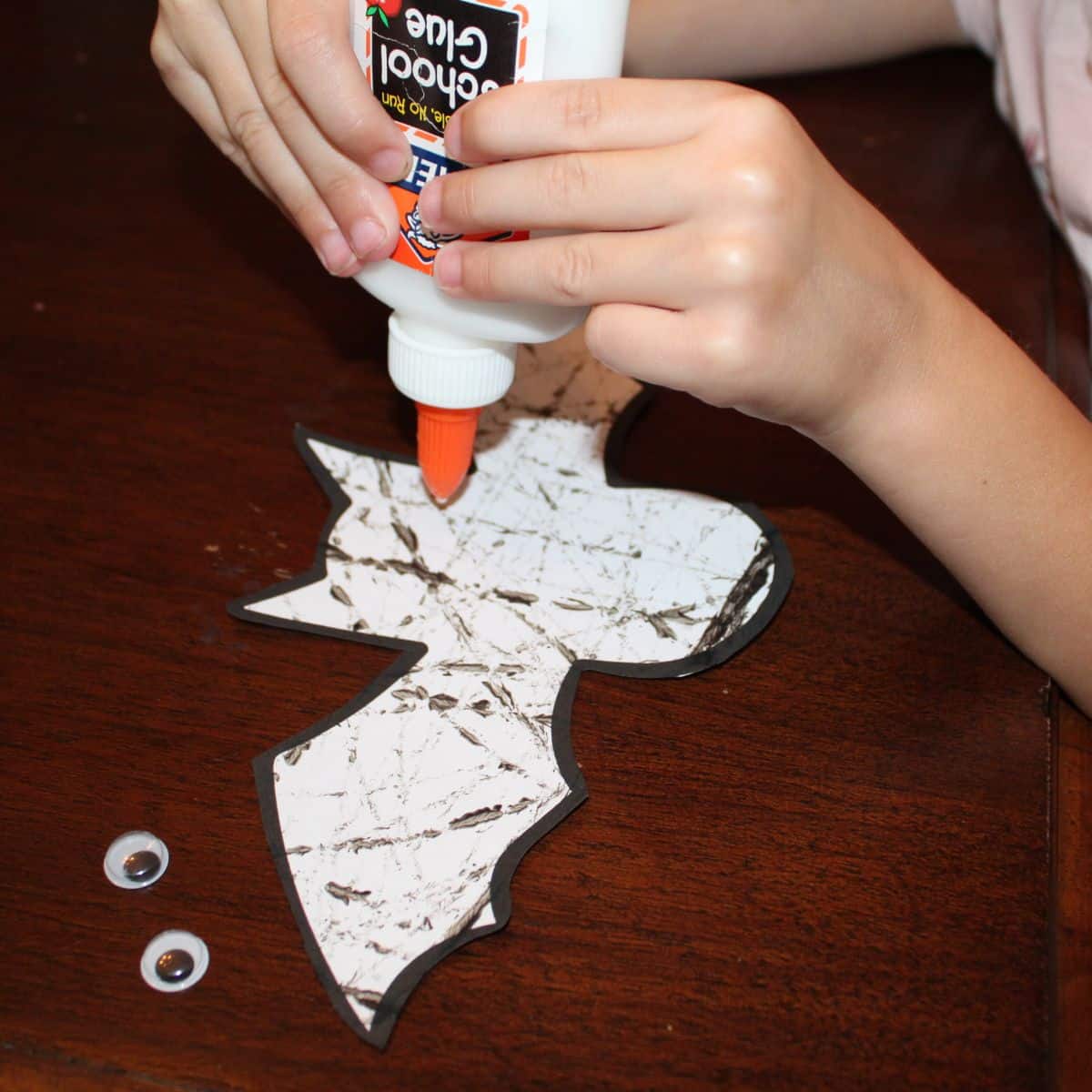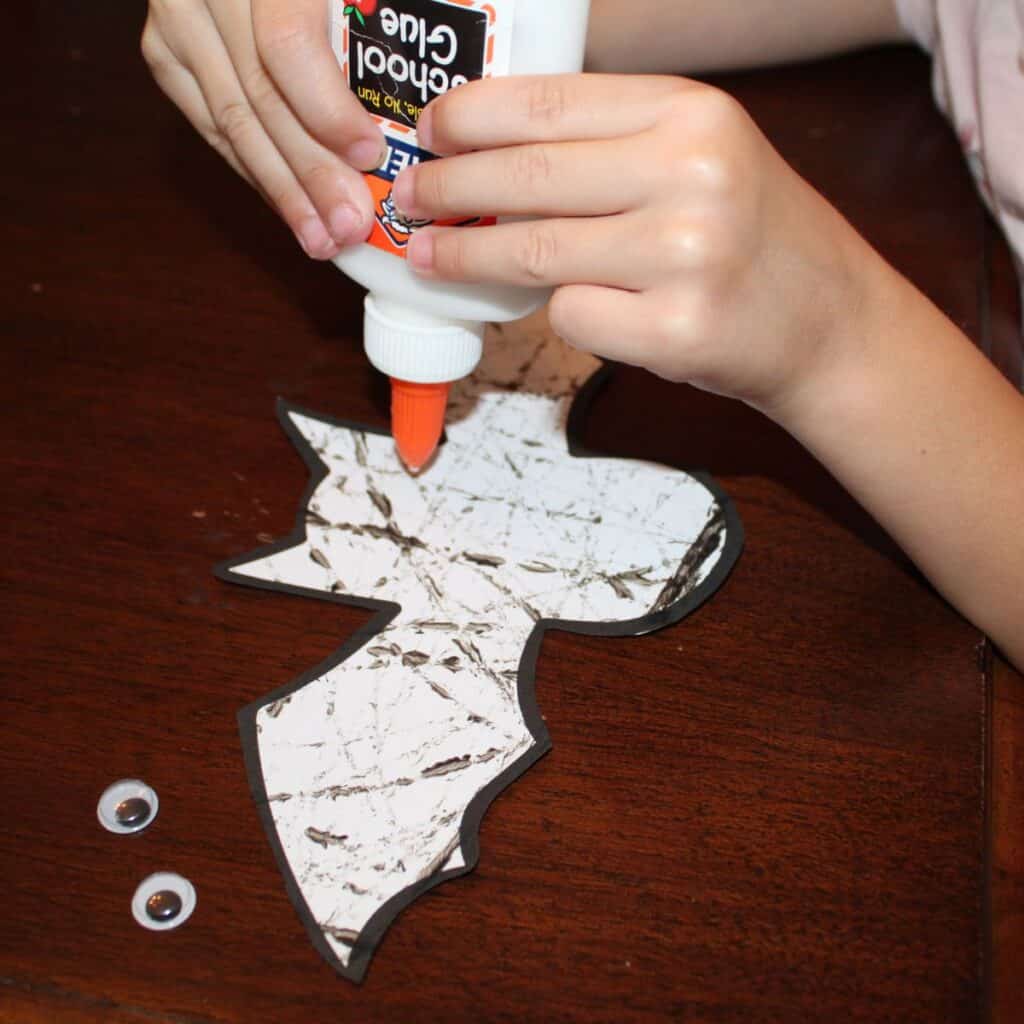 When it is dry, little ones can glue a set of googly eyes to the head of the bat with a dab of Elmer's glue.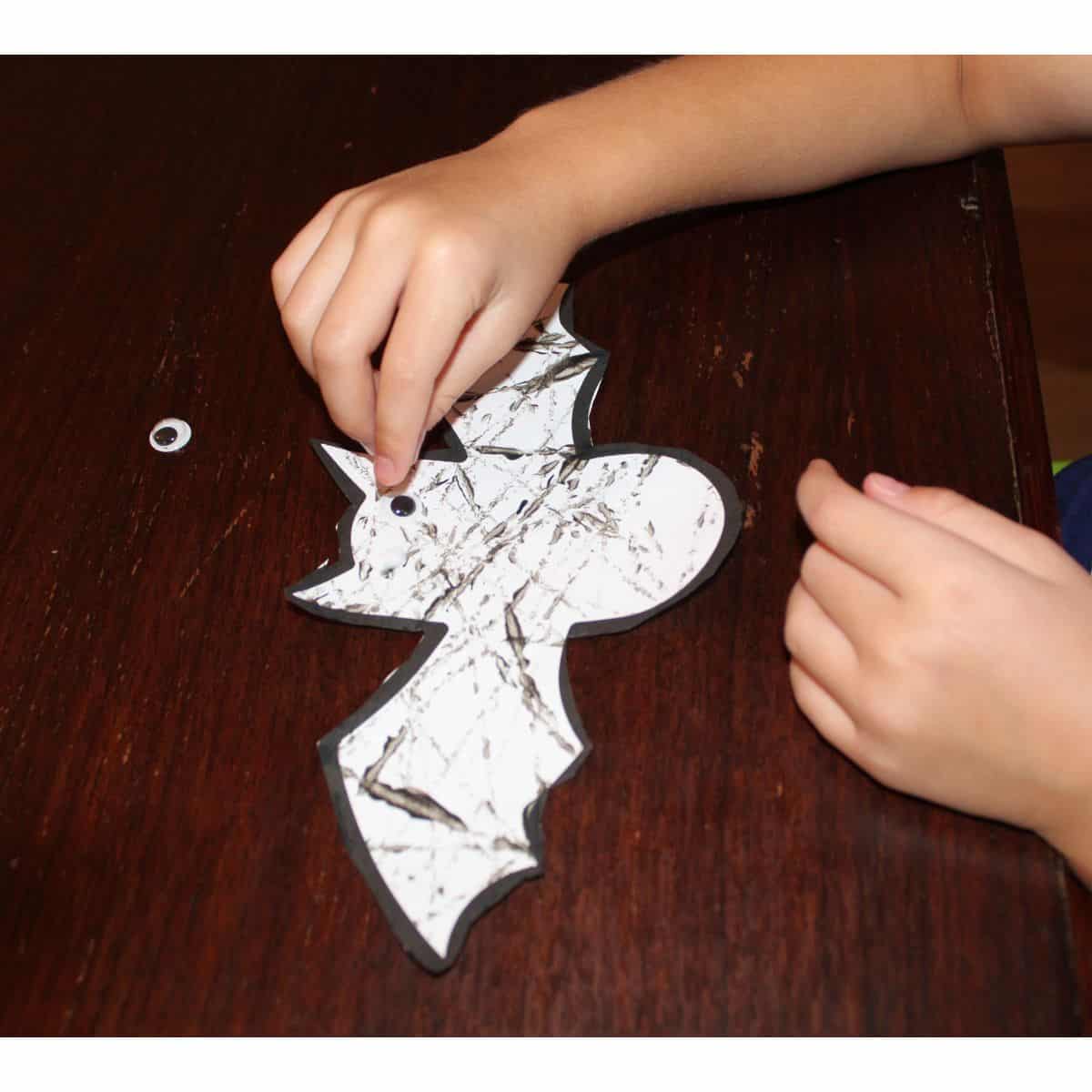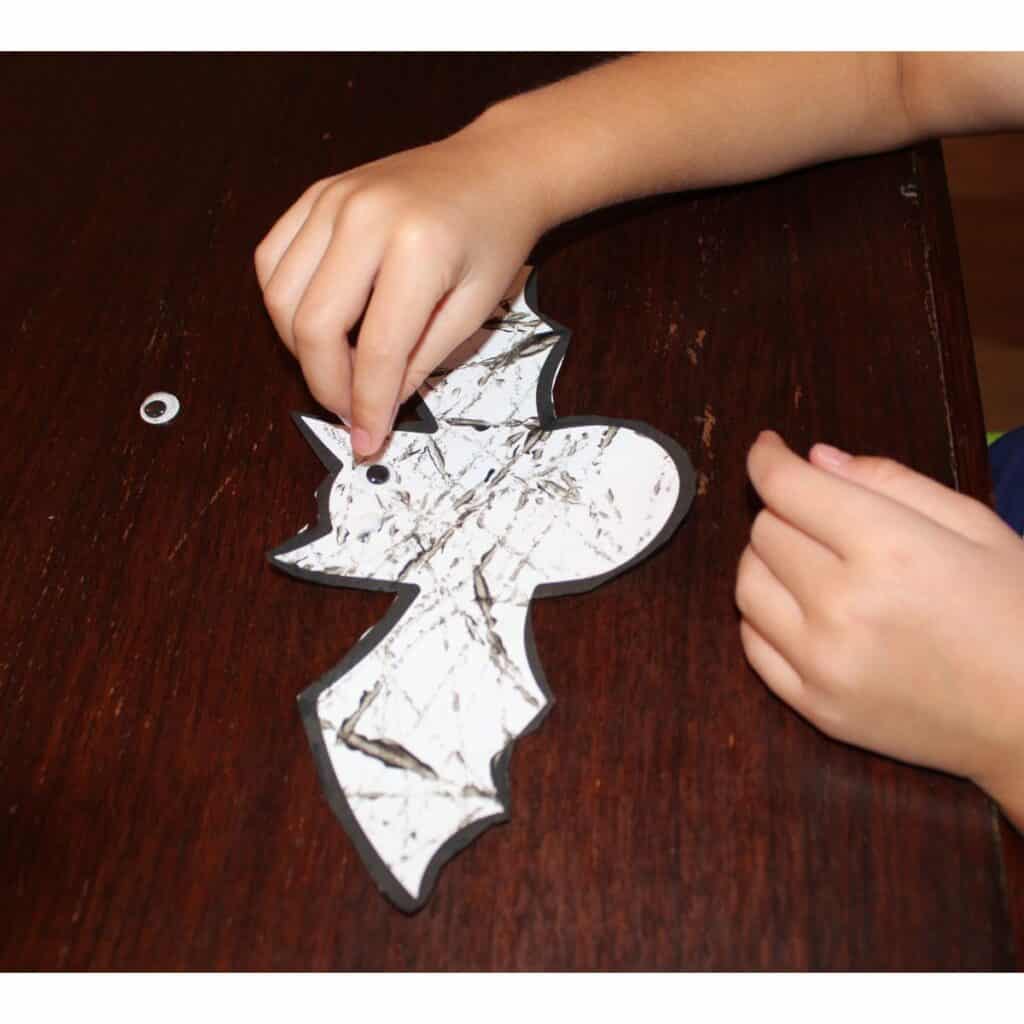 And…your bat paper craft is finished!
I hope you and your kids enjoy making this easy Mummy Craft for preschool!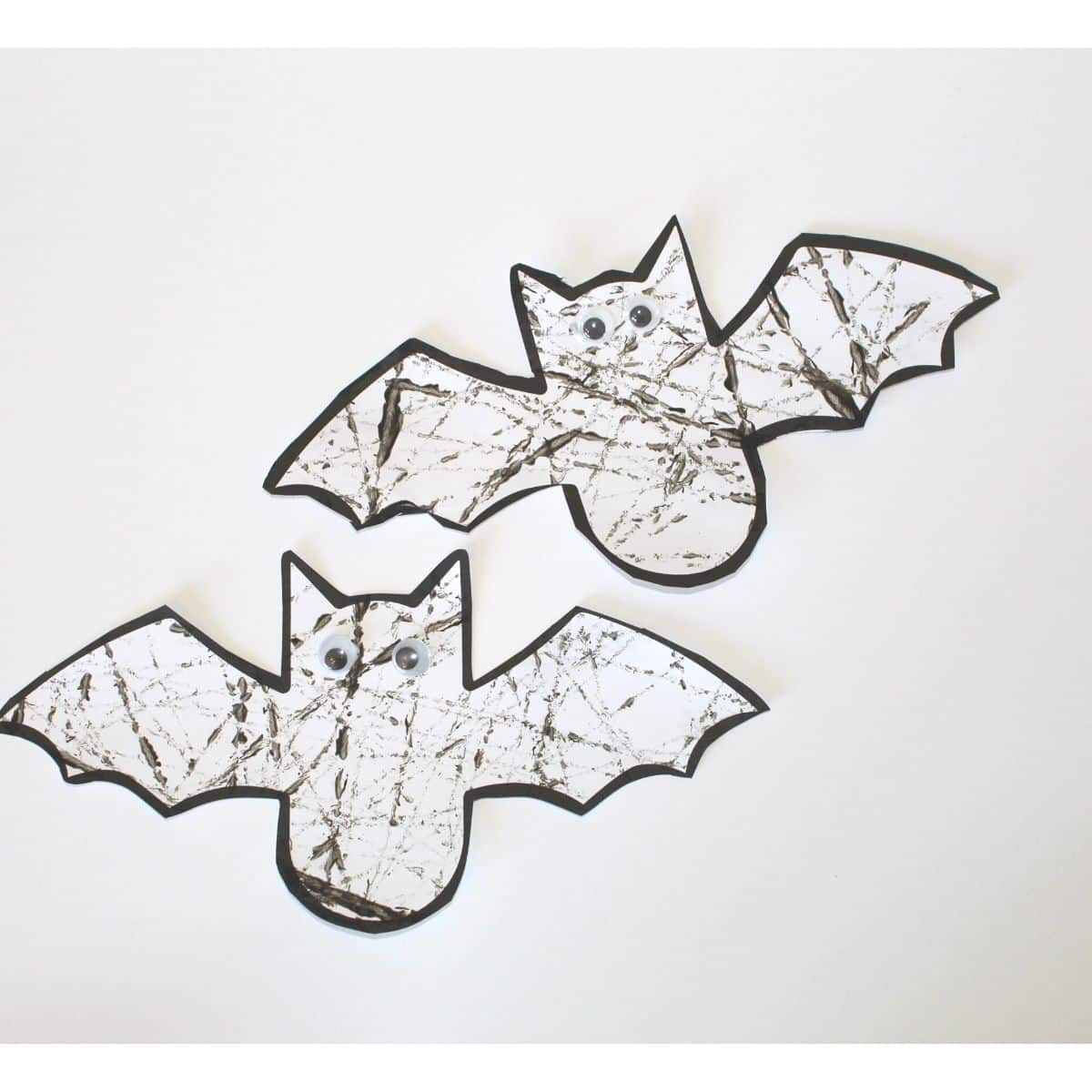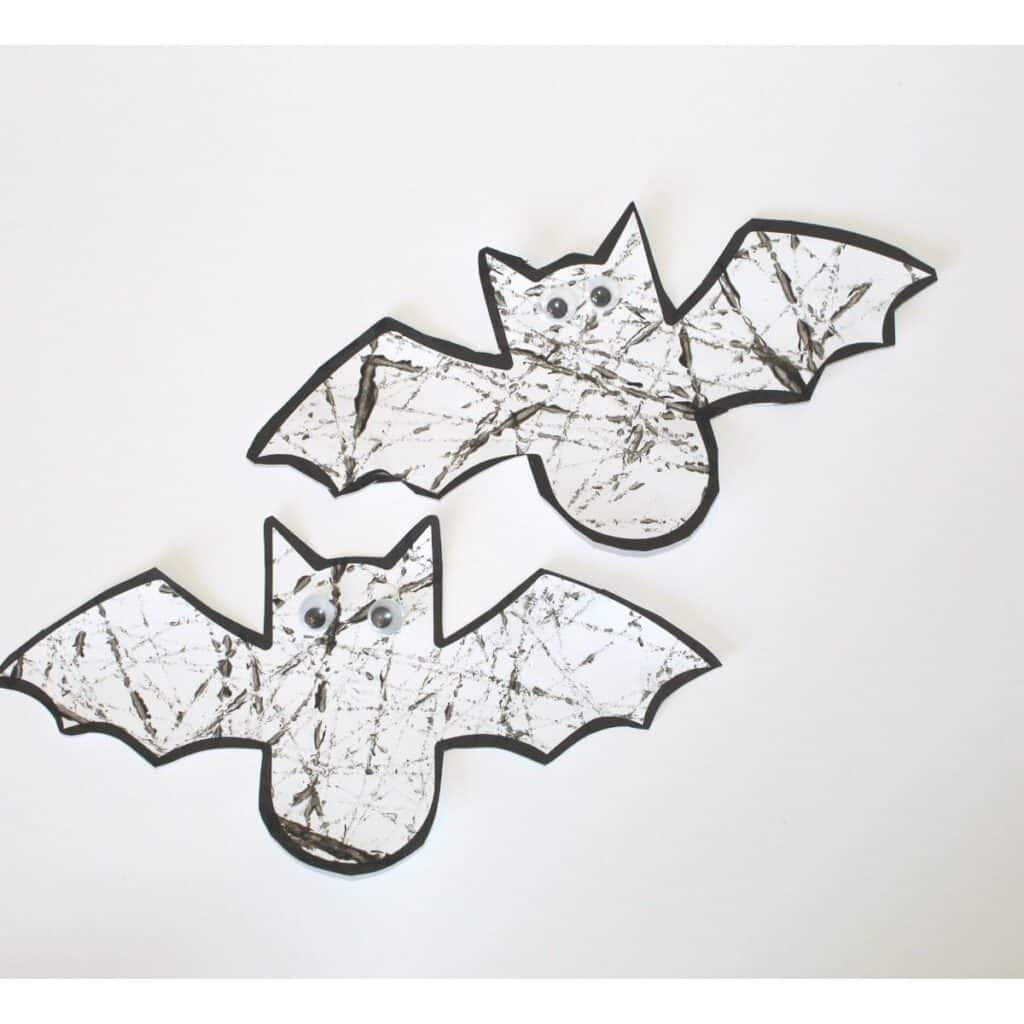 Grab the free Printable Bat Craft Template PDF!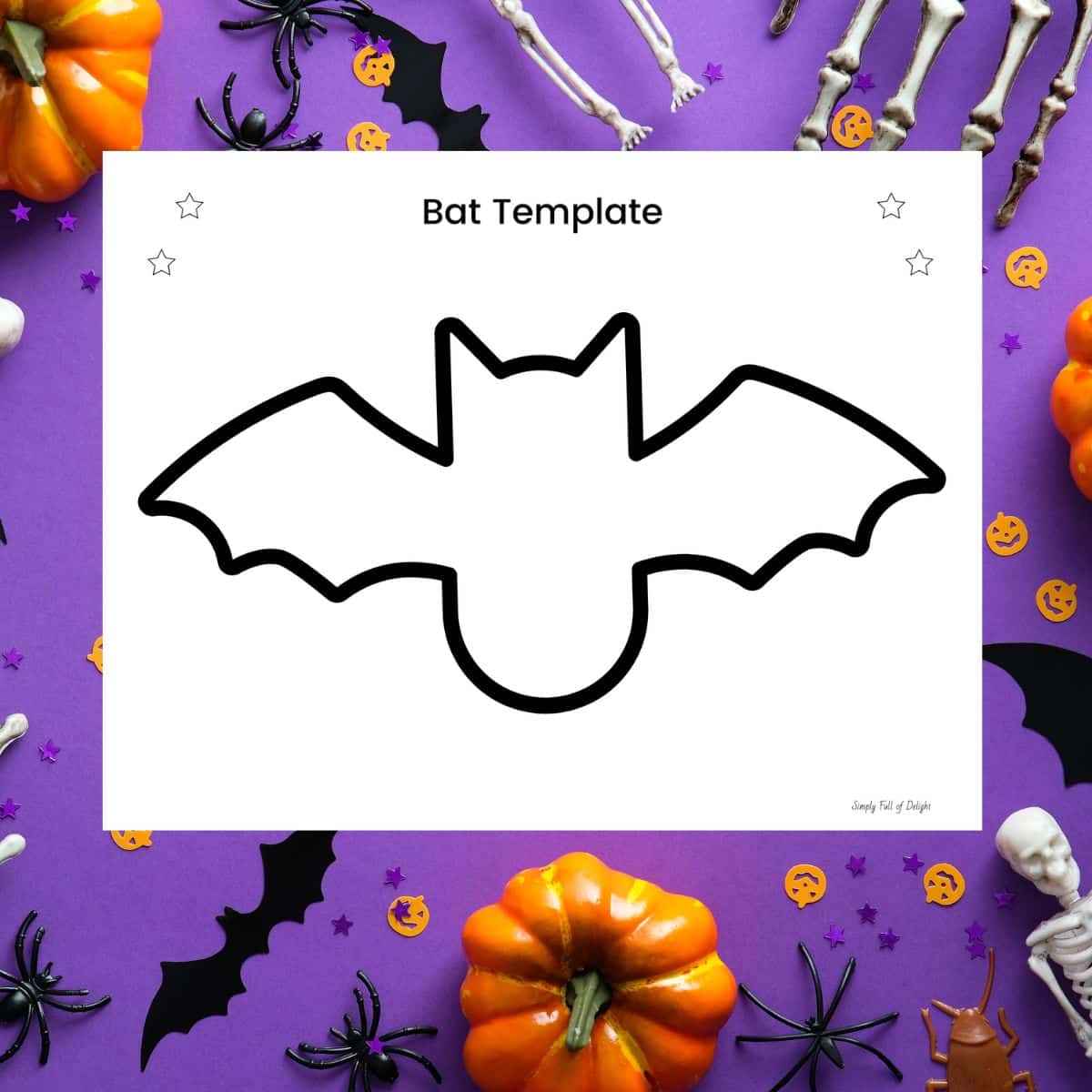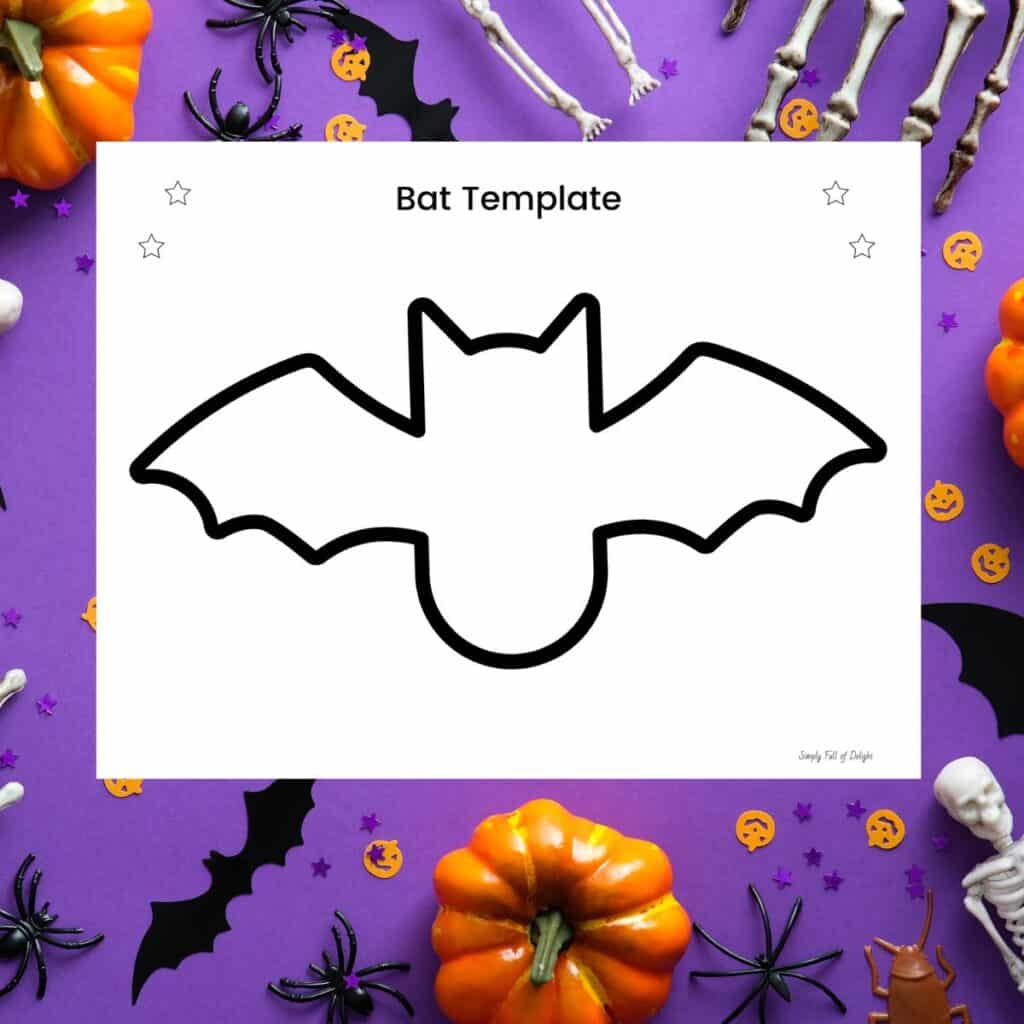 To get your free printable preschool Bat craft template, simply drop your email in the gray and blue box directly below. You will receive immediate access to the Resource Library where you can get this free printable along with tons of other free printables.
More Marble Painting Fall Crafts
Want more Marble Painting arts and crafts ideas?
Here's a Marble Painting Pumpkin Craft that is great for both fall and Halloween crafts!
There's also an adorable Marble Paint Apple Craft here. This one is perfect for apple season, back to school and/or a craft for the letter A!
Finally, there's a Mummy Marble Paint Craft here. It makes an easy Halloween craft for preschoolers!
Plus, don't miss all the cool ideas for Painting with Balls here!
More Halloween Activities
Want more fun Halloween activities for kids?
There's a cool Jack-O-Lantern cut and paste activity and a fun preschool scissor skills pumpkin tractor activity here.
You can find free printable Halloween Dot to Dot pages here. You'll find a Halloween bat, a witch hat, a ghost, and a pumpkin. Simple and perfect for preschoolers!
There's some free Monster Coloring Pages here, including a printable Create your Own Monster page. It's so much fun!
On my site, you can also find a printable Black Cat Puppet paper craft with a template, a Witch Hat Headband, and a fun 5 Little Pumpkins Poem printables set here.
Happy Halloween!
Want to save this preschool bat craft for later? Pin the image directly below!