Looking for a super easy preschool shamrock craft? Try this pepper Shamrock Stamping! All you need is some green paint, a pepper, and paper!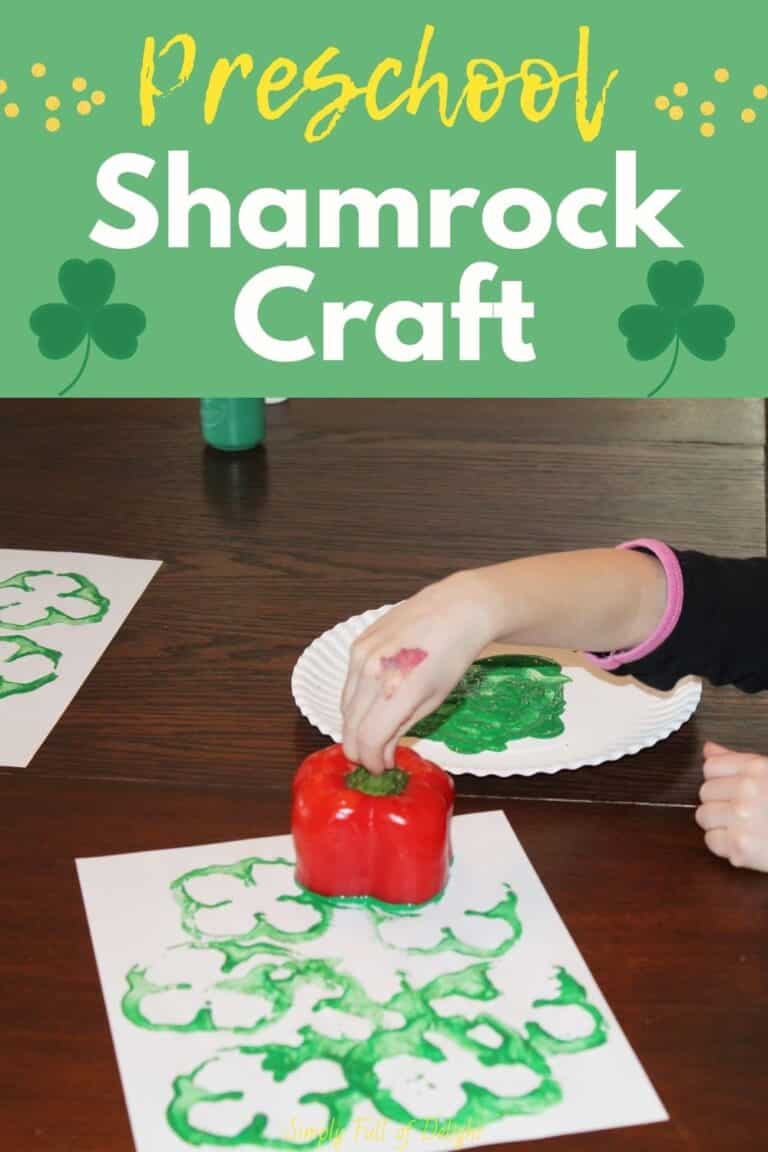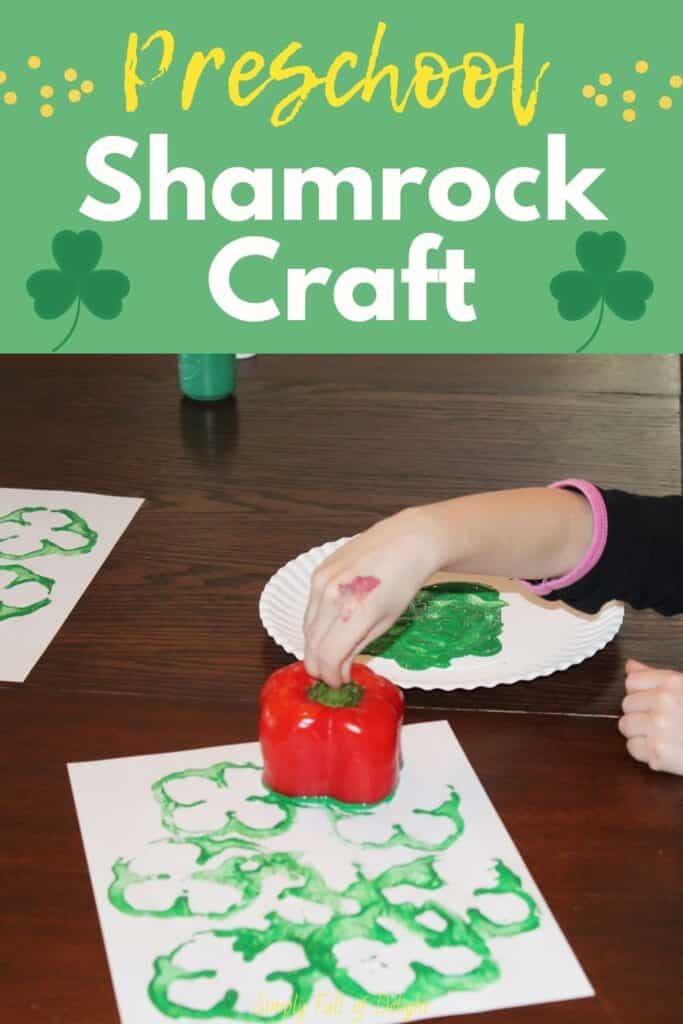 This craft is a blast from the past for me. It was well over a decade ago when I first saw a fellow teacher doing this awesome St. Patrick's Day activity with her class.
First, she cut a bell pepper in half and showed the kids how it resembled a shamrock. Then she proceeded to put it in paint and use it as a stamp.
The kids were completely in awe…and obviously, so was I!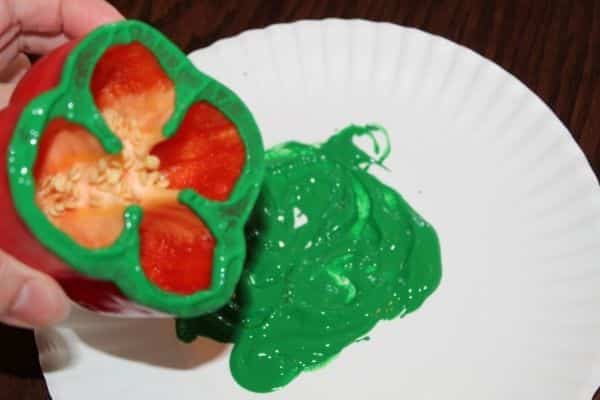 This is an excellent craft for preschoolers, kindergarten, and lower elementary grades. You really only need a pepper or two depending on the size of your class. Kids can take turns stamping with the pepper and then creating their own shamrock art with the results.
What kind of pepper should I use for pepper stamping?
You will need a large bell pepper for this project. Any color will do (red, green or orange) but you will want to look at the bottom of the pepper to determine the shape of the the clover.
If your pepper has 3 bumps on the bottom it will look like a shamrock when you stamp with it. If it has 4 bumps, you will have a 4 leaf clover stamp! Either one is a fun option – maybe you'll want to do both!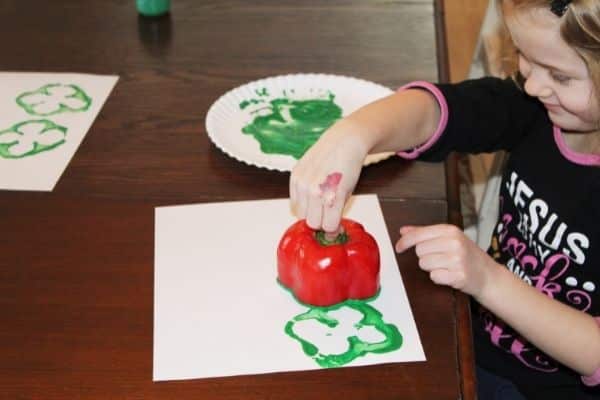 (I know I titled this article shamrock stamping and the lonely pepper in my fridge today was a 4 bump….technically making it a 4 leaf clover, so please pardon that mismatch!)
Disclosure: As an Amazon Associate I earn from qualifying purchases at no additional cost to you.
Supplies Needed for Pepper Shamrock Stamping
– Green Paint (we like this washable paint by Crayola)
– Paper plate – to hold the paint
– A bell pepper, cut in half
– Paint brush
– Paper – You might like to use copy paper since it is convenient, but you could also choose construction paper or a larger size of paper could add to the fun as well!
– Paint Smocks (to keep those clothes clean!)
– Optional: googly eyes, markers, watercolor paints, glitter, or other crafting items to decorate the inside of the shamrocks.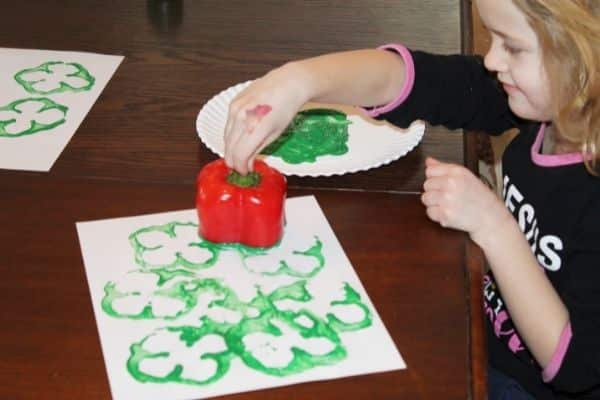 How to do Pepper Shamrock Stamping
First, cover your table with a plastic tablecloth to keep the mess to a minimum. Have your child put on a smock to protect their clothing. Painting can be messy!
I recommend cutting the pepper in front of the kids. Show them how it looks on the inside and ask them what the shape reminds them of.
Next, take the green paint and pour it onto the paper plate. Show the kids how to dip the pepper into the paint, then stamp it firmly onto the paper, leaving a print of the shamrock. Kids will be amazed and love this!
More Ideas for this Easy Preschool Shamrock Craft
You can add to the fun by allowing kids to use watercolor paints to color the inside of the shamrock shapes. My daughter loved adding rainbow colors to the middle of the green shamrock outlines! She said they looked like flowers….I totally agree!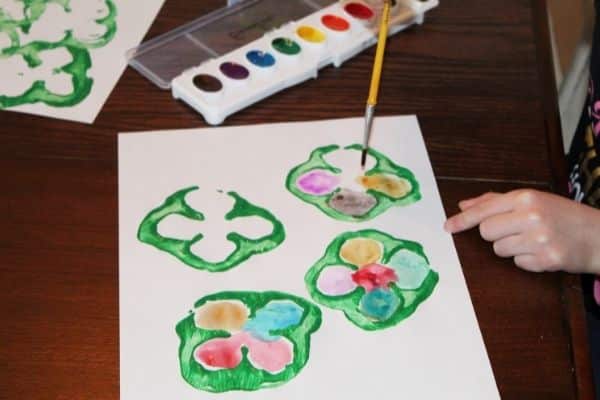 If you want to make a shamrock with personality….what my 4 year old calls her "shamrock man" – add some google eyes and draw arms and legs! This is an open ended St. Patrick's day craft so anything goes!
Feel free to dive into your craft supplies and add items like glitter, buttons, ribbon and more! Or if you prefer a simple craft, just stick to stamping peppers. Either way, it's a fun activity for St. Patrick's Day that kids will remember for a long time!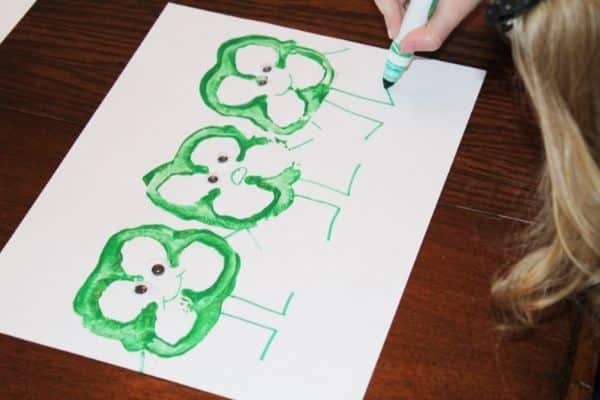 More St. Patrick's Day Activities
I hope you enjoy this simple St. Patrick's Day craft for kids! If you are looking for more St. Patty's Day fun, be sure to print out these free St. Patrick's Day Coloring pages.
You can also find a ton of free printables here for St. Patrick's day including crafts, games, and more!
There's a fun Shamrock Marble painting activity here. Perfect for preschoolers and toddlers.
You can find a whole St. Patrick's Day preschool learning activities set here in my Etsy shop! Tons of fun including a matching game, cut and paste activities, tracing and more!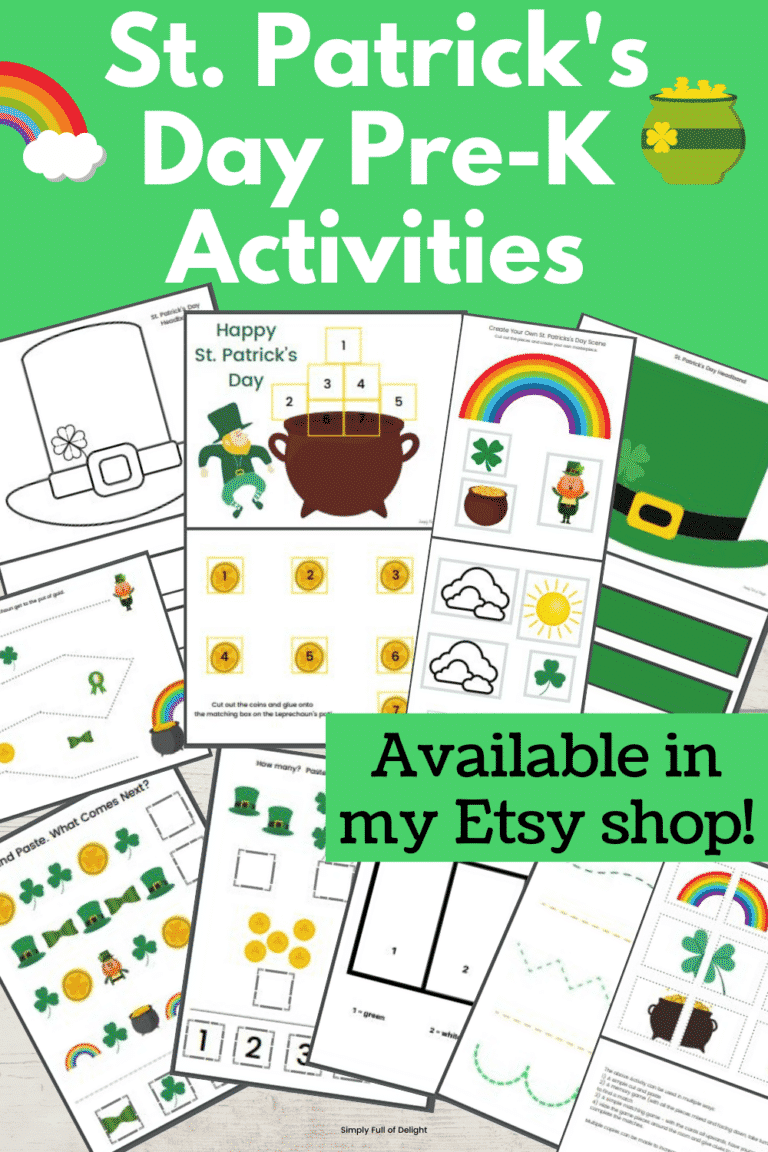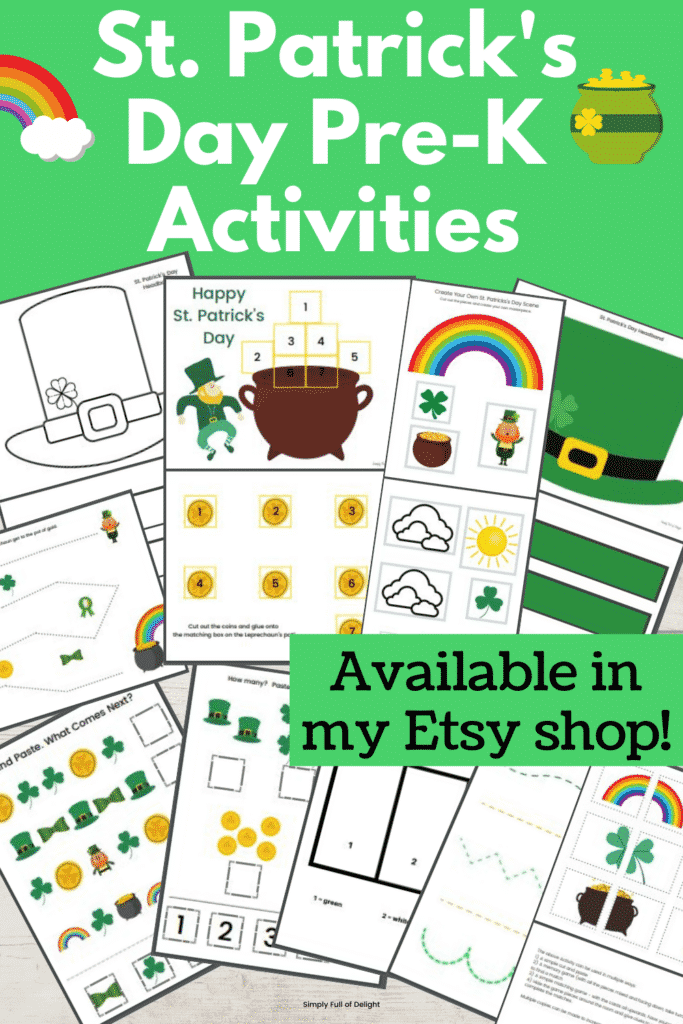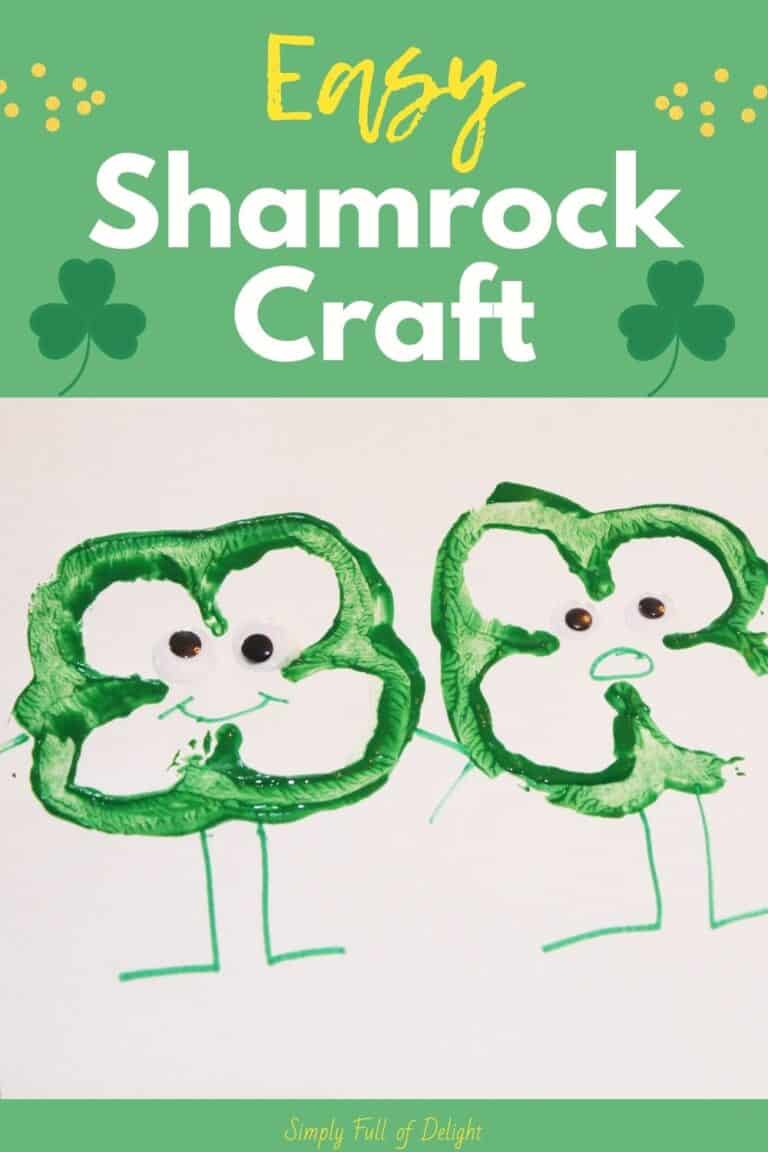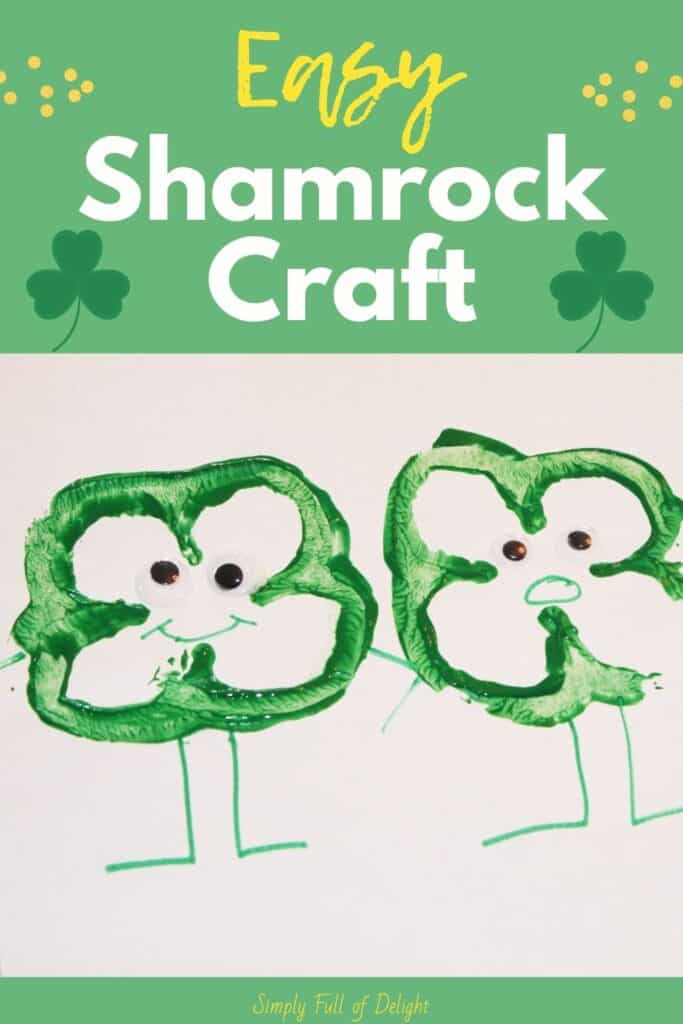 More Vegetable and Fruit Stamping Activities
Love this vegetable stamping activity? Be sure to check out my other Vegetable and fruit stamping ideas! There's a lemon stamping process art project here, perfect for summer time fun!
There's also a Carrot Stamping activity here. This one is perfect for spring time garden themes and Easter!